Vegan chicken salad recipe with grapes and walnuts.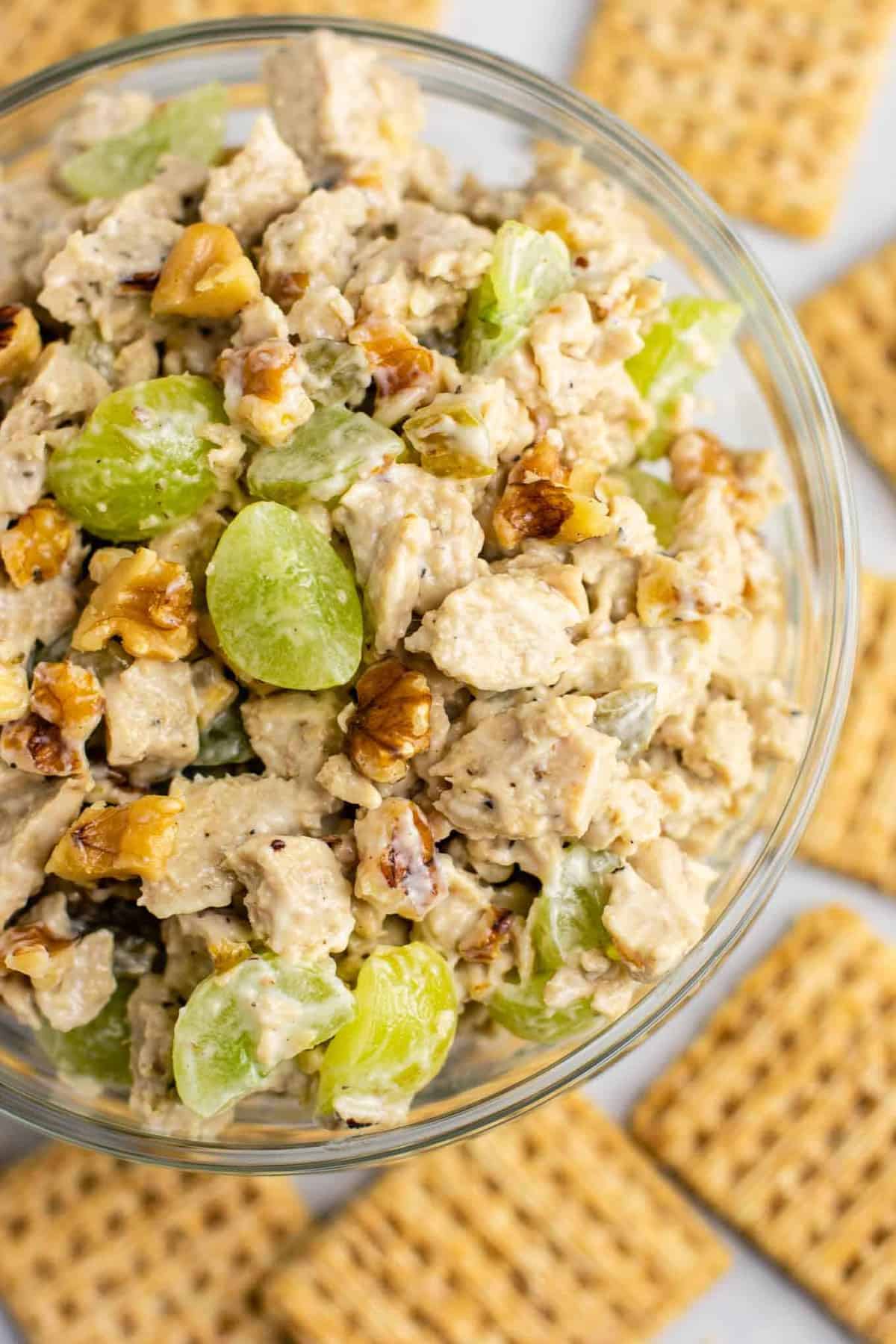 Robbie has been making vegan chicken salad for his lunches lately, and I thought it would be a great recipe to share with you guys!
While I love my chickpea salad sandwiches (and Robbie does too), sometimes it's fun to mix it up and make vegan chicken salad sandwiches with vegan chicken strips.
We personally love the tofurky brand refrigerated chicken strips, and they are great for making this chicken salad!
They are already cold and not frozen, so the only prep you have to do is chop them up into smaller pieces.
ingredients to make vegan chicken salad
vegan chicken strips
grapes
walnuts
pickles
vegan mayo
lemon juice
garlic powder
salt and pepper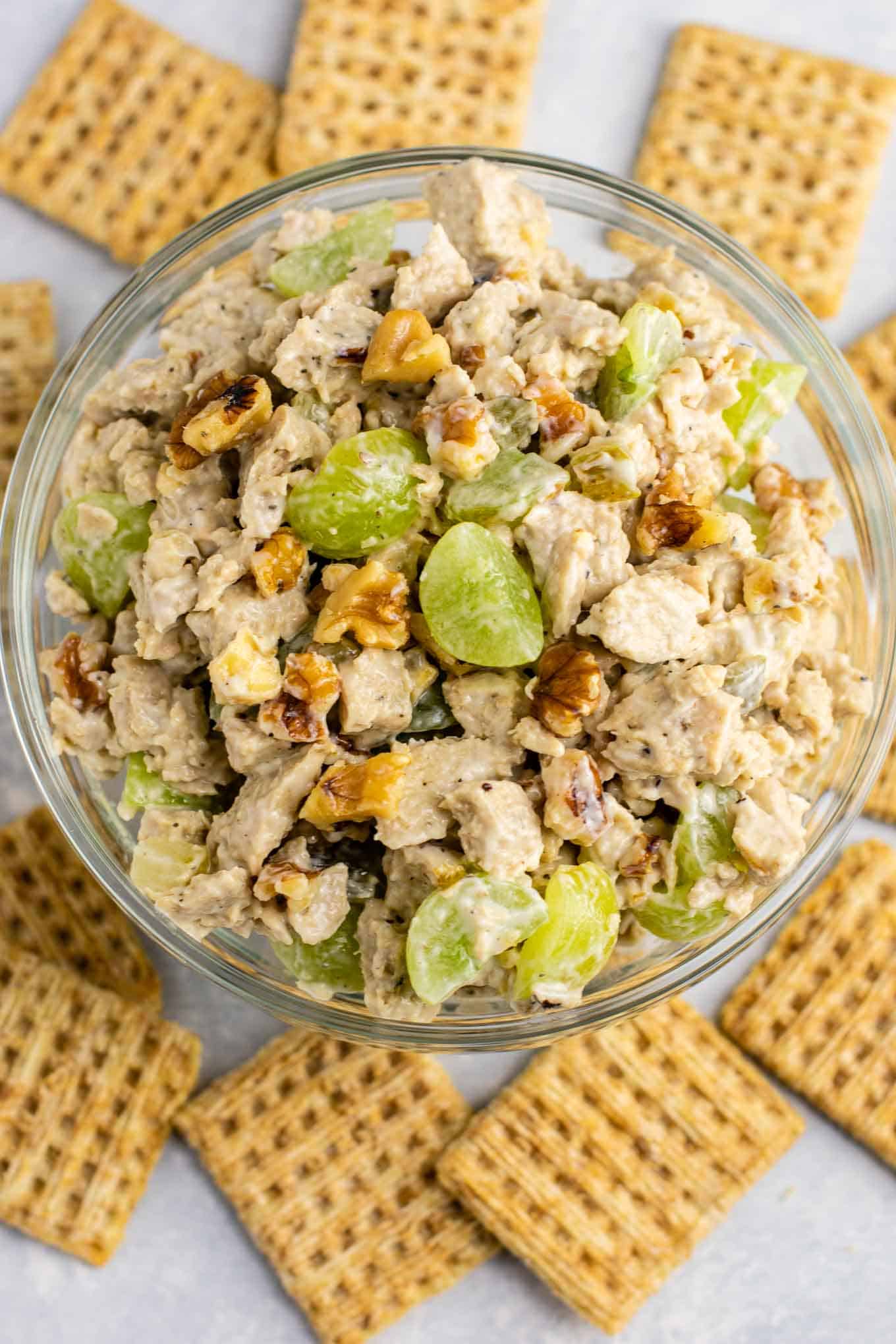 This vegetarian chicken salad comes together in literally minutes. It's incredibly easy and tastes delicious!
I'm not typically big on a lot of fake meat (and never even liked chicken salad as a meat eater), but I couldn't stop eating this!
Let me tell you, I was surprised. It's so uniquely flavorful and fresh with the addition of grapes and walnuts. I ate it with triscuit style crackers and couldn't get enough!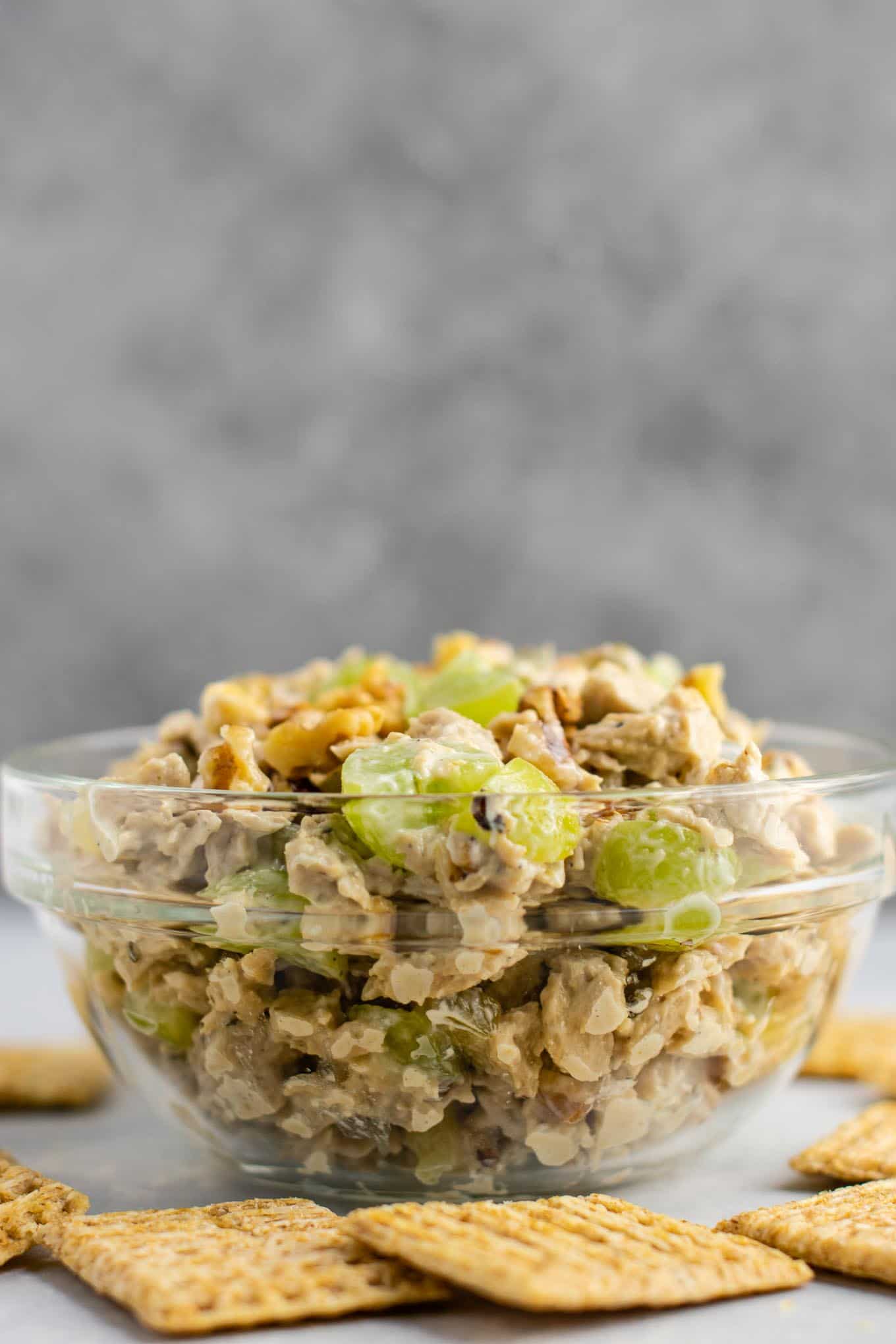 How to make vegan chicken salad
To make the vegan chicken salad, just chop up your chicken, grapes, pecans, and pickles and add to a bowl.
Stir it together with vegan mayo, a little fresh lemon juice, garlic powder, and salt and pepper to taste.
I don't include how much salt and pepper to use, as it will vary based on the chicken that you buy.
We bought the tofurky lightly seasoned chicken, which already had plenty of seasoning, so we did not add any additional salt or pepper.
I'm totally making this for my own lunches next week! It would be delicious in a wrap, or just on sandwich bread.
Or, if you like texture like me, serve it with crispy crackers.
So. Good.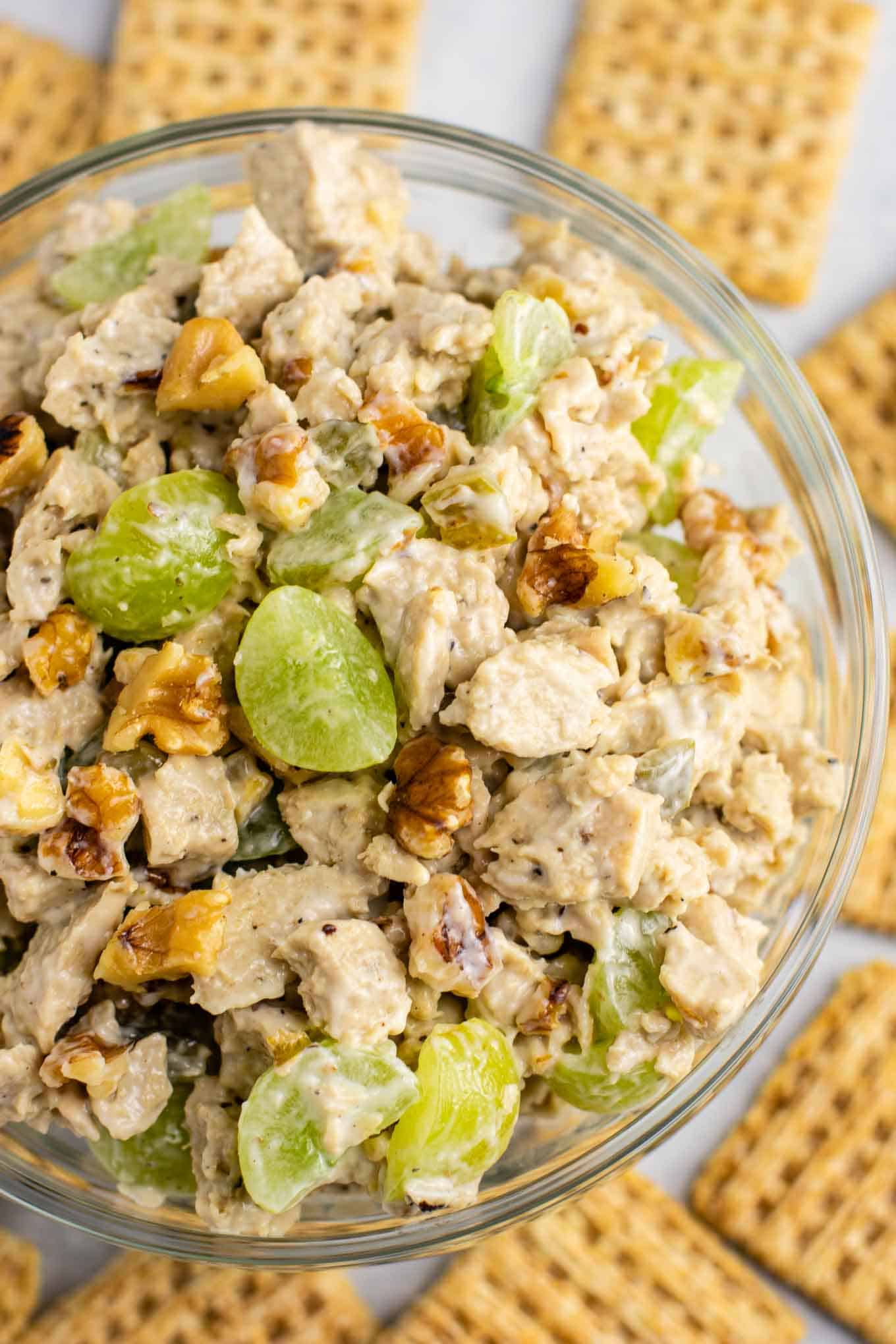 Are you making this recipe? I want to see! Be sure to tag me on instagram @buildyourbite and hashtag #buildyourbite!
Looking for more vegan lunches? See my recipe for vegan chickpea salad sandwiches!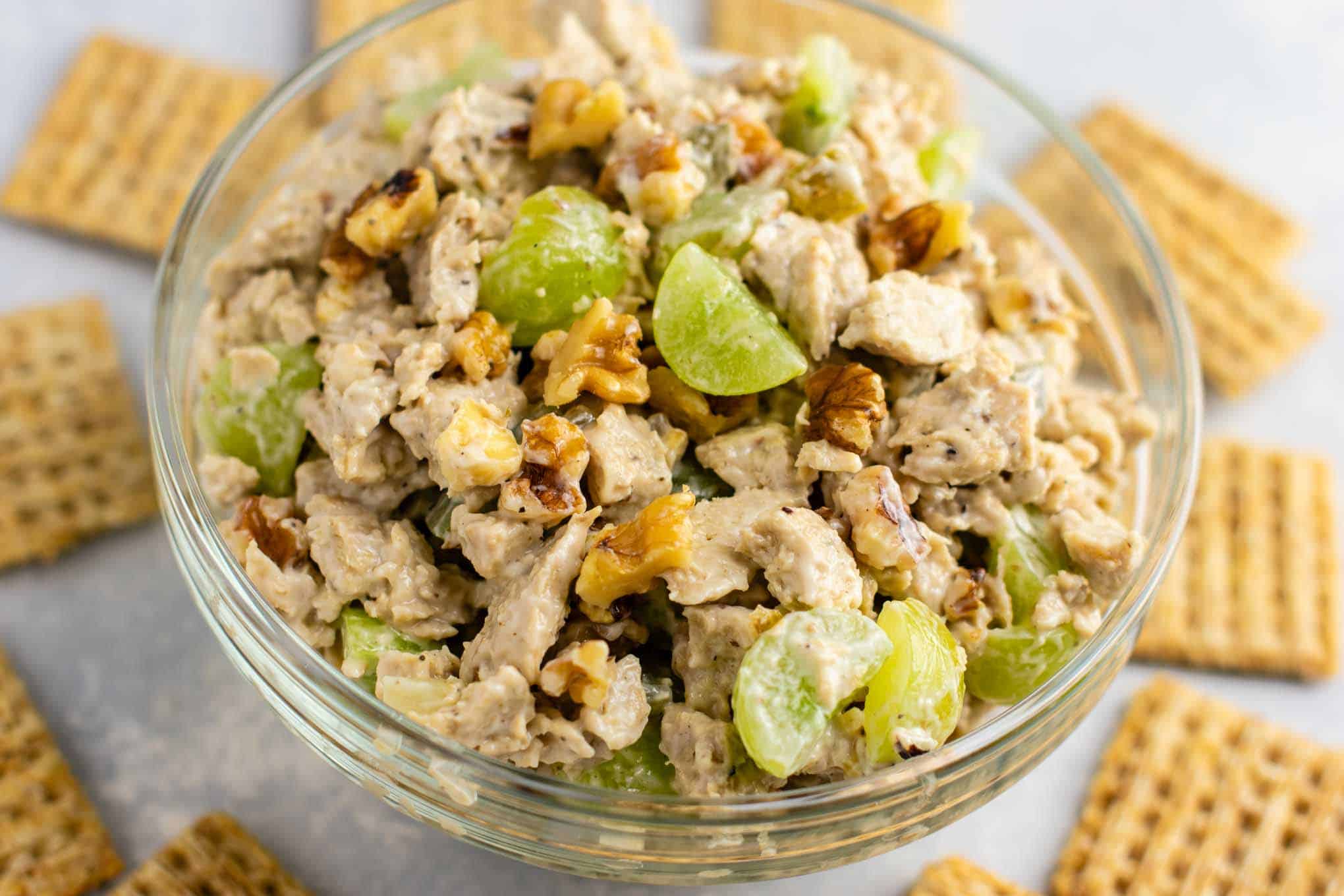 pin this recipe:
Did you make this recipe? Don't forget to leave a star rating below!

Vegan Chicken Salad
The best vegan chicken salad recipe with grapes and walnuts
Ingredients
8 oz refrigerated vegan chicken strips, chopped into small pieces (see notes)
1/2 cup quartered grapes
1/3 cup walnut pieces
1/8 cup diced bread and butter pickles
1/4 cup vegan mayo
1 tablespoon fresh lemon juice
1/8 teaspoon garlic powder
salt and pepper, to taste
Directions
Add all ingredients except salt and pepper to a bowl and stir to combine
Salt and pepper to taste, if necessary
Serve on bread, a wrap, or with crackers
Recipe Notes
I used tofurky lightly seasoned chicken strips for this recipe
Loading nutrition data...