Mashed chickpea salad sandwich recipe. A healthy smashed chickpea salad full of flavor and made with wholesome simple ingredients.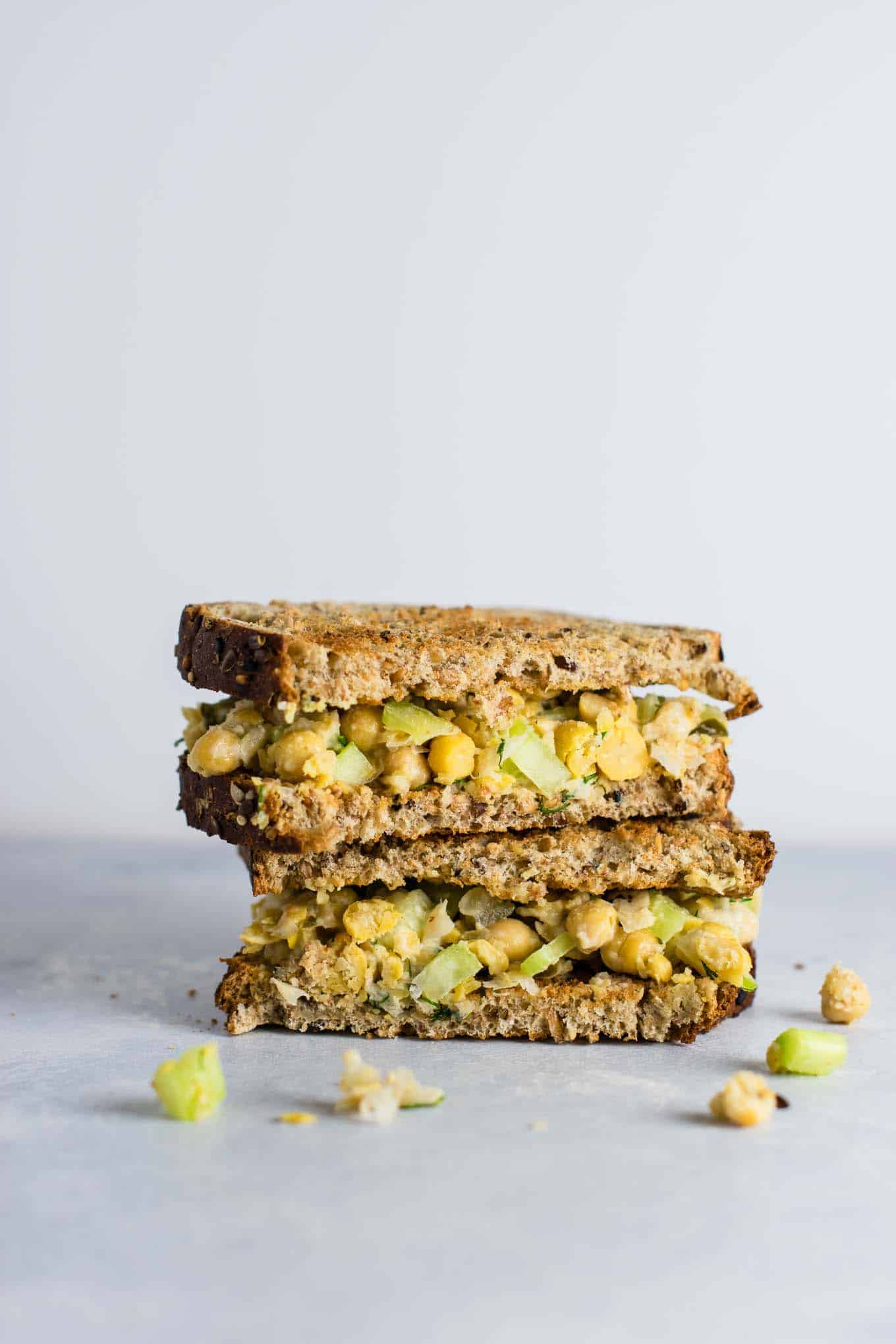 It's backkk! I've updated the pictures for this recipe from the archives so that I can share it again with you today!
This smashed chickpea salad sandwich has become such a favorite of ours over the years and it is so easy to make.
When my husband was a meat eater, he loved chicken salad sandwiches. He would often stop in the middle of a long workday to grab one from a convenience store.
Now that we are vegetarian, I created this chickpea sandwich that mimics the flavor and texture of chicken salad but is way lower in calories and full of fresh and delicious ingredients!
I never liked chicken salad, but I love these chickpea salad sandwiches!
How to make a chickpea salad sandwich
This recipe is just 9 ingredients, vegan, and packed full of flavor.
I'm all about easy to put together recipes, so I didn't want a recipe with a million ingredients.
This comes together in just minutes and requires little prep work!
Just smash up your chickpeas, chop up your celery, pickles, and dil, and add all the ingredients together and stir.
Serve on bread (toasted if you're like me.) This recipe is also great on wraps!

I'm not normally one for anything involving pickles and mayo, but I can't get enough of this chickpea salad!
The flavors all compliment each other really well without being too overpowering. That's key for me.
Too many pickles and the flavor just becomes too strong.
I tested this recipe to perfection, and it comes out just right every time.
My hubby goes crazy for these chickpea sandwiches, he will eat 3 in one sitting!
I've discovered that the easiest way to mash the chickpeas is to use the bottom of a mason jar and smash in a large bowl.
You can see the technique in the recipe video at the end of this post.
Sounds weird but it works great!
You could also use a potato masher, but I have found that the bottom of a mason jar or even just a glass cup works the best for me.
This is a great vegan meal prep recipe.
I can't count how many times I have made a batch of this chickpea salad and used it for quick sandwiches all week long.
The taste and texture compared to chicken salad is really very similar (or so my husband says.)
If you're vegan, vegetarian, or just looking to broaden your tastebuds, this is a fantastic lunch.
If you're looking for more vegan meal prep recipes, be sure to check out my Sweet Chili Tofu Bowls!
Are you making this recipe? I want to see! Don't forget to tag me on instagram @buildyourbite and hashtag #buildyourbite with all your recipe creations!
Click below to pin this smashed chickpea salad sandwich:
Chickpea Salad Sandwich
Vegan chickpea salad sandwich recipe made with less than 10 ingredients. The perfect vegan meal prep recipe!
Ingredients
2 cans of chickpeas, drained and thoroughly smashed (we use the bottom of a mason jar to smash them)
1 cup diced celery
2 teaspoons fresh dill, finely diced/minced
1/2 cup diced bread and butter pickles
1 tablespoon + 1 teaspoon fresh lemon juice
1/2 teaspoon sea salt
fresh pepper, to taste
1/4 cup vegan mayo
1/4 teaspoon garlic powder
Directions
Drain chickpeas and place in a large bowl. Mash well (we use the bottom of a mason jar as a masher)
Add remaining ingredients and mix well
Serve with lettuce, avocado, or toppings of choice.
Enjoy!
Loading nutrition data...