This vegan breakfast hash recipe is made with russet potatoes and sweet potatoes slow roasted to crispy perfection. A seriously delicious vegan breakfast idea!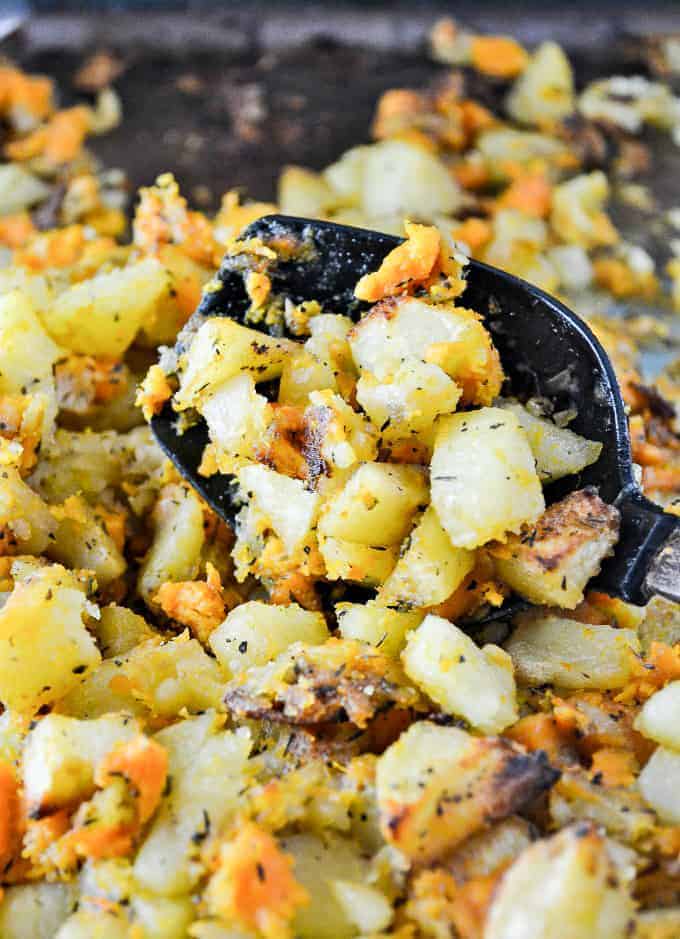 This simple vegan breakfast hash is one of my favorite dishes to make on the weekends for breakfast, or prep ahead for easy week day mornings.
This recipe is one of my favorite breakfast hashes and is so easy to make!
Ingredients to make vegan breakfast hash
russet potatoes
sweet potato
onion powder
garlic powder
thyme
sea salt
pepper
olive oil
diced onion
minced garlic
All simple ingredients, but paired together it results in a magical delicious vegan breakfast!
How to make breakfast hash

Step 1: peel and dice up some sweet potatoes and russet potatoes.
I like the mixture of both sweet and russet to add some flavor and texture variety.
Step 2: Drizzle the potatoes with a little bit of olive oil, add the spices, and toss it together to coat. Place in a large 9 by 13 baking dish.
Step 3: place the potatoes in the oven.

Step 4: While the potatoes are cooking, sautee up some fresh garlic and onion in a skillet on the stove.
This really amps up the depth of flavor in this dish and I highly recommend not skipping this step.
You can make this dish without the fresh garlic and onion, but I really prefer the taste this way!
Garlic and onion are a great base to any recipe.
If you really want that extra something in your recipe, add some fresh garlic and onion.
Even if you don't typically like the flavors alone, you will be surprised at how much flavor depth they can add to simple recipes.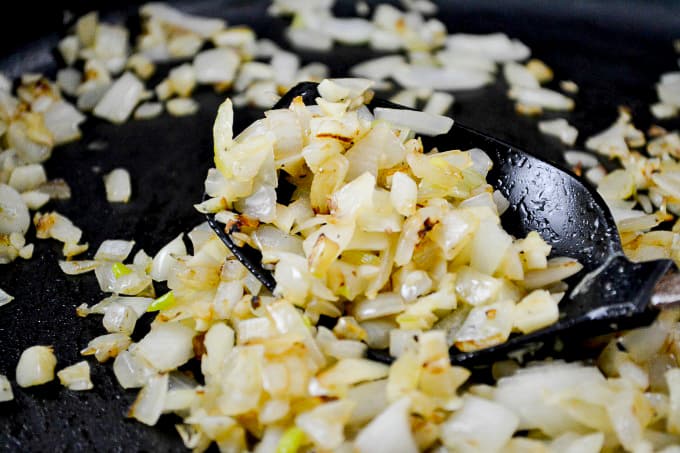 Cook them until they're all browned and caramelized looking like this!
I usually sautee them for around 5-10 minutes, but depending on the pan you use it may take longer.
Just look for the onions to caramelize and soften up until they start to brown and aren't crunchy any more.
Step 5: Once the onions are soft and the potatoes are done, mix it all together and it's ready to serve!
The potatoes will need to be checked about every 15 – 20 minutes while roasting.
They should be very crispy once they are done.
The combination of high heat and frequent stirring will help us get those crunchy yummy edges that are everyone's favorite!
I could eat this vegan hash straight from the pan.
This recipe uses a similar technique to my Famous Crispy Potato Casserole, and I always get so many compliments when I use this method of slow roasting.
The flavor is just incredible!
I use a spatula to scrape up the potatoes that stick to the pan each time I stir.
This will help get that crispiness on all the sides of the potatoes.
Crispy = perfect potato texture in my opinion!
I usually enjoy ketchup when I eat my potatoes, but this doesn't even need it!
The flavor is so good all on it's own!
What to serve with this recipe
Here are a few of my favorite breakfast ideas to serve with this hash!
If you're a potato lover, you are definitely in the right place.
Pictured below is this hash in a vegan breakfast burrito!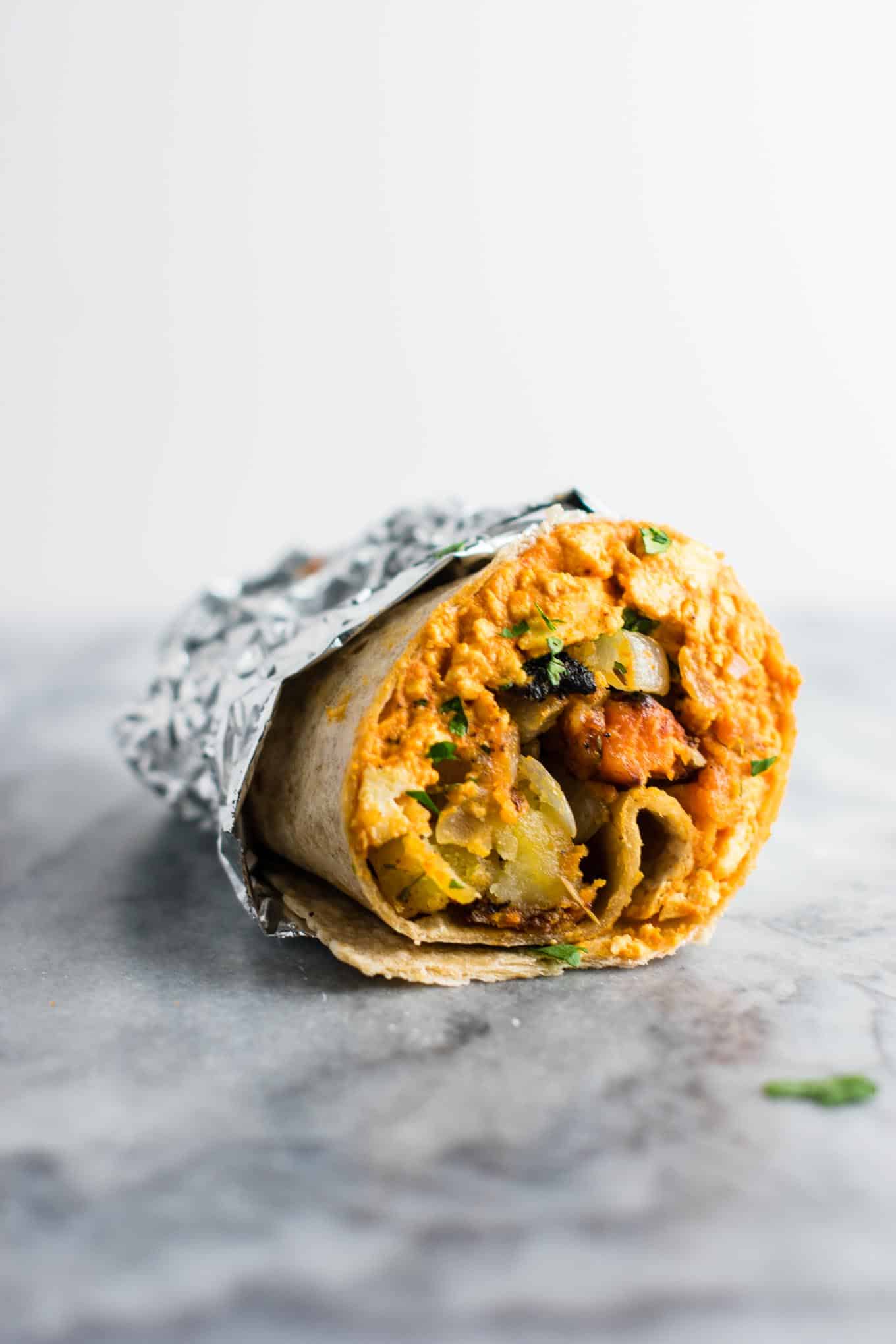 My friends and I had brunch yesterday. One of them is vegan. She rarely gets vegan food at these lunches so I try really hard to find recipes for her. This was such a hit with EVERYONE there. I know i'll Be making this frequently for my own household. – Myrna

I make this at home when I do my 21 day "Daniel fast" (only fruits and veggies ) I love how simple this recipe is and so many variations. – Beth

Definitely my favorite recipe for potatoes!! I love how there is not too much flavor fighting throught it, it's just simple but yet super tasty! – Desiree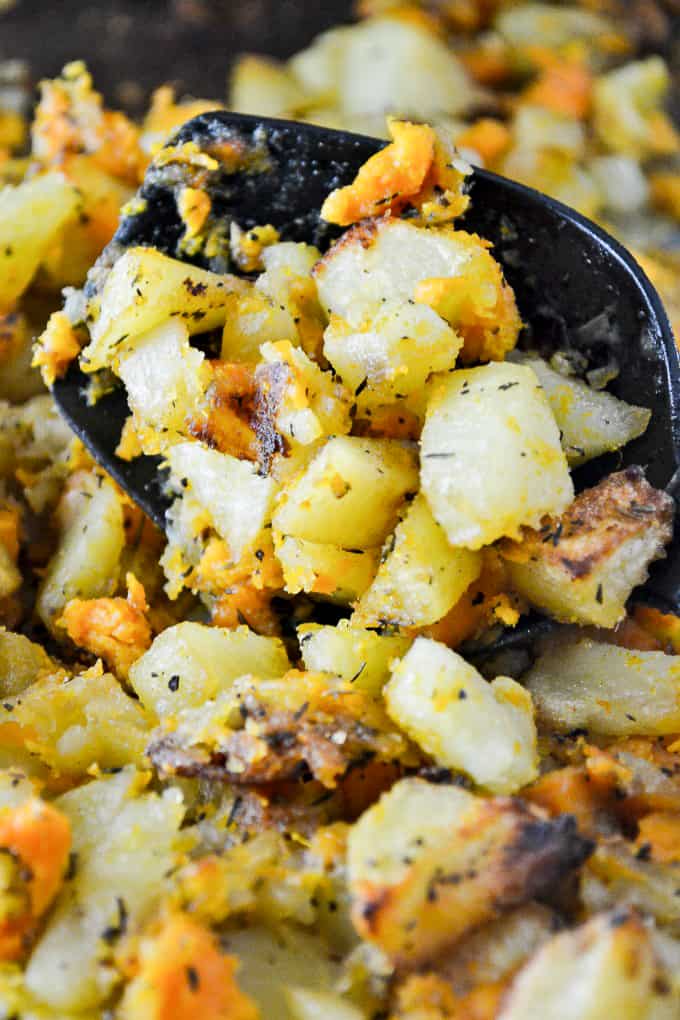 Do you have an air fryer? If so, check out a similar recipe for air fryer breakfast hash!
Are you making this recipe? I want to see! Don't forget to tag me on instagram @buildyourbite and hashtag #buildyourbite with your recipe creations!
Be sure to pin this recipe for later and follow Build Your Bite on Pinterest for all the latest delicious recipes!
Did you make this recipe? Be sure to leave a star rating below!
Simple Vegan Breakfast Hash
Simple vegan breakfast hash with russet potatoes and sweet potatoes. A delicious vegan breakfast idea!
Ingredients
For the Potatoes
3 medium russet potatoes, peeled and diced
1 large sweet potato, peeled and diced
1 tablespoon onion powder
1 tablespoon garlic powder
1 teaspoon dried thyme
2 teaspoons sea salt
1 teaspoon pepper
¼ cup olive oil
For the garlic and onion mixture
1 medium onion, diced
5 cloves of garlic, finely diced or minced
1 teaspoon olive oil
sprinkle of sea salt & pepper
Instructions
Combine diced potatoes with spices and ¼ cup of olive oil, mix well. Bake in a glass casserole dish at 450 degrees for 40-50 minutes, checking and stirring ever 20 minutes, until crispy
Use a spatula to unstick potatoes from the pan each time you stir
Sautee onion, garlic, 1 teaspoon of olive oil, and a sprinkle of sea salt and pepper in a skillet. Cook for 5-8 minutes, or until browned
Once potatoes are crispy, remove from oven and stir in the garlic and onion skillet mixture until combined
Serve with your favorite vegan breakfast protein or in a vegan breakfast burrito!
Recommended Products
As an Amazon Associate and member of other affiliate programs, I earn from qualifying purchases.
Nutrition Information:
Yield:

6
Serving Size:

1
Amount Per Serving:
Calories:

212
Total Fat:

10g
Saturated Fat:

1g
Trans Fat:

0g
Unsaturated Fat:

8g
Cholesterol:

0mg
Sodium:

781mg
Carbohydrates:

28g
Fiber:

4g
Sugar:

3g
Protein:

3g