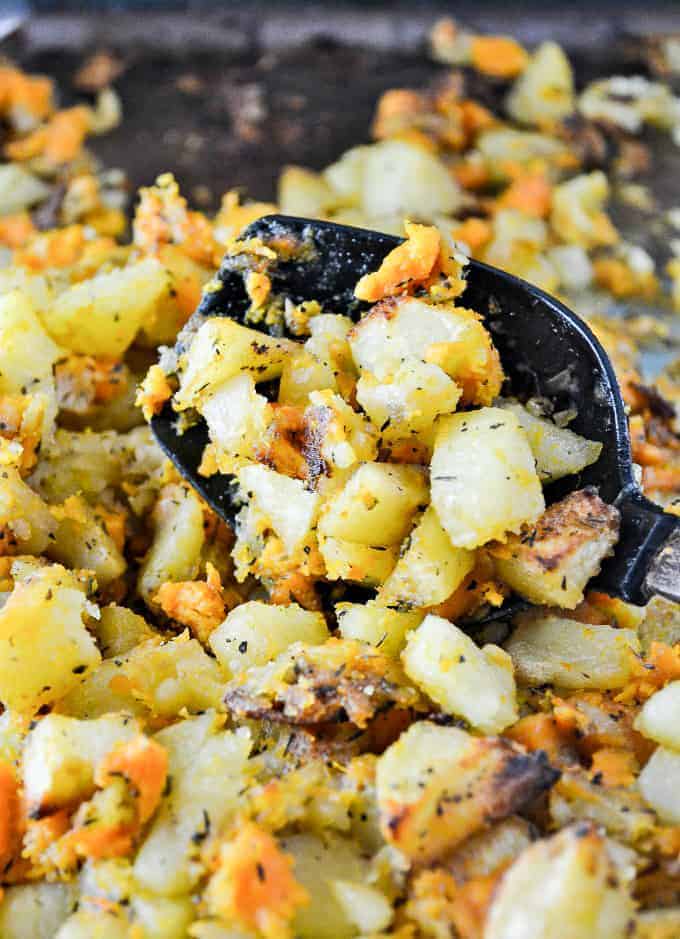 I was vegan for about six months of my life, and during that time, I was always surprised when people asked me what on earth I ate.
Even after transitioning from veganism to vegetarianism I still get asked what I eat.
Even my pescetarian husband is teased for his diet.
The question is silly to me now, because eating this way is so natural for me.
The assumption is that food without meat doesn't taste good, but I beg to differ!
Vegan food is delicious! Even though I am no longer vegan, many of the food I eat are without me realizing it.
This recipe is one of my favorite breakfast hashes and is so easy to make!

First, peel and dice up some sweet potatoes and russet potatoes.
I like the mixture of both sweet and russet to add some flavor and texture variety.
Drizzle the potatoes with a little bit of olive oil, sprinkle on a few spices, and put them in the oven!

While the potatoes are cooking, sautee up some fresh garlic and onion in a skillet on the stove.
This really amps up the depth of flavor in this dish and I recommend not skipping this step.
You can make this dish without the garlic and onion, but I really prefer the taste this way!
Side note – I know many recipes call for only using a clove or two of garlic, but the more garlic the better in my opinion!
This simple vegan breakfast hash uses 5 cloves of garlic but it definitely is not overpowering, but instead gives the dish a great flavor.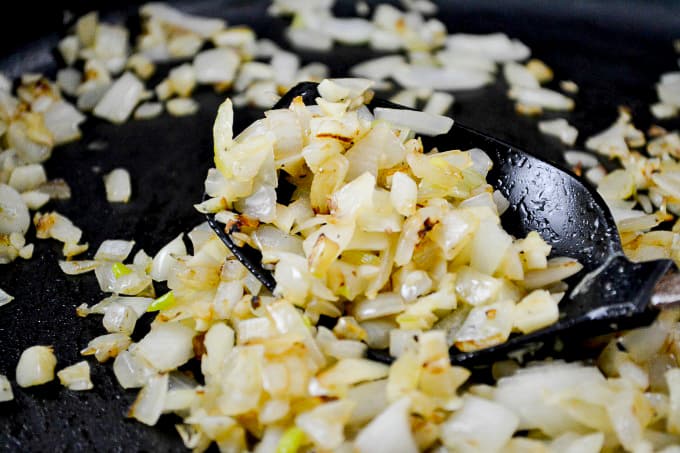 Cook them until they're all browned and yummy looking like this!
I usually sautee them for around 5-10 minutes.
Just long enough for the onions to caramelize.

Your potatoes should be crispy once they're done roasting.
The combination of high heat and frequent stirring will help us get those crunchy yummy edges that are everyone's favorite!
I use a spatula to scrape up the potatoes that stick to the pan each time I stir.
This will help get that crispiness on all the sides of the potatoes.
I usually enjoy ketchup when I eat my potatoes, but this doesn't even need it! The flavor is so good!
This recipe is similar to my Famous Crispy Potato Casserole and both are always hits when I serve them!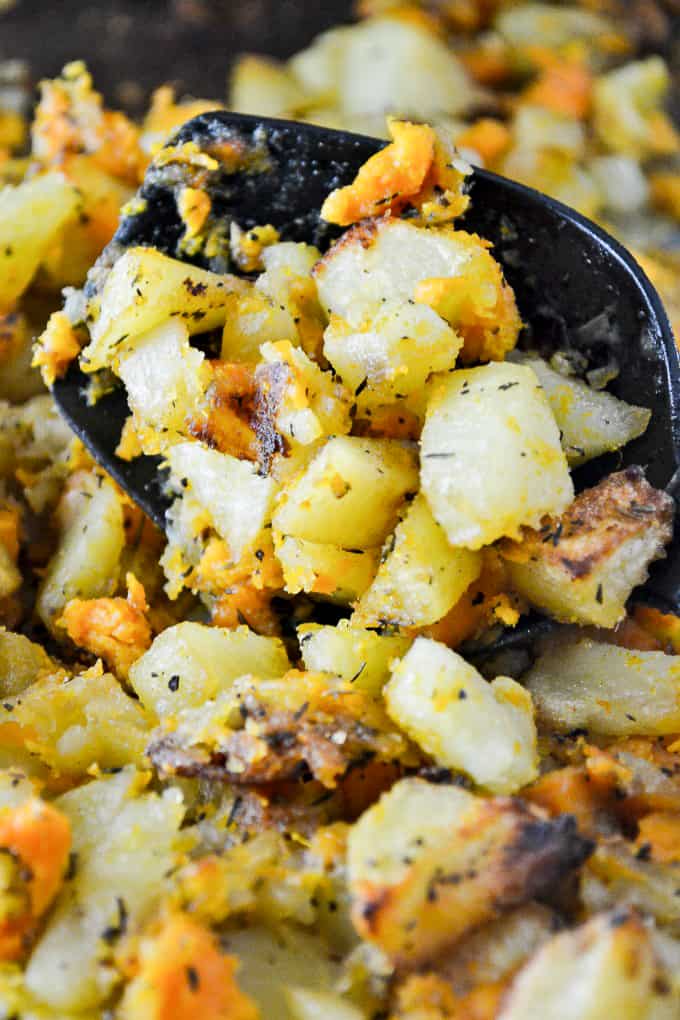 Try this for your next breakfast!
PIN it for later:
As always, don't forget to tag me in your recipe creations on Instagram, follow me @buildyourbite and #buildyourbite when you make one of my recipes! 
Simple Vegan Breakfast Hash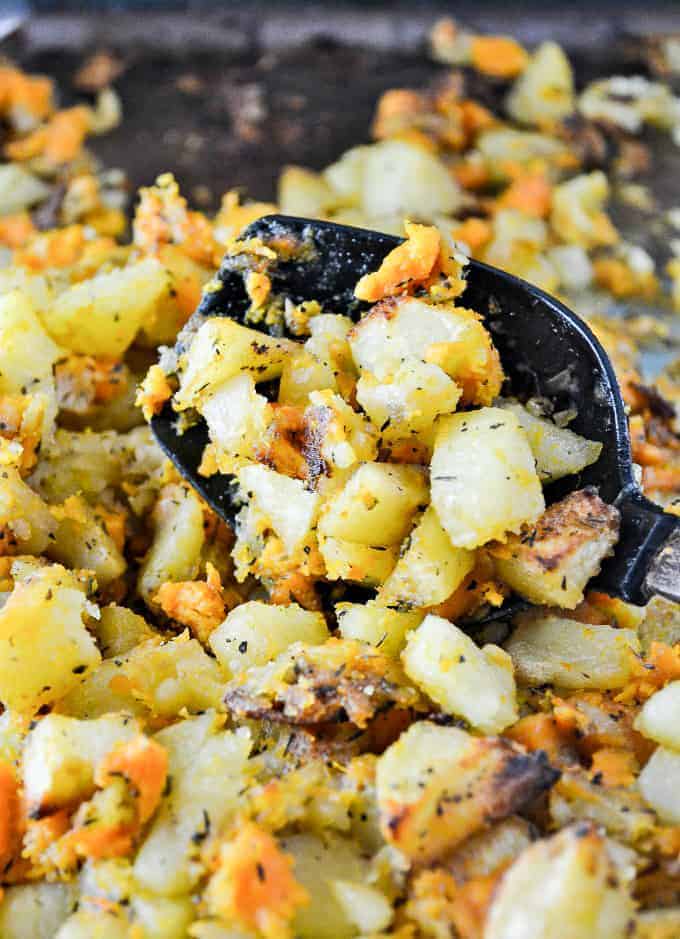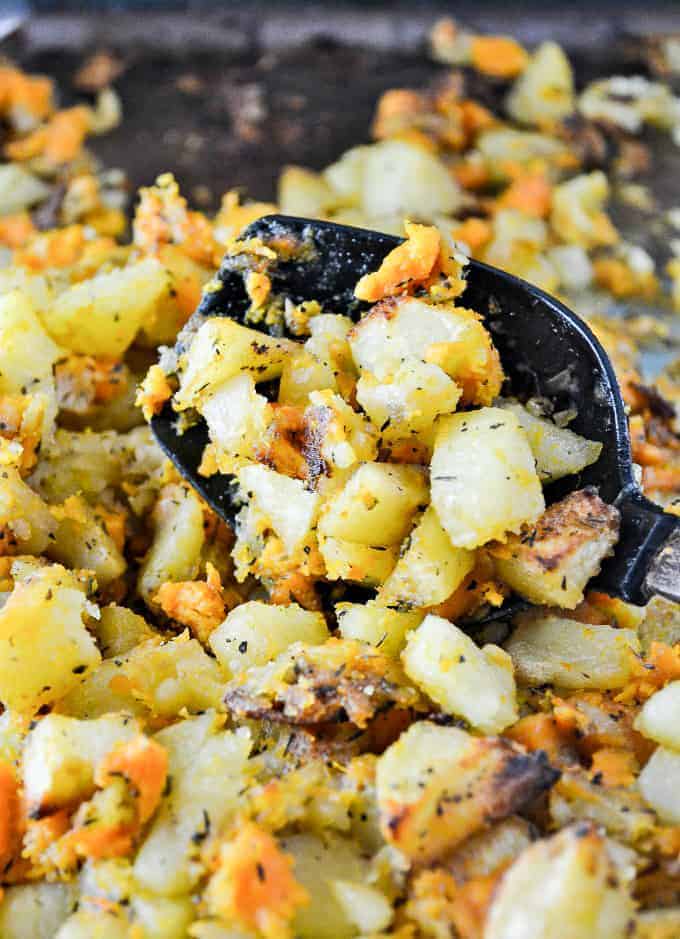 Ingredients
For the Potatoes
3

medium russet potatoes, peeled and diced

1

large sweet potato, peeled and diced

1

tablespoon onion powder

1

tablespoon garlic powder

1

teaspoon dried thyme

2

teaspoons sea salt

1

teaspoon pepper

1/4

cup olive oil
For the skillet mixture
1

medium onion, diced

5

cloves of garlic, finely diced or minced

1

teaspoon olive oil

sprinkle of sea salt & pepper
Instructions
Combine diced potatoes with spices and ¼ cup of olive oil, mix well. Bake in a glass casserole dish at 450 degrees for 40-50 minutes, checking and stirring ever 20 minutes, until crispy
Use a spatula to unstick potatoes from the pan each time you stir
Sautee onion, garlic, 1 teaspoon of olive oil, and a sprinkle of sea salt and pepper in a skillet. Cook for 5-8 minutes, or until browned
Once potatoes are crispy, remove from oven and stir in the garlic and onion skillet mixture until combined
Enjoy!