Easy Dark Chocolate Almond Bark recipe. A delicious dessert everyone will love! Vegan, gluten free, and so simple to make.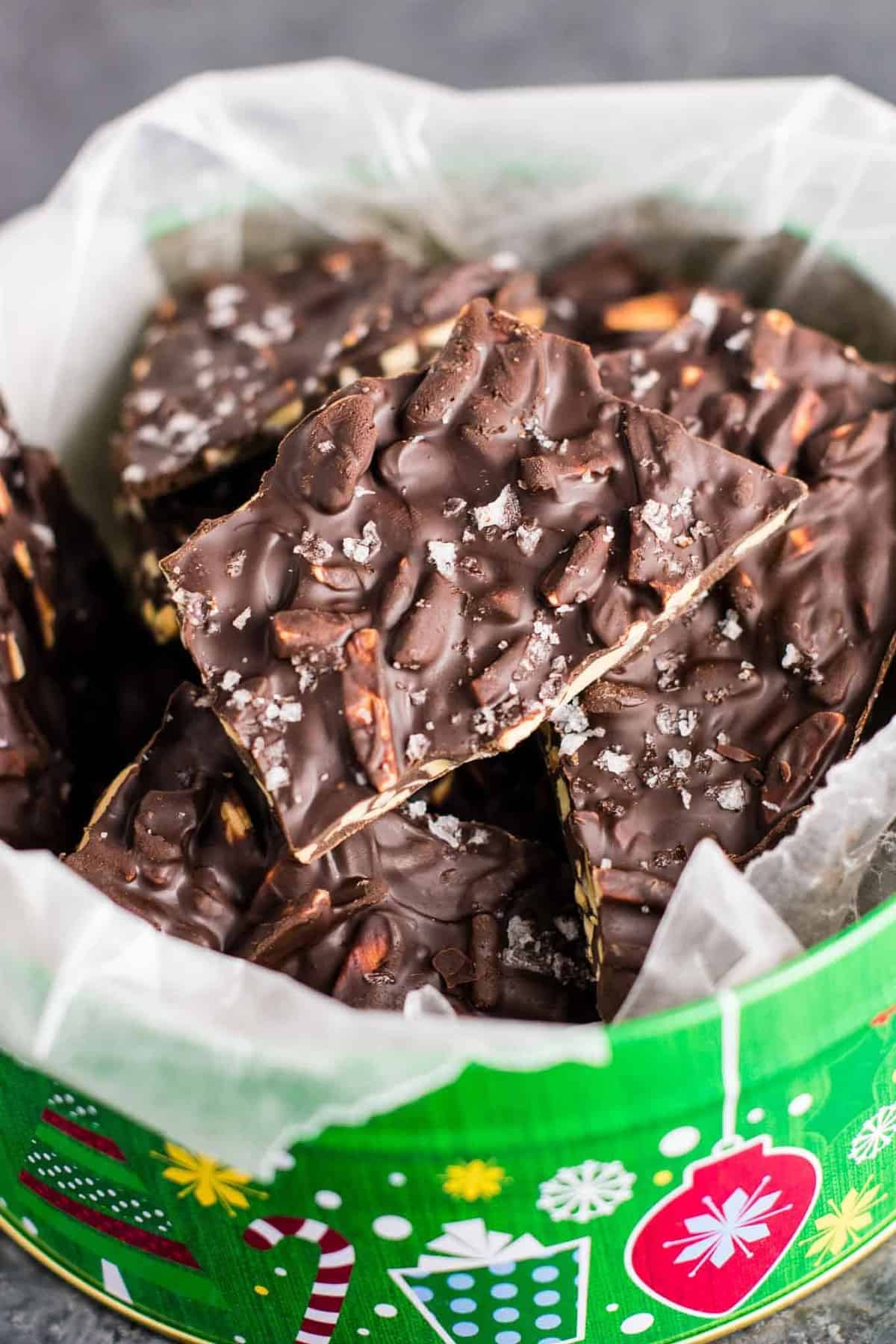 After hosting Thanksgiving for the first time this year, I got even more excited about Christmastime and starting fun new traditions for my family.
My favorite traditions revolve around recipes, and I knew that I wanted to create some more easy and delicious holiday recipes that we can make every year!
This chocolate almond bark is one of my new favorite recipes for the holidays.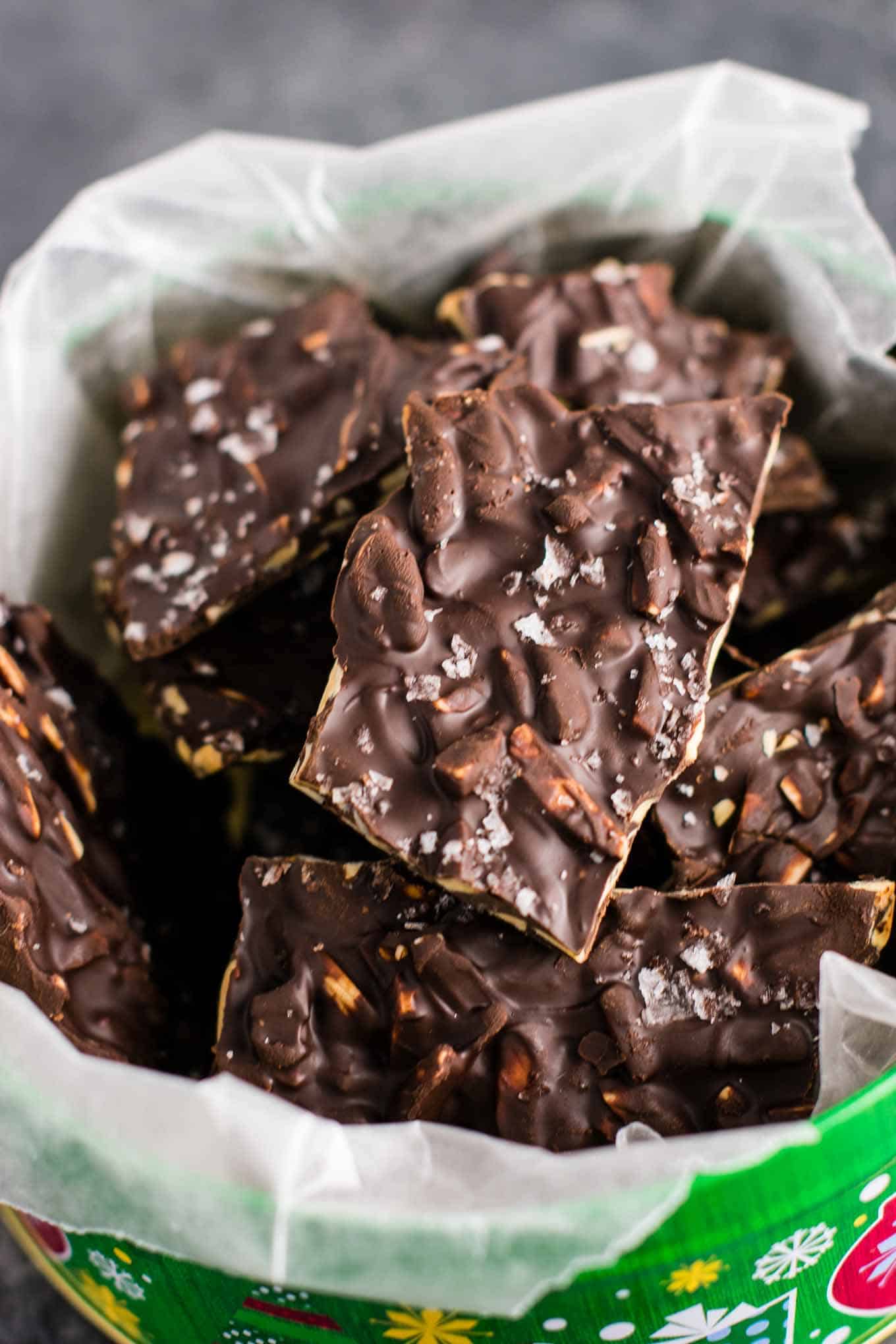 It is incredibly addicting, so simple to make, and tastes like a fancy treat!
This recipe also happens to be vegan and gluten free, so it can be enjoyed by all.
How to make chocolate almond bark
Preheat oven to 350 degrees .
Step 1: Line a baking sheet with parchment paper and place the slivered almonds down and spread out so that they lay flat.
Bake the almonds at 350 degrees for 8 – 10 minutes, checking often, until toasty brown but not burnt.
Step 2: In a saucepan or double boiler, add coconut oil, chocolate chunks, and vanilla extract.
Stir on low heat until completely melted (be careful not to burn).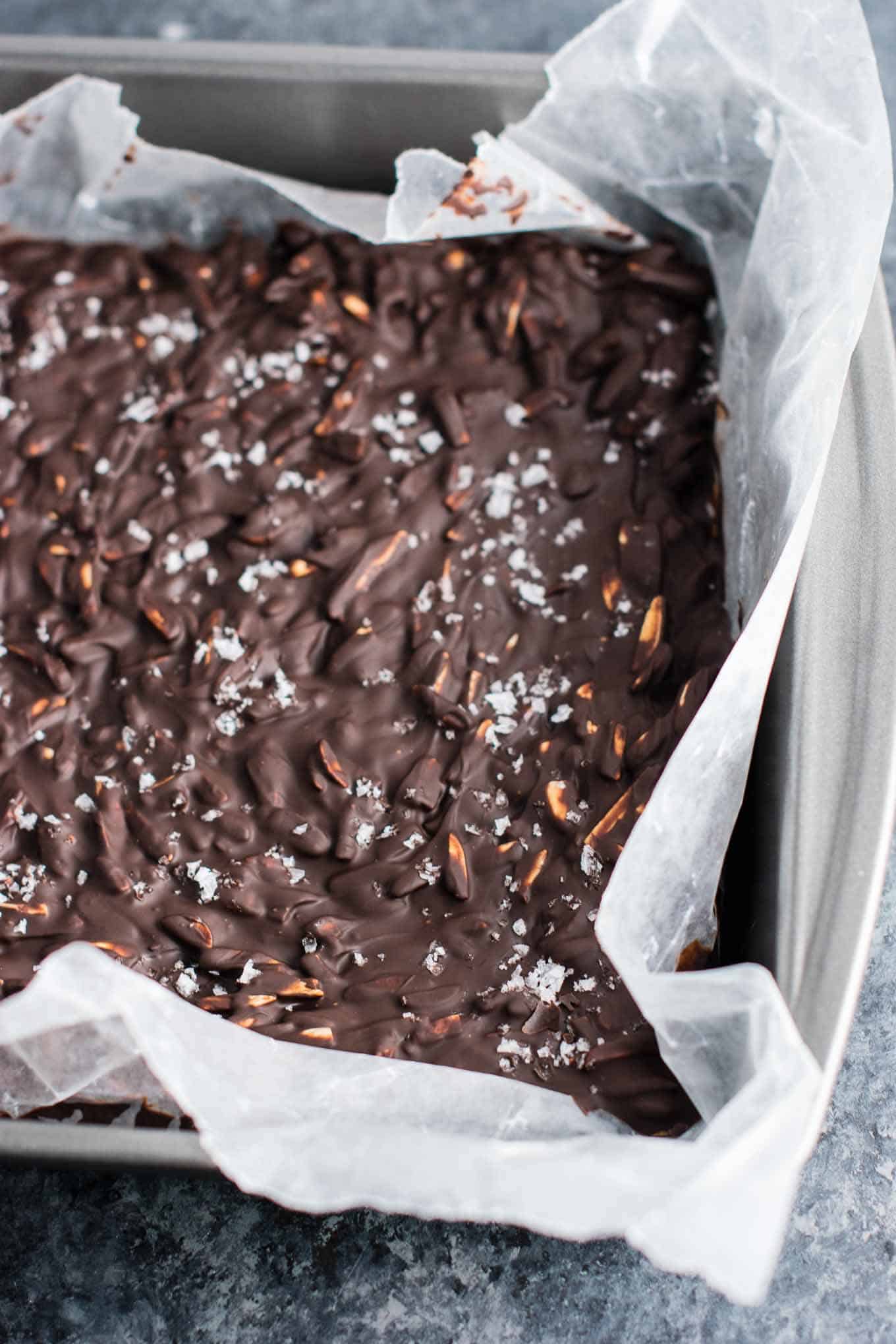 Step 3: Add the almonds into the melted chocolate and stir to combine.
Step 4: Line an 8 by 8 baking dish with wax paper and pour in the chocolate almond mixture.
Use a rubber spatula to flatten out the chocolate evenly into the pan. Sprinkle with flaked sea salt generously.
Step 5: Refrigerate for an hour, or until set. Break the dark chocolate almond bark into pieces and store in the fridge or freezer.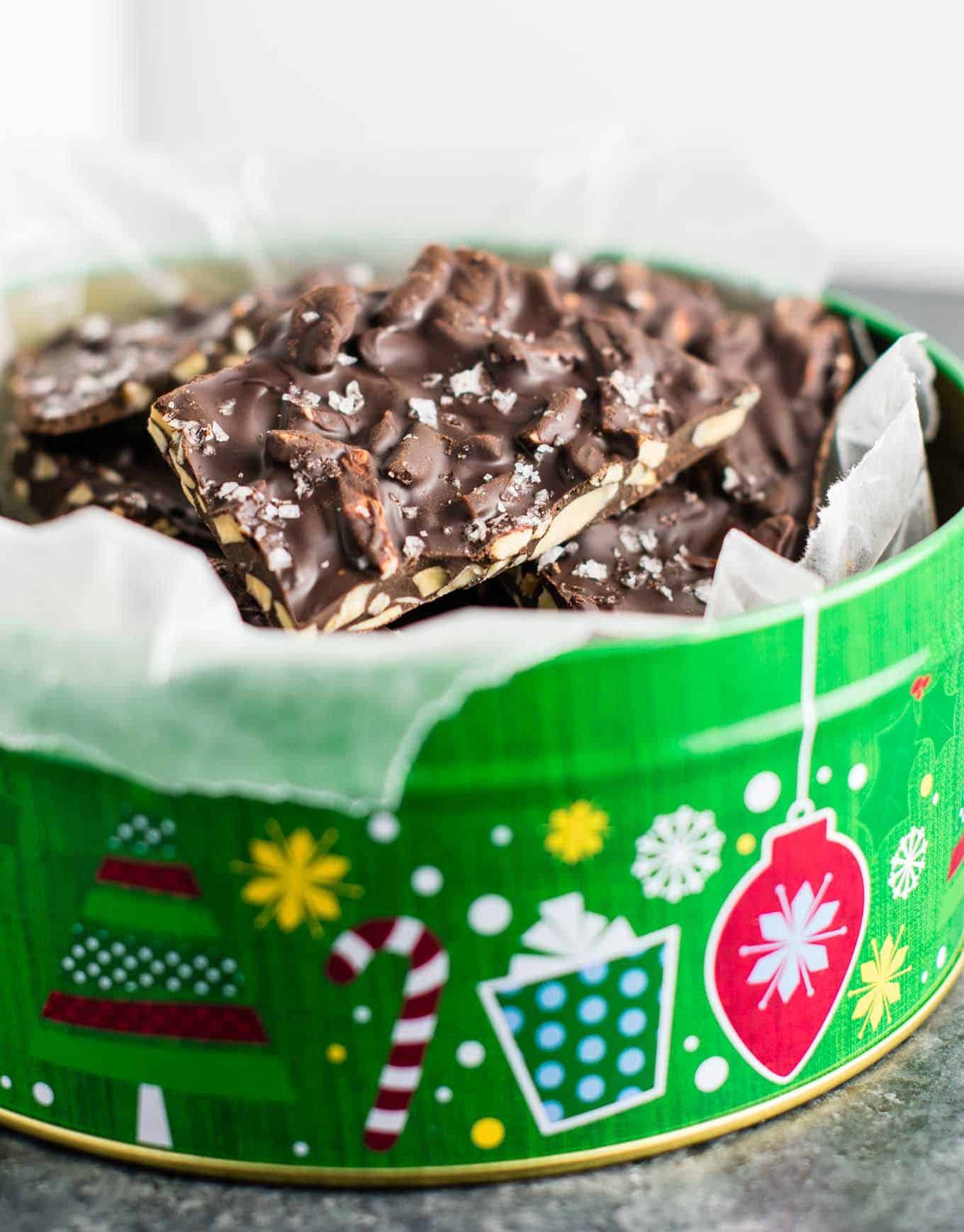 This recipe is everything a good dessert should be: easy to make, limited ingredients, and knock your socks off delicious.
The flaked sea salt on top is what gives this a huge wow factor and it's my favorite part of this almond bark!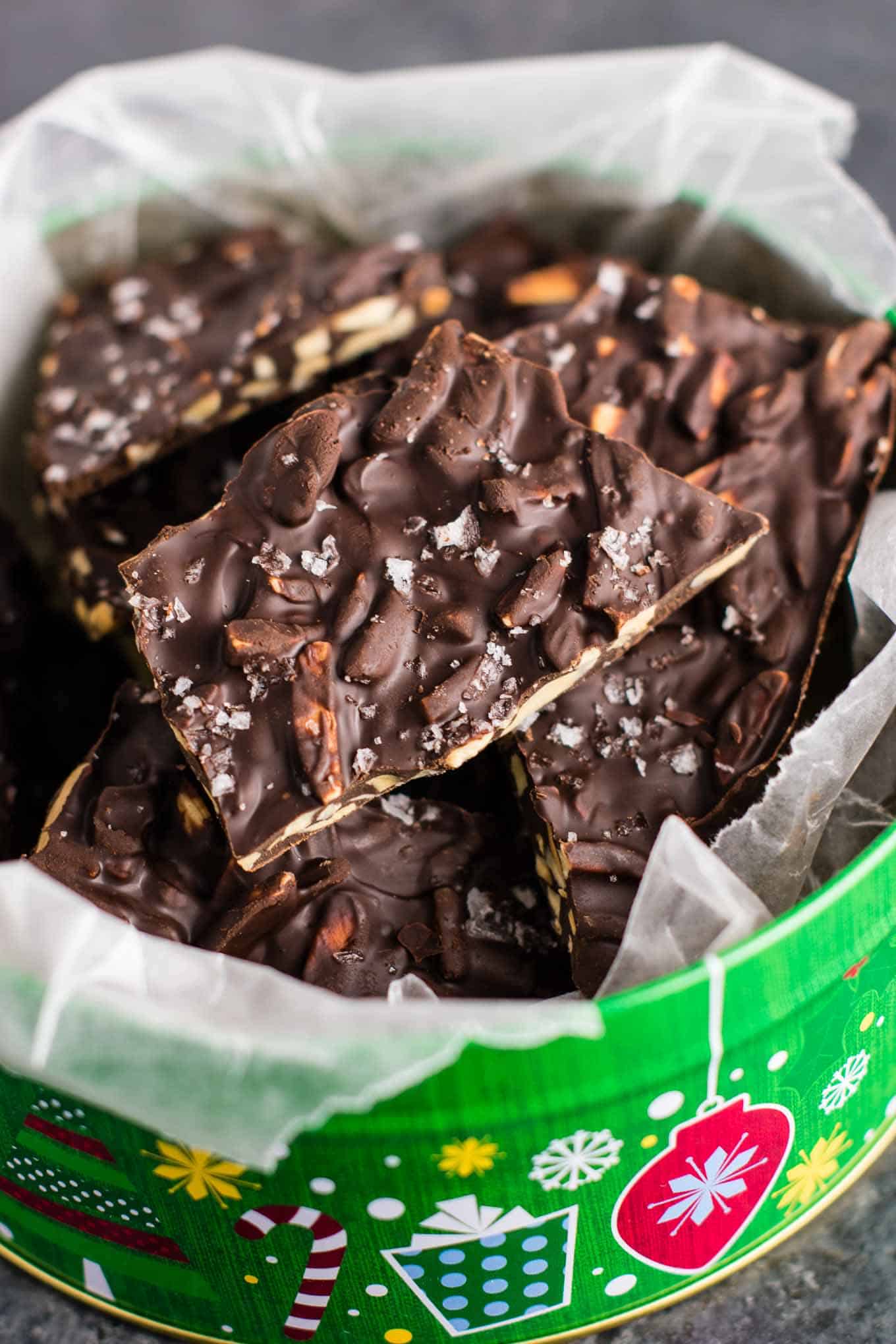 I also toasted the almonds first to give them a nutty rich flavor.
It doesn't take very long and really adds great flavor.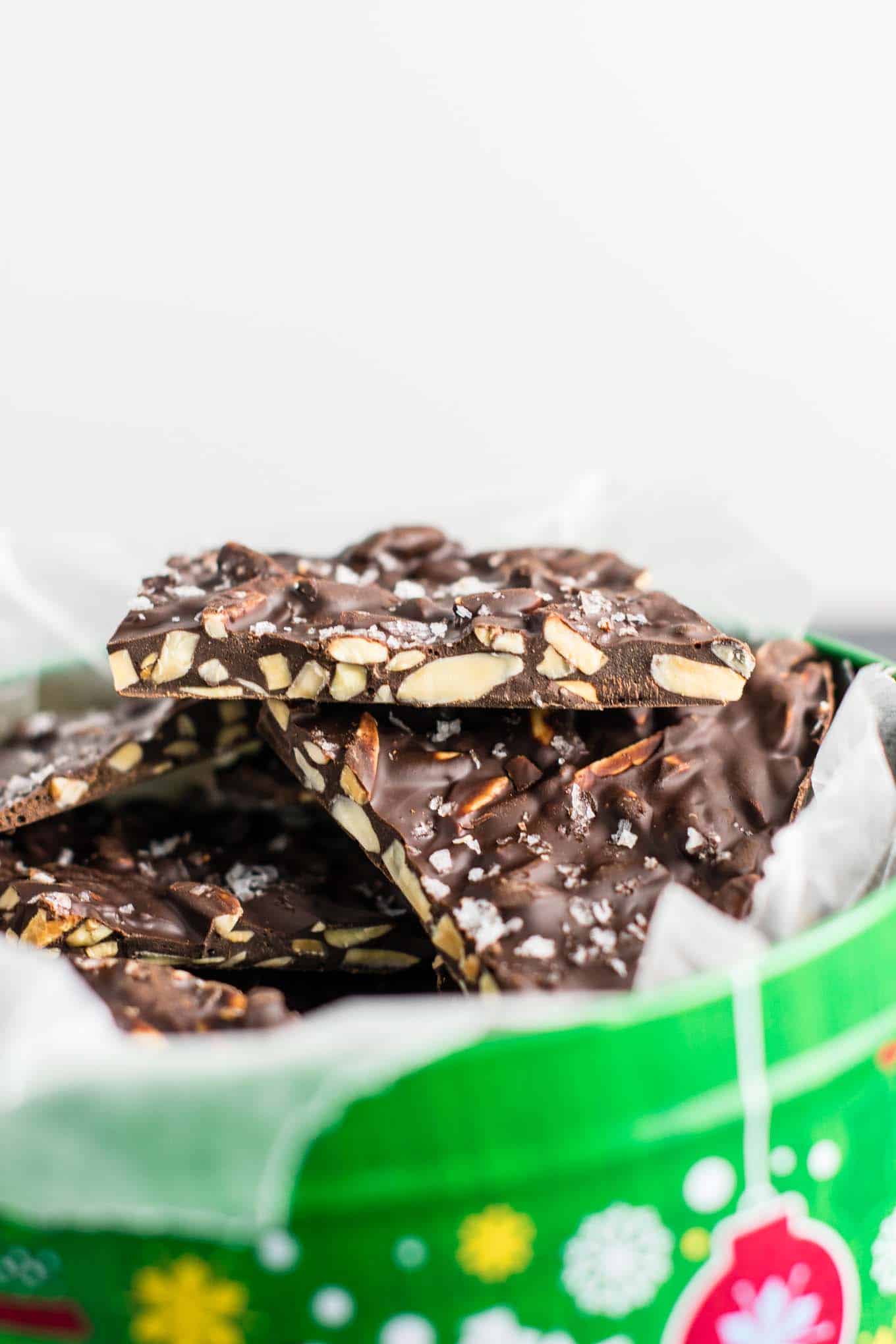 I'm not normally an almond person, but I adored this bark.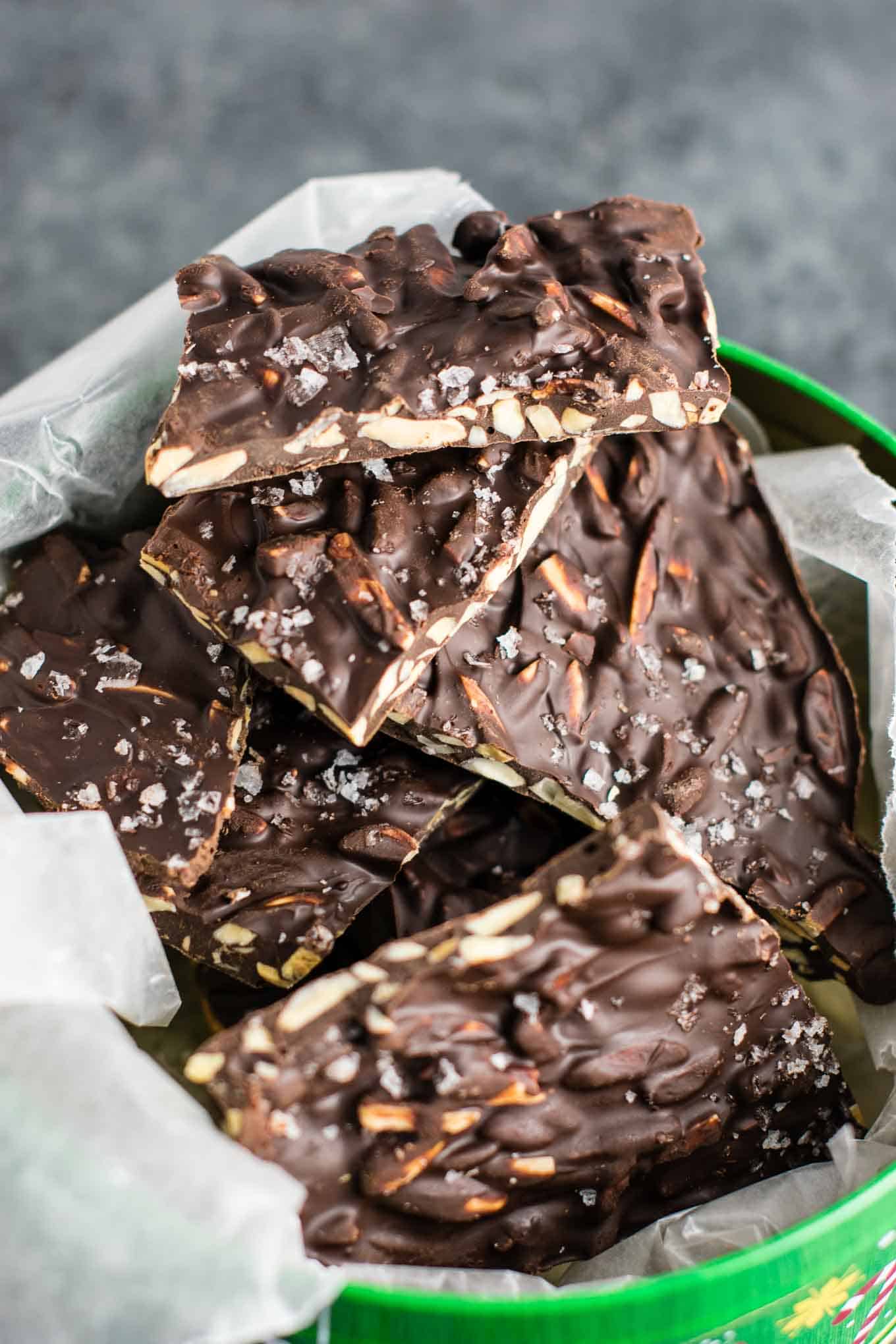 Slivered almonds give the perfect amount of nuttiness without any big bites getting stuck in your teeth.
This almond bark is easy to chew and the perfect amount of crunch!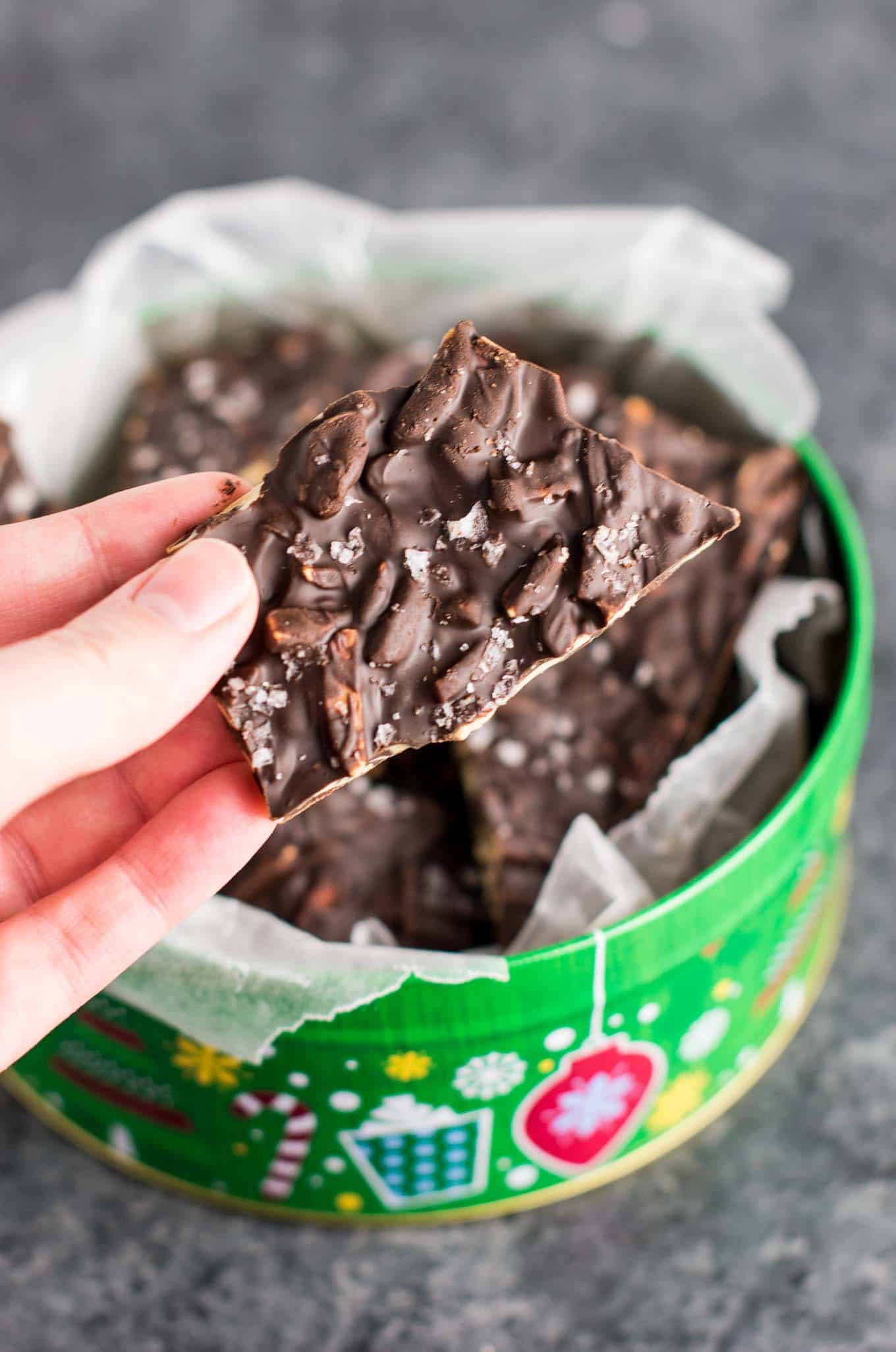 This is definitely a staple for us now.
I cannot wait to make it for a Christmas party this weekend!
I usually make a double batch because it is gone quickly.
Everyone goes crazy for this recipe!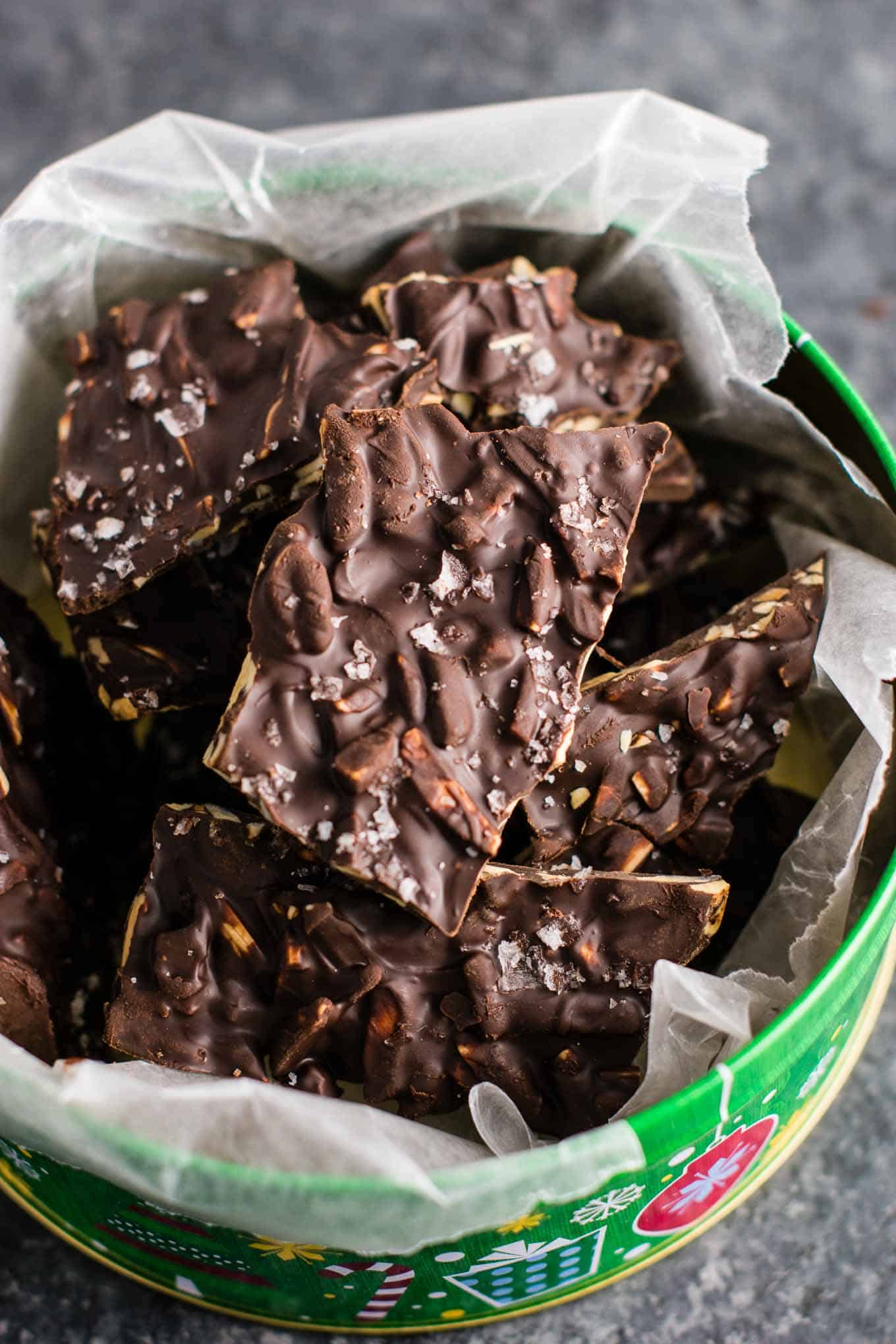 More No Bake Christmas Recipes
Are you making this recipe? I want to see! Don't forget to tag me on instagram @buildyourbite and hashtag #buildyourbite with your recipe creations!
Be sure to pin this recipe for later and follow Build Your Bite on Pinterest for all the latest delicious recipes!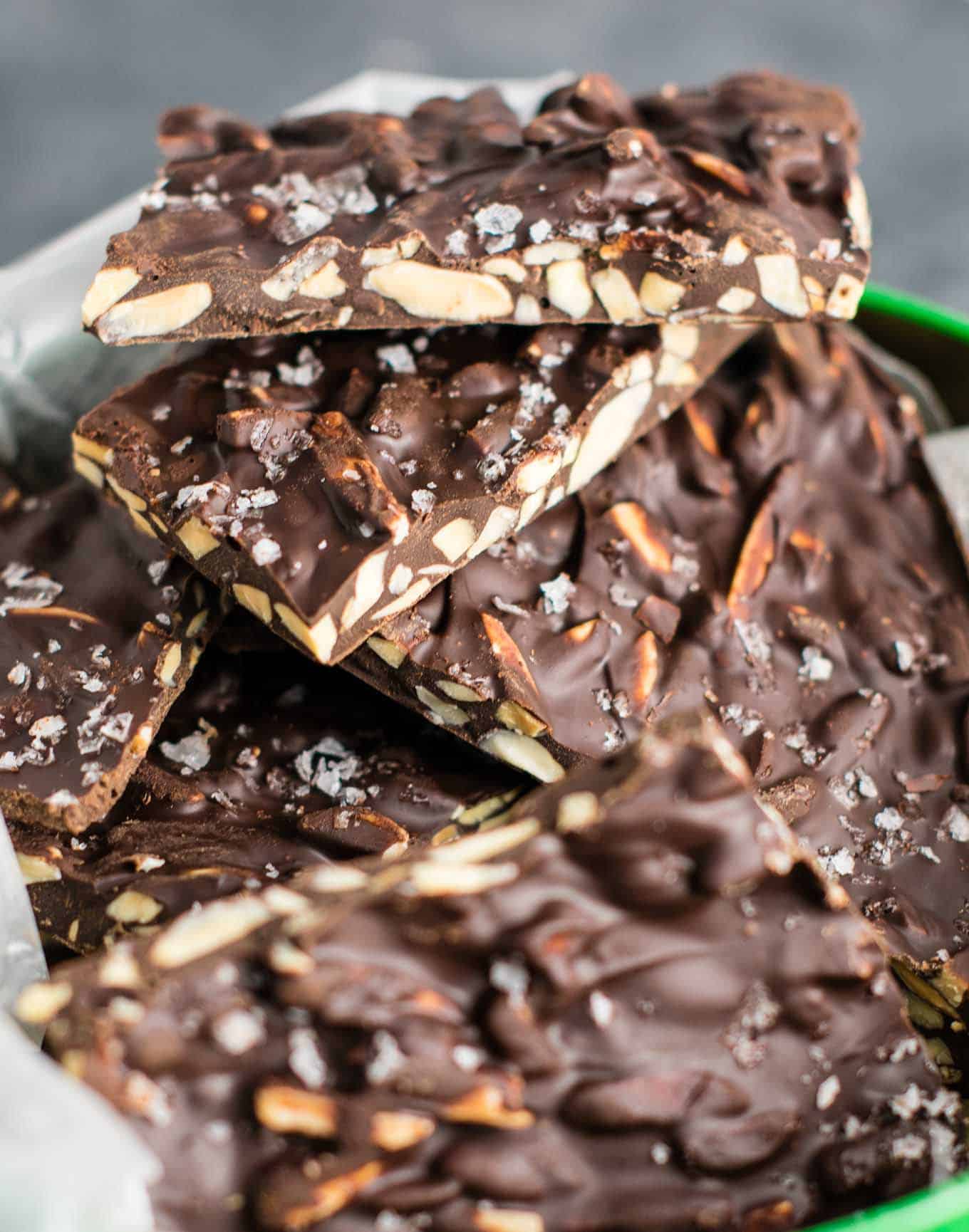 Did you make this recipe? Be sure to leave a star rating below!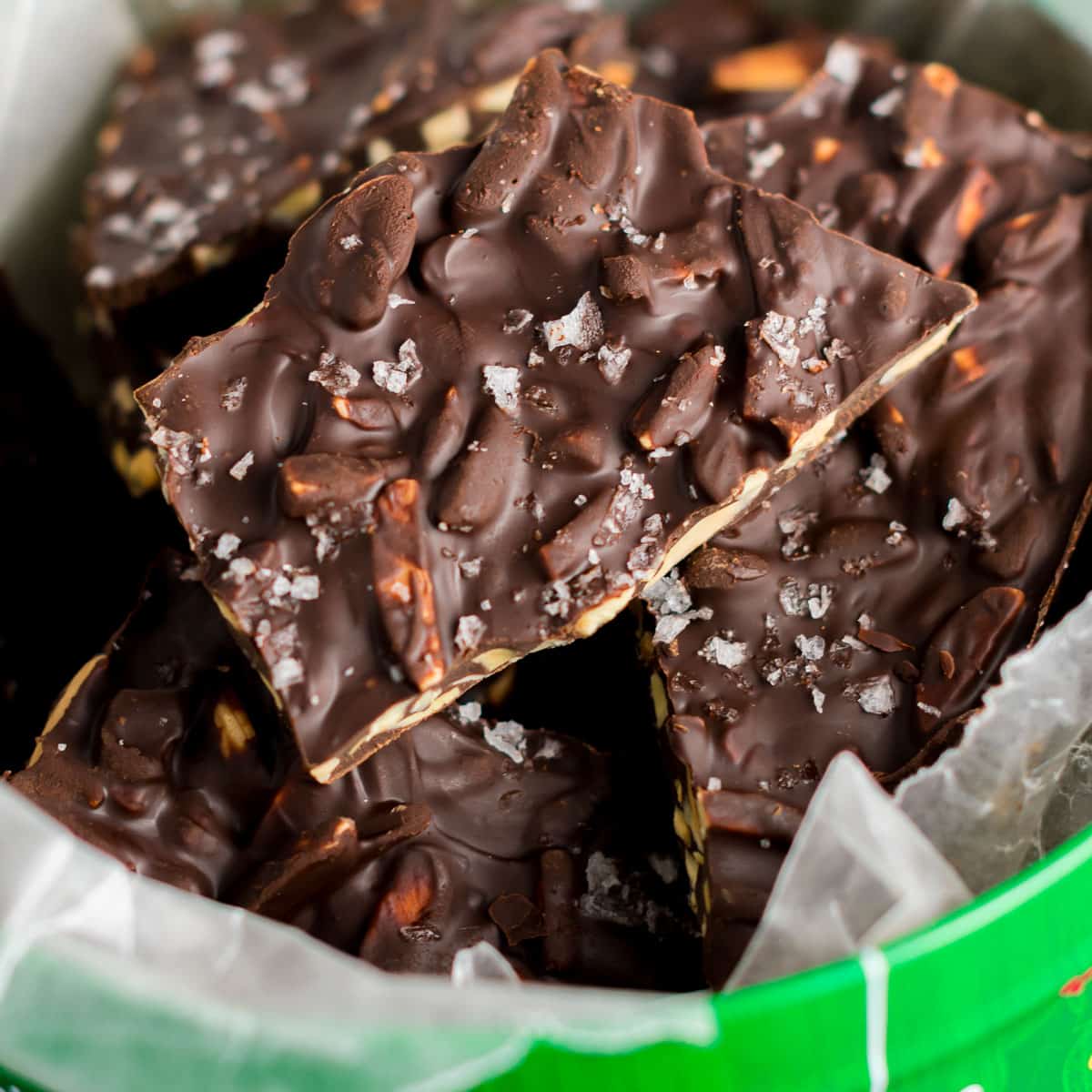 Dark Chocolate Almond Bark
Yield:
One 8 by 8 baking dish
Easy homemade dark chocolate bark recipe
Ingredients
1 cup blanched slivered almonds
1 tablespoon + ½ teaspoon coconut oil (measured while solid)
1 teaspoon vanilla extract
10 oz dark chocolate chunks or chips
1 teaspoon flaked sea salt
Instructions
Preheat oven to 350 degrees
Line a cookie sheet with parchment paper and place almonds down and spread out so that they are flat
Bake at 350 degrees for 8 - 10 minutes, checking often, until toasty brown but not burnt
In a saucepan or double boiler, add coconut oil, chocolate chunks, and vanilla extract
Stir on low heat until completely melted (be careful not to burn)
Add in almonds and stir to combine
Line an 8 by 8 baking dish with wax paper and pour in the chocolate mixture
Use a rubber spatula to flatten out the chocolate evenly into the pan
Sprinkle with sea salt flakes (you can use less if you don't like salty sweet, but it really adds a lot of flavor in my opinion)
Refrigerate for an hour, or until set
Store in the fridge or freezer
Nutrition Information:
Yield:

16
Serving Size:

1
Amount Per Serving:
Calories:

144
Total Fat:

9g
Saturated Fat:

4g
Trans Fat:

0g
Unsaturated Fat:

5g
Cholesterol:

1mg
Sodium:

146mg
Carbohydrates:

13g
Fiber:

2g
Sugar:

9g
Protein:

2g