Healthy peanut butter no bake cookies are a delicious and good for you dessert that you don't have to feel bad about. Naturally gluten free, dairy free, and vegan.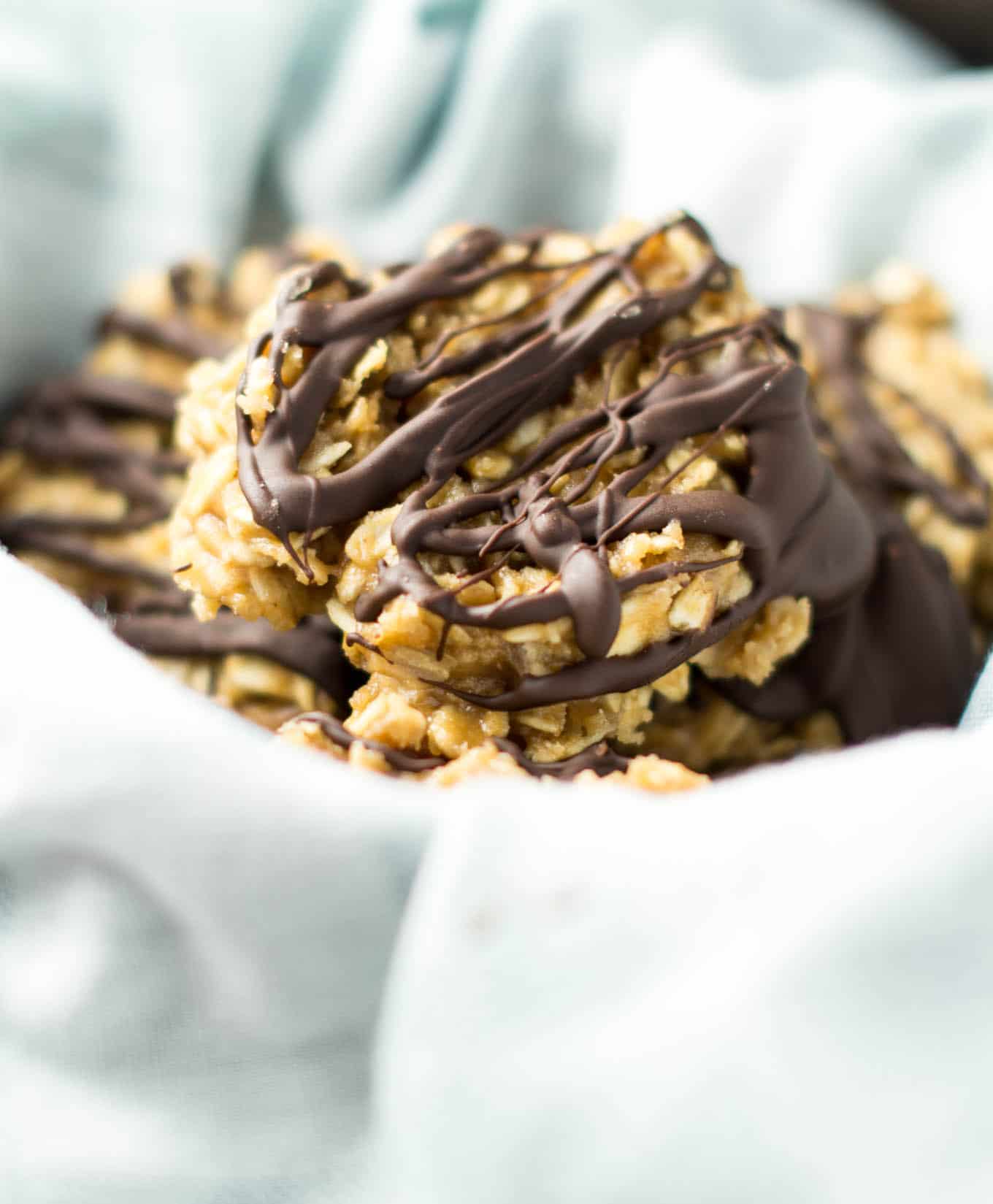 No bake cookies have long been one of my favorite healthy desserts.
While I will always love my classic chocolate peanut butter no bake cookies, I decided that I wanted to switch up the recipe and try something new!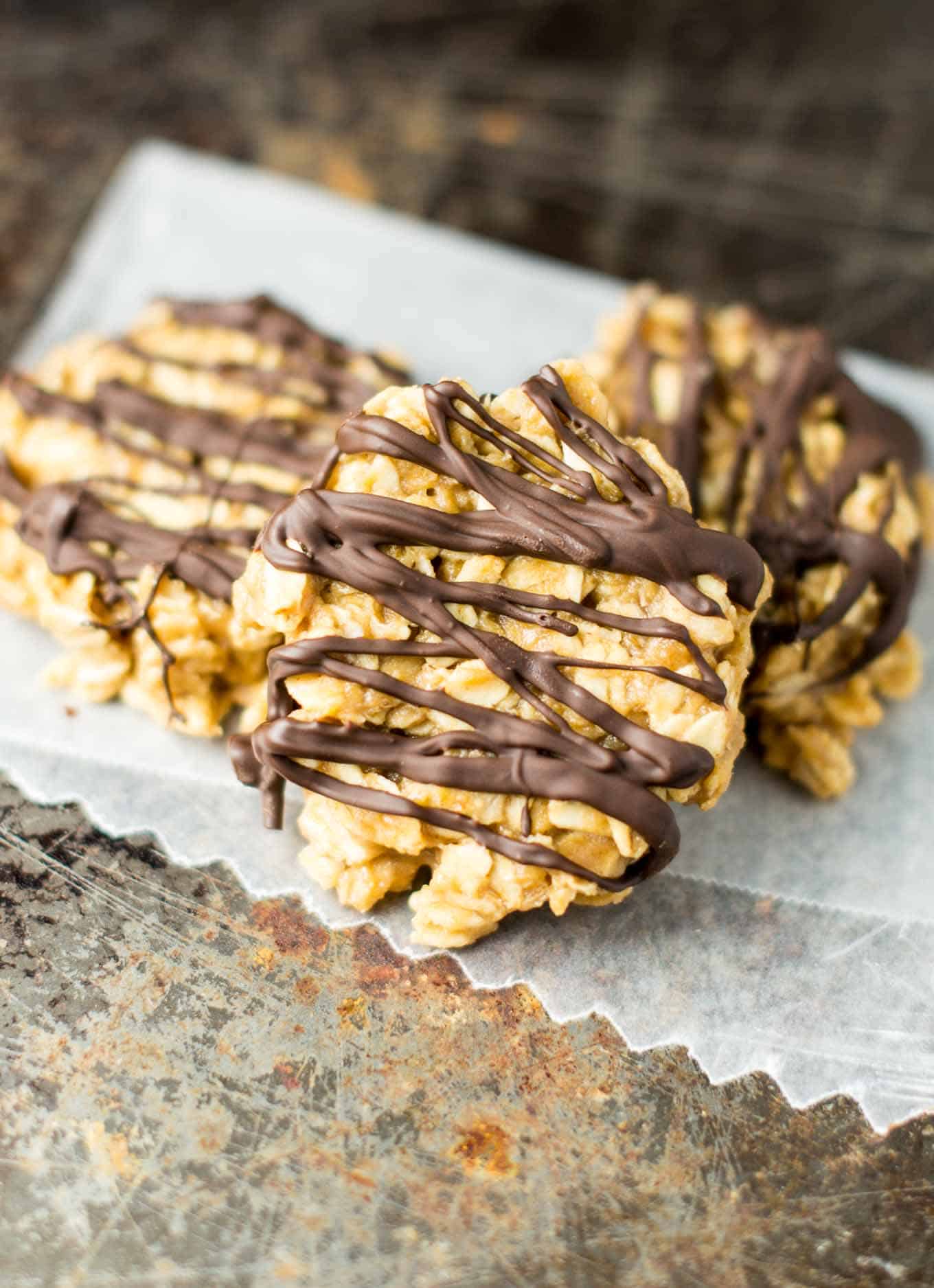 These healthy peanut butter no bake cookies are all things delicious.
Packed full of protein, natural sweetener, and drizzled with a touch of chocolate, these cookies are the perfect lightened up dessert!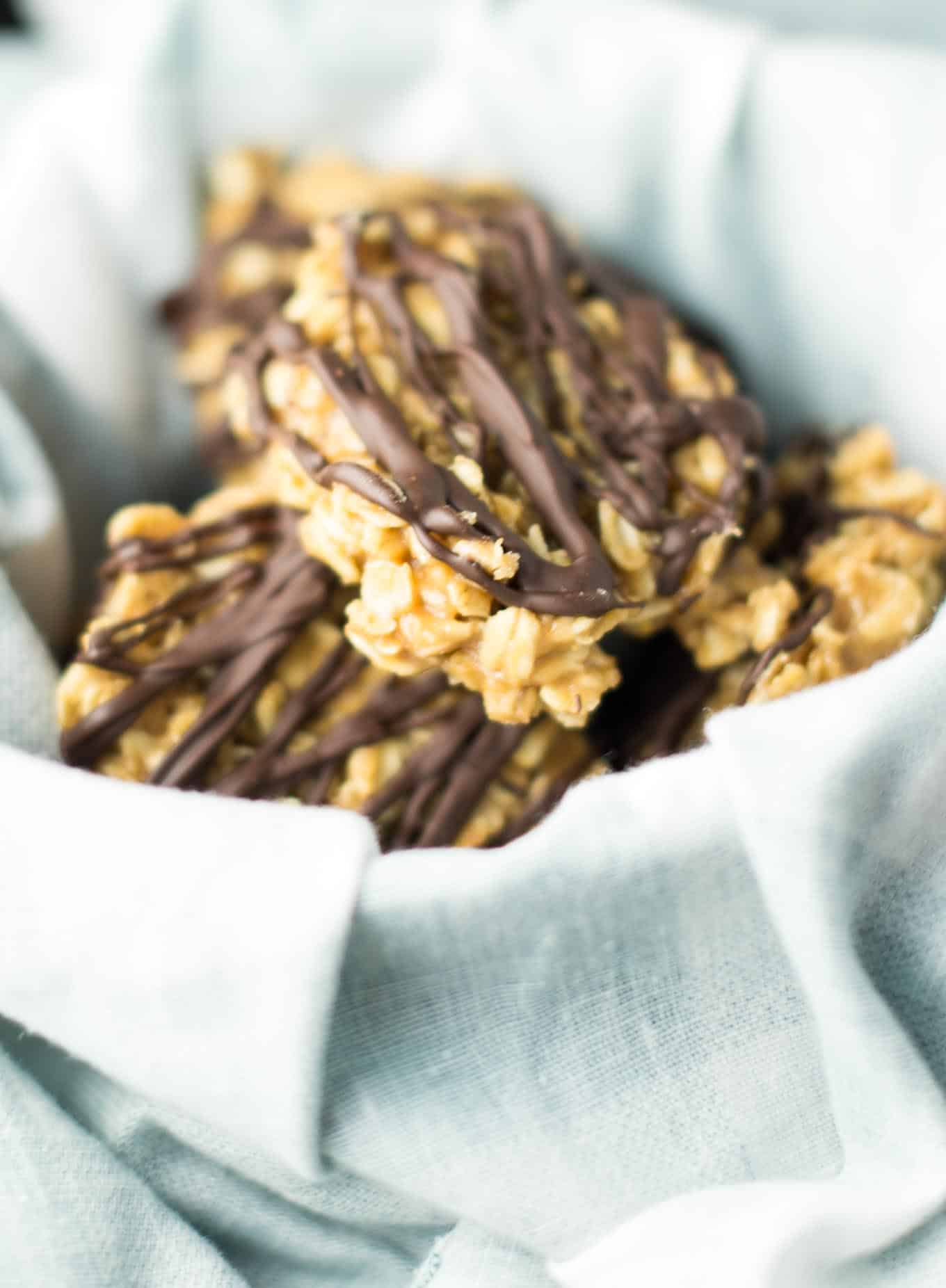 As a nursing mama, it's important that my body gets lots of oats to help with milk supply.
This recipe is one that I'm adding to my arsenal of easy and delicious snacks/desserts that are breastfeeding friendly!
These cookies make a great healthy dessert or snack for when you are craving something sweet.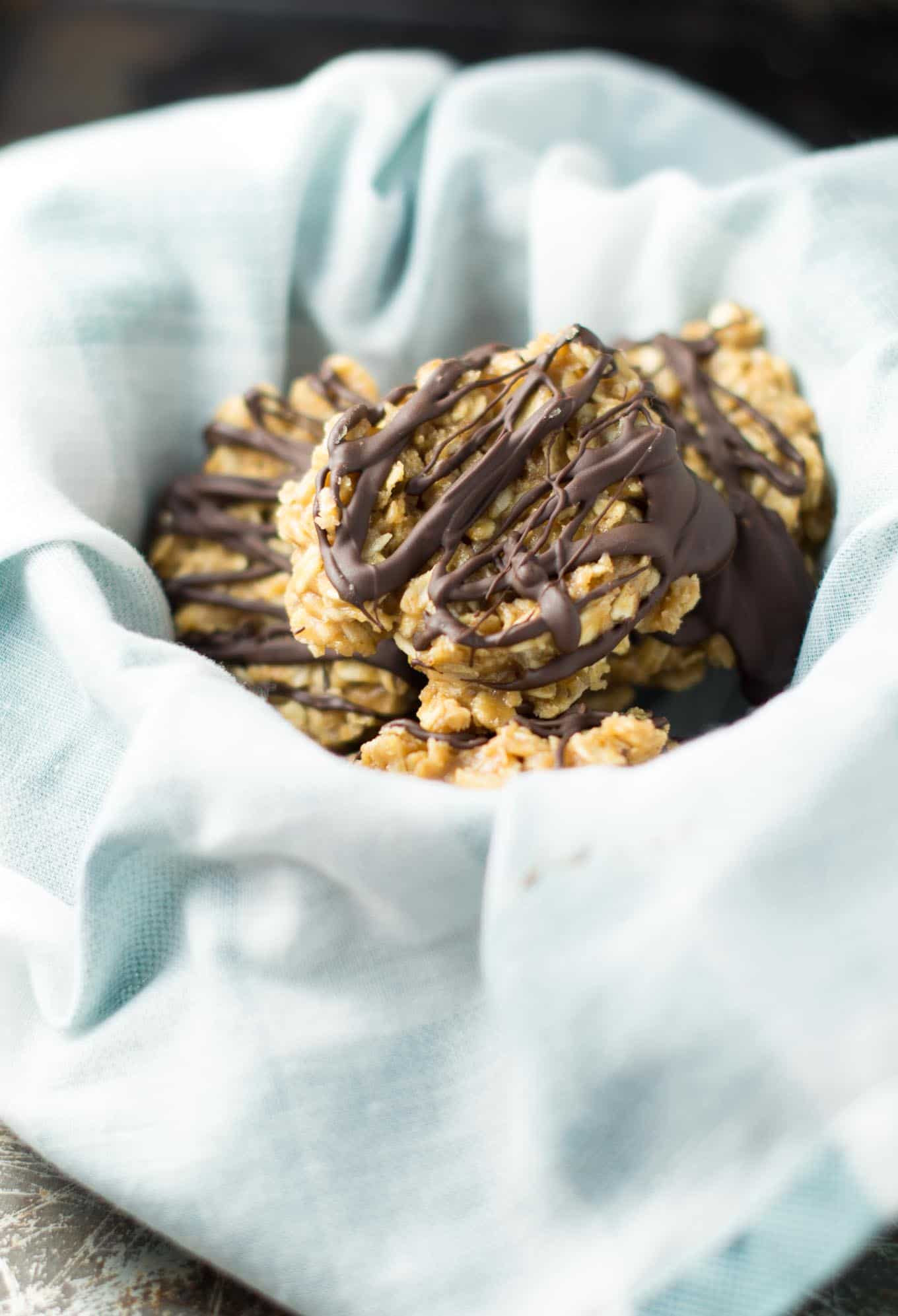 So many no bake cookie recipes call for tons of butter and white sugar.
I have tried these cookies before and found them to be so excessively sweet that I didn't even enjoy the taste.
These cookies couldn't be further away nutritionally than a classic no bake, but you would never know it by the flavor!
They taste like super rich and fudgy peanut butter cups.
The chocolate shell on top is the perfect complement!
The chocolate drizzle is totally optional, but highly recommended.
Chocolate + peanut butter = a match made in heaven.
These cookies are easy to make, no bake, and look like a fancy dessert.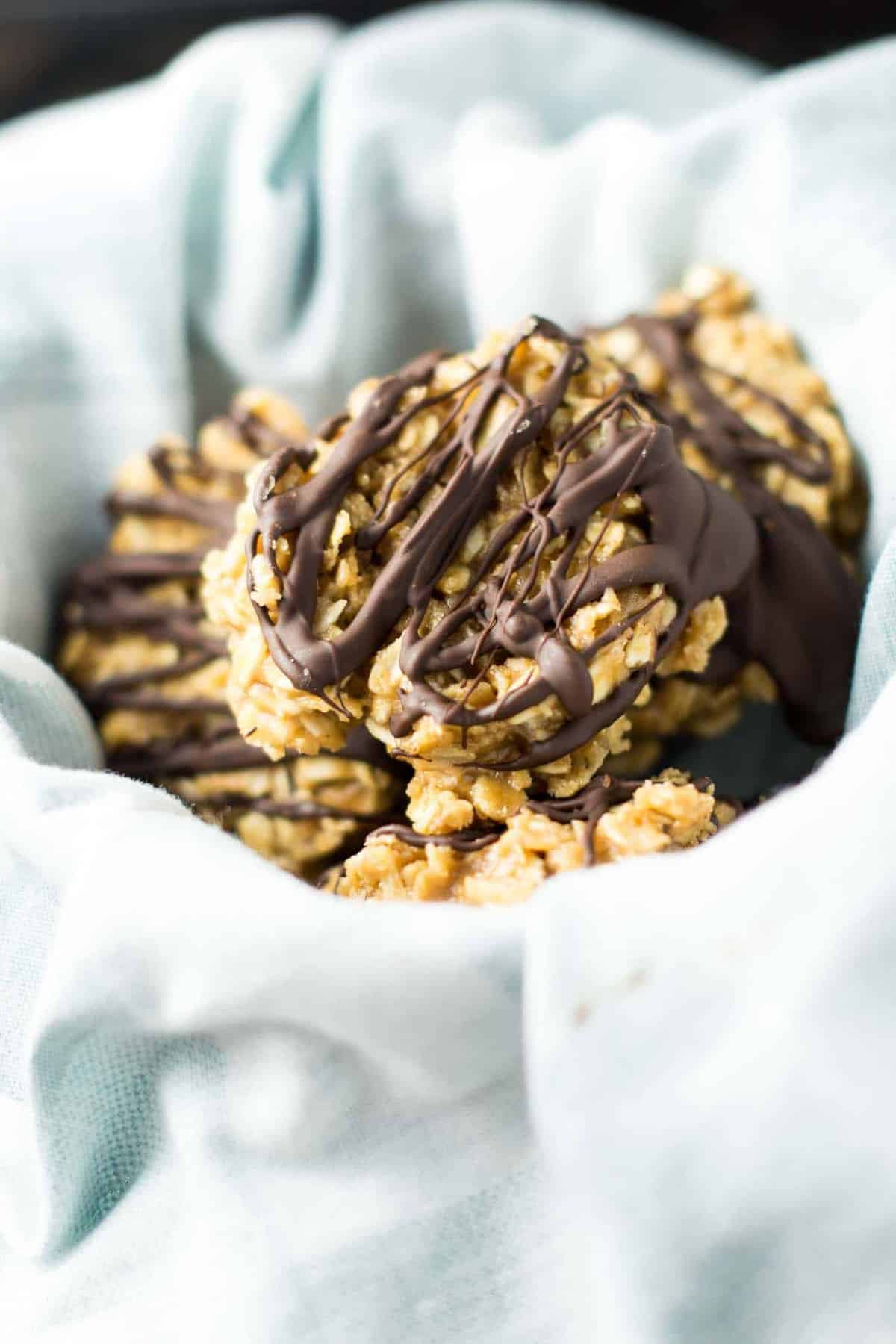 Once you form the cookies, let them cool in the fridge until set.
Once they are set, it's time to break out the chocolate drizzle!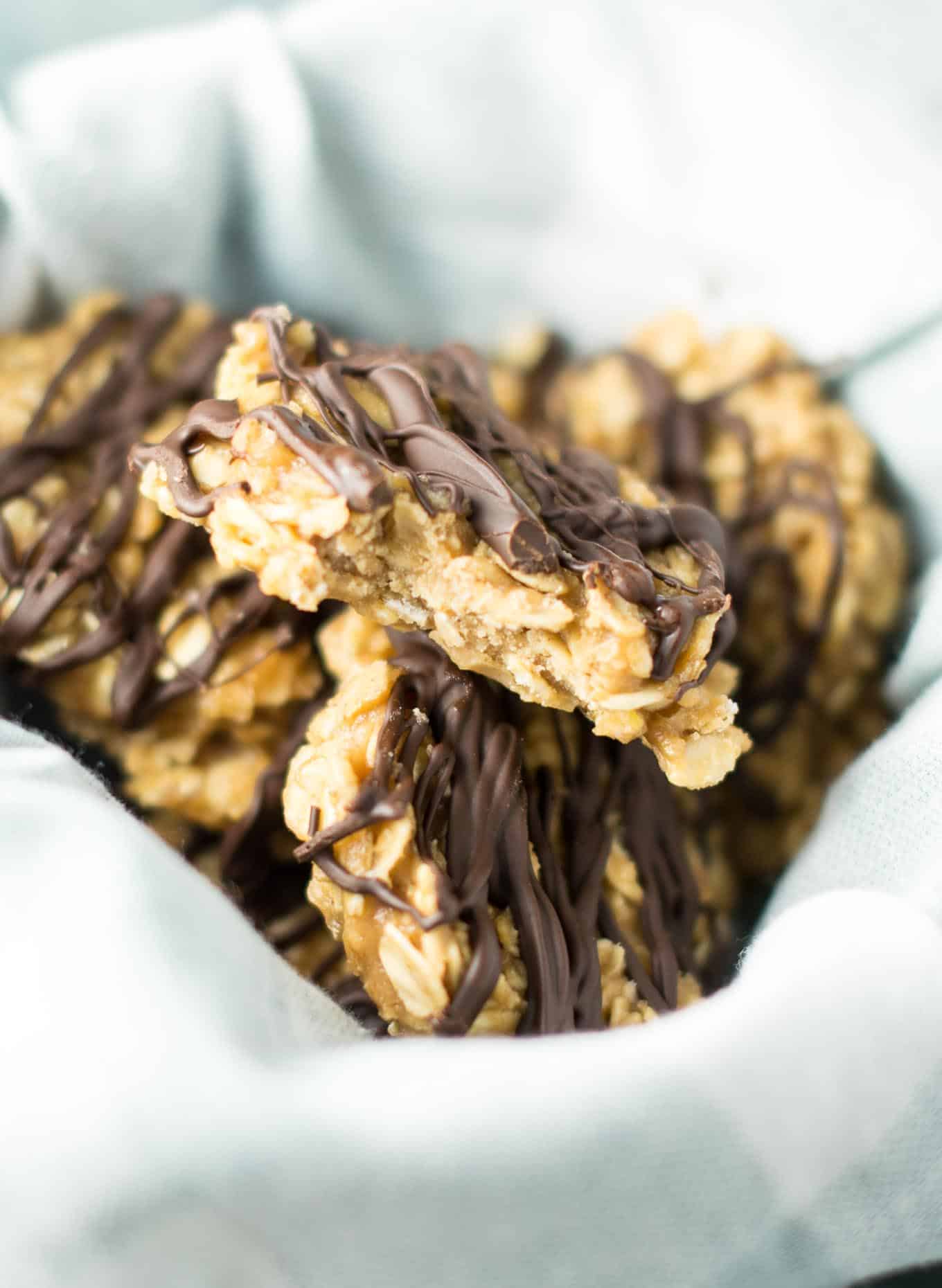 I prefer to store these in the freezer as they get a great fudgy texture to them.
You can store them in the fridge also, just be sure to keep them cool as they will melt easily.
These are so rich, chewy, and decadent all while being a better for you dessert!
PIN  these healthy peanut butter no bake cookies for later:

Healthy Peanut Butter No Bake Cookies
Ingredients
For the cookies
1 cup pure grade A maple syrup
½ cup unsweetened protein powder (I used brown rice protein powder)
⅓ cup unsweetened vanilla almond milk
½ cup coconut oil
¾ cup creamy peanut butter
1 tablespoon vanilla extract
½ teaspoon sea salt
4 cups rolled oats


For the Chocolate Drizzle
1 teaspoon coconut oil
1 cup semi sweet dairy free chocolate chips
¼ teaspoon sea salt
Instructions
In a sauce pan, whisk together protein powder and maple syrup over medium low heat until combined
Add coconut oil and almond milk, whisking until fully incorporated
Add peanut butter, salt, and vanilla extract, stirring until peanut butter melts and is combined
Add oats, stir, and remove from heat
Line baking sheets with wax paper
Drop batter by spoonfuls onto the sheets
Press tops lightly with a fork to flatten
Place baking sheets in fridge until cookies are set (30 minutes to 1 hour)
Once cookies have hardened, make the chocolate drizzle
Melt coconut oil over low heat, stirring in the chocolate chips and salt until the mixture is melted and drippy
Drizzle chocolate over tops of cookies using a spoon. Return to fridge until chocolate hardens (10 minutes or less)
Store cookies in freezer for a delicious fudgy texture