These Vegan Peanut Butter Cups are made with simple ingredients and taste better than Reese's!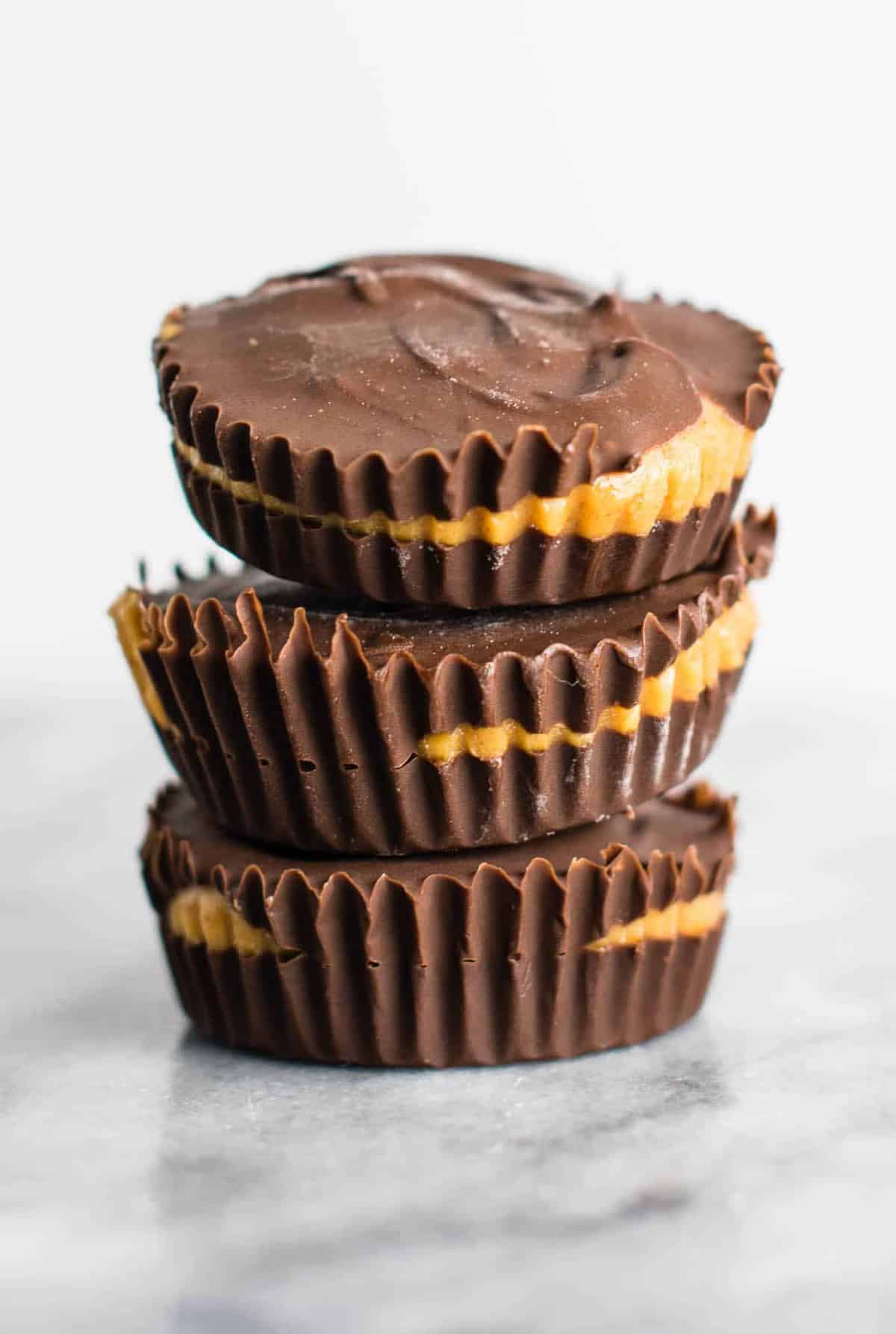 Growing up, my absolute favorite candy was Reese's cups.
Forget skittles and starbursts, I was always all about that chocolate + peanut butter!
I loved whipping up my Healthy Peanutbutter Freezer Fudge and wanted to created another delicious chocolate and peanut butter dessert.
These chocolate peanut butter cups are so simple to make.
They are similar to my healthy no bake peanut butter truffles, but in reese's cup form.

No fancy ingredients or equipment required!
All you need is a muffin tin with liners, and a few simple ingredients.
The first layer of chocolate will need to freeze for about 10 minutes, or until solid.
Once you pop them in the freezer, that gives you the perfect amount of time to make the peanut butter filling while the chocolate shell hardens.
Then add the delicious peanut butter filling and top it with the remaining chocolate!
So easy.

These look impressive, but are really simple and not time consuming at all.
The peanut butter filling is so delicious I could eat it off of a spoon!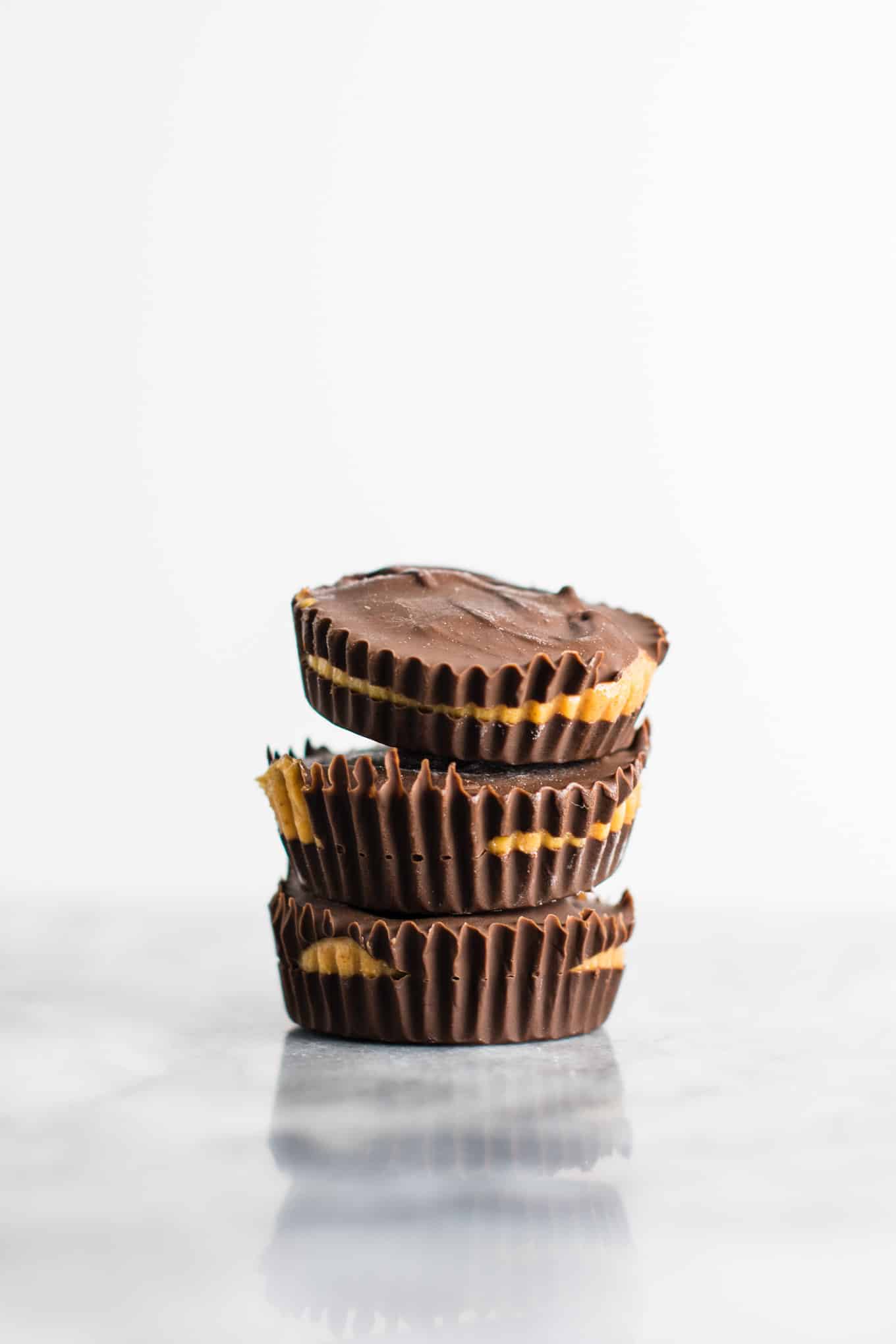 The longer you freeze these, the creamier the peanut butter filling becomes. It all depends on how soft you like them!
The chocolate shell gets nice and hard, so you might want to store these in the fridge once set, or remove from the freezer for a minute or two before eating.
I personally like mine from the freezer!
Gahhh, do these not look amazing?
These have been a favorite of mine over the years, which is why I decided to re photograph them and share them again for you guys today.
I originally published this recipe in 2015 and every time I make them they are devoured!
That peanut butter filling tho.
Are you hungry yet?!
If I had my choice, I would have 100 of these in my freezer for every day chocolate emergencies.
I have tried several peanut butter cups that are store bought, and none can even compare to these.
If you love chocolate + peanut butter, you will DIE over these.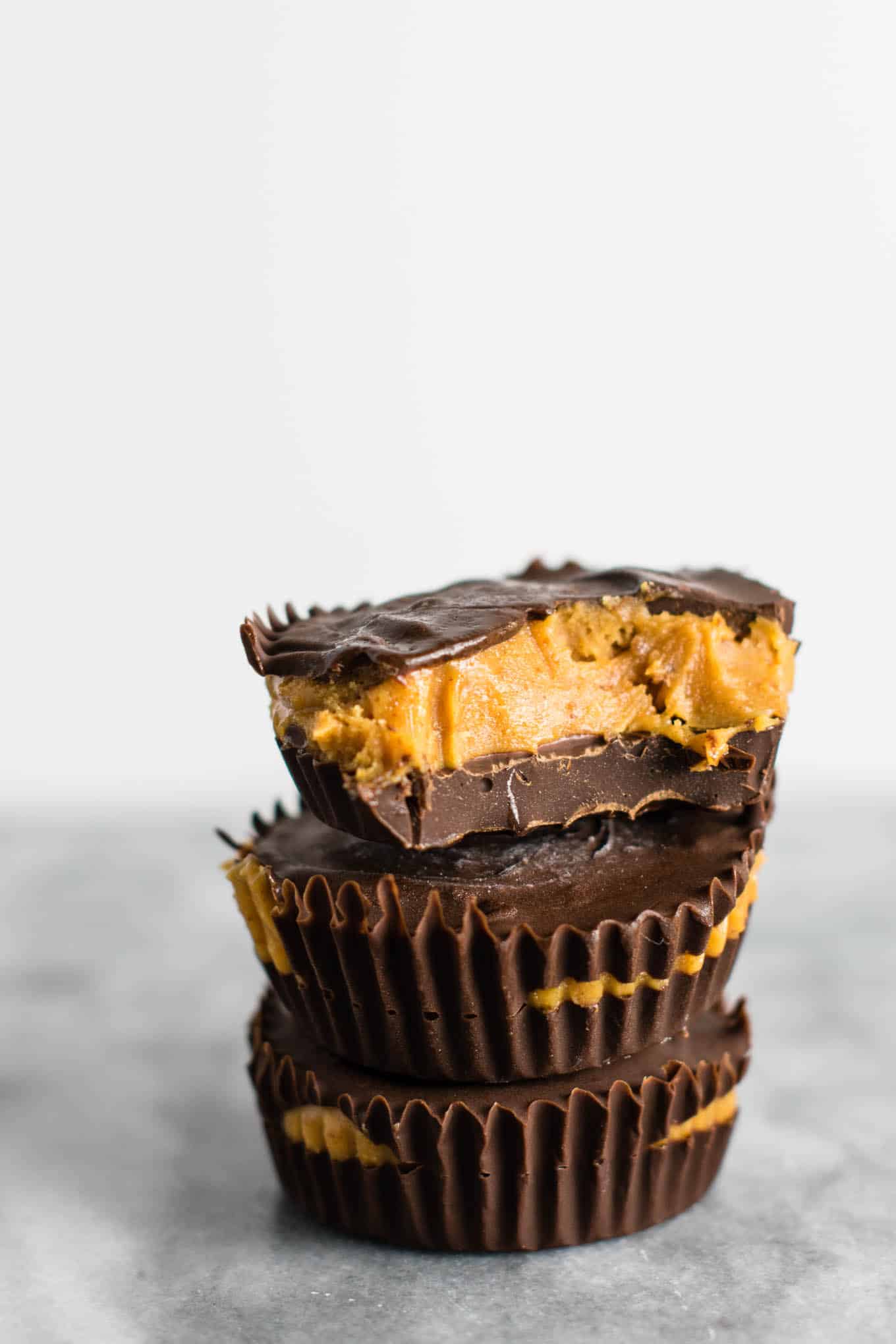 They are also fantastic cut up into pieces and served over vanilla ice cream (speaking from experience!)
Click below to pin these vegan chocolate peanut butter cups:

Make these and watch them be devoured!
Vegan Peanut Butter Cups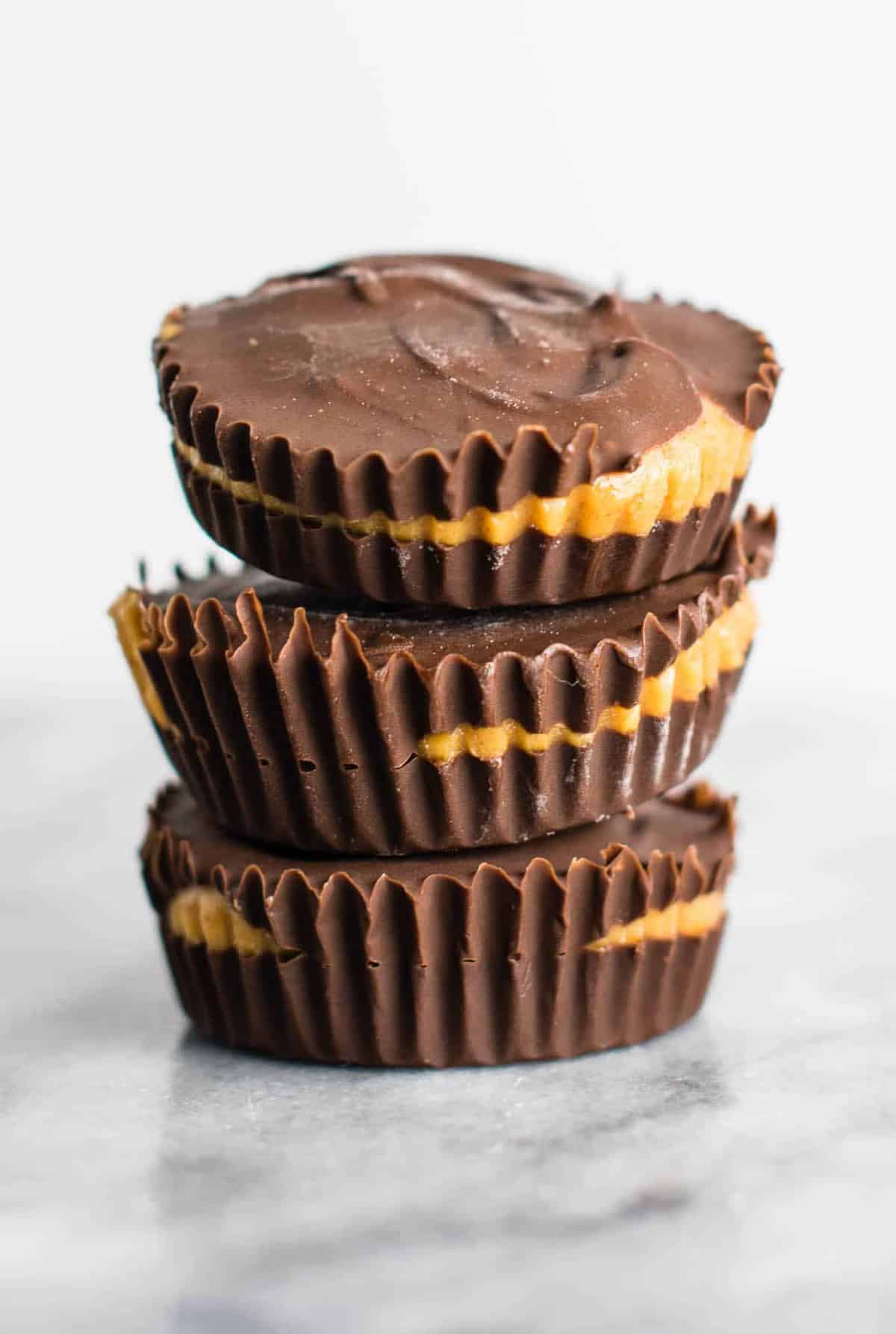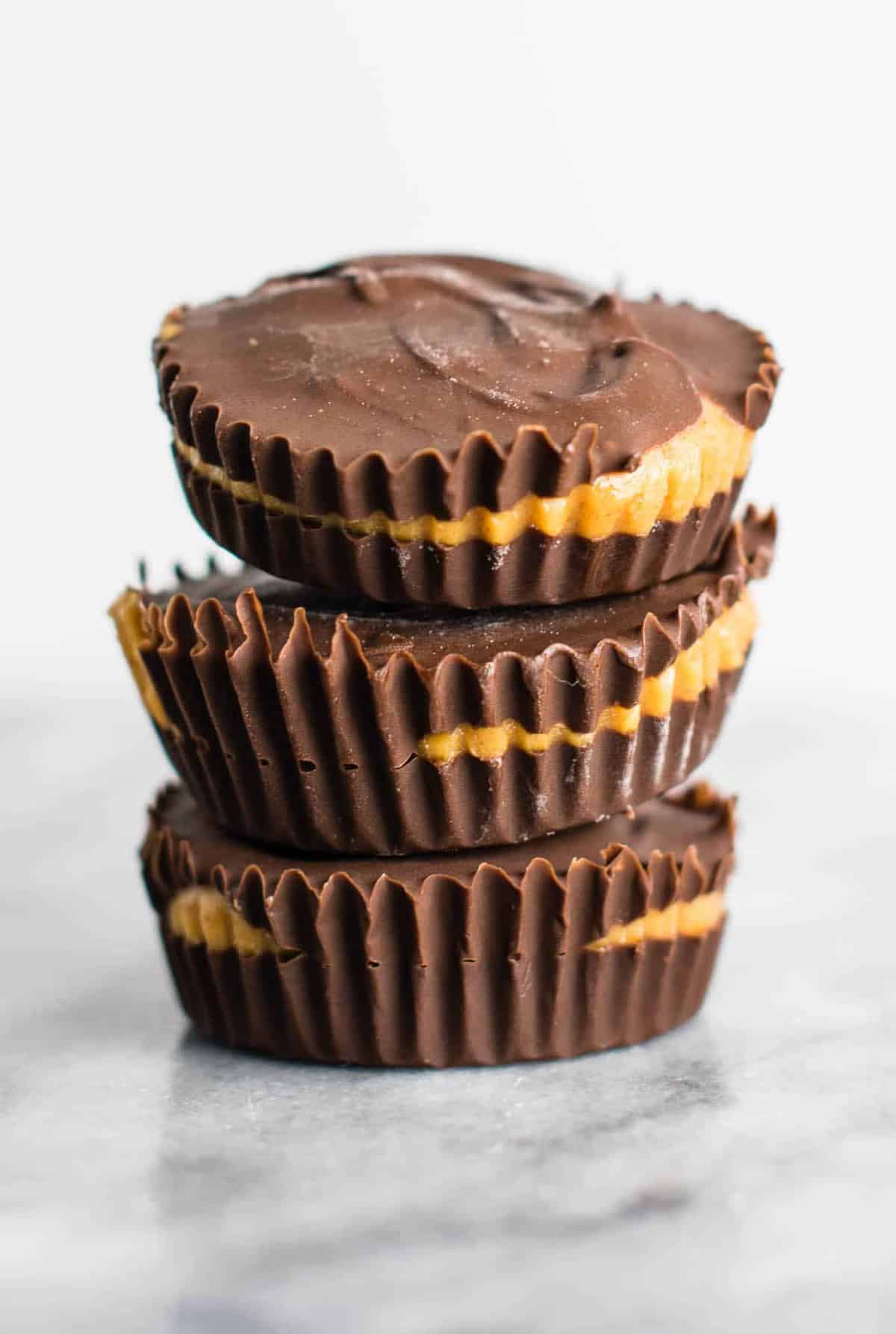 Vegan peanut butter cups made with simple ingredients. Better than Reese's!
Ingredients
For the Chocolate Layer

10 oz bag of semi sweet dairy free chocolate chips
2 tablespoons virgin coconut oil
1/4 teaspoon sea salt
1/4 teaspoon vanilla extract

For the Peanut Butter Filling

3/4 cup all natural peanutbutter, chilled in the fridge (only ingredients should be peanuts and salt)
1/4 cup pure maple syrup
1/4 teaspoon sea salt
1 tablespoon coconut palm sugar
Directions
Add 2 tablespoons of coconut oil to a saucepan and heat on low heat, until melted
Add 10 oz bag of chocolate chips, stirring on low heat, until melted (can take 5 minutes) *be sure not to burn chocolate and only melt on low*
Once chocolate is melted, add in ¼ teaspoon sea salt and ¼ teaspoon vanilla extract
Once chocolate mixture is stirred and melted, line a 12 cup muffin tin with paper muffin liners
Pour 1 tablespoon of chocolate mixture in the bottom of each muffin liner
Place muffin tin in freezer for 10-15 minutes, or until chocolate is set
While chocolate is hardening, make the peanut butter mixture
Add ¾ cup of chilled peanutbutter (see note above) to a bowl *note - peanut butter should be thick not drippy)
Add maple syrup, sea salt, and coconut palm sugar and stir with a fork until well combined
Remove muffin tin from freezer and place 1 tablespoon of peanut butter mixture on top of each layer of chocolate
Drizzle one teaspoon of chocolate mixture over the tops of each muffin cup, making sure to cover the tops well
Freeze for 15 minutes, or until chocolate is set
Store in freezer or fridge (note - if left in freezer long leave out for a minute or so to soften slightly)
Loading nutrition data...