These Vegan Peanut Butter Cups are made with simple ingredients and taste better than Reese's. Easy and delicious vegan dessert!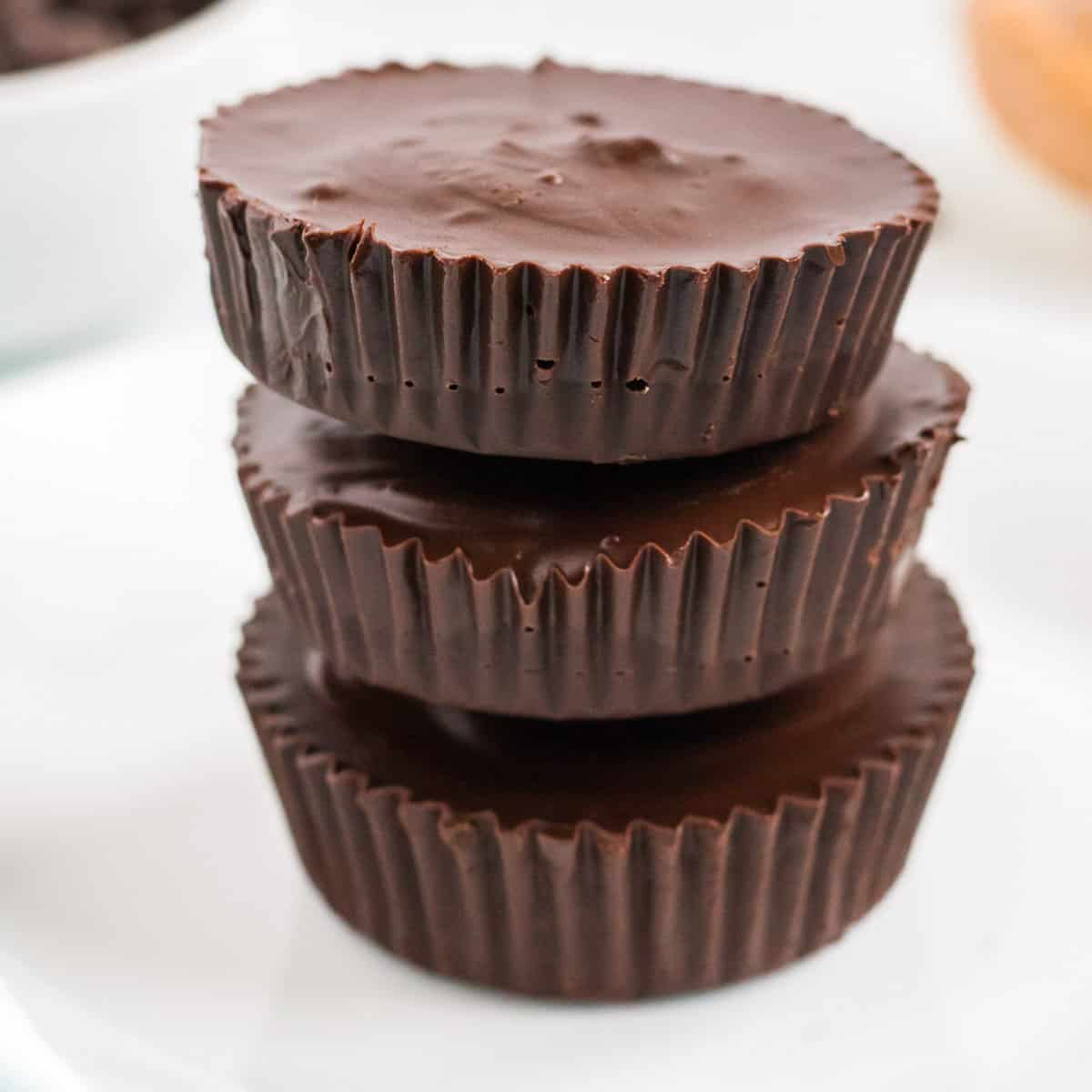 These vegan peanut butter cups are one of my favorite no bake desserts.
They are naturally gluten free, dairy free, and come together in minutes!
Growing up, my absolute favorite candy was Reese's cups.
Forget skittles and starbursts, I was always all about that chocolate + peanut butter!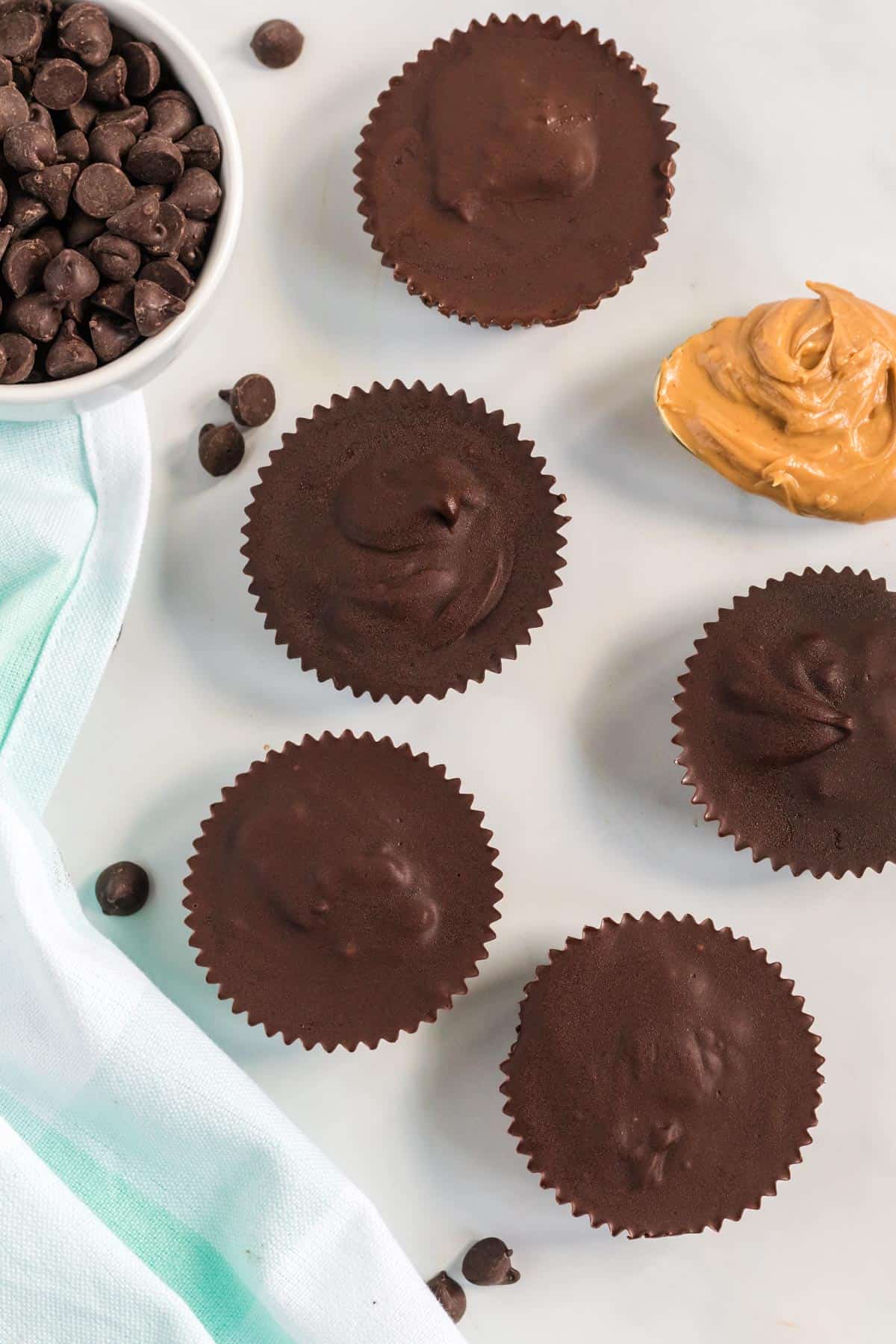 These chocolate peanut butter cups are so simple to make.
They are similar to my healthy no bake peanut butter truffles, but in reese's cup form.
If you gave me a choice between Reese's cups and these homemade ones, I would pick the homemade ones every time!
The flavor just cannot even compare.
Vegan Peanut Butter Cup Ingredients
creamy peanut butter
coconut oil
semi sweet vegan chocolate chips
pure maple syrup
coconut palm sugar
vanilla extract
salt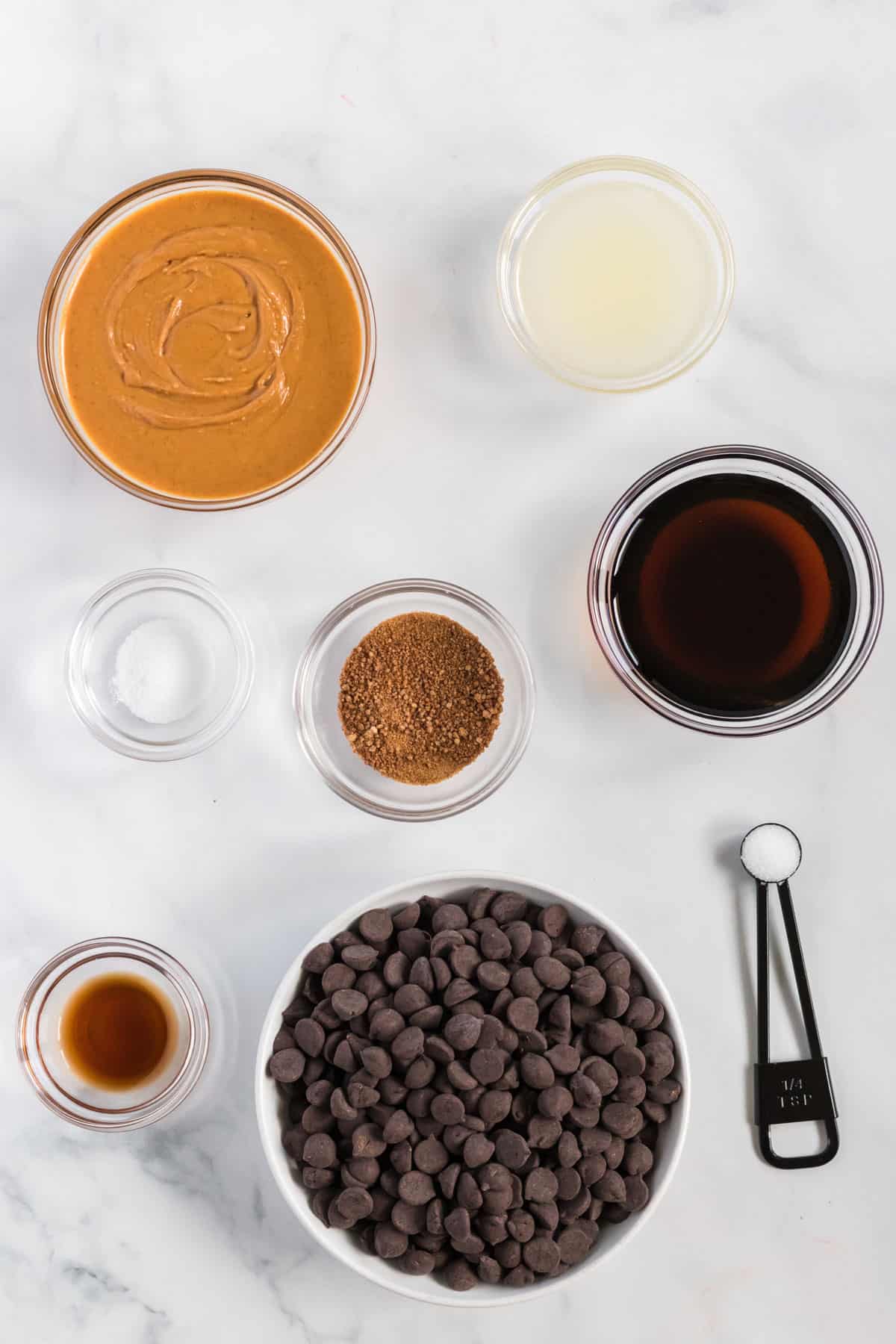 How to make vegan peanut butter cups
No fancy ingredients or equipment required to make these no bake cups.
All you need is a muffin tin with liners, and a few simple ingredients!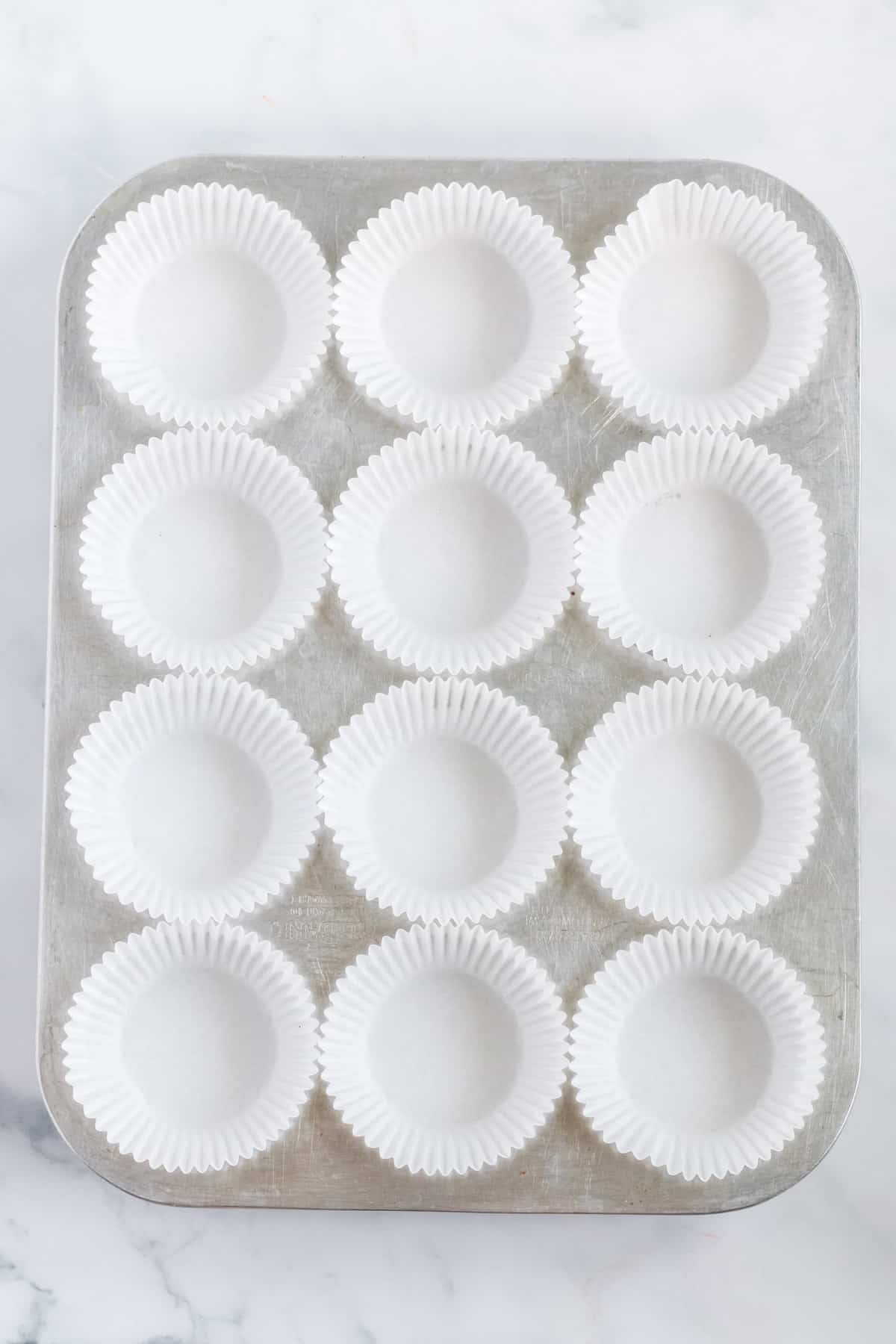 melting the chocolate layer
Step 1: melt your chocolate chips and coconut oil.
You can do this using the stove or the microwave, just watch carefully to make sure the chocolate does not burn.
Step 2: Stir in the salt and vanilla, then measure out a layer into each muffin tin.
Step 3: Freeze the first layer of chocolate for about 10 minutes, or until solid.
Once you pop them in the freezer, that gives you the perfect amount of time to make the peanut butter filling while the chocolate shell hardens.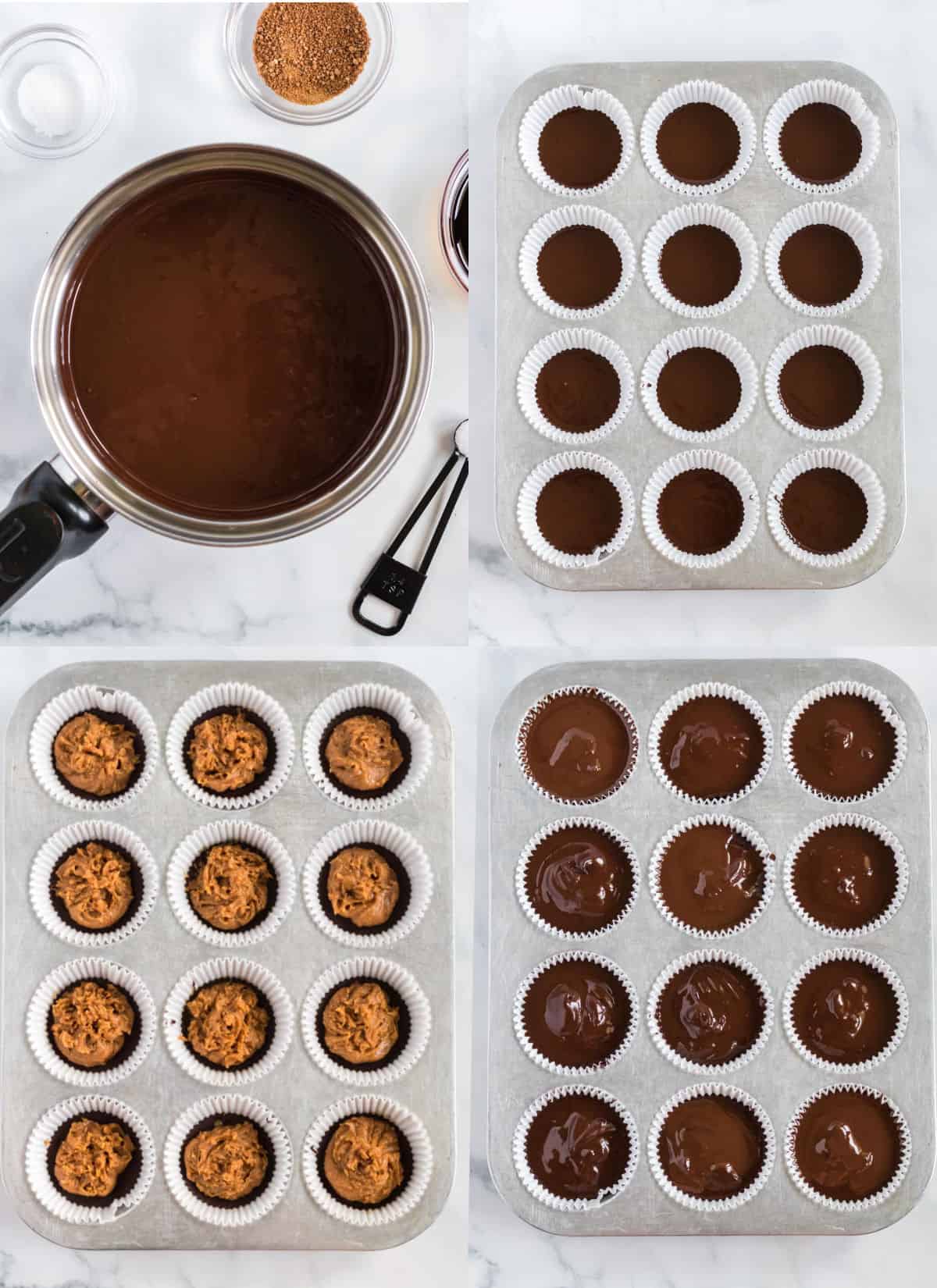 making the peanut butter filling
Step 4: Whisk together peanut butter, maple syrup, salt, and coconut palm sugar until combined.
Grab a spoon and get ready for adding the next part of your homemade Reese's cups.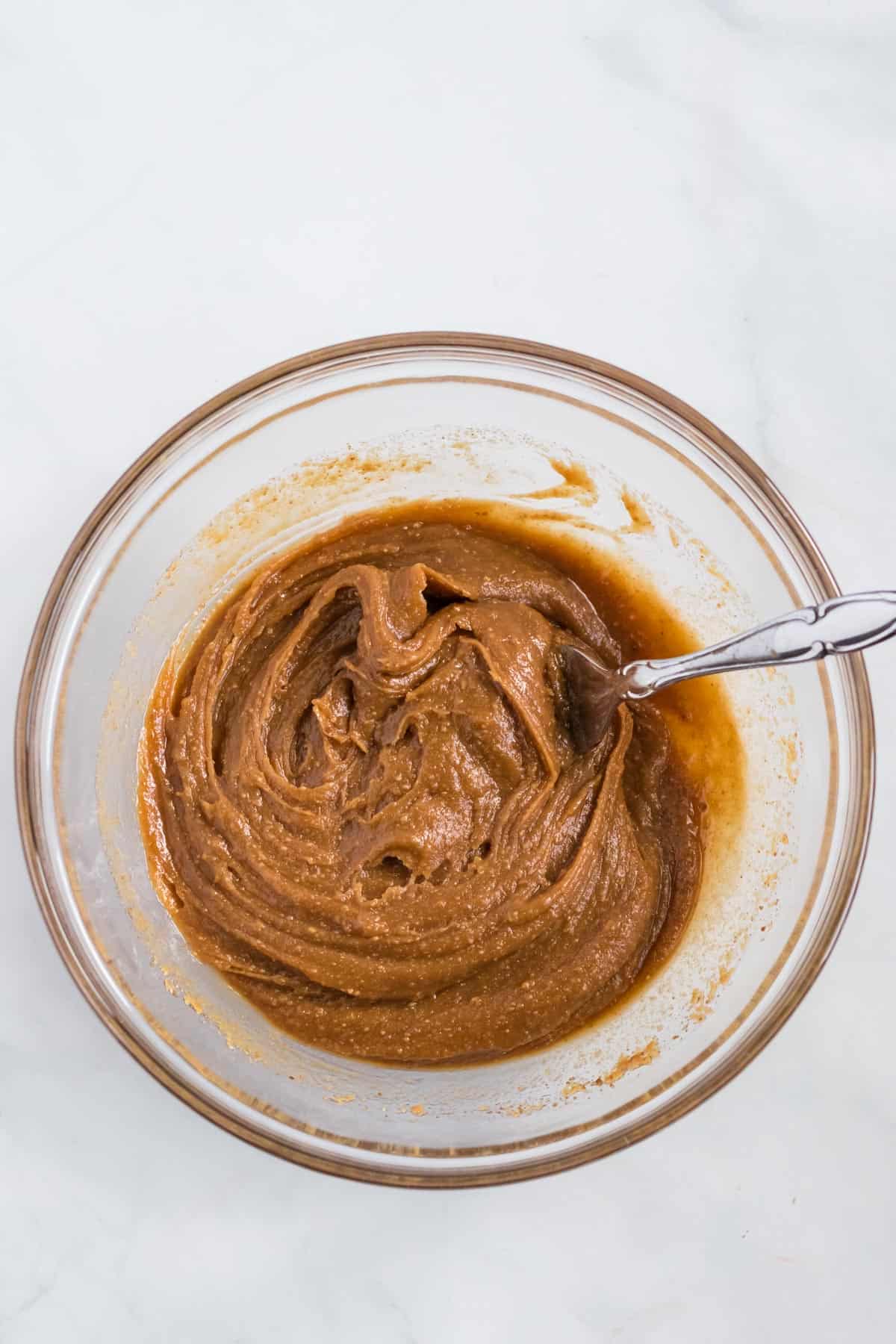 Step 5: Distribute the peanut butter filling evenly into the 12 muffin cups, then distribute the remaining chocolate over the tops.
So easy and really fun to make!
Kids would love helping to make these too.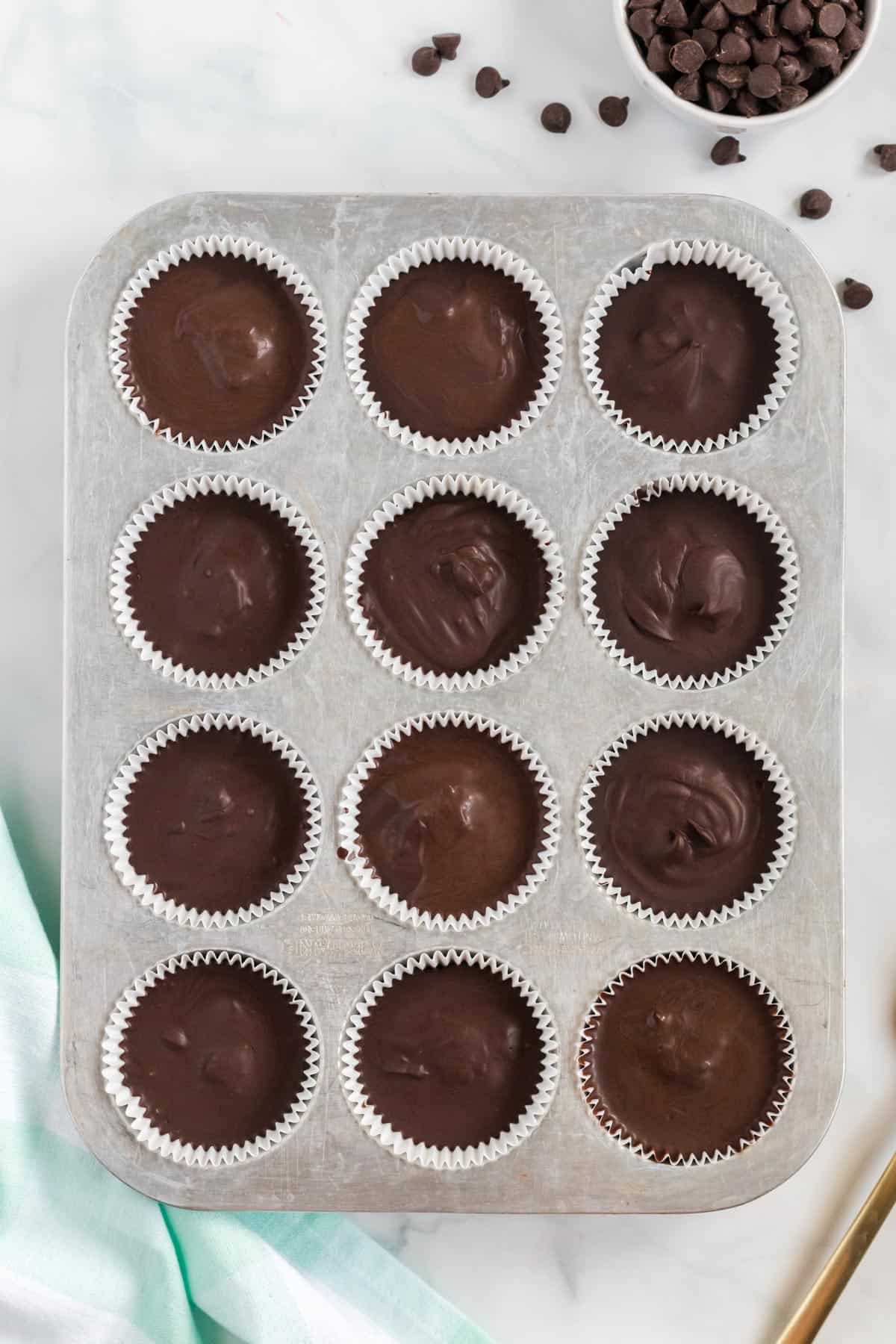 These look impressive, but are really simple and not time consuming at all.
These last approximately a day in my house if I'm lucky!
You might want to make a double batch if you want any leftover!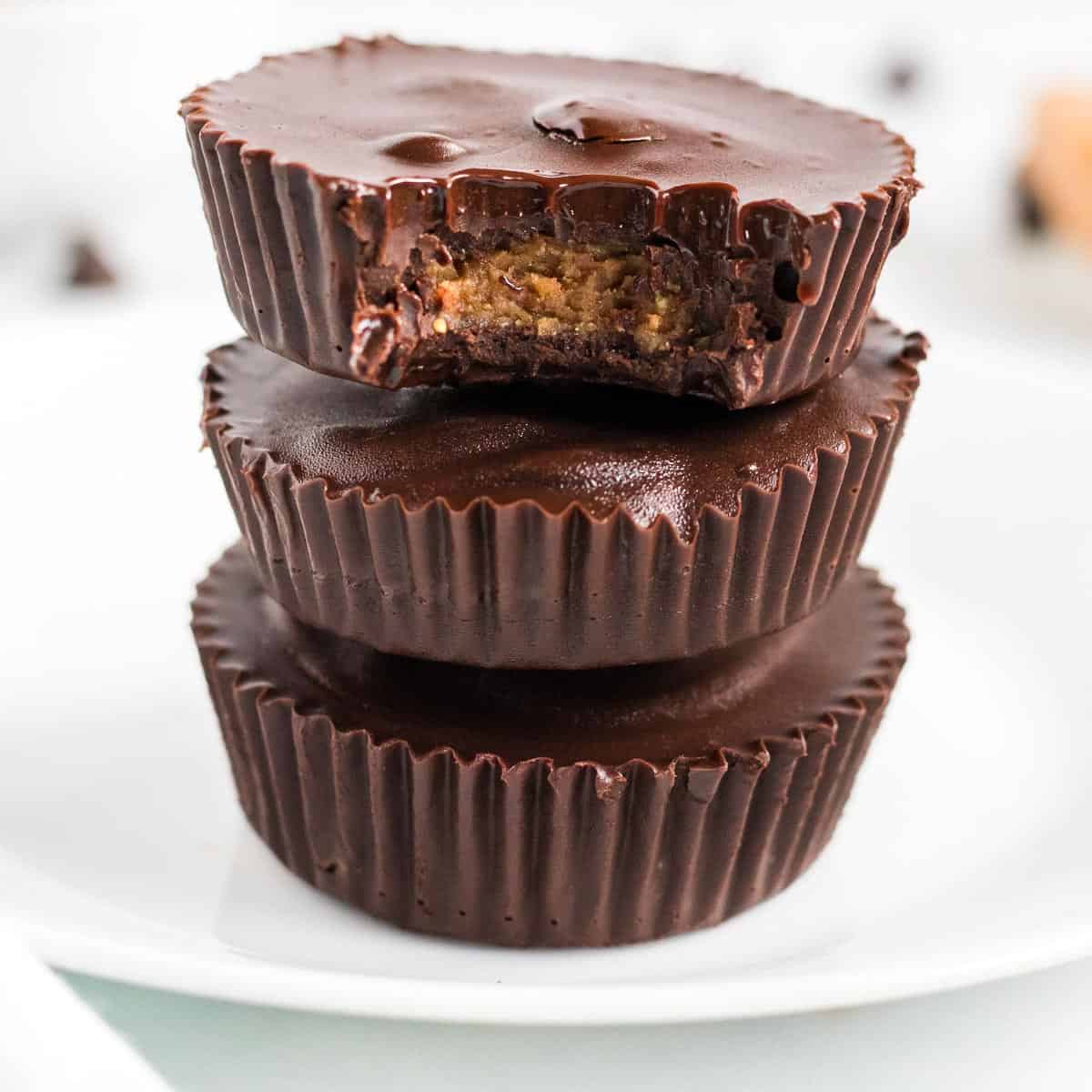 The peanut butter filling is so delicious I could eat it off of a spoon!
One thing to note is that this recipe uses all natural peanut butter.
I prefer to buy it this way as it is no added sugar.
If you are looking for a peanut butter that is all natural, just look to be sure the only ingredients on the label are peanuts and salt.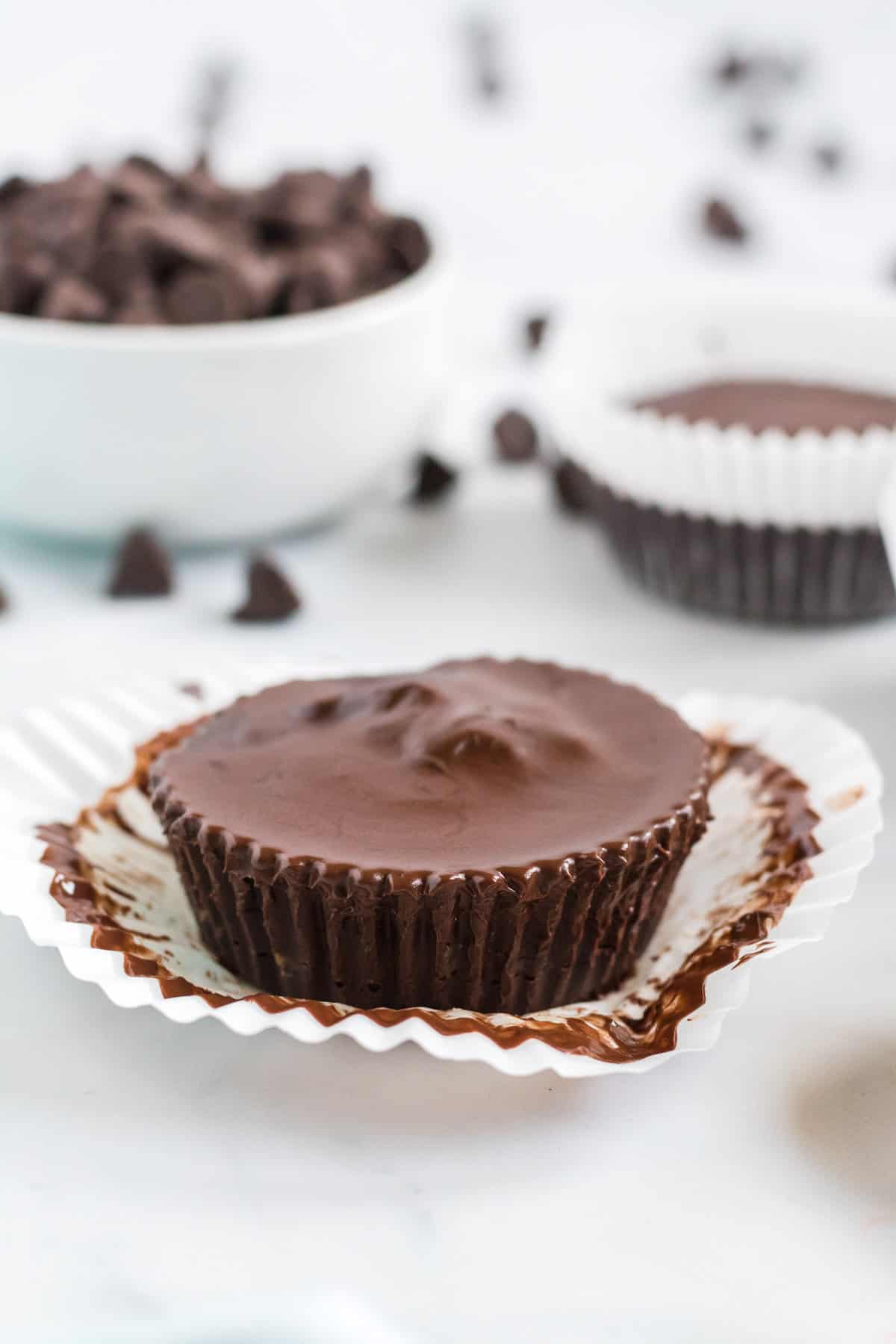 The longer you freeze these, the creamier the peanut butter filling becomes.
It all depends on how soft you like them!
The chocolate shell gets nice and hard, so you might want to store these in the fridge once set, or remove from the freezer for a minute or two before eating.
Or stir them into ice cream with some chocolate syrup for reese's ice cream!
I personally like mine from the freezer!
I originally published this recipe years ago and every time I make them they are devoured.
They are perfect every time!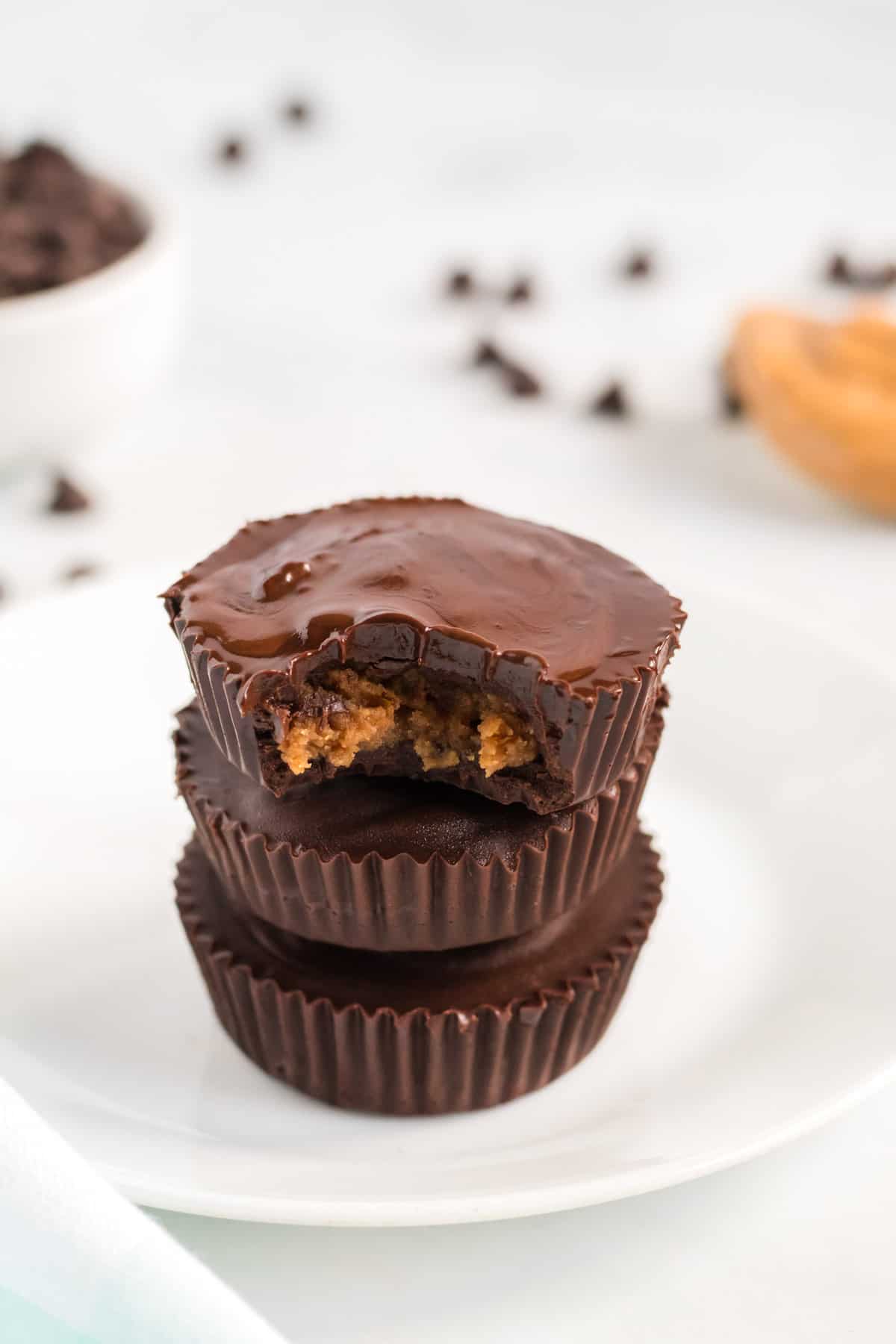 If I had my choice, I would have 100 of these in my freezer for every day chocolate emergencies.
I have tried several peanut butter cups that are store bought, and none can even compare to these.
If you love chocolate + peanut butter, you will LOVE these.
This is the single best peanut butter cup I have ever tasted. I changed absolutely nothing about the recipe, and everyone who tries them also says they are the best. My boyfriend is the number one fan of Reece's cups, but even he told me these were BETTER. – Nina
They are also fantastic cut up into pieces and served over vanilla ice cream (speaking from experience!)
More vegan desserts
Are you making this recipe? I want to see! Don't forget to tag me on instagram @buildyourbite and hashtag #buildyourbite with your recipe creations!
Be sure to pin this recipe for later and follow Build Your Bite on Pinterest for all the latest delicious recipes!
Did you make this recipe? Be sure to leave a star rating below!
Yield: 12 peanut butter cups
Vegan Peanut Butter Cups
These vegan peanut butter cups taste better than Reese's and are so easy to make!
Additional Time
15 minutes
Ingredients
For the Chocolate Layer
10 oz bag of semi sweet dairy free chocolate chips
2 tablespoons virgin coconut oil
1/4 teaspoon sea salt
1/4 teaspoon vanilla extract
For the Peanut Butter Filling
3/4 cup all natural peanut butter, chilled in the fridge (only ingredients should be peanuts and salt)
1/4 cup pure maple syrup
1/4 teaspoon sea salt
1 tablespoon coconut palm sugar
Instructions
Start by melting the chocolate layer. Add 2 tablespoons of coconut oil to a saucepan and heat on low heat, until melted
Add 10 oz bag of chocolate chips, stirring on low heat, until melted (can take 5 minutes) *be sure not to burn chocolate and only melt on low* Alternatively you can microwave in small increments and stir until melted, but be careful not to burn the chocolate.
Once chocolate is melted, add in 1/4 teaspoon sea salt and 1/4 teaspoon vanilla extract and stir to combine
Once the chocolate mixture is stirred and melted, line a 12 cup muffin tin with paper muffin liners
Pour 2 teaspoons of chocolate mixture in the bottom of each muffin liner. Once you are done filling each liner, tap the pan down a few times to get the chocolate to sit flat.
Place muffin tin in freezer for 10-15 minutes, or until chocolate is set
While chocolate is hardening, make the peanut butter mixture
Add 3/4 cup of chilled peanut butter (see note above) to a bowl *note - peanut butter should be thick not drippy)
Add maple syrup, sea salt, and coconut palm sugar and stir with a fork until well combined
Remove muffin tin from freezer and place distribute the peanut butter mixture on top of each layer of chocolate, flattening it down in the center
Drizzle remaining chocolate mixture over the tops of each muffin cup, making sure to cover the peanut butter completely
Freeze for 15 minutes, or until chocolate is set
Store peanut butter cups in the freezer or fridge. I like to keep mine in a ziploc bag in the freezer
Recommended Products
As an Amazon Associate and member of other affiliate programs, I earn from qualifying purchases.
Nutrition Information:
Yield:
12
Serving Size:
1
Amount Per Serving:
Calories:

251
Total Fat:

17g
Saturated Fat:

8g
Trans Fat:

0g
Unsaturated Fat:

8g
Cholesterol:

0mg
Sodium:

169mg
Carbohydrates:

25g
Fiber:

2g
Sugar:

19g
Protein:

5g