Easy Veggie Pot Pie recipe – comfort food in a bowl.
If you follow me on instagram, you might have seen me post this recipe on my stories a few weeks ago.
As much as I would love to take credit for this incredible veggie pot pie recipe, all credit goes to Robbie!
In our house, I'm usually the one making and planning the meals 99% of the time.
This is for several reasons: 1) I have a food blog and thus our dinners are planned around that and 2) Robbie usually comes up with slightly too creative dinner ideas that I joke sound like something out of chopped on food network.
It should also be noted that I'm a bit of a control freak and like cooking within my comfort zone for most dinners, so there's that too 😁
Ingredients to make veggie pot pie
onion
garlic
frozen mixed vegetables (mine was corn, carrot, peas, green beans)
cream of mushroom soup
vegetable broth
2% milk
freshly grated sharp cheddar cheese
sage
thyme
oregano
salt
pepper
refrigerated meatless chick'n strips
ready to bake biscuits
For New Year's, Robbie decided that he wanted to do some sort of special meal for us.
He came up with the idea for this veggie pot pie and I was skeptical, but he was the one making dinner so I let him have at it.
I was genuinely surprised at how delicious this was!
Don't get me wrong, my husband is an amazing cook, I just normally wouldn't expect to like something that was predominantly sauce based without noodles.
The filling of this veggie pot pie is insanely creamy with a bit of cheese, and uses fresh garlic and onion for flavor and frozen mixed veggies for convenience.
I get all nostalgic eating those frozen mixed veggies that kind of remind me of being a kid.
Once you make the pot pie filling, you will toss it in the oven to bake with the rolls.
We like to bake our rolls separately on a cookie sheet (at the same time that the filling is baking.)
The reason for this is that we love to get those slightly crispy edges on the rolls.
You could totally just put the rolls on top of the pot pie, but they wouldn't get near as crispy that way.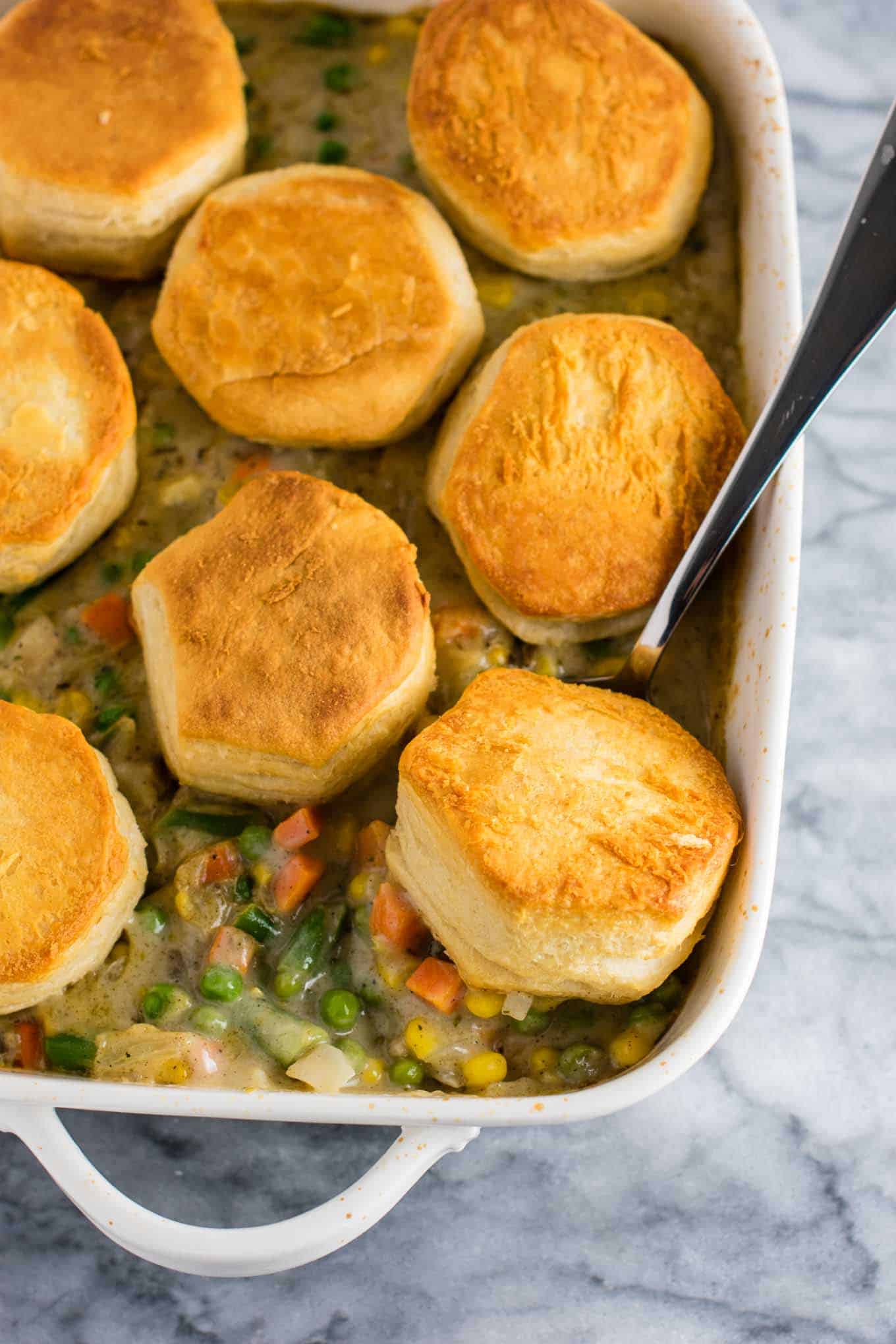 Once both have finished cooking, just place the rolls on top and it's time to dig in!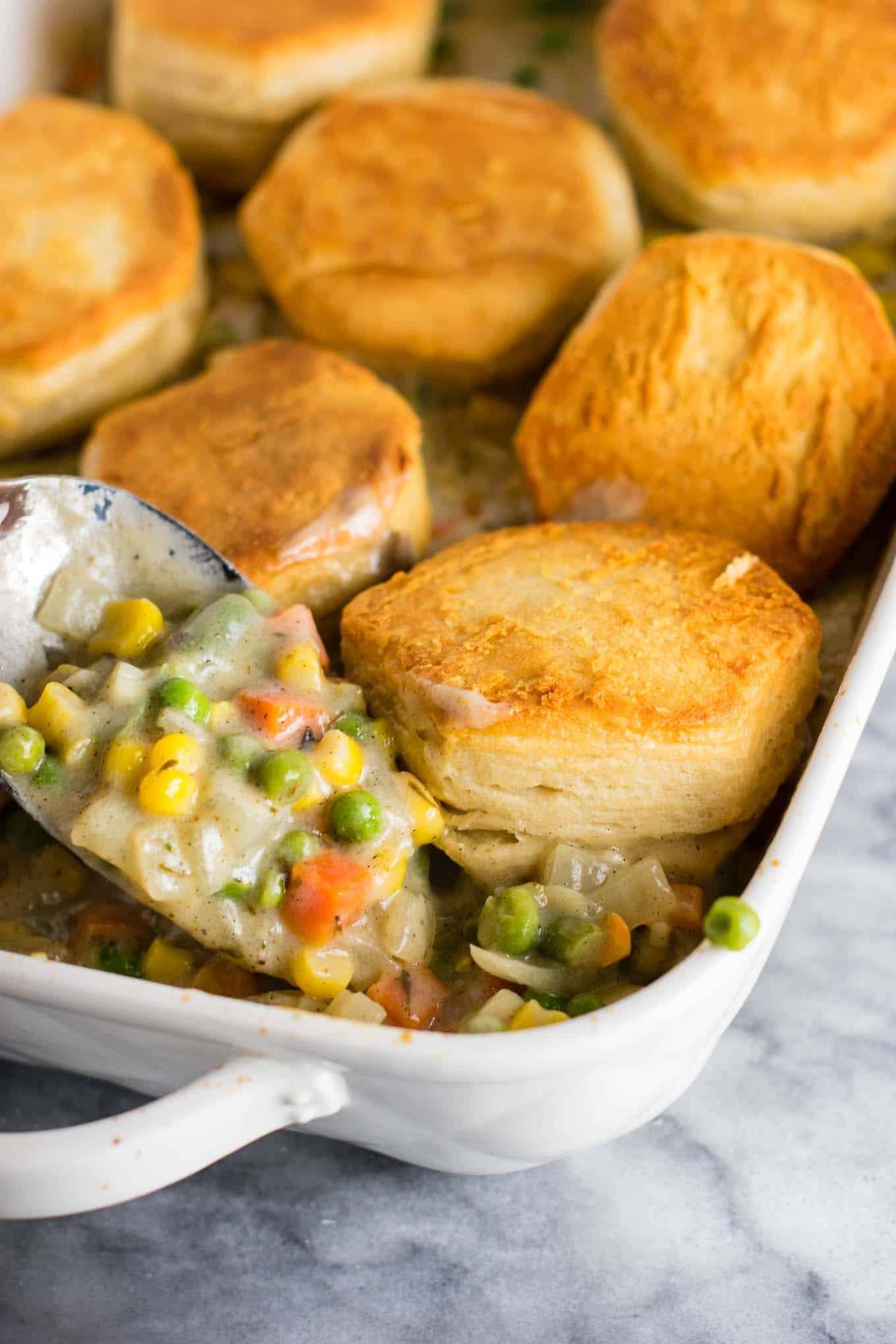 When Robbie first made this recipe, I made him tell me everything in it so that I could write it down in a note on my phone.
I used that note to recreate the recipe myself and it worked perfectly!
I had to guess on the spices as he didn't measure amounts, but it was spot on!
Robbie's version included vegetarian chick'n which was delicious.
It's totally optional, but we love adding it.
If you want "chicken" vegetarian pot pie, just add a little bit of "fake" meat. I love it both ways!
You can use any brand of biscuits, but I personally love the Immaculate brand or the Annie's organic brand.
They are incredibly flaky and use organic ingredients.
These pictures are making my mouth water.
Last night I had a second helping of this for an evening snack as I just couldn't stop thinking about it!
Cozy, simple comfort food is the best way to describe this recipe.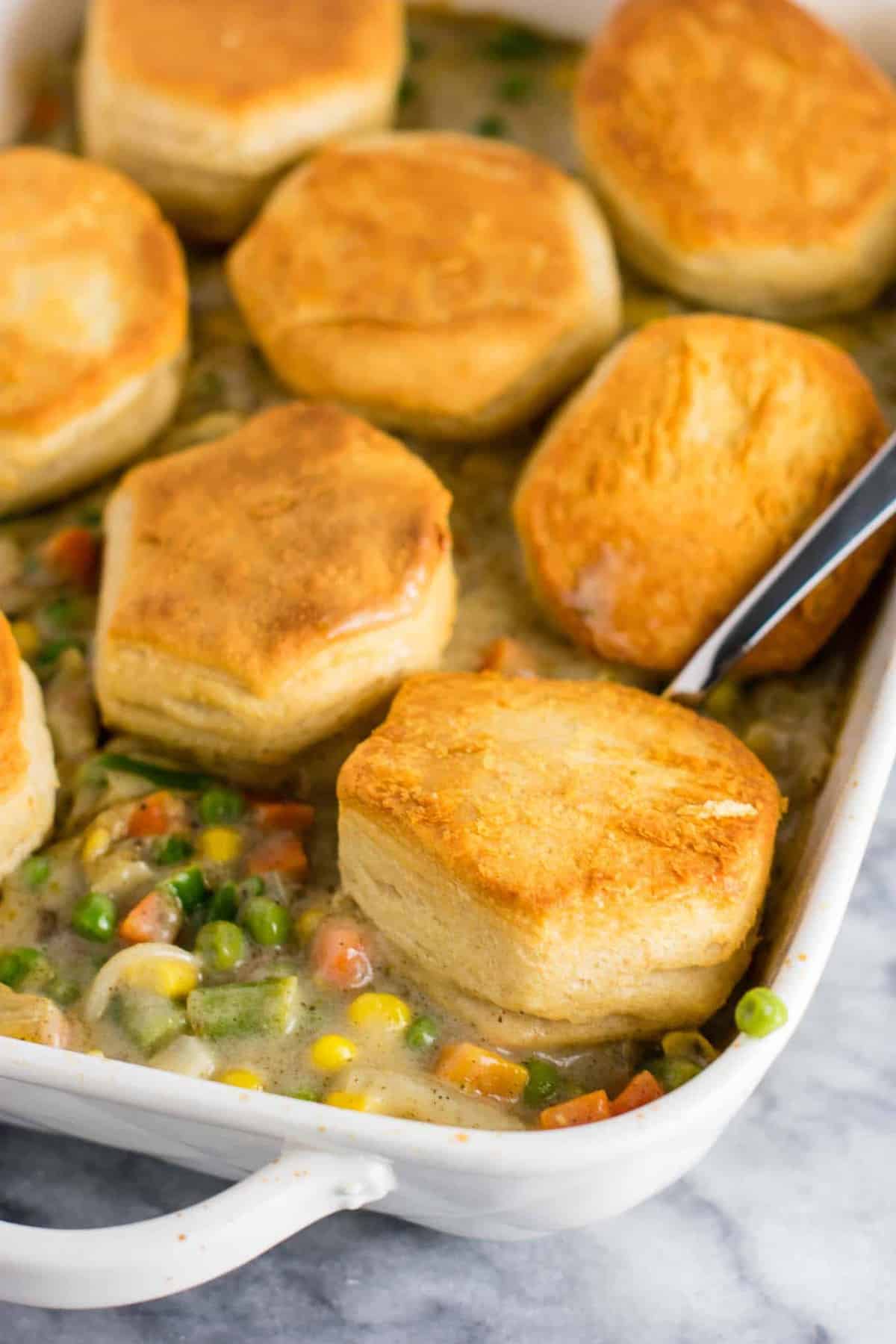 We used frozen veggies for convenience, but this pot pie is endlessly customizable.
Potatoes would also be a delicious addition!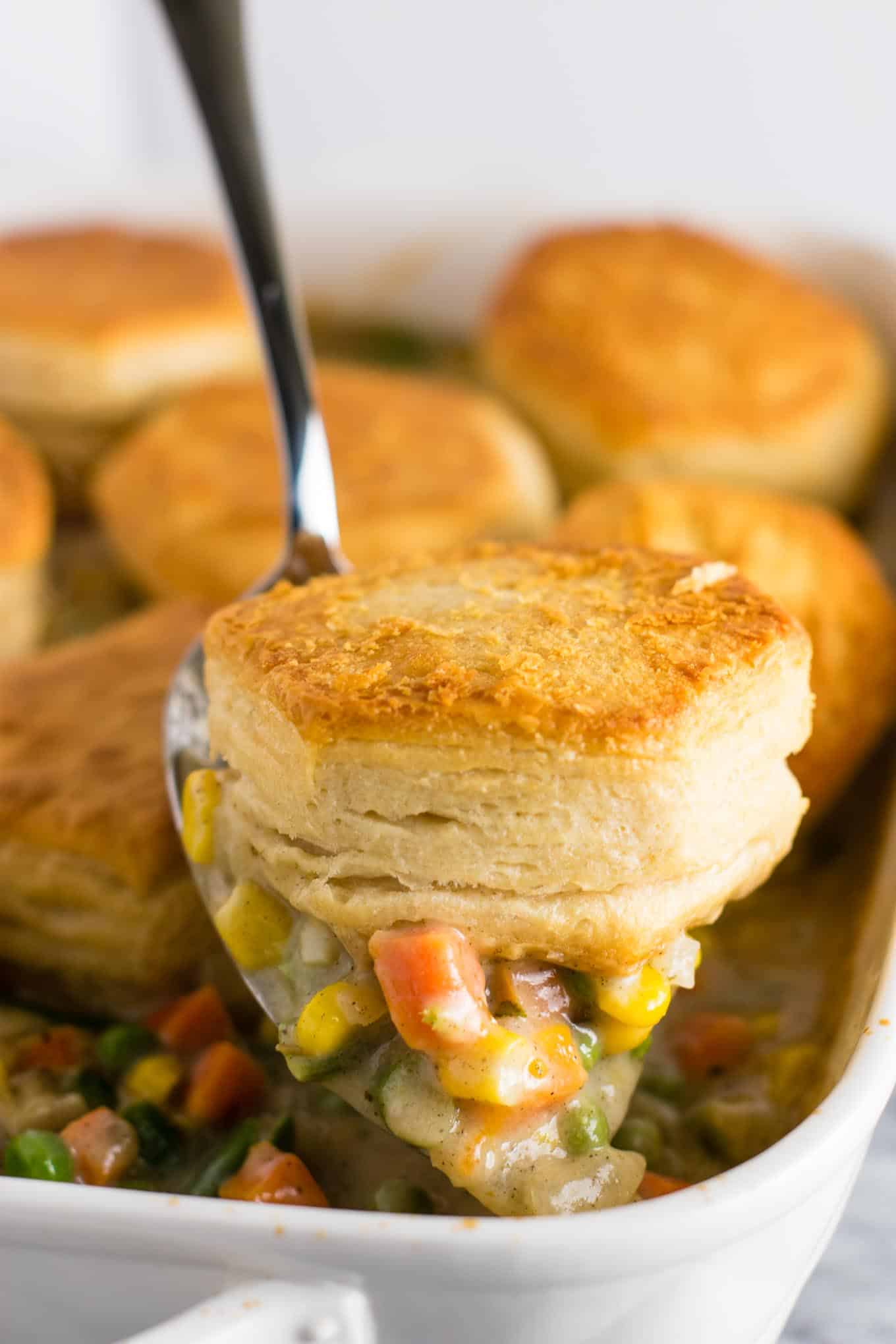 I cannot wait to eat leftovers for lunch today!
Are you making this recipe? I want to see! Don't forget to tag me on instagram @buildyourbite and hashtag #buildyourbite with your recipe creations.
More Vegetarian Comfort Food Recipes I love:
Click to pin this Veggie Pot Pie:
Veggie pot pie recipe:
Yield: 6 servings
Veggie Pot Pie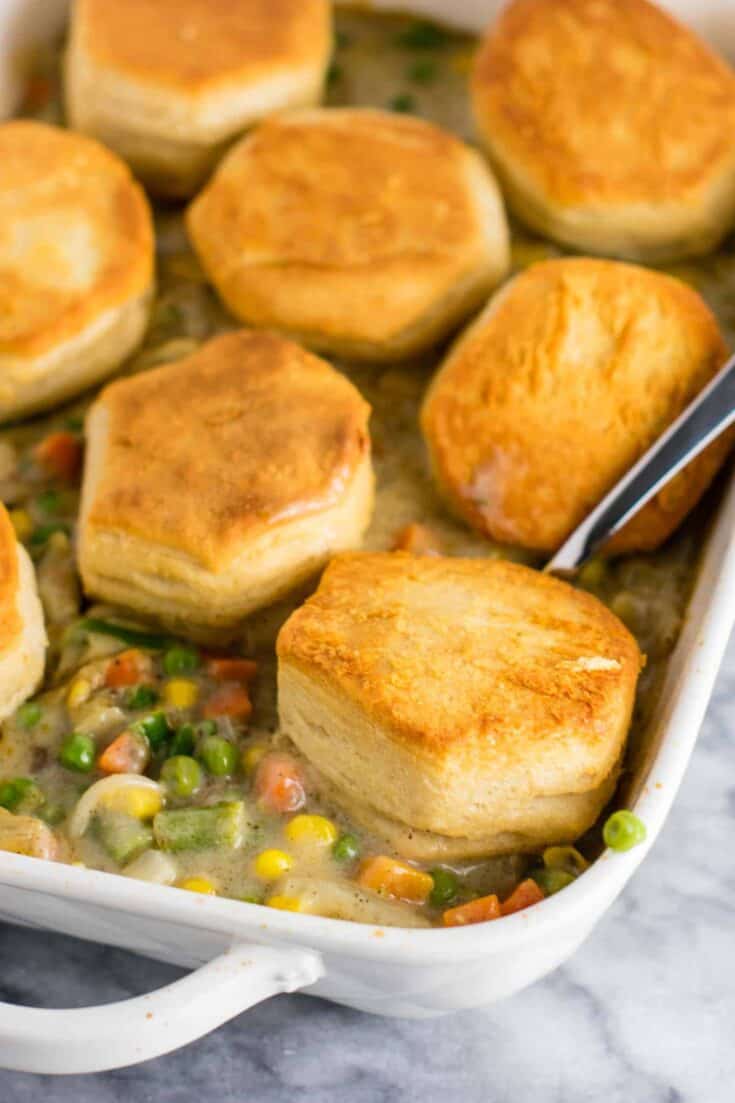 This "chicken" Veggie Pot Pie is meatless comfort food in a bowl!
Ingredients
1 onion, diced
10 cloves of garlic, minced
2 (10 oz each) bags of frozen mixed vegetables (mine was corn, carrot, peas, green beans)
10 oz cream of mushroom soup
3/4 cup vegetable broth
3/4 cup 2% milk
1 cup freshly grated sharp cheddar cheese
2 teaspoons sage
1 teaspoon thyme
1 teaspoon oregano
1 teaspoon salt
1 teaspoon pepper
1 container (10 oz) refrigerated meatless chick'n strips
1 container ready to bake biscuits (8 count)
Instructions
Add garlic, onion, and 1 teaspoon of olive oil to a large skillet
Saute on medium heat for 10 - 15 minutes stirring often, until onion is transluscent
Add frozen veggies, cream of mushroom, vegetable broth, chick'n strips, and milk to the skillet
Heat an additional 5 minutes
Add cheese, sage, thyme, oregano, salt, and pepper and heat until hot, around 5 more minutes
Taste and adjust seasonings if necessary
Preheat oven to 350 degrees
Place biscuits spread out on a cookie sheet
Transfer skillet mixture to a small casserole dish
Place biscuits on the top rack and the pot pie filling on the bottom rack
Bake for 15 - 20 minutes, and flip the biscuits half way through
Remove from oven and place biscuits on top of pot pie filling
Recommended Products
As an Amazon Associate and member of other affiliate programs, I earn from qualifying purchases.
Nutrition Information:
Yield:
6
Serving Size:
1
Amount Per Serving:
Calories:

309
Total Fat:

18g
Saturated Fat:

9g
Trans Fat:

0g
Unsaturated Fat:

7g
Cholesterol:

40mg
Sodium:

1096mg
Carbohydrates:

24g
Fiber:

5g
Sugar:

6g
Protein:

14g