Healthy baked spaghetti – because eating healthy shouldn't mean giving up pasta.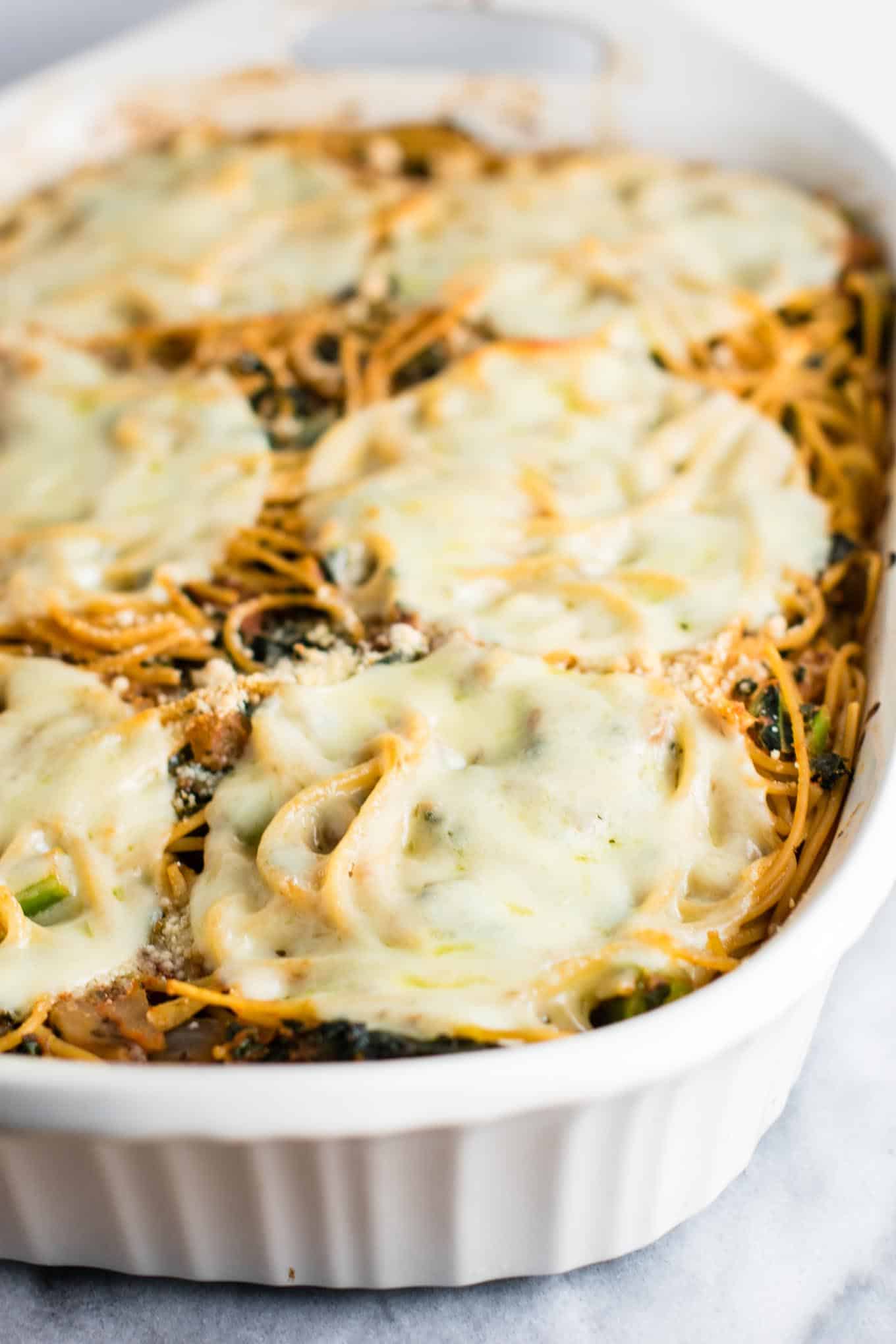 When I was growing up, one of my very favorite things to eat was baked spaghetti.
I don't remember many meals that my mom made, but baked spaghetti was a regular in my house.
As a teenager, I split time living between my parents' houses.
When I was at my dad's house, I taught myself how to cook out of necessity (his version of a home cooked meal was a frozen dinner + enough salt and pepper to kill you.)
Throughout my teenage years, I started to experiment with cooking and flavors, and that was when my love for cooking really began.
Like my mom, one of my go to easy dinners now is baked spaghetti.
It is endlessly customizable, relatively healthy, and packed with good for you veggies.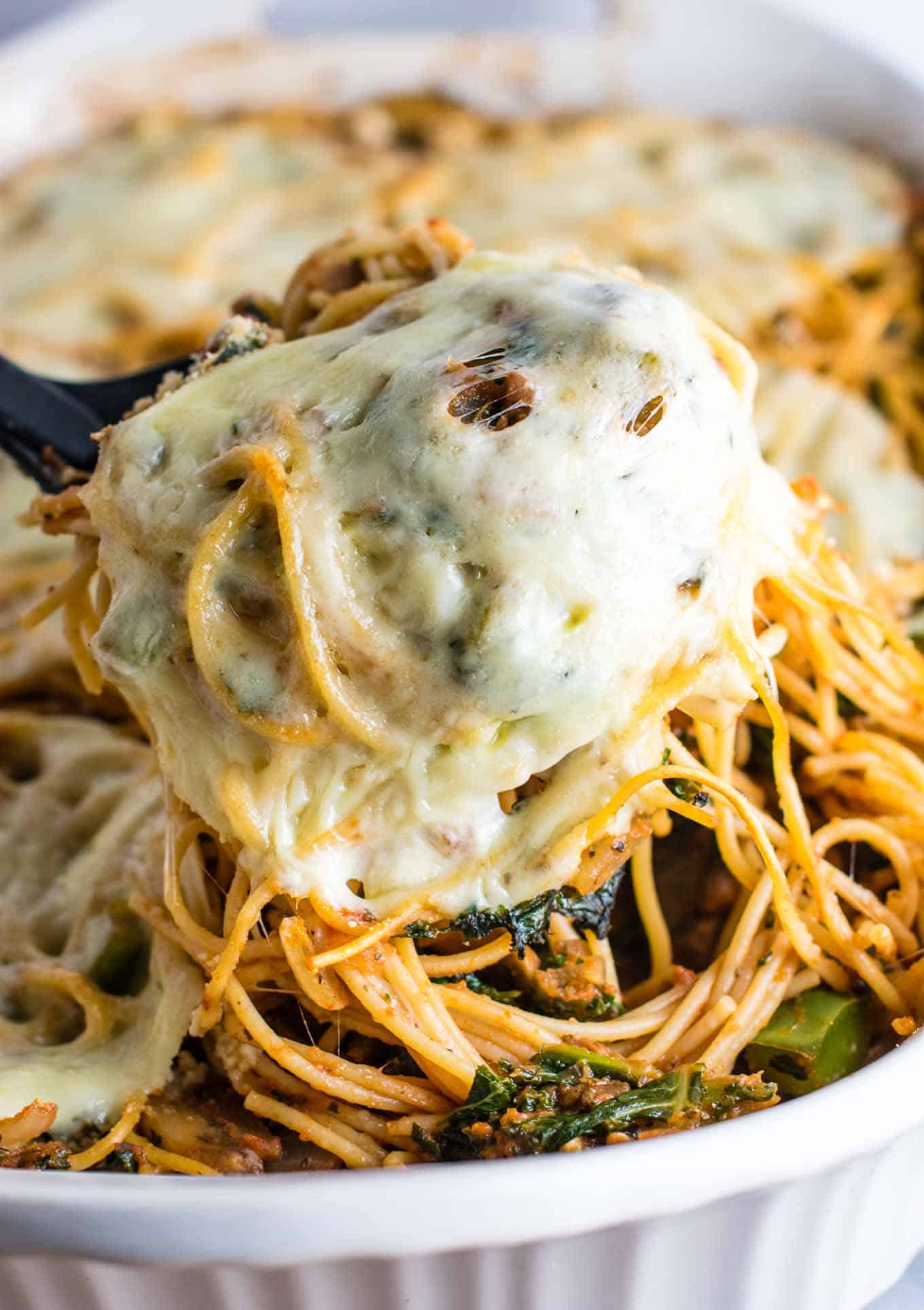 This version is extra veggie packed and I felt amazing after eating it!
It has: garlic, onion, mushrooms, bell pepper, and a whole lotta frozen kale.
Frozen kale is one of those back pocket veggies that I almost always have on hand.
From smoothies to dinners, it's an easy way to add in more veggies with no work from me.
Just open the bag up and pour and I got my serving of greens.
It's also something Crosby will eat. He has literally eaten frozen kale. Yes, my kid is the weirdest.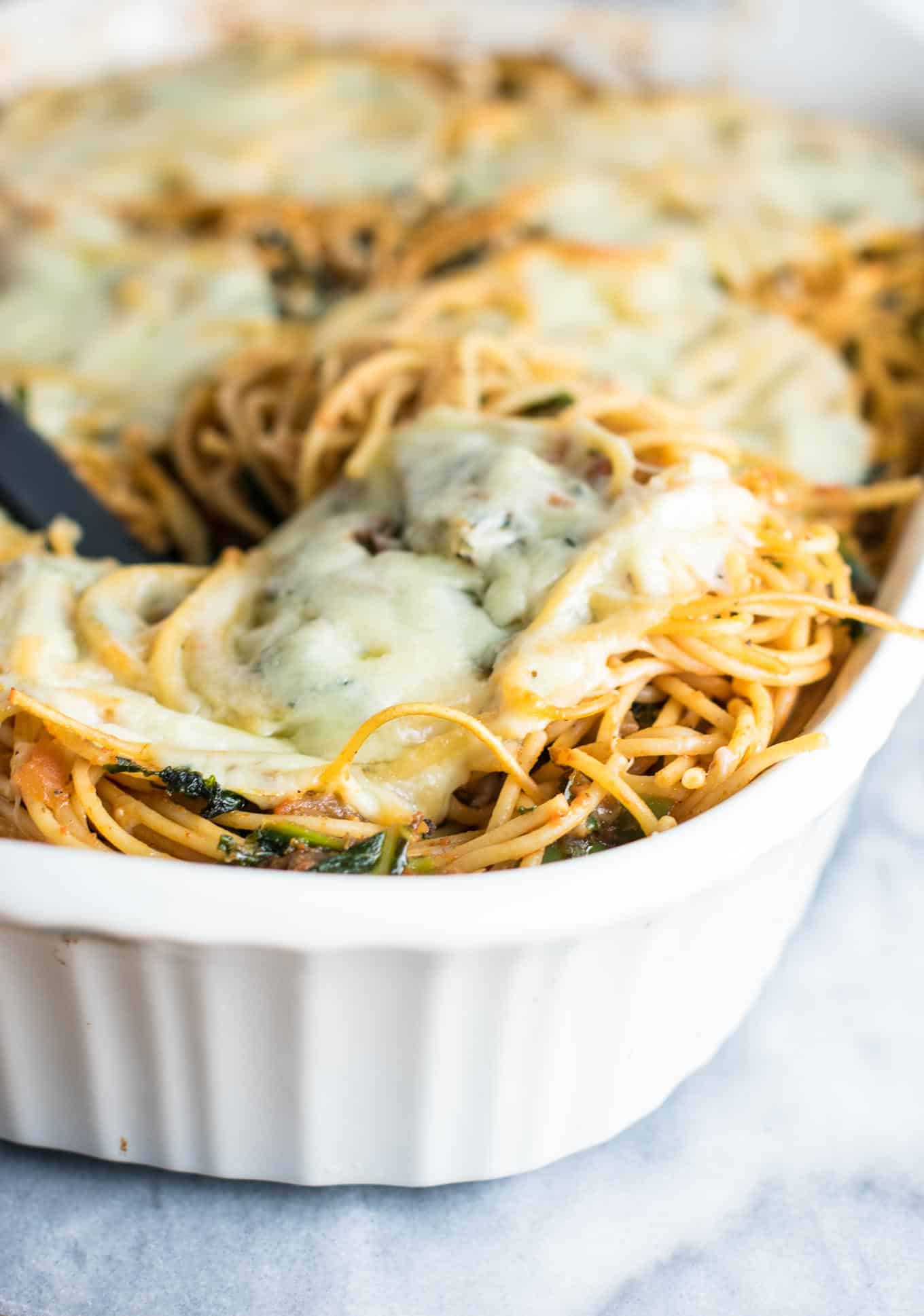 I also love using whole wheat spaghetti.
It's just as delicious, but doesn't make me feel bloated afterwards.
Whole wheat everything in my book. We rarely use white flour around here.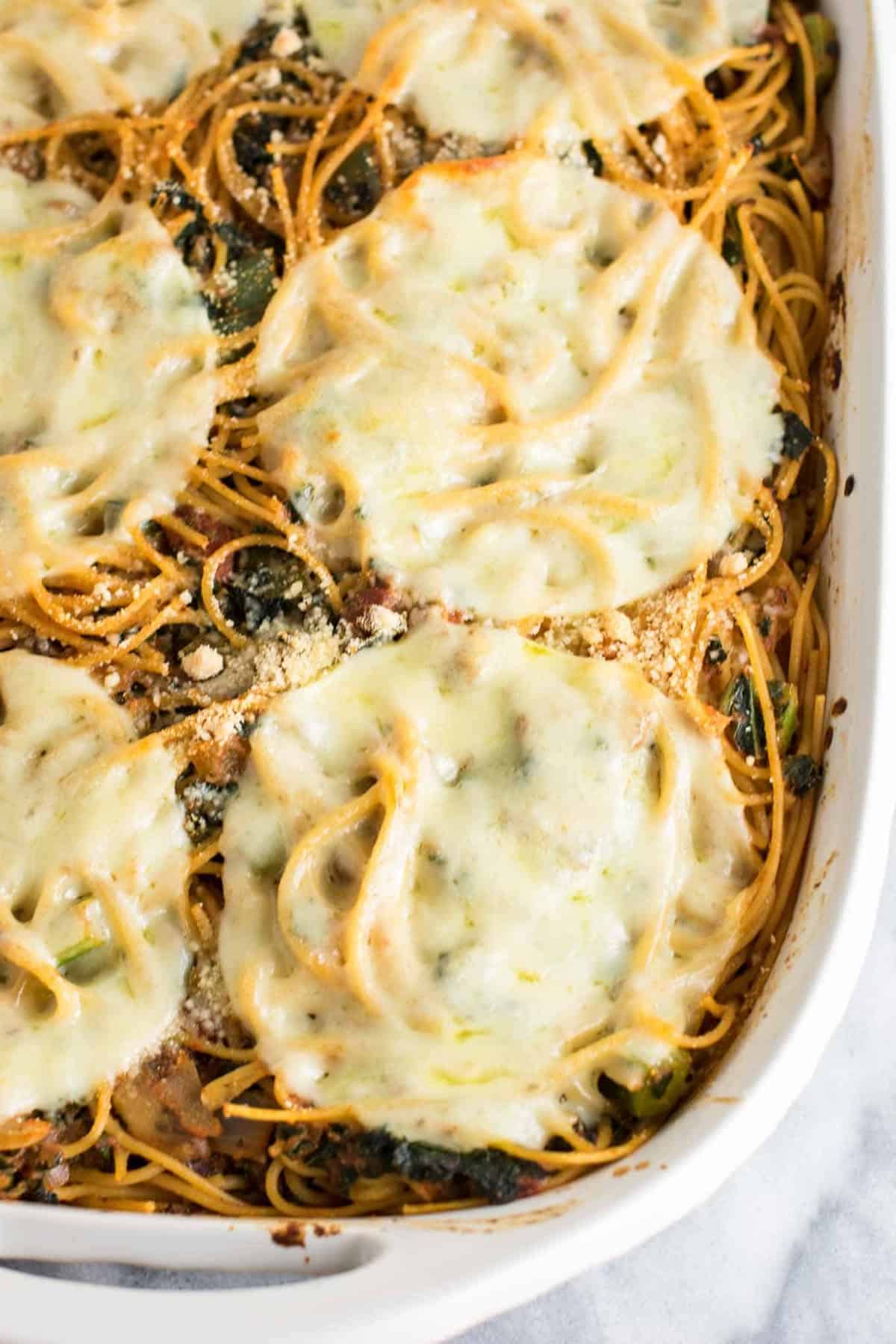 I am a pasta lover at heart and it's not something that I am willing to ever give up.
Just because you choose a healthy lifestyle doesn't mean that you need to give up the foods you love.
For me, I compromise by using whole wheat pasta and tons of veggies while still getting my pasta fix.
Once you mix everything up, you will bake it for 10 – 15 minutes, just long enough to get melty bubbly cheese and crispy edges (<— the best part of baked spaghetti.)
This spaghetti casserole makes a huge 13 by 9 pan, which I love because I love leftovers.
A meal that cooks once and feeds us more than one dinner is a winner in my book.
Every time I make pasta we eat on it 2-3 times.
This recipe makes 6 generous servings, or more if you have small kids.
As far as Crosby, he ate a few bites and chucked the rest on the floor.
I didn't take it too personally, as he pretty much does that with every food (moms of toddlers I know you feel me!)
But he usually loves spaghetti, so we make it at least twice a month.
As for me, I was in pasta heaven.
Robbie loved it and said it tasted "super fresh."
That's the kale for you. Greens for the win!
Are you planning to make this recipe? I want to see! Don't forget to tag me on instagram @buildyourbite and hashtag #buildyourbite.
Leave a comment below to let me know what you think!
More healthy pasta recipes I love:
Click below to pin this healthy baked spaghetti:
Healthy Baked Spaghetti Recipe:
Healthy Baked Spaghetti
Healthy baked spaghetti - because eating healthy shouldn't mean giving up pasta.
Ingredients
1 green bell pepper, diced
8 oz mushrooms, sliced
1 yellow onion, diced
8 cloves of garlic, minced
10 oz frozen kale
1 lb whole wheat spaghetti
25 oz jar of pasta sauce
½ teaspoon pepper
1 teaspoon salt
2 teaspoons basil
powdered parmesan cheese
6 slices provolone cheese
Instructions
Add bell pepper, mushrooms, onion, garlic, and 1 tablespoon of olive oil to a large skillet
Saute on medium high heat for 12 - 15 minutes, or until mushrooms cook down and onions soften
Meanwhile, cook spaghetti according to package instructions
Once veggies are done, add pasta sauce, kale pepper, salt, basil, and ⅓ cup of powdered parmesan cheese
Heat an additional 5 ish minutes, or until hot
Once spaghetti is cooked, drain it and pour the cooked spaghetti into a large 13 X 9 casserole dish
Add sauce mixture on top, and use tongs to combine
Sprinkle an additional ¼ cup of powdered parmesan over the spaghetti
Place 6 pieces of provolone cheese over the top
Bake at 425 degrees for 10 - 15 minutes, or until cheese is bubbly
Nutrition Information:
Yield:

6
Serving Size:

1
Amount Per Serving:
Calories:

329
Total Fat:

12g
Saturated Fat:

6g
Trans Fat:

0g
Unsaturated Fat:

5g
Cholesterol:

23mg
Sodium:

1233mg
Carbohydrates:

43g
Fiber:

9g
Sugar:

10g
Protein:

17g