These tofu burrito bowls are better than Chipotle!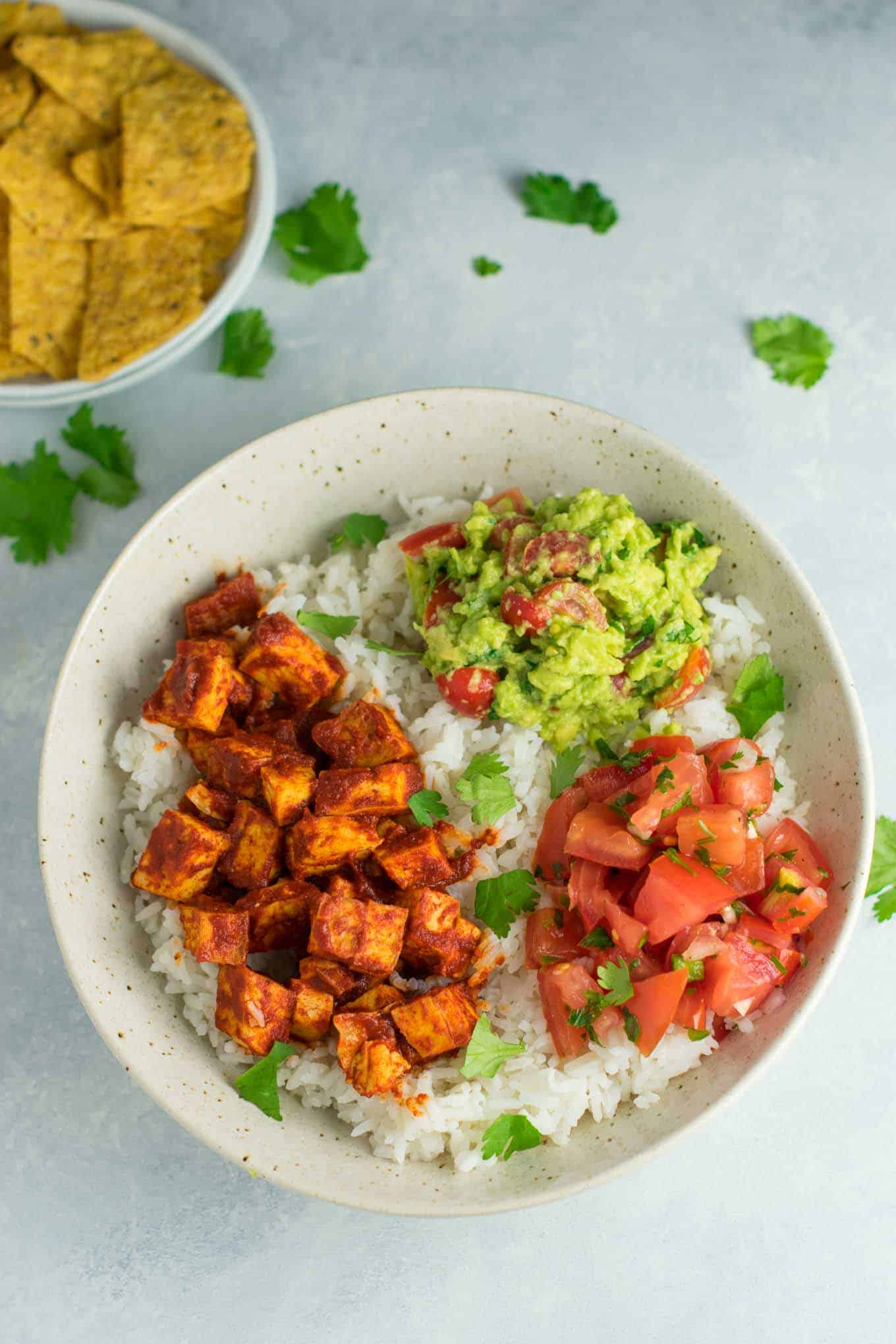 Chipotle is one of my favorite restaurants to eat at.
As a vegetarian, there aren't a lot of mainstream restaurants that offer a cohesive meal that is veggie friendly like Chipotle does.
I decided to recreate the theme of Chipotle's "burrito bowls" for this recipe.
I felt like I was eating out in my kitchen!
The tofu for this recipe is not like the sofritas that Chipotle has.
I decided instead to make a super easy and minimalistic tofu recipe without a lot of fancy ingredients.
I was really surprised at just how delicious and full of flavor the tofu was (with only 4 ingredients!)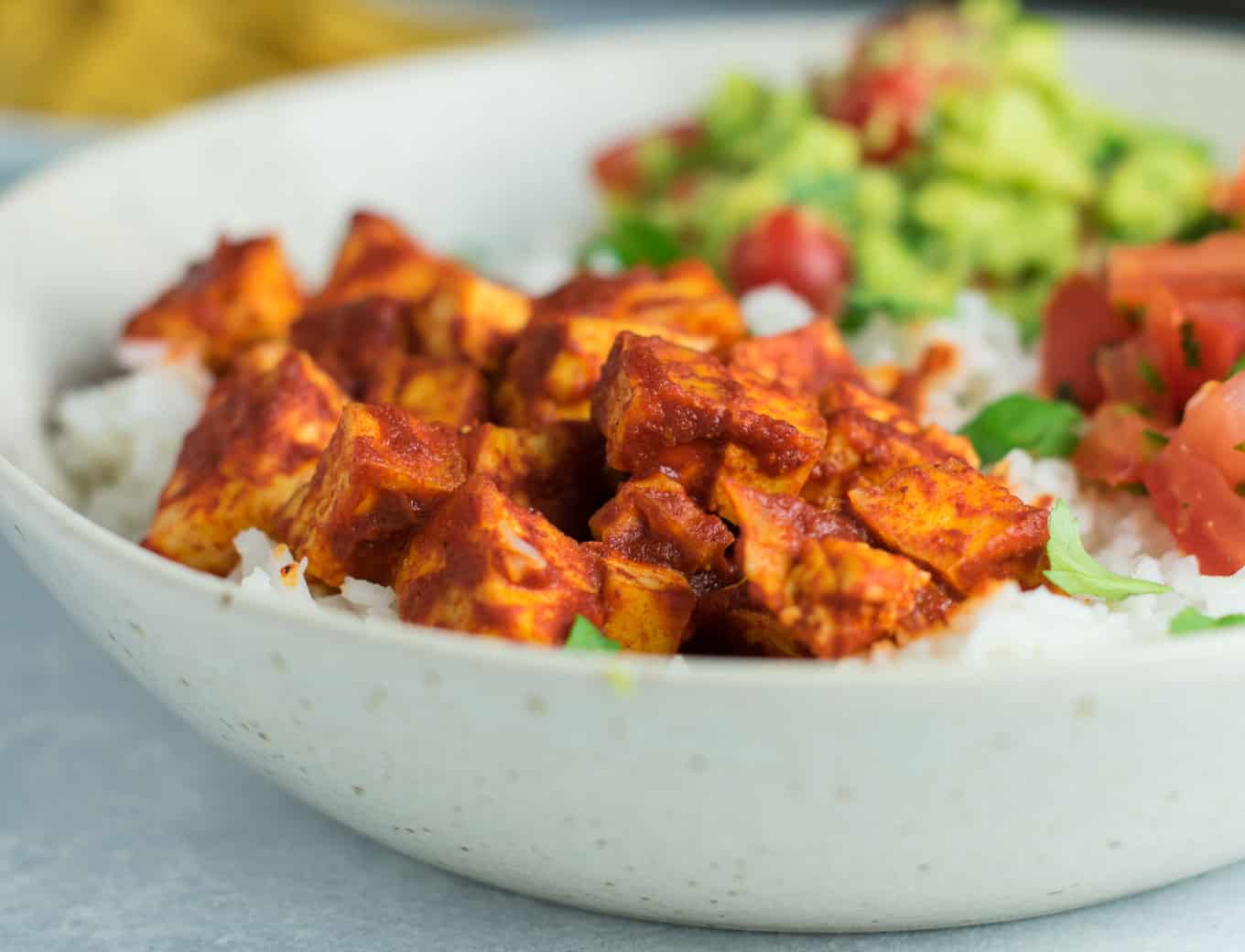 First, to get the texture of the tofu just right, I baked it on parchment paper after it had finished pressing.
This allows a lot of the moisture to bake out in the oven, so that we don't end up with mushy tofu.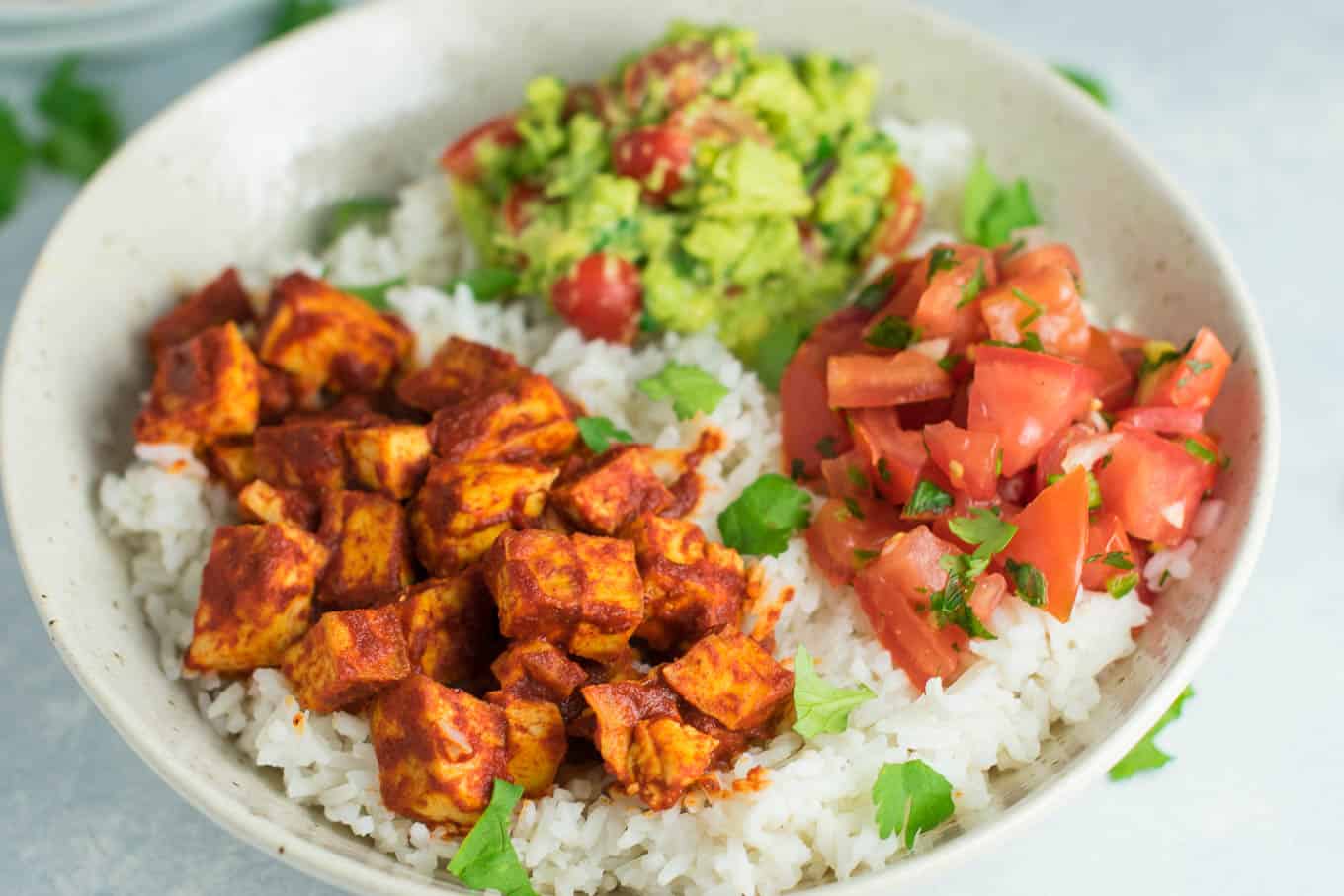 The other key to the incredible flavor is that I made both homemade guacamole and homemade salsa, both of which are easier than you think!
With just a few minutes of prep time you can really up flavor of this dish and make it crazy good!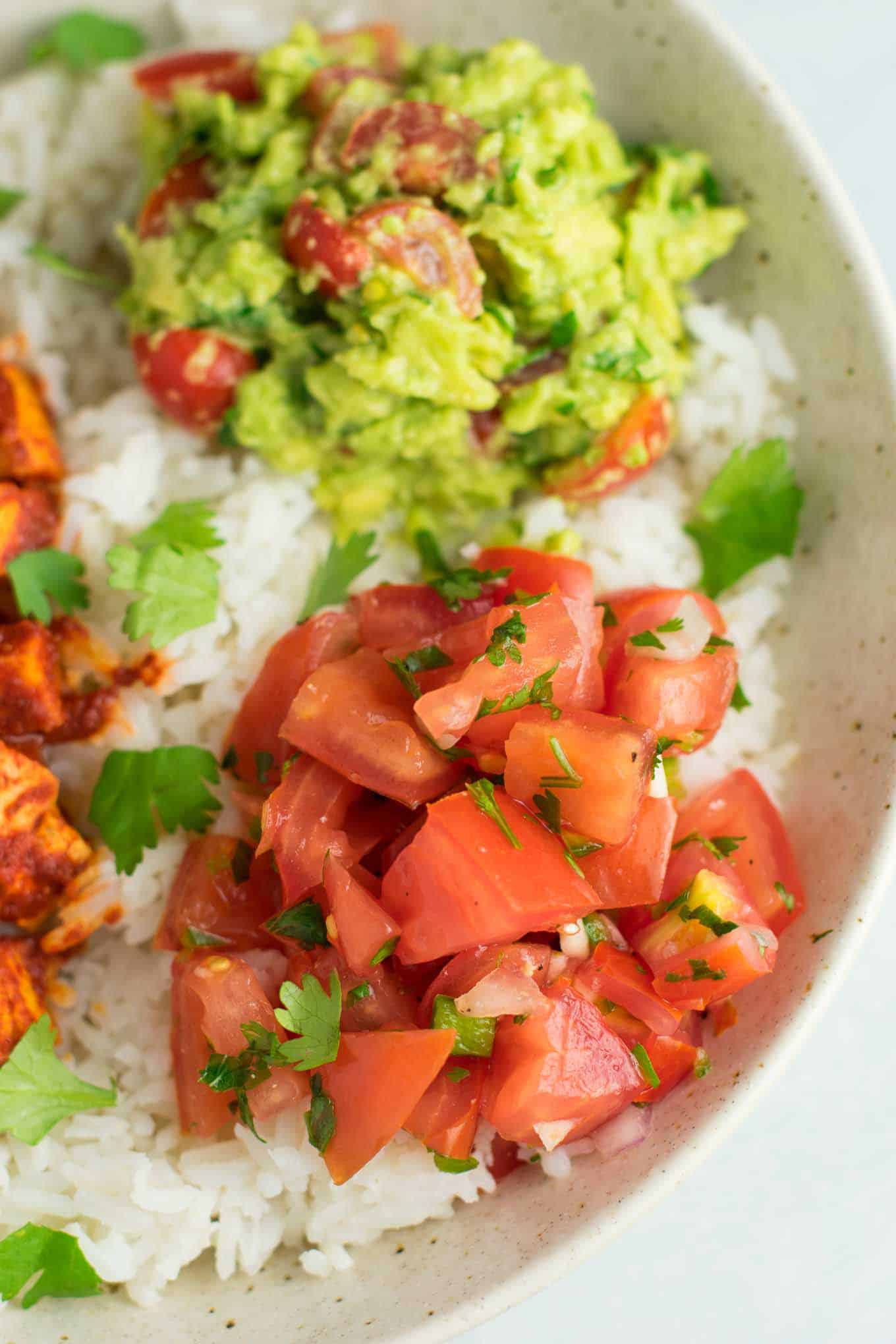 I love the flavor of fresh salsa and freshly made guac.
It really makes me feel like I'm eating out at a fancy Mexican restaurant!
Chipotle fajita veggies would also be delicious here.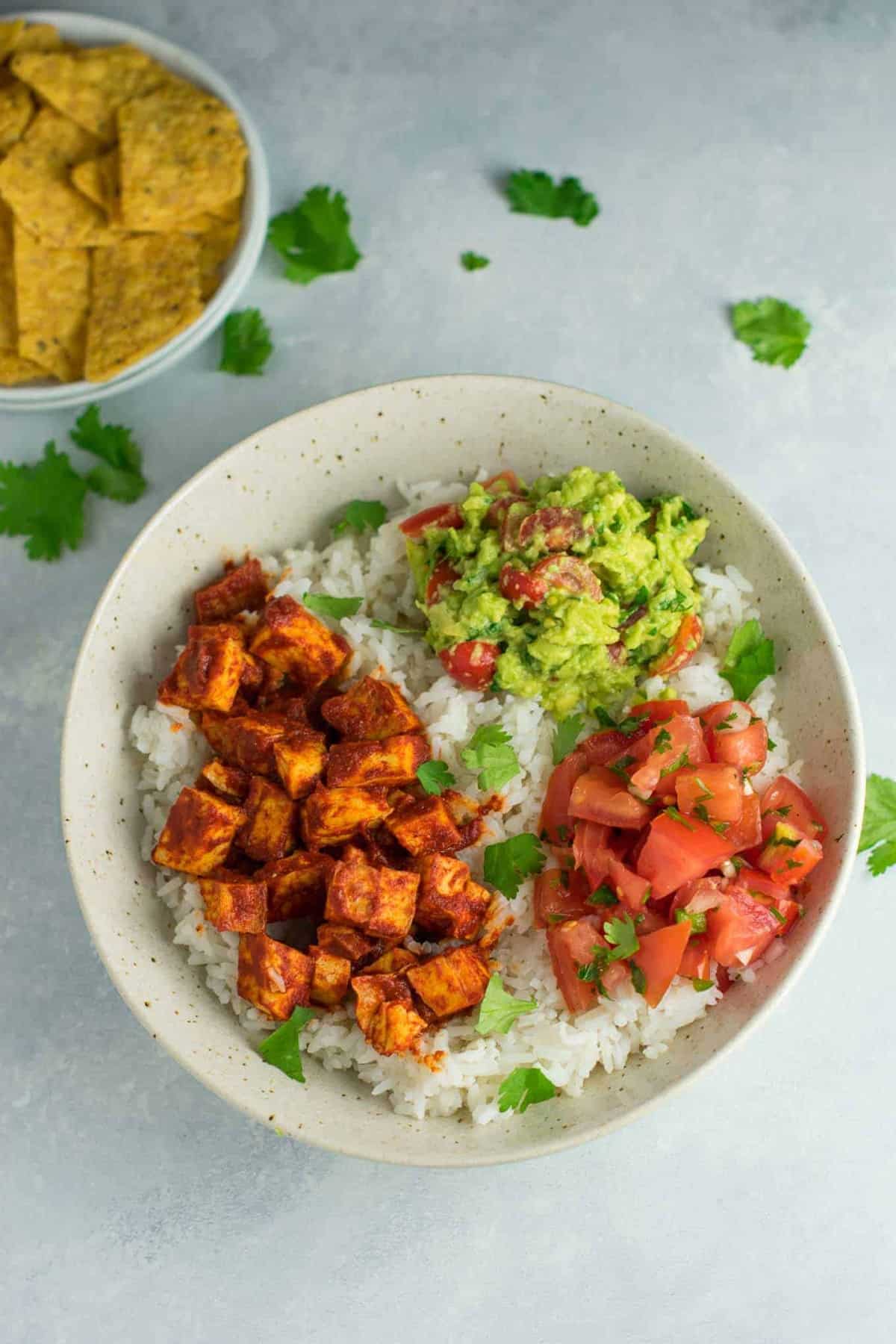 For the rice in this recipe, I just cooked some white basmati rice in a slow cooker.
No seasoning of the rice is required, as it will get tons of flavor once mixed with the other ingredients of the burrito bowl.
You can also substitute cilantro lime cauliflower rice.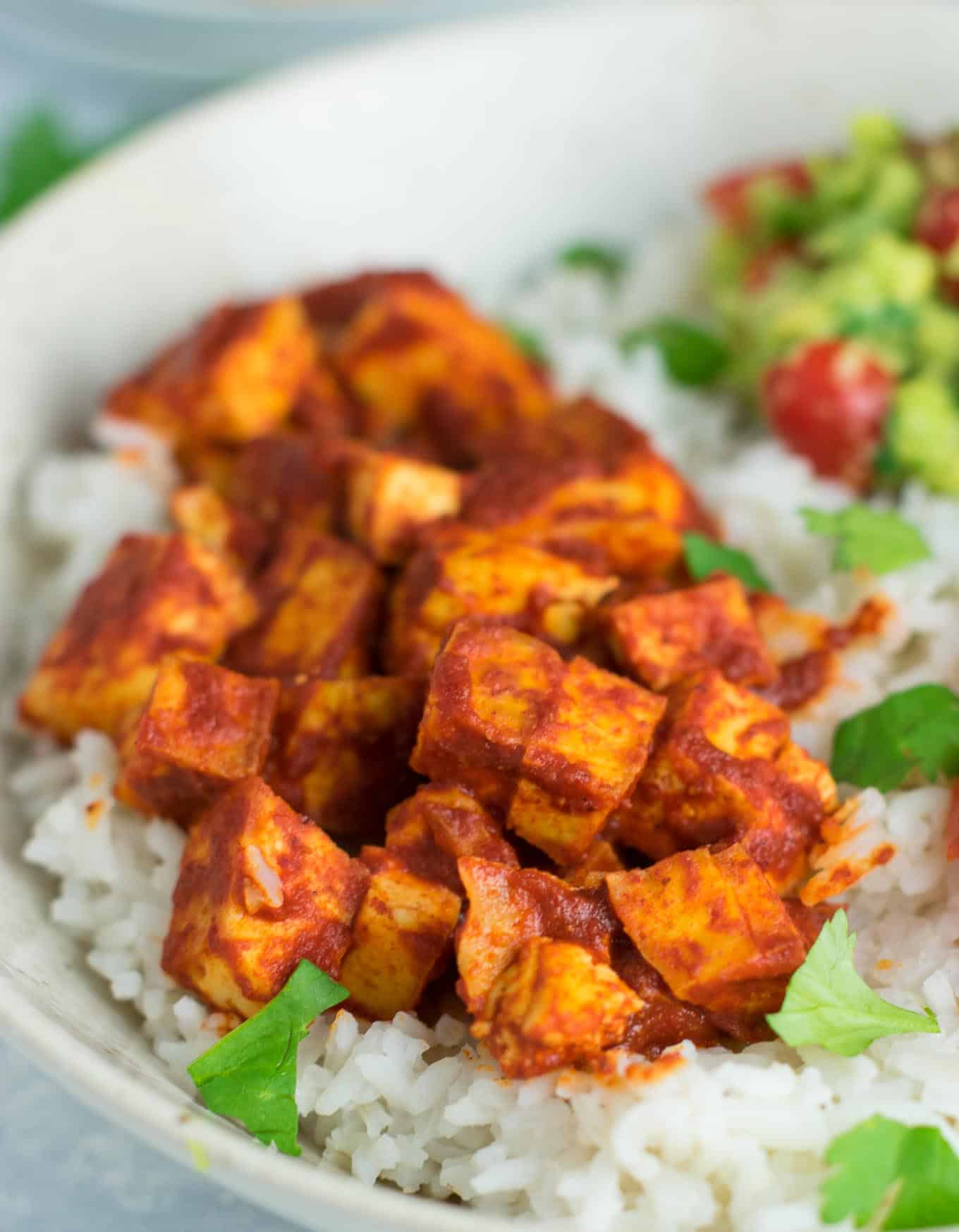 I literally could not stop saying how good this was while eating it.
My husband and I both ate huge bowls and there was still a big serving leftover for my lunch the next day!
This was by far worth every second it took to make it. I will be making burrito bowls at home more often now!
I reheated the leftovers the next day for my lunch and the tofu kept its texture perfectly and everything was just as delicious as the night before.
If you love chipotle, or just love really really good Mexican food, try these easy enchilada tofu burrito bowls and let me know what you think!
Be sure to also check out these Vegan Enchiladas and Tofu Tacos if you love Mexican inspired food.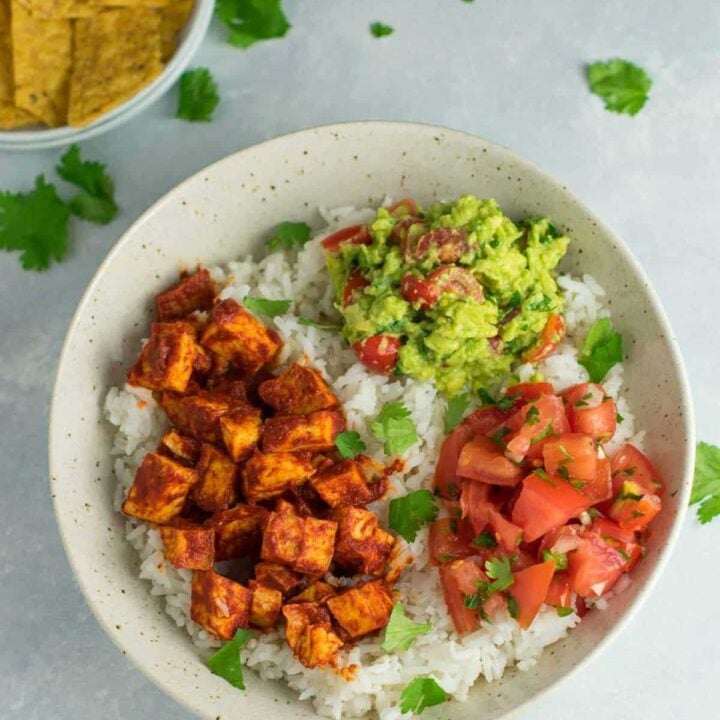 Easy Enchilada Tofu Burrito Bowls
Easy enchilada tofu burrito bowls recipe with homemade guacamole and salsa. A delicious meatless vegan dinner recipe for Mexican night.
Ingredients
14 oz extra firm tofu
8 oz enchilada sauce
½ large lime, juiced
1 teaspoon cumin
¼ teaspoon salt
1 batch homemade guacamole
1 batch homemade salsa
4 servings of cooked white rice, for serving
Instructions
Drain tofu and place in between a kitchen towel, so that the towel is covering the top and bottom of the tofu
Place a cast iron skillet or other heavy object over the tofu and let press for 25 minutes
Cook rice according to instructions (I used a rice cooker for convenience)
Once tofu has finished pressing, dice into small chunks and place on a baking sheet that is lined with parchment paper (the parchment paper is important for the cooking)
Bake at 400 degrees for 20-25 minutes, stirring once, until the tofu begins to dry out but is not burnt
Heat a skillet on medium high heat and add the tofu, enchilada sauce, lime, cumin, and salt
Cook for 10-15 minutes on medium high heat, stirring frequently, until sauce thickens up and coats tofu
Serve burrito bowls with a bed of white rice and topped with the tofu, homemade guacamole, and homemade salsa
Recommended Products
As an Amazon Associate and member of other affiliate programs, I earn from qualifying purchases.
Nutrition Information:
Yield:

4
Serving Size:

1
Amount Per Serving:
Calories:

313
Total Fat:

6g
Saturated Fat:

1g
Trans Fat:

0g
Unsaturated Fat:

4g
Cholesterol:

0mg
Sodium:

630mg
Carbohydrates:

51g
Fiber:

3g
Sugar:

5g
Protein:

15g
Nutritional information is calculated automatically and may not be completely accurate