The best gluten free carrot cake recipe with cream cheese frosting. Made with two simple flours and easy to find ingredients!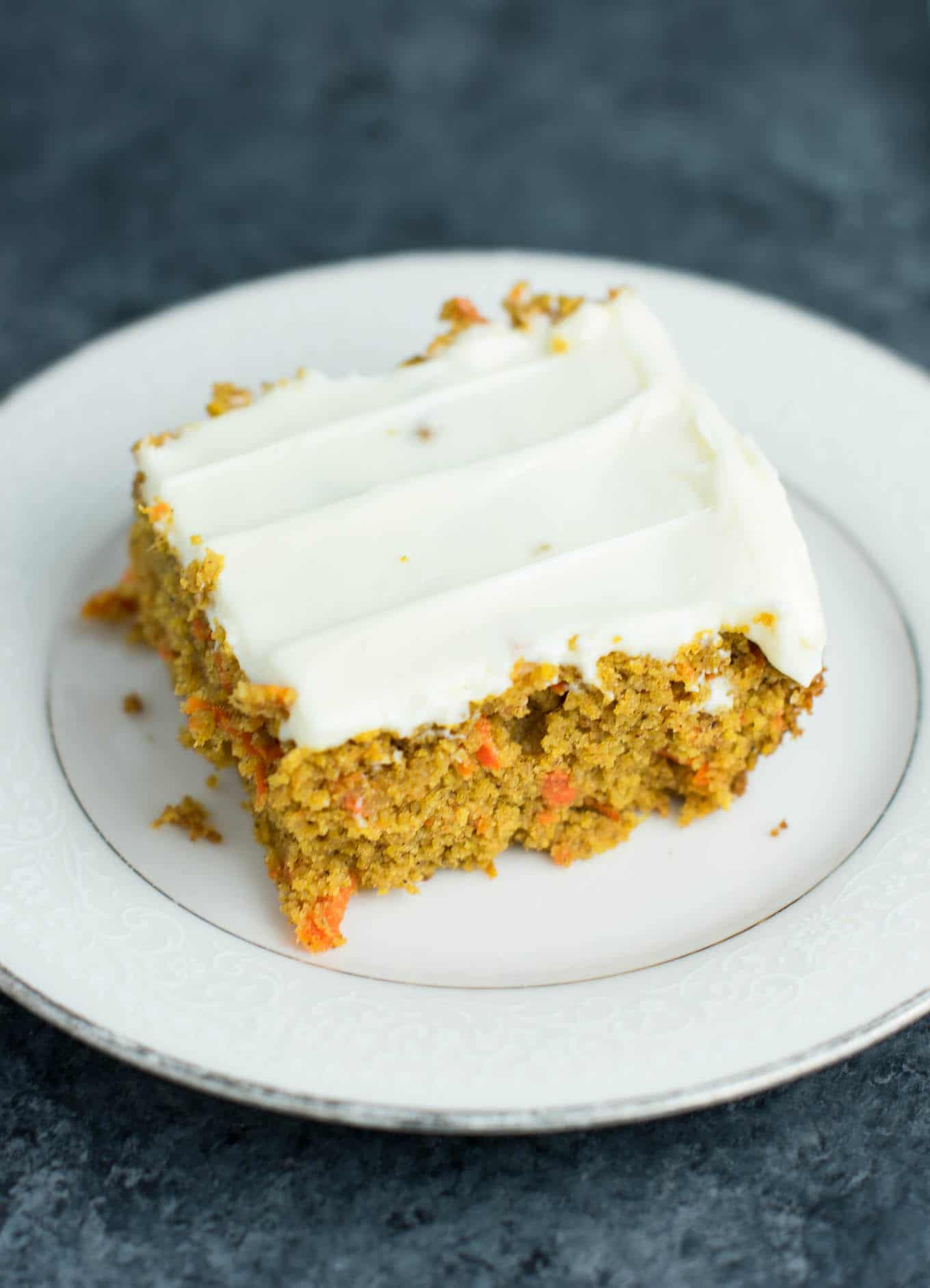 You guys. I am INSANELY freaking excited to share this recipe with you today!
I feel like I cracked some sort of top secret code.
A code into the most epically delicious GLUTEN FREE carrot cake with no hard to find flours or ingredients!
Are you as excited as I am??
While I personally do not have a gluten intolerance, I am always on the hunt to discover new and easy ways for my readers to enjoy gluten free desserts.
My mom is gluten free and she inspires me to come up with new recipes that she can enjoy when she comes over to watch Crosby.
I'll be honest, there's nothing that I love more than cooking for people, so I often try to make something gluten free for her to enjoy.
Robbie's birthday was last week (the big 34!) and I realized the night before that I had forgotten to plan any sort of birthday cake for him.
He requested a carrot cake and I decided to see if I could challenge myself to make it gluten free.
I even had all of the ingredients already in my kitchen!
While I have made gluten free mug cakes and gluten free cookies before, this was a whole new ball game.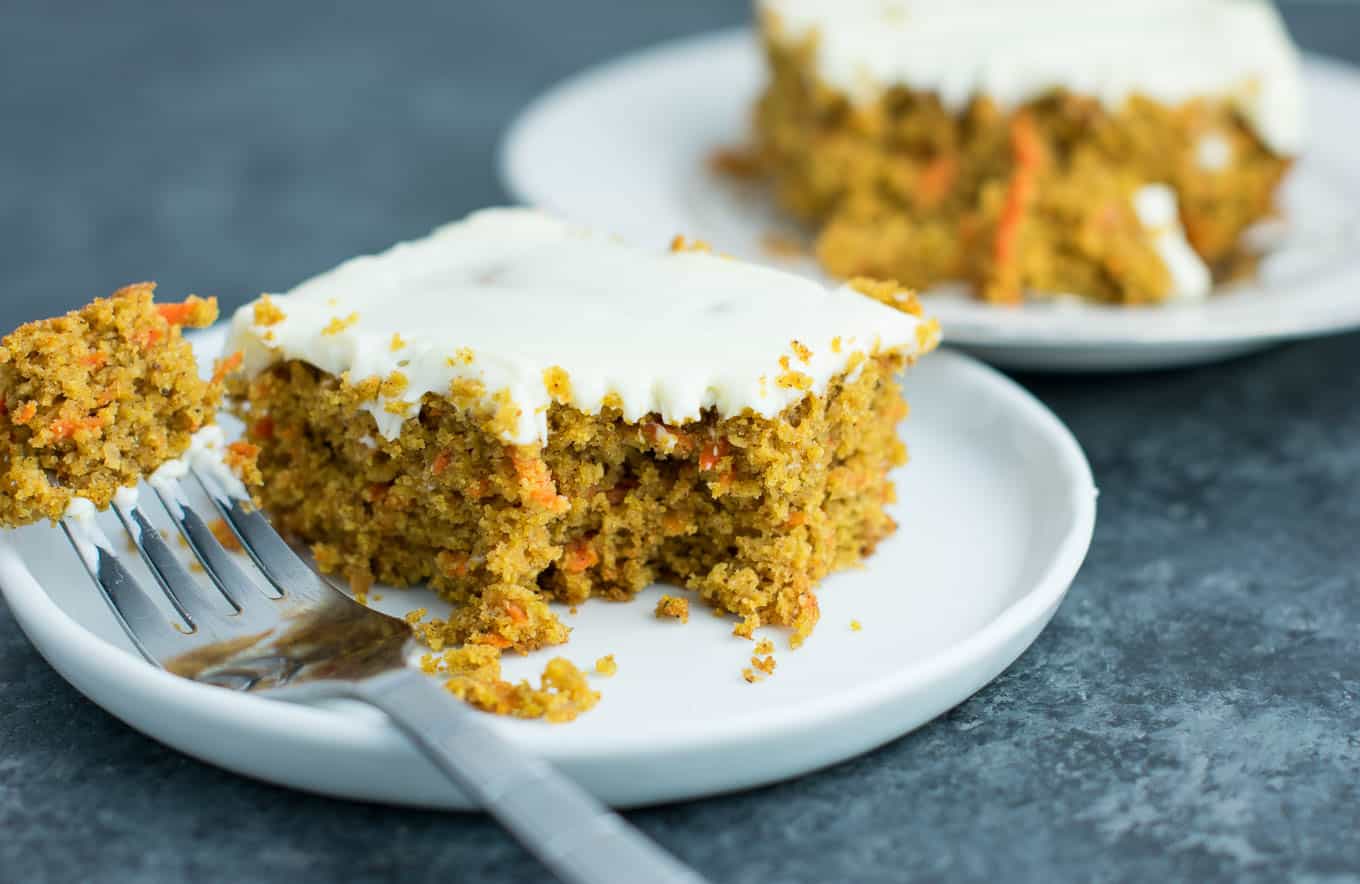 A quick search on the internet returned absolutely no simple gluten free carrot cake recipes.
Almost every single one called for the ambiguous "gluten free flour blend."
I have two problems with using a gluten free flour blend: 1) every one is made up differently and could definitely affect the texture if you did not list the exact one used and 2) they can be difficult to find and often expensive.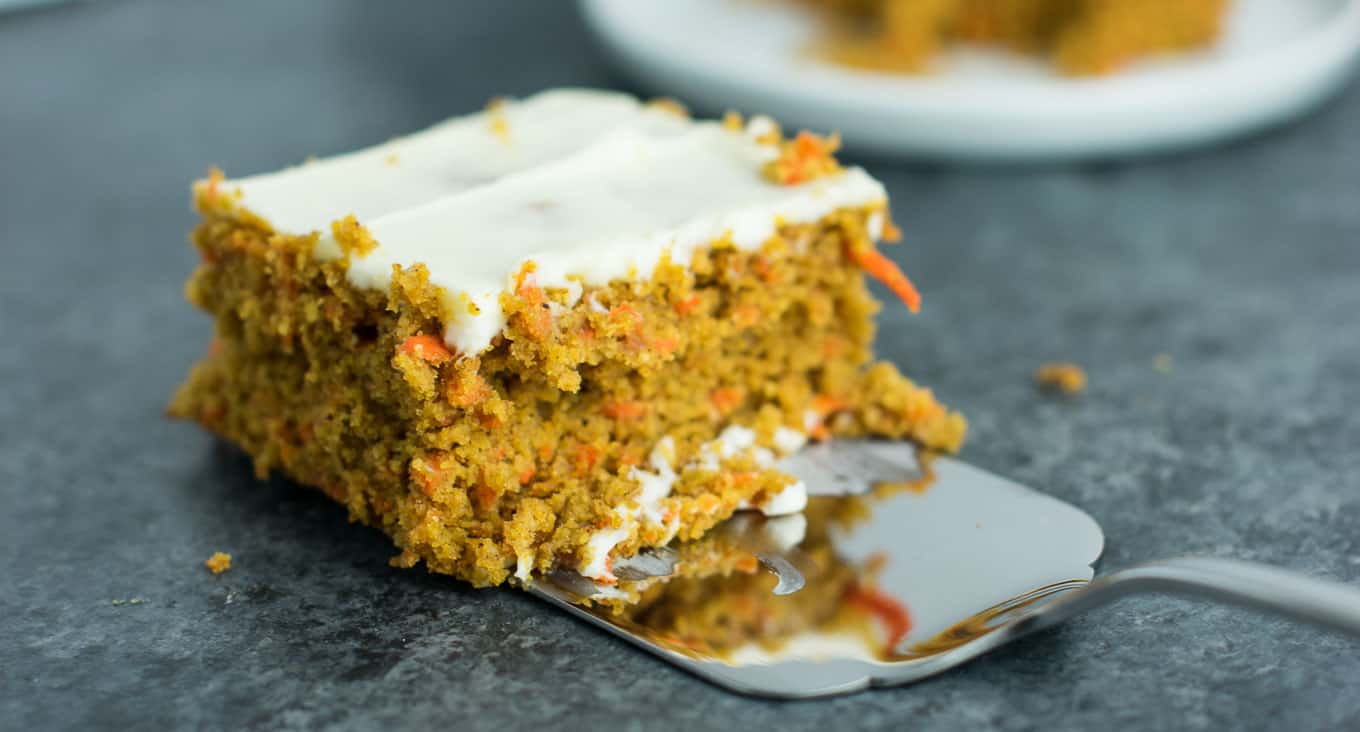 My mission was to create a gluten free carrot cake using the two simple flours that I use anytime I make something gluten free: coconut flour and oat flour.
Coconut flour is easy to find (and not very expensive) and oat flour can be made from rolled oats (also easy to find.)
If you are extremely gluten sensitive, be sure to use certified gluten free rolled oats.
I will say that I did not use certified gluten free oats the first time I made this recipe (so there was a tiny chance of cross contamination), however my mom had absolutely no reaction whatsoever and even the tiniest bit of wheat usually upsets her stomach.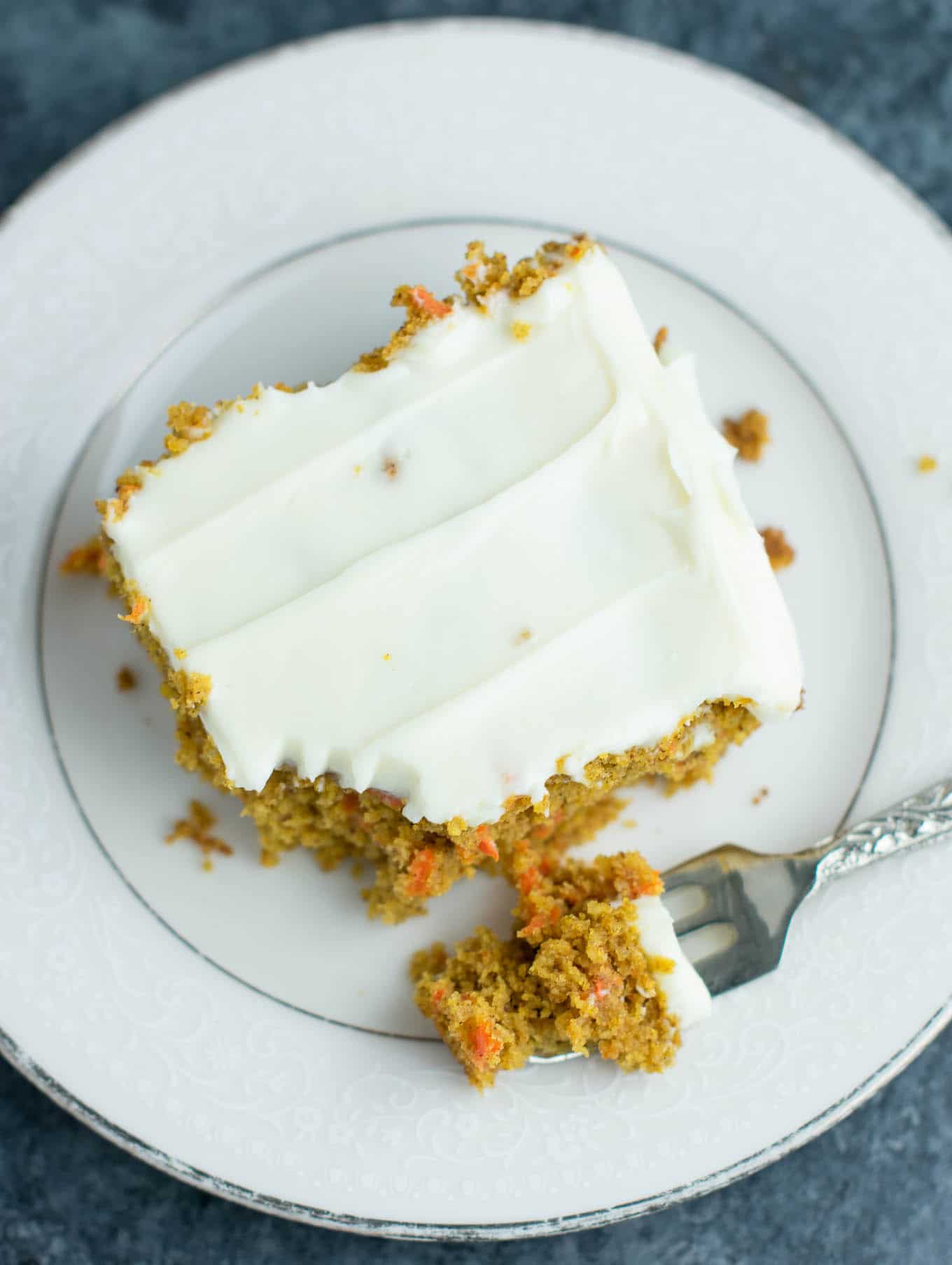 The batter of this carrot cake was super thick (almost more like muffin batter) and I was so nervous when I put it in the oven.
I have never even attempted a gluten free cake before, but I went with my gut and figured it was worth a shot.
MAN did it pay off!
I have honestly never tasted a better carrot cake recipe in my life (gluten free or not.)
My mom raved about it and ate 3 pieces.
Robbie was equally obsessed and is still enjoying his birthday cake 4 days later.
The texture of this cake is PERFECT.
You would never guess that it is gluten free.
If it's possible, it gets even better in the fridge overnight!
I cannot say enough good things about this recipe!
More than anything, I am so stoked to have created a super easy gluten free carrot cake recipe that anyone can enjoy.
Let me know what gluten free cake recipe you want to see next and I'll see if I can make it happen!
PIN this Gluten Free Carrot Cake Recipe here:
Love this recipe? Here are some more gluten free desserts you might enjoy: Flourless Peanut Butter Oatmeal Chocolate Chip Cookies, Perfect Fluffy Peanut Butter Cookies, Gluten Free Chocolate Mug Cake, Gluten Free Pumpkin Pie Cookies, Gluten Free Oatmeal Chocolate Chip Bars, Magic Protein Mug Cake.
Best Gluten Free Carrot Cake Recipe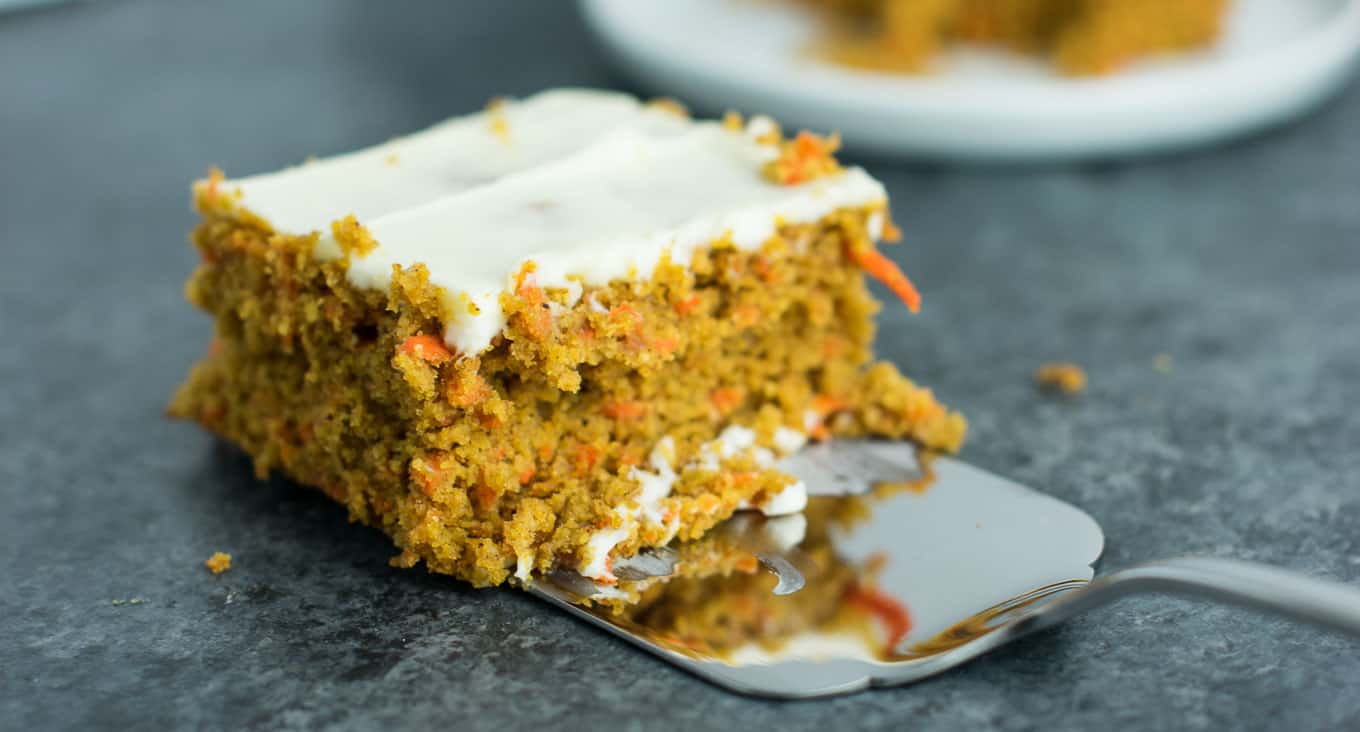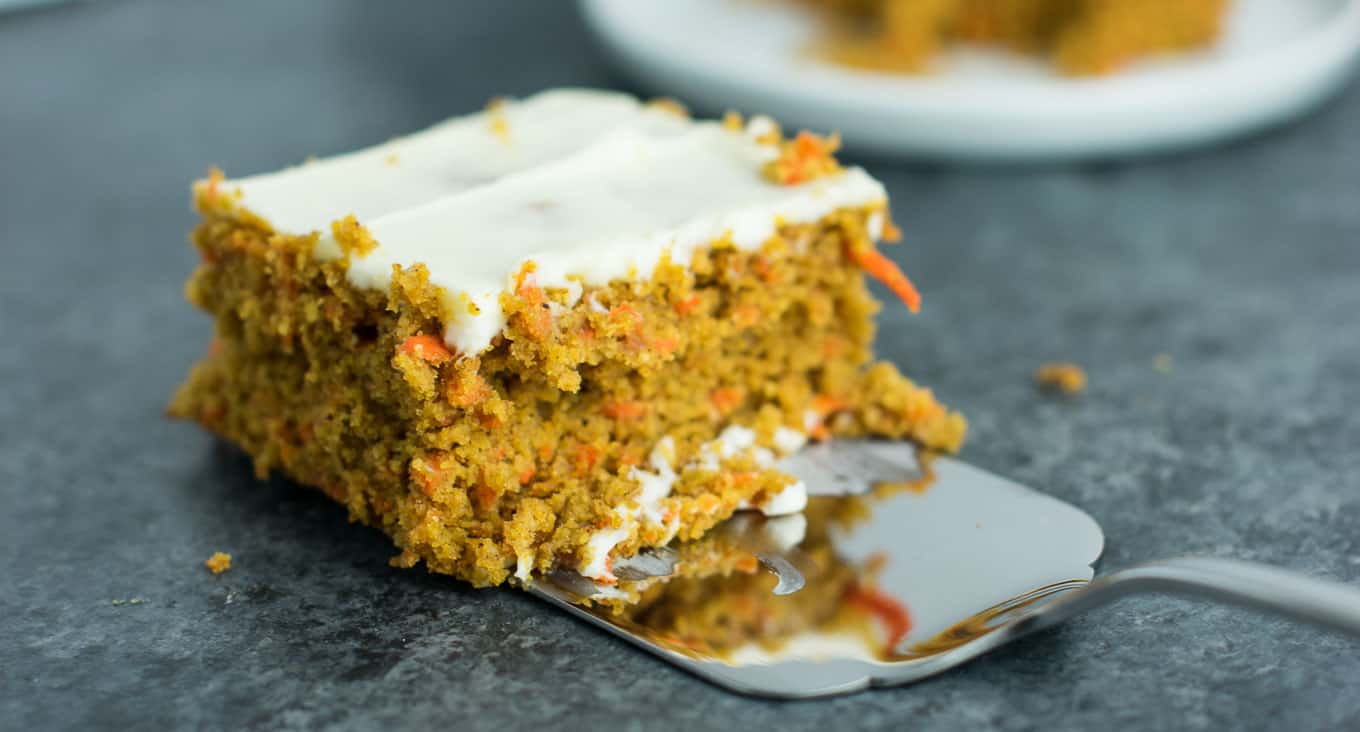 The best gluten free carrot cake recipe with cream cheese frosting. Made with two simple flours and easy to find ingredients.
Ingredients
2 tablespoons vanilla extract
3 cups grated carrots
4 eggs
2 1/2 cups gluten free oat flour
1/2 cup coconut flour
1 cup brown sugar
1/3 cup no sugar added applesauce
1/2 cup olive oil
2 teaspoons baking soda
1 1/2 teaspoons baking powder
1/2 teaspoon salt
1 teaspoon cinnamon
1 teaspoon nutmeg
For the Frosting
1/3 cup plain nonfat greek yogurt
1/2 cup powdered sugar
8 oz cream cheese, softened
Directions
Preheat oven to 350 degrees
Use a mixer to beat carrots, eggs, vanilla, olive oil, applesauce, and brown sugar until well combined
In a separate bowl, whisk together oat flour, coconut flour, baking soda, baking powder, salt, cinnamon, and nutmeg
Add the dry ingredients to the wet, beating until well incorporated
Grease a 13 by 9 glass baking dish
Pour batter into the dish and smooth into an even layer
Bake at 350 degrees for 20-25 minutes, or until a toothpick inserted comes out clean
Allow cake to cool completely before frosting
To make the frosting, first start by beating the softened cream cheese until fluffy
Add powdered sugar and beat to combine
Add greek yogurt and beat until well mixed
Frost the cooled cake using a knife or tool of choice
Chill cake in the fridge for best texture
Serve with vanilla ice cream (optional but recommended!)
Recipe Notes
If you cannot find oat flour, use a blender to grind up rolled oats into flour. This is what I did. So simple!
Loading nutrition data...