Honey ginger tofu stir fry with fresh vegetables and a sweet salty stir fry sauce.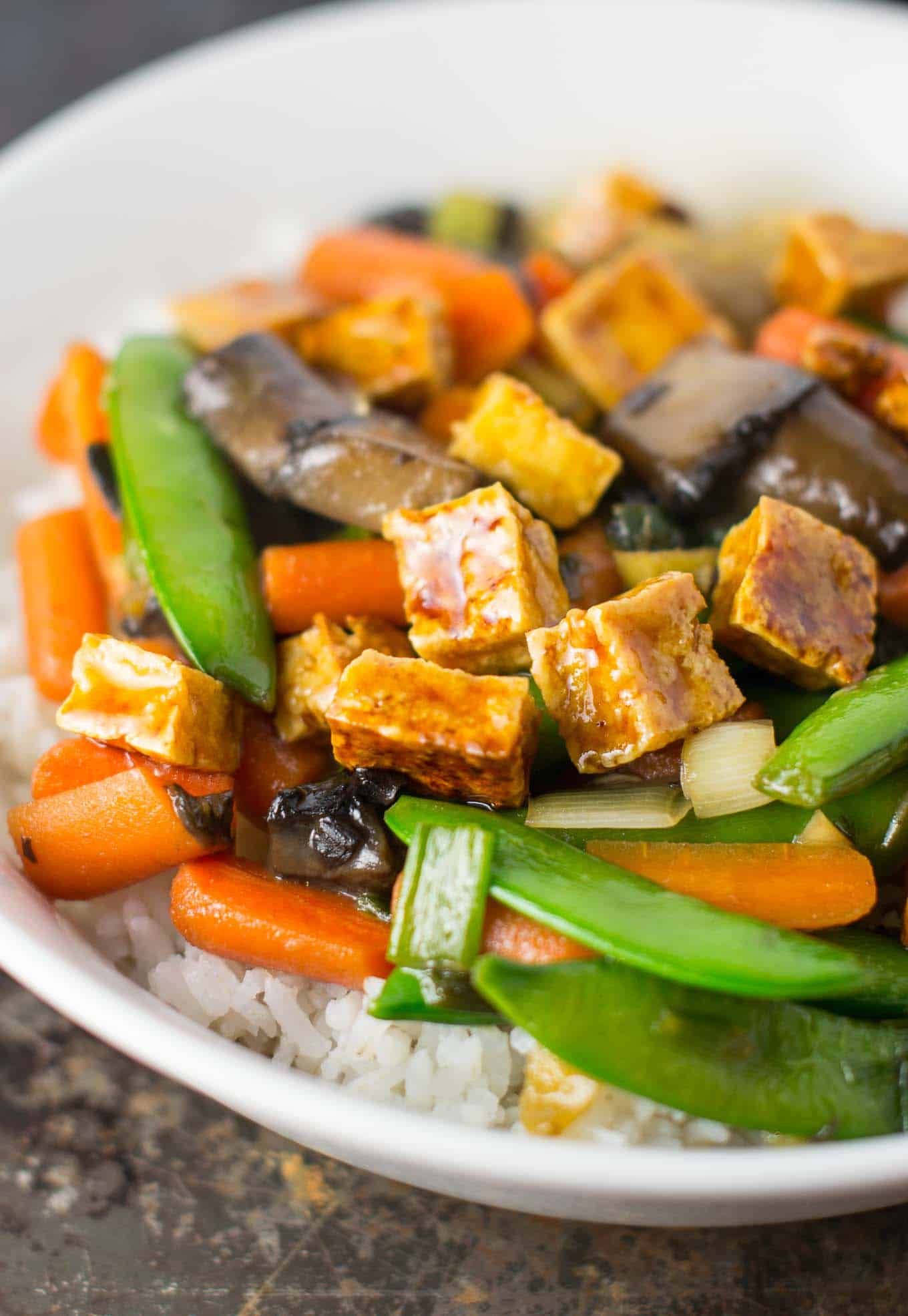 Today's recipe brings the taste of takeout right to your kitchen with this homemade Honey Ginger Tofu Stir Fry.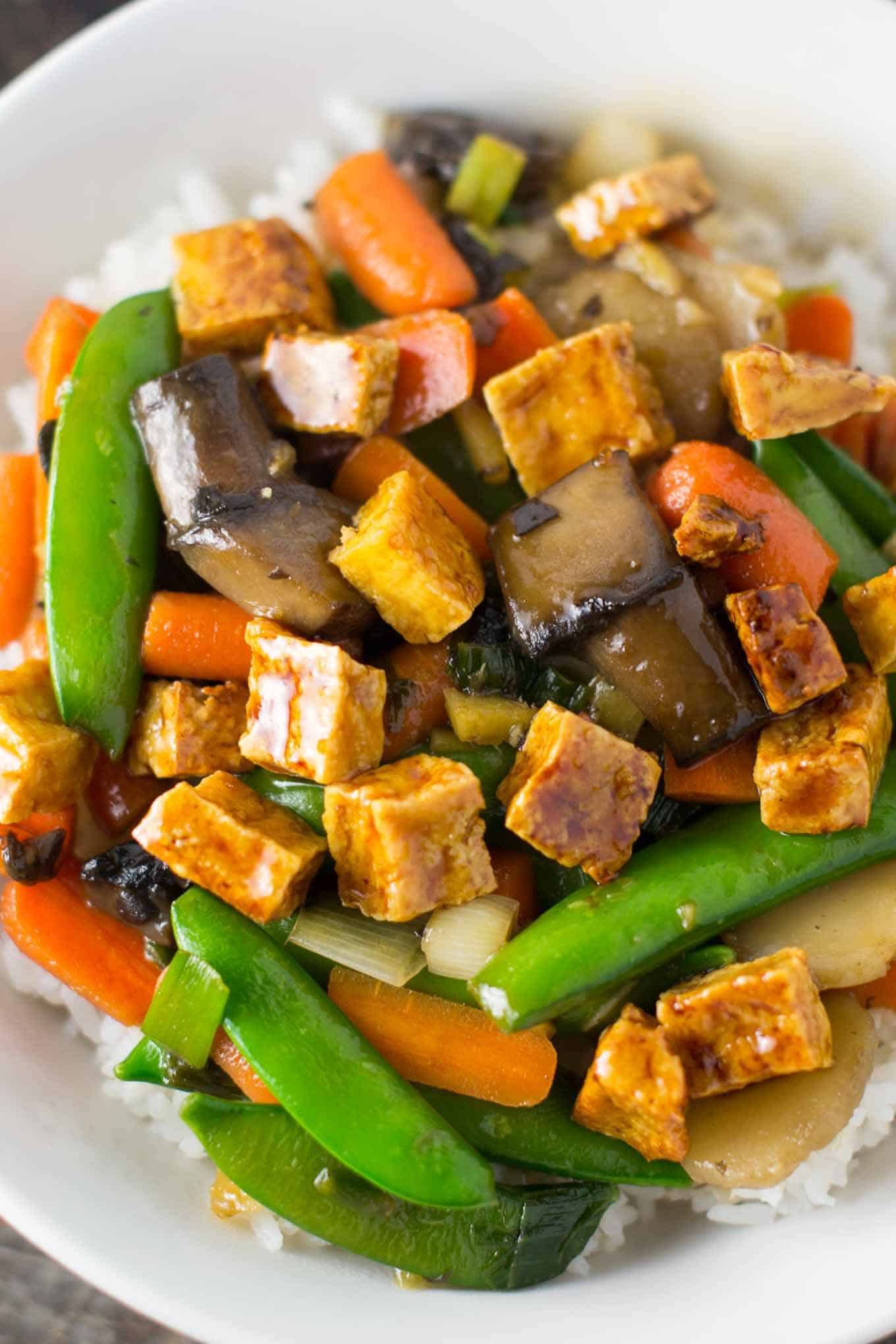 One of my favorite takeout meals is from a small local Chinese restaurant that my family has been going to for 20 years.
My favorite is the tofu with garlic sauce and veggies.
Crispy tofu over steamy rice in a thick sauce.
As much as I love this meal, it doesn't love me.
I'm left feeling bloated and tired after eating all of those greasy calories.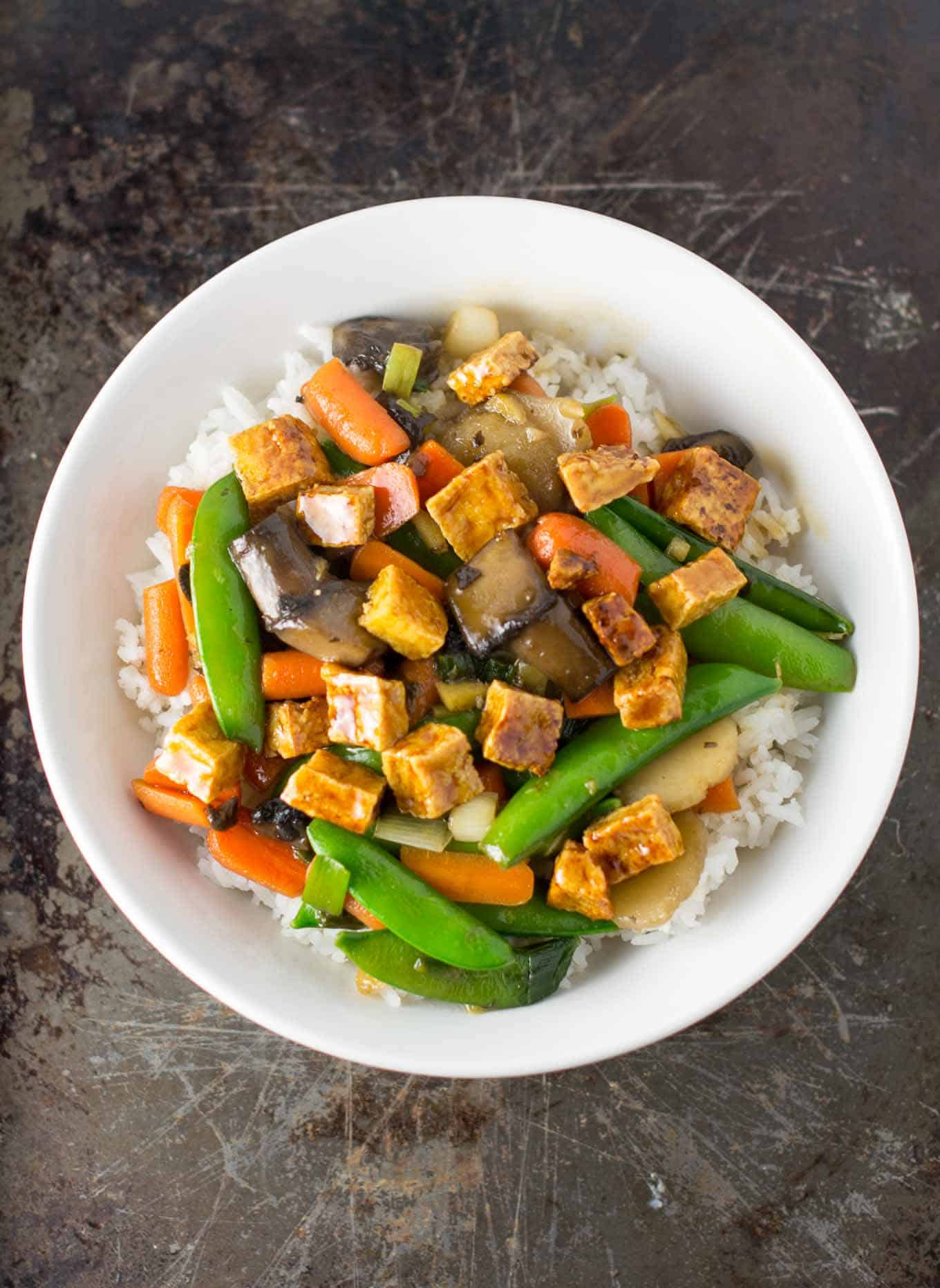 While I've made stir fry at home before, I usually just end up using a store bought sauce.
While it tastes pretty good, it has always been missing that wow factor …until this recipe!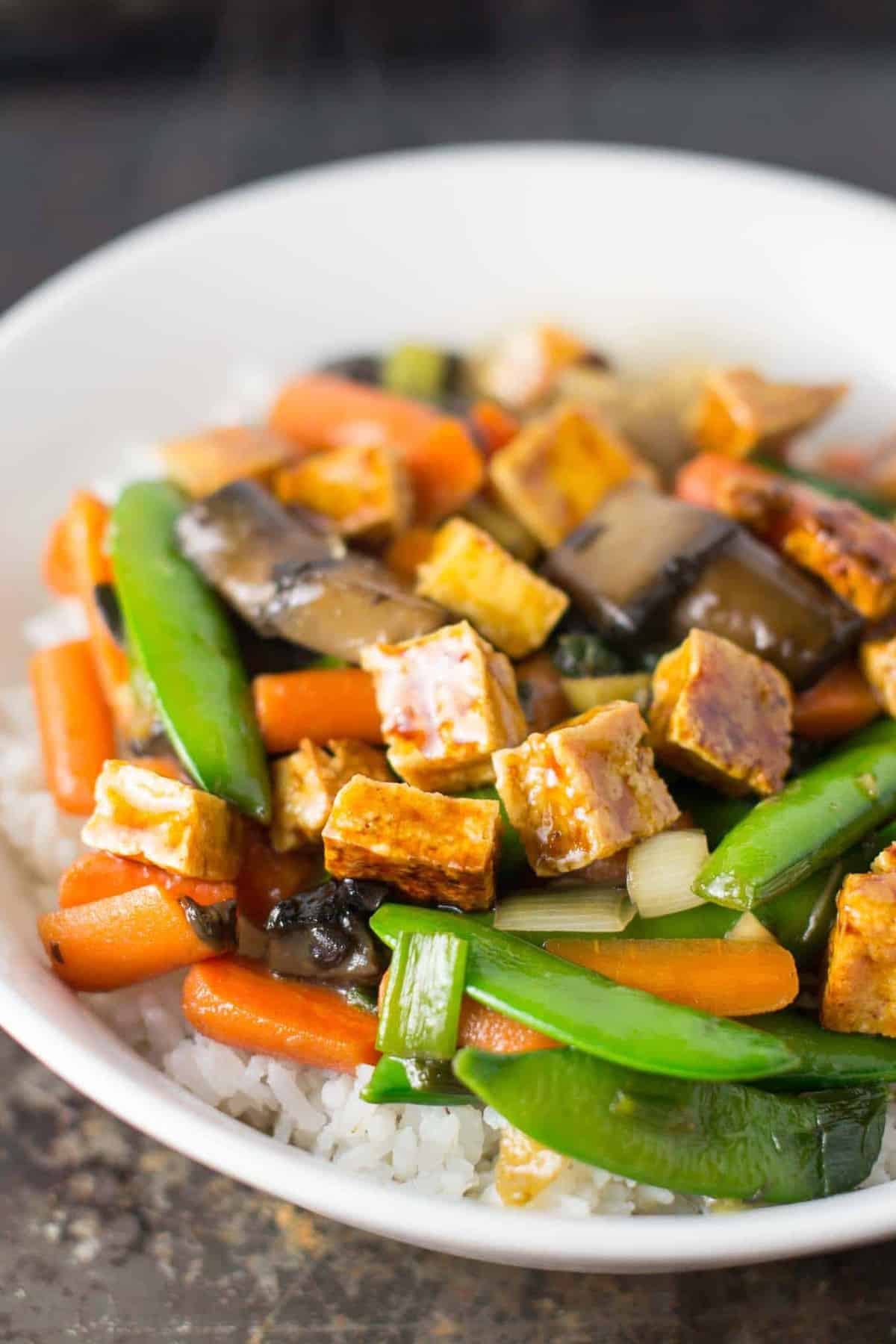 This time I went ALL OUT.
How to make honey ginger tofu stir fry
Homemade crisp veggies, crispy tofu, and mounds of fresh ginger and garlic and a homemade sauce are just part of what make this dish phenomenal.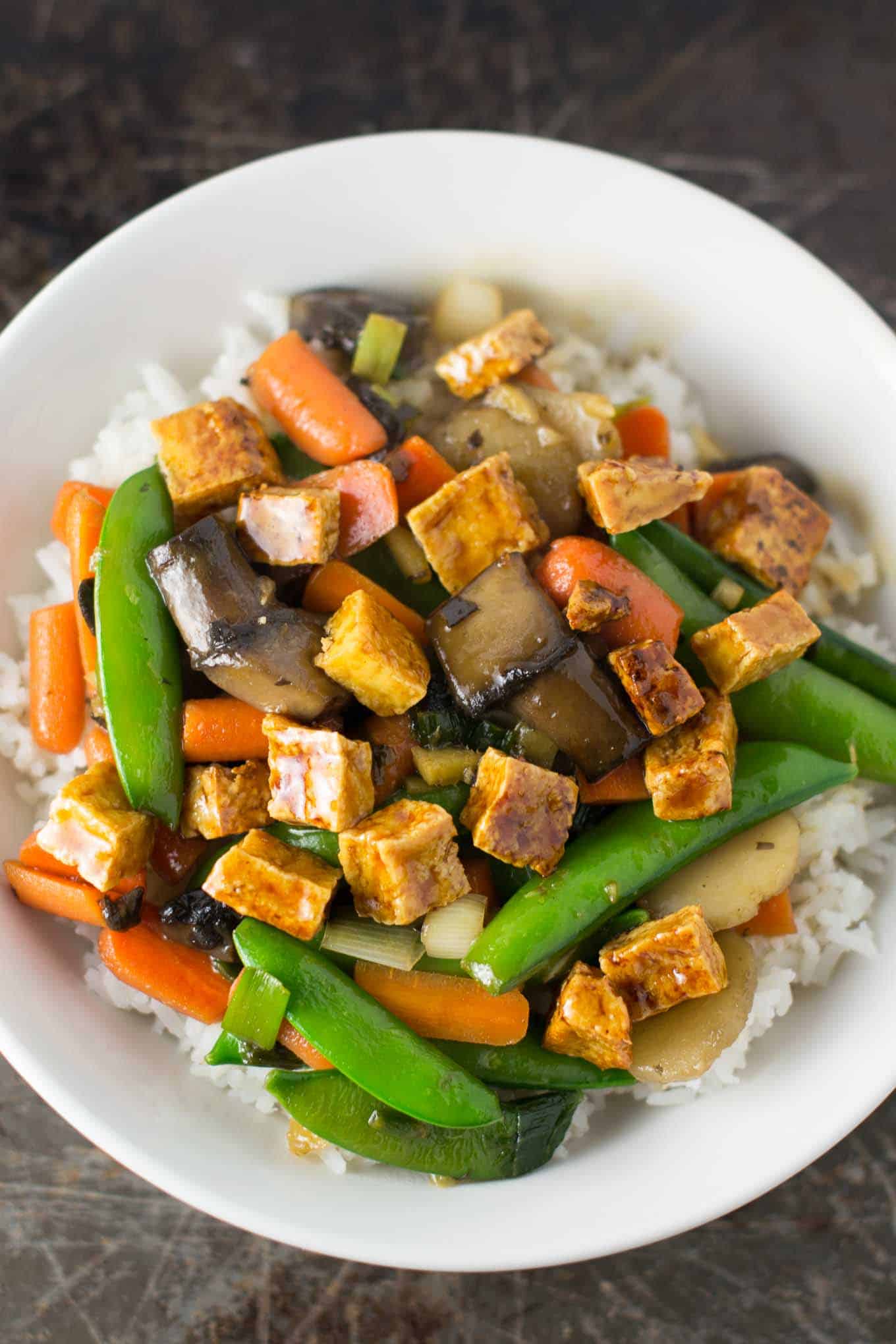 We served it over sticky white rice cooked in a rice cooker (the secret for perfect takeout style rice.)
The result? Fight over every last bite of tofu, lick the bowl clean, better than takeout deliciousness.
I can't wait to make this again!
More Stir Fry Recipes

Honey Ginger Tofu Stir Fry
Easy tofu stir fry with homemade honey ginger stir fry sauce
Ingredients
14 oz extra firm tofu
1 lb baby carrots, quartered
8 oz sugar snap peas (around 3 cups worth)
1 cup diced green onion
¼ cup freshly chopped ginger
¼ cup freshly diced garlic (around 12 cloves)
2 portobello mushroom caps, diced
8 oz sliced water chestnuts, drained
white rice, for serving (we made around 6 cups worth of cooked rice)
For the sauce
1 large garlic clove
½ cup tamari
¼ cup sesame oil
¼ cup rice vinegar
½ cup honey
1 tablespoon cornstarch
Instructions
Prepare veggies and place in a bowl
Quarter carrots, add snap peas, diced green onion, garlic, ginger, portobellos, and water chestnuts and stir to combine. Set aside until ready to cook or place in the fridge if prepping ahead
Cook rice according to instructions for your rice cooker (ours usually takes around 30 minutes)
Preheat oven to 425 degrees
Remove tofu from package and drain out the water
Place tofu on a thick towel or kitchen cloth, with another towel covering the top of the tofu
Place a heavy object like a cast iron skillet on top of the tofu
Allow to sit for 15-20 minutes for moisture to absorb into the towels
Cover a cookie sheet with parchment paper
Dice tofu into chunks and place on parchment paper
Bake at 425 degrees for 25 minutes to allow tofu to further dry out and begin to crisp up
Make the sauce by combining all ingredients in a food processor until combined
Heat a large stainless steel skillet on medium to high heat
Add olive oil to coat the bottom and add all vegetables to stir fry
Cook for 5-10 minutes, stirring often and adding oil if needed. (I prefer not to overcook the vegetables but instead leave them with a little crunch and freshness)
Once tofu is finished baking, heat a medium sized skillet over medium high heat
Add ⅛ cup of olive oil to the skillet and add the tofu
Sautee until tofu is crispy on all sides, stirring often (about 5-10 minutes)
Once tofu is finished, stir in ½ cup of the sauce with the tofu
Add the remaining sauce to the vegetables once they have finished cooking
Serve tofu and veggies over rice and add salt to taste if necessary
Nutrition Information:
Yield:

6
Serving Size:

1
Amount Per Serving:
Calories:

542
Total Fat:

14g
Saturated Fat:

2g
Trans Fat:

0g
Unsaturated Fat:

11g
Cholesterol:

0mg
Sodium:

1427mg
Carbohydrates:

90g
Fiber:

8g
Sugar:

32g
Protein:

18g