This Garlic Tofu Broccoli Skillet recipe is made in just one pan. An easy and flavorful vegan dinner!
Tofu used to be one of those things that I absolutely loved to eat, but could never figure out how to cook at home.
After I learned two simple ways to cook tofu I use it all of the time now!
My honey ginger tofu stir fry really sealed the deal and I realized that I could make easy and flavorful tofu in my own kitchen!
This garlic tofu broccoli skillet is made in just one big pan and tastes like takeout.
I took one bite of the broccoli and realized it tasted just like the garlic broccoli that I order from a local Chinese restaurant.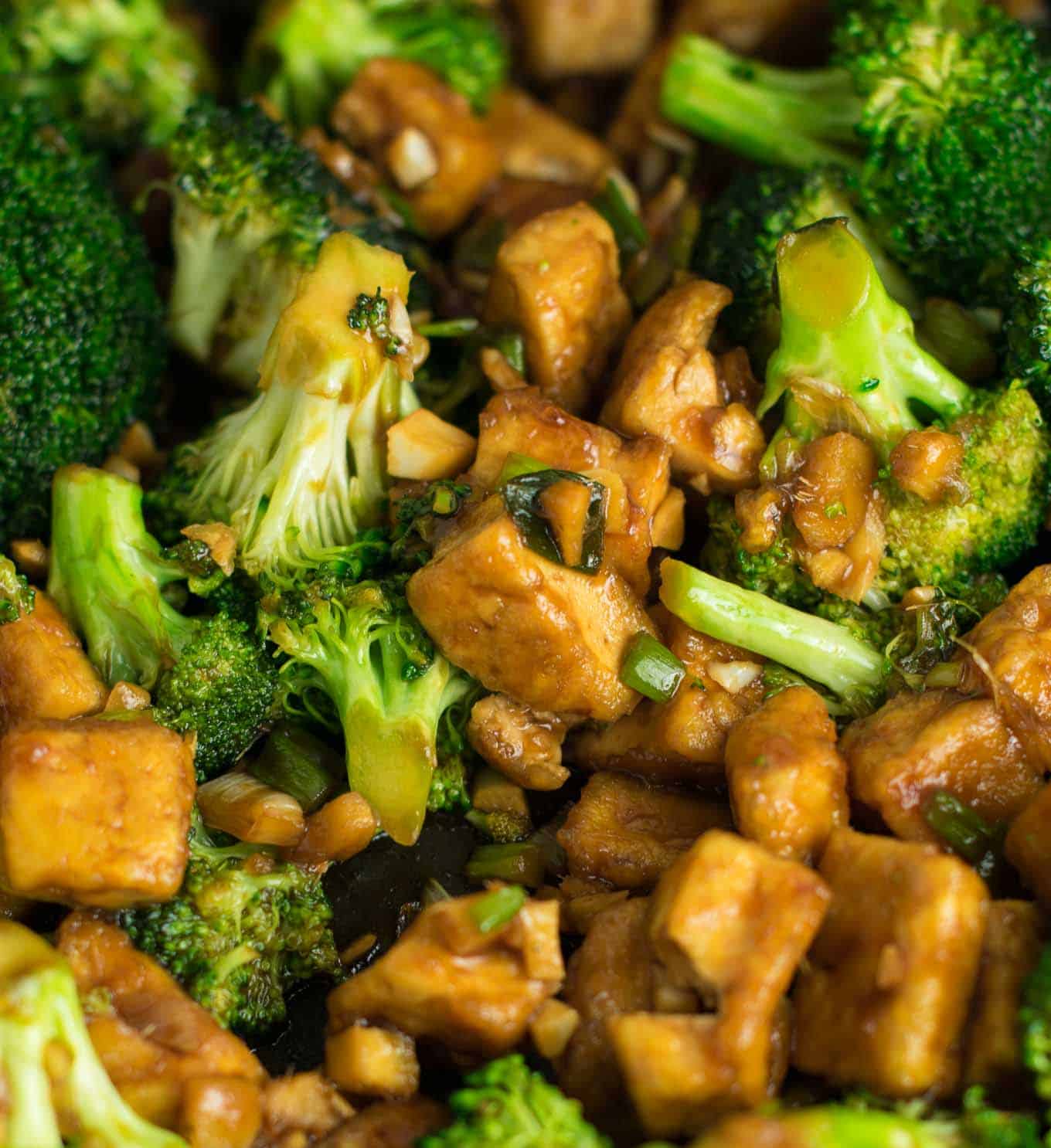 First, you will press the tofu.
Then pan fry it.
Then add mounds of fresh garlic, ginger, green onion, and a easy 3 ingredient sauce.
Oh yeah, and fresh crunchy broccoli!
I love my broccoli with a bit of texture, so I cook it for just a few minutes while still leaving a bit of a bite to it.
The secret to the flavorful sauce is in the fresh garlic and ginger.
Please promise me you won't skimp on this! I swear it is worth the time chopping it up.
The flavor is so rich and deep with minimal ingredients, thanks to the fresh ingredients!
This recipe is made with just 9 ingredients!
We served it over white rice and three adults finished off the whole recipe.
I would say for more normal sized portions it would easily serve four adults (we were very hungry!)
I've been craving this ever since I made it.
Just another way that my 3 ingredient Homemade Stir Fry Sauce has changed my life!
Looking for more healthy takeout at home? Try my Honey Ginger Tofu Stir Fry and Vegan Chickpea Stir fry bowl!
Pin this Garlic Tofu Broccoli Skillet:
Garlic Tofu Broccoli Skillet
Garlic tofu broccoli skillet recipe made in just one pan. A healthy alternative to takeout in a rich garlicky sauce with fresh broccoli
Ingredients
14 oz tofu
3 tablespoons cornstarch
10 cloves of garlic, minced
1/4 cup finely chopped fresh ginger
9 cups fresh broccoli florets
1 cup chopped green onions
white rice, for serving
For the Sauce
One batch of 3 ingredient Homemade Stir Fry Sauce (see instructions)
Directions
Drain tofu and press for 30-45 minutes
Dice pressed tofu and place in a bowl
Add 3 tablespoons of cornstarch and toss to coat
Heat a large skillet on medium high heat with 3 tablespoons of olive oil
Pan fry tofu for 10-15 minutes, or until crispy on all sides
Make one batch of this 3 ingredient homemade stir fry sauce and shake to combine
Add broccoli, ginger, garlic, green onions and sauce to the skillet and sauté for 10-15 minutes, or until broccoli is desired texture
Loading nutrition data...