This post was originally published in February of 2015. Today I am updating the pictures, tweaking the recipe slightly, and sharing this delicious vegan chickpea stirfry bowl again!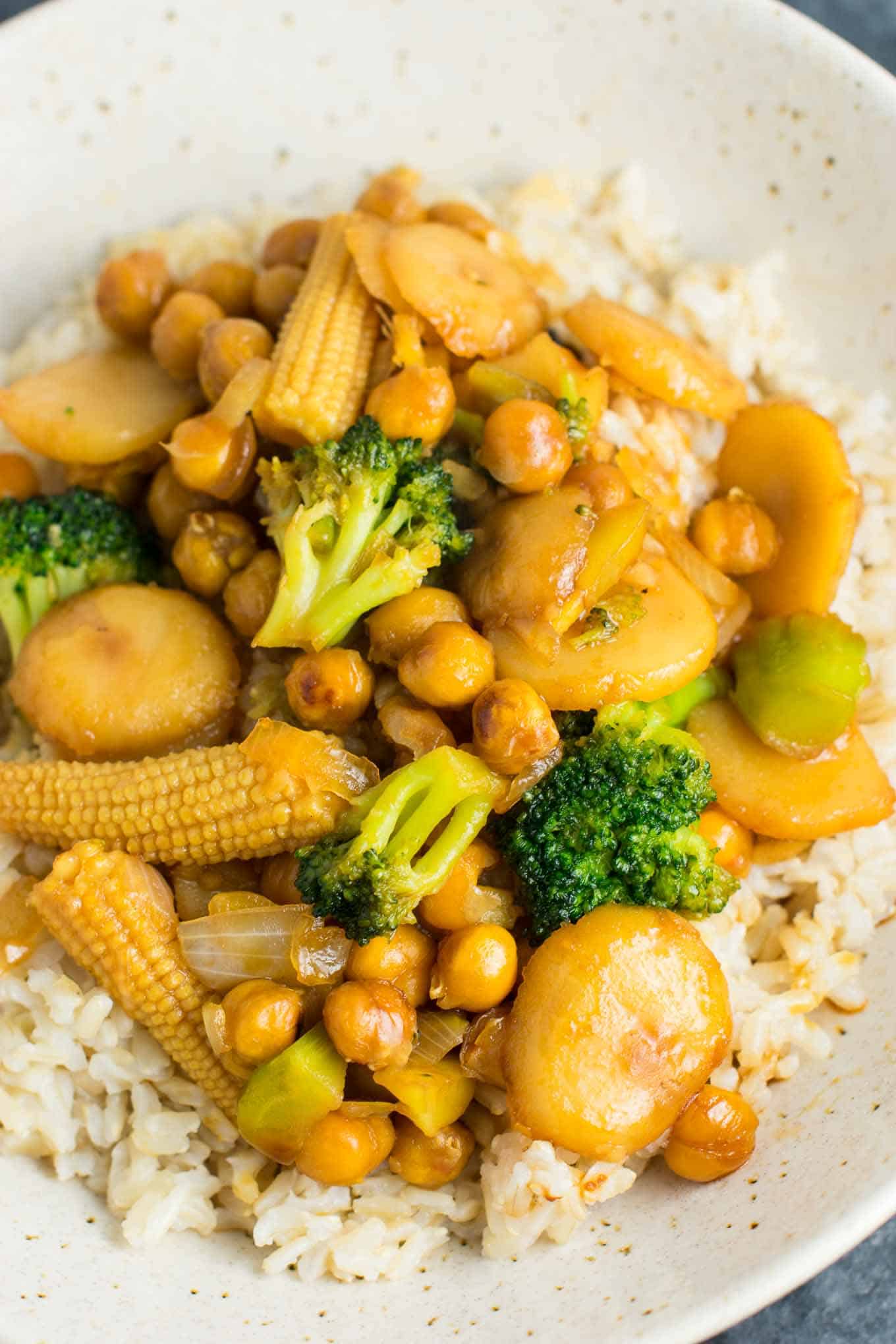 Growing up, my family used to order Chinese after church every single Sunday.
We always ordered the same thing every week. I loved Chinese food!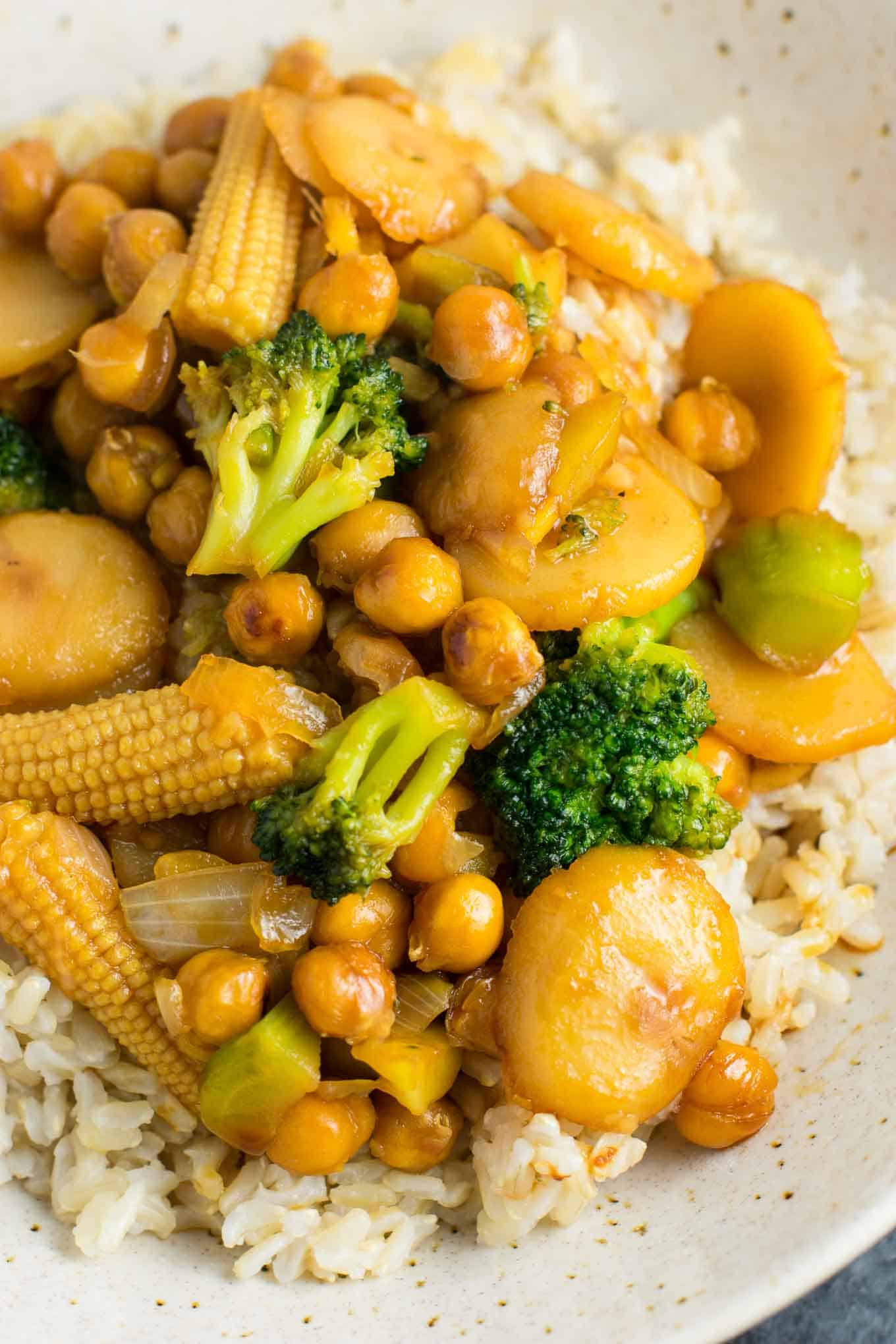 Once I started to eat healthy, I realized that what I'd been eating all those years was not very good for me.
While I still enjoy my occasional out-to-eat fix, this vegan chickpea stirfry bowl is one healthy way for me to satisfy my cravings!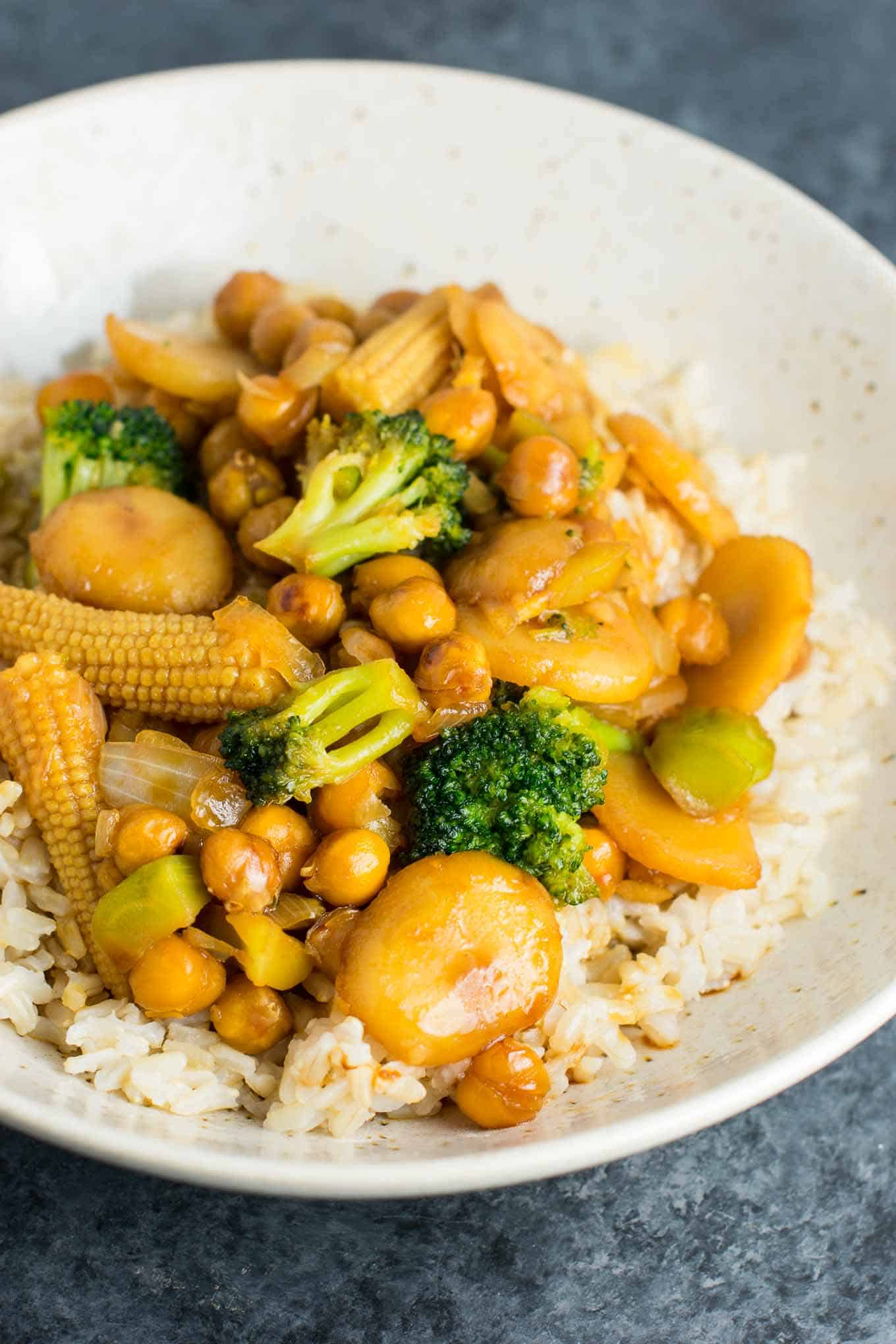 I love using water chestnuts in stir fry recipes.
They are so crunchy and really make me feel like I'm getting that out-to-eat experience.
The water chestnuts have always been one of my favorite parts of takeout chinese food!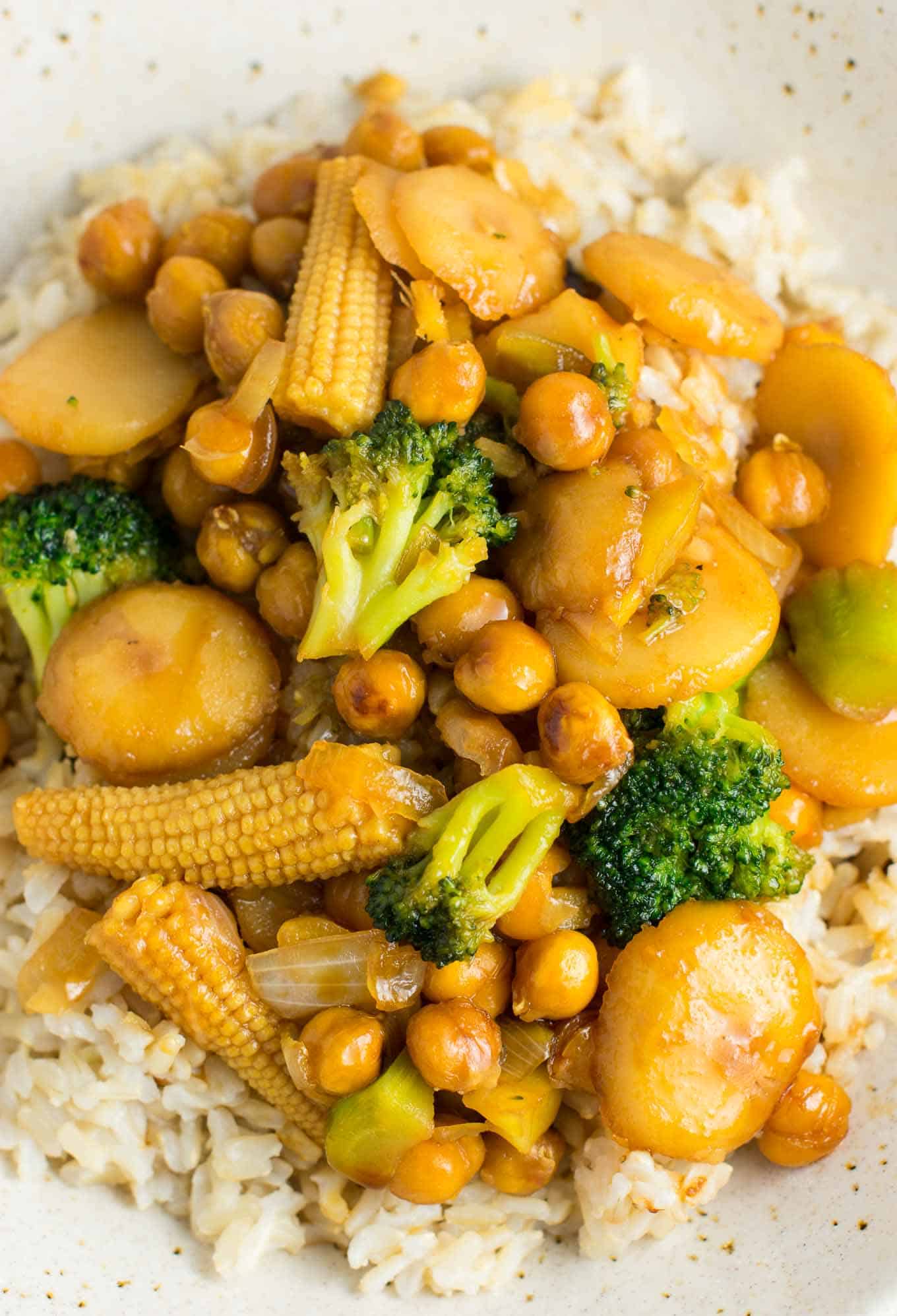 I also added in baby corn just like my favorite Chinese restaurant does.
I love the texture that it adds!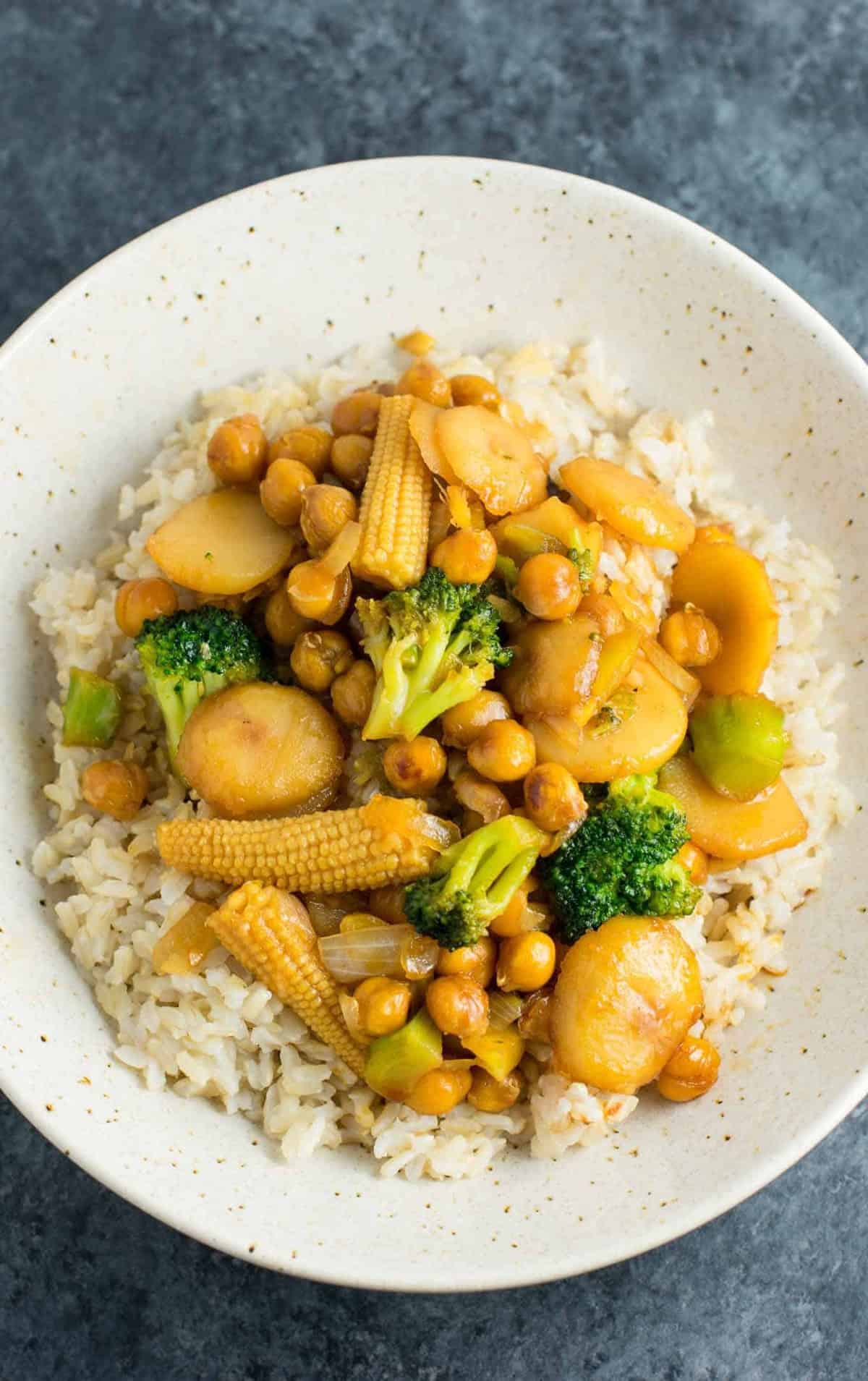 For this stirfry bowl, I roasted chickpeas for the protein.
Roasting chickpeas gives them a nice texture and a little bit of a crunch (see those yummy crispy edges?)
I also chose brown rice for serving. I honestly forget sometimes how much I love brown rice.
Not only is it healthy, but it's seriously delicious! I don't even miss the white rice at all.
The key to the flavor of this recipe is in the fresh garlic, ginger, and onion.
While you can use store bought teriyaki sauce if you want, I HIGHLY recommend making the stir fry sauce from this recipe as it really takes the flavor over the top (and is super easy to make too.)
While some vegans eat honey, if that isn't you, just substitute maple syrup in place of the honey and it should work too.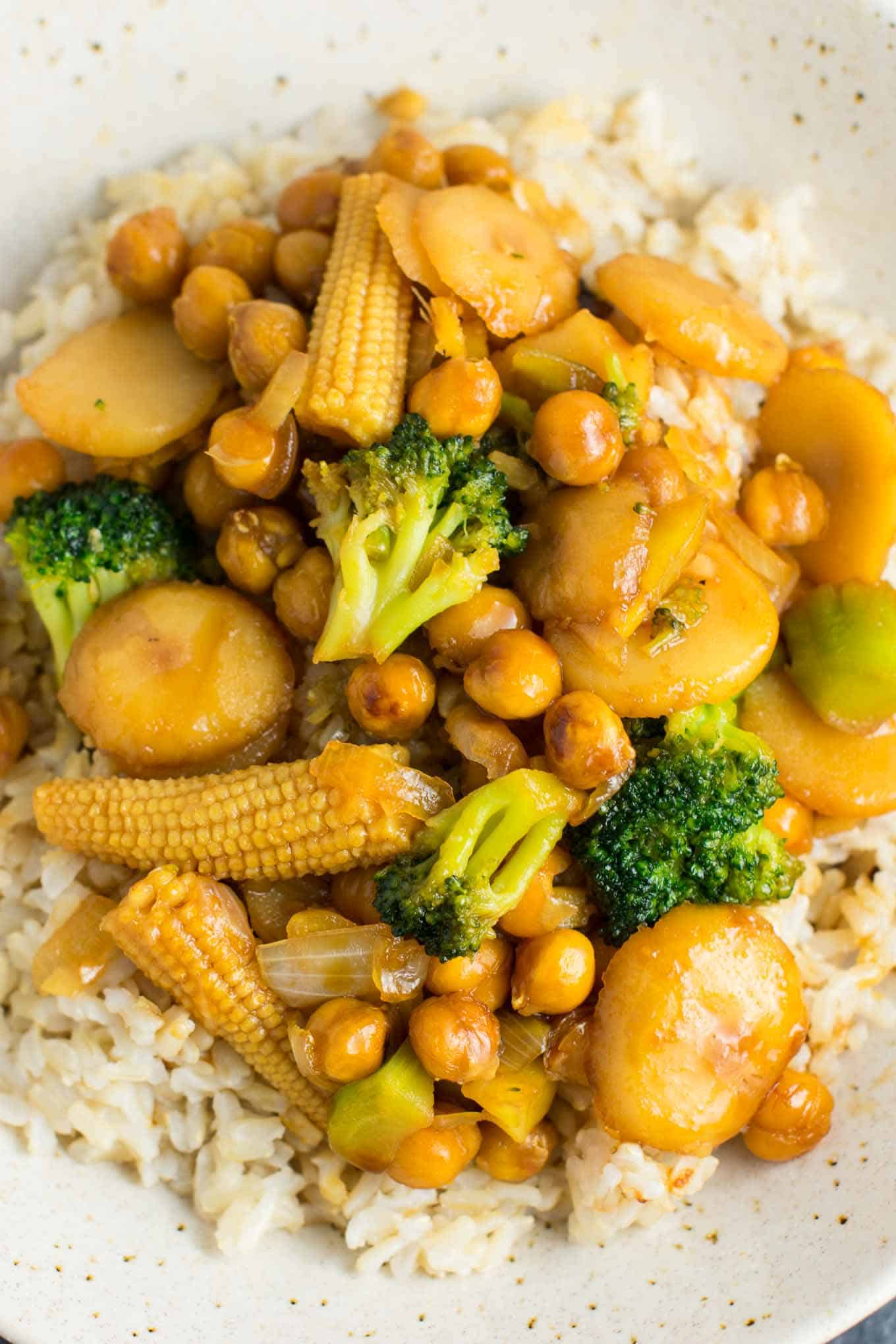 Try this next time you're craving takeout, it'll satisfy your cravings without the guilt and excess calories!
pin this vegan chickpea stirfry bowl for later:

Vegan Chickpea Stirfry Bowl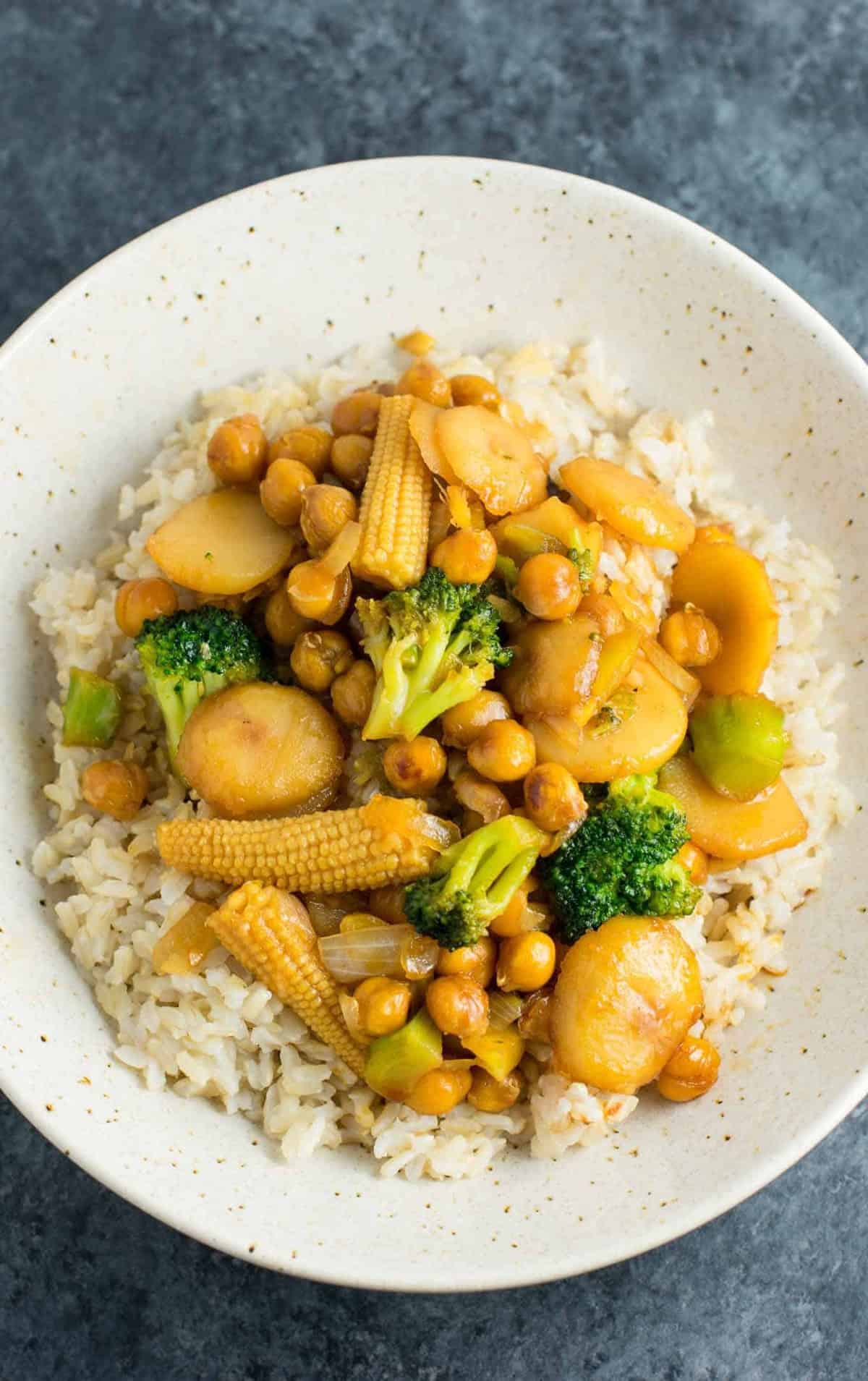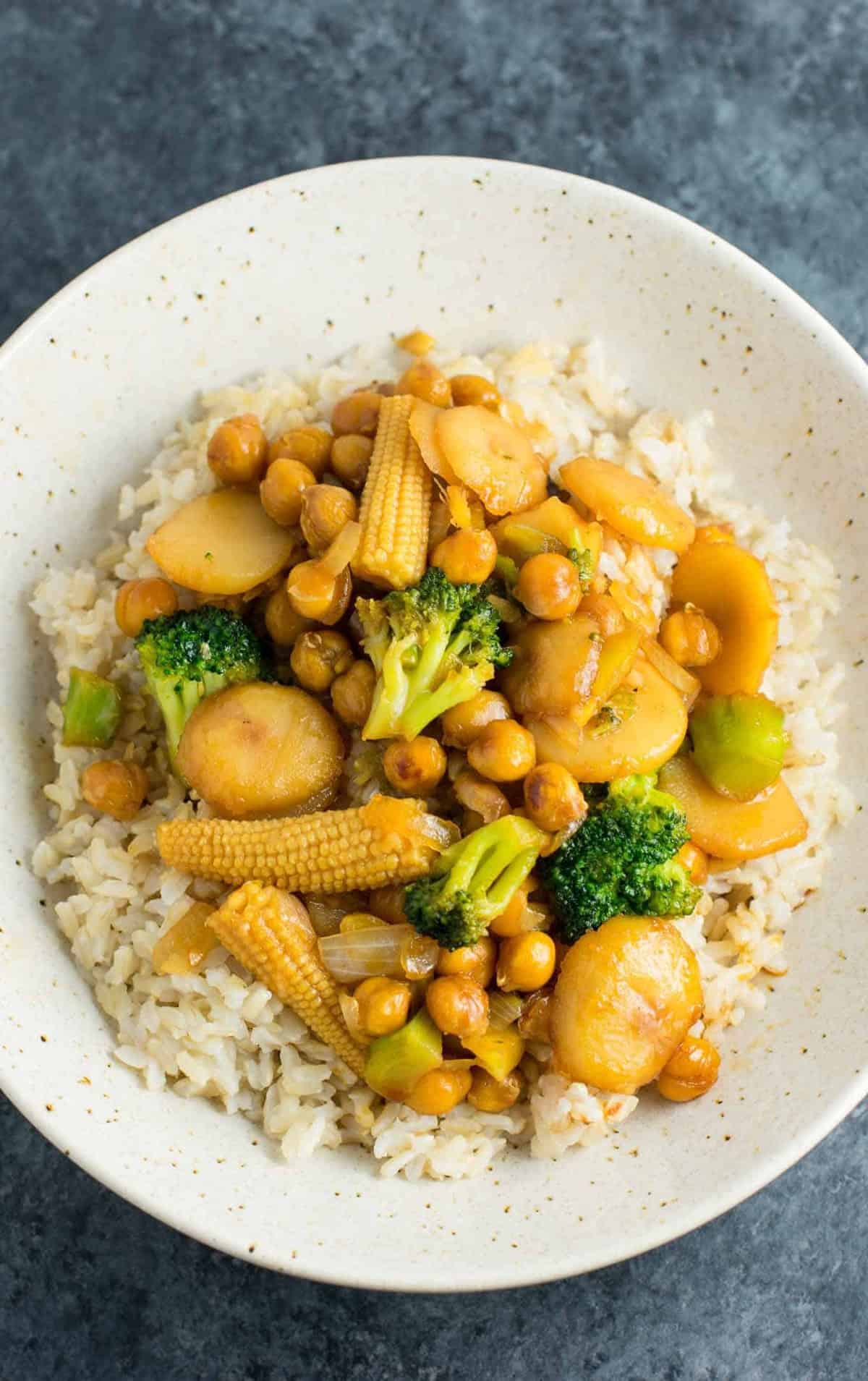 Ingredients
1 large onion, diced
8 cloves of garlic, minced
2 tablespoons fresh finely chopped ginger
2 (8 oz) cans of water chestnuts, drained
1 (8 oz) can of cut baby corn, drained
10 oz bag of frozen broccoli
2 (15 oz) cans of chickpeas, drained
olive oil
brown rice, for serving
homemade stir fry sauce (or store bought teriyaki sauce)
Directions
Preheat oven to 450 degrees
Start cooking rice while you prepare the stir fry (I used a rice cooker for convenience)
Drain chickpeas and spread on a baking sheet in one layer. Add ⅛ cup of olive oil and toss well to coat
Roast chickpeas for 15-18 minutes, stirring at 10 minutes, until crisp but not burnt
Add the onion, garlic, ginger, water chestnuts, and baby corn to a bowl and toss to combine
Turn a burner on medium high heat and coat a stainless steel skillet with olive oil to cover the bottom
Once hot, add in the veggies from the bowl and sautee for 8-10 minutes, until crispy. Stir often to avoid sticking
Make the homemade stir fry sauce according to instructions
Once veggies start to crisp, add in the homemade stir fry sauce and the frozen broccoli and cook on medium high heat for 5 minutes, or until sauce thickens and broccoli is cooked
Once chickpeas are done, add them to the skillet mixture and stir.
Serve over brown rice, with tamari sauce for serving if desired
Recipe Notes
Loading nutrition data...