The best easy homemade stir fry vegetables recipe. Make delicious takeout style vegetables in garlic sauce in your own kitchen!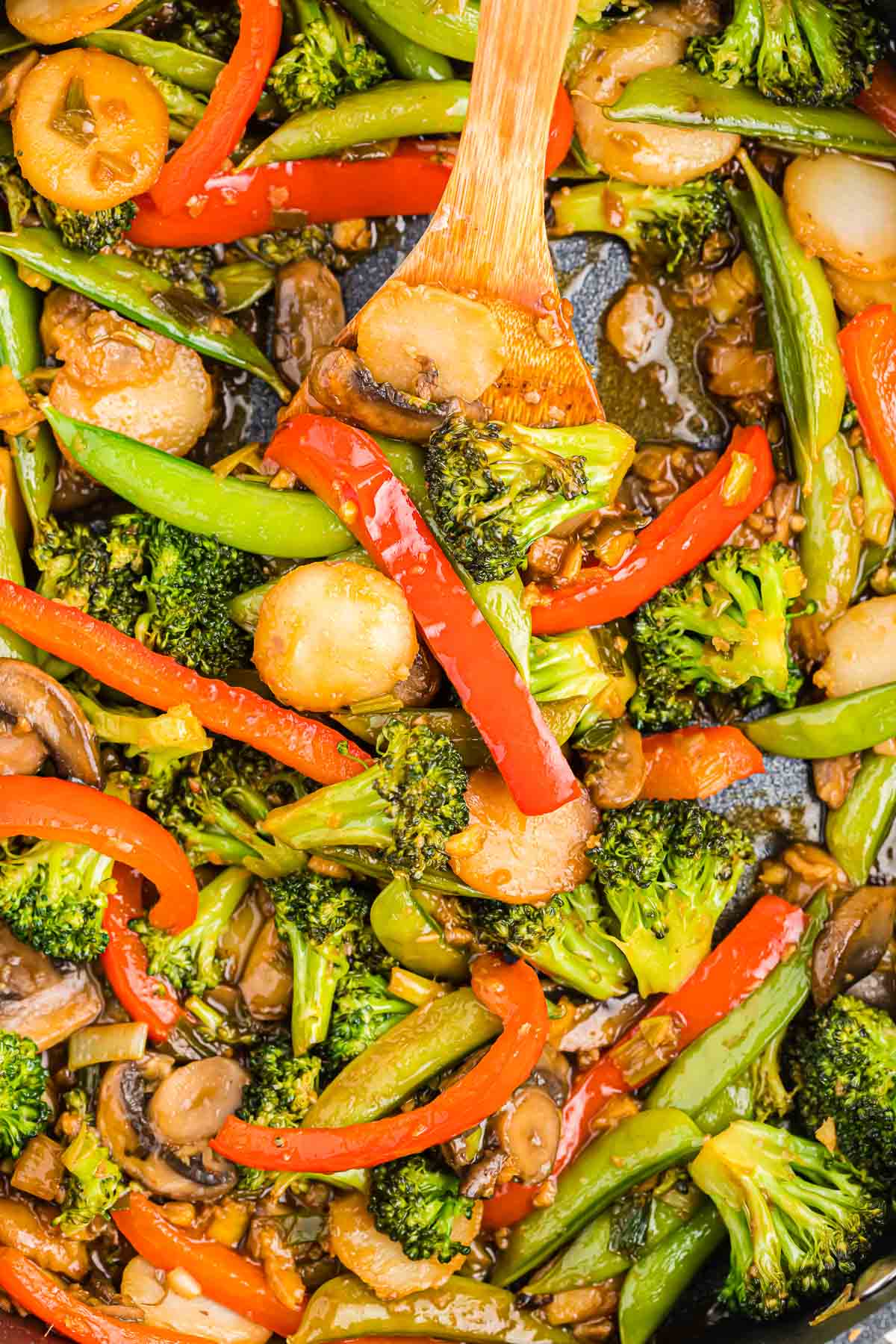 You will love this Vegetable Stir Fry Recipe
Stir fry veggies are a classic favorite. Whether you serve them alone or as a side dish, everyone will love this simple recipe!
This is a fool proof delicious recipe that honestly tastes just as good as takeout. Between this and Teriyaki Vegetables you can make all your favorites at home.
I love the rainbow of color and flavor and how easy it is to make!
No fancy ingredients are needed, just a bunch of fresh veggies and an easy 3 ingredient stir fry sauce.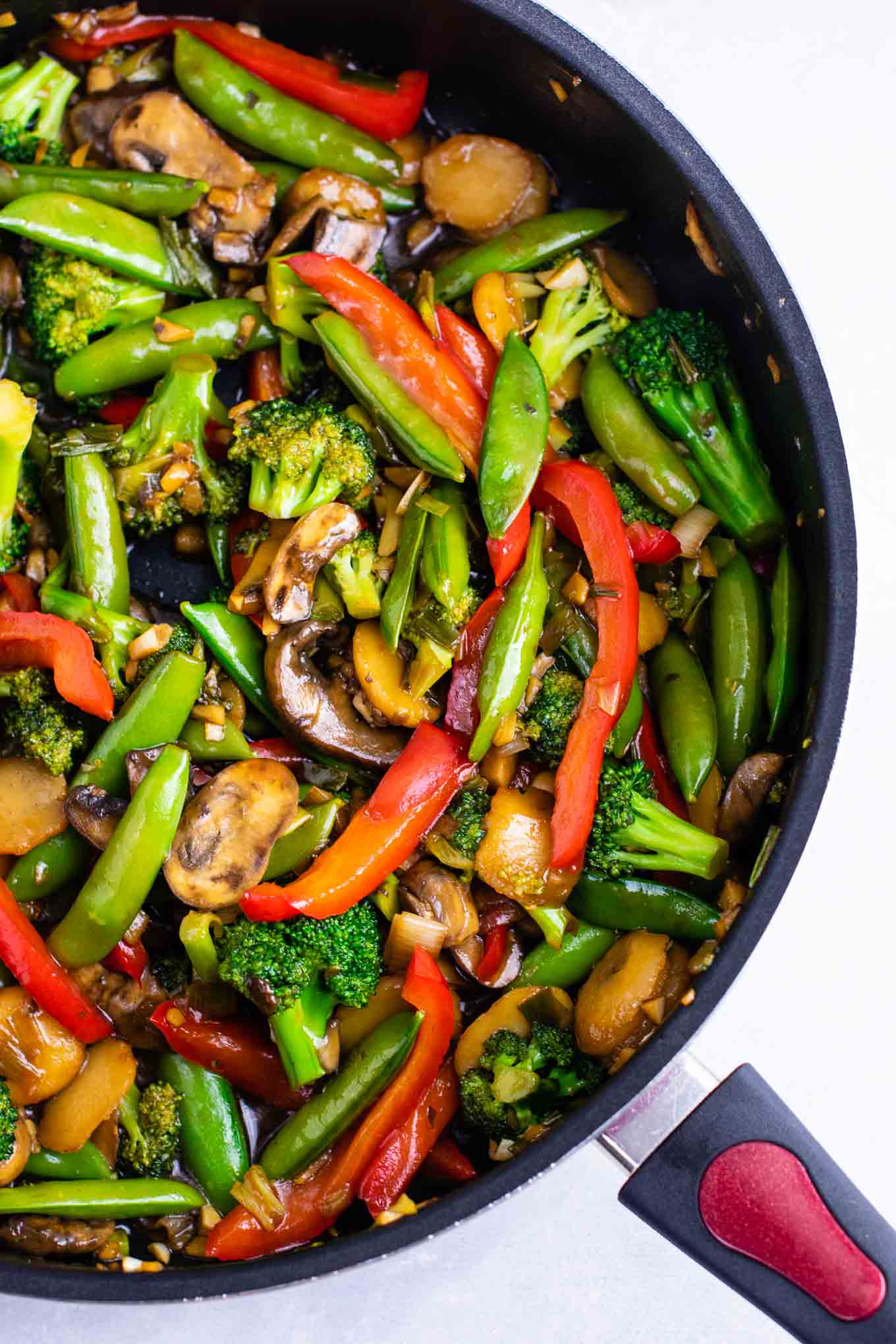 Ingredients needed to Stir Fry Veggies
water chestnuts
sugar snap peas
mushrooms
red bell pepper
green onions
broccoli
garlic
ginger
soy sauce
corn starch
sesame oil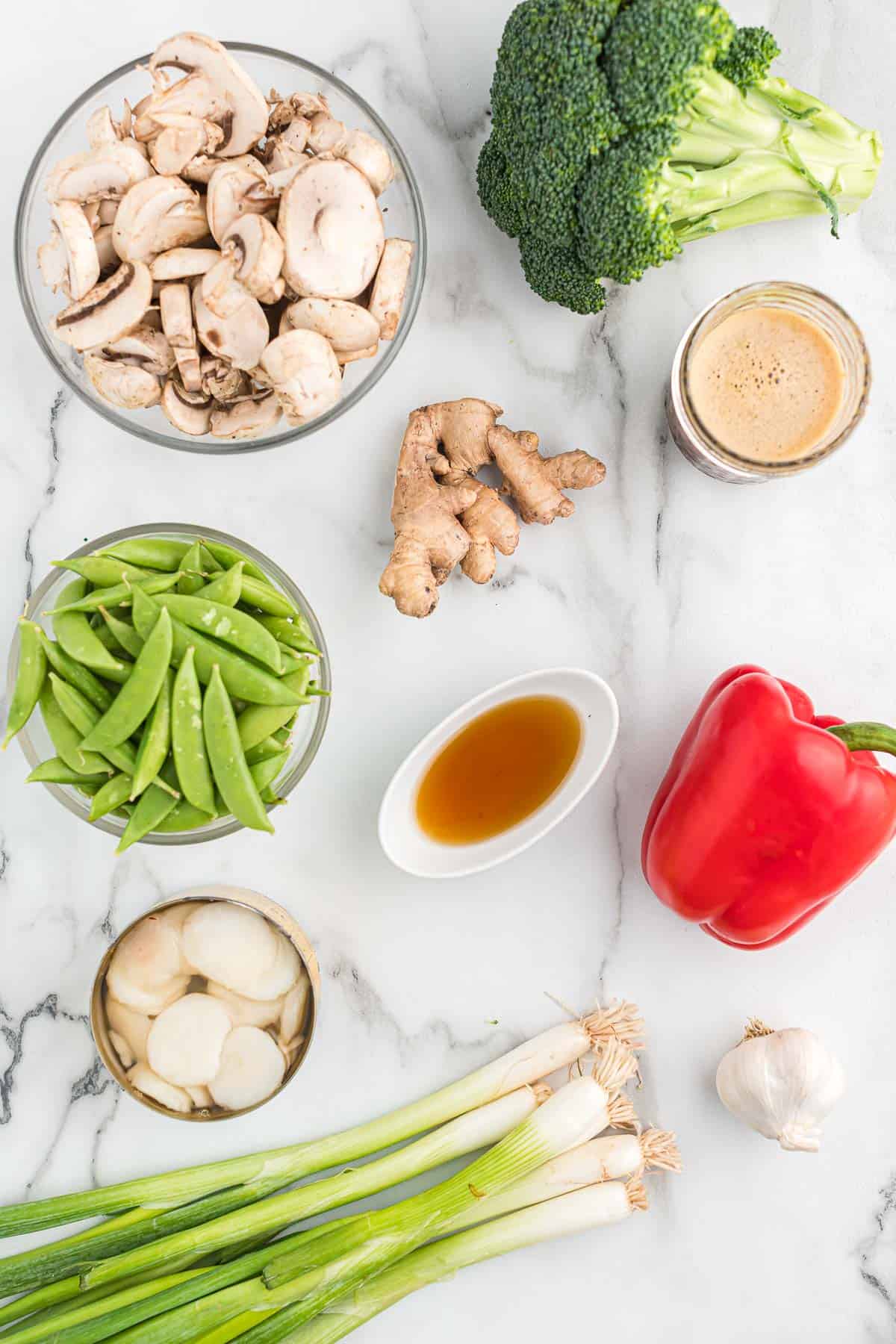 Veggie Stir Fry substitutions and additions
Making stir fry veggies is a great way to use up produce that you already have on hand.
Substitutions:
Onion: substitute the green onions for yellow onion, white onion, or red onion
Peppers: Any color of bell pepper will work for stir fry
Vegetables: Have other veggies to use up? You can also try substituting carrots, cauliflower, green beans, baby corn, bok choy, cabbage, zucchini, or asparagus.
I would not recommend using frozen vegetables for stir fry.
Additions:
Protein: Try adding chickpeas, tofu, chicken, or your favorite protein to the stir fry to make it a meal.
Noodles or Rice for serving
To make low carb: cauliflower rice or low carb noodles
Rice: brown rice or white rice
Noodles: Brown rice noodles, lo mein noodles, or ramen noodles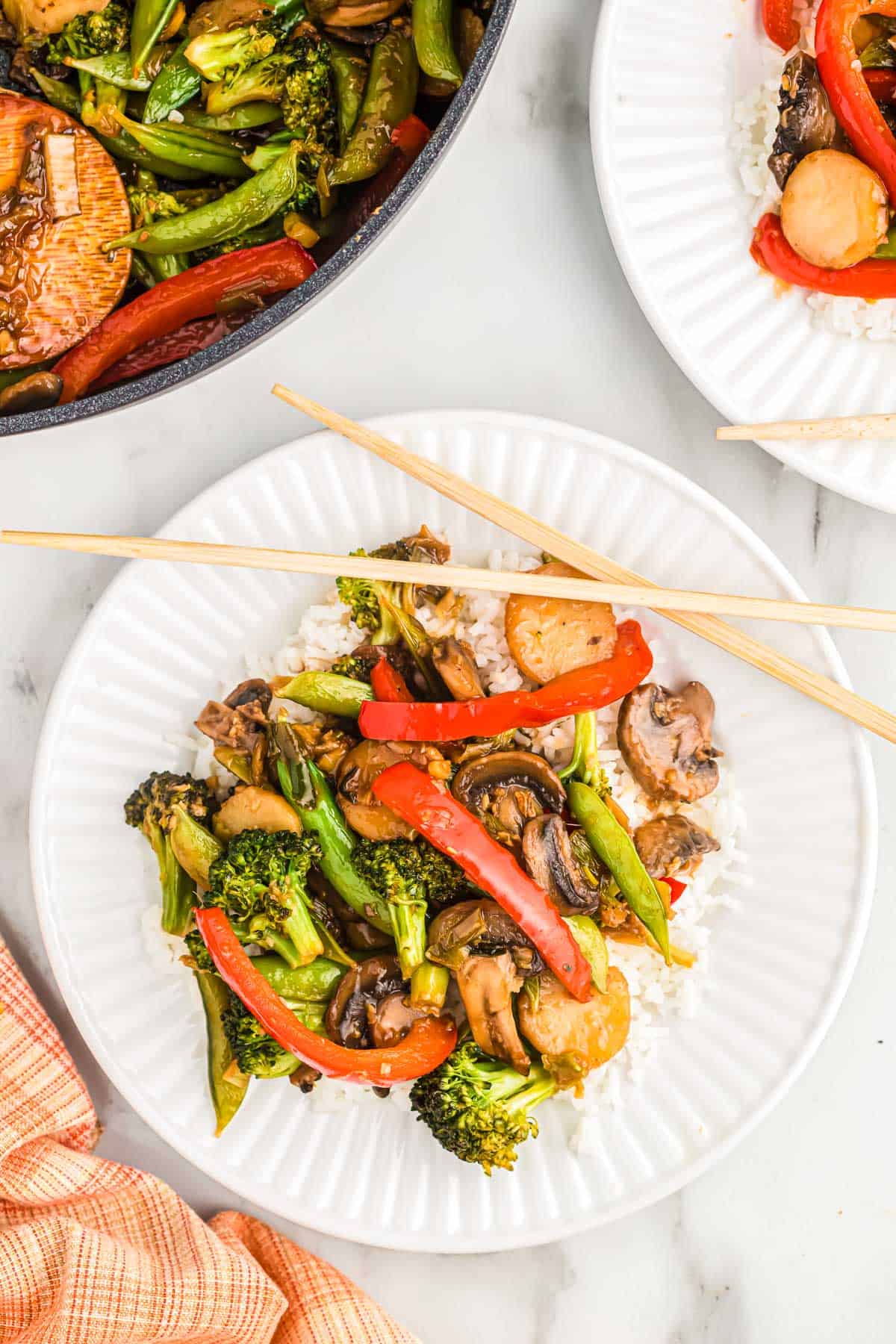 How to Stir Fry Vegetables
Step 1: Add the water chestnuts, sugar snap peas, mushrooms, bell pepper, green onions, broccoli, garlic, and ginger to a large skillet or jumbo cooker with 1 tablespoon of sesame oil.
Cook the vegetables on medium high heat for 20 – 25 minutes, stirring often, until most of the liquid has evaporated and vegetables are cooked but not too soft. Texture is important here, we don't want everything to be mushy!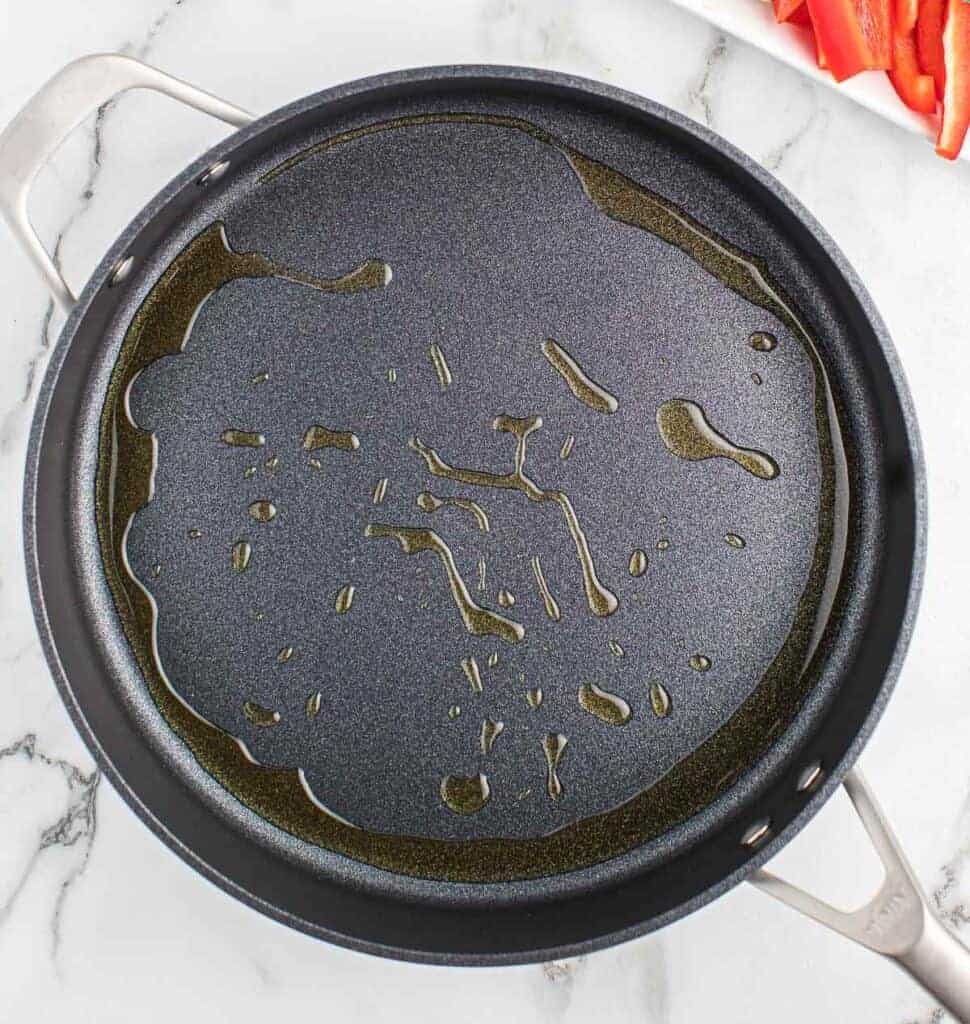 Step 2: Make a batch of homemade stir fry sauce and shake it together in a mason jar.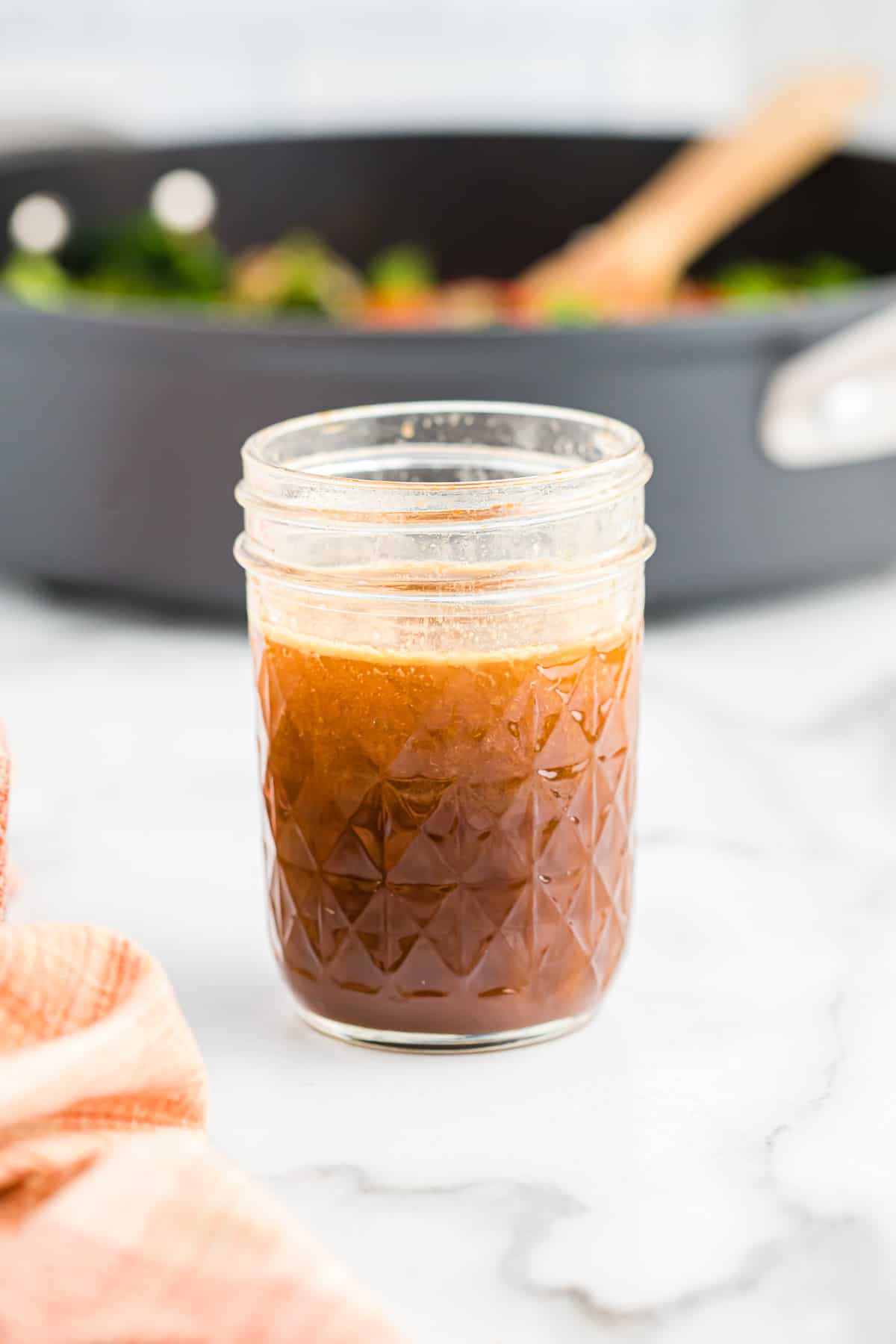 Step 3: Add the stir fry sauce and cook an additional 3 – 5 minutes, stirring frequently, until the sauce is thick and sticking to the vegetables. Serve alone or over white or brown rice for a delicious meal or side dish.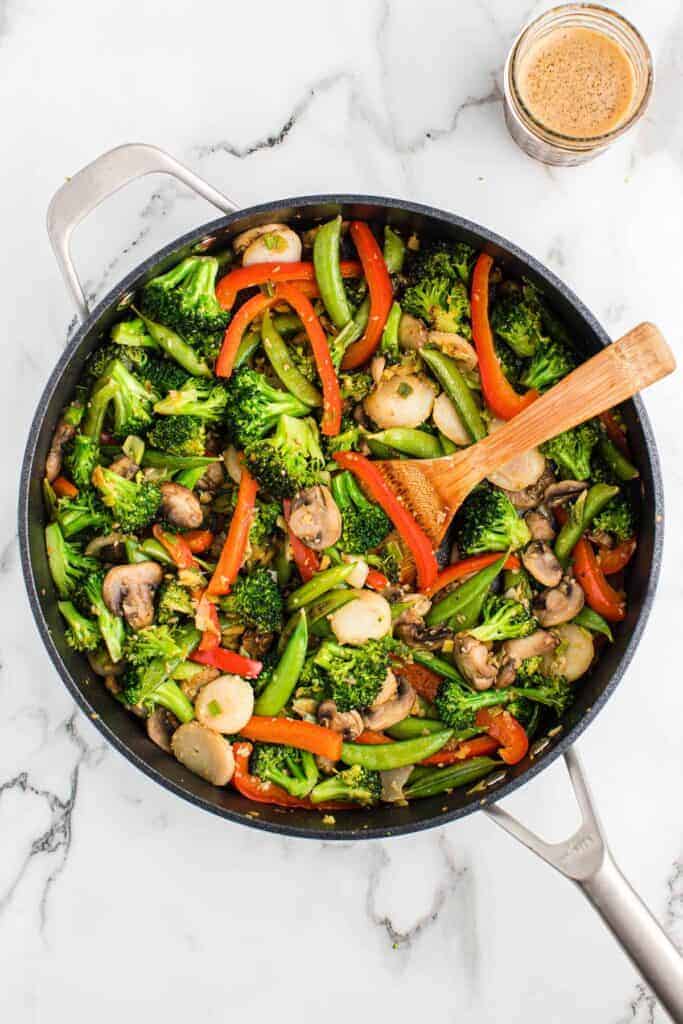 This recipe includes some of the best stir fry vegetables:
water chestnuts
sugar snap peas
mushrooms
bell peppers
green onions
broccoli
garlic
ginger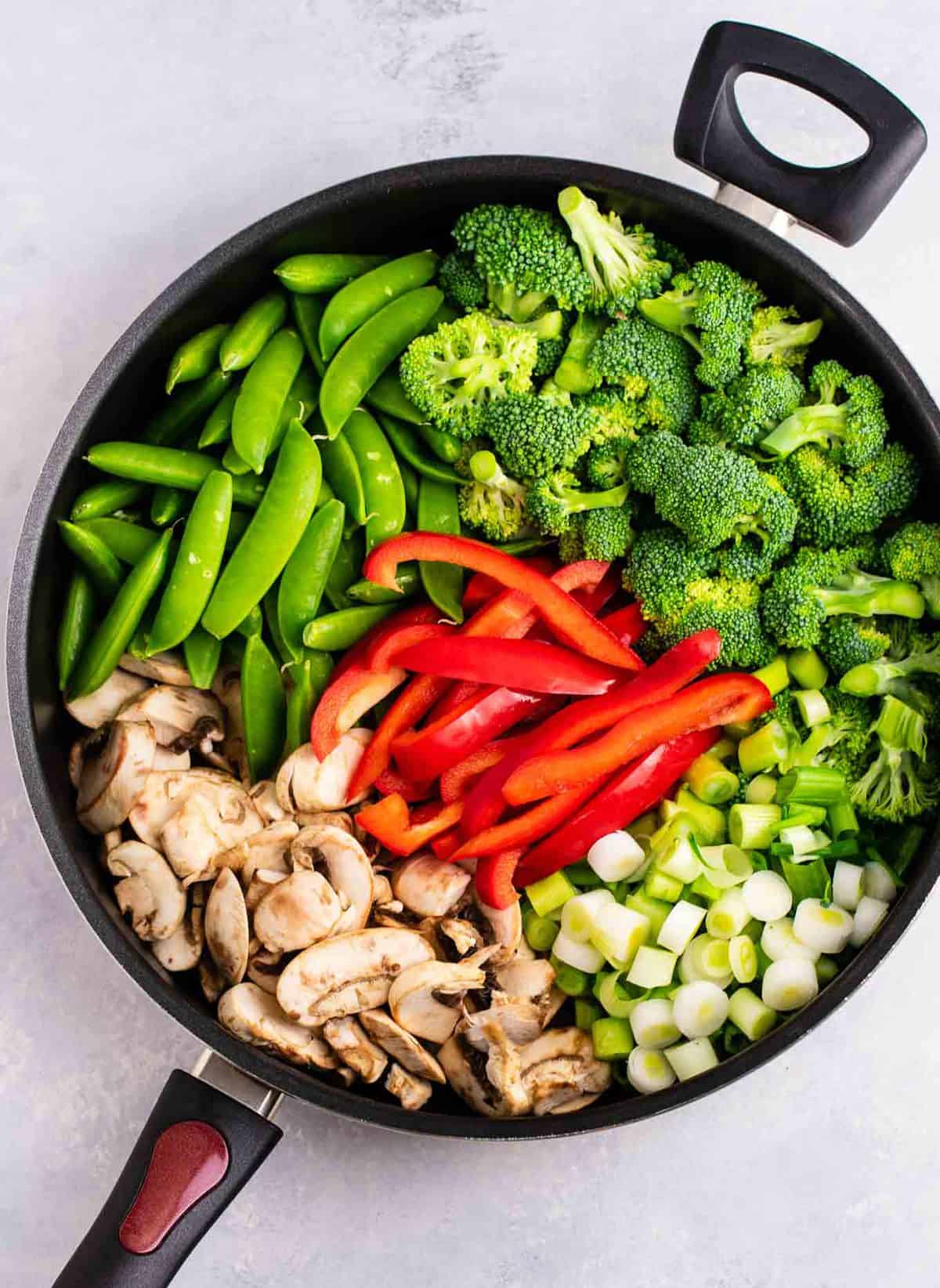 All of these vegetables pair so well together, and compliment the richness of the stir fry sauce.
Fresh minced garlic and ginger help tie together all of those oriental flavors of the stir fry sauce.
Never used fresh ginger before?
Don't be afraid! You can buy it at most any grocery store in the produce section.
Just cut off the skin/peeling, and dice it up fine just like you would garlic. It's really so easy!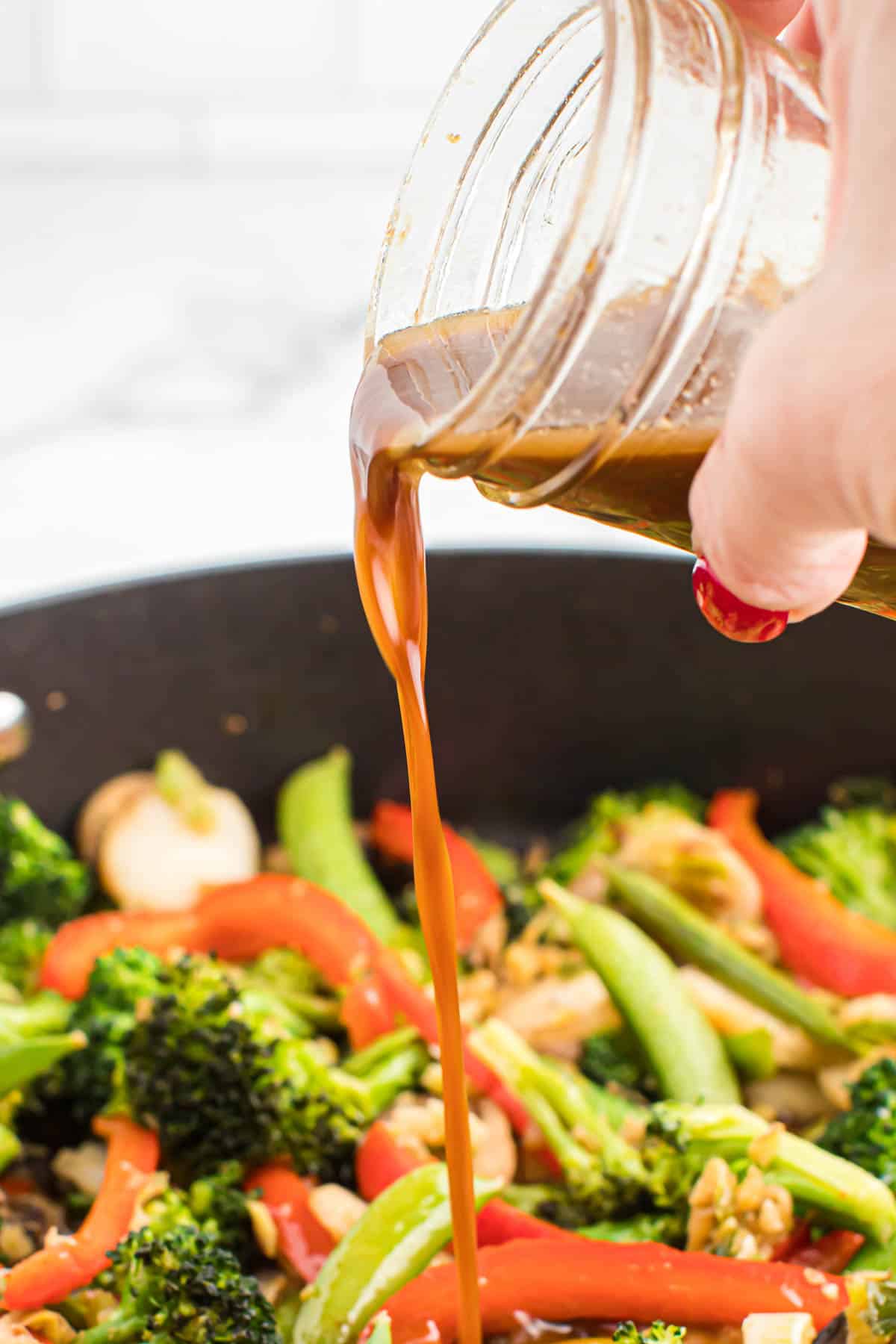 These vegetables offer a variety of textures and flavors, and when cooked together the result is so delicious!
What stir fry sauce to use for Veggie Stir Fry
For this stir fry vegetables recipe, I use the stir fry sauce recipe that I now use for all of my stir fry recipes: my 3 ingredient homemade stir fry sauce (linked in the recipe card below).
It is ridiculously simple, no fancy long ingredient lists, and tastes incredible every time!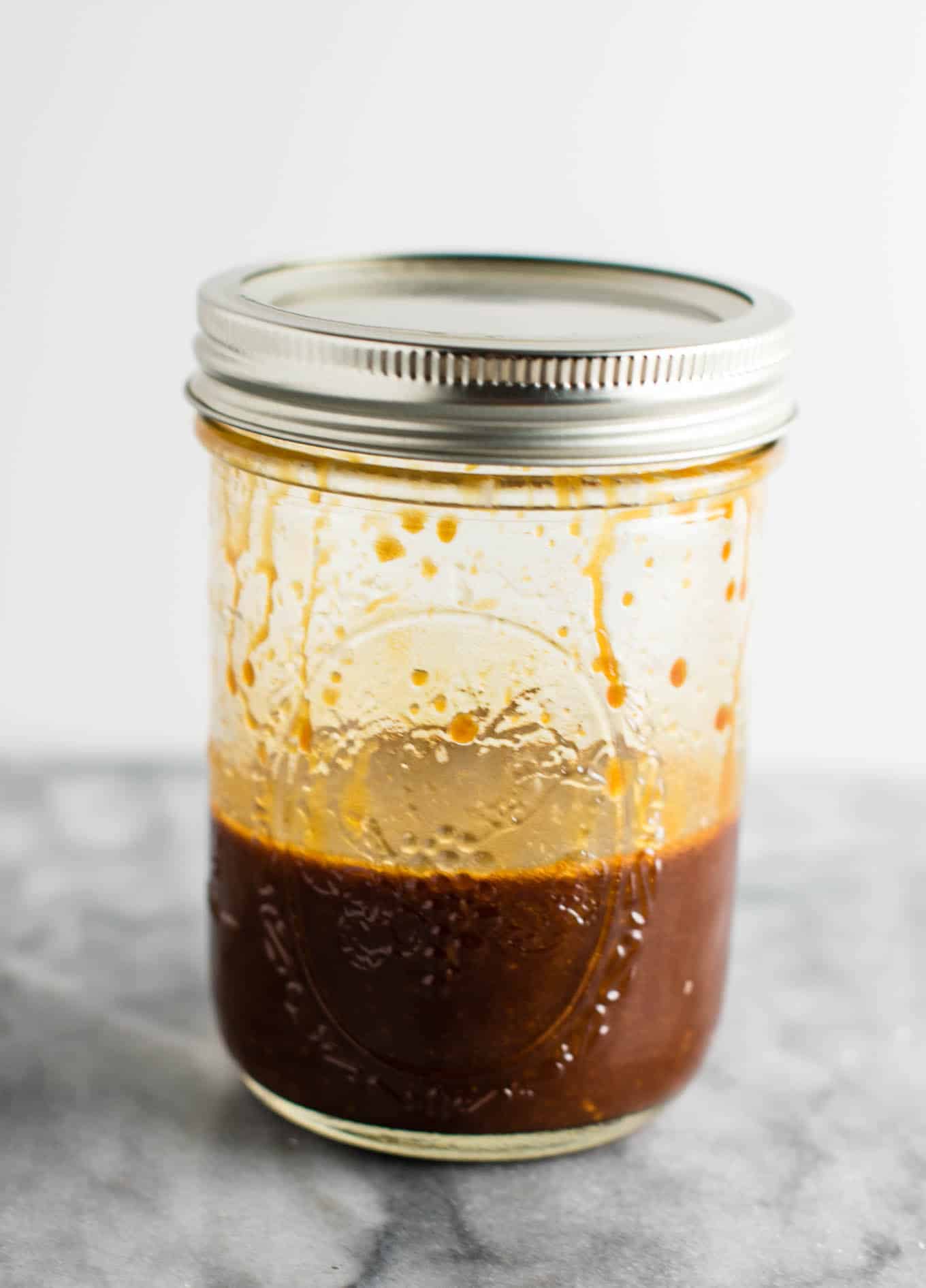 As long as you use it with fresh garlic and ginger (like we are in this recipe!) the sauce is a winner every time.
I'm so glad I discovered this recipe, it has seriously changed my life and we make way more stir fry recipes now more than ever before.
You can read my post on how do you thicken stir fry sauce? for more about why this sauce is the perfect easy choice for making homemade stir fry recipes.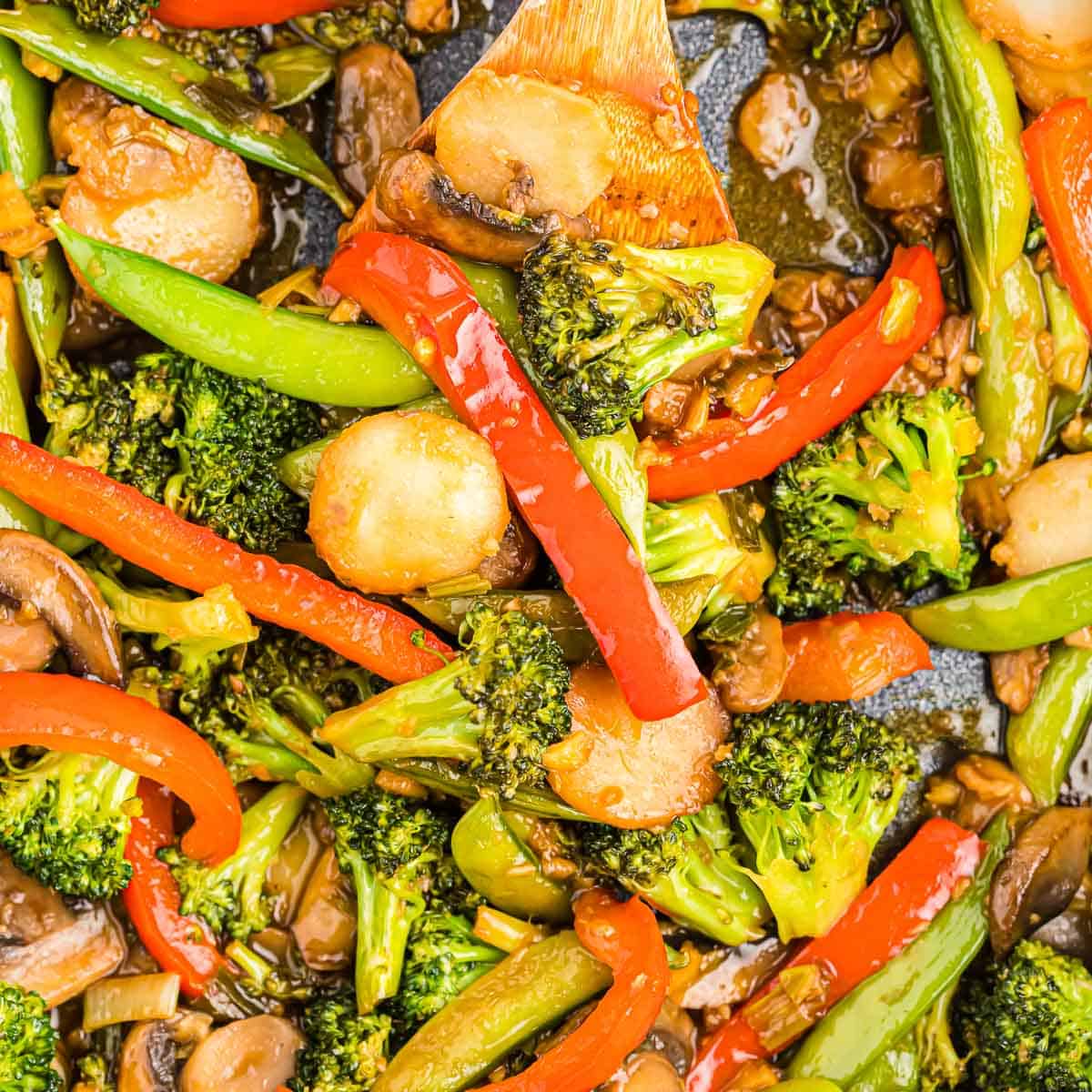 How to serve this Veggie Stir Fry Recipe
white rice
brown rice
quinoa, or other grain of choice
protein of choice (optional) – we love tofu or chickpeas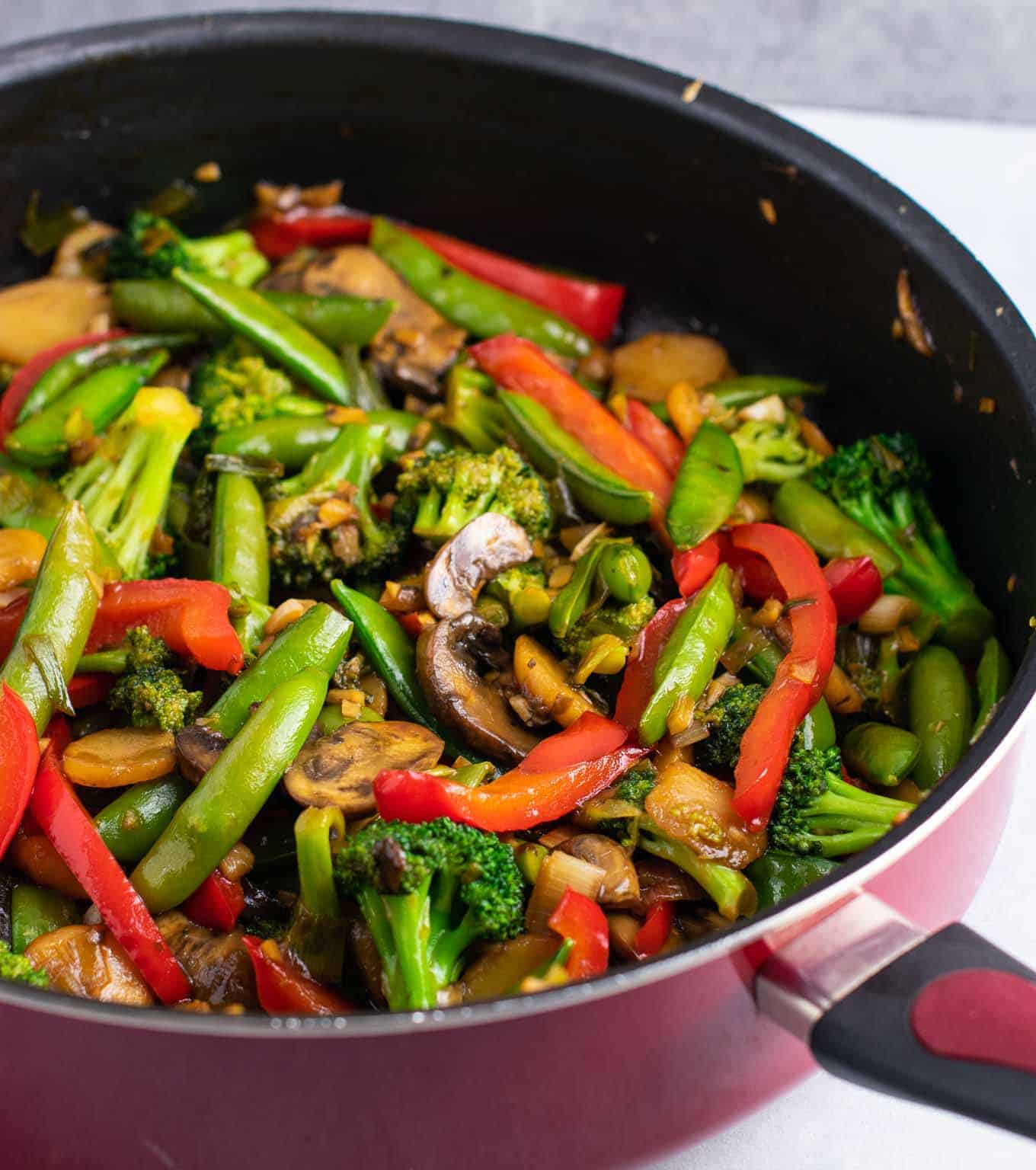 Best tips for cooking Stir Fry Vegetables
Use a big pan to fit all of your veggies nicely without overflowing
Stir fry vegetables just long enough to where they are cooked, but not mushy
Don't skimp on the garlic and onion, and be sure to use the stir fry sauce recipe listed for best flavor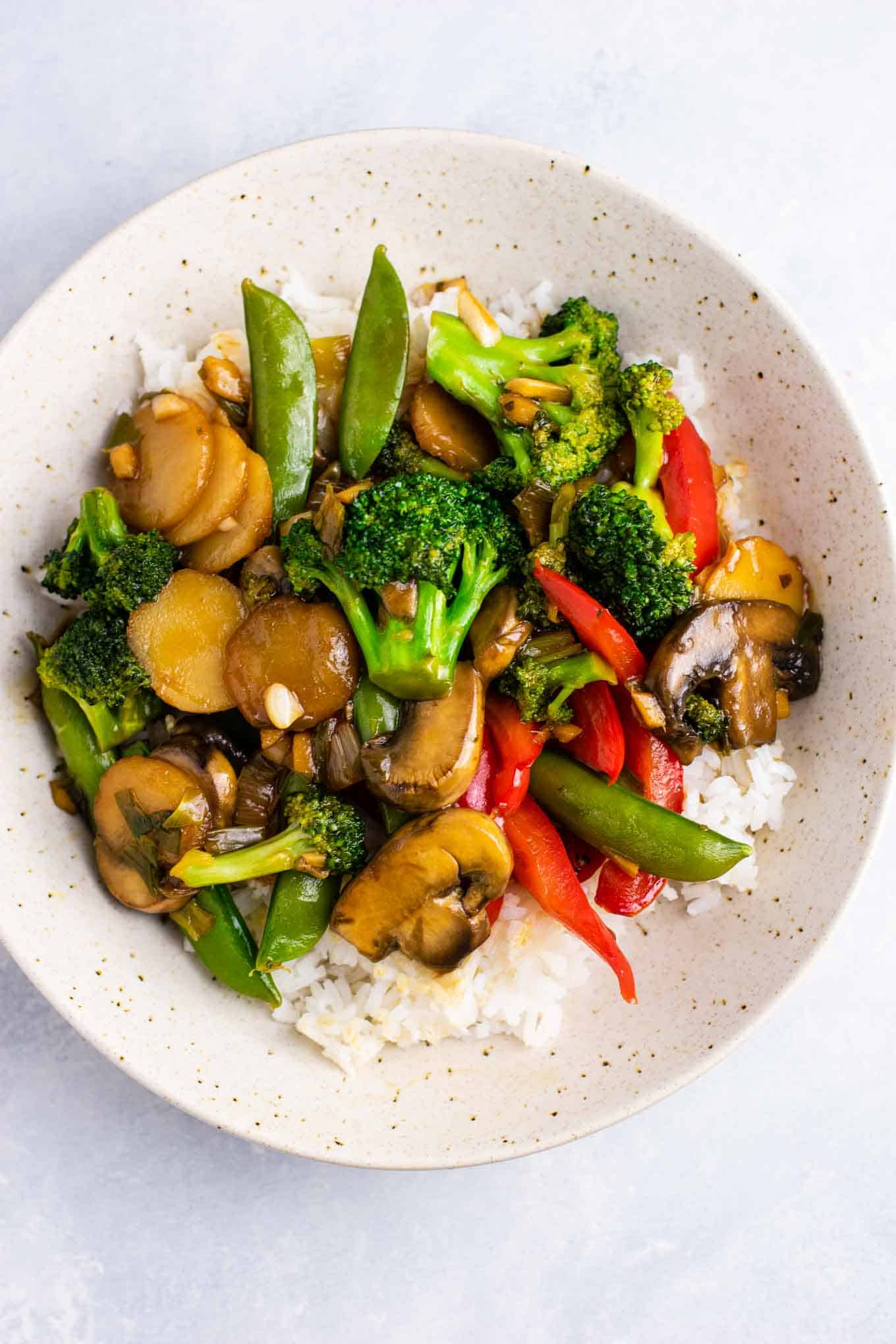 Vegetable Stir Fry FAQs
What adds flavor to stir-fry?
· Soy sauce: a staple in many stir fry recipes, and the key ingredient in our stir fry sauce. Soy sauce provides a salty and savory flavor to the dish.
· Sesame Oil: Sesame oil adds a mild nutty flavor and can be used for stir frying, or as part of a stir fry sauce.
· Garlic: Minced garlic is a key aromatic flavor for stir fries. It is best used in combination with ginger.
· Ginger: Freshly peeled and minced ginger is often used to add flavor to stir fries. It adds a mildly spicy flavor and pairs well with vegetables.
What veggies go first in a stir-fry?
Vegetables that take longer to stir fry include carrots, onions (excluding green onions), some leafy greens, and broccoli.
Vegetables that cook quickly include mushrooms, garlic, ginger, peppers, and snap peas.
More Stir Fry Recipes
Are you making this recipe? I want to see! Don't forget to tag me on instagram @buildyourbite and hashtag #buildyourbite with your recipe creations!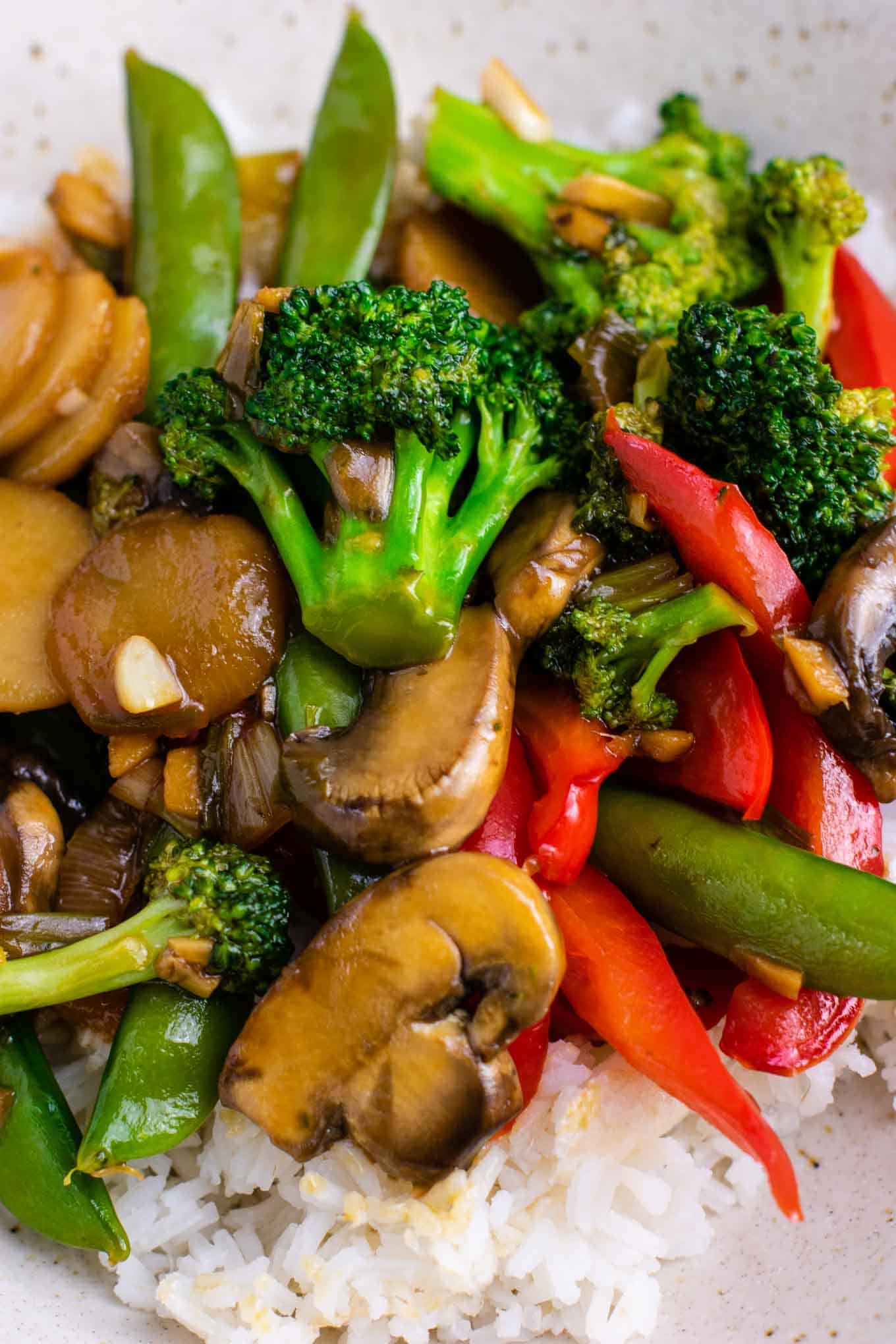 Be sure to pin this recipe for later and follow Build Your Bite on Pinterest for all the latest delicious recipes!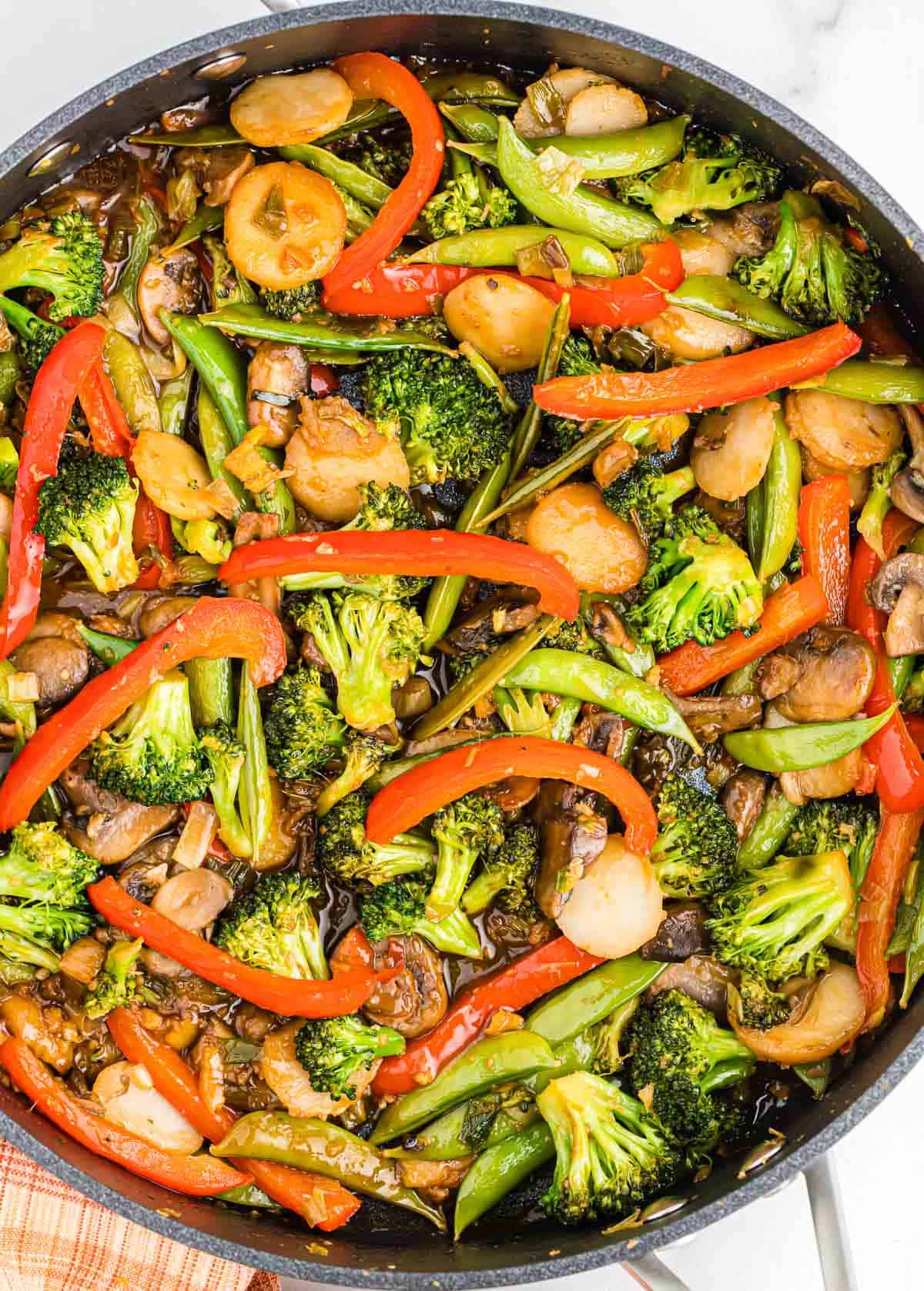 Did you make this recipe? Be sure to leave a star rating below!
Vegetable Stir Fry Recipe
Stir fry vegetables recipe with homemade stir fry sauce. Make delicious takeout style stir fry from your own kitchen!
Ingredients
1 tablespoon sesame oil
8 oz sliced water chestnuts
8 oz sugar snap peas
8 oz sliced mushrooms
1 red bell pepper, sliced
1 bunch of green onions, sliced (around 1 ½ cups worth)
4 cups fresh broccoli florets
12 cloves of garlic, minced
¼ cup minced fresh ginger
1 batch stir fry sauce
white rice, for serving
Instructions
Heat a large skillet or jumbo cooker to medium high heat with 1 tablespoon of sesame oil
Add water chestnuts, sugar snap peas, mushrooms, bell pepper, green onions, broccoli, garlic, and ginger
Cook for 20 - 25 minutes, stirring often, until most of the liquid evaporates and vegetables are cooked but not too soft
Shake together a batch of the stir fry sauce
Add the sauce and cook an additional 3 - 5 minutes, until sauce thickens and coats vegetables
Serve alone or over white rice
Notes
If you serve with rice, you may need to salt the rice, dependent on your tastebuds
Nutrition Information:
Yield:

6
Serving Size:

1
Amount Per Serving:
Calories:

159
Total Fat:

4g
Saturated Fat:

1g
Trans Fat:

0g
Unsaturated Fat:

3g
Cholesterol:

0mg
Sodium:

101mg
Carbohydrates:

29g
Fiber:

8g
Sugar:

6g
Protein:

7g