Hearty and delicious vegetarian meat lasagna recipe!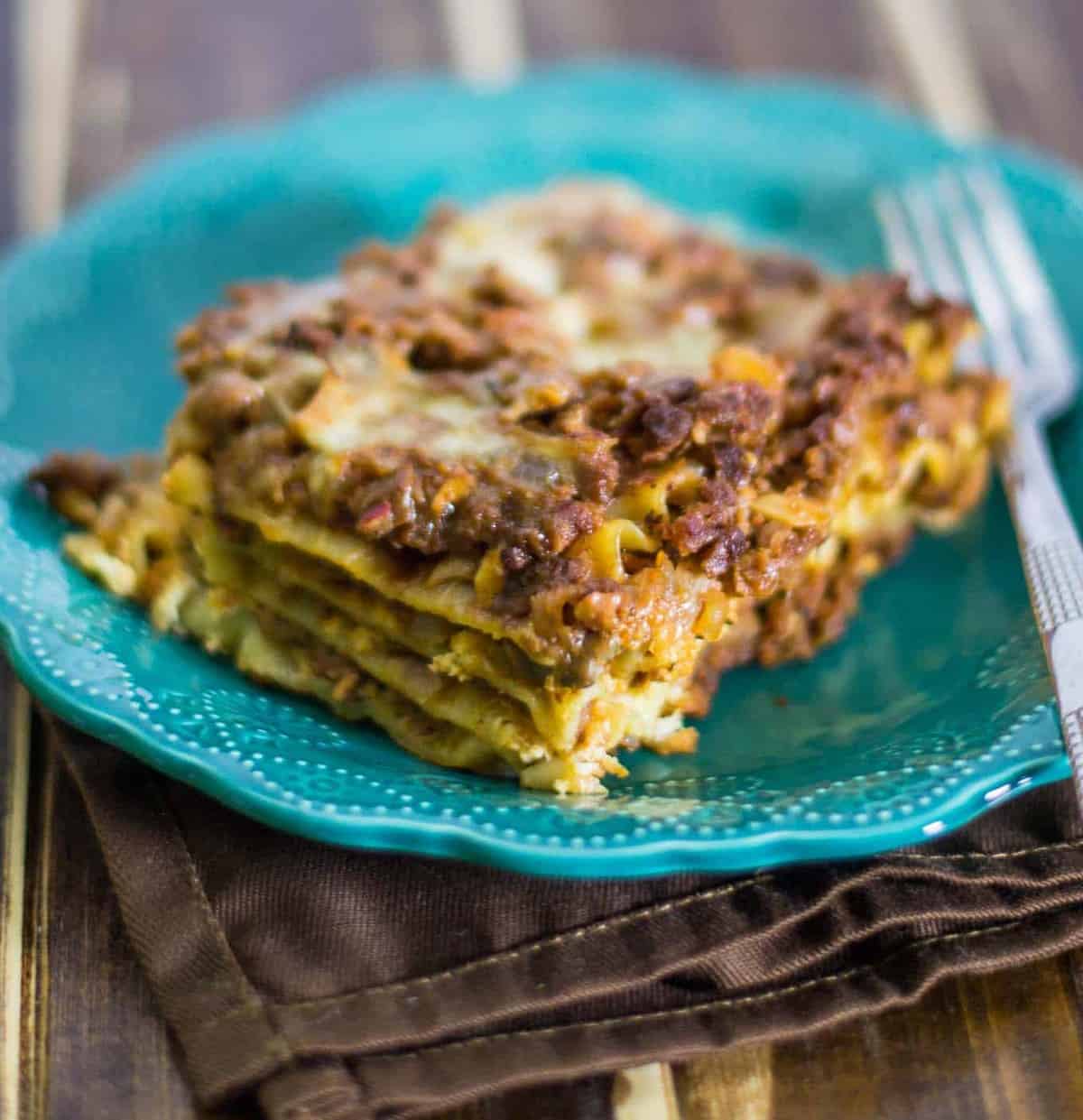 Once upon a time (as in sometime last year), I created an insanely delicious recipe for skinny mushroom lasagna.
I made this delicious lasagna twice, but the pictures weren't great and I never posted it.
But it is still one of my favorite recipes and I have made it many times.
I decided to change that recipe up a little bit and create this meaty vegetarian lasagna!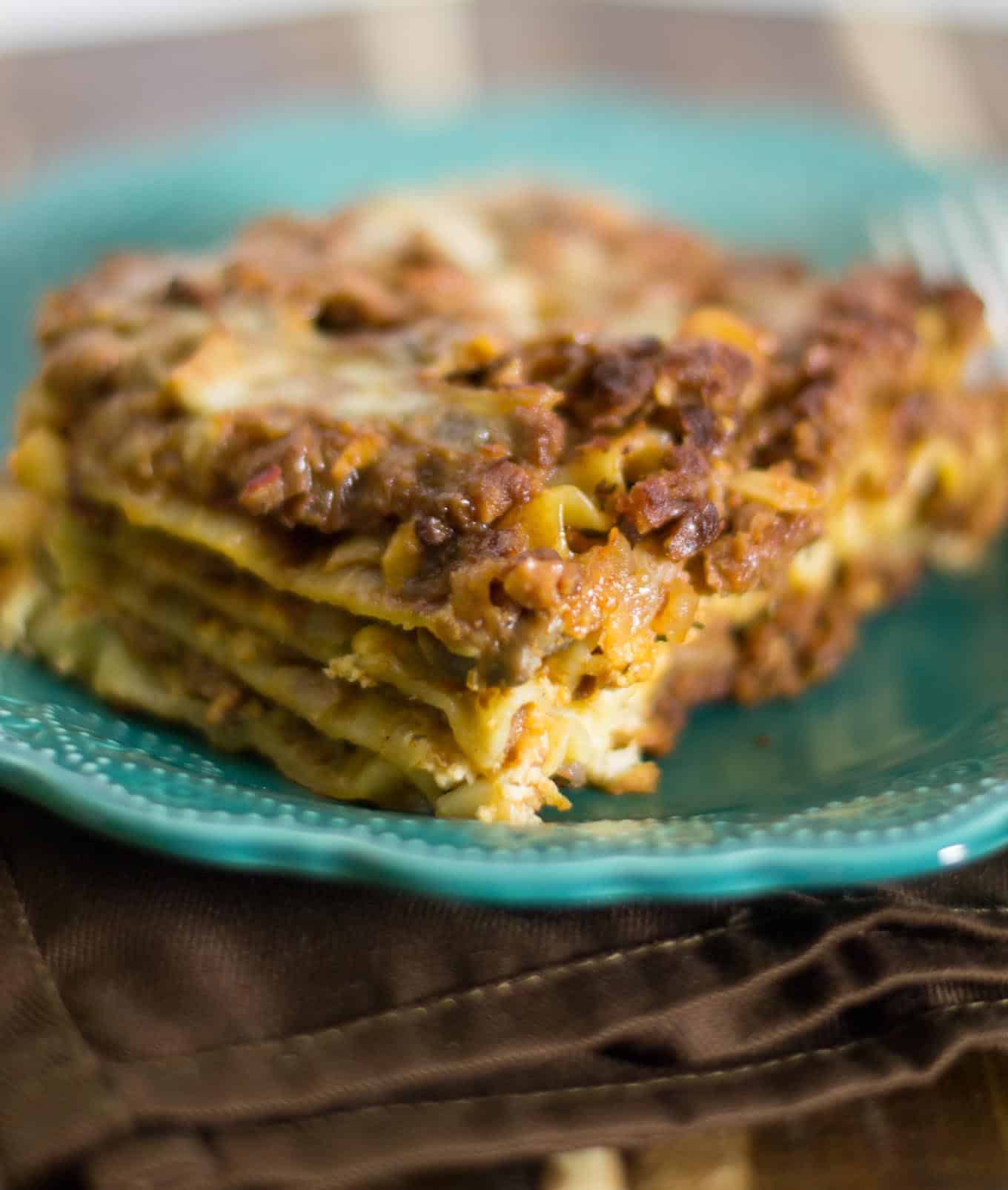 Being vegetarian doesn't have to mean that you miss out on all your favorite foods.
My husband and I love using meatless crumbles when we are craving a heartier dish.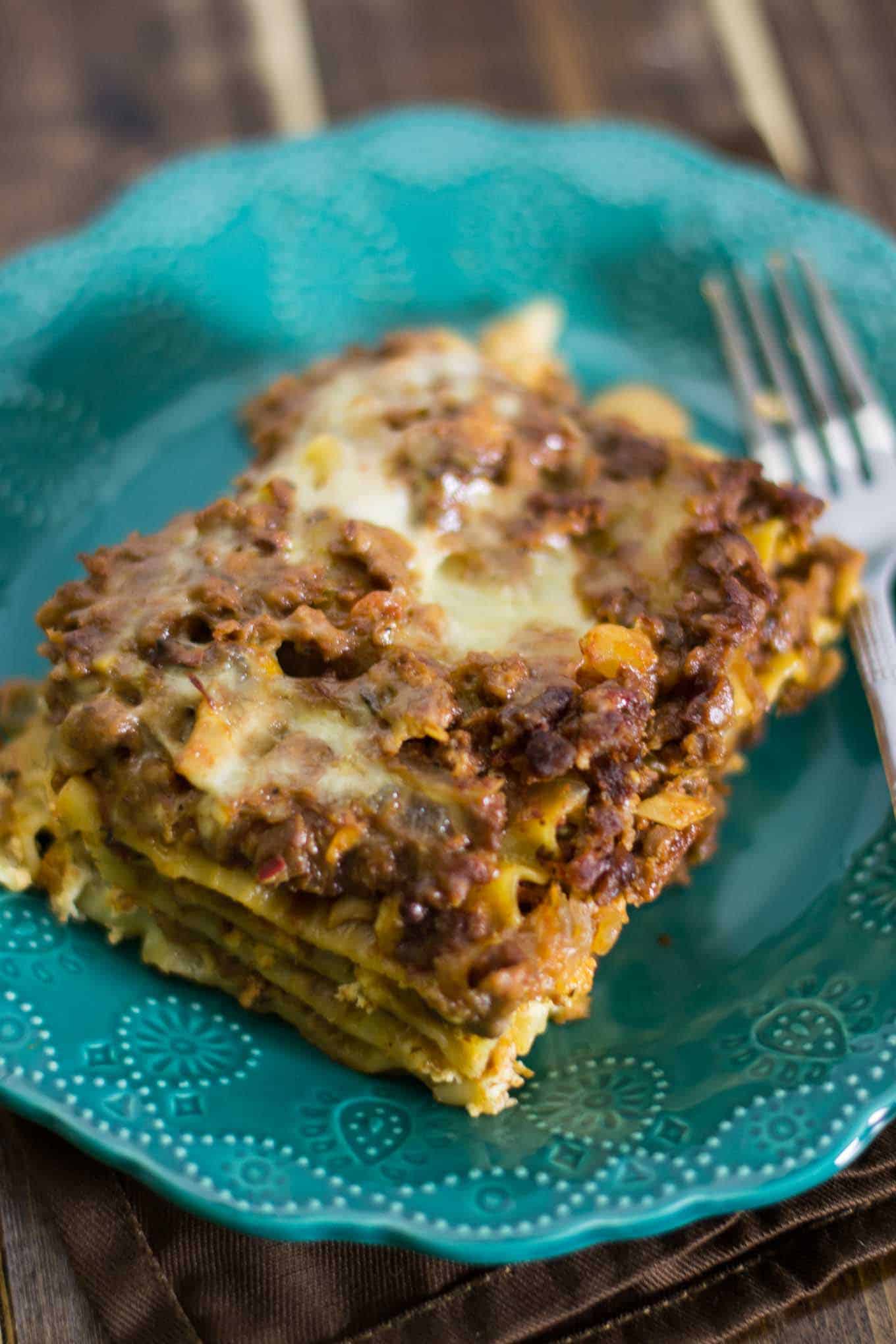 I had the idea to make a meat eaters lasagna…but for vegetarians.
The sauce is so thick that it's almost all meat and the flavor just soaks into the noodles while it cooks.
The flavor is just ridiculous and so addicting!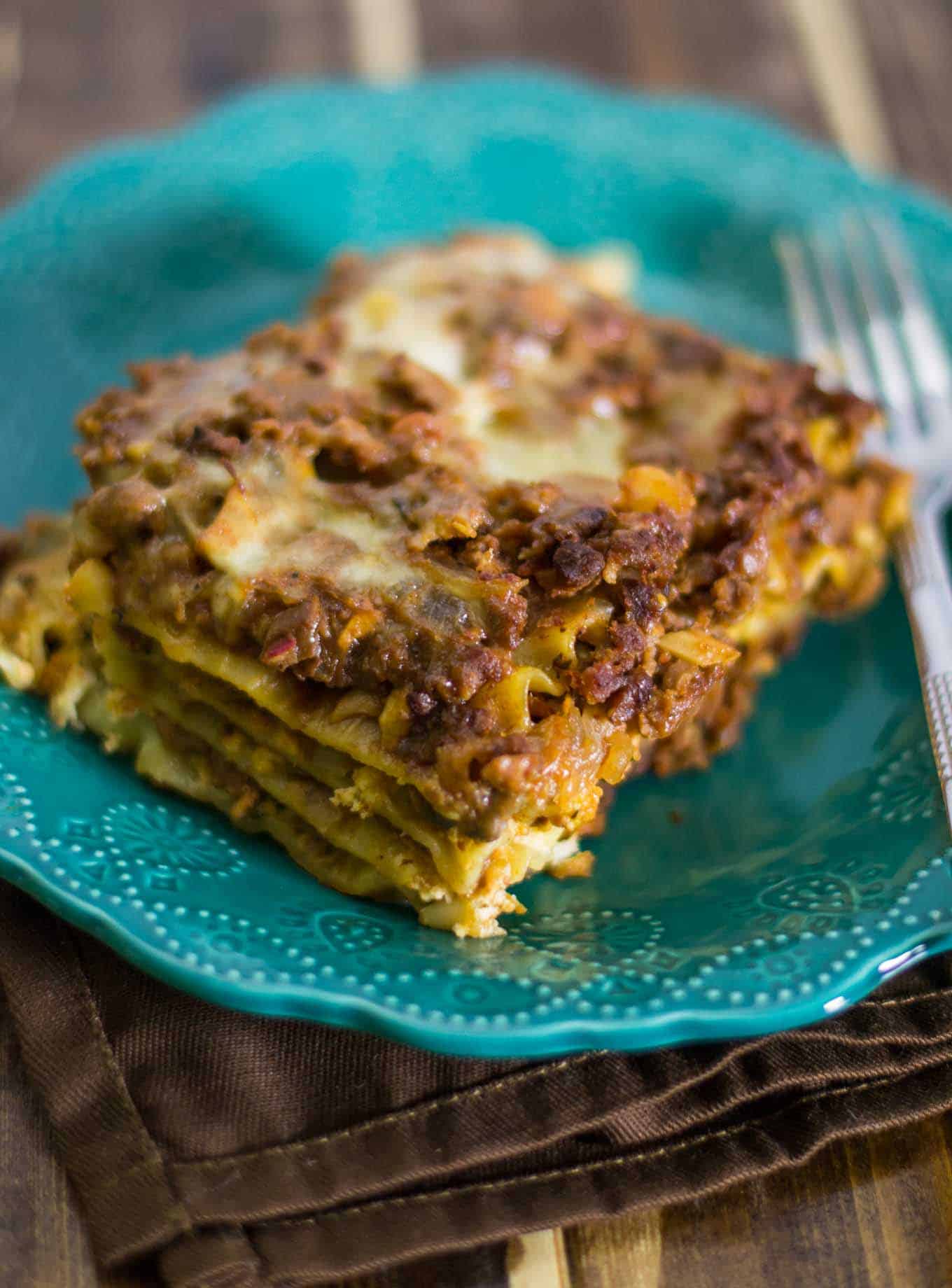 I normally could take or leave fake meat…but in this dish it is absolutely fantastic.
We had leftovers of this two days in a row and I looked forward to it all day!
The flavor is just incredible and it is so filling.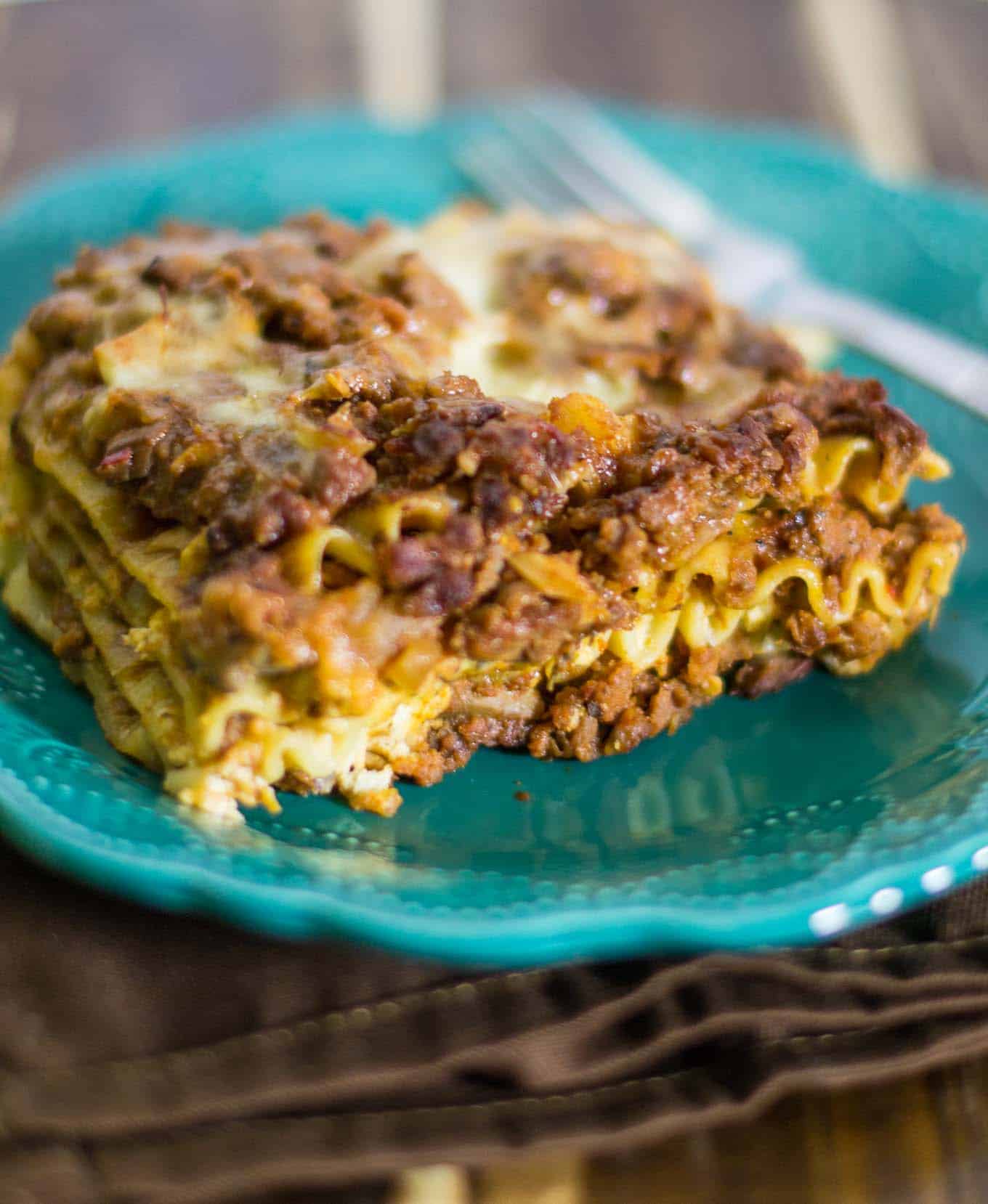 My husband was a huge fan of this lasagna.
I'm already planning on making another version of it – but mexican!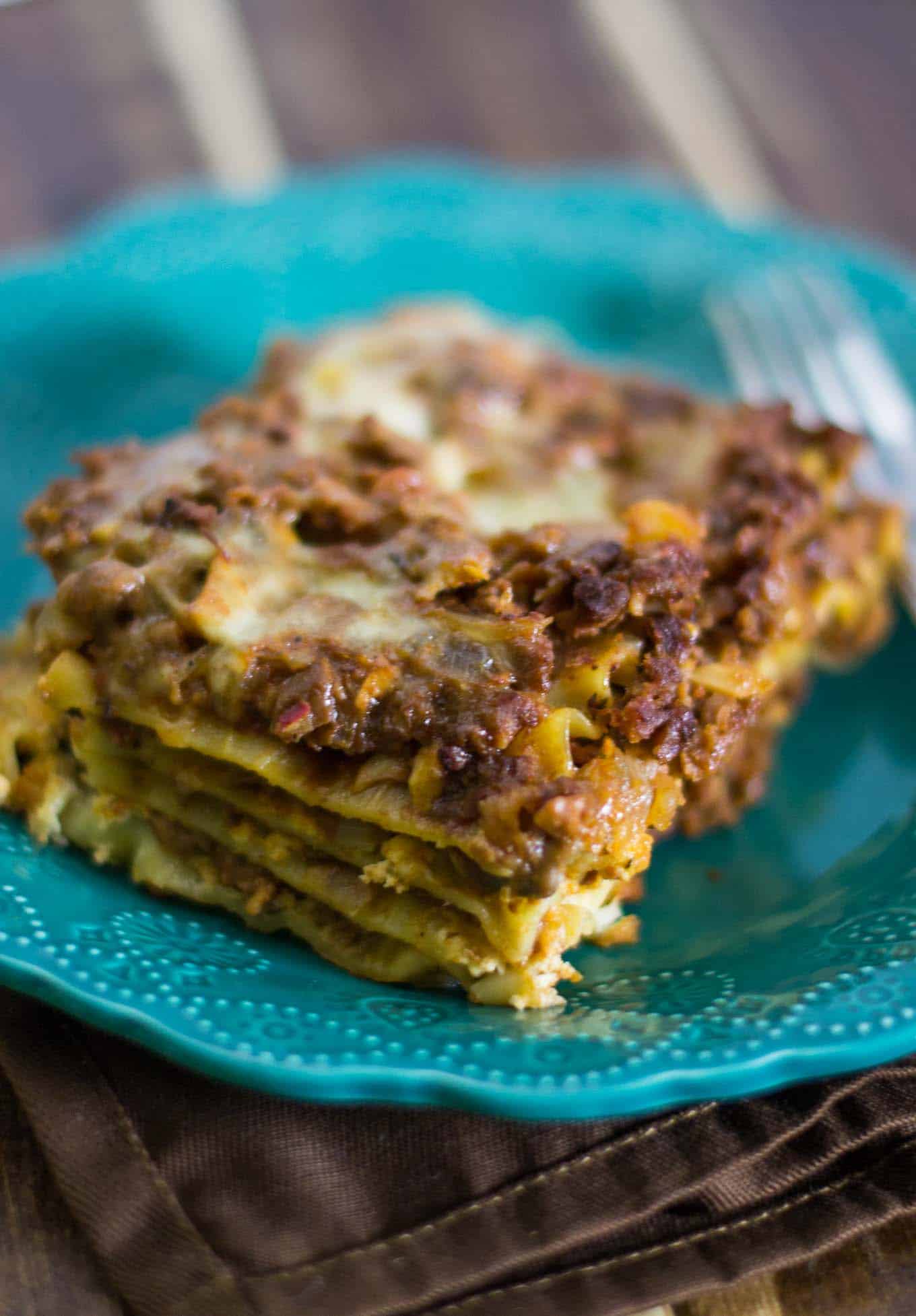 I used oven ready lasagna noodles that you don't have to boil or do anything with.
I love using these because it really cuts down on the prep work of the meal.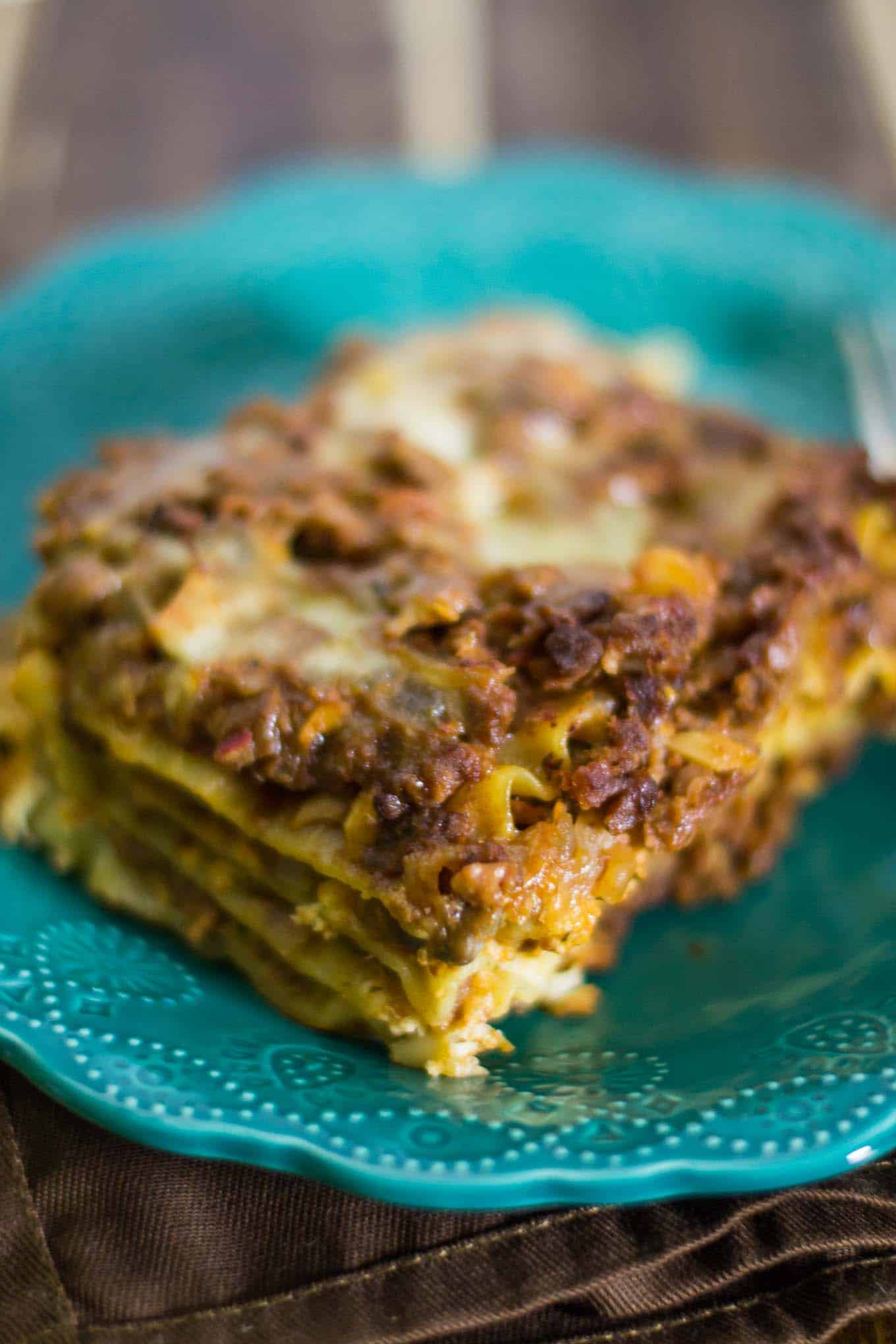 I promise you won't be disappointed if you try this!
This one will be going in our regular dinner rotation!
More meatless pasta recipes you will love
Meaty Vegetarian Lasagna
Total Time:
1 hour
10 minutes
easy and delicious meaty vegetarian lasagna recipe
Ingredients
16 oz meatless crumbles (I buy mine in the organic frozen section of Kroger)
16 oz sliced mushrooms
2 medium onions, diced
5 cloves of garlic, minced
1 teaspoon crushed red pepper flakes
1 tablespoon oregano
½ teaspoon salt
¼ teaspoon pepper
2 tablespoons olive oil
25 oz pasta sauce (I used mushroom flavor)
12 oven ready lasagna noodles
1 ¾ cup shredded mozzarella cheese
For the ricotta mixture:
15 oz ricotta cheese
1 egg
1 teaspoon dried basil
1 cup shredded asiago cheese
Instructions
In a large skillet, combine garlic, onion, 2 tablespoons of olive oil, and mushrooms
Sautee on medium high heat for 13-15 minutes, or until onions become translucent and mushrooms begin to release their liquid.
Add meatless crumbles, oregano, salt, and pepper, and crushed red pepper flakes
Continue cooking on medium high for 7-10 minutes. You want to get a little bit of brown on the meatless crumbles
Add the pasta sauce and stir to combine everything
In a small bowl, mix the ricotta, egg, basil, and asiago cheese and set aside
Grease a 13 X 9 casserole dish with cooking spray
Spread one cup of the sauce mixture onto the bottom of the pan
Top with 3 oven ready lasagna noodles (spread out a little if need be)
spread 1 cup of ricotta mixture over noodles
Top with 1 cup of sauce
Add ½ cup of shredded mozzarella
Add 3 more lasagna noodles
top with 1 cup of ricotta mixture
add 1 ⅓ cup of sauce mixture
sprinkle on ½ cup of shredded mozzarella cheese
top with 3 lasagna noodles, the remaining ricotta, and then 1 ⅓ cups of sauce
Add the last 3 noodles and top with the remaining pasta sauce
Top with remaining shredded mozzarella and cover with foil
Bake at 375 degrees for 55-60 minutes
Allow to rest for 10 minutes before serving
Nutrition Information:
Yield:

8
Serving Size:

1
Amount Per Serving:
Calories:

429
Total Fat:

17g
Saturated Fat:

8g
Trans Fat:

0g
Unsaturated Fat:

8g
Cholesterol:

61mg
Sodium:

917mg
Carbohydrates:

46g
Fiber:

6g
Sugar:

9g
Protein:

23g