Meal Prep Sweet Chili Tofu Bowls with brown rice, garlic, red bell pepper, and carrots. A delicious vegan or vegetarian meal!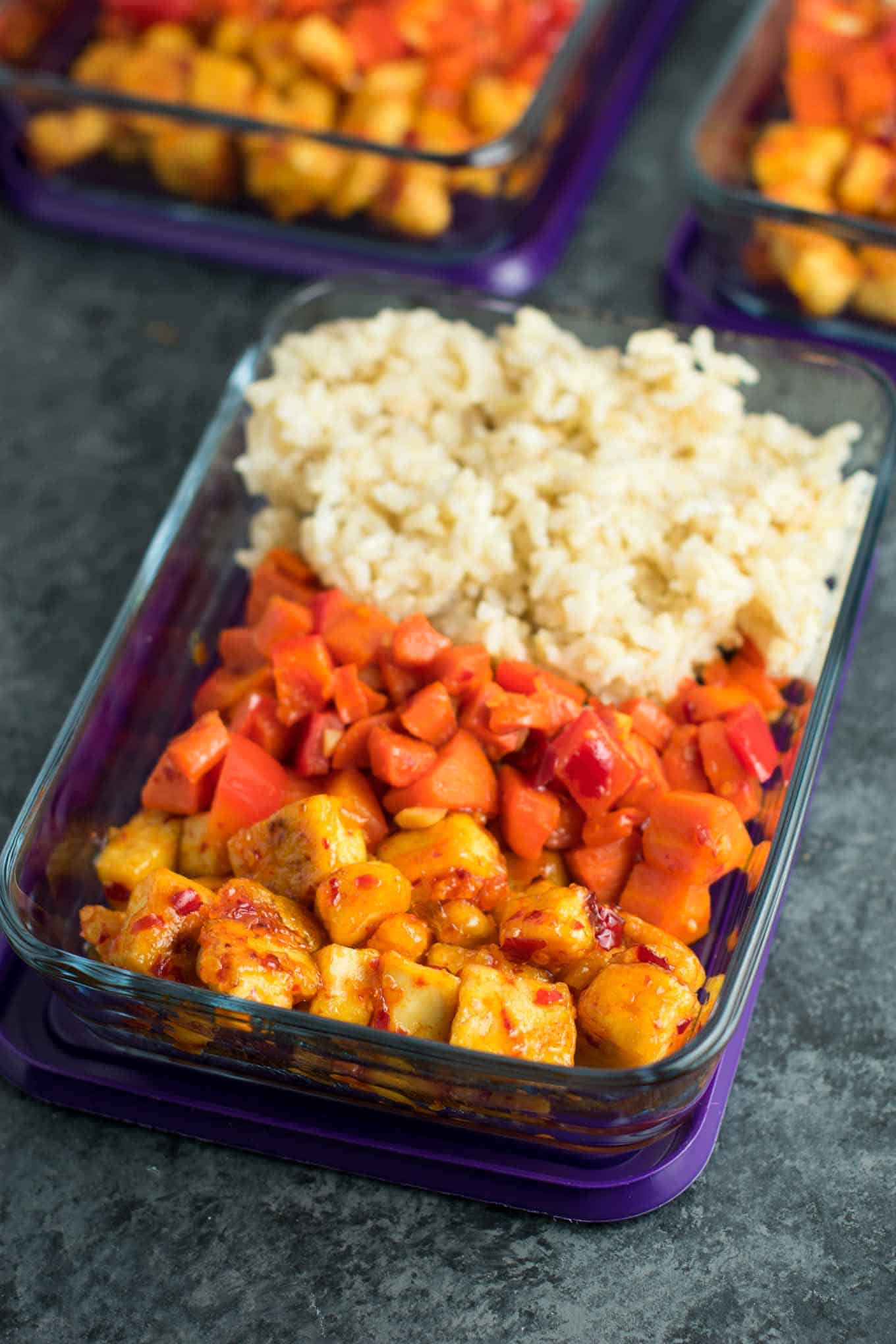 These sweet chili tofu bowls are my lunch for the week and I am so excited to share!
As a busy work at home mom, I almost never take time to make myself a nutritious lunch.
One of my goals lately has been to really crack down on my eating and try to make it more clean and nutritious.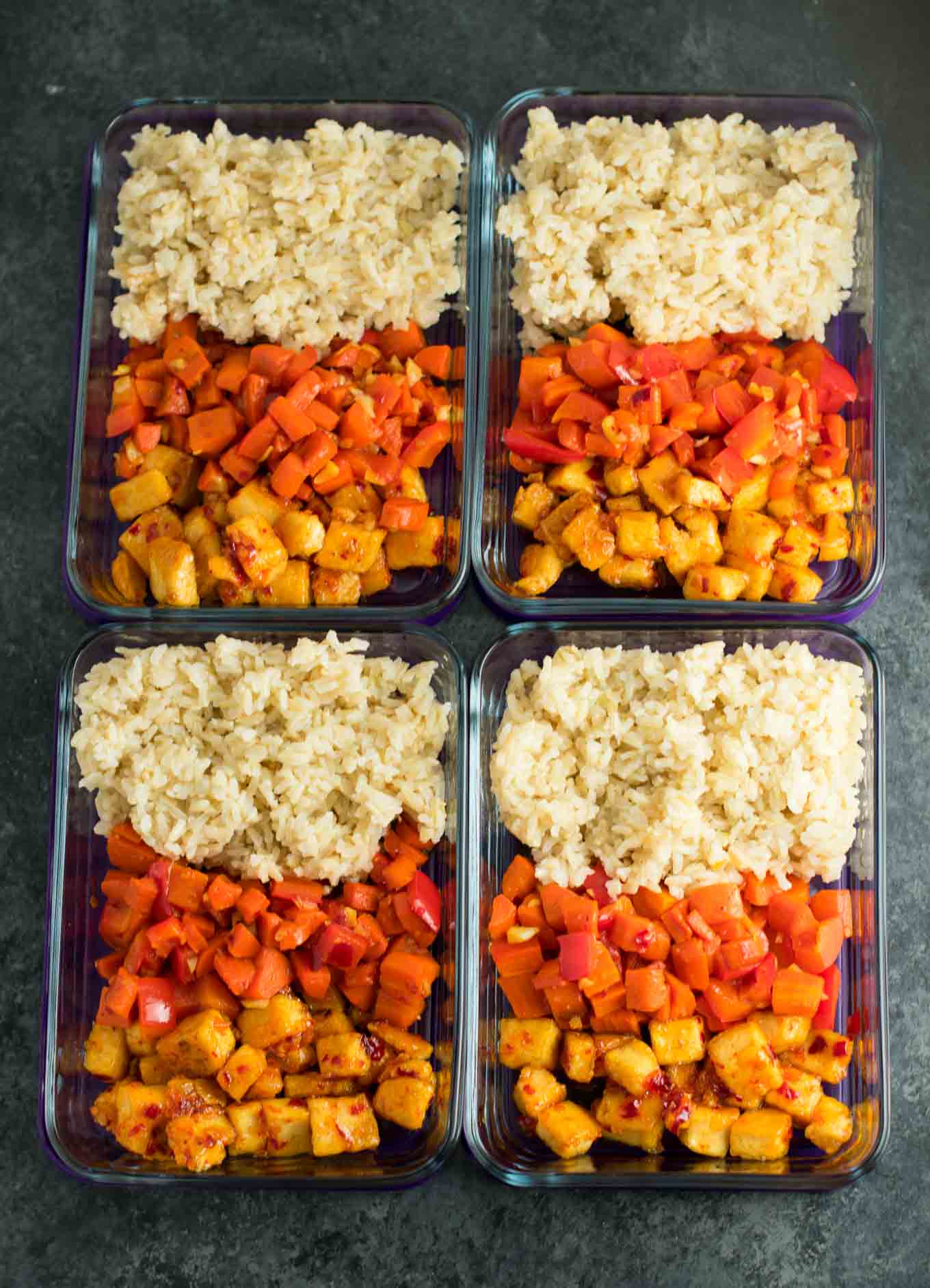 Lunch is one of my downfalls in this area.
When the baby is fussing and throwing food at me and I have a million things on my to do list, it usually just ends up being a sandwich in chips.
Not the most unhealthy meal, but also not the greatest nutritionally.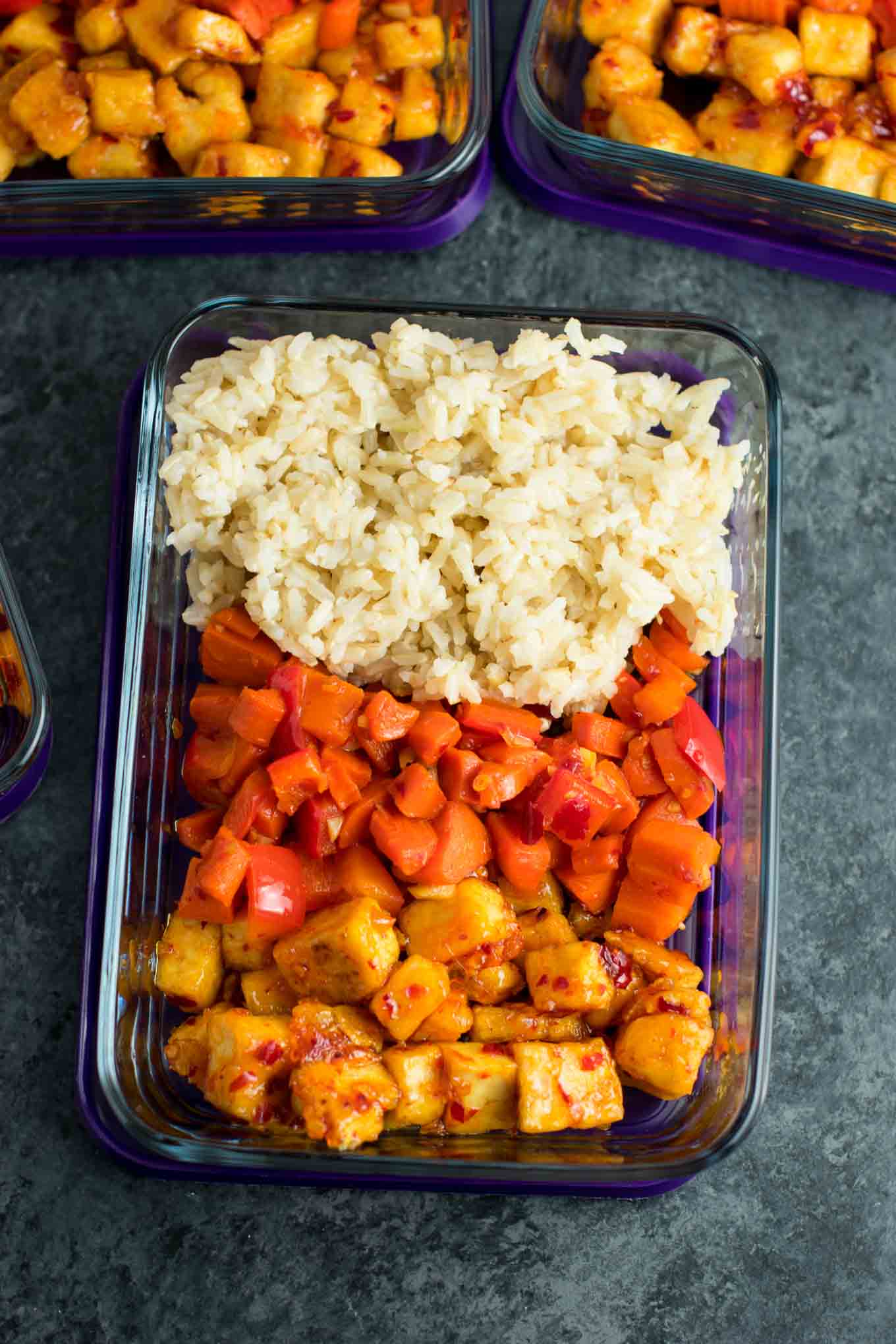 Enter meal prep!
I got these super cute 3 cup pyrex dishes last weekend to make 4 prepped ahead lunches each week.
This will not only save me time, but money too.
I plan to share what I'm eating each week for other vegans or vegetarians who struggle with lunch as well.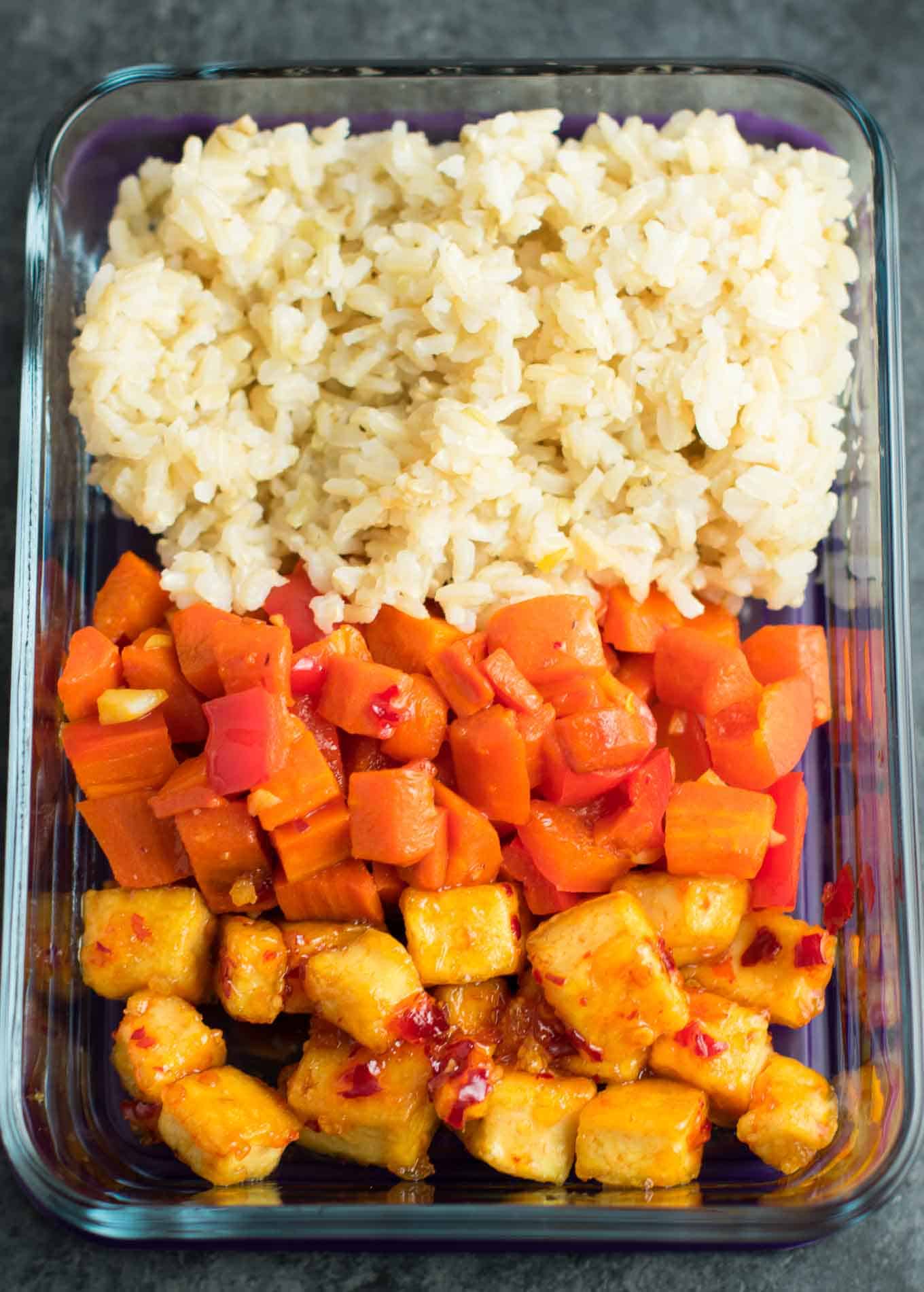 These sweet chili tofu bowls are PACKED full of flavor.
Crispy tofu, sweet bell pepper and carrots, and heart healthy brown rice in a sweet chili sauce.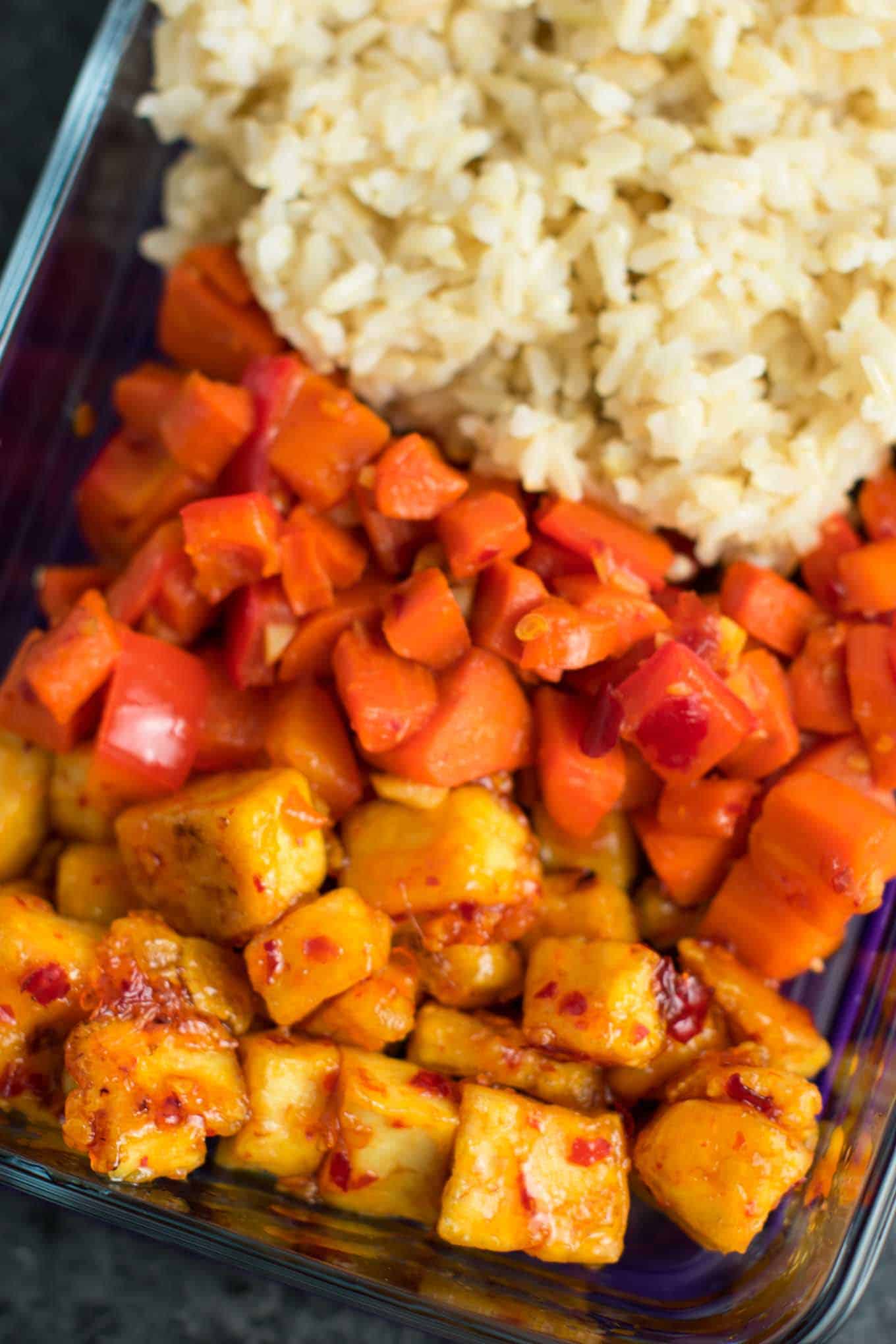 I am still playing around with which store bought sweet chili sauce is my favorite, so if you have one that you love please let me know your recommendations in the comments below!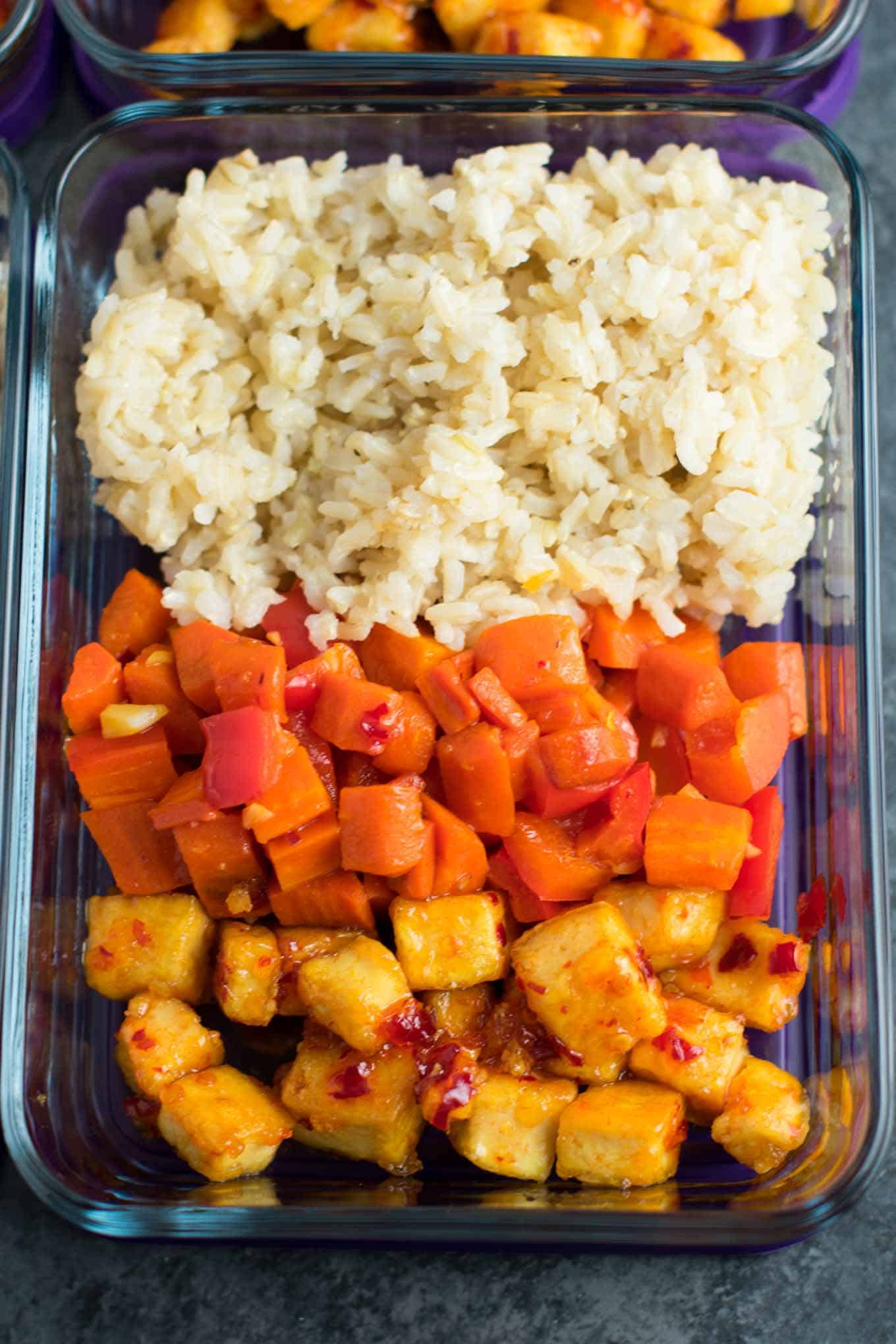 After you press the tofu, you will pan fry it until crispy.
I normally oven bake my tofu (see this recipe), but pan frying was a nice change of pace this time.
Honestly I love it both ways (I love tofu!)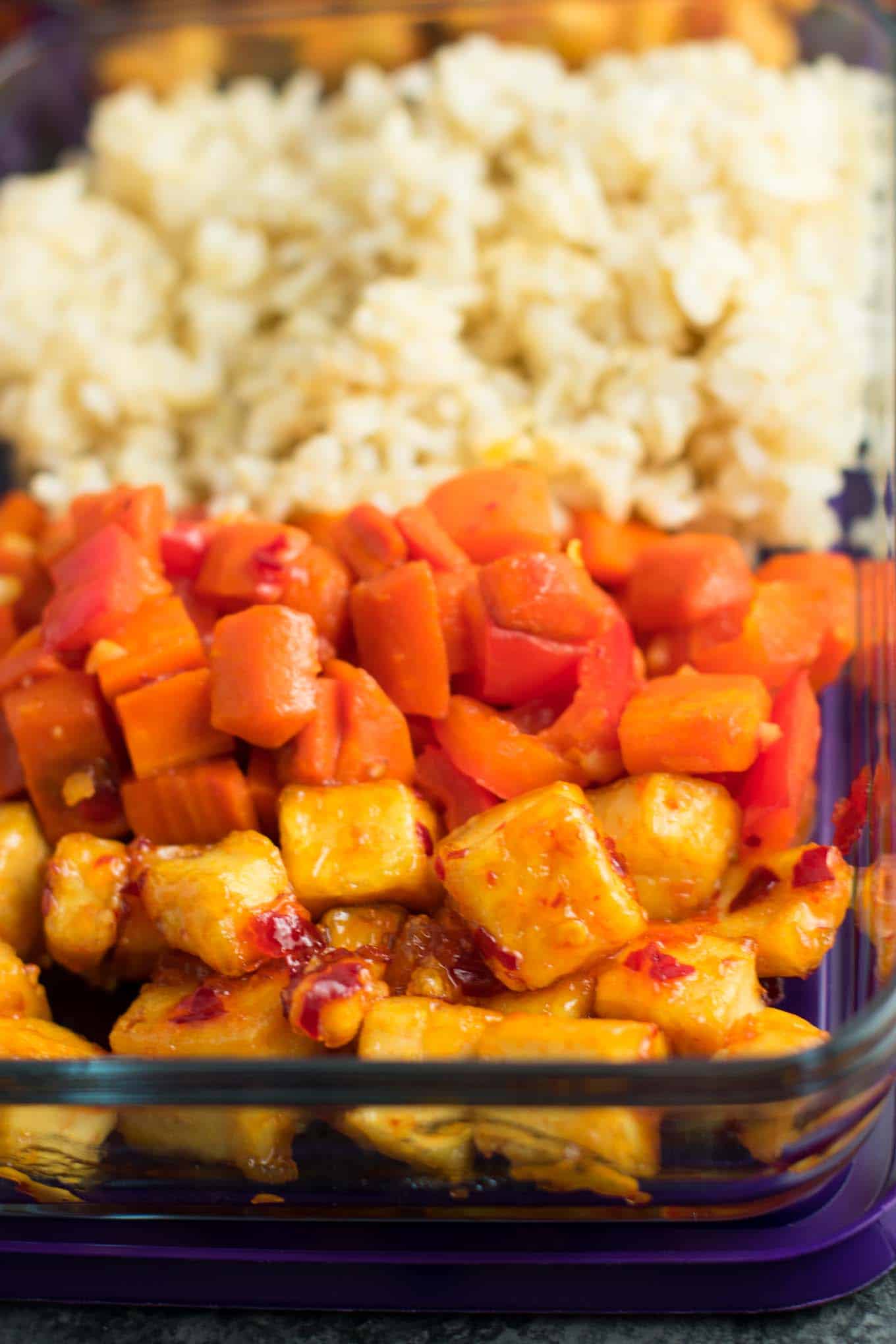 I went with bell peppers and carrots for the veggies in this recipe.
Carrots might sound like an odd choice, but it works!
They're also super affordable and one of my absolute favorite vegetables for their versatility.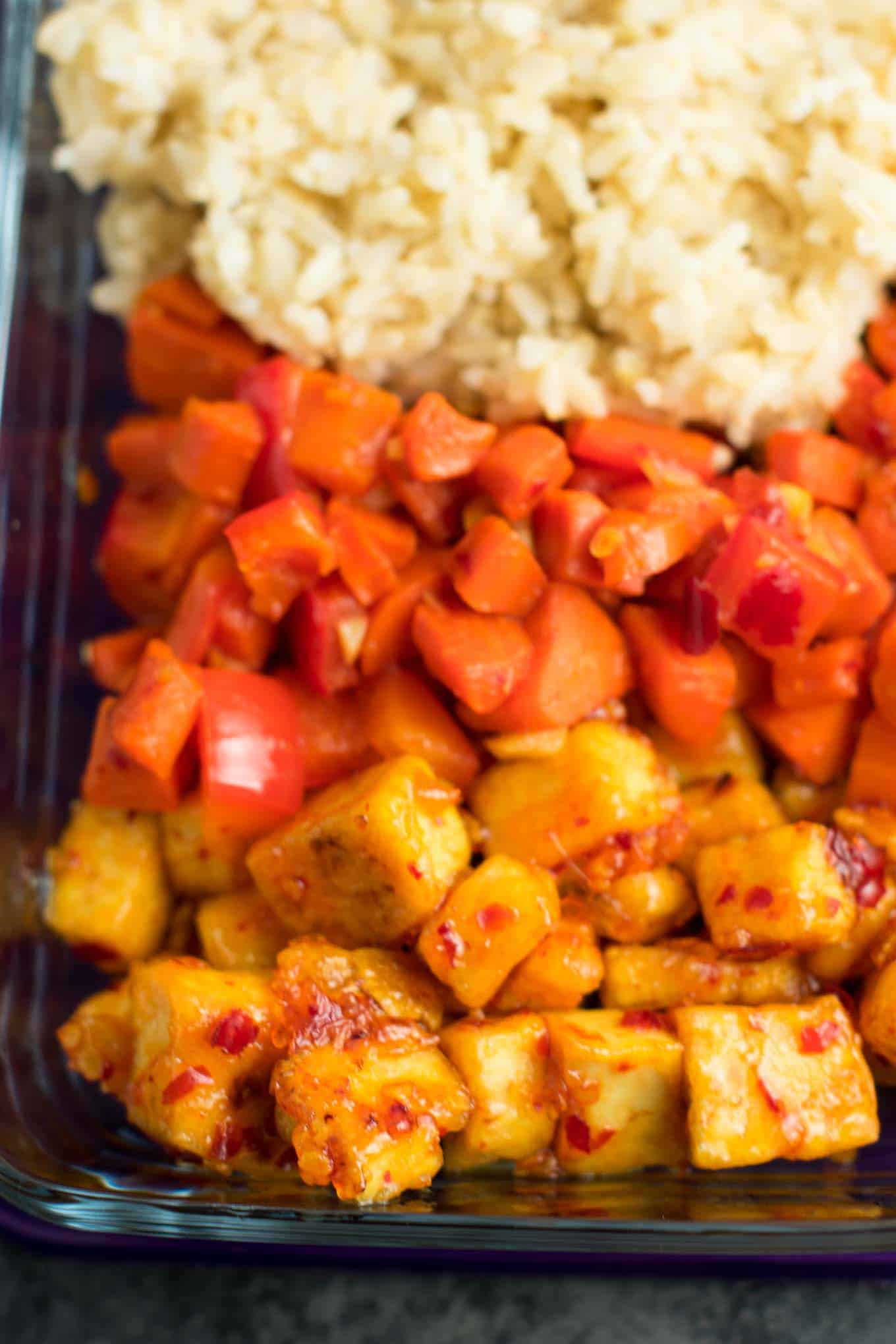 This recipe made exactly 4 perfect servings.
Robbie tasted a bite and loved it, so I will be planning to make it for us for dinner one night in the next few weeks.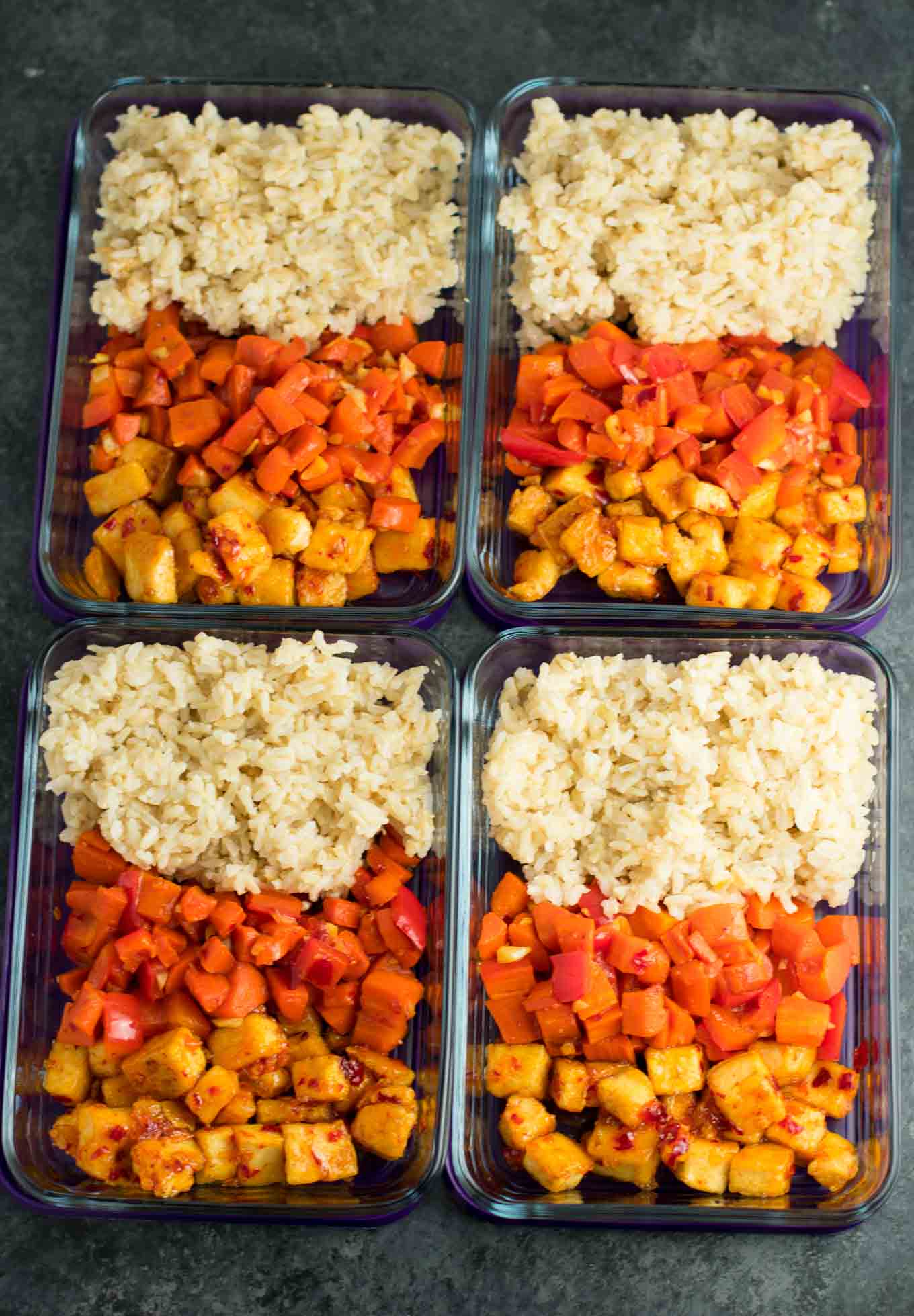 If you don't have a rice cooker, I highly recommend the investment.
I've used my $40 rice cooker 2 times this week already.
Once I got the hang of the cook times and the difference between white and brown rice it has been such a time saver!
I use it to easily make my Enchilada Tofu Burrito Bowls, Vegan Coconut Curry Bowls, Vegetarian Mexican Rice Casserole, Sweet Potato Brown Rice Casserole, and more.
Do you meal prep? Tell me your favorite meal prep recipes in the comments below!
Pin these Sweet Chili Tofu Bowls:

Sweet Chili Tofu Bowls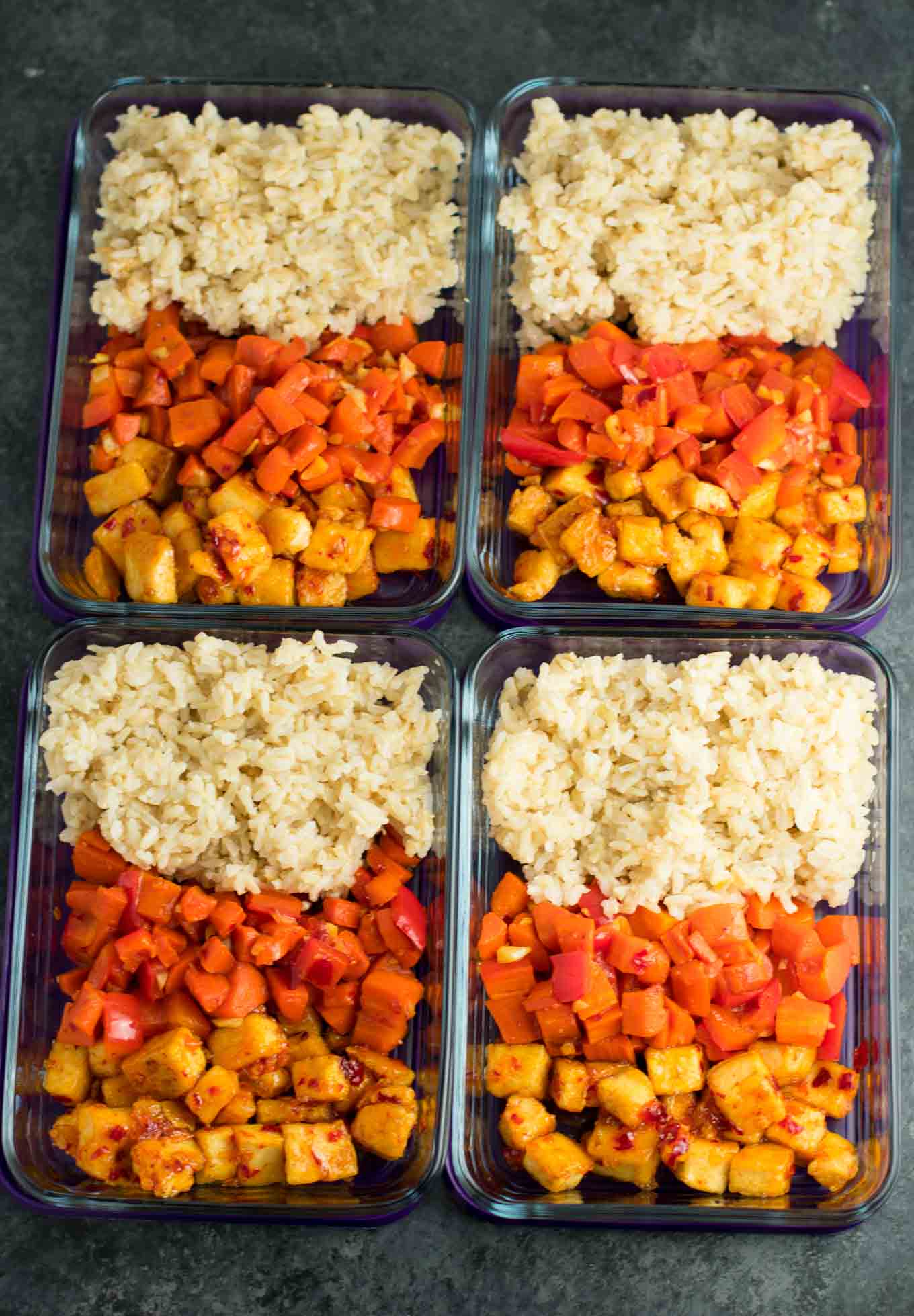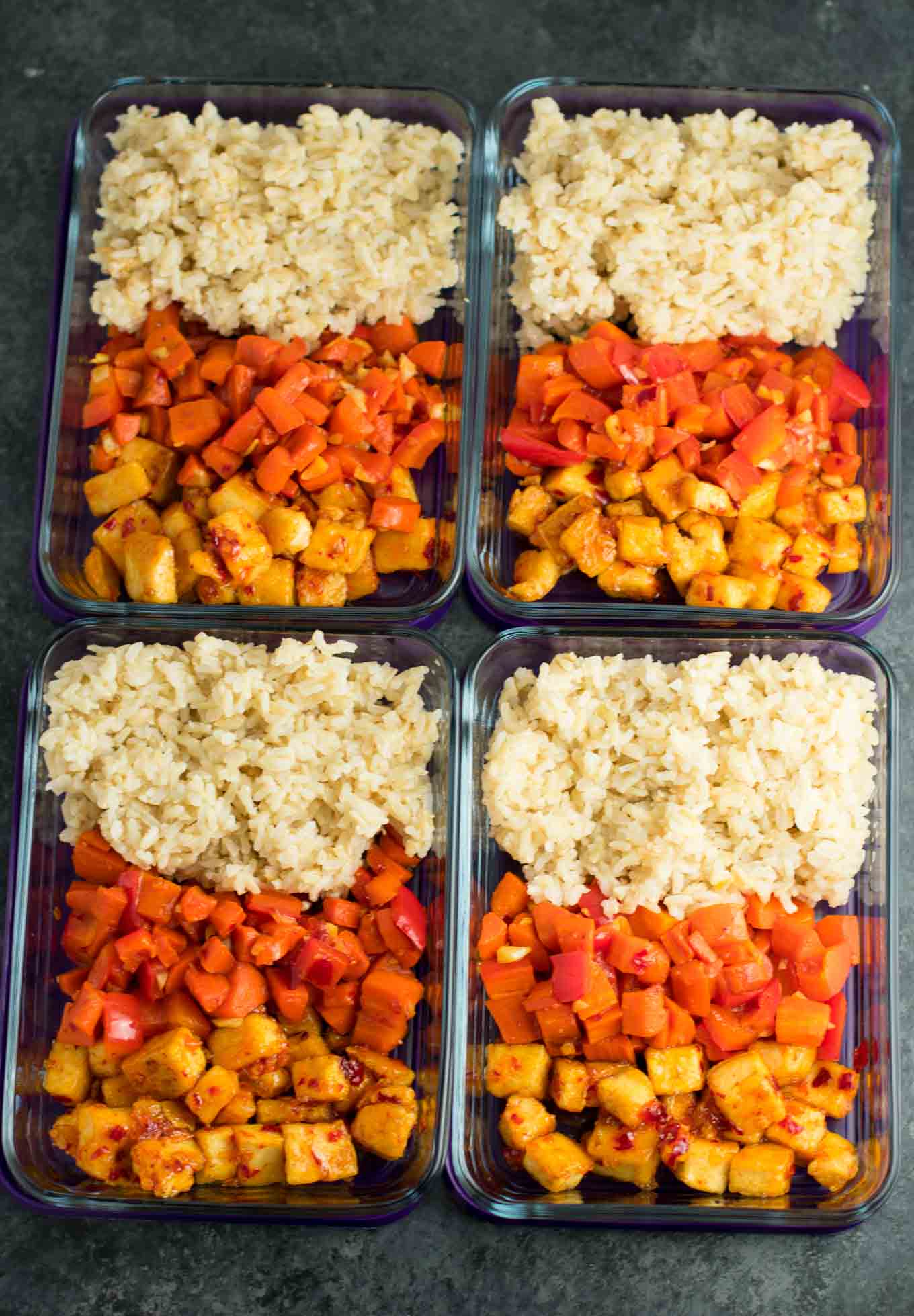 Meal Prep Sweet Chili Tofu Bowls with brown rice, garlic, red bell pepper, and carrots. A delicious vegan or vegetarian meal!
Ingredients
14 oz extra firm tofu
1 red bell pepper, diced
1 lb carrots (around 5 medium sized), peeled and diced
8 cloves garlic, minced
4 cups cooked brown rice
2 1/2 tablespoons cornstarch
Sweet Chili Sauce
Salt, to taste
Directions
Drain tofu and place in between a kitchen towel. Place a heavy object on top (such as a cast iron skillet) and leave to press for 30 minutes
Cook rice according to package instructions (I used a rice cooker)
Heat a medium sized skillet with 1½ tablespoons of olive oil
Add diced carrots and ½ teaspoon of salt
Saute carrots on medium high heat for 10 minutes, or until slightly cooked but not yet soft
Add bell peppers and garlic and saute an additional 5-7 minutes, until soft
Remove from heat and stir in ⅛ cup of sweet chili sauce. Add more to taste if desired
Once tofu has pressed, dice it up into small chunks and toss with ½ teaspoon of salt and 2½ tablespoons of cornstarch until well coated
Heat a large skillet with 2 tablespoons of olive oil
Once skillet is hot, add in tofu and pan fry until crispy on all sides (around 10-15 minutes)
Add in ⅓ cup of sweet chili sauce and toss to coat
Assemble bowls with tofu, vegetables, and brown rice.
Add additional sweet chili sauce to taste, or pour some over the brown rice if desired
Loading nutrition data...