Healthy no bake chocolate peanut butter protein balls.
Keep these in the freezer for a quick and healthy snack or dessert!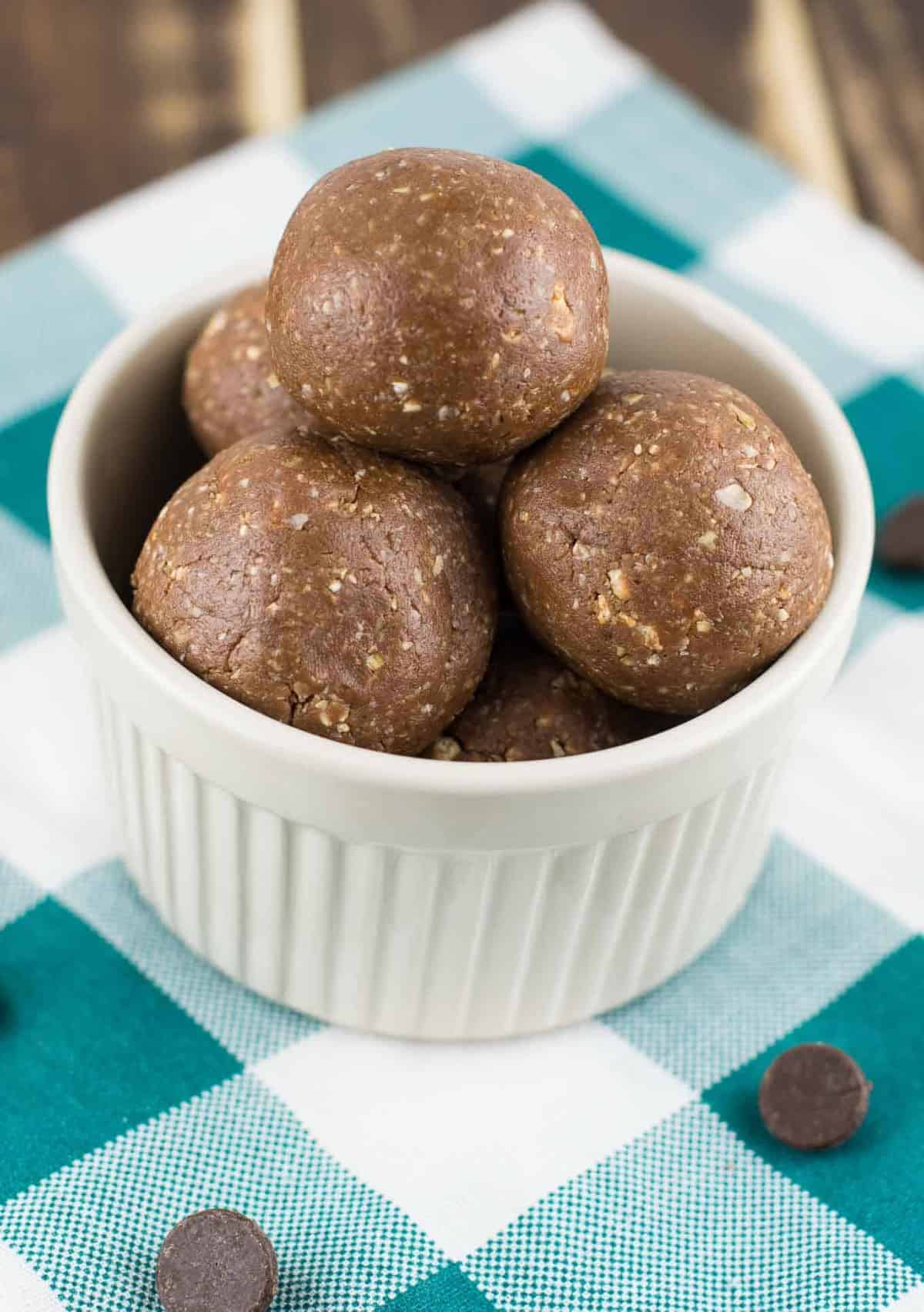 Desserts can be one of my weaknesses.
While I don't always overindulge, I tend to want something sweet after every lunch and dinner.
If I'm not careful, too much sugar can leave me feeling tired and draggy.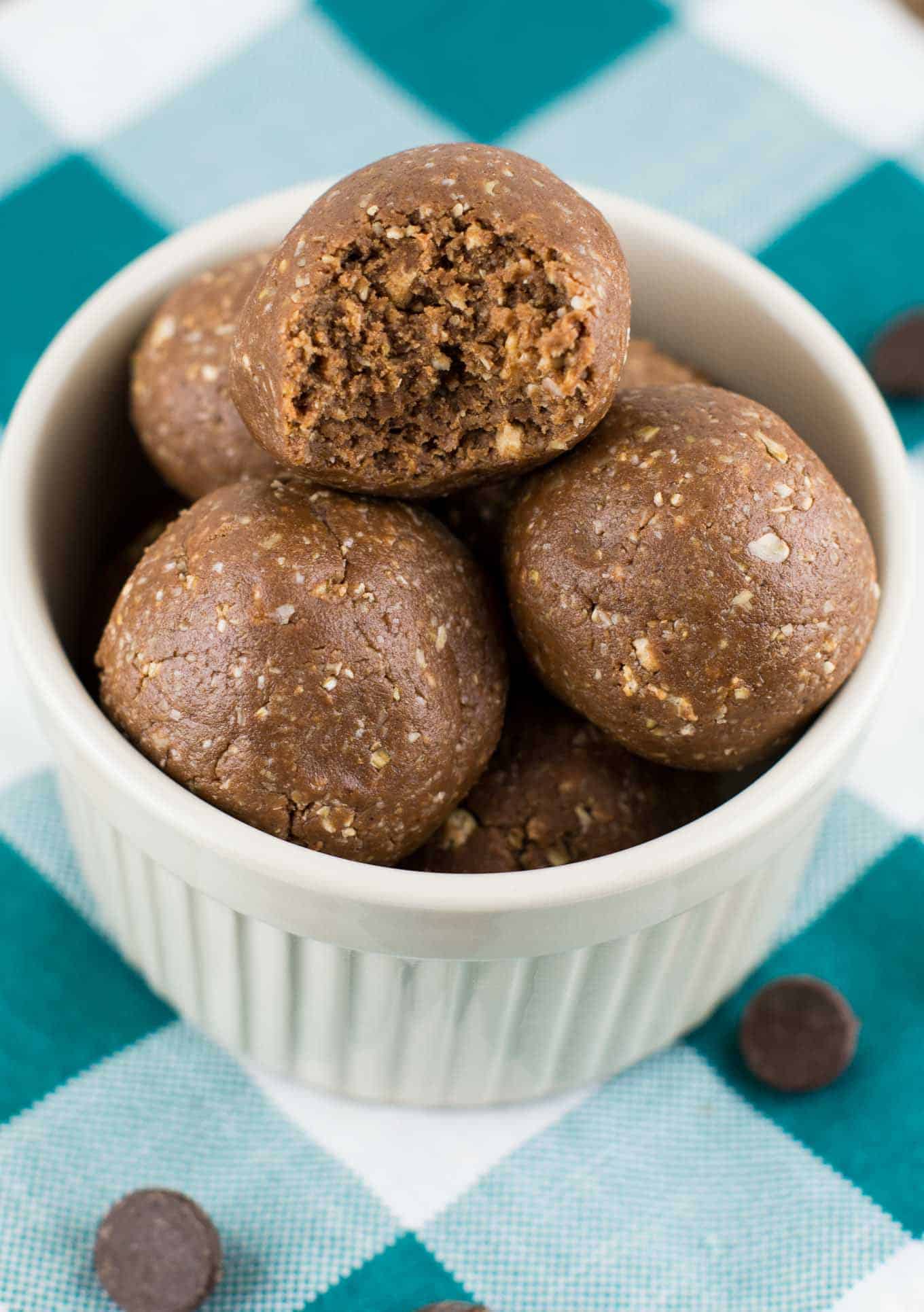 As a vegetarian, it can be hard sometimes to make sure that I get enough protein in a day. And as a breastfeeding mom? Always. Starving. Forever.
I love making a batch of these protein balls and storing them in the freezer for a quick protein treat (that tastes like a peanut butter cup!)
I made a batch of these a few days ago and have been eating several each day in between meals (or when the baby is fussy and I need something quick.) Seriously a life saver!
Robbie is always hungry too (landscaper + ultra runner = always starving!) , so I have started to make us more protein snacks like these protein balls or homemade protein bars.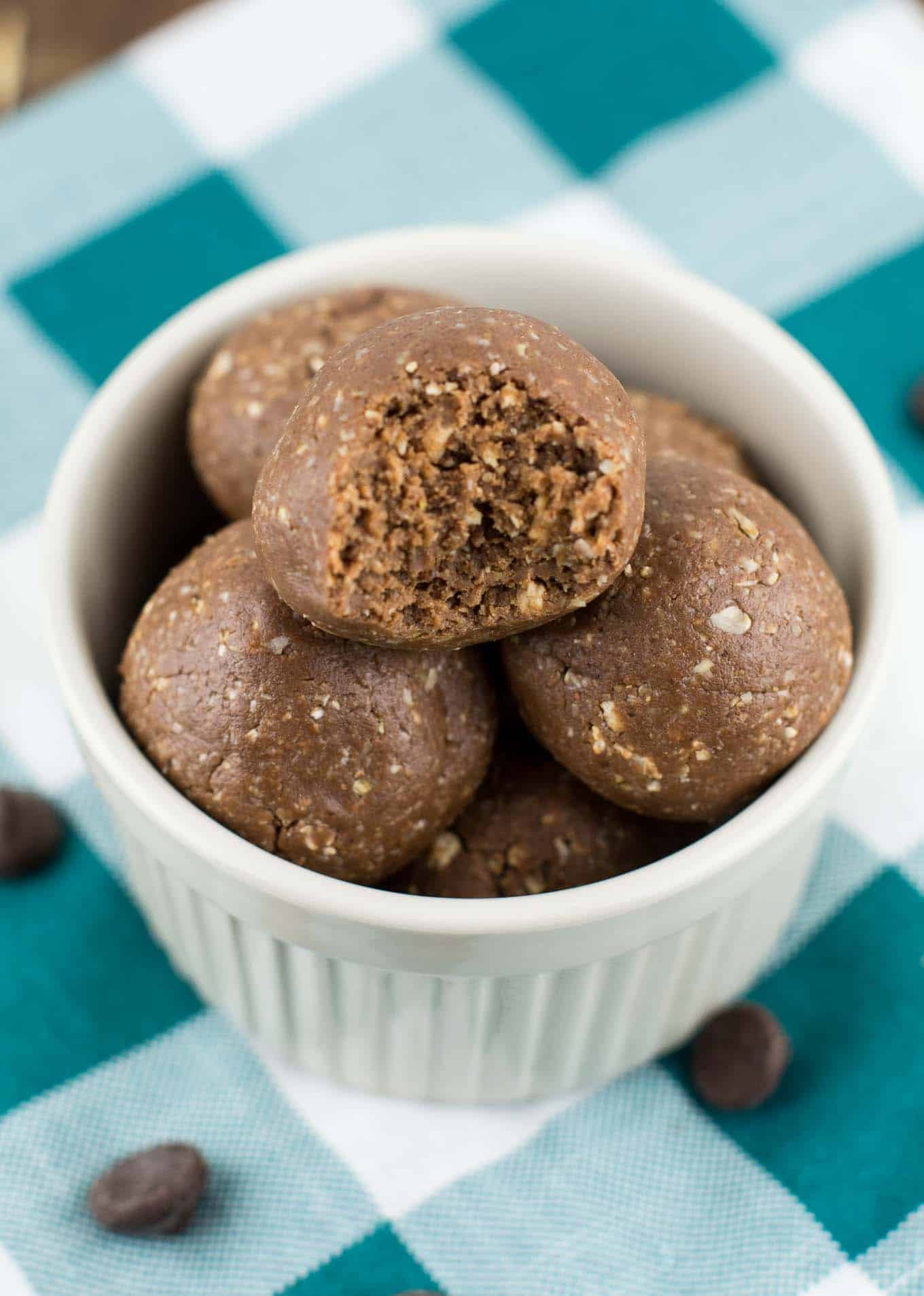 I love these protein balls because they taste like a rich dessert.
They are free of refined sugar and are good for you too!
I love eating these if I need a snack throughout the day, or as a dessert after a meal.
How to make chocolate peanut butter protein balls:
First, mix together peanut butter, maple syrup, and vanilla extract.
Add cacao powder and protein powder and mix until combined.
Add oat flour, cereal, and salt, and mix it all into a batter (the mixture should be crumbly).
Form batter into balls, and use your hands to roll them. Store in the fridge or freezer in an airtight container.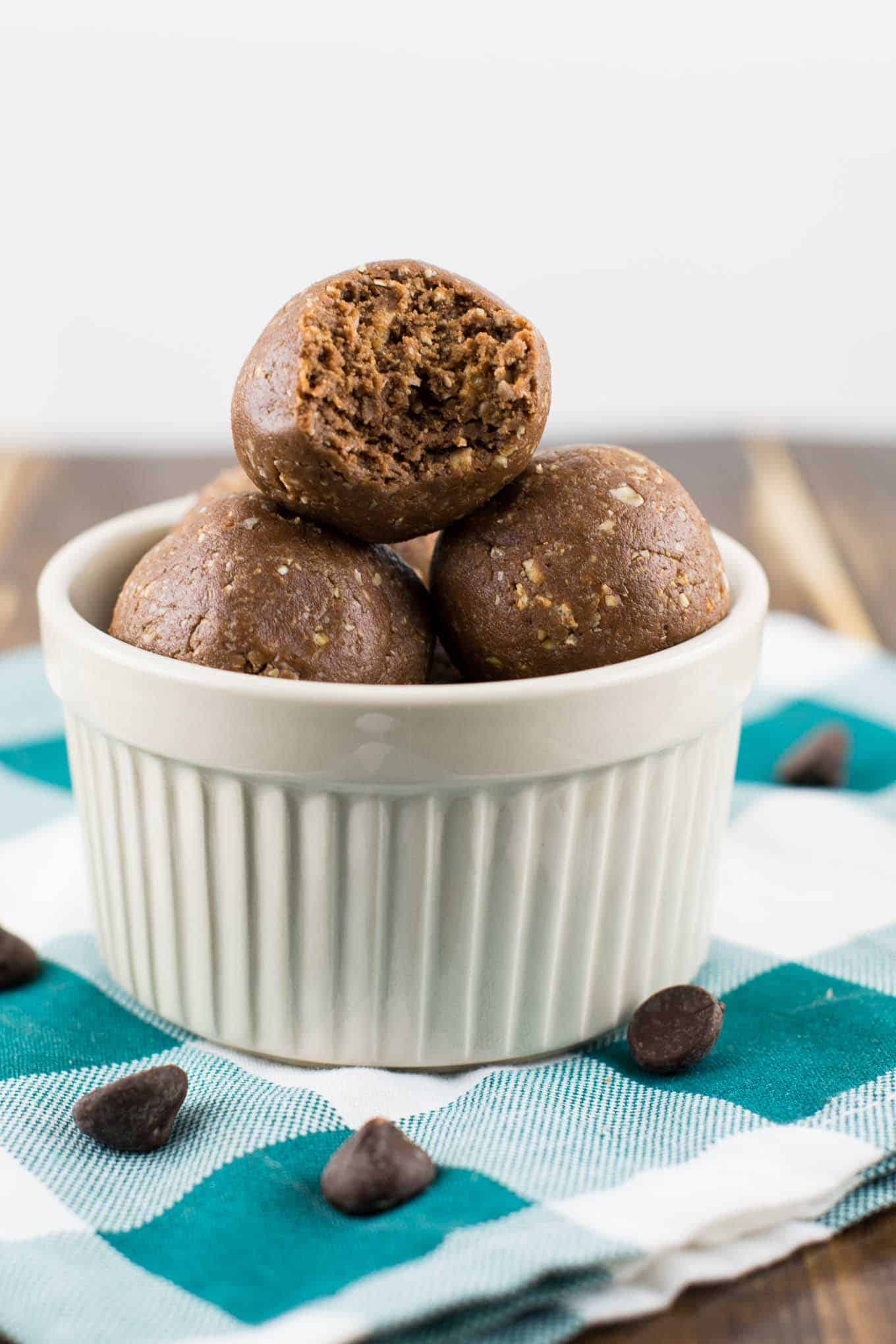 They're also great for a pre or post workout snack! I love the texture of these in the freezer, but you could also store them in the fridge.
Try these to replace those sugar-filled protein bars that are so easy to buy!
You might also like:
Pin these Chocolate Peanut butter Protein Balls:
Chocolate Peanut butter Protein Balls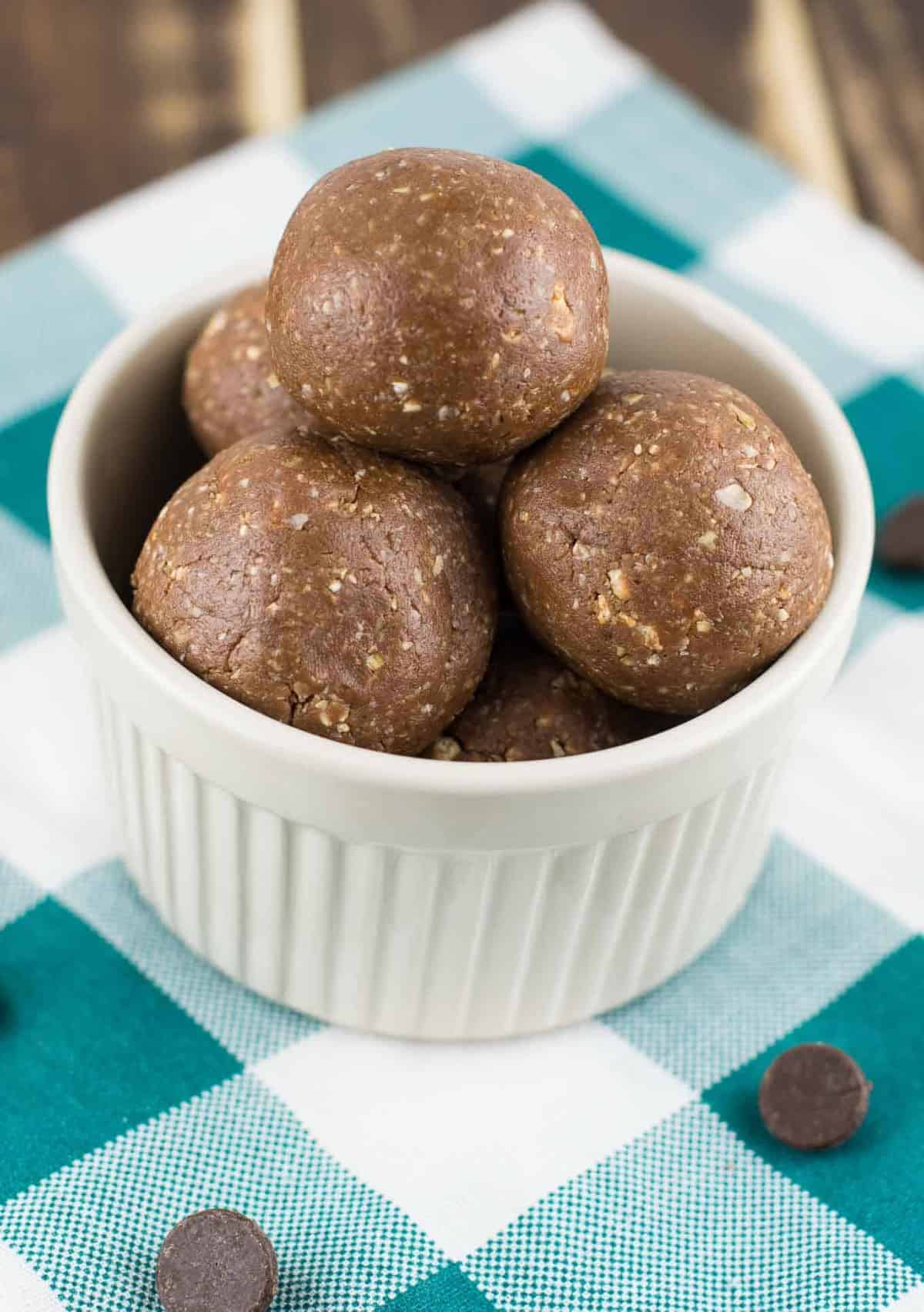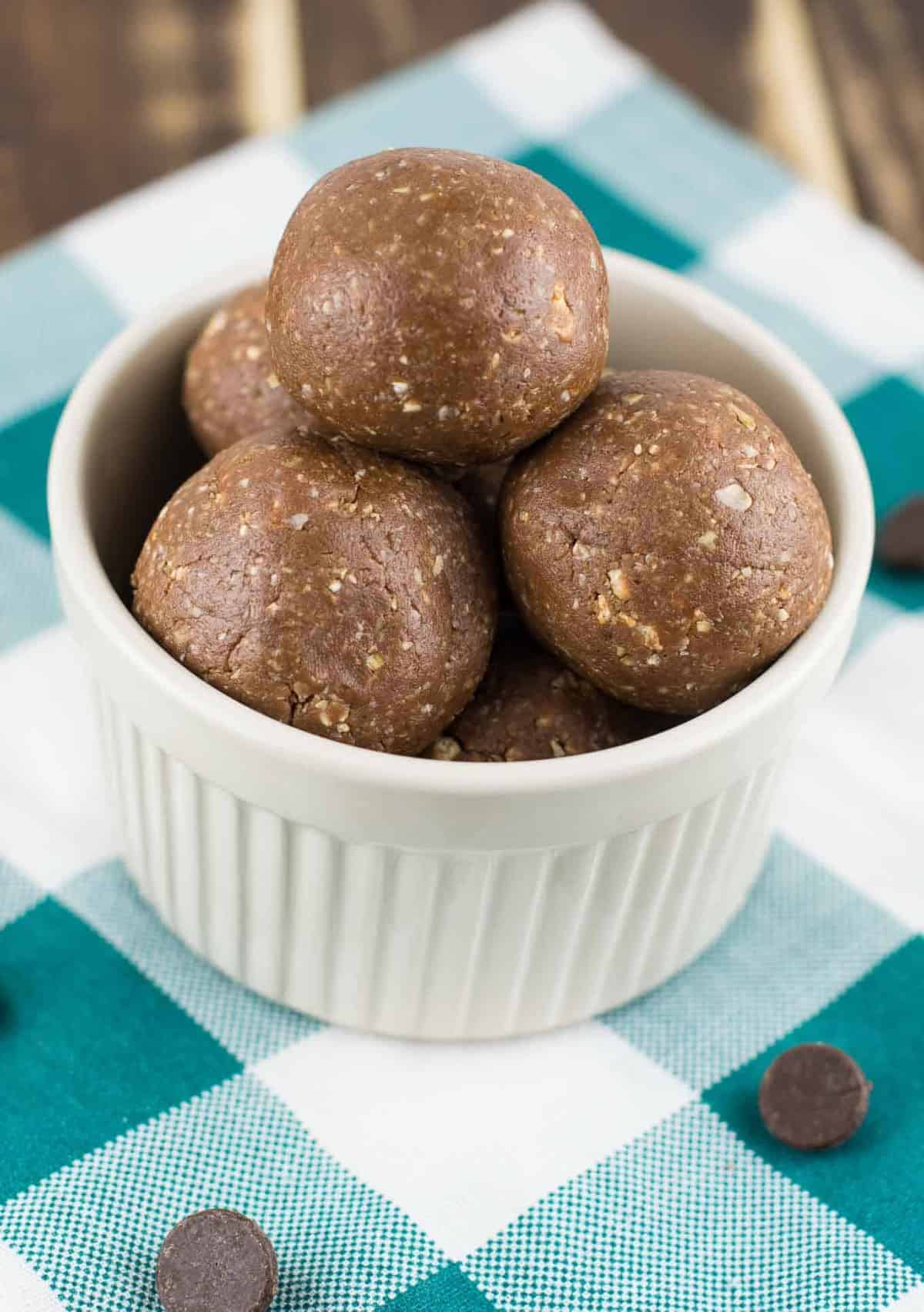 Healthy no bake chocolate peanut butter protein balls - perfect for a snack or dessert!
Ingredients
3 cups rolled oats (old fashioned oats)
1 cup protein powder (I use a vegan brown rice protein powder)
1/4 cup raw cacao powder (or substitute unsweetened cocoa powder)
1 cup crispy "cheerios" cereal (I use an unsweetened brand)
1 teaspoon sea salt
1 cup creamy peanutbutter
1 cup plus 2 tablespoons maple syrup
2.5 teaspoons vanilla extract
Directions
Using a hand mixer, beat together peanutbutter, maple syrup, and vanilla extract until smooth
Add raw cacao powder and protein powder and beat until combined
(I suggest taking a taste at this point - it seriously looks and tastes like frosting - I had a hard time making myself stop eating it!)
Using a blender, process oats into flour, add to wet ingredients
Process crispy cereal until a crumbly texture (not complete flour), and add to ingredients
Add salt and mix until everything is well combined
The mixture should be crumbly
Form and roll into balls and store in an airtight container in the freezer
Recipe Notes
You can make these in the food processor as well. Just add all dry ingredients and pulse, then add wet ingredients. I have found I like making them better with just a hand mixer, and so I have changed the instructions to reflect that method.
Loading nutrition data...
Did you make this recipe? Be sure to leave a star rating below!