Easy Cauliflower Alfredo Sauce Recipe with fresh garlic and parmesan. A sauce so incredibly delicious you will want to lick it from the spoon! Try this veggie packed sauce for a healthier alternative to traditional alfredo sauce.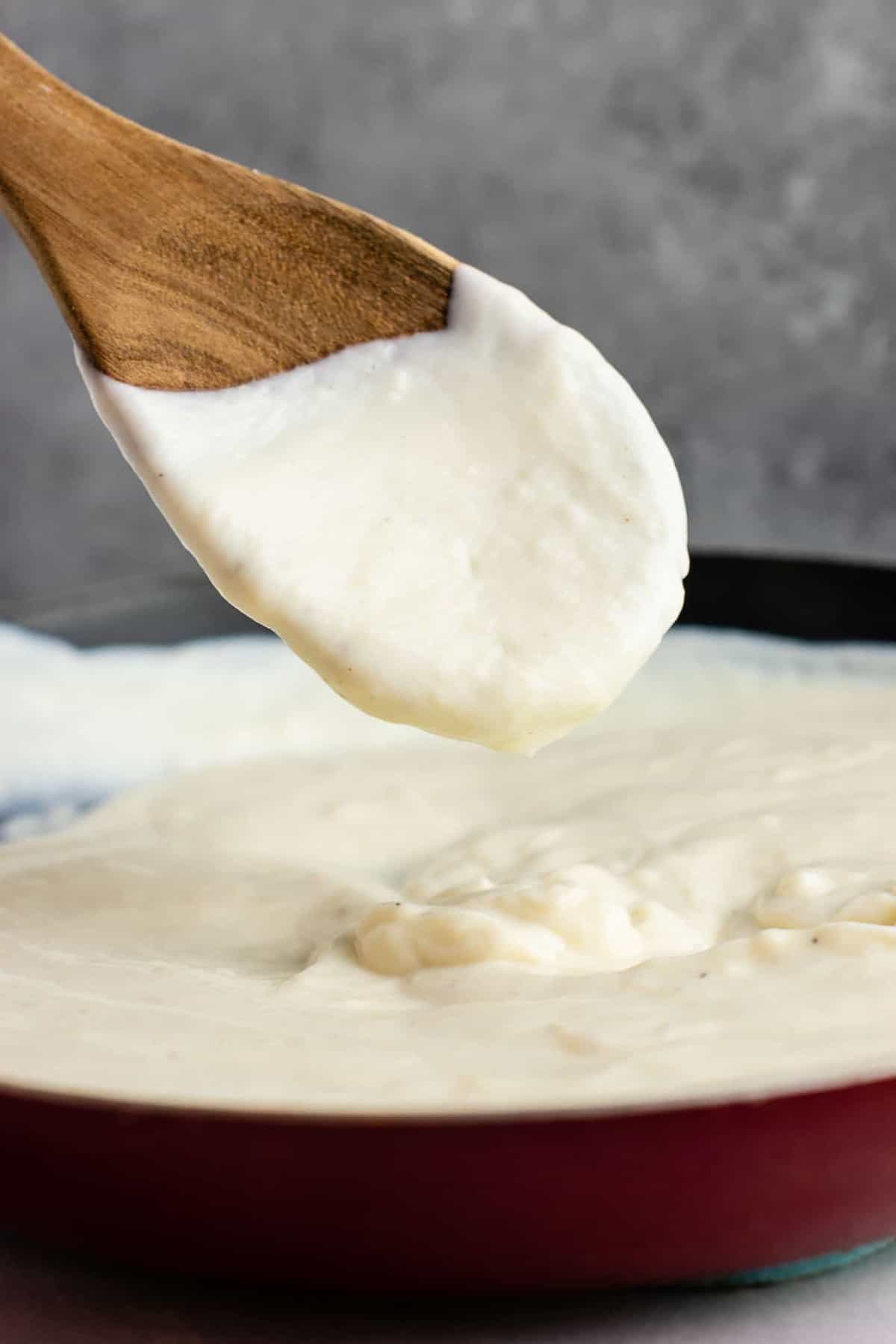 This cauliflower alfredo sauce has fast become one of my favorite sauces to make.
I can't wait to share the recipe with you today!
It is velvety smooth, rich and cheesy, and secretly full of veggies.
Now that's a winning combination in my book!
How to make cauliflower alfredo sauce
First, cut up your cauliflower into florets and steam with the whole garlic cloves until fork tender.
Read my post on How to Steam Cauliflower for the easy method that I use instead of an actual steamer.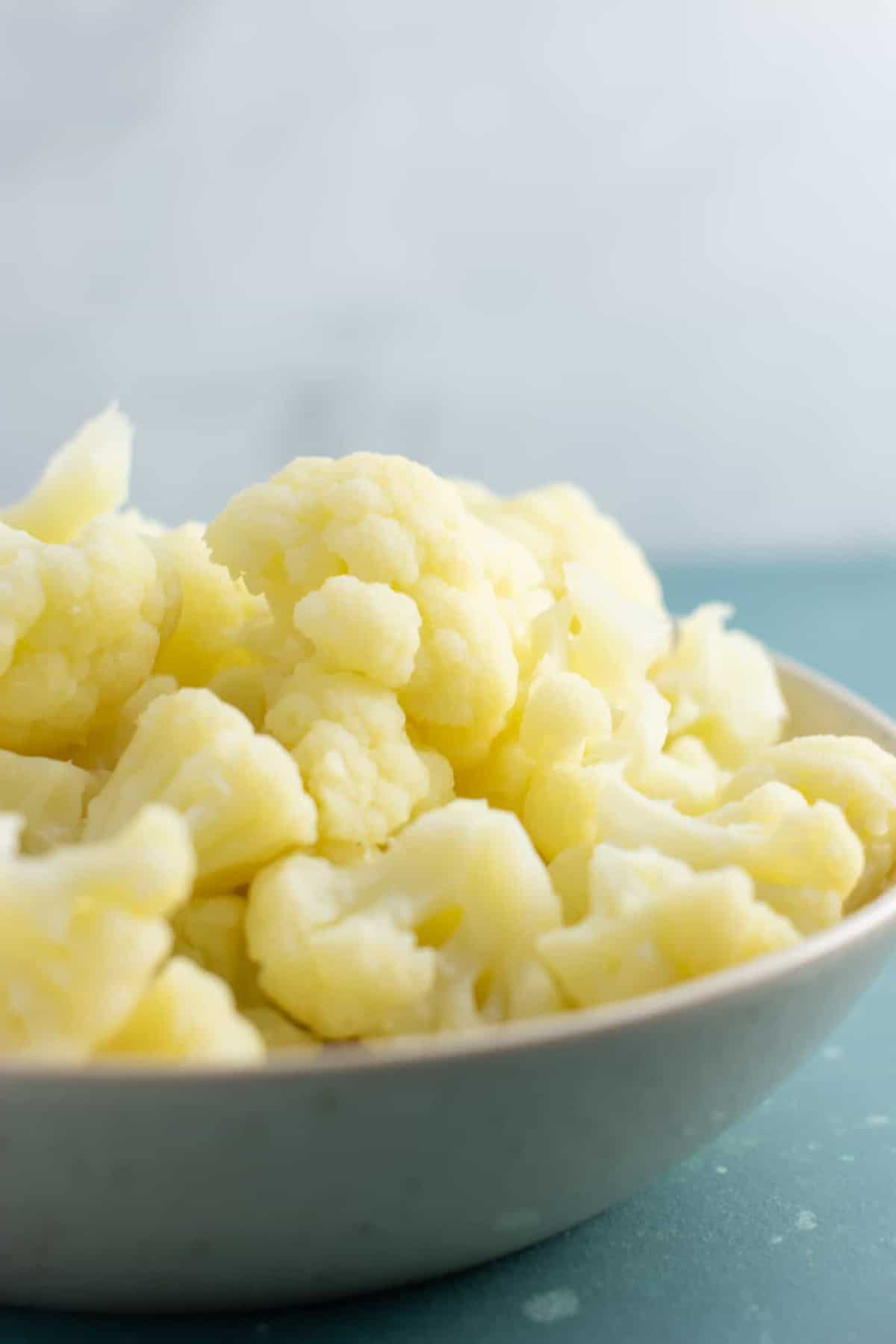 Once the cauliflower is steamed, add milk, cauliflower, and garlic to a blender or food processor and blend until smooth.
I suggest using a high powered blender like a vitamix or blendtec for best results. This will result in velveety smooth texture with no lumps or gritty taste.
Transfer the sauce from the blender to a large skillet or pot.
Heat sauce to medium high and cornstarch. Whisk until sauce thickened (around 5 minutes).
Stir in your freshly grated parmesan, salt, and pepper to taste.
Continue stirring until thick and creamy.
Serve over pasta of choice! We love shells, fettuccini, or elbow noodles. Any pasta would work!
I do not lie to you when I say this is one of the most incredible things I have EVER tasted.
I basically want to just drink this cauliflower sauce from a bowl and just call it soup!
It is so very insanely creamy and decadent.
Every recipe that I share on my blog is one that I have personally tried, tested, and enjoyed.
However, I am human and definitely play favorites.
This Easy Cauliflower Alfredo Sauce pretty much just shot straight up to my top 10 list.
If you make only one new recipe this week, please make this!
It is absolutely incredible and does not taste like it is packed full of veggies! My toddler happily ate this one too.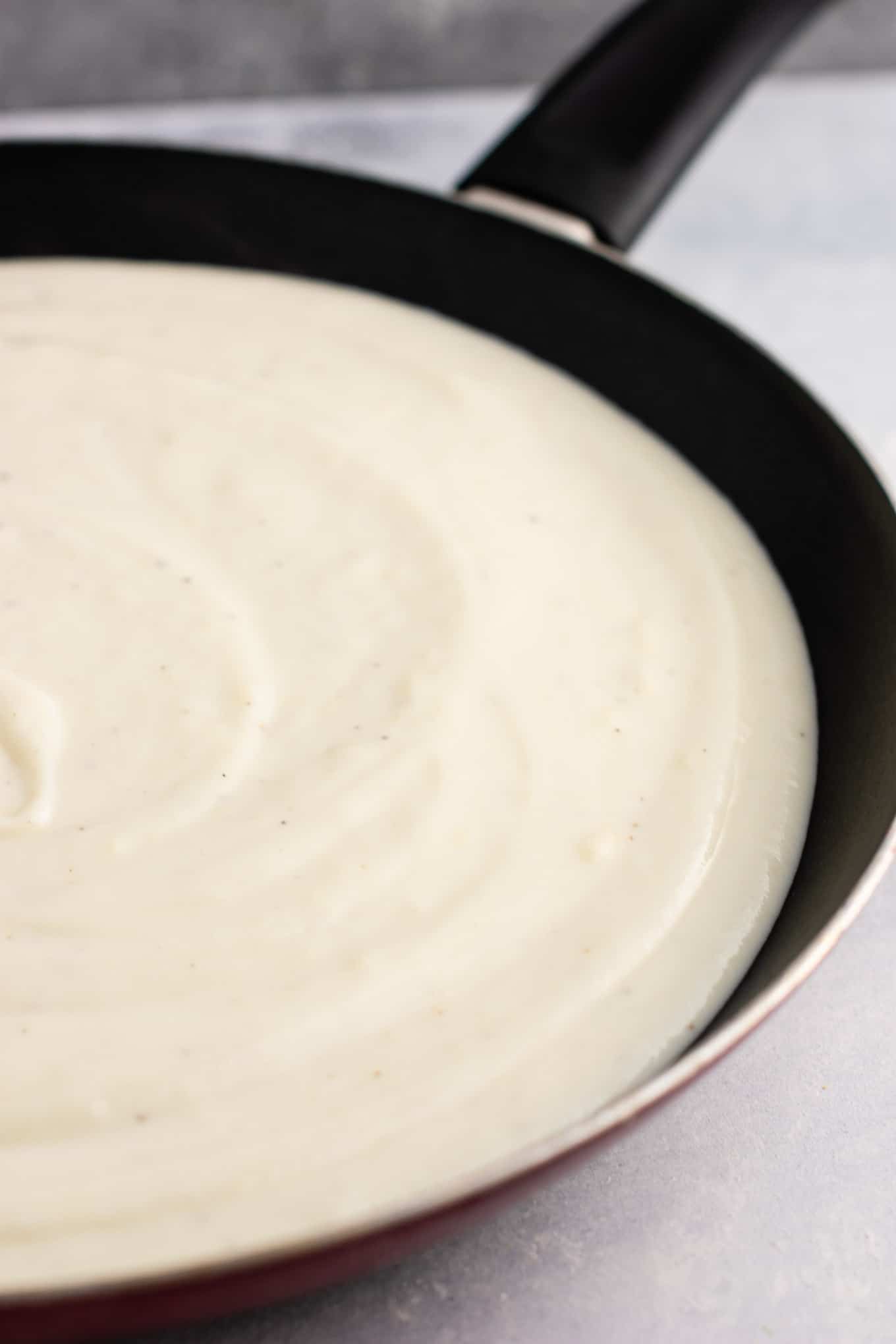 The sauce is so insanely flavorful that I was licking the spoon…I lost count of how many times.
I am one of those people who needs their food to be the perfect temperature when I eat it (in this case hot), however I was totally licking the spoon of cold sauce while putting away leftovers (#noshame.)
This recipe gave me another reason to love my blendtec.
It's perfect for helping get that perfectly smooth texture of the sauce.
You can use a food processor, but be warned that it might not be able to get the sauce perfectly smooth.
I have made it both ways and prefer the texture from using my blender.
There is no grit and no chunks, just super smooth and delicious cauliflower sauce!
We served it over shell pasta (Crosby's favorite). Any pasta you have on hand will work!
You can also serve it over fettuccine for easy fettuccine alfredo.
I've always been a cauliflower lover, but this recipe turned me into addict status.
Between this recipe and my roasted cauliflower shells and cheese, I could eat it all week long!
I made this cauliflower alfredo sauce to use as a base in my Cauliflower Alfredo Pasta Bake and it's basically LIFE CHANGING.
I could eat this sauce as a soup. By itself. Every single day.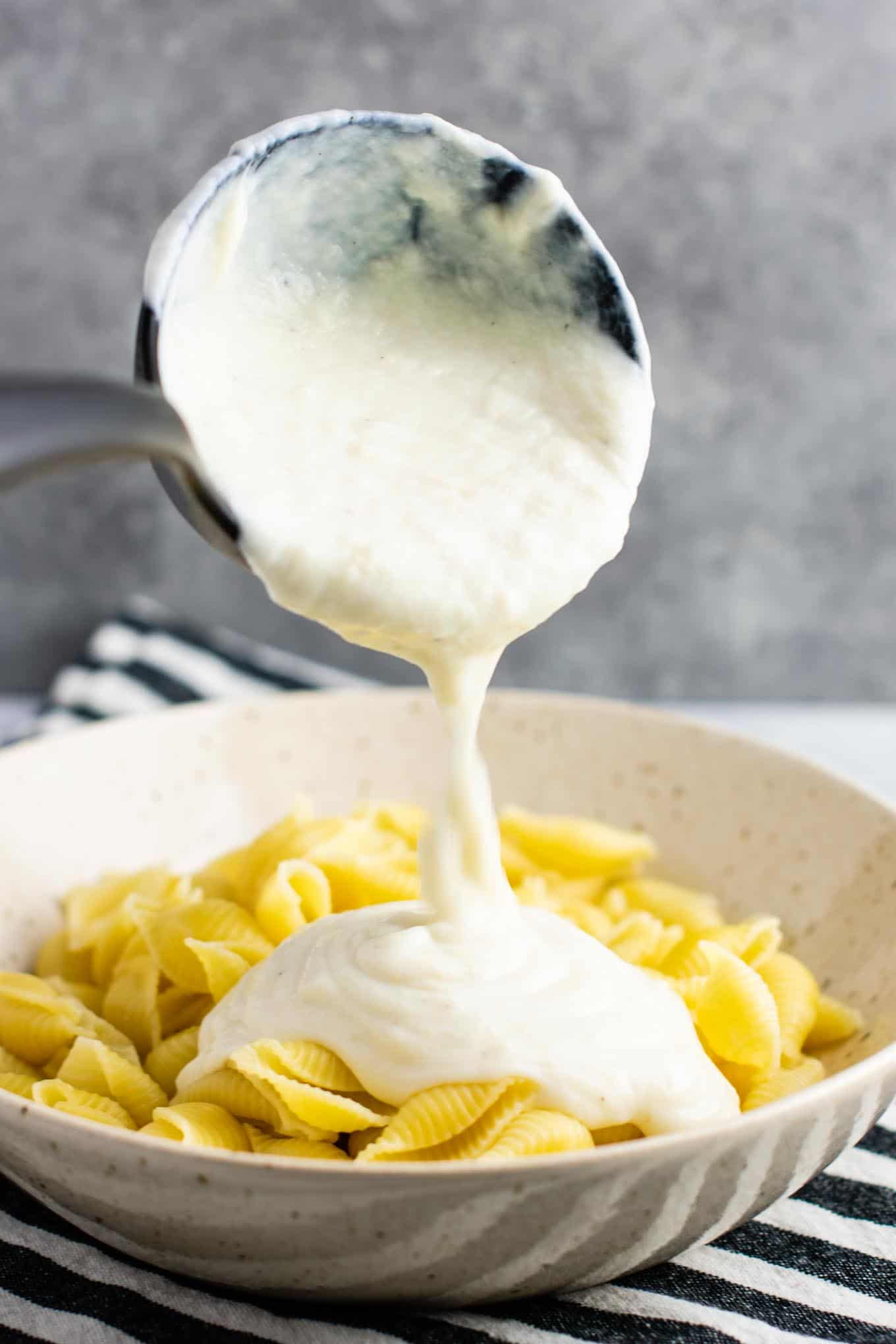 Seriously such an easy to make sauce with tons of hidden veggies (try this one on your kids!)
I sound like a broken record here, but I just can't get enough.
I'm even thinking of putting it on pizza for the sauce!
This sauce is super thick and makes a large batch, so there's plenty to go around!
It easily makes enough for 1 pound of pasta, or more if you don't use a ton of sauce (I'm all #teamextrasauce though)
Delicious ways to eat cauliflower
Looking for more ways to enjoy cauliflower? Here are the reader favorites recipes and tips!
Pin this Easy Cauliflower Fettuccine Alfredo:
Are you making this recipe? I want to see! Be sure to tag me on instagram @buildyourbite and hashtag #buildyourbite!
Did you make this recipe? Be sure to leave a star rating below!
Cauliflower Alfredo Sauce Recipe:
Yield: 6 servings
Cauliflower Alfredo Sauce Recipe
Easy Cauliflower Alfredo Sauce Recipe with fresh garlic and parmesan. So insanely delicious you'll want to lick it from the spoon!
Ingredients
1 head of cauliflower, cut into florets/chunks
10 cloves of garlic, left whole
3 cups 2% milk
1 1/2 teaspoons salt
1 teaspoon pepper
3 tablespoons cornstarch
1 1/2 cups freshly grated parmesan
Instructions
Steam cauliflower florets and whole garlic cloves together until fork tender. Read my post on How to Steam Cauliflower for how to steam cauliflower without a steamer.
Once soft, add cauliflower and garlic to a high speed blender
Add milk and puree until smooth
Transfer sauce to a large skillet or pot
Heat to medium high and add cornstarch
Whisk until thickened (5 ish minutes)
Stir in parmesan, salt, and pepper
Continue stirring until nice and thick
Serve over pasta of choice
Recommended Products
As an Amazon Associate and member of other affiliate programs, I earn from qualifying purchases.
Nutrition Information:
Yield:
6
Serving Size:
1
Amount Per Serving:
Calories:

214
Total Fat:

10g
Saturated Fat:

6g
Trans Fat:

0g
Unsaturated Fat:

3g
Cholesterol:

31mg
Sodium:

1061mg
Carbohydrates:

20g
Fiber:

3g
Sugar:

8g
Protein:

13g