Easy Cauliflower Fettuccine Alfredo Recipe with fresh garlic and parmesan. A sauce so insanely delicious you'll want to lick it from the spoon!
Last night for dinner I decided to try my hand at Cauliflower Alfredo Fettuccine.
While I originally had planned on making a sweet potato alfredo sauce, my local Kroger was completely out of every sweet potato (like how??)
Am I the only one that gets super annoyed when you meal plan down to the ingredient only to not be able to buy everything you need? (I know, I know – first world problems.) But really, it is one of my pet peeves!
In this particular instance, it turned out to be a happy event though, as I decided on cauliflower alfredo sauce instead (since I could actually buy cauliflower.)
I do not lie to you when I say this is one of the most incredible things I have EVER tasted.
Every recipe that I share on my blog is one that I have personally tried, tested, and enjoyed.
However, I am human and definitely play favorites.
This Easy Cauliflower Fettuccine Alfredo pretty much just shot straight up to my top 10 list.
If you make only one new recipe this week, please make this!
The sauce is so insanely flavorful that I was licking the spoon…I lost count of how many times.
I am one of those people who needs their food to be the perfect temperature when I eat it (in this case hot), however I was totally licking the spoon of cold sauce while putting away leftovers (#noshame.)
I have never attempted cauliflower alfredo because I do not have a vitamix/blendtec/ other high powered blender.
I found in this recipe that it's totally not necessary.
I simply steamed the garlic and cauliflower, then pureed with milk in a food processor.
Is the texture completely smooth? No. But it's so creamy and not at all gritty.
We served it over fettuccine and topped with extra parmesan cheese and fresh chopped parsley.
I've always been a cauliflower lover, but this recipe turned me into addict status.
I could eat this sauce as a soup. By itself. Every single day.
After you puree the garlic and cauliflower, you will add in cornstarch, parmesan, salt and pepper and THAT'S IT.
Seriously such an easy to make sauce with tons of hidden veggies (try this one on your kids!)
I sound like a broken record here, but I just can't get enough.
I'm already planning all of the recipes I want to make using this sauce, such as a roasted veggie cauliflower alfredo bake with penne.
I'm even thinking of putting it on pizza for the sauce!
This sauce is super thick and makes a large batch, so there's plenty to go around!
It easily makes enough for 1 pound of pasta, or more if you don't use a ton of sauce (I'm all #teamextrasauce though)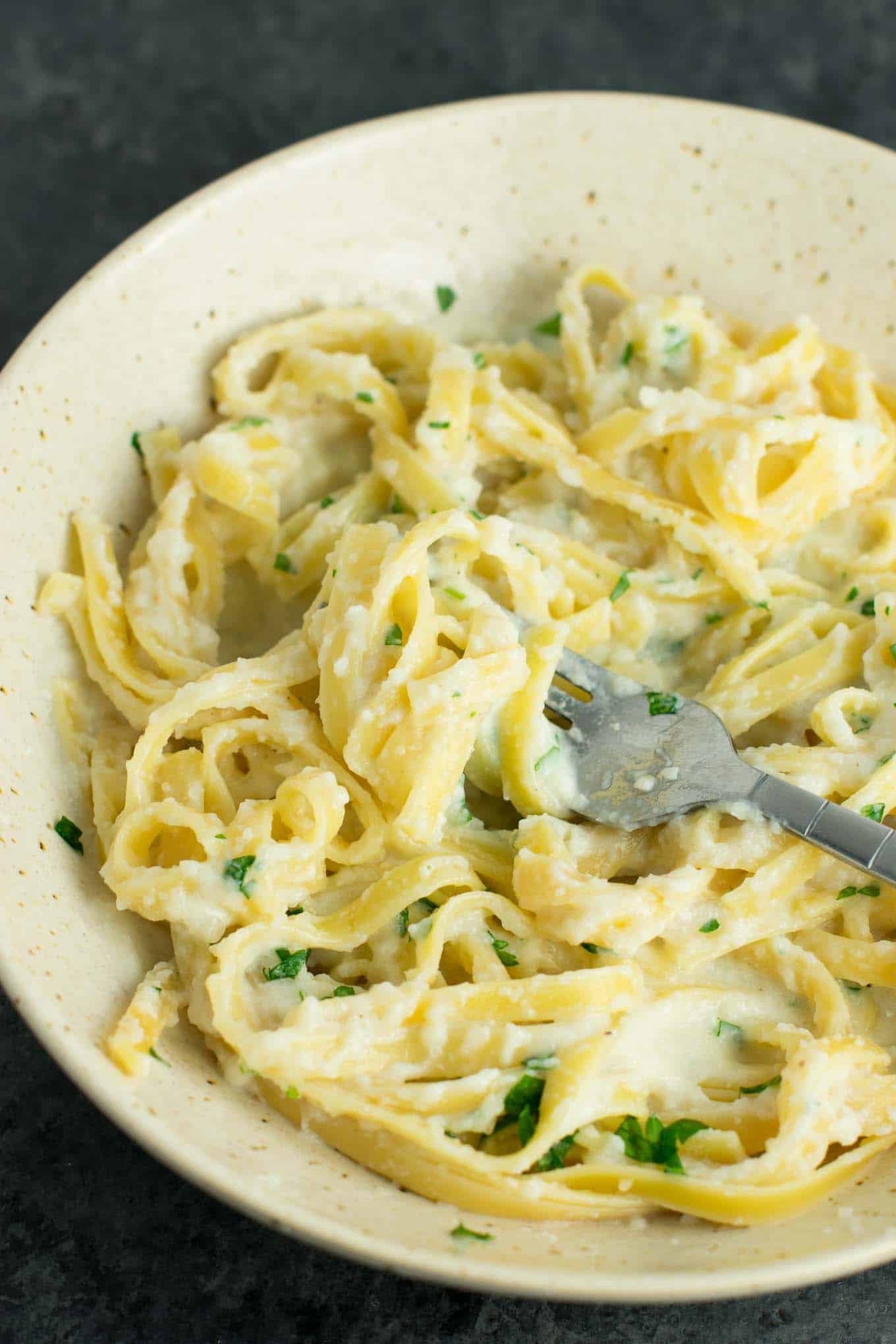 Pin this Easy Cauliflower Fettuccine Alfredo:
Easy Cauliflower Fettuccine Alfredo Recipe
Easy Cauliflower Fettuccine Alfredo Recipe with fresh garlic and parmesan. A sauce so insanely delicious you'll want to lick it from the spoon!
Ingredients
1 head of cauliflower, cut into florets/chunks
10 cloves of garlic, left whole
3 cups 2% milk
1 1/2 teaspoons salt
1 teaspoon pepper
2 tablespoons cornstarch
1 cup freshly grated parmesan
1 lb fettuccine
Directions
Steam cauliflower florets and whole garlic cloves together until fork tender
Cook pasta according to package instructions
Once soft, add cauliflower and garlic to a food processor or blender
Add milk and puree until smooth
Transfer sauce to a large skillet or pot
Heat to medium high and add 2 tablespoons of cornstarch
Whisk until thickened (5 ish minutes)
Stir in parmesan, salt, and pepper
Continue stirring until nice and thick
Serve over fettuccine or pasta of choice
Loading nutrition data...