Learn how to steam cauliflower with this simple method. Steamed cauliflower is so versatile and can be used in many recipes!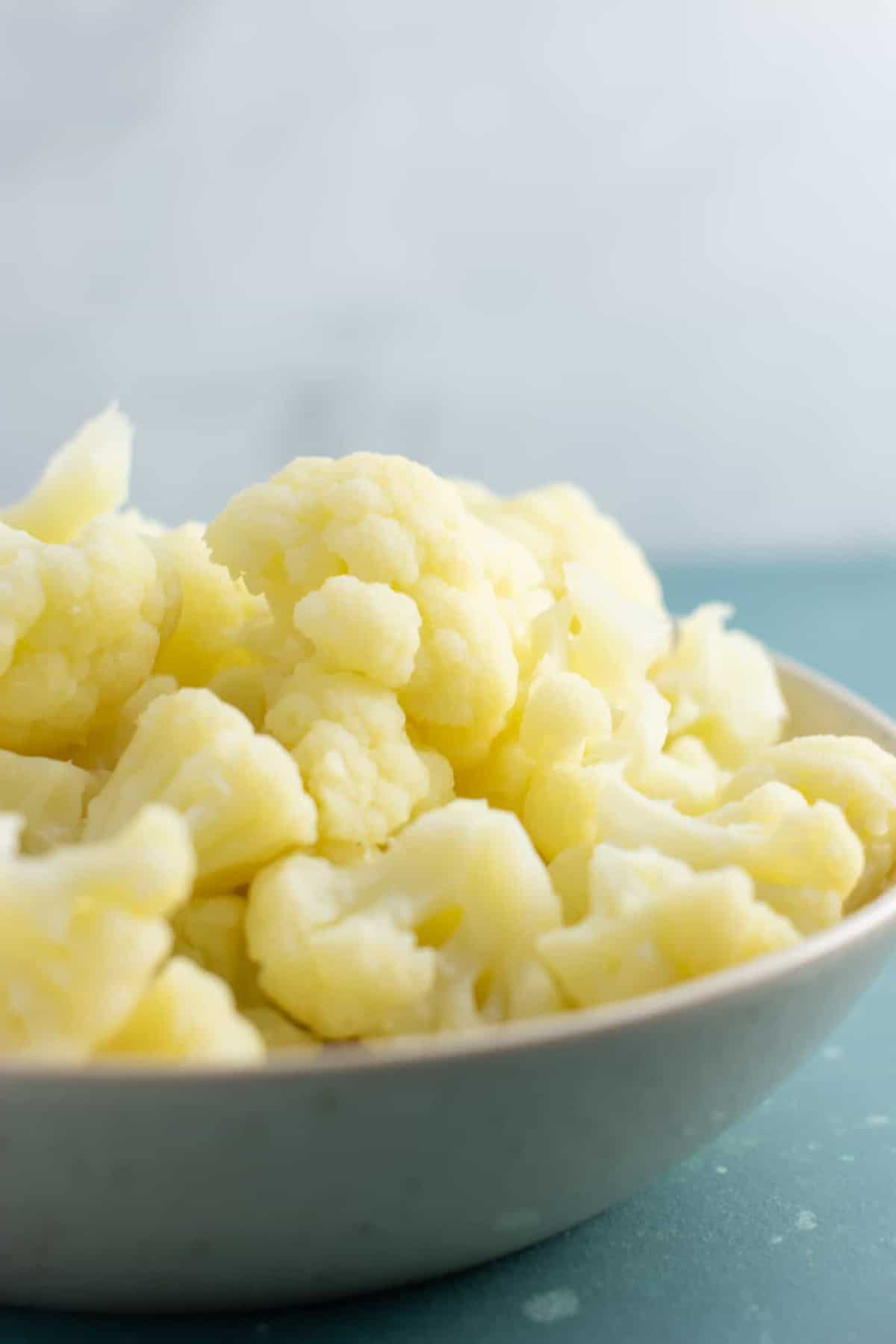 One of my favorite ways to eat cauliflower is to steam it.
Steamed cauliflower can be used for so many things – from side dishes to mixed in pasta, turned into sauce, cauliflower rice, and more!
I'm going to share my easy method for steaming perfect cauliflower (no steamer needed!)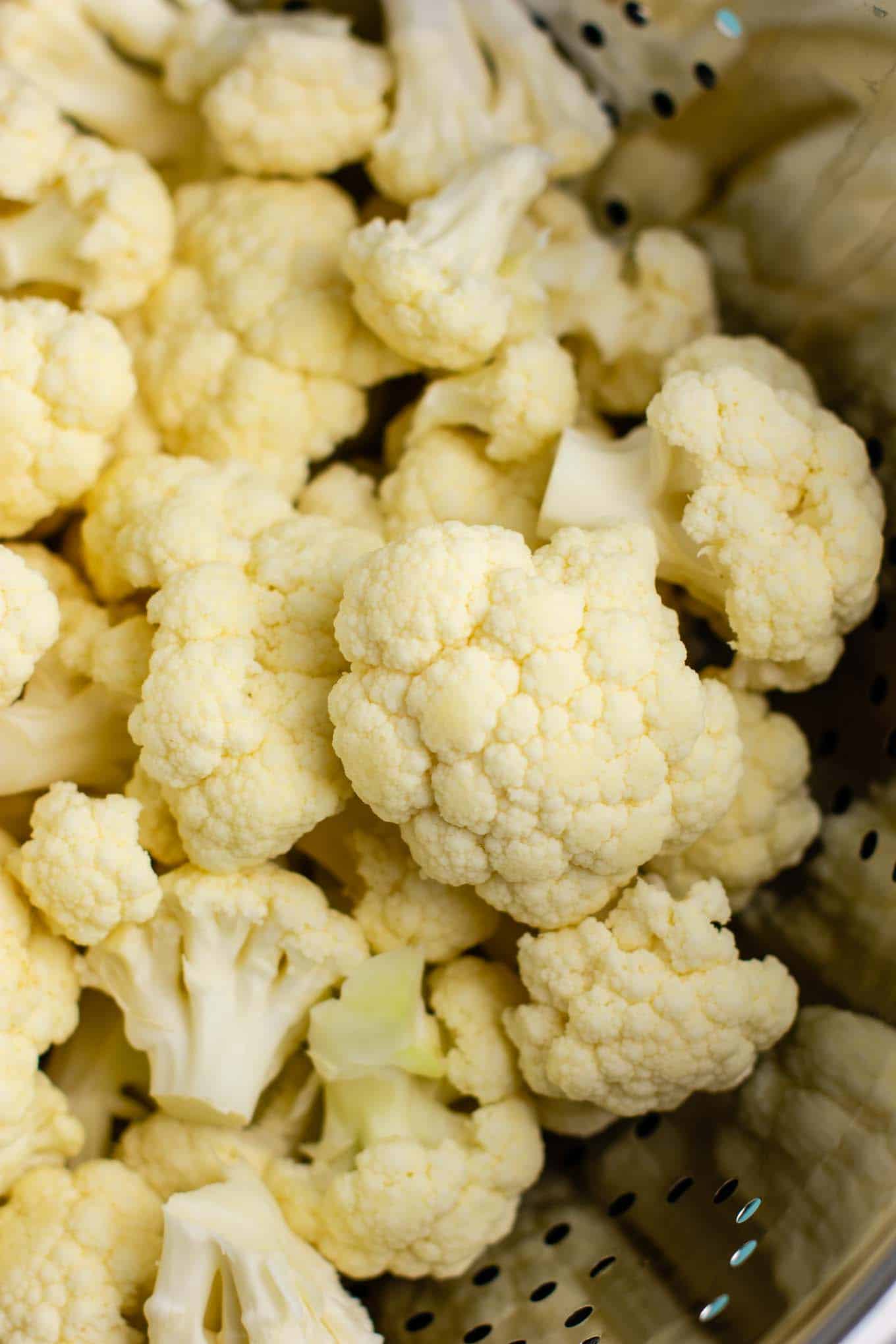 How to steam cauliflower
Step 1: Cut up your cauliflower into florets.
Step 2: Place the raw cauliflower florets into the metal strainer.
Step 3: Place a few inches of water into the bottom of the pot.
The only kitchen tools you will need are a medium sized pot and fitting lid, and a metal strainer/colander.
The size pot you need will probably be the one that you cook spaghetti in.
Medium sized, holds a lot, but it does not need to be huge.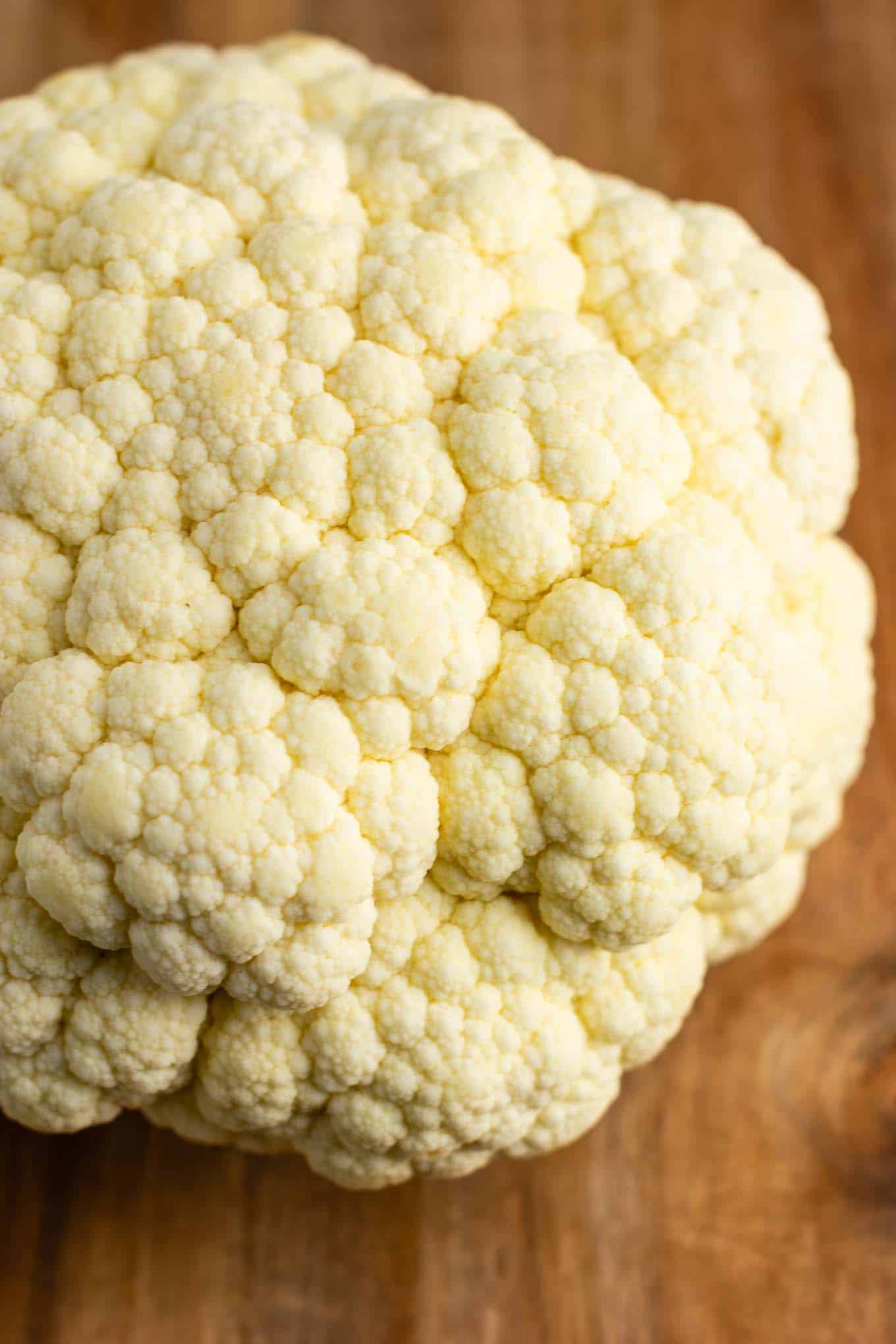 You want to make sure that your strainer fits into the pot nicely, but leaves several inches of space at the bottom for the water.
Once you cut up your cauliflower, it's time to steam!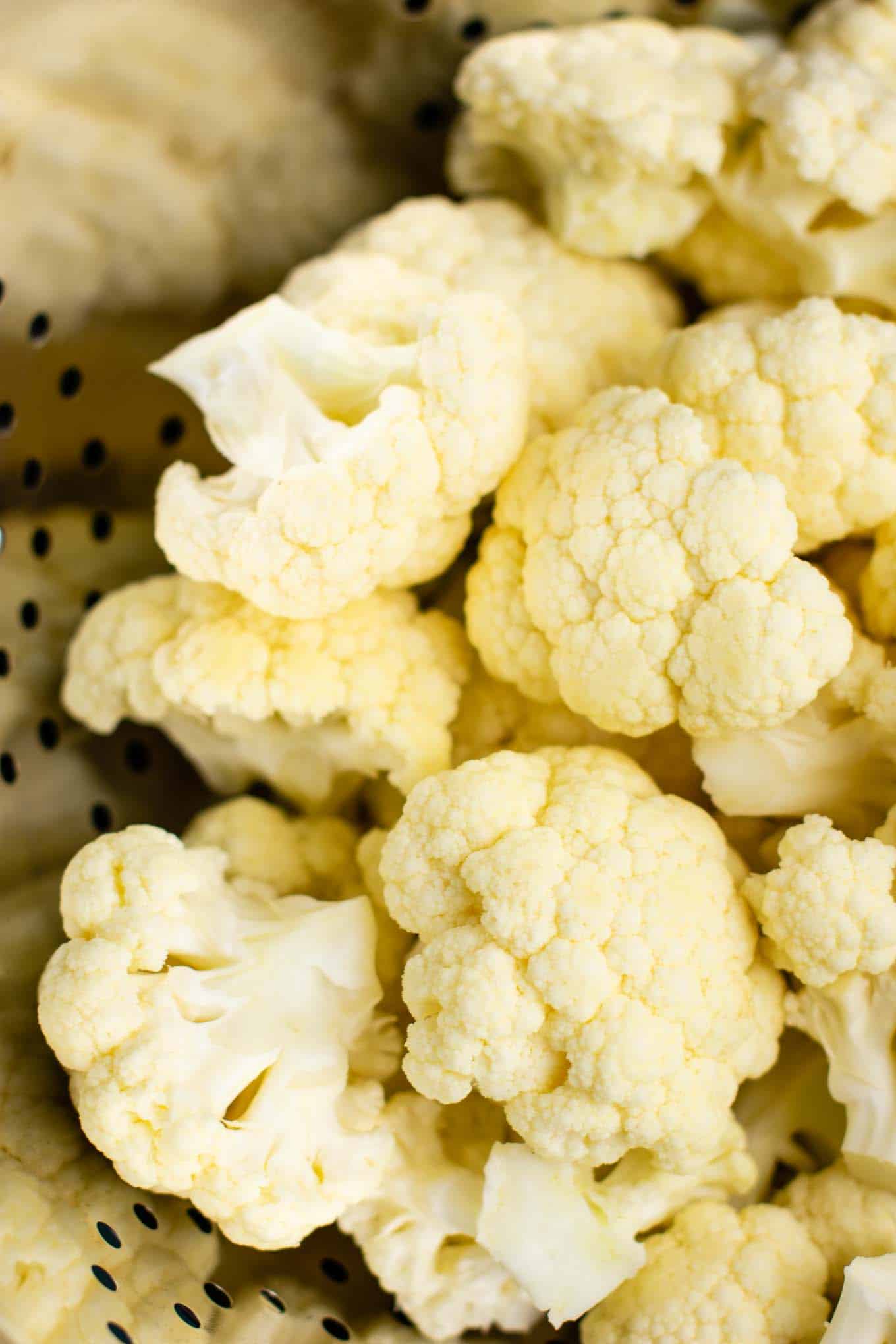 Place the lid over the cauliflower so that it covers the top.
This traps the steam which will cook the cauliflower.
This method is perfect for me because it uses kitchen pots and pans that I use in everyday life.
I once purchased an actual steamer, and it was such a pain to use and clean that I just stopped using it all together.
This method works better for me and is so simple to do.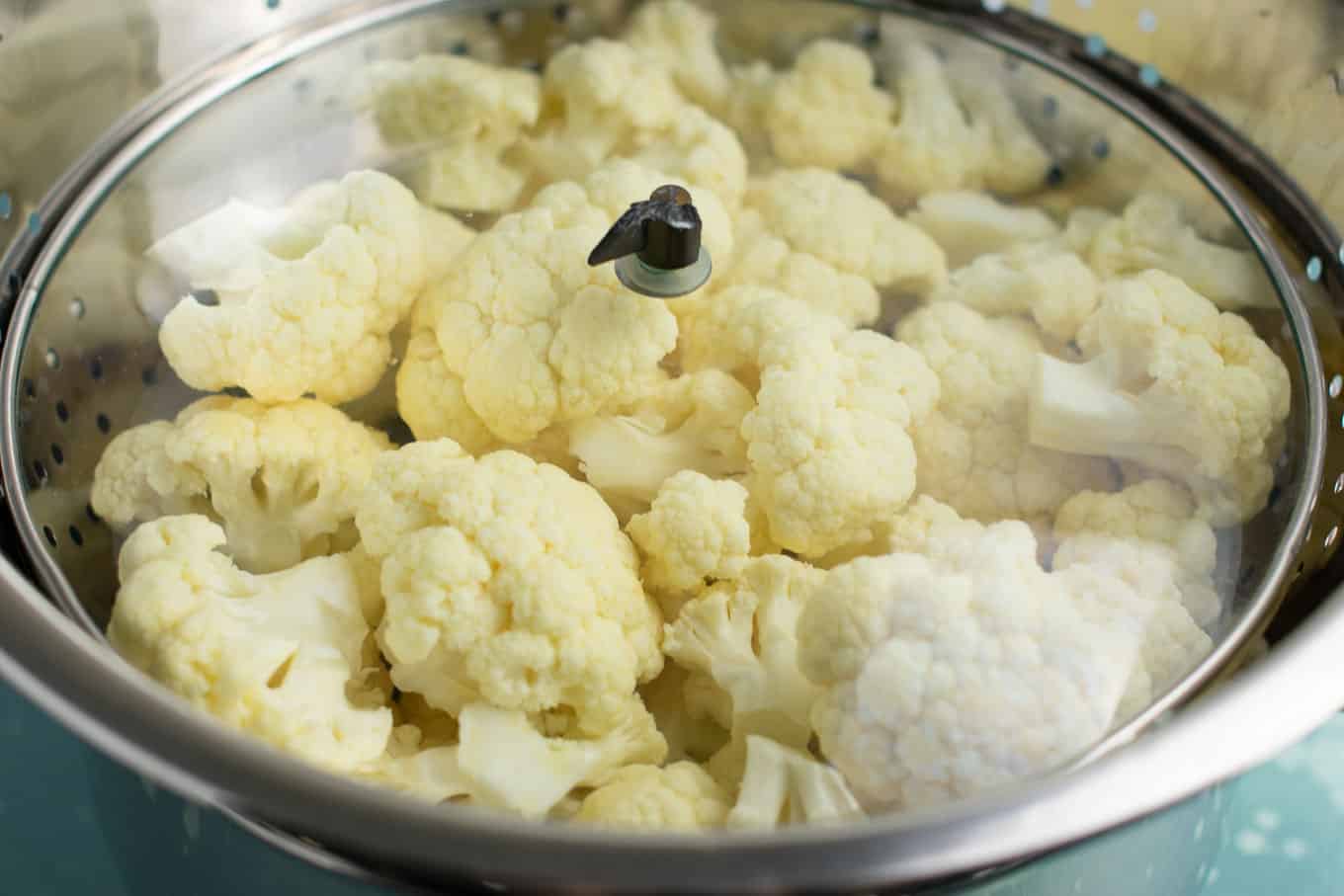 Tip: do not let the water evaporate
The only thing that you need to watch out for when steaming this way is that the water does not all evaporate.
Every 5 or 10 minutes, check the pot to make sure there is still water in the bottom.
If it gets low you need to add some more. If the water evaporates, you may end up with a burnt pan.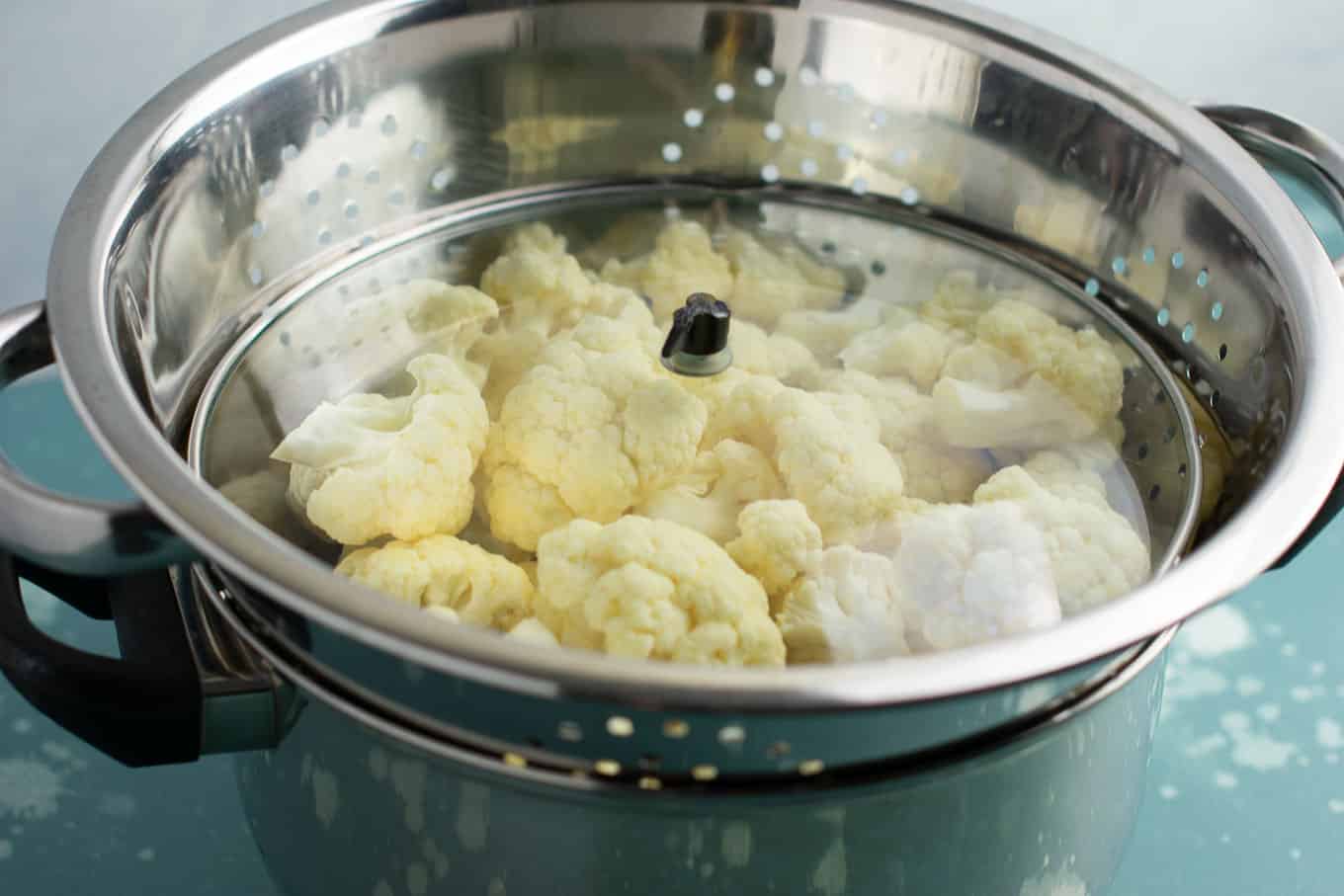 how long to steam cauliflower
Anywhere from 15 – 30 minutes can be how long to steam cauliflower.
This will depend on how you want your cauliflower for the dish you are making.
If you are making cauliflower rice, or want your cauliflower with a little bit of texture still, check often after 10 or 15 minutes until it is cooked to your liking.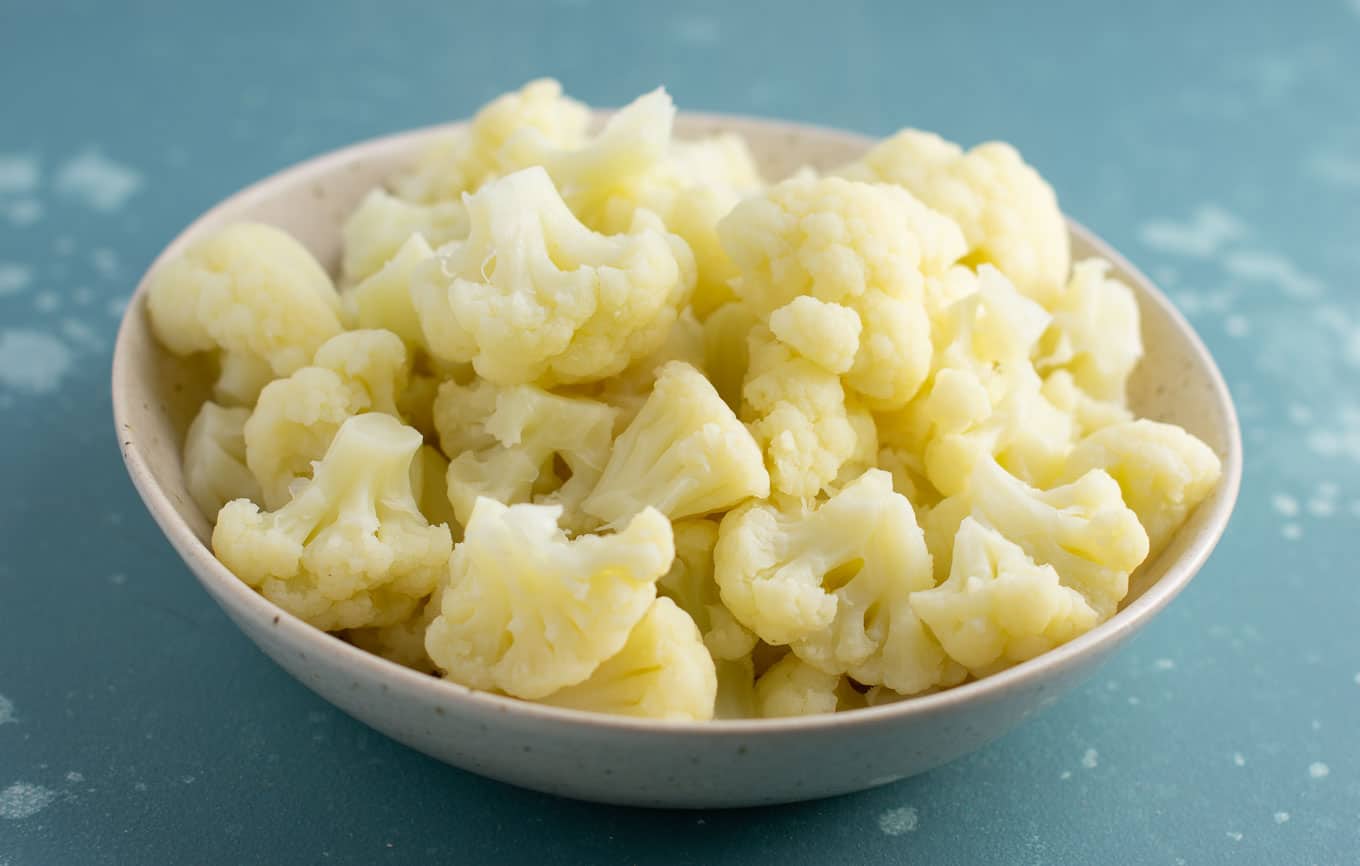 For me, I usually steam my cauliflower for around 20 – 30 minutes, until it is fork tender.
I know that it's done when I can easily run a fork through it and the cauliflower falls right apart.
Ways to eat steamed cauliflower
There are so many options! Here are a few favorites of mine.
1. Make it into cauliflower alfredo sauce – this is my FAVORITE way to eat cauliflower.
You will not believe how incredibly decadent this sauce is!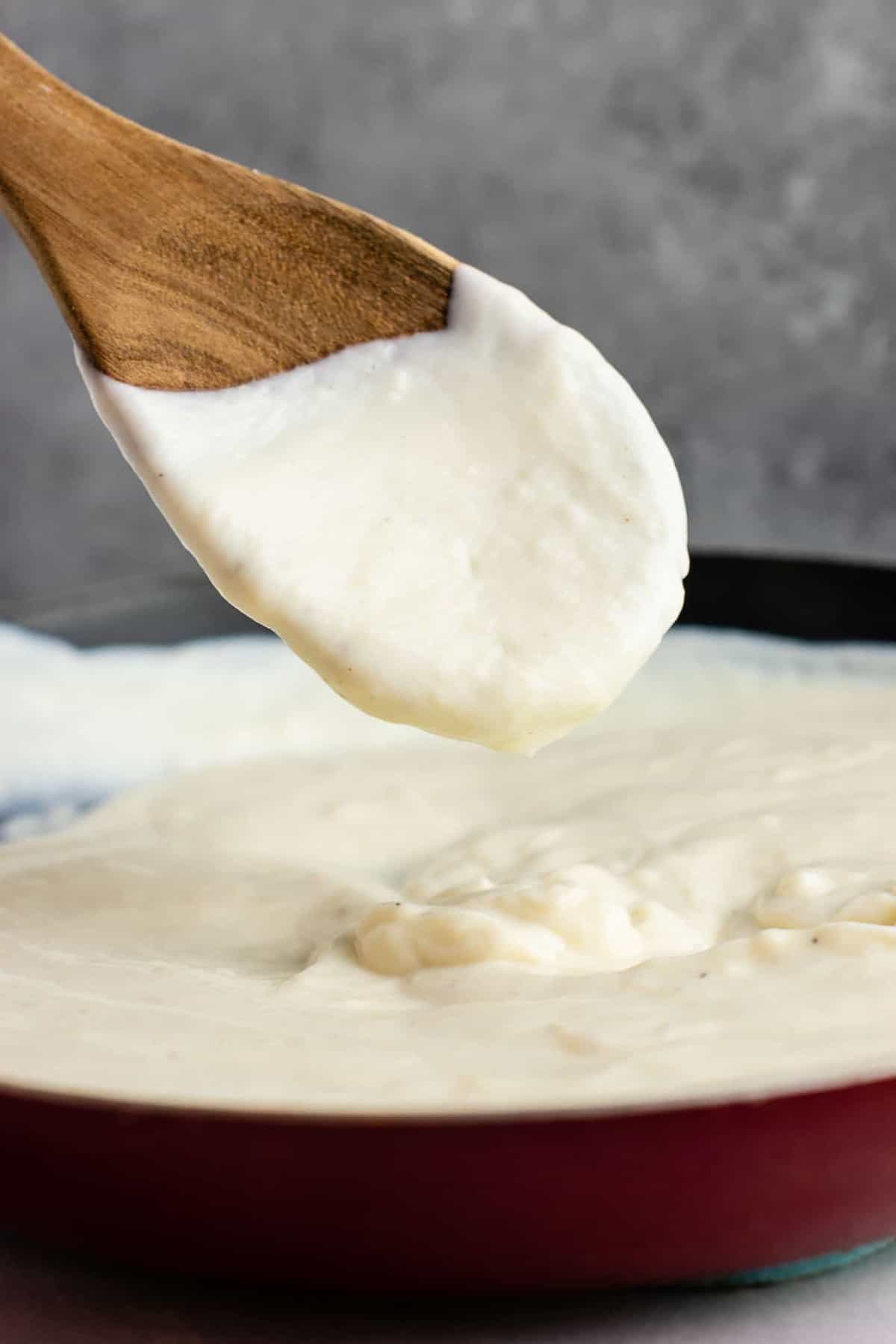 2. Pair with veggies and penne for this mushroom cauliflower alfredo pasta bake – total comfort food!
3. Serve with melted butter, salt, pepper and any other spices you love for a healthy and delicious side dish!
4. Run a knife through it and dice it up to form already cooked cauliflower rice (I do this a lot with stir fry recipes!)
5. Top it with this easy cheese sauce for veggies.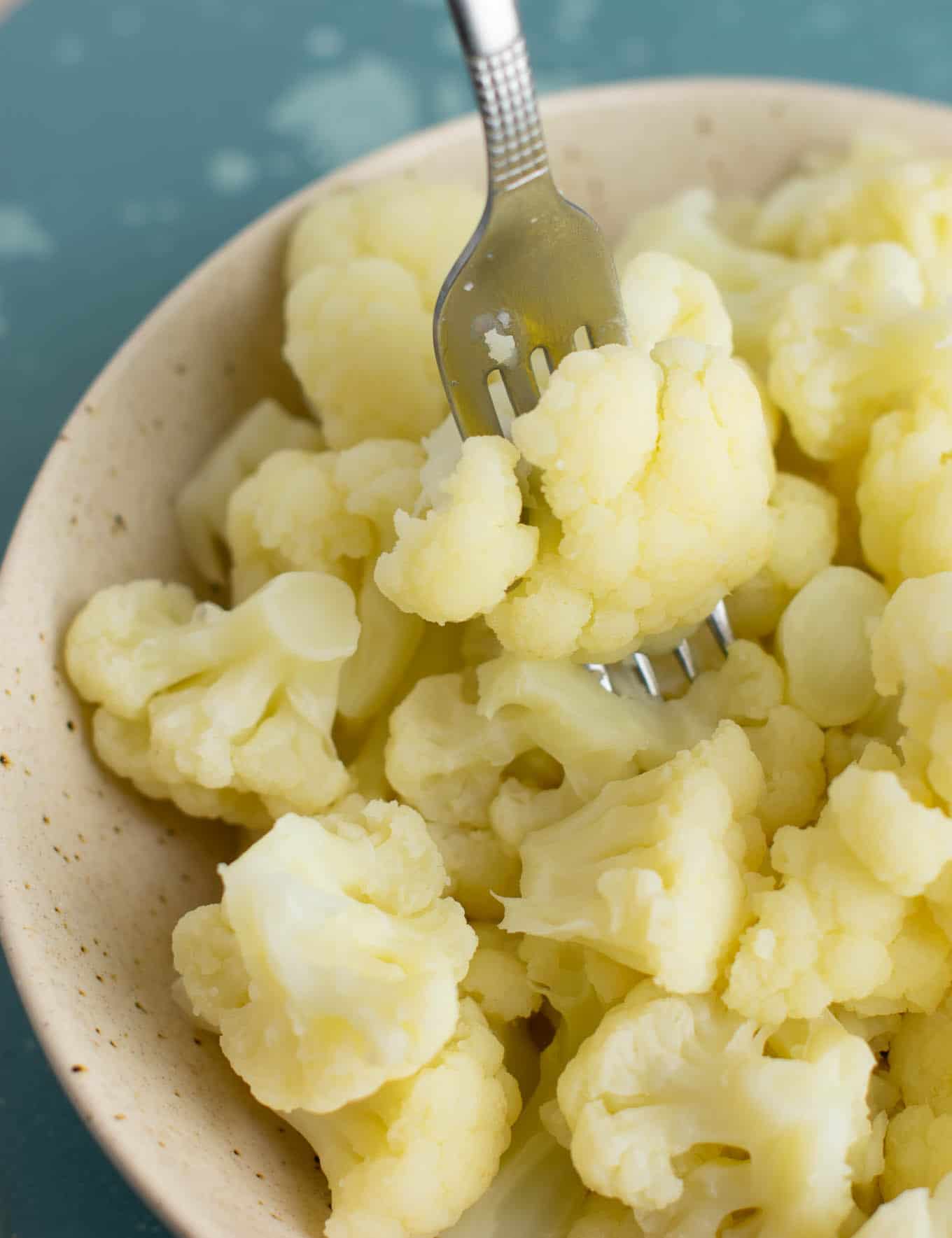 More Cauliflower Recipes
Are you making this recipe? I want to see! Don't forget to tag me on instagram @buildyourbite and hashtag #buildyourbite with your recipe creations!
Be sure to pin this recipe for later and follow Build Your Bite on Pinterest for all the latest delicious recipes!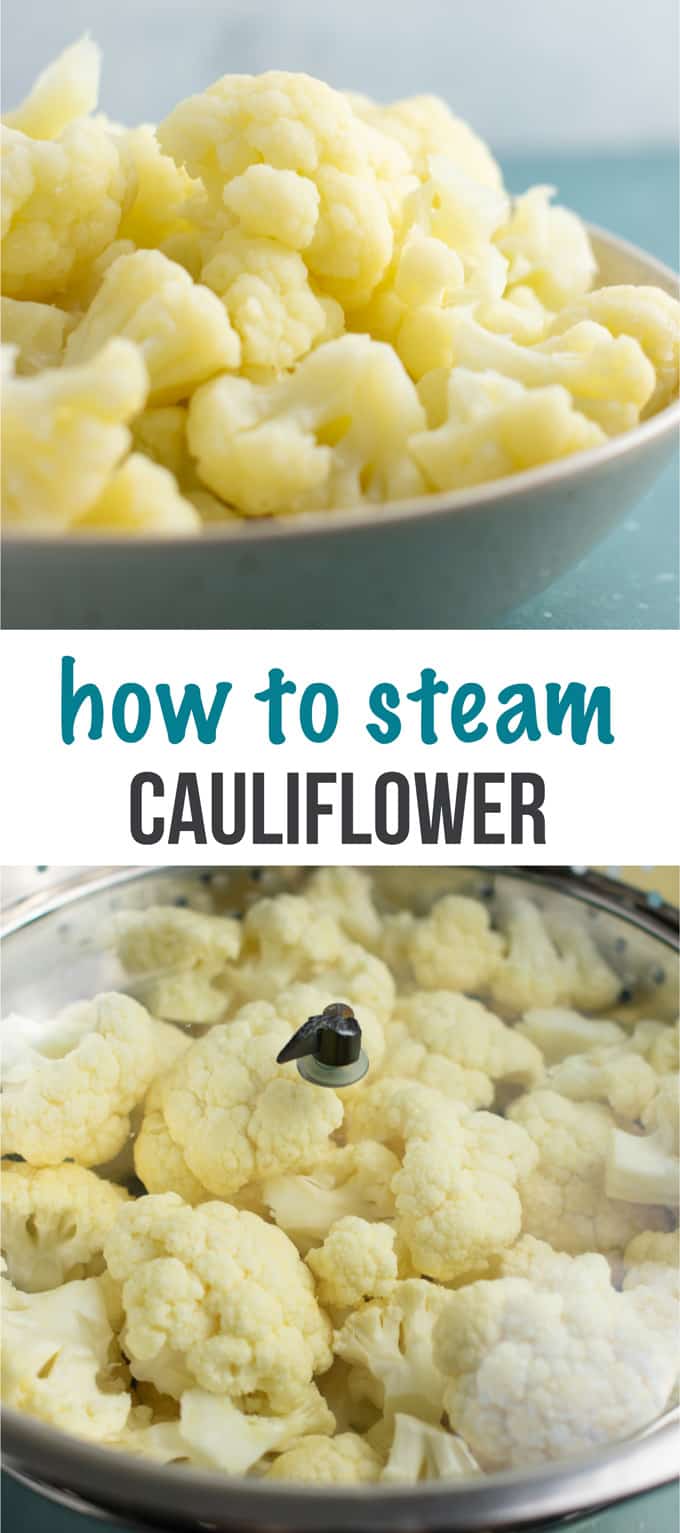 Yield: 4 servings
How To Steam Cauliflower
Steamed cauliflower is a great side dish that can be made without a steamer!
Ingredients
1 head of cauliflower
water, as needed
salt & pepper to taste
Instructions
Place a colander into a large saucepan.
Chop the cauliflower into florets, and add to the colander basket
Add enough water to cover the bottom of the saucepan
Place saucepan with the colander basket over medium high heat, and cover the cauliflower with a lid
Steam until fork tender, around 15 - 25 minutes, or until desired texture
Serve with butter, salt, and pepper, or with cheese sauce
To make cauliflower rice, run a knife through the steamed cauliflower until it is in small rice like pieces, serve immediately
Nutrition Information:
Yield:
4
Serving Size:
1
Amount Per Serving:
Calories:

32
Total Fat:

1g
Saturated Fat:

0g
Trans Fat:

0g
Unsaturated Fat:

0g
Cholesterol:

0mg
Sodium:

97mg
Carbohydrates:

6g
Fiber:

3g
Sugar:

3g
Protein:

3g