Frozen vegetables are one of the easiest dinner time sides. This roasted frozen cauliflower is easy to make and tastes amazing! All you need is a bag of frozen cauliflower, olive oil, and a few spices to make this simple dish your family will love.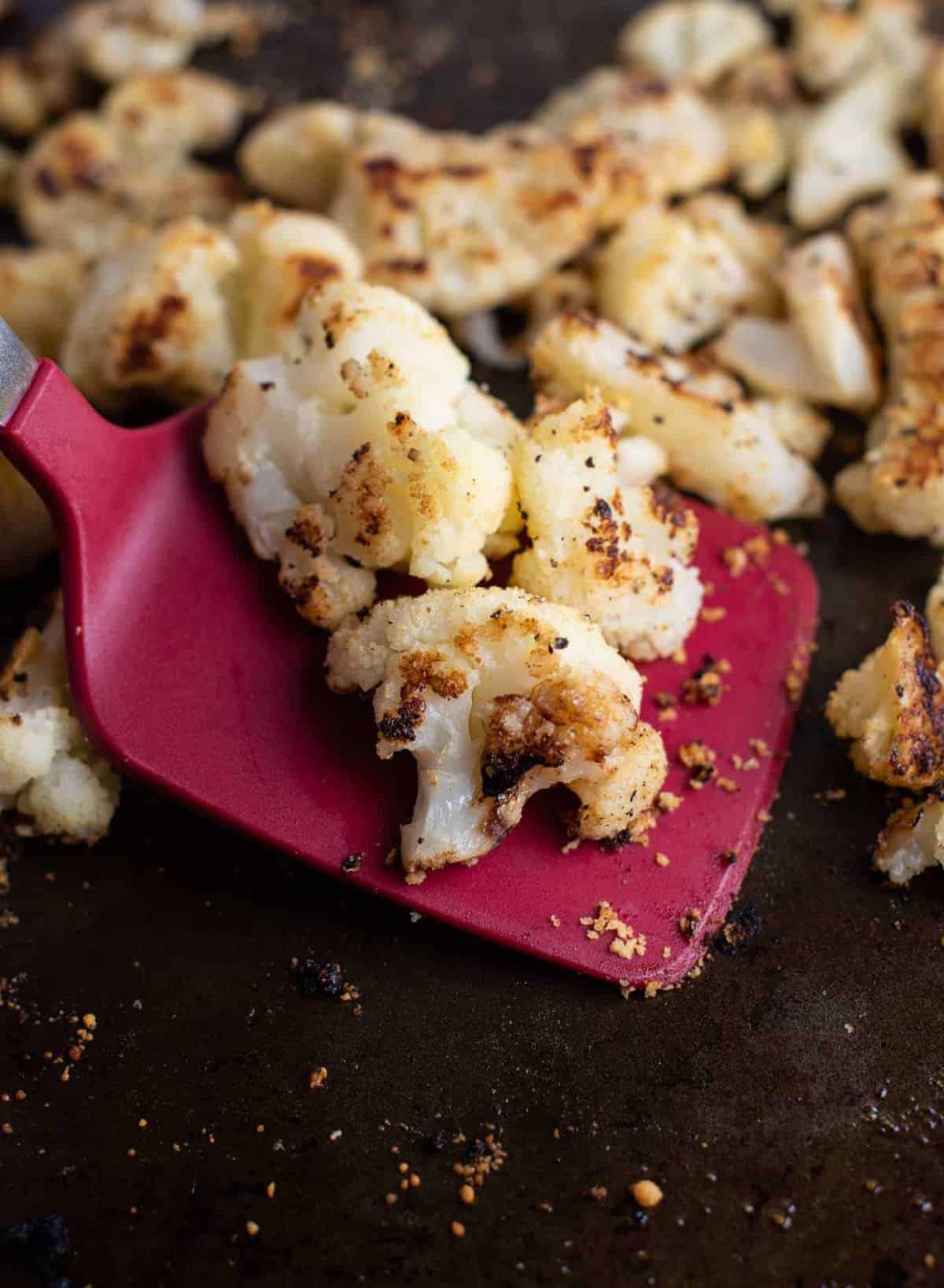 This easy roasted frozen cauliflower is the answer to trying a new vegetable side dish this week!
Frozen roasted vegetables are my go to side these days.
I already have recipes for roasted frozen carrots , roasted frozen brussel sprouts, roasted frozen corn, how to cook frozen green beans, and frozen broccoli, so of course cauliflower needed to be next on my list to make!
Especially with times like we find ourselves in currently, frozen vegetables are an absolute must have.
My freezer is stocked full of bags of all kinds and it has made dinner time quicker.
The convenience factor cannot be beat.
When you need a fast and healthy side dish, frozen vegetables are the answer!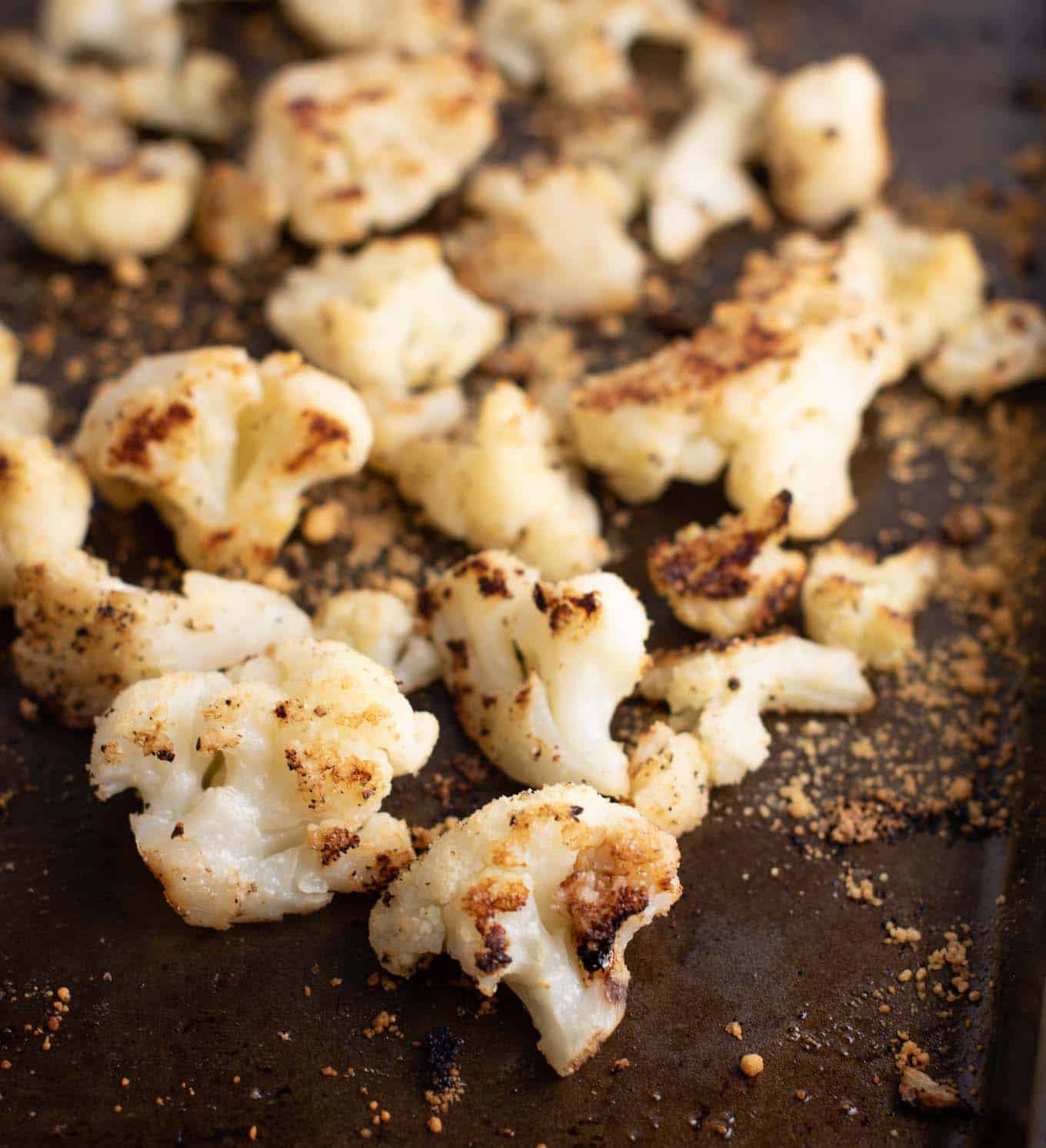 how to make roasted frozen cauliflower
You will need one bag of frozen cauliflower.
If you are feeding more than 2-3, just double this recipe!
One thing I notice is that we always regret not making more.
This roasted cauliflower is so delicious I could have eaten the whole batch myself!
Preheat your oven to 450 degrees.
Place the cauliflower on a nonstick sheet pan.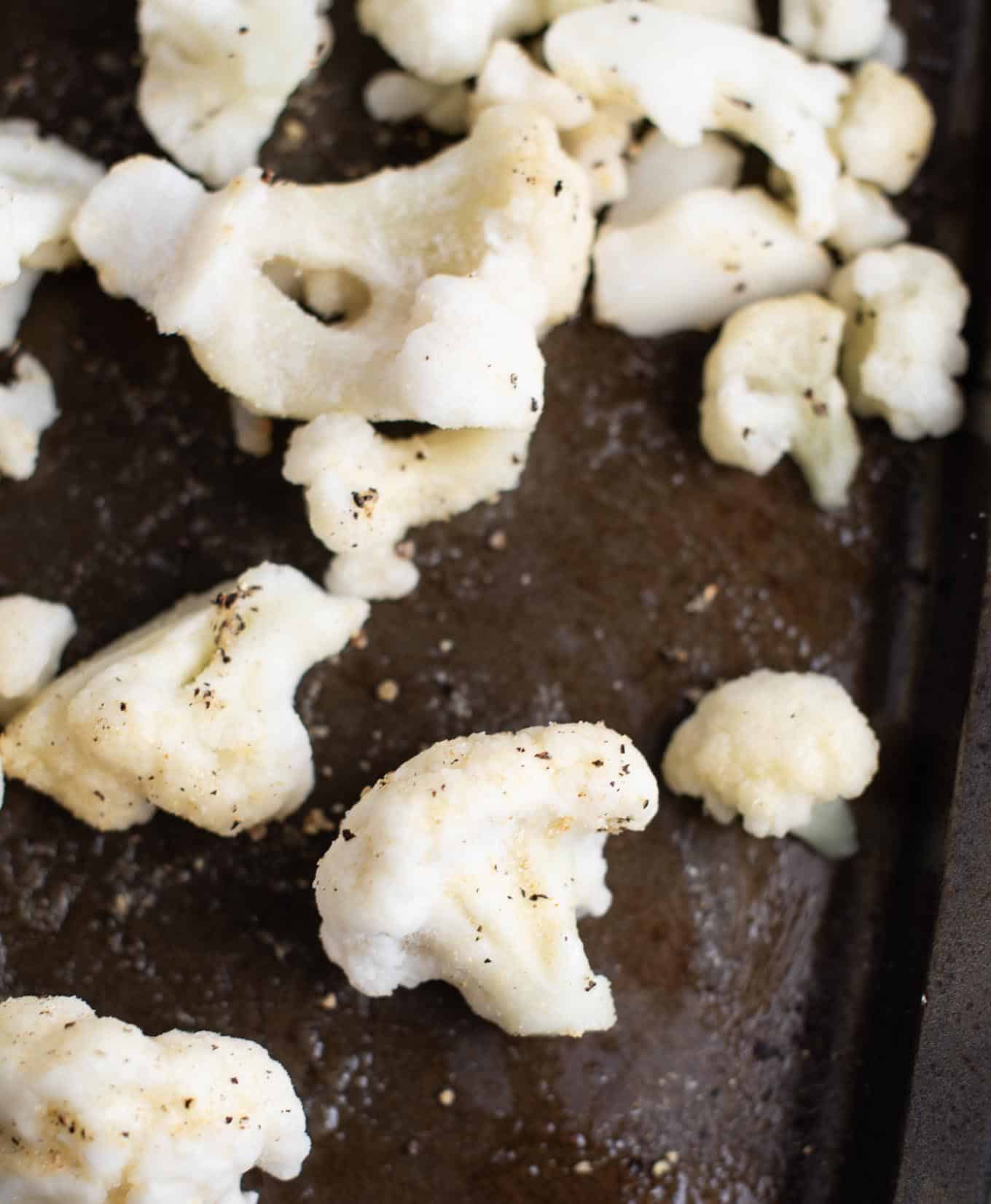 Do not allow the cauliflower to thaw before cooking.
Roasting from frozen allows us to get the perfect texture and those delicious crispy edges.
It's very important to place the cauliflower straight from the freezer to the tray, with the oven already preheated.
Use olive oil cooking spray to generously coat the top of the cauliflower.
I always suggest cooking spray when preparing frozen vegetables, as it is much easier to make sure everything is well coated.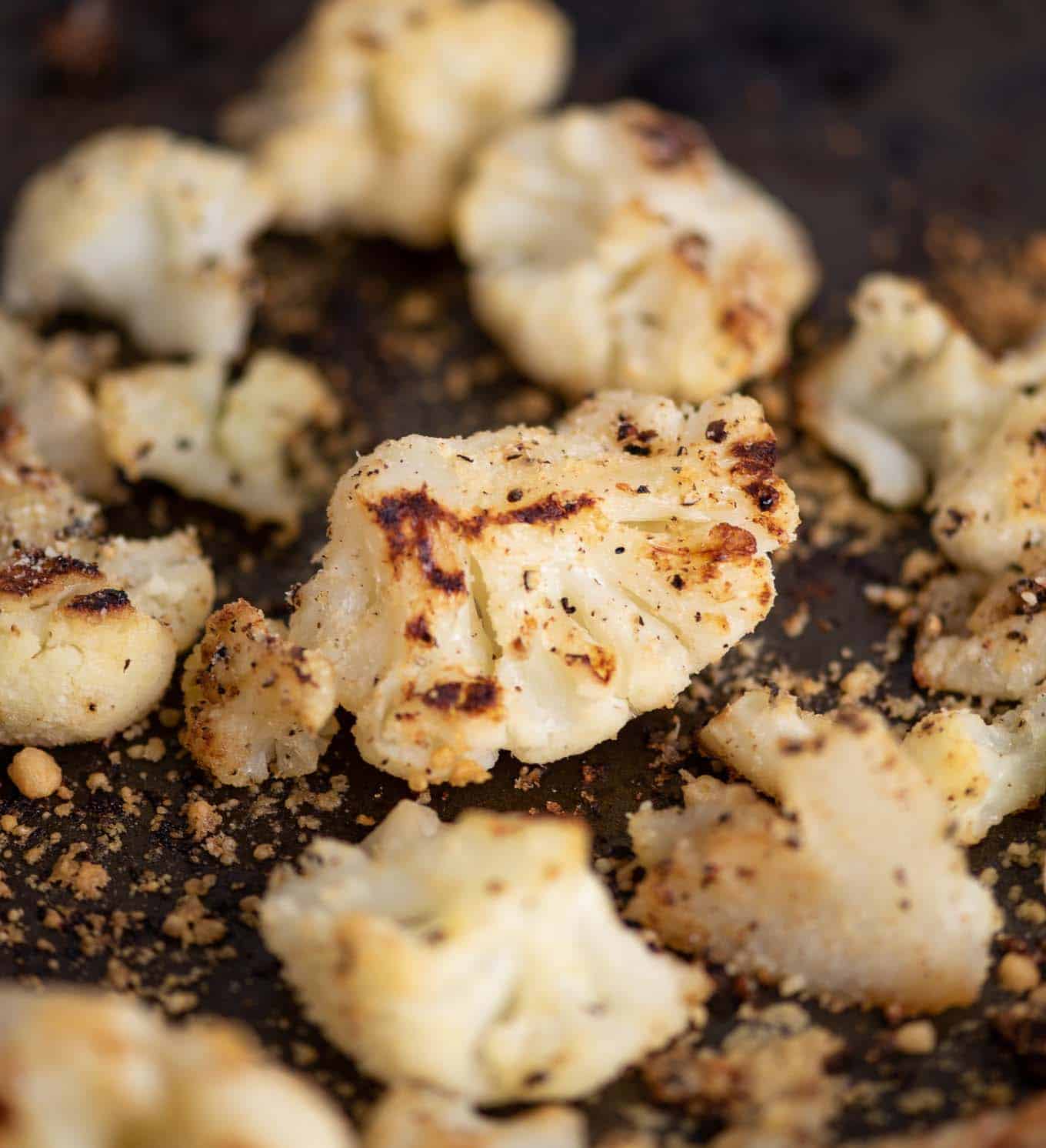 Once the cauliflower is sprayed, sprinkle on even amounts of salt, pepper, garlic powder, and onion powder.
No need to stir, just sprinkle so that it is all evenly covered.
Place the cauliflower in the preheated oven and cook for 15 minutes without touching it.
This will help the cauliflower edges crisp up!
After 15 minutes, remove the pan from the oven and stir/flip the cauliflower.
Spray the cauliflower again with a light layer of olive oil cooking spray, then sprinkle powdered parmesan cheese over the tops of the florets.
Roast for an additional 5-10 minutes, until the cauliflower is browned with crispy parmesan edges!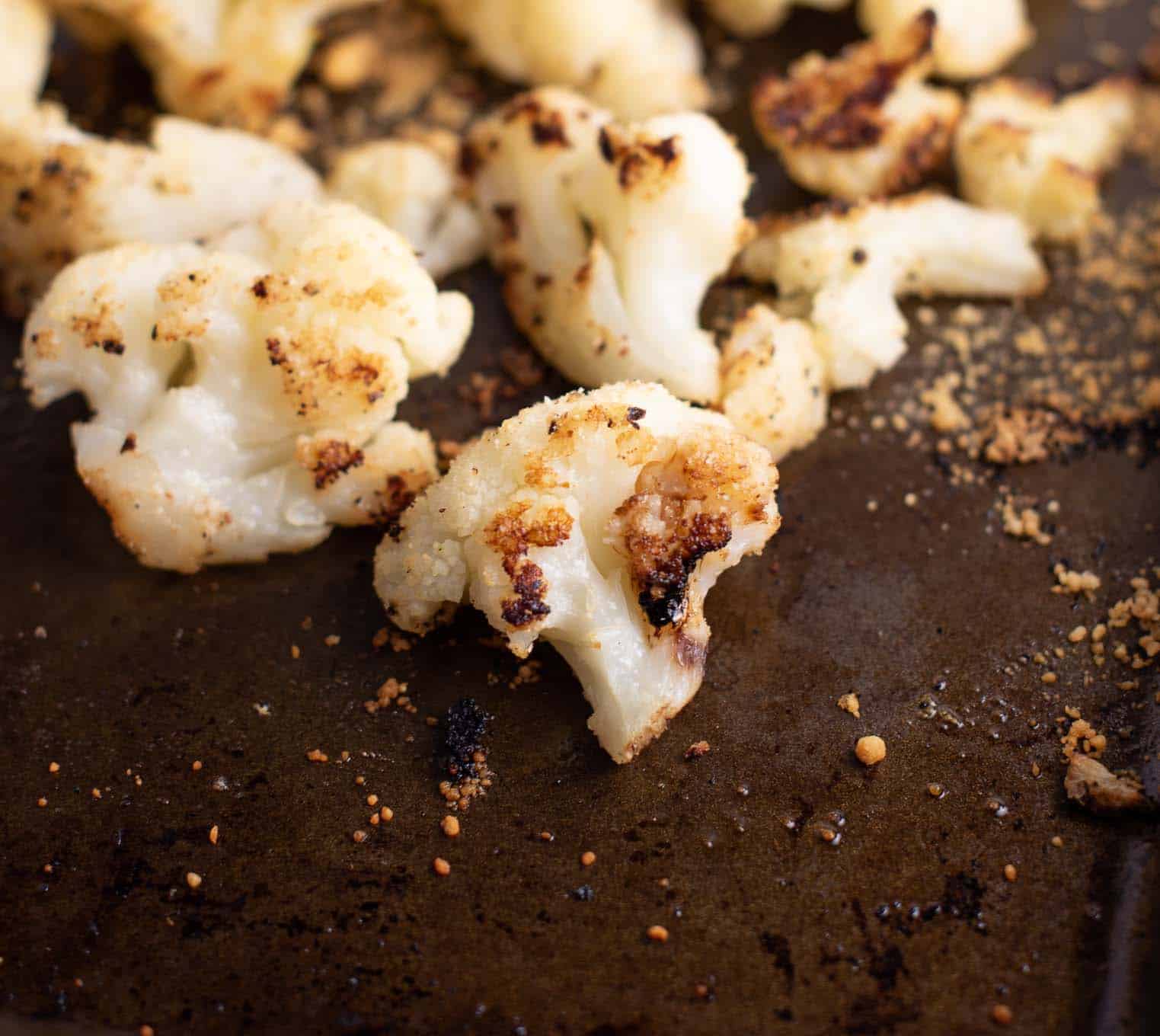 The recipe is simple, but it's all in the method!
This cauliflower was the favorite food on my plate.
Roasting cauliflower without any fuss and no chopping required is perfect for busy nights (or for when you are cooking dinner for what feels like the 100th night in a row).
Try making this for dinner and let me know what you think!
Looking for more recipes? Be sure to also try this Air Fryer Frozen Cauliflower.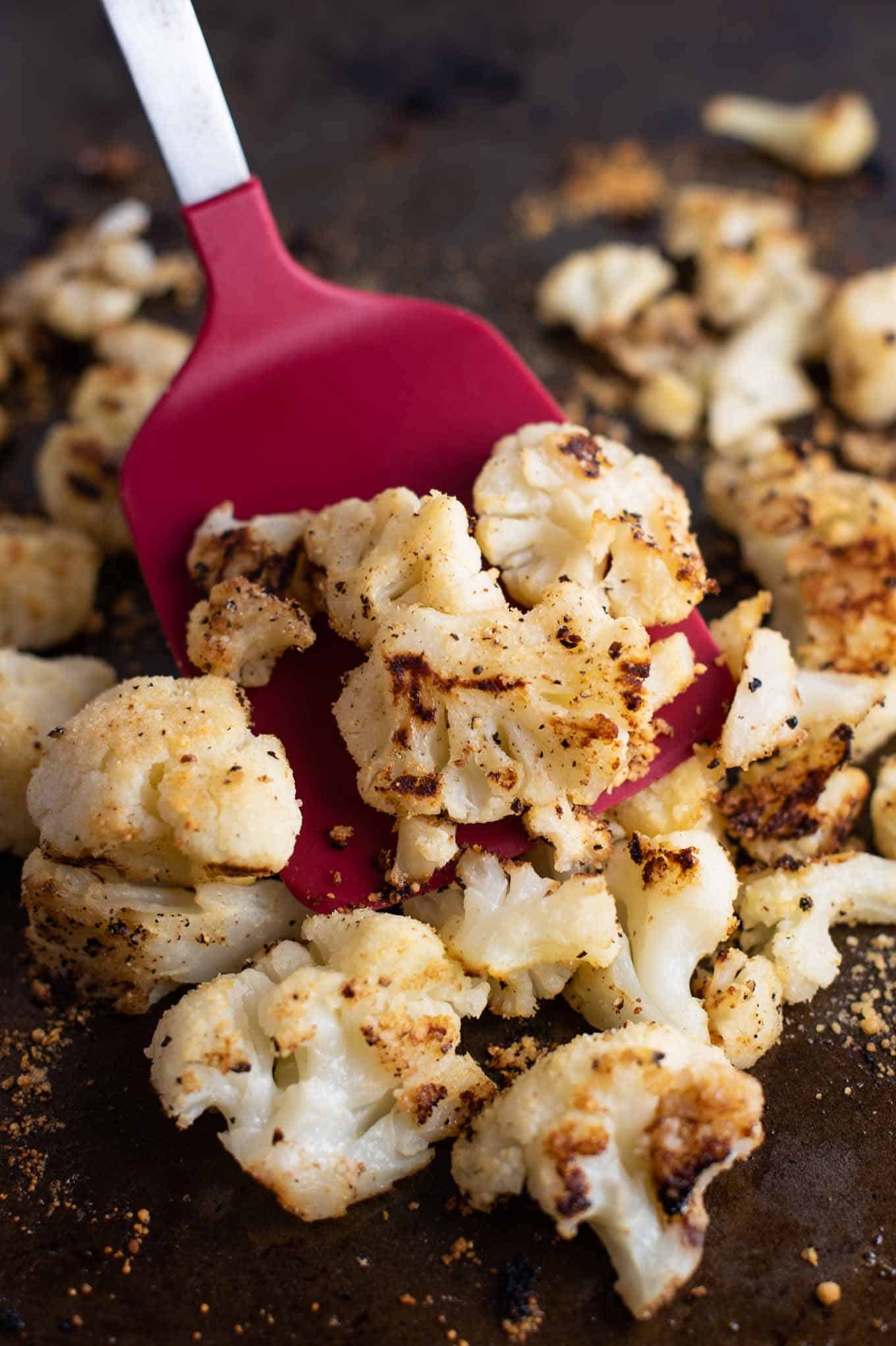 Are you making this recipe? I want to see! Don't forget to tag me on instagram @buildyourbite and hashtag #buildyourbite with your recipe creations!
More Recipes You'll love
Be sure to pin this recipe for later and follow Build Your Bite on Pinterest for all the latest delicious recipes!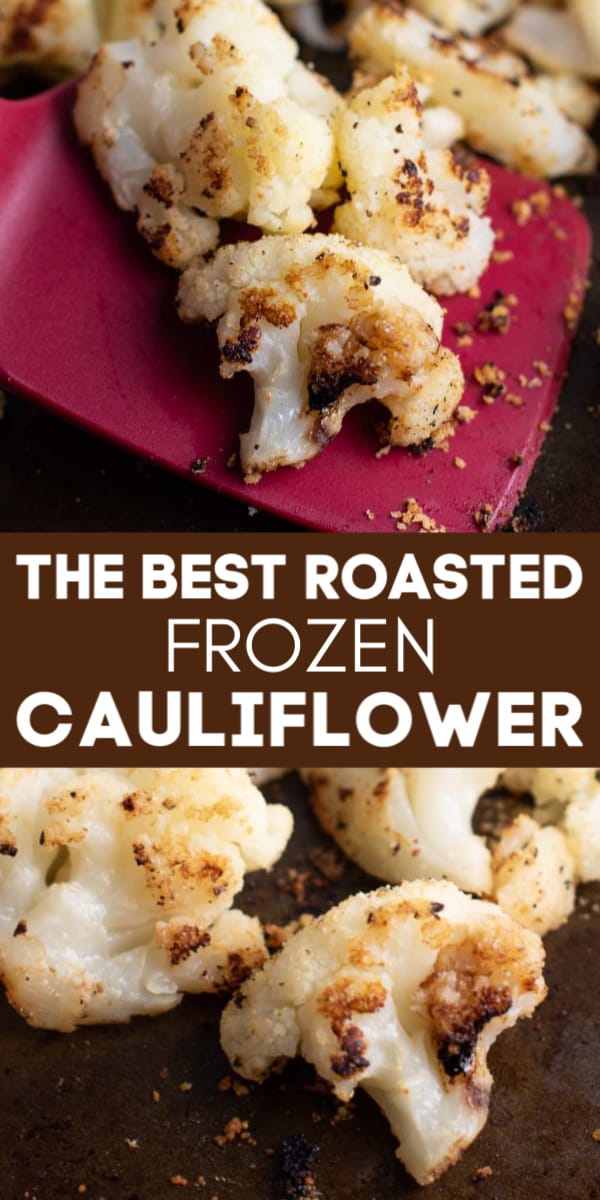 Did you make this recipe? Be sure to leave a star rating below!
Roasted Frozen Cauliflower Recipe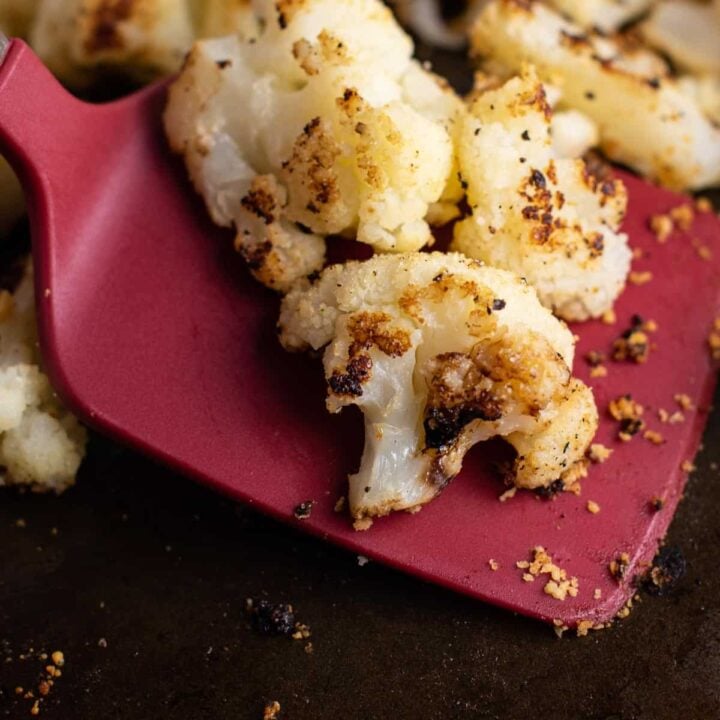 How To Roast Frozen Cauliflower (Recipe)
Easy roasted frozen cauliflower recipe with crispy parmesan edges. You can't go wrong with this simple side dish!
Ingredients
12 oz bag of frozen cauliflower
olive oil spray
salt
pepper
garlic powder
onion powder
powdered parmesan cheese
Instructions
Preheat your oven to 450 degrees
Place the frozen cauliflower florets on a nonstick baking sheet and spray generously with olive oil spray to coat
Sprinkle on even amounts of salt, pepper, garlic powder, and onion powder until evenly coated
Roast at 450 degrees for 15 minutes without flipping
Remove from the oven after 15 minutes, and stir/flip the cauliflower
Spray again with olive oil spray, then sprinkle on powdered parmesan cheese over the tops of the cauliflower florets
Roast an additional 5 - 10 minutes, until florets are browned with crispy edges
Serve and enjoy!
Nutrition Information:
Yield:

3
Serving Size:

1
Amount Per Serving:
Calories:

81
Total Fat:

6g
Saturated Fat:

1g
Trans Fat:

0g
Unsaturated Fat:

4g
Cholesterol:

1mg
Sodium:

242mg
Carbohydrates:

7g
Fiber:

3g
Sugar:

2g
Protein:

3g