Make this easy parmesan roasted cauliflower for an easy and delicious roasted vegetable side dish!
Parmesan roasted cauliflower with crispy blackened edges – that's what I'm cooking today friends!
I'm a big fan of cauliflower, and one of my favorite ways to cook it is to roast it in the oven.
When you roast cauliflower, it gets those crispy edges instead of staying soft throughout. The inside is soft, but the outside offers that addictive crunchy texture that everyone loves.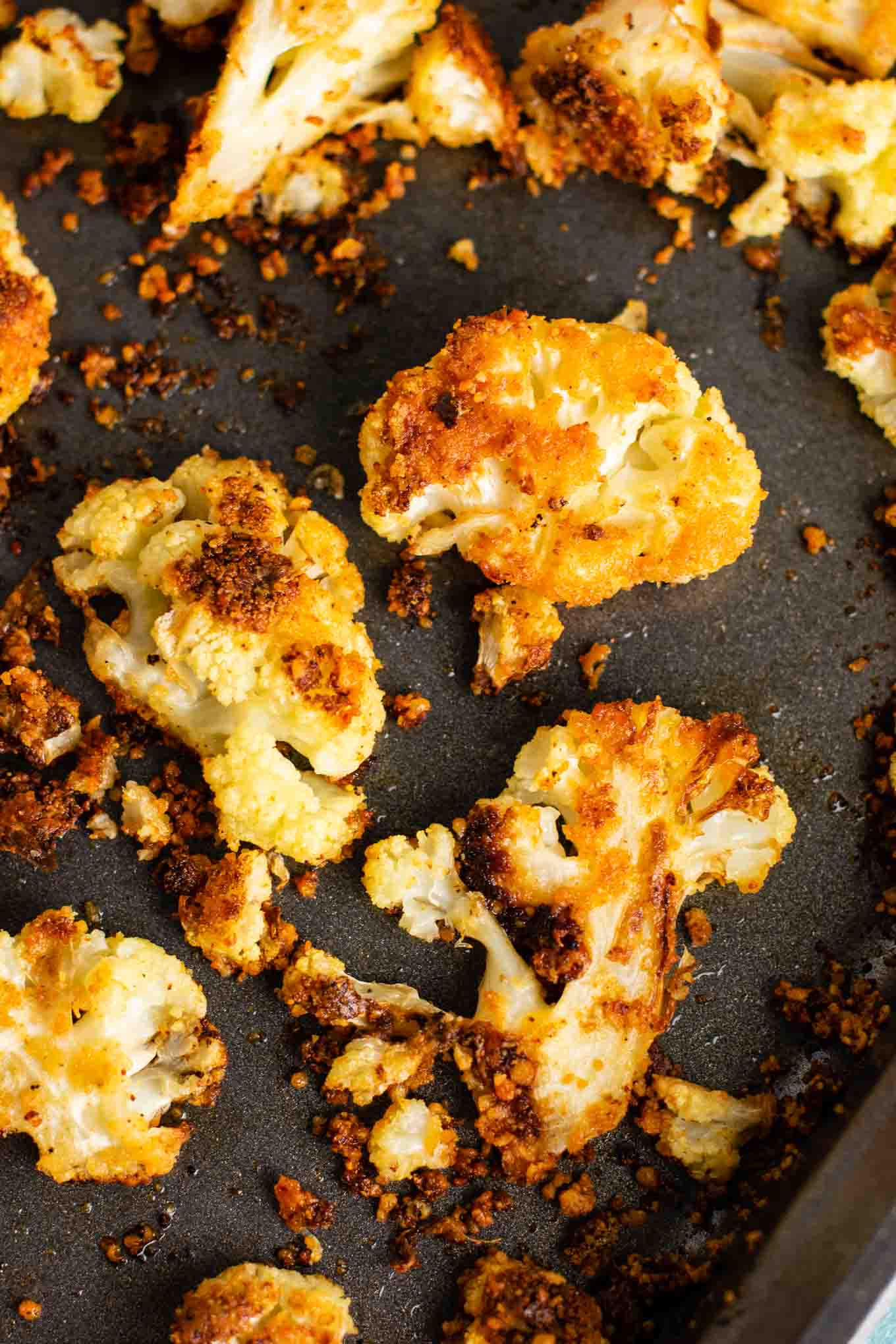 How to roast cauliflower
First, chop your cauliflower into florets, then slice it into thin strips (see example in the pictures.) The idea is to get pieces that will lay flat.
Place cauliflower strips on a baking sheet
Sprinkle on pepper, garlic powder, onion powder, and parmesan cheese
Drizzle olive oil on top
Toss to combine and arrange in an even layer
Roast at 425 degrees for 30 – 45 minutes, until outsides are golden brown
Salt to taste
The parmesan makes the cauliflower crispy and salty, so I suggest waiting until they are done cooking to add any additional salt.
I added around 1/2 teaspoon to ours, but you may like less.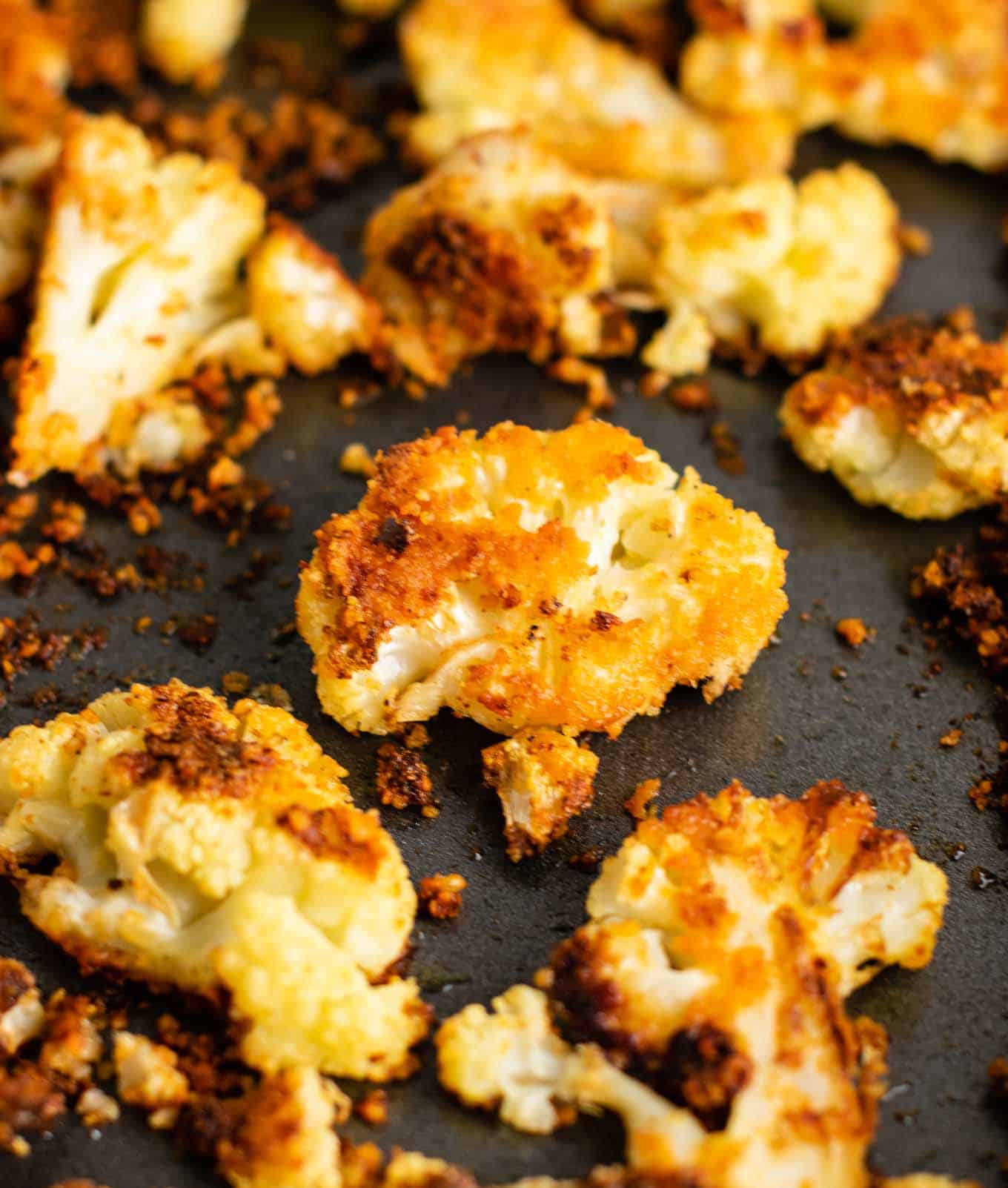 This parmesan roasted cauliflower bakes at 425 degrees, which helps us get those yummy crispy parmesan edges.
My favorite parts are the crispy bits!
If you are a cauliflower hater, try this recipe!
Crispy outsides and soft insides make this recipe the perfect amount of texture without being too mushy.
Cauliflower is so delicious when cooked properly. Here are a few of my favorite recipes that include cauliflower!
Favorite ways to cook with cauliflower
Love parmesan roasted veggies? Here are some more ways to make them!
pin this recipe:
Yield: 4 servings
Parmesan Roasted Cauliflower
Parmesan roasted cauliflower recipe made with simple ingredients. A delicious easy side dish recipe.

Prep Time 10 minutes

Cook Time 35 minutes

Total Time 45 minutes
Ingredients
1 head of cauliflower
1/2 teaspoon salt
1/2 teaspoon pepper
1 teaspoon garlic powder
1 teaspoon onion powder
1/2 cup powdered parmesan
1/4 cup olive oil
Instructions
Chop cauliflower into florets, and cut them into long slices that lay flat
Place cauliflower on a baking sheet
Sprinkle on pepper, garlic powder, onion powder, and parmesan
Drizzle on olive oil and toss to coat
Spread out cauliflower into an even layer
Roast at 425 degrees for 30 - 45 minutes, stirring twice, until golden browned
Sprinkle on salt to taste (up to 1/2 teaspoon)
Nutrition Information:
Yield:
4
Serving Size:
1
Amount Per Serving: Calories: 209Total Fat: 18gSaturated Fat: 4gTrans Fat: 0gUnsaturated Fat: 13gCholesterol: 11mgSodium: 512mgCarbohydrates: 9gFiber: 3gSugar: 3gProtein: 6g


Did you make this recipe? Be sure to leave a star rating below!