This easy vegetarian recipe for meatless spaghetti is packed full of nutrients and uses whole wheat pasta for a healthy weeknight meatless meal! Use fresh garlic, onion, and mushrooms to make an irresistible meatless spaghetti.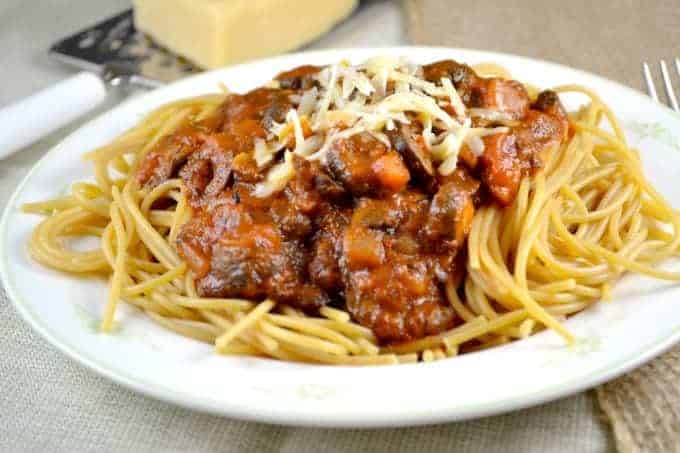 Meatless spaghetti is a staple in our house, and we make it at least every few weeks!
Pretty much everyone that tries it loves it.
You don't need meat to make spaghetti taste delicious!
Growing up, I remember my mom making spaghetti a lot, at least once a week usually.
I loved pasta night, when we'd fill our plates with steaming hot pasta, yummy sauce, and drown it in Parmesan cheese.
Carbs for life!
I loved spaghetti then, and I love it now.
Not only is spaghetti a staple food, but it's so affordable!
This is one of my go to meals for that reason.

How to make Meatless Spaghetti
Cook your spaghetti according to package instructions.
While your spaghetti is cooking, chop up the garlic, onion, and mushrooms.
Add the veggies to a large skillet or jumbo cooker along with olive oil, basil, salt and pepper.
Cook over medium high heat, stirring often, until mushrooms release their liquid and it cooks off.
Add in your spaghetti sauce, and stir to heat through.
Serve topped with freshly grated parmesan cheese and red pepper flakes if you like a little heat!
You can buy blocks of parmesan cheese in your grocery store near the other cheeses.
I love grating it myself fresh as the flavor is just so much better than if you buy it already grated.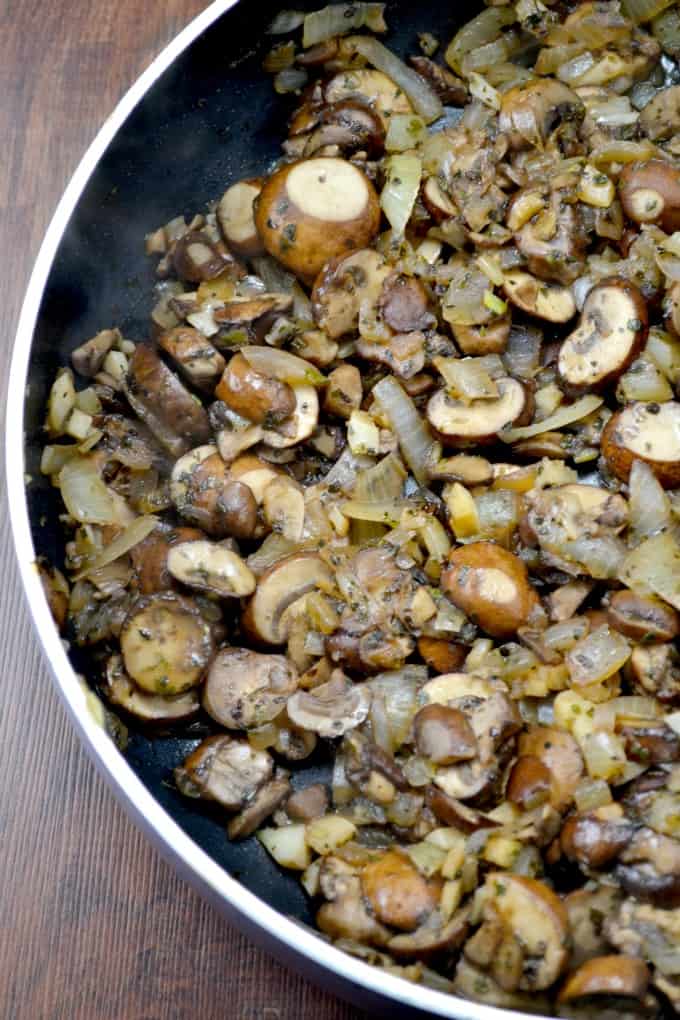 These mushrooms cooked down a bit, but they were thick cut, so they had that nice "meaty" texture to them still.
Perfect for a meatless substitute!
I also use mushrooms in my vegetarian bolognese sauce.
I'm obsessed with mushrooms and use them in a lot of my recipes.
They are so versatile!
Mushrooms will always be one of my top favorite vegetables to cook with.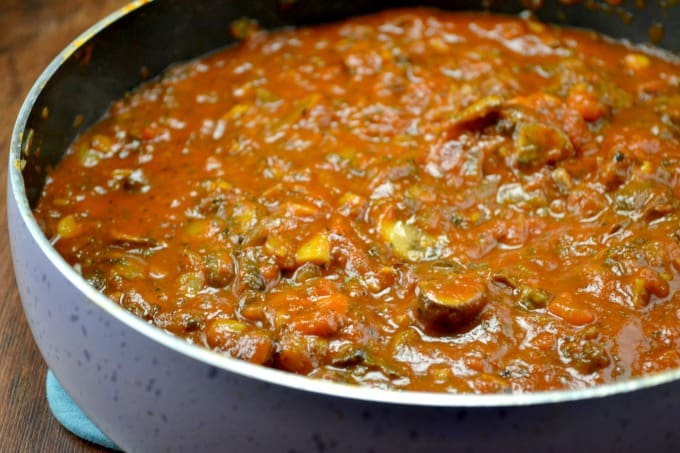 I love how economical spaghetti is.
We added some tomato sauce to our leftovers the next day, and we ended up eating this 3 times, so it made 6 meals for less than $15-20.
Now that's a good deal!
Even if you add more veggies, it is still very affordable.
I sometimes throw in a bell pepper, or squash during the summer.
Whatever I have on hand!
This recipe is easily customizable and you can add in more veggies to your liking.
I also love that my toddler is basically guaranteed to eat it since it's a form of pasta.
Less dinner time fighting is a win win.
It's just as good the next day, and makes great leftovers!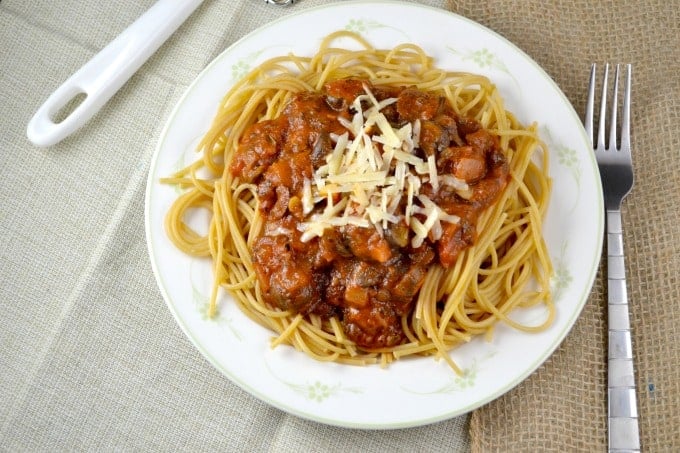 I like using whole wheat spaghetti noodles whenever I make it.
You really can't taste the difference in my opinion and it's much healthier than normal enriched spaghetti noodles.
One way to mix it up with the leftovers is to make baked spaghetti.
I mix the sauce together with the leftover spaghetti noodles, and place it in a 13 by 9 baking dish.
Stir in any shredded cheese (like mozzarella) you have on hand, or top with slices of provolone cheese (my favorite!)
Bake at 375 degrees for 20 – 30 minutes, until the cheese is melted and spaghetti is crisped on the edges.
Those crispy edges are my favorite part!
For more of our favorite meatless meals, be sure to check out 25 best vegetarian recipes.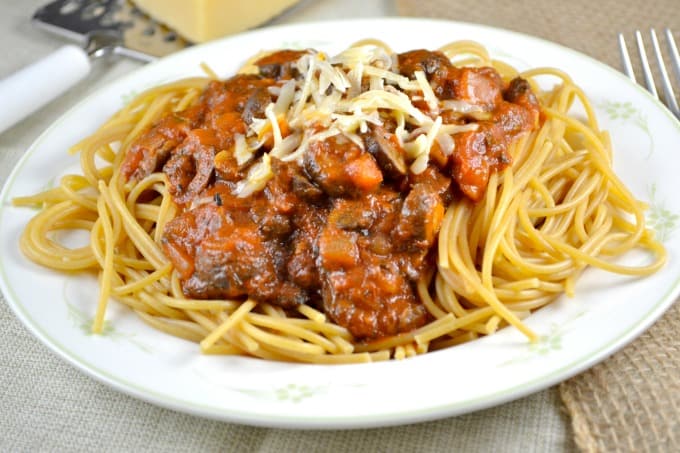 Top your spaghetti with freshly grated Parmesan cheese and enjoy!
I'm a little high maintenance, so I love having mine topped with freshly grated parmesan, powdered parmesan, and red pepper flakes.
It's the magical trio!
So yummy.
Pasta night is the best.
More Meatless Pasta Recipes
Hungry for more? Here is some meatless pasta inspiration!
Are you making this recipe? I want to see! Don't forget to tag me on instagram @buildyourbite and hashtag #buildyourbite with your recipe creations!
Be sure to pin this recipe for later and follow Build Your Bite on Pinterest for all the latest delicious recipes!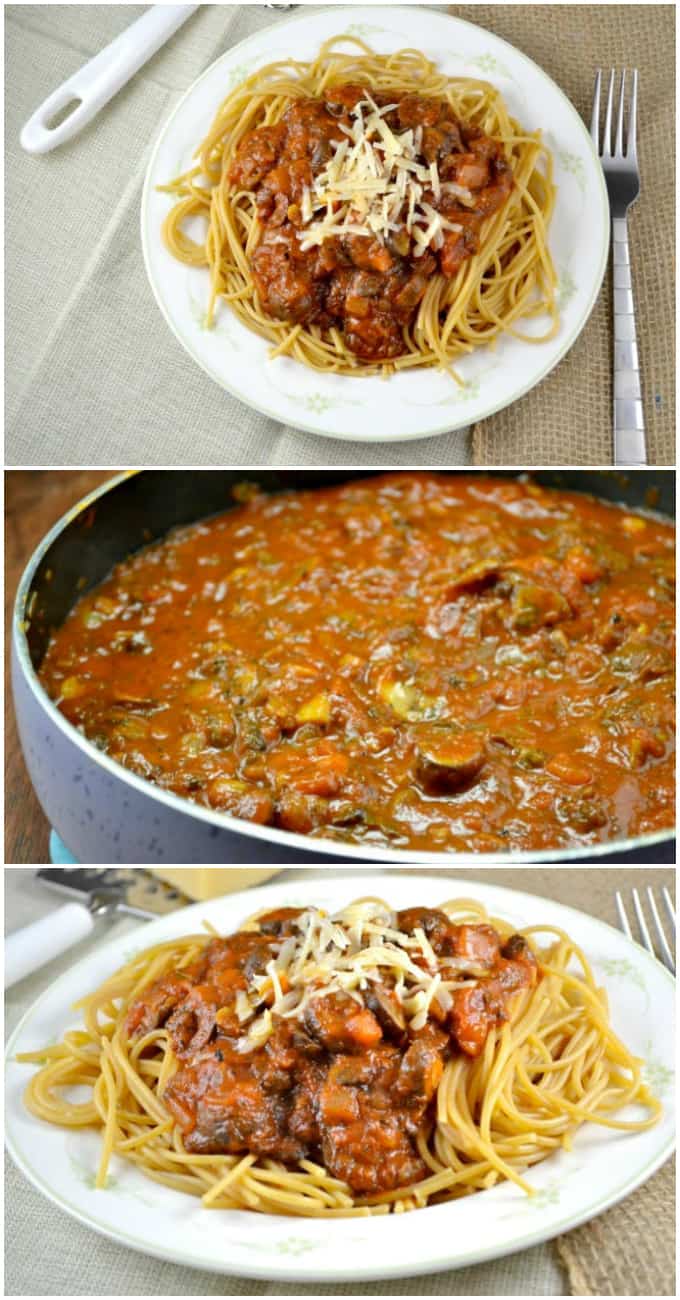 Did you make this recipe? Be sure to leave a star rating below!
Meatless Spaghetti Recipe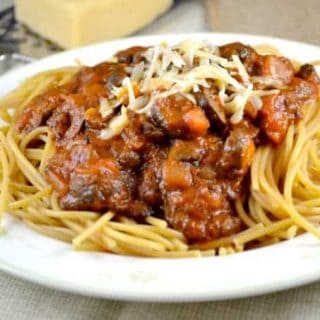 Easy Meatless Spaghetti
Easy meatless spaghetti recipe for healthy easy dinners!
Ingredients
16 oz sliced mushrooms
1 medium yellow onion, diced
6 cloves of garlic, minced or finely diced
1 tablespoon of olive oil
1 tablespoon dried basil
½ teaspoon sea salt
¼ teaspoon cracked black pepper
25 oz jar of organic pasta sauce
16 oz package of whole wheat spaghetti
Block of Parmesan cheese
Instructions
Cook spaghetti according to package instructions, set aside
Combine mushrooms, onion, garlic, olive oil, basil, sea salt, and pepper in a large skillet.
Sautee on medium heat for 7-10 minutes, or until mushrooms have released and cooked away their liquid. If the liquid does not all evaporate, drain mixture in a strainer.
Add 25 oz jar of pasta sauce to mushroom mixture, stir well
Serve spaghetti topped with sauce and freshly grated Parmesan cheese!
Enjoy!
Recommended Products
As an Amazon Associate and member of other affiliate programs, I earn from qualifying purchases.
Nutrition Information:
Yield:

6
Serving Size:

1
Amount Per Serving:
Calories:

241
Total Fat:

7g
Saturated Fat:

1g
Trans Fat:

0g
Unsaturated Fat:

4g
Cholesterol:

3mg
Sodium:

804mg
Carbohydrates:

41g
Fiber:

8g
Sugar:

10g
Protein:

9g