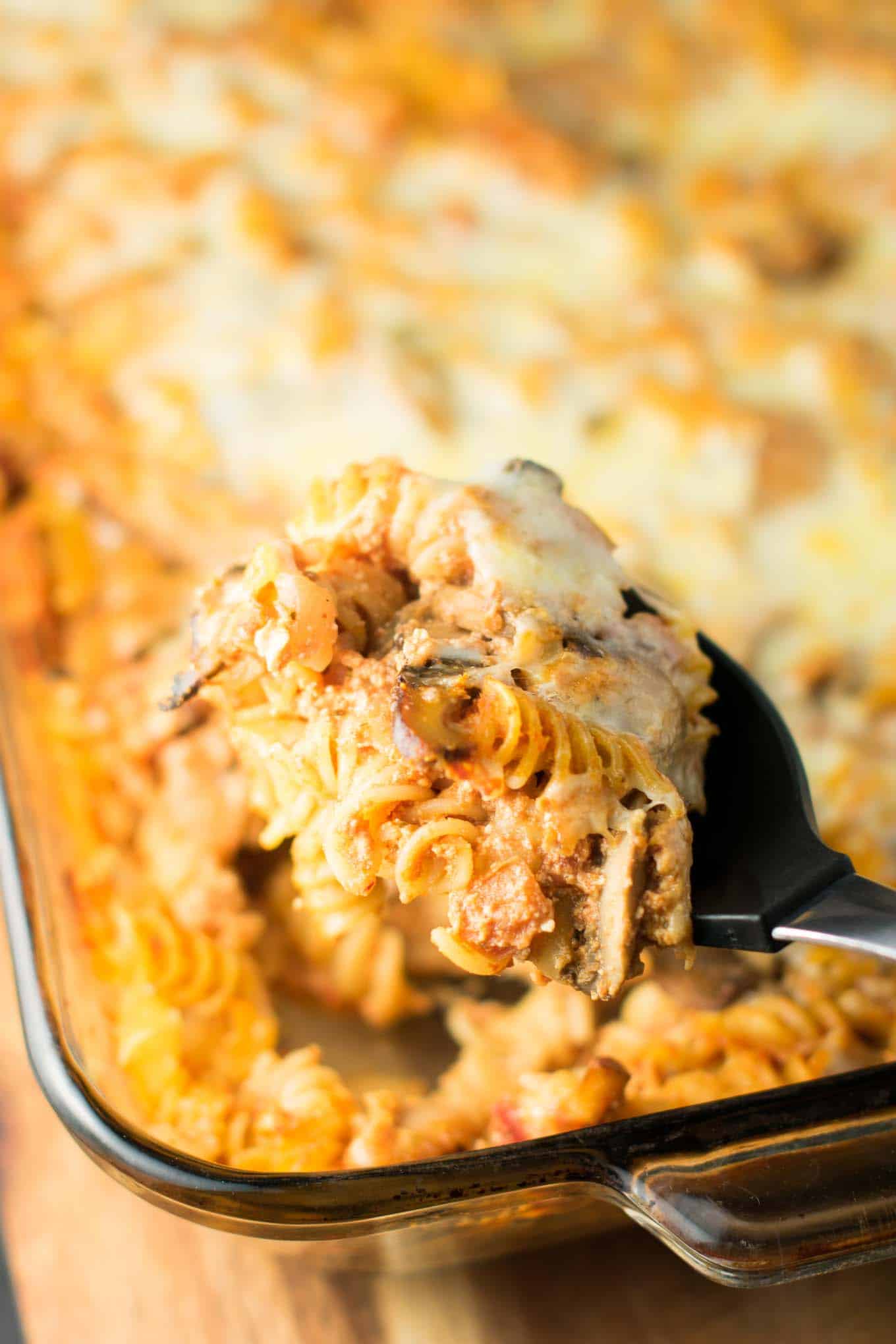 We are big pasta lovers around here!
It's such an easy (and cheap!) way to make a lot of food with a ton of flavor.
Some of our favorite pasta recipes include:

What I love most about this parmesan and ricotta pasta bake is that it is a sort of "faux lasagna."
Instead of dollops of ricotta like I would use for lasagna, it mixes right in to create a creamy rose sauce.

Add in some fresh veggies and top with mozzarella for a hearty and delicious pasta that will feed a crowd!
I made this for dinner and it lasted us two nights in a row with extra to spare.
My 10 month old was a big fan too!
Pin this Parmesan and Ricotta Pasta Bake:
Parmesan and Ricotta Pasta Bake
Ingredients
2 medium onions, diced
7 large cloves of garlic, minced or finely diced
1/2 teaspoon pepper
1/2 teaspoon sea salt
2 tablespoons olive oil
16 oz mushrooms, chopped
25 oz jar of pasta sauce
1 lb pasta of choice (I have used rotini and fusili, but any pasta noodle would work)
1 1/4 cups shredded mozzarella cheese
1 egg
1 cup freshly grated parmesan cheese
15 oz ricotta cheese
Crushed red pepper flakes, for topping (optional)
Directions
Combine onion, garlic, pepper, sea salt, olive oil, and mushrooms in a large skillet
Sautee on medium high heat for 10-12 minutes, or until mushrooms cook down and release their liquid
Cook pasta according to package instructions and set aside
Add pasta sauce to the skillet onion/mushroom mixture and stir
In a separate bowl, combine 1 cup of parmesan, 1 egg and the ricotta cheese and stir to combine
Add the ricotta mixture to the skillet with the sauce and onion mixture and stir until combined
Mix sauce with noodles and transfer into a 13 X 9 baking dish
Bake at 425 for 10 minutes
Top with 1¼ cups of shredded mozzarella and bake an additional 5 - 10 minutes, or until cheese is bubbly
Serve with garlic bread and optional crushed red pepper for topping
Enjoy!
Loading nutrition data...