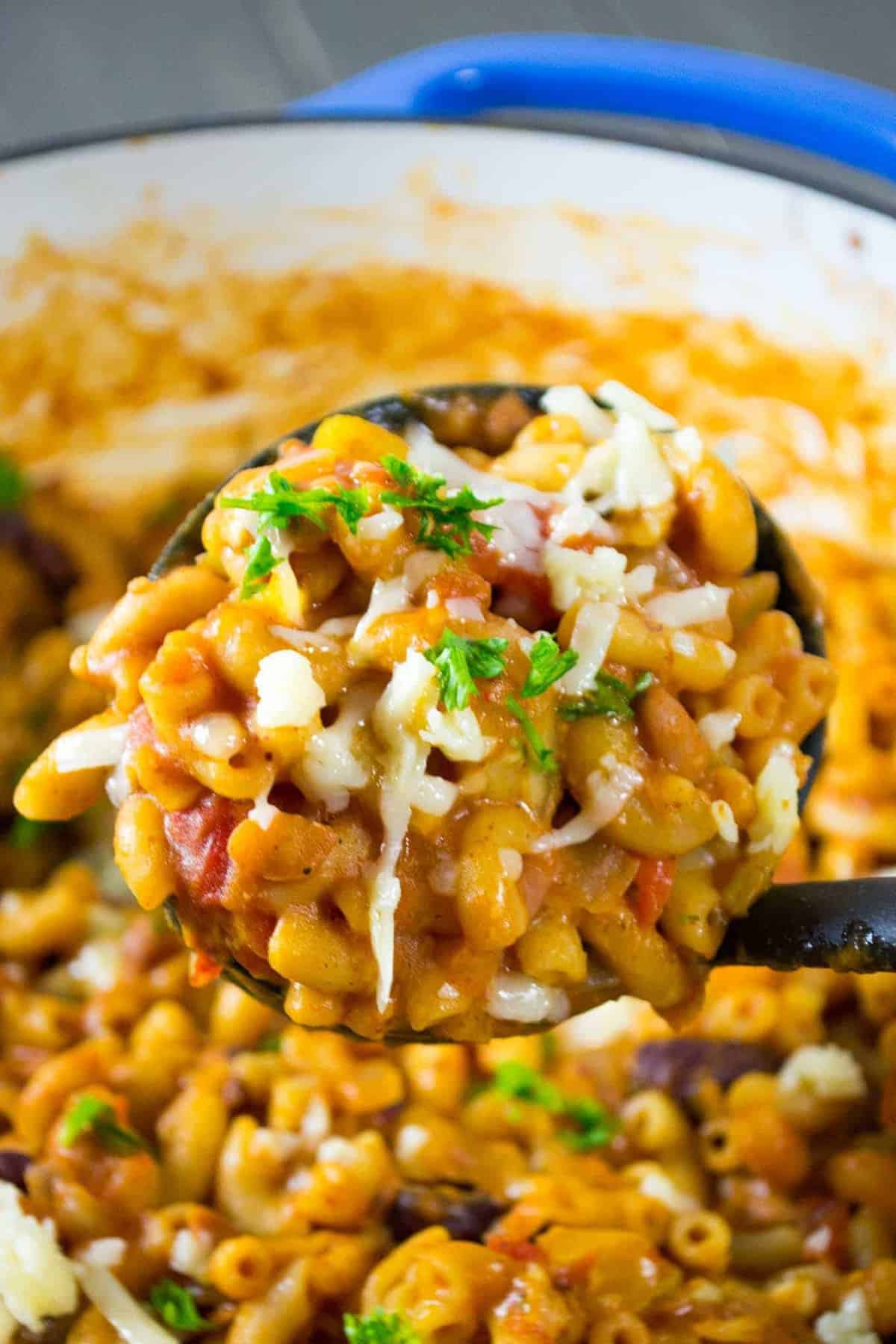 One of the reasons why I love food blogging so much is that I am able to collect a virtual recipe book of all of my favorite meals, desserts, and drinks.
My husband and I are expecting our first child very soon and I dream of the day when I can teach our little Crosby how to cook.
Cooking is my love language and I look forward to many years to come making special memories with my little ones in the kitchen!
My husband is the master at chili recipes, so I decided to use his special chili spice combination to make this delicious one pot vegetarian chili mac for dinner!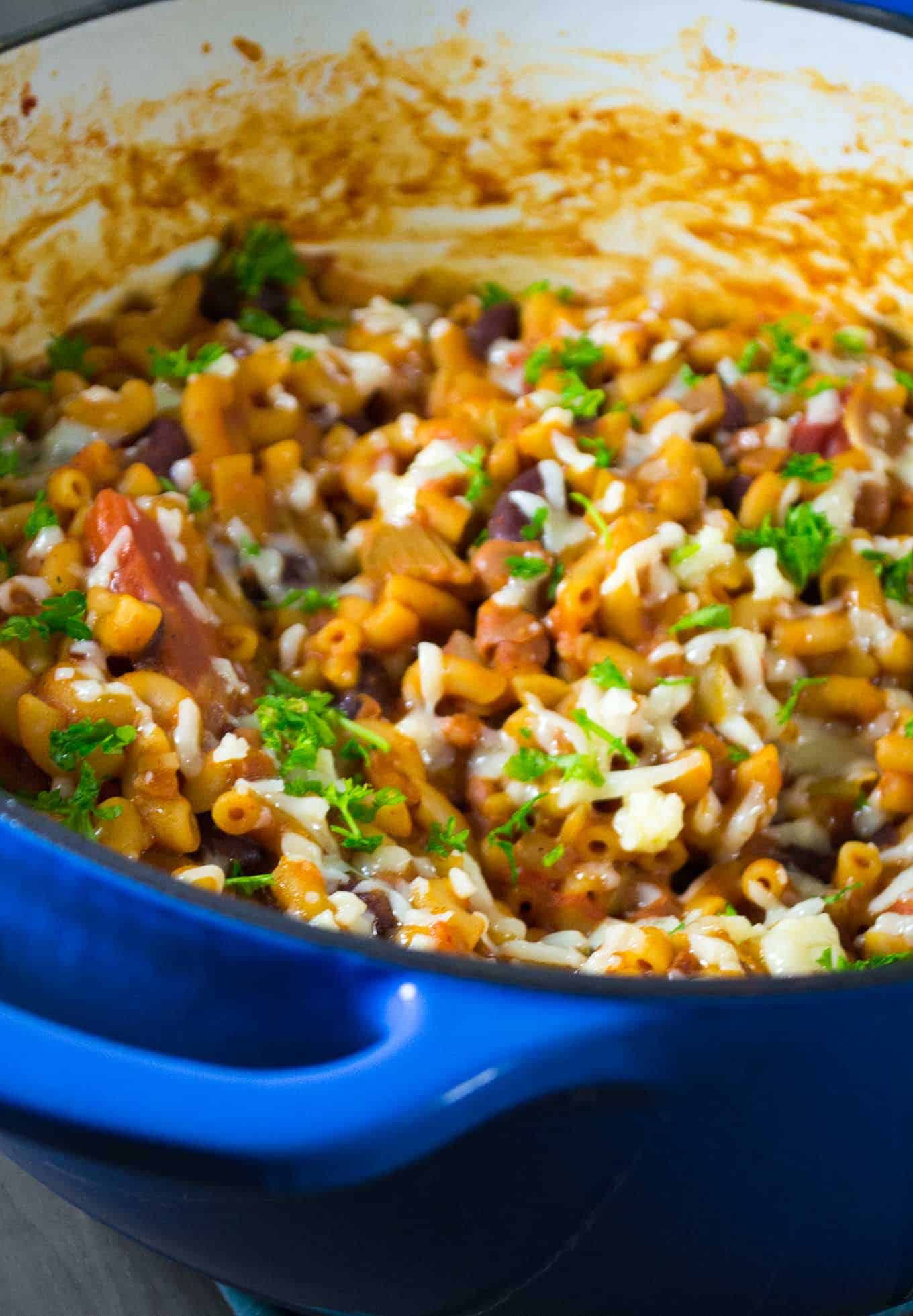 When I'm not cooking my favorite dinner staples, I'm in the kitchen experimenting with new recipes to add to my arsenal!
This one pot vegetarian chili mac is such an easy and delicious dinner that is perfect for a weeknight!
I love any excuse to use my dutch oven and it is just the perfect size to make this dish in.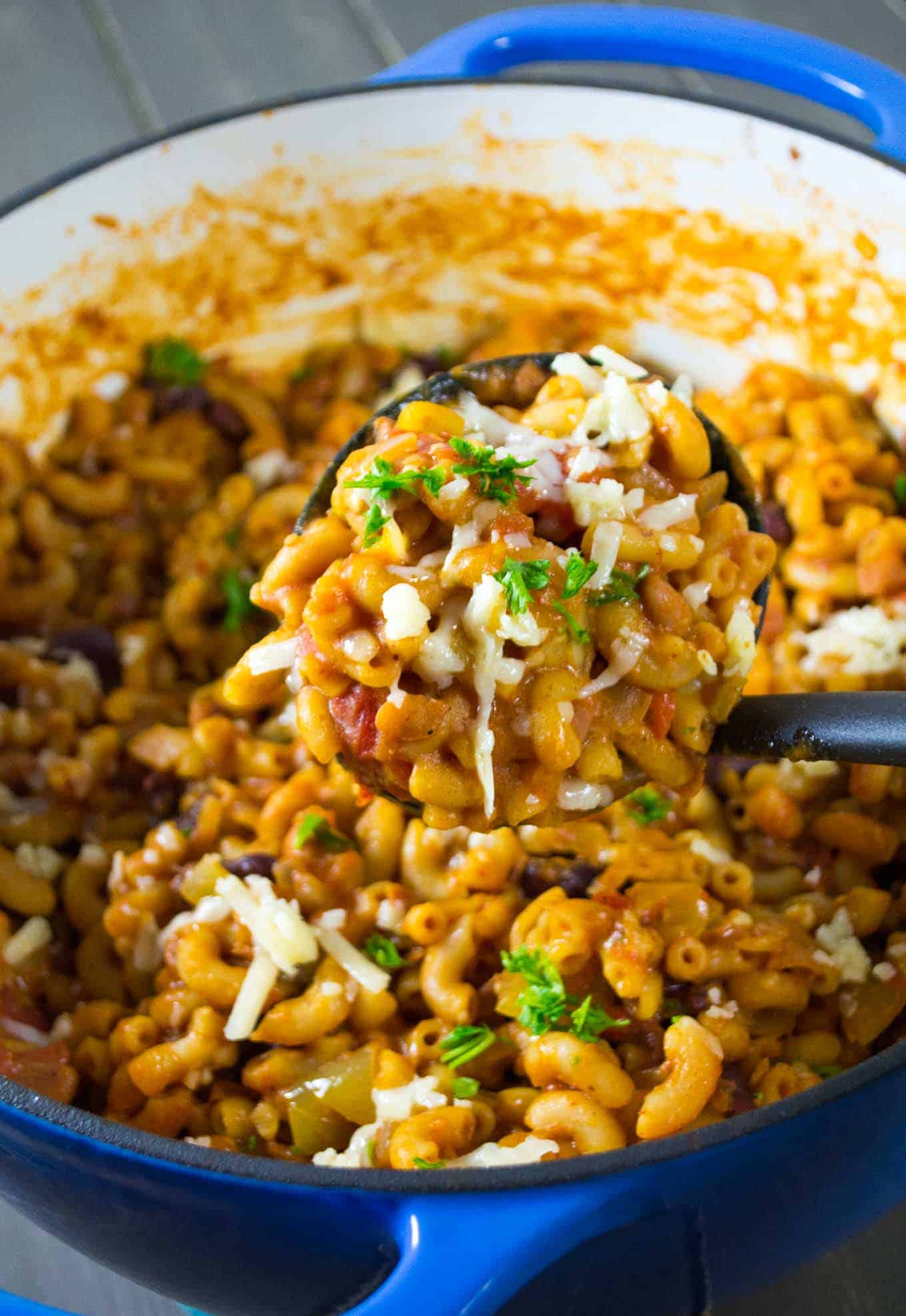 I love the convenience of one pot meals because they mean quicker cook time and less cleanup for me!
Less mess = happy Joy.
Hubby and I loved this one and will definitely be putting this in the dinner rotation!
He took it for lunch at work several days in a row and loved it reheated also.
Try this recipe and let me know what you think in the comments below!

One Pot Vegetarian Chili Mac
A quick and easy recipe for one pot vegetarian chili mac
Ingredients
1 tablespoon olive oil
6 cloves of garlic, minced
1 large onion (yellow or white), diced
1 (15 oz) can kidney beans, drained
1 (15 oz) can chili beans, with sauce (do not drain)
1 (15 oz) can sliced stewed tomatoes, with juices
4 cups vegetable broth
16 oz dry macaroni noodles
3 oz tomato paste (around 4 tablespoons)
1 cup diced hungarian wax peppers (can substitute bell peppers)
1 tablespoon chili powder
½ teaspoon paprika
1½ tablespoons cumin
½ teaspoon sea salt
⅛ teaspoon cayenne
⅛ teaspoon pepper
2½ cups sharp cheddar cheese
chopped parsley, for topping (optional)
Instructions
In a dutch oven or heavy bottomed pan, sautee garlic, onion, peppers and olive oil for 5-10 minutes on medium high heat, or until onion starts to cook down and is translucent
Add drained kidney beans, chili beans with sauce, stewed tomatoes, vegetable broth, tomato paste, macaroni noodles, and all spices
Bring to a boil and cover
Allow to cook for 12-15 minutes, or until noodles are al dente. Check every few minutes to stir in case of sticking
Once finished cooking, remove from heat and stir in 1½ cups of cheese.
Serve sprinkled with fresh parsley and topped with remaining cheese