This roasted vegetable pasta is perfect for using whatever veggies you have on hand. Season pasta and veggies with fresh herbs and olive oil for a delicious fresh dinner!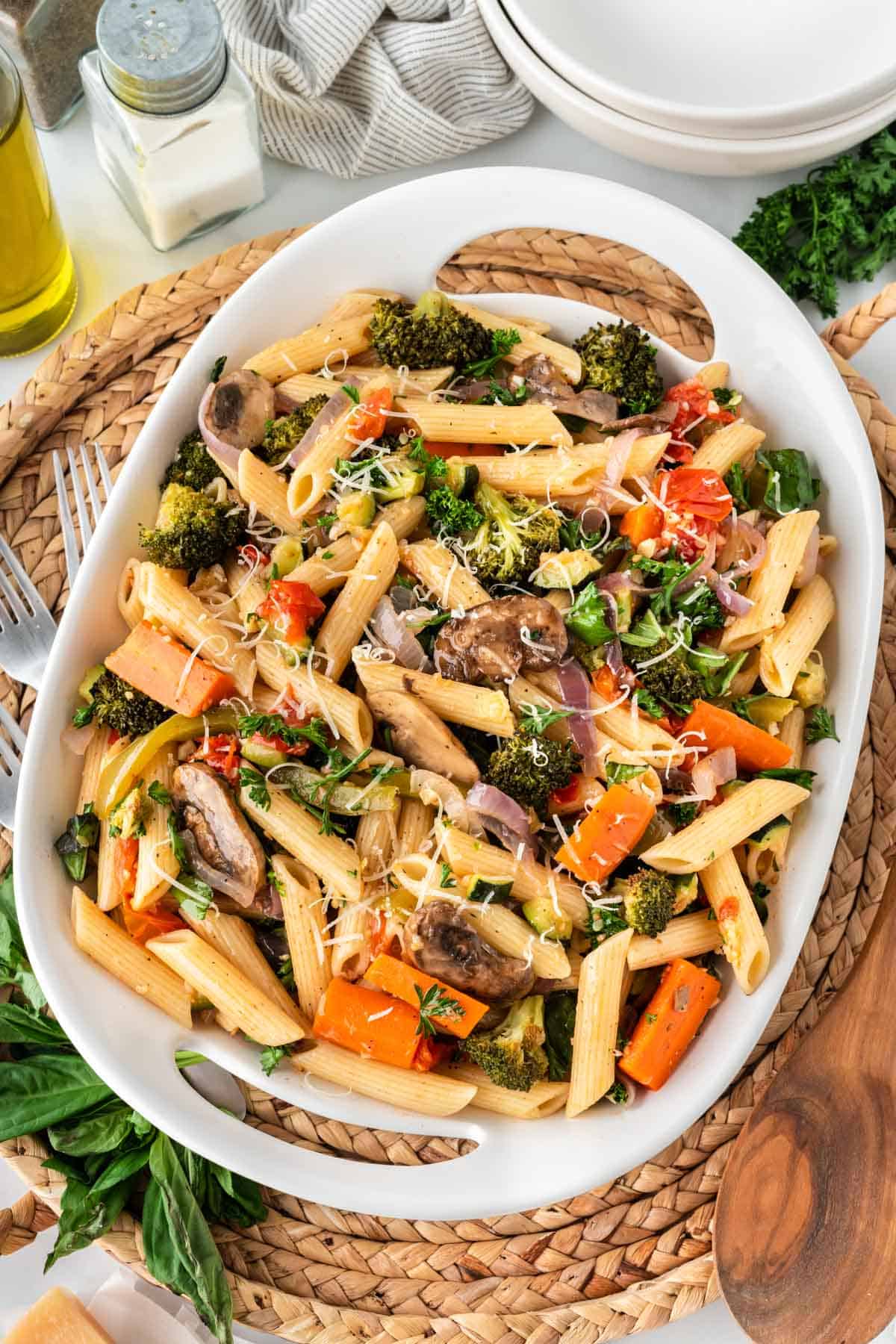 Pasta with Vegetables is so versatile
Roasted vegetable pasta has been on repeat in our home for dinner, and it's about time I share the recipe!
This is one of our favorite meatless dinners lately.
What I love about this dish is that you can use up whatever veggies you have on hand and use any kind of pasta, it is so versatile.
A roasted vegetable primavera that you can make any way you want!
Similar to my Veggie Lover's Rigatoni, the vegetables are the star of the show.
Season with fresh basil and parsley and top with fresh grated parmesan (a must!) for fresh and bold flavor.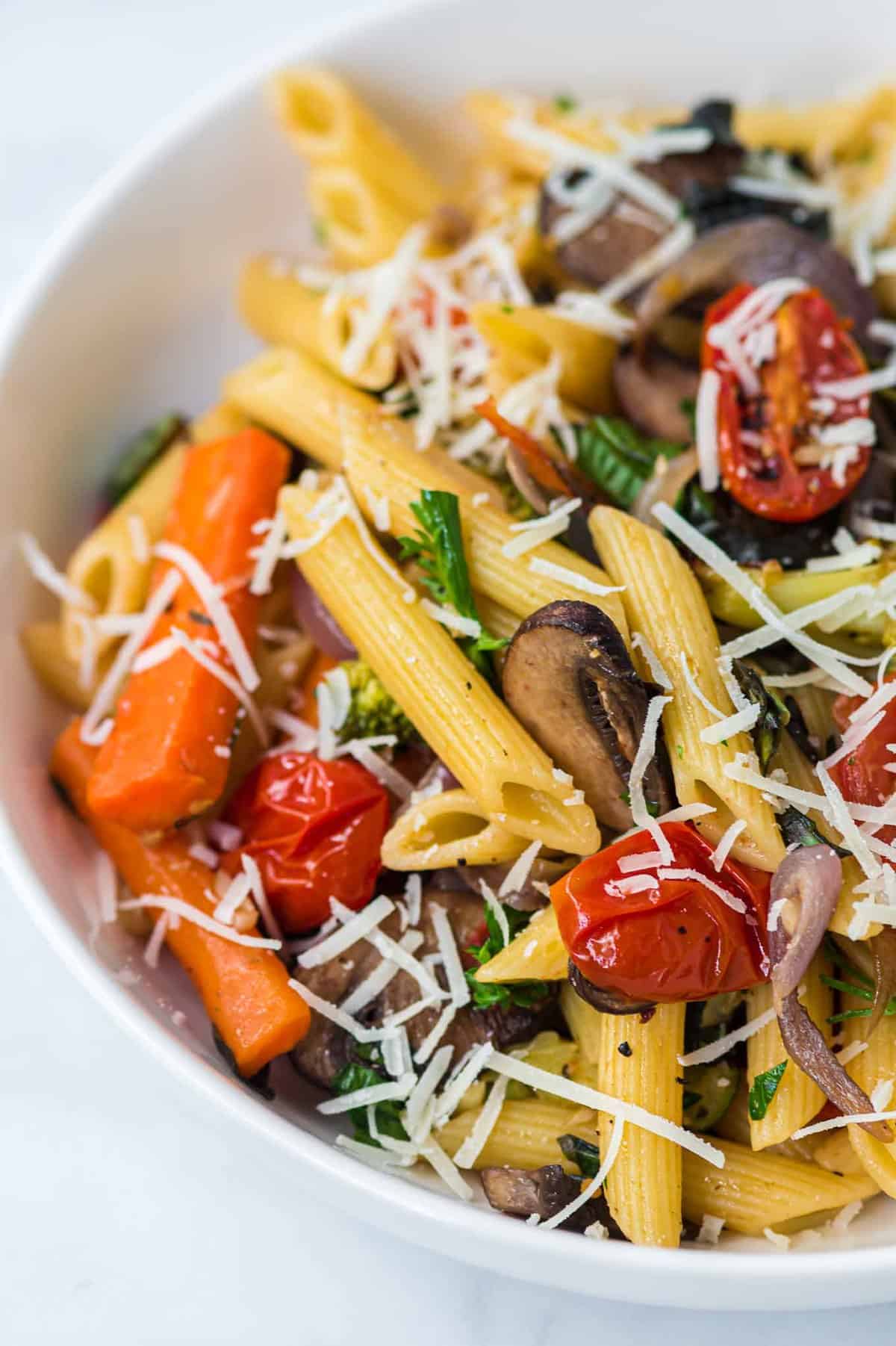 Roasted Vegetable Pasta Ingredients
penne pasta
green bell pepper
red onion
zucchini
mushrooms
whole carrots
cherry tomatoes
broccoli
fresh parsley
fresh basil
garlic cloves
olive oil
parmesan cheese: grated fresh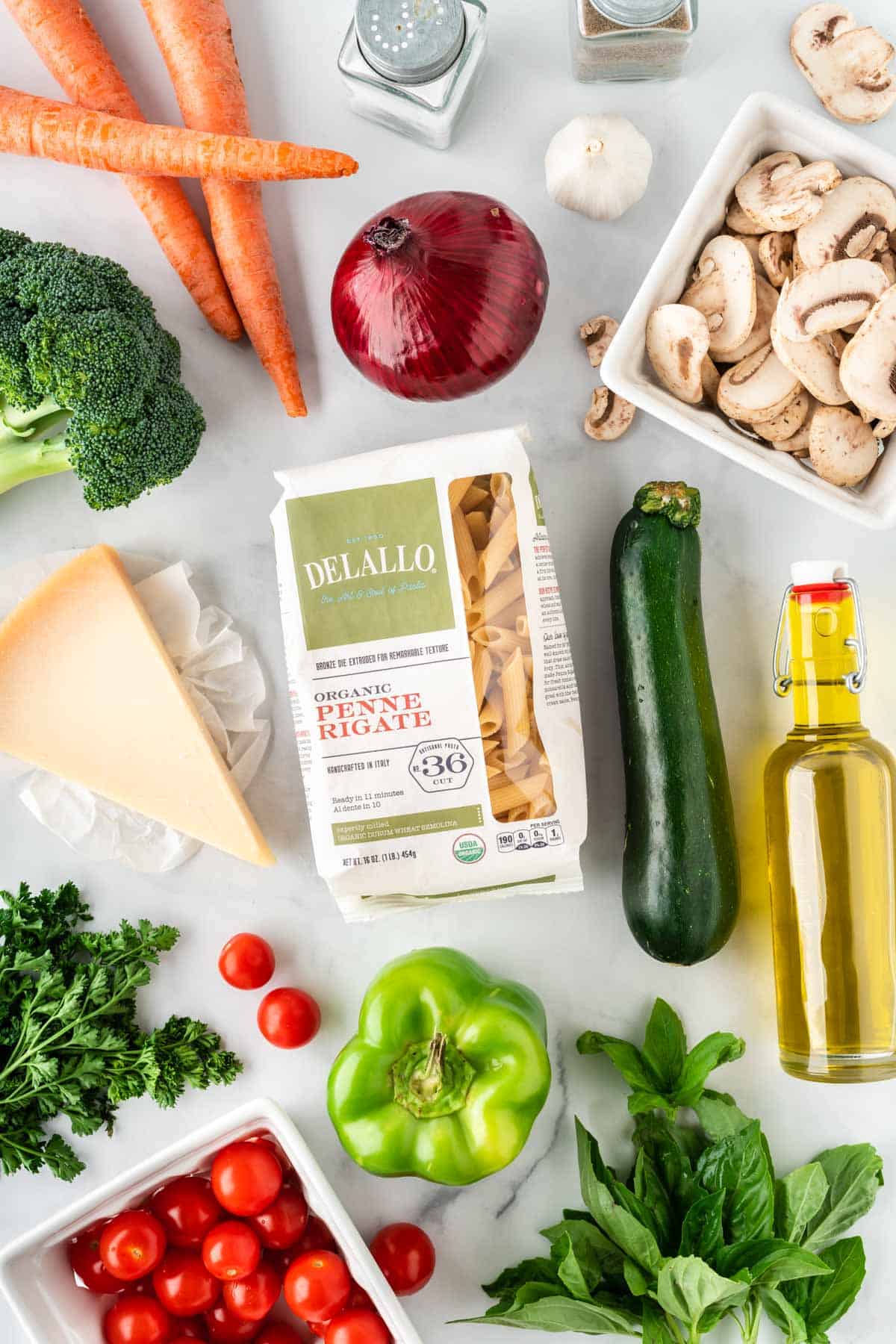 How to make Veggie Pasta
Step 1: To a sheet pan, add your green bell pepper, red onion, carrots, zucchini, and broccoli. Drizzle with olive oil and sprinkle on salt and pepper. Toss with your hands to get the veggies all coated in oil. Roast the vegetables at 425 degrees for 15 minutes.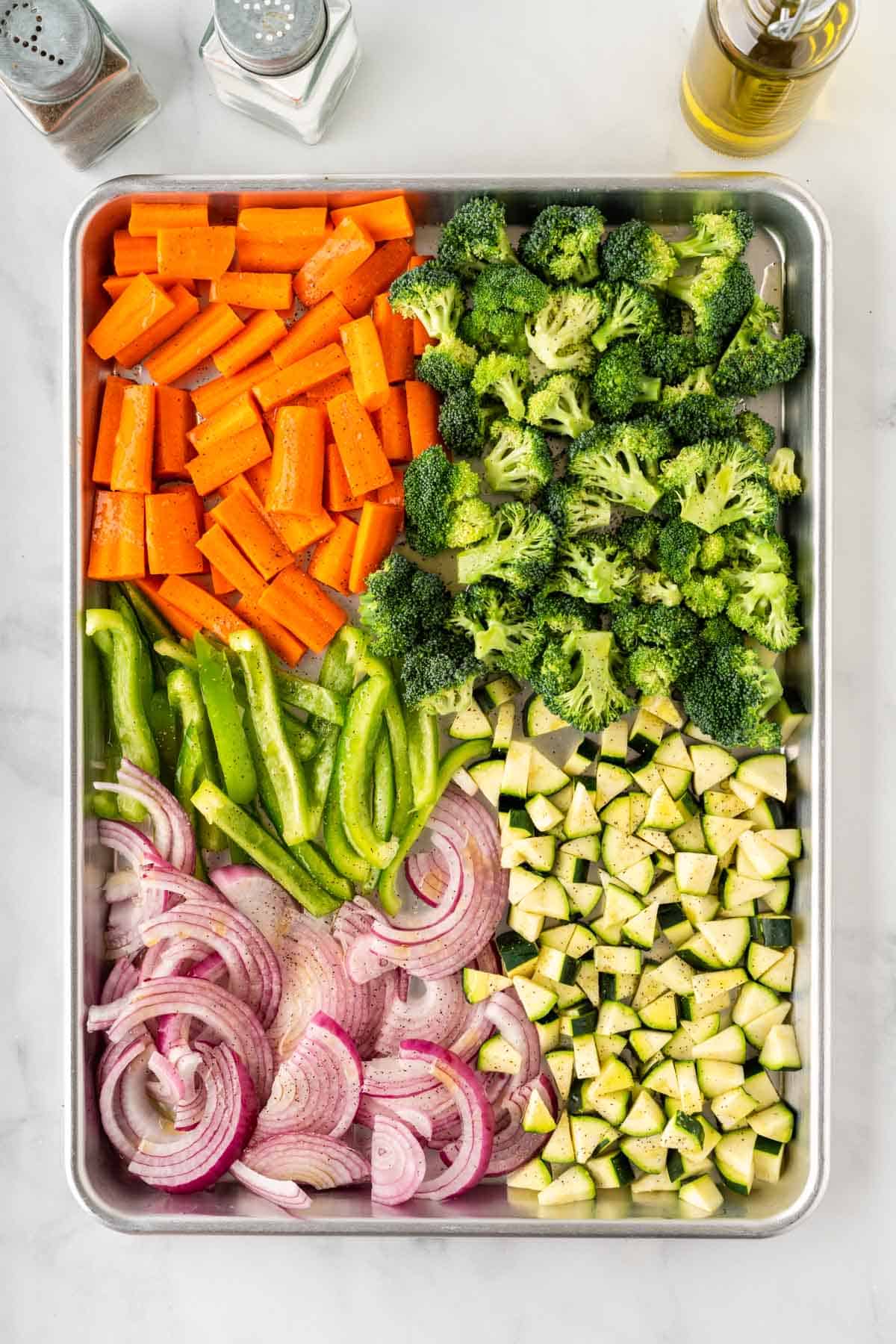 Step 2: Once you get the first sheet pan of roasted vegetables in the oven, prepare the second one: a small container of cherry tomatoes, halved, and 8 oz of sliced mushrooms.
Drizzle those too with olive oil, then salt and pepper. Once that 15 minute timer is done, stir the first sheet tray of veggies, then place both trays into the oven. Roast another 15 – 30 minutes, stirring 1-2x, until all the vegetables are tender.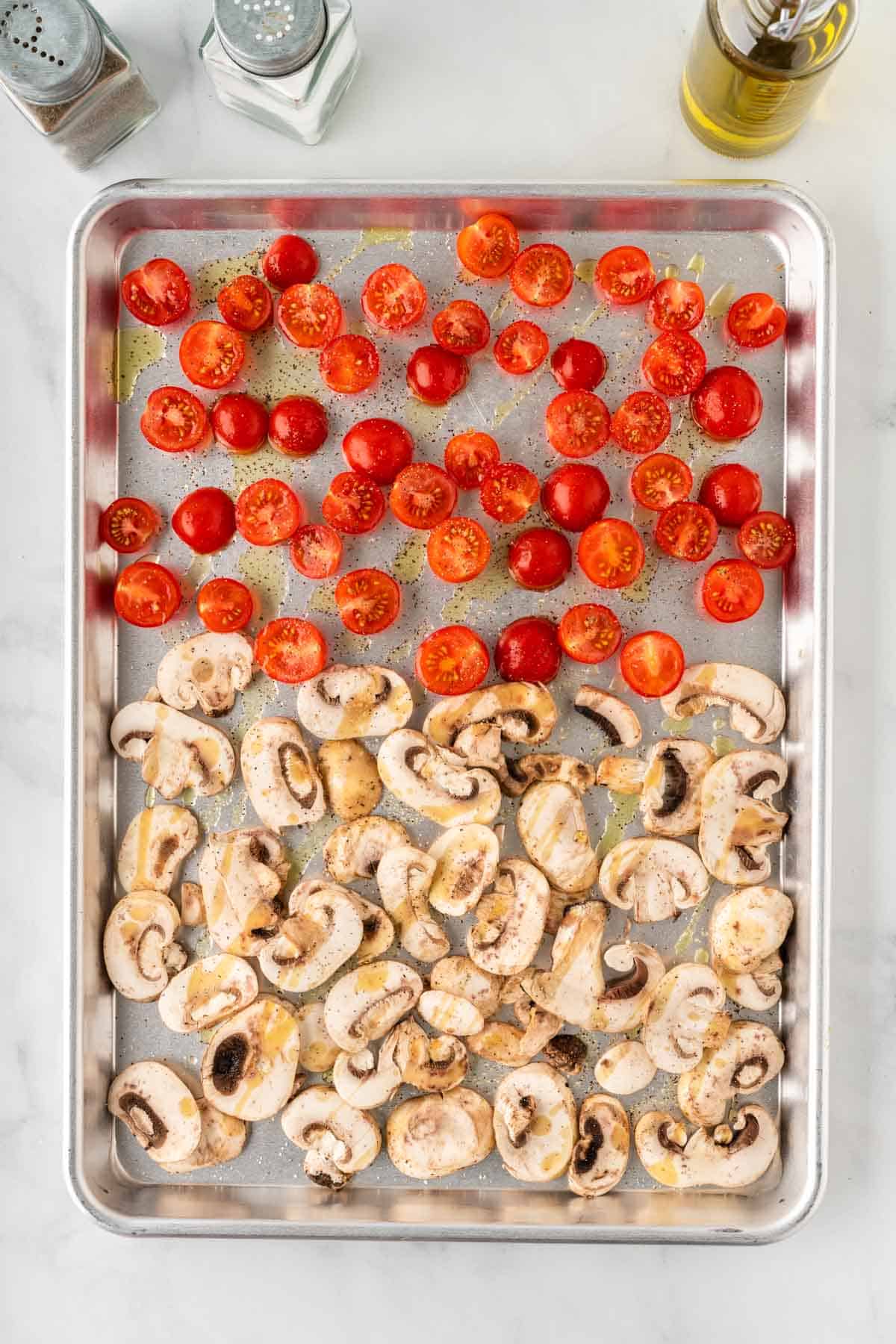 Step 3: While the vegetables are roasting in the oven, prepare a pound of pasta according to package instructions. I used penne, but any type of pasta works. You could use bowties, rigatoni, ziti, elbow noodles, etc. Once the pasta is done, drain it and leave it in the strainer.
Step 4: Using the empty pasta pot, heat 1 teaspoon of oil over low heat. Add in the fresh minced garlic and stir for 1-2 minutes until fragrant.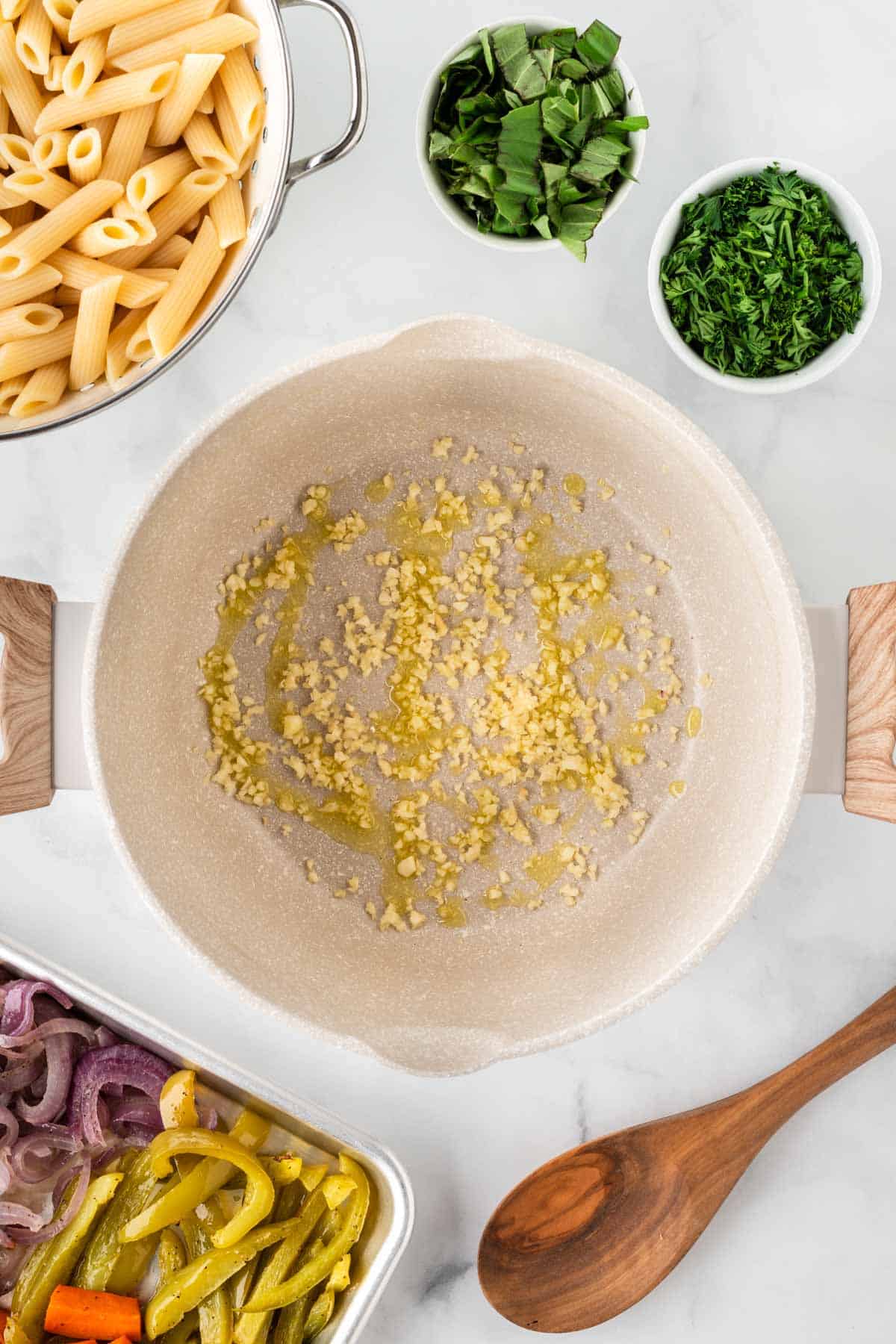 Step 5: Add the pasta noodles back into the pot, then stir in the roasted vegetables and fresh herbs. Salt and pepper to taste, and give it another drizzle of olive oil if needed.
I used ⅓ cup of parsley and ½ cup of fresh basil, but you can certainly use more or less. But don't skip the herbs! Fresh herbs are so flavorful and accentuate the delicious taste of the roasted veggies.
You can serve the pasta as is and it is naturally vegan. I personally love to add fresh grated parmesan cheese on top of the pasta.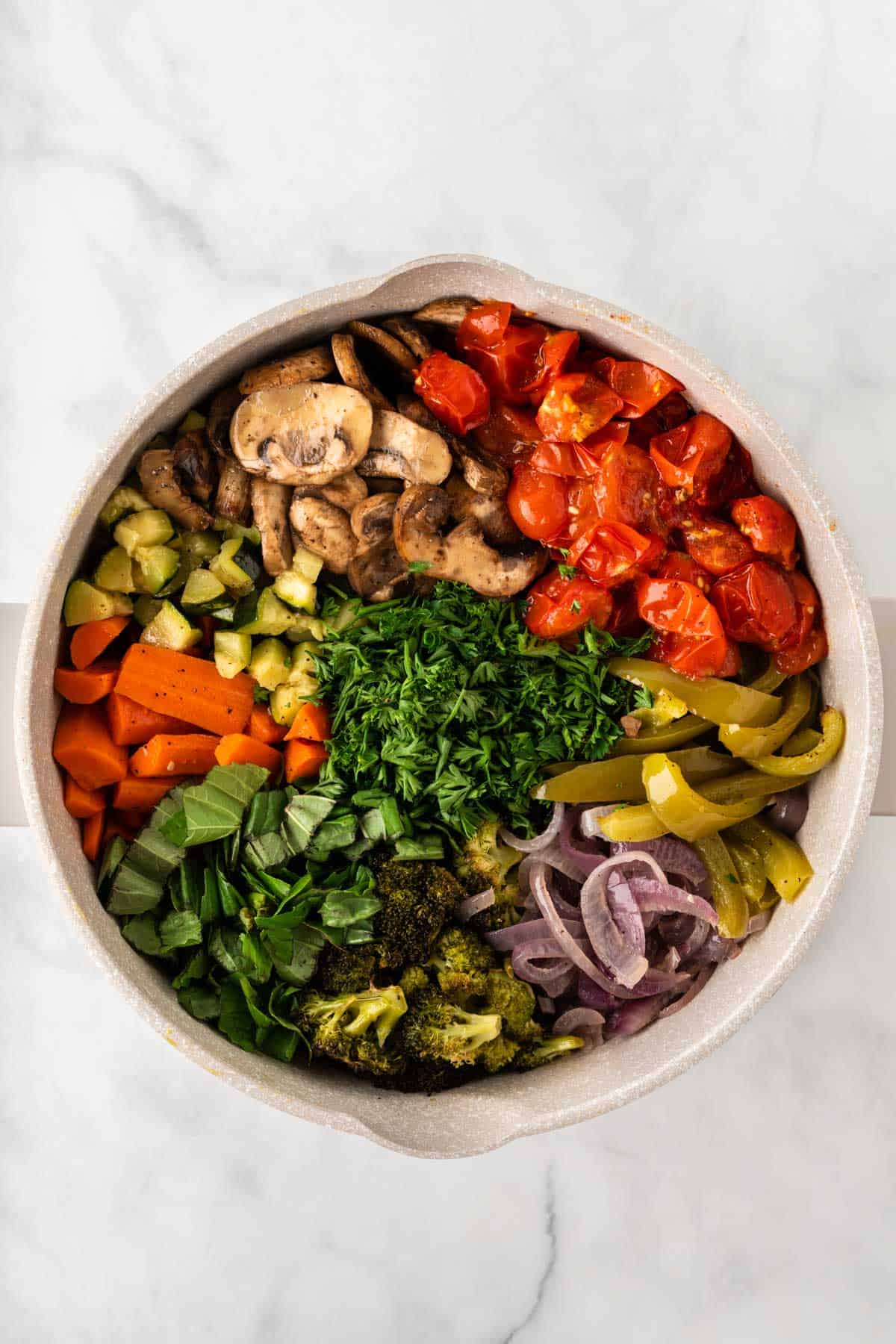 There is just nothing like parmesan grated from the block. It's key to rounding out this dish!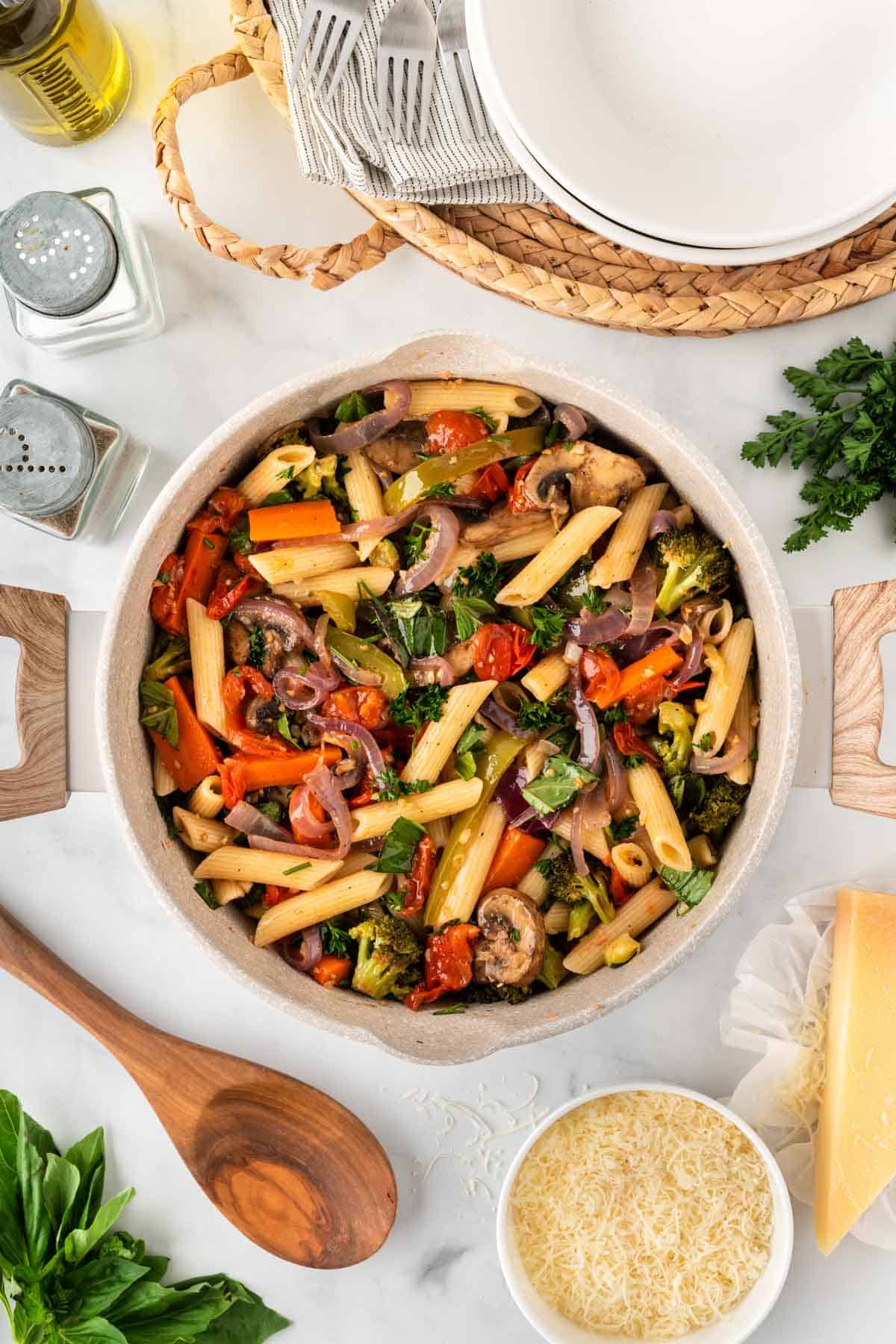 Vegetable Pasta Recipe variations
Like I said, the possibilities are endless here. A few ways you could switch things up:
Use different veggies – cauliflower, asparagus, squash, brussels sprouts, red bell pepper, yellow bell pepper would all be delicious in this pasta.
Use another cheese – feta would be another great cheese to try in this recipe
Mix up the herbs – add more or less fresh basil or parsley, or throw in some pesto! Want some heat? Add in a few red pepper flakes.
Use another pasta – chickpea pasta, rigatoni noodles, ziti, you name it.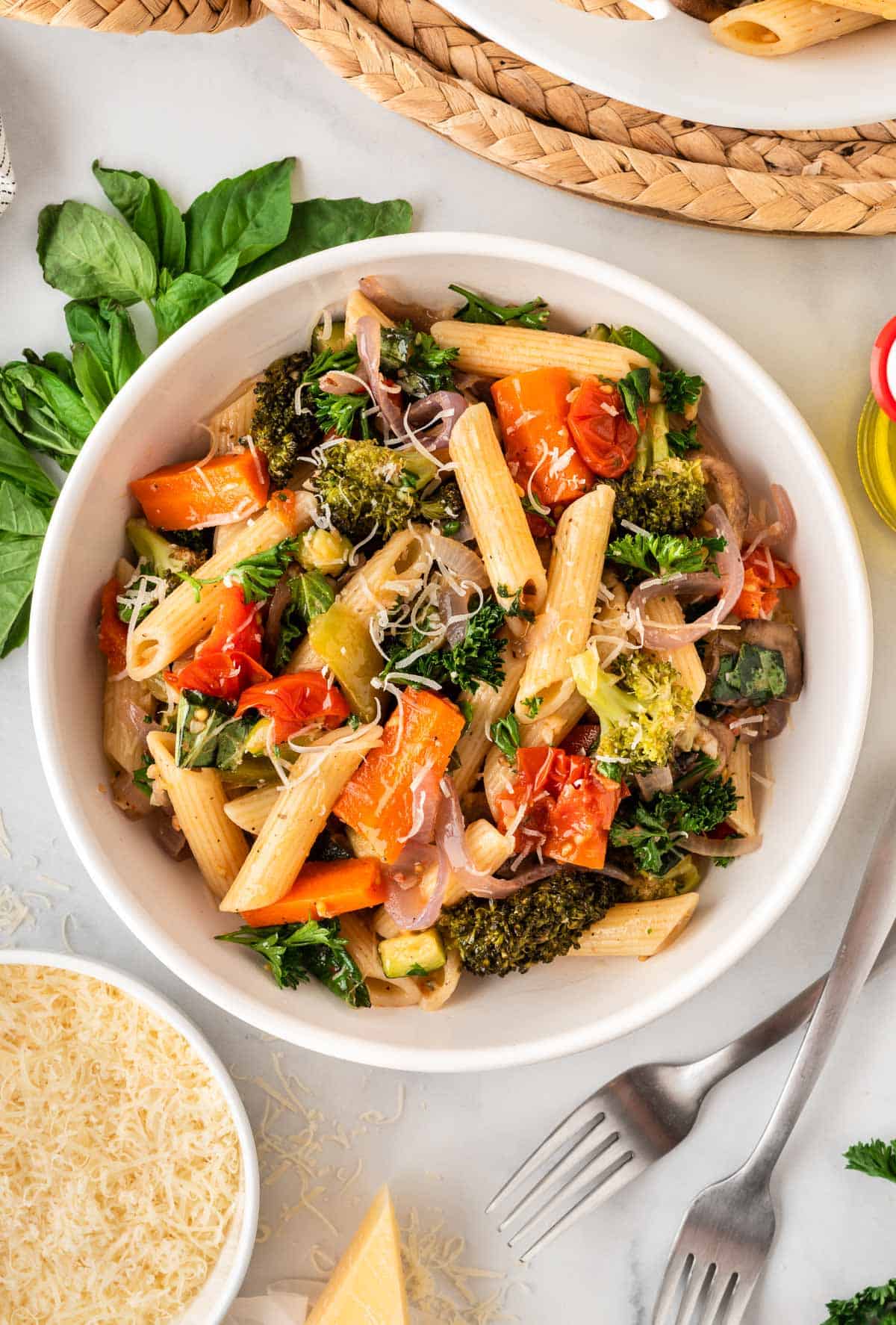 How to serve Pasta with Veggies
As a main dish: Serve this veggie pasta as a main course for a meatless dinner.
With a protein: Try adding grilled chicken or tofu on the side for a higher protein meal.
Roasted Vegetables Pasta storage
To store: Leftover pasta with vegetables can be stored in an airtight container in the refrigerator for up to 3 days. We recommend storing the vegetables separately from the pasta.
To Reheat: Reheat leftover veggie pasta in the microwave until hot.
Veggie Pasta FAQs
What vegetables go well in pasta?
Some of the best vegetables to serve with pasta include bell peppers, onions, zucchini, mushrooms, carrots, cherry tomatoes, broccoli, corn, cauliflower, asparagus, peas, and spinach. Any of these vegetables would be delicious in this veggie pasta.
How do you cut vegetables for pasta?
Vegetables should be cut into similar sized pieces or strips for serving with pasta. This will help make sure that the veggies cook evenly and are easy to eat.
Are you making this recipe? I want to see! Don't forget to tag me on instagram @buildyourbite and hashtag #buildyourbite with your recipe creations!
Be sure to pin this recipe for later and follow Build Your Bite on Pinterest for all the latest delicious recipes!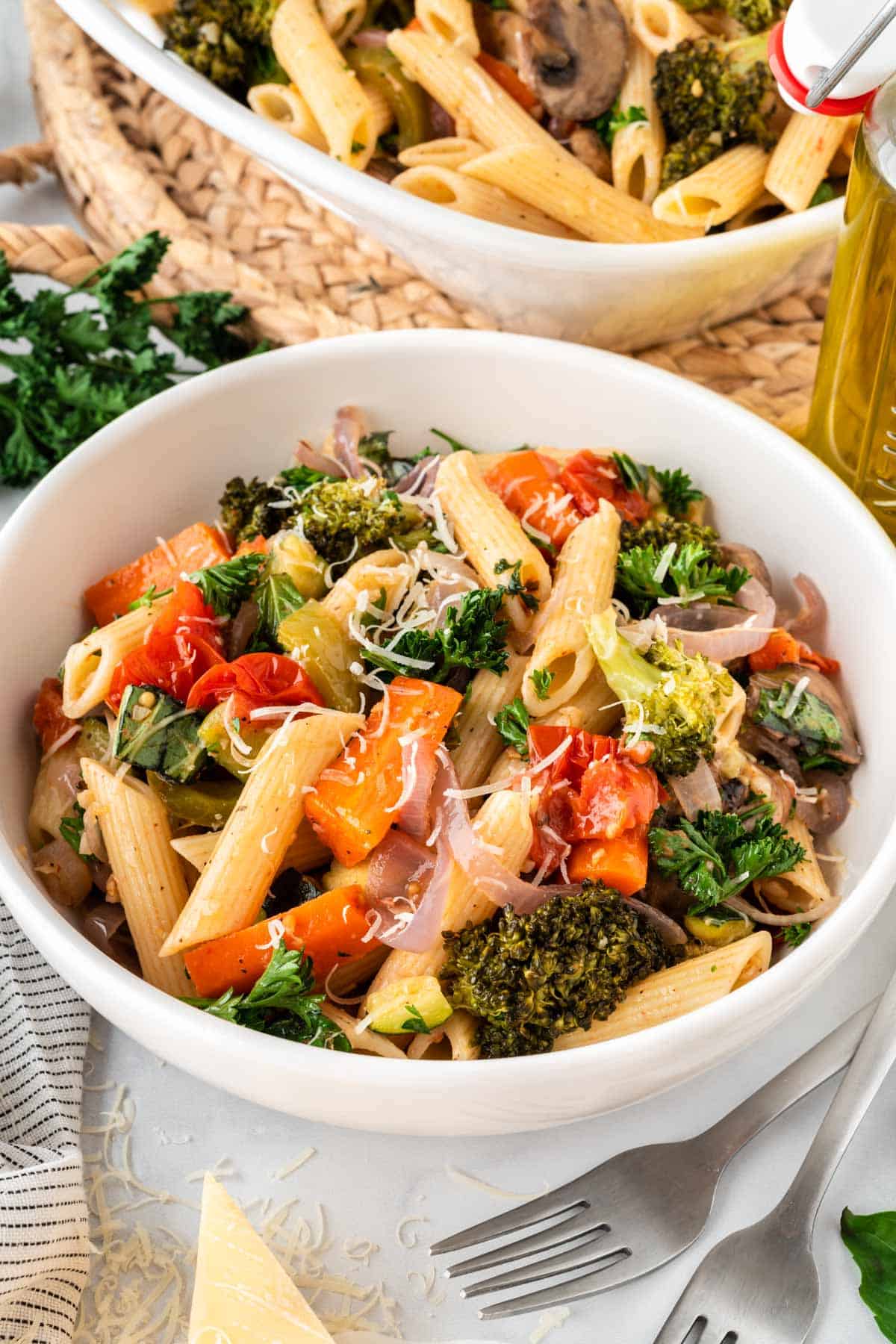 Did you make this recipe? Be sure to leave a star rating below!
This roasted vegetable pasta is the perfect summer dinner! Grab those extra veggies from the farmer's market or your garden and make this delicious pasta dinner.
Roasted Vegetables Pasta
Roasted vegetable pasta with olive oil and fresh parmesan cheese is the most delicious dinner! Use whatever veggies you have on hand for this pasta primavera inspired dish.
Ingredients
1 lb penne pasta
1 green bell pepper, sliced
1 large red onion, sliced
1 medium zucchini, diced
8 oz sliced mushrooms
3 medium carrots, sliced into chunks
10 oz cherry tomatoes, halved
1 small head of broccoli, chopped into florets (around 3 cups worth)
⅓ cup fresh parsley, roughly chopped
½ cup fresh basil, roughly chopped
10 cloves of garlic, minced
olive oil
parmesan cheese, grated fresh
Instructions
Preheat oven to 425 degrees
Add the bell pepper, zucchini, carrots, broccoli, and red onion to a baking sheet. Drizzle with olive oil and sprinkle on salt and pepper. Toss to combine the olive oil onto the vegetables
Roast at 425 degrees for 15 minutes
While the vegetables are roasting, prepare the cherry tomatoes and mushrooms and place them on a separate baking sheet. Toss them in olive oil, salt, and pepper as well.
Remove the first baking sheet of vegetables from the oven after 15 minutes, and stir it around, then place back in the oven for 15 more minutes
Place the tomato/mushroom baking sheet in the oven at the same time
After 15 minutes, stir both baking sheets of vegetables, then remove from oven or roast an additional 5 - 15 minutes, until tender and browned. What types of vegetables you use and the size you cut them in will affect cook time.
Prepare the pasta to al dente according to package instructions
Once the penne is done cooking, drain and leave the pasta in the strainer
Add 1 teaspoon of olive oil to the empty pot used for the pasta, and heat the burner over low heat
Add the minced garlic and stir constantly for 1 - 2 minutes, until fragrant. Add the pasta back in, then add in the finished roasted vegetables. Add the fresh basil and parsley to taste, and use more if desired. Salt and pepper to taste, and drizzle with olive oil if needed
Serve the roasted veggie pasta topped with fresh grated parmesan cheese
Nutrition Information:
Yield:

6
Serving Size:

1
Amount Per Serving:
Calories:

256
Total Fat:

10g
Saturated Fat:

1g
Trans Fat:

0g
Unsaturated Fat:

8g
Cholesterol:

0mg
Sodium:

31mg
Carbohydrates:

35g
Fiber:

5g
Sugar:

6g
Protein:

7g