These tofu wraps are one of our favorite ways to eat tofu! Incredibly flavorful and made with fresh ingredients, this vegetarian lunch is one you will be making again and again.
One of my resolutions this year was to make more recipes that I absolutely love.
These tofu wraps are one of those recipes that I came up with, and let me tell you they are one of the most delicious things that I have ever created.
I love cooking with tofu in recipes like Orange Tofu, Tofu Tacos, Tofu Scramble, Teriyaki Tofu, and Tofu Stir Fry Noodles.
I have found texture to be key when cooking with tofu. That's why when I heard about freezing tofu before cooking, I knew I had to try it!
Freezing tofu totally changes the texture, allows you to get more of the liquid out, and is so simple to do. I'll show you how I do it in this easy tofu wrap recipe!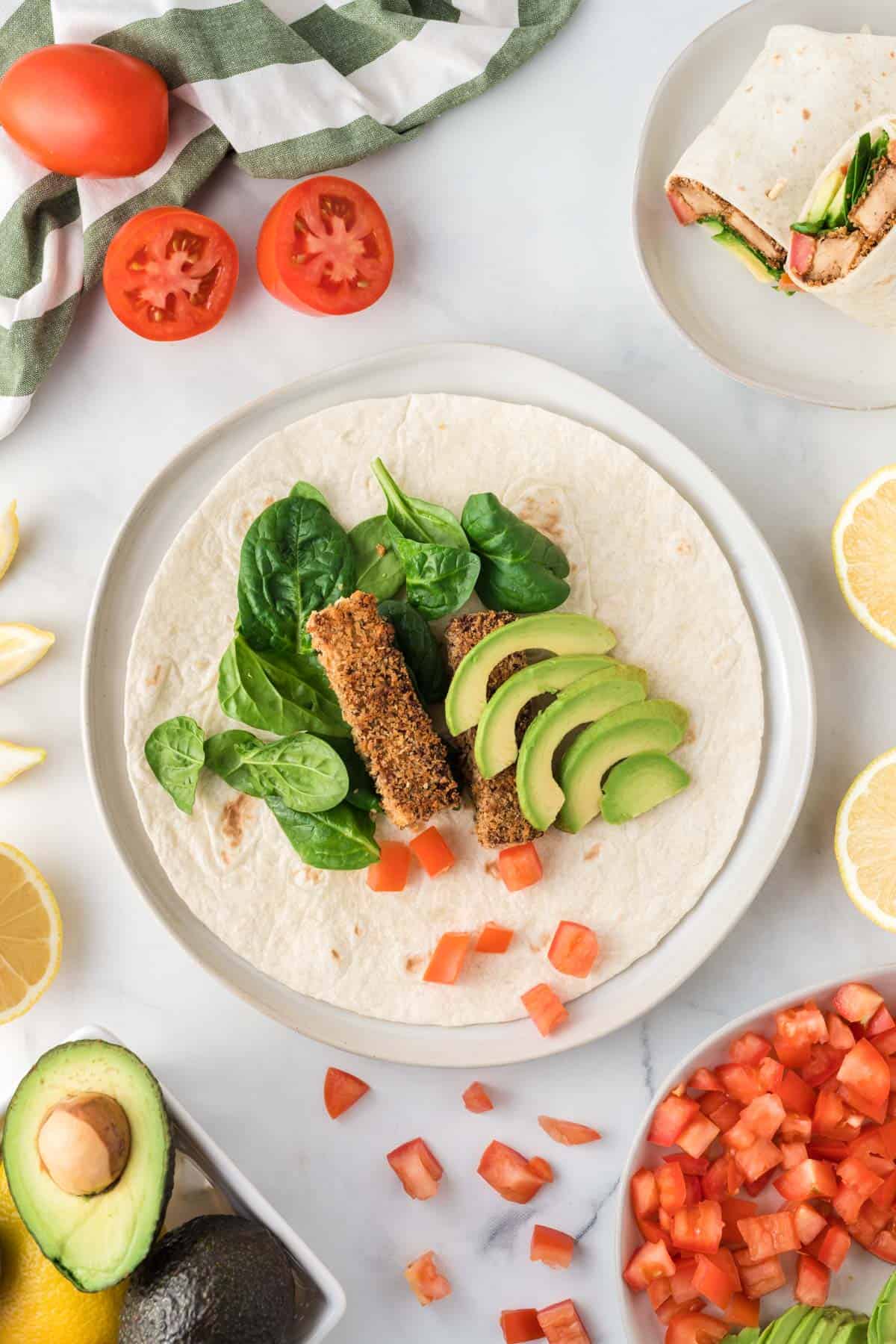 Ingredients needed to make tofu wraps
extra firm tofu: drained and frozen
olive oil and soy sauce: for the tofu marinade
garlic powder, minced onion, cumin, basil, paprika, salt, breadcrumbs, and flour: for the tofu breading
Flour tortillas
Avocado
Lemon slices: a must to bring out all the fresh flavors
Roma tomatoes
Spinach: or greens of choice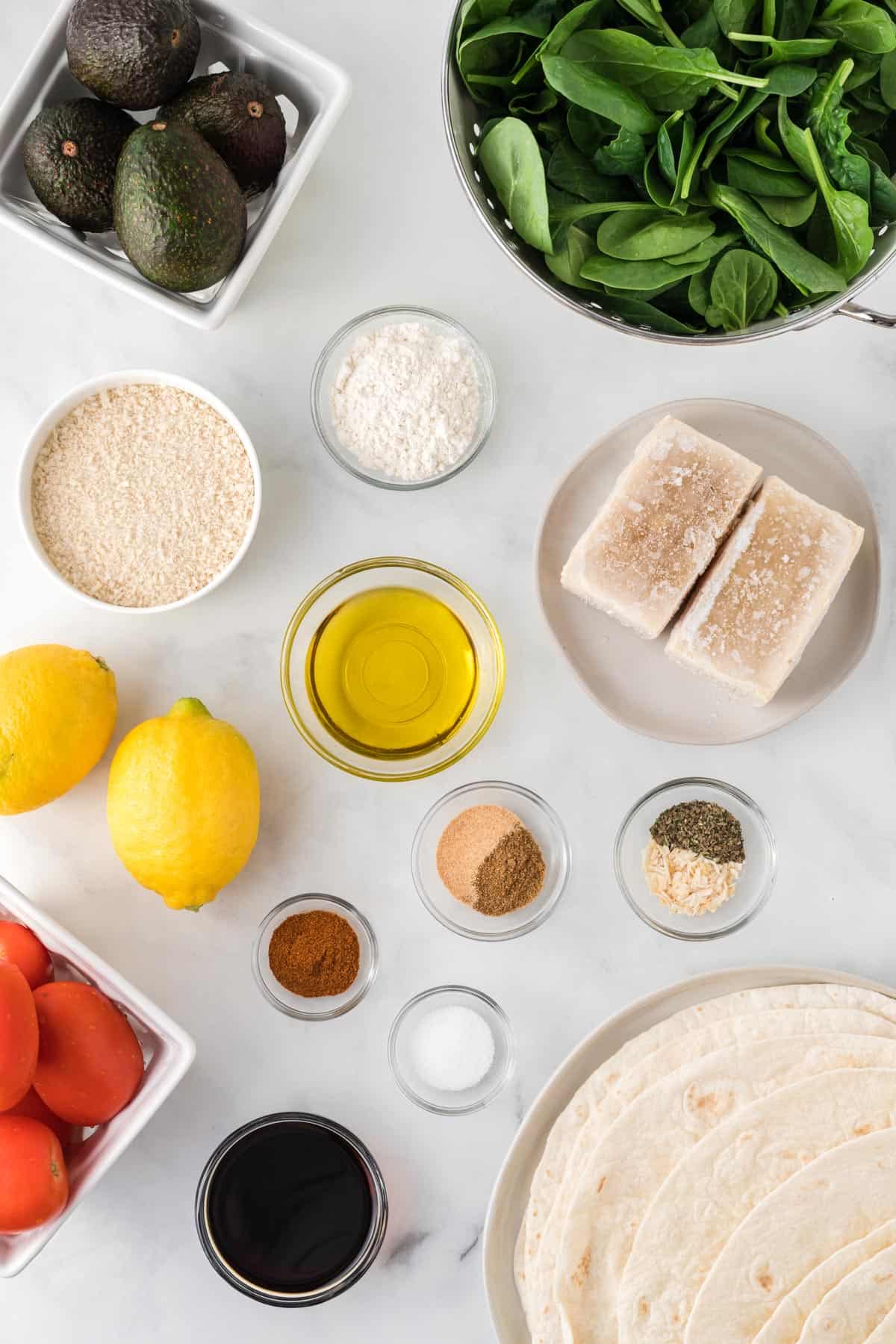 How to make tofu wraps
Step 1: Drain the tofu and press for 5 minutes between a dish towel. Use a plate or other heavy object . You will not get a ton of liquid out yet. Place the tofu block in an airtight ziploc bag and place in the freezer at least overnight.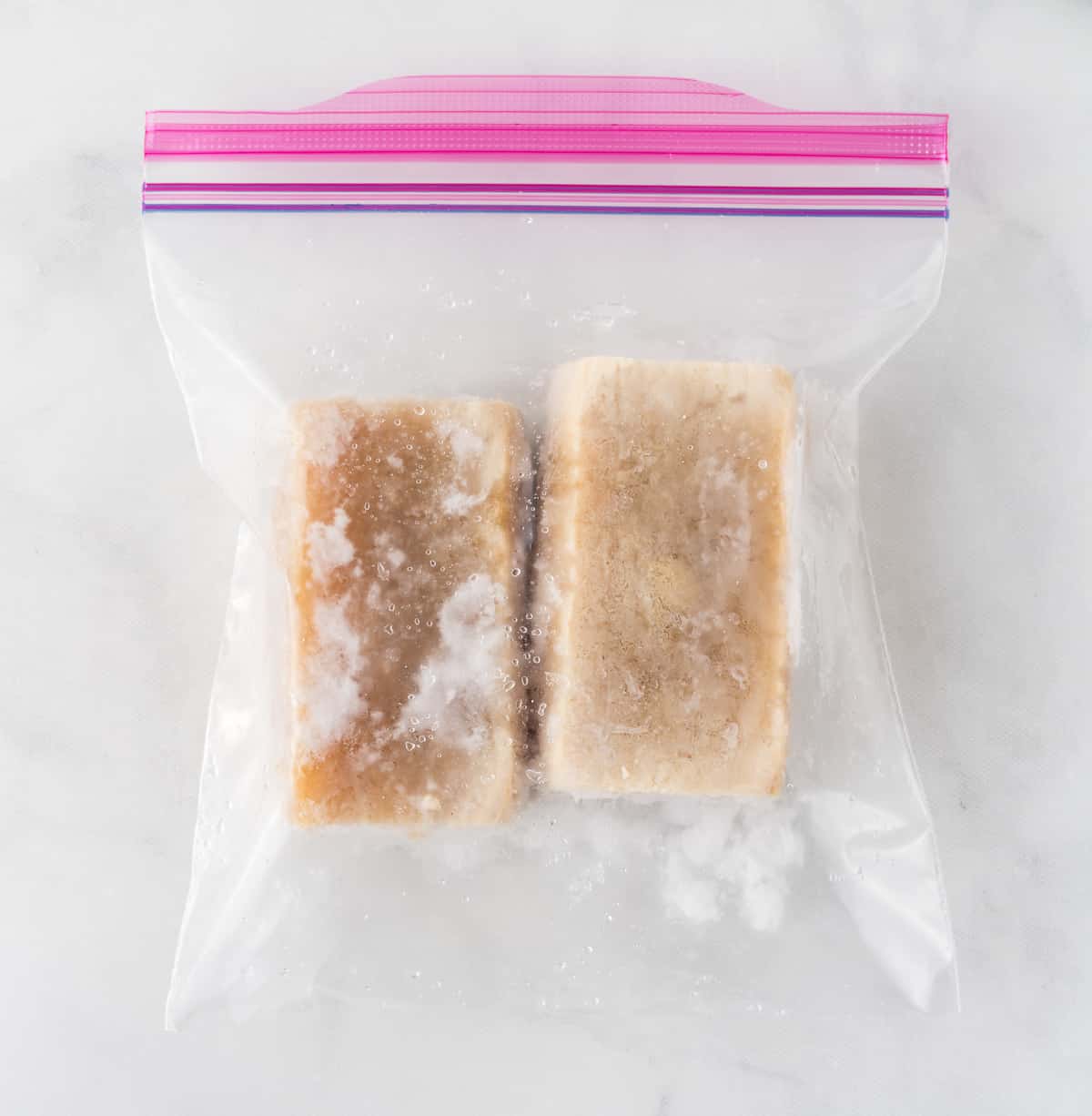 Step 2: Once the tofu is frozen, place it on a microwave safe plate. Microwave the block in 2-3 minutes increments, flipping sides, until the tofu is no longer frozen.
Press the tofu again while on the plate with something heavy on top. You will get A LOT of liquid this time. Get as much out as possible.
Step 3: Cut the tofu in half widthwise, then cut into strips.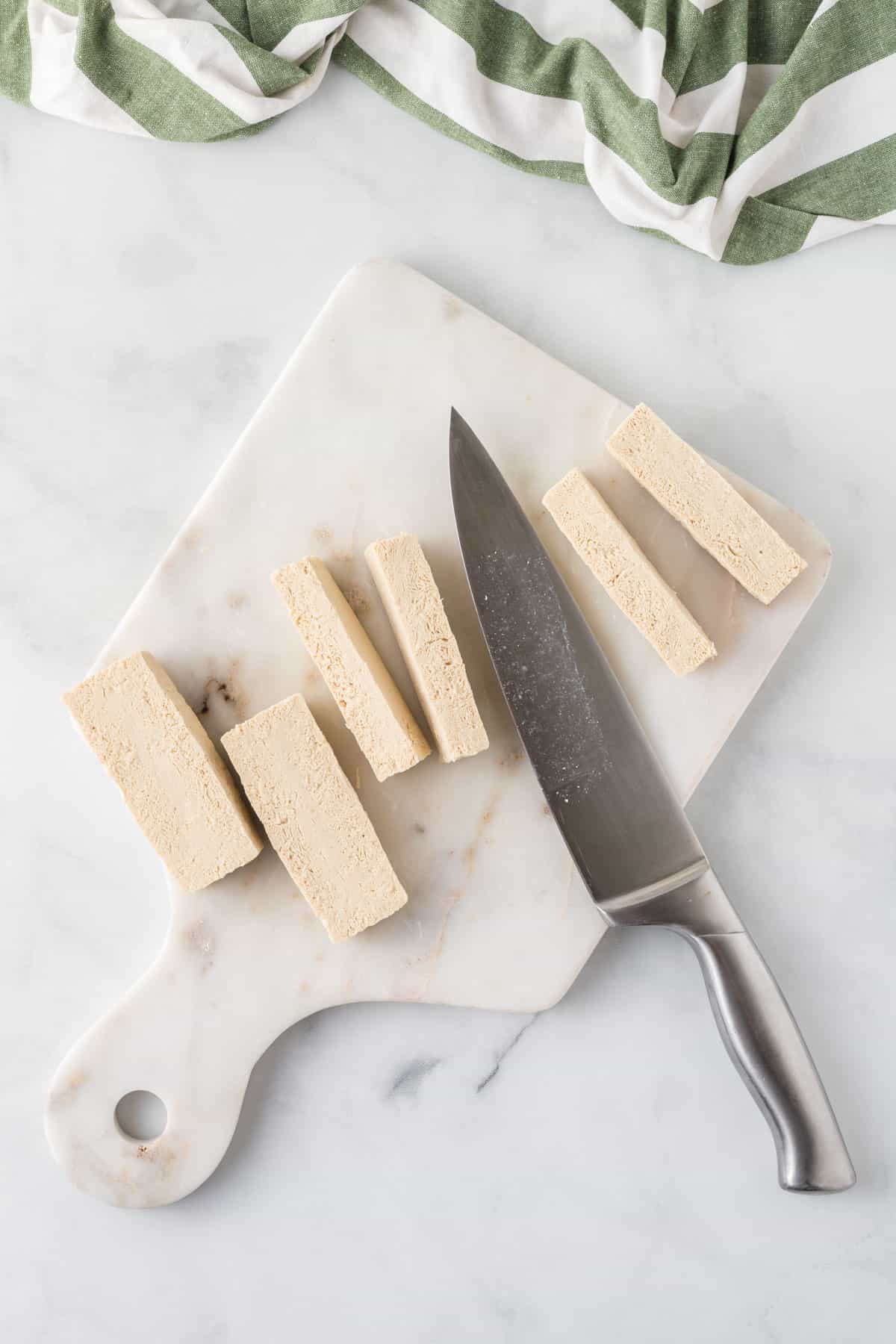 Step 4: Place the tofu strips in an 8 by 8 baking dish. Drizzle the olive oil and soy sauce over the top and let it sit and marinate while you prepare the other ingredients
The tofu will start to absorb the liquid as it sits.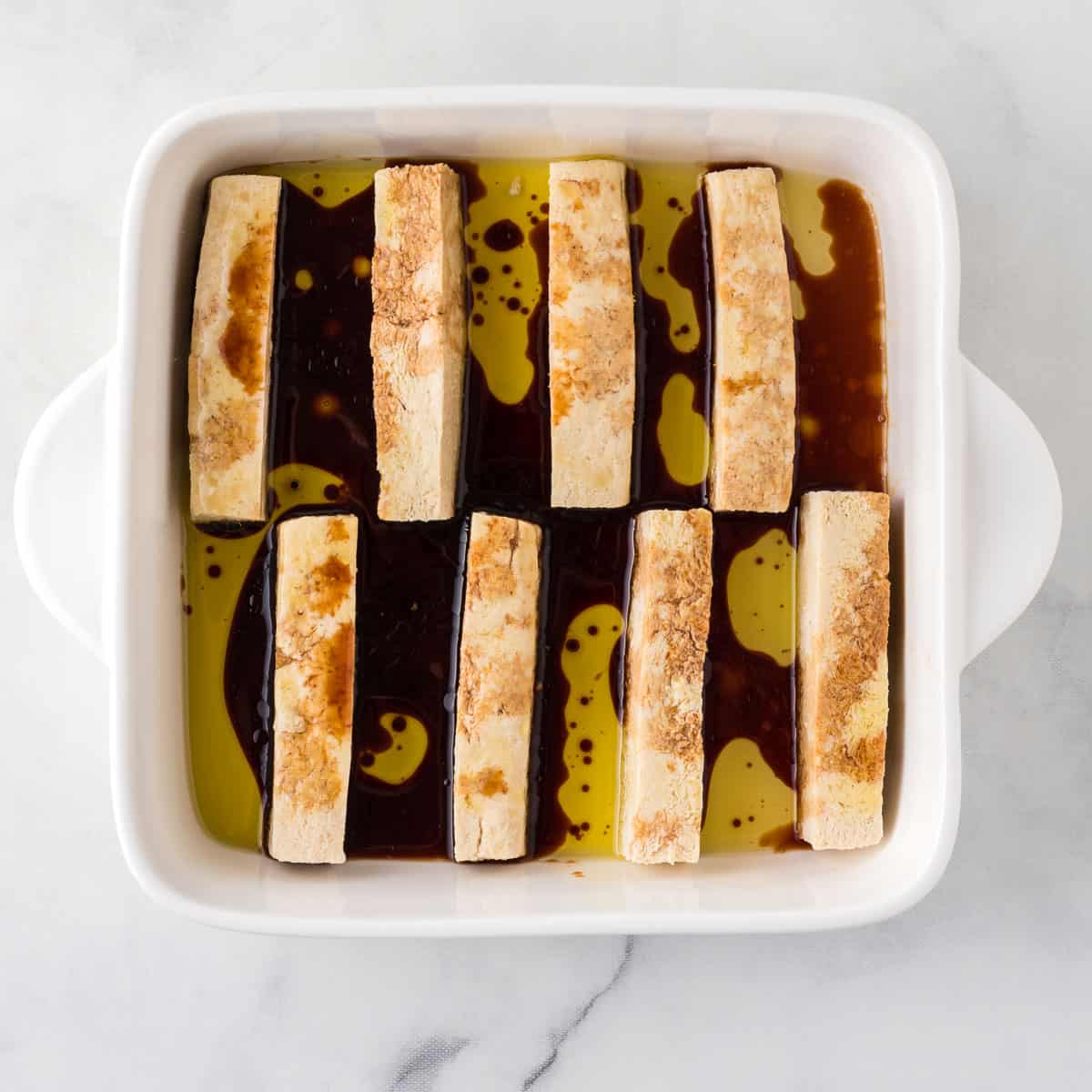 Step 5: In a bowl, combine the ingredients for the tofu breading.
Mix together the panko breadcrumbs, flour, cumin, garlic powder, minced onion, basil, paprika, and salt until combined.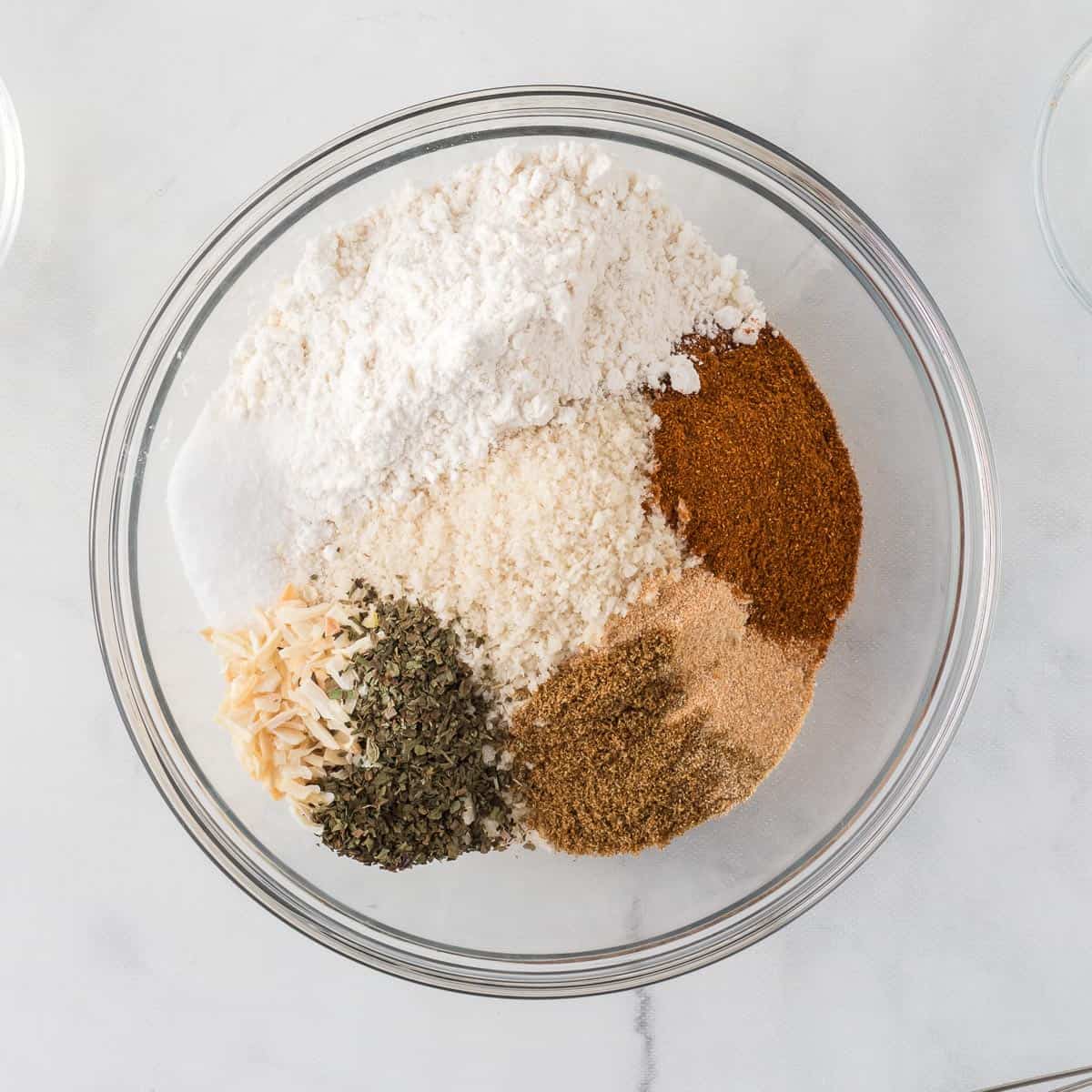 Step 6: Line a baking sheet with parchment paper. Take a tofu strip and rub it around in the soy sauce and olive oil once more, then dip it in the flour/spice mixture until coated, then place on the parchment paper lined baking sheet.
Repeat until all the tofu strips are coated. Press some additional flour mixture into the tops of the tofu as needed.
Step 7: Bake the tofu for 15 minutes at 425 degrees. Flip the tofu, then bake an additional 10-15 minutes, until crispy on the edges.
Now you are ready to assemble the tofu wraps!
First, heat your tortilla shell for 10-15 seconds on a plate in the microwave. This will make it easier to roll up.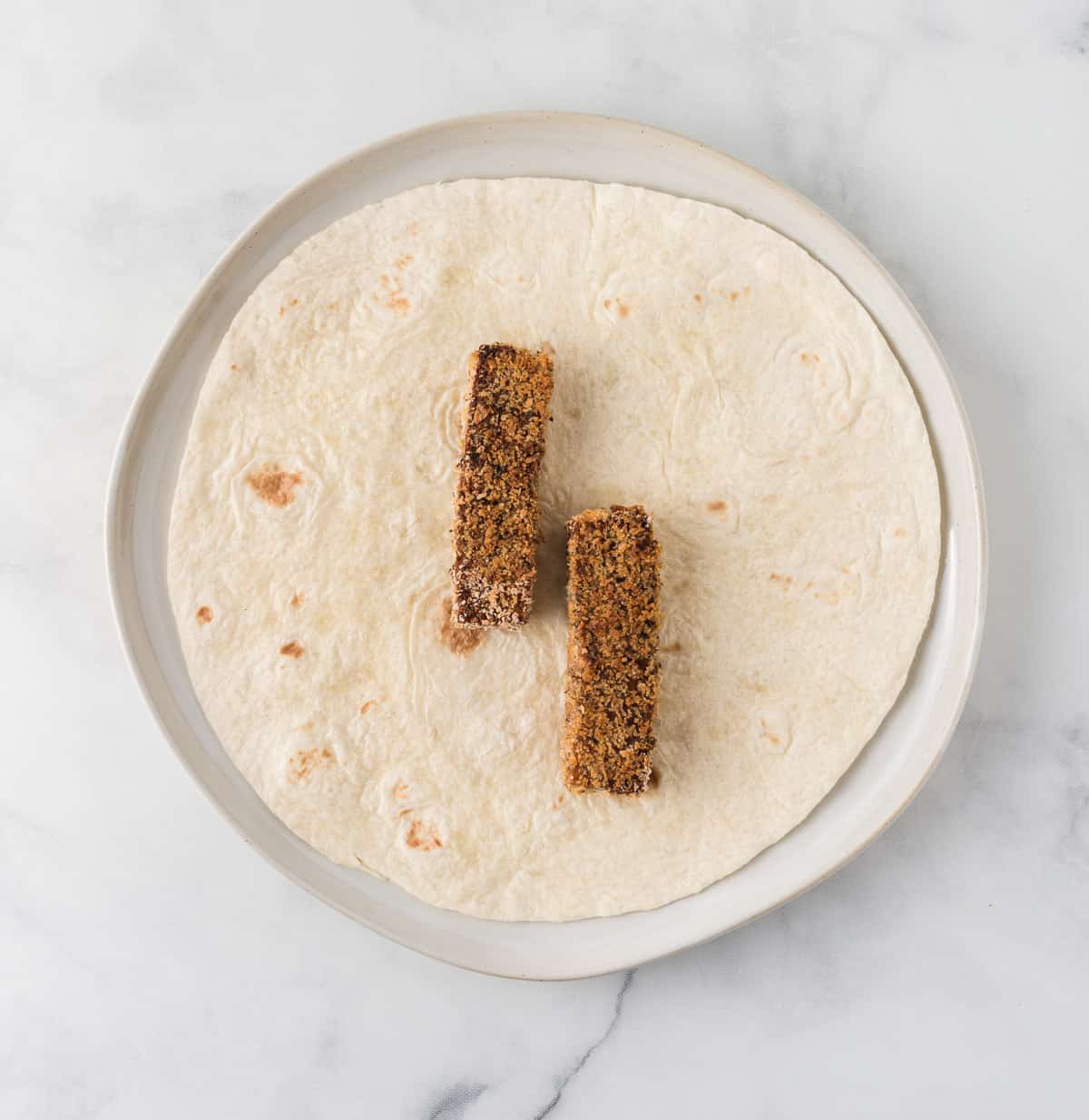 Step 8: Place 1-2 strips of tofu on the tortilla, and add the avocado slices, tomato slices, spinach, and a generous squeeze of fresh lemon juice. The lemon juice pulls it all together, so don't skip it!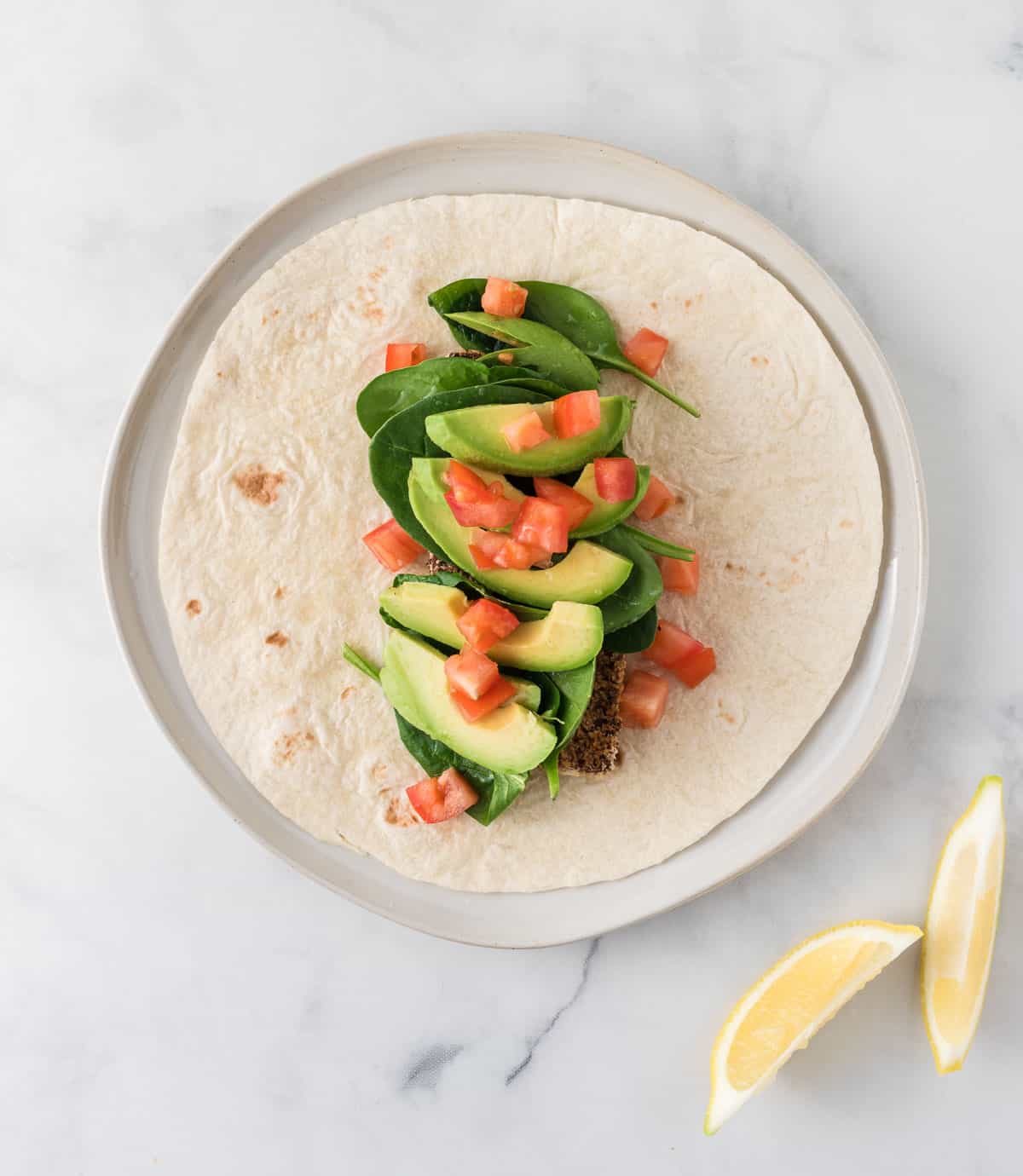 Roll your tofu wrap up and serve immediately.
How to store leftovers
Leftover tofu will keep well in the fridge for 2-3 days. I recommend reheating it in the oven for best texture.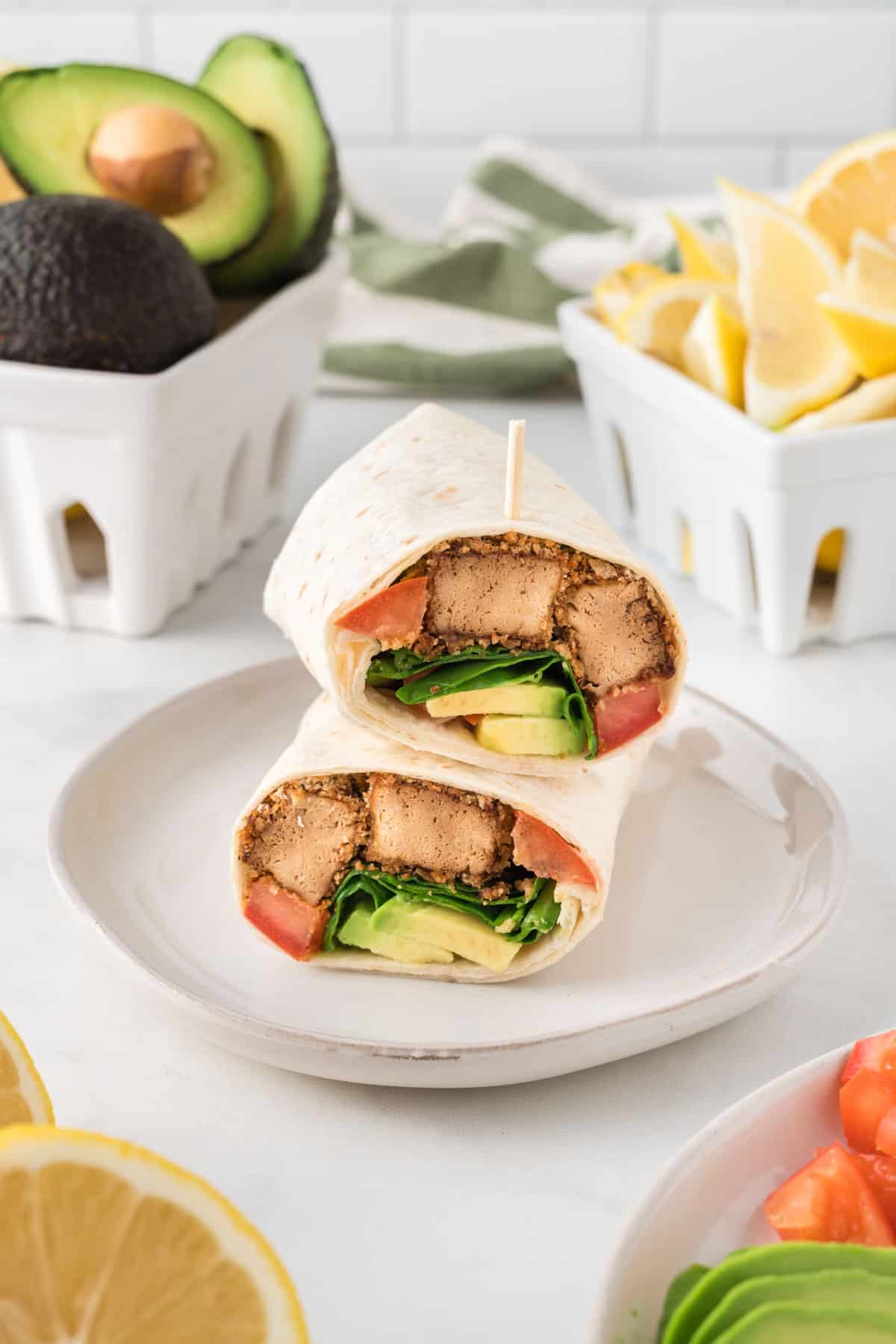 These tofu wraps are so delicious that I am sure they will be a family favorite.
Try these when you're craving a new way to eat tofu!
This is one of the best lunches I have ever eaten. The crispy flavorful breaded tofu contrasts so well with the crunch veggies, creamy avocado, and freshness of the lemon juice.
Are you making this recipe? I want to see! Don't forget to tag me on instagram @buildyourbite and hashtag #buildyourbite with your recipe creations!
More Vegetarian lunch ideas
When I don't have dinner leftovers like vegetarian meatloaf, I need something that is quick to whip up. Here are some favorites!
Be sure to pin this recipe for later and follow Build Your Bite on Pinterest for all the latest delicious recipes!
We just cannot get enough of how good this tofu recipe is!
No dressing required for these wraps, the lemon juice will bring out all of the bursting flavors.
Did you make this recipe? Be sure to leave a star rating below!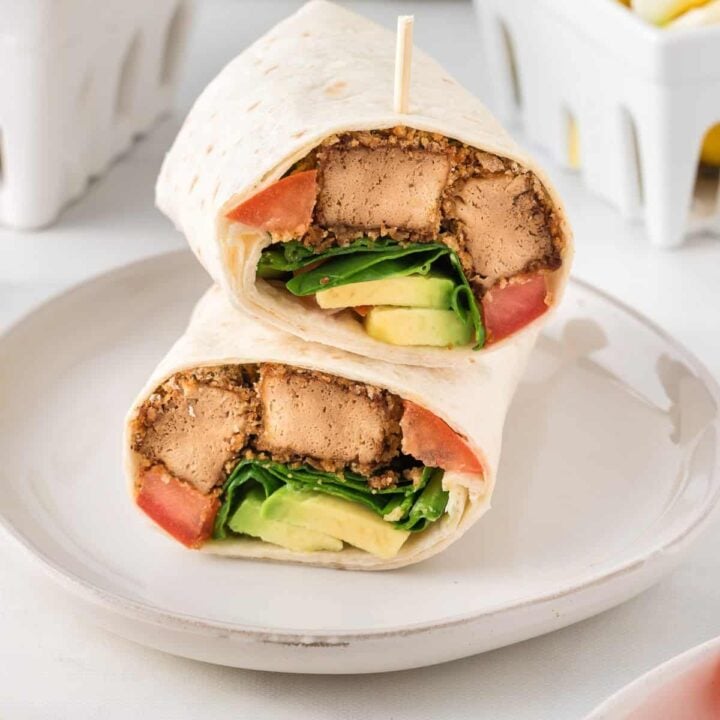 Tofu Wraps
These crispy tofu wraps with fresh veggies are one of the best vegetarian lunches! So flavorful and easy to make.
Ingredients
For the Tofu
1 block (14 oz) extra firm tofu, drained and frozen
3 tablespoons olive oil
1 teaspoon garlic powder
1 teaspoon dried minced onion
1 teaspoon cumin
1 teaspoon basil
1 ½ teaspoons paprika
1 teaspoon salt
1 cup panko style breadcrumbs
¼ cup flour
¼ cup soy sauce
For making the wraps
Flour tortillas
Avocado slices
Lemon slices
Roma tomatoes
spinach
Instructions
Drain the tofu and press for 5 minutes between a dish towel. Use a plate or other heavy object . You will not get a ton of liquid out yet.
Place the tofu block in an airtight ziploc bag and place in the freezer at least overnight. Freezing tofu changes the texture in a great way!
Once the tofu is frozen, place it on a microwave safe plate. Microwave the block in 2-3 minutes increments, flipping sides, until the tofu is no longer frozen.
Press the tofu again while on the plate with something heavy on top. You will get a lot of liquid this time. Get as much out as possible
Cut the tofu in half widthwise, then cut into strips (see photos in the post) You will get 8 strips total.
Place the tofu strips in an 8 by 8 baking dish. Drizzle the olive oil and soy sauce over the top of the tofu and let it sit and marinate while you prepare the other ingredients
In a bowl, mix together the panko breadcrumbs, flour, cumin, garlic powder, minced onion, basil, paprika, and salt until combined
Line a baking sheet with parchment paper
Take a tofu strip and rub it around in the soy sauce, then dip it in the flour/spice mixture until coated, then place on the parchment paper lined baking sheet
Repeat until all the tofu strips are coated. Press some additional breading mixture into the tops of the tofu as needed
Bake the tofu for 15 minutes at 425 degrees
Flip the tofu over and bake for an additional 10-15 minutes, until browned and crispy on the edges
To assemble the tofu wraps, first heat the flour tortilla for 10-15 seconds in the microwave. This will make it easier to fold.
Place 1-2 strips of tofu on the tortilla, and add the avocado slices, tomato slices, spinach, and a generous squeeze of fresh lemon juice
Roll the tortilla up and serve immediately
Nutrition Information:
Yield:

4
Serving Size:

1
Amount Per Serving:
Calories:

419
Total Fat:

25g
Saturated Fat:

4g
Trans Fat:

0g
Unsaturated Fat:

19g
Cholesterol:

0mg
Sodium:

1645mg
Carbohydrates:

36g
Fiber:

8g
Sugar:

4g
Protein:

19g