Mushroom ramen noodles cooked in homemade stir fry sauce. This delicious asian inspired recipe is easy to make and will be a family favorite!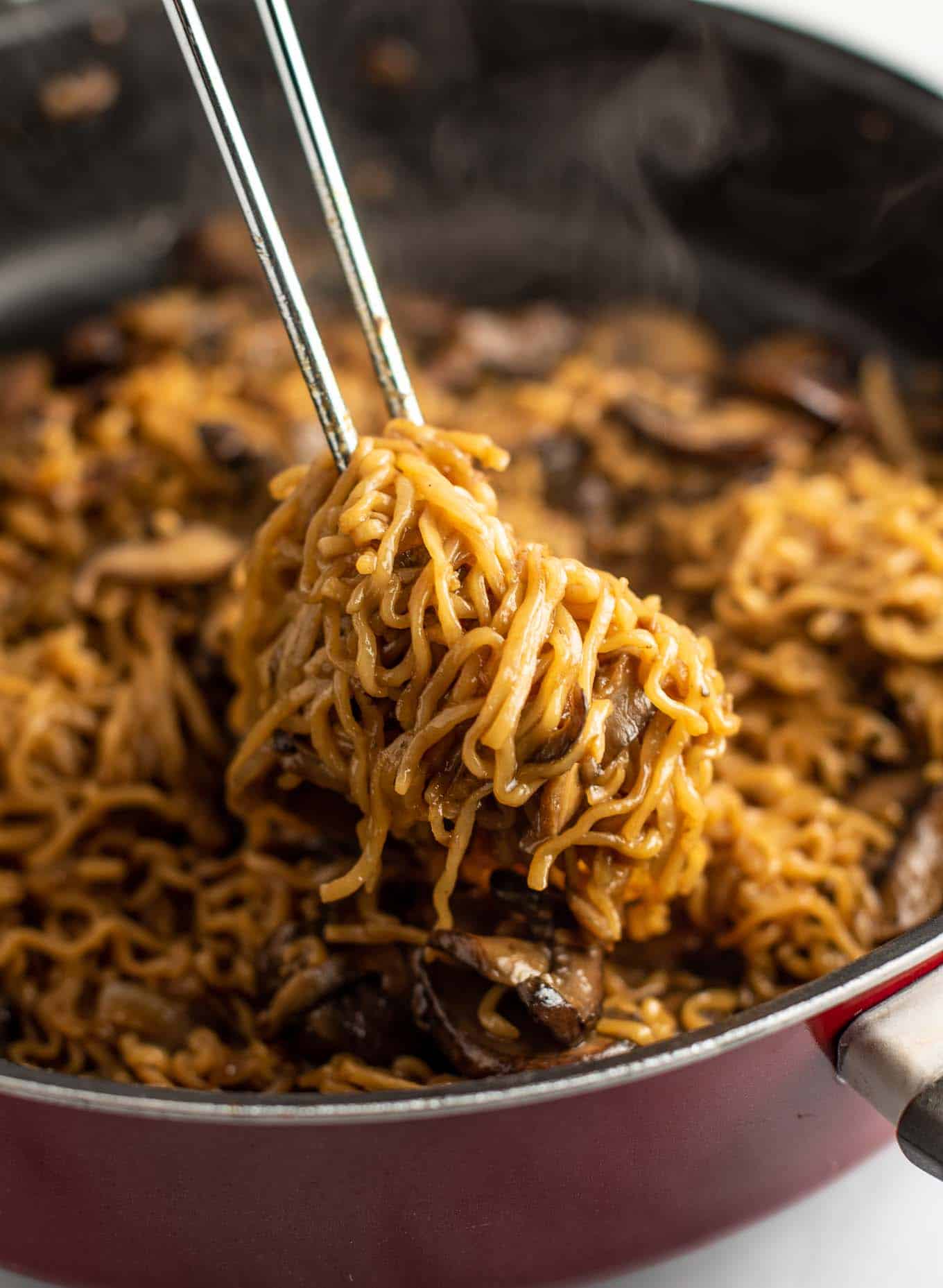 These asian mushroom noodles taste just as good (or better!) than your favorite takeout.
Saucy noodles are tossed with perfectly cooked mushrooms, fresh garlic and ginger, and the best homemade stir fry sauce gives it all the flavor.
Top with sweet chili sauce and you have a dish that will rival any takeout favorite.
This is one of our favorite ramen noodle recipes along with these Sesame Garlic Ramen Noodles.
We love takeout inspired recipes like stir fry vegetables, orange cauliflower, and ramen noodle stir fry.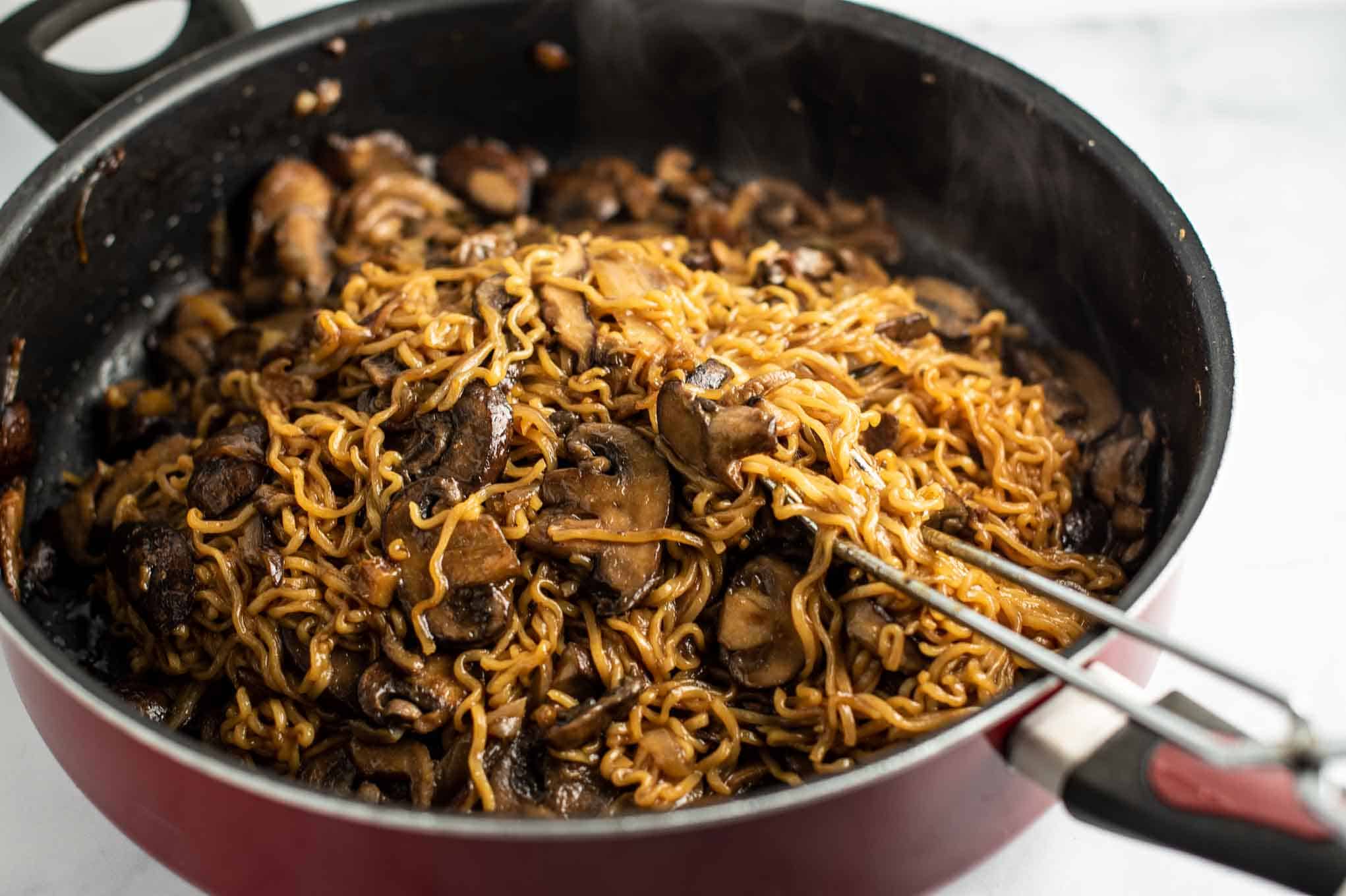 If you are a fan of mushrooms, this is the perfect stir fry for you! I don't know about you, but we love stir fry recipes like teriyaki mushrooms.
I took my cabbage stir fry recipe and made a few tweaks to make a very similar and equally delicious mushroom stir fry.
If you have never tried to make stir fry at home, this is the perfect beginner recipe!
Ingredients to make asian mushroom noodles
ramen noodles
fresh ginger and garlic: these ingredients are key to achieving the best stir fry flavor!
yellow onion
sesame oil
baby bella mushrooms
golden oak shitake mushrooms: or substitute more baby bella mushrooms
homemade stir fry sauce
sweet chili sauce, for serving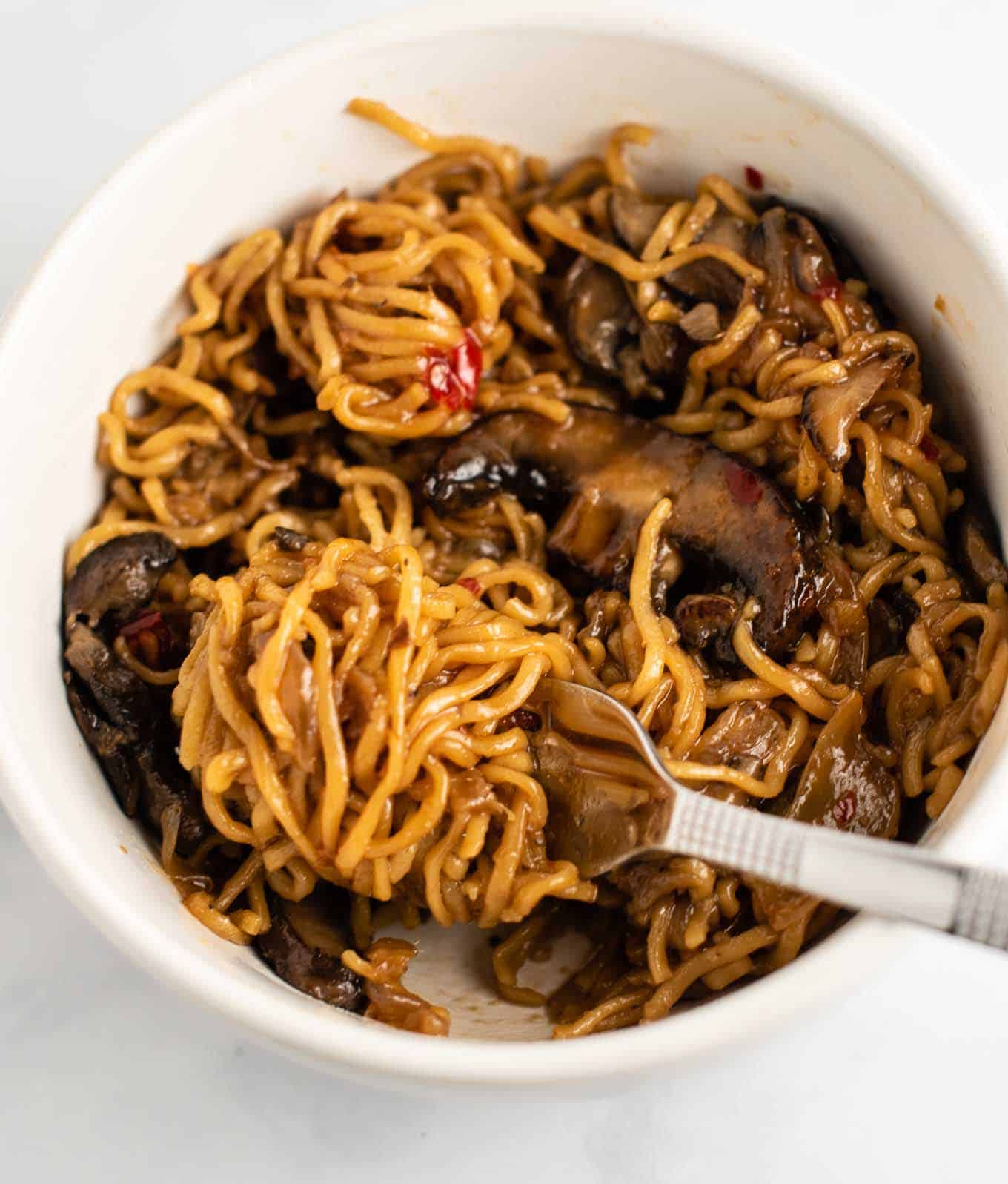 First, we start off with the essential base for any stir fry recipe: fresh garlic and ginger, and sliced onion.
Garlic and ginger are key to getting that oriental flavor in your stir fry recipes, so do not skip it!
You can read more about this in my post on what are the best vegetables to put in stir fry?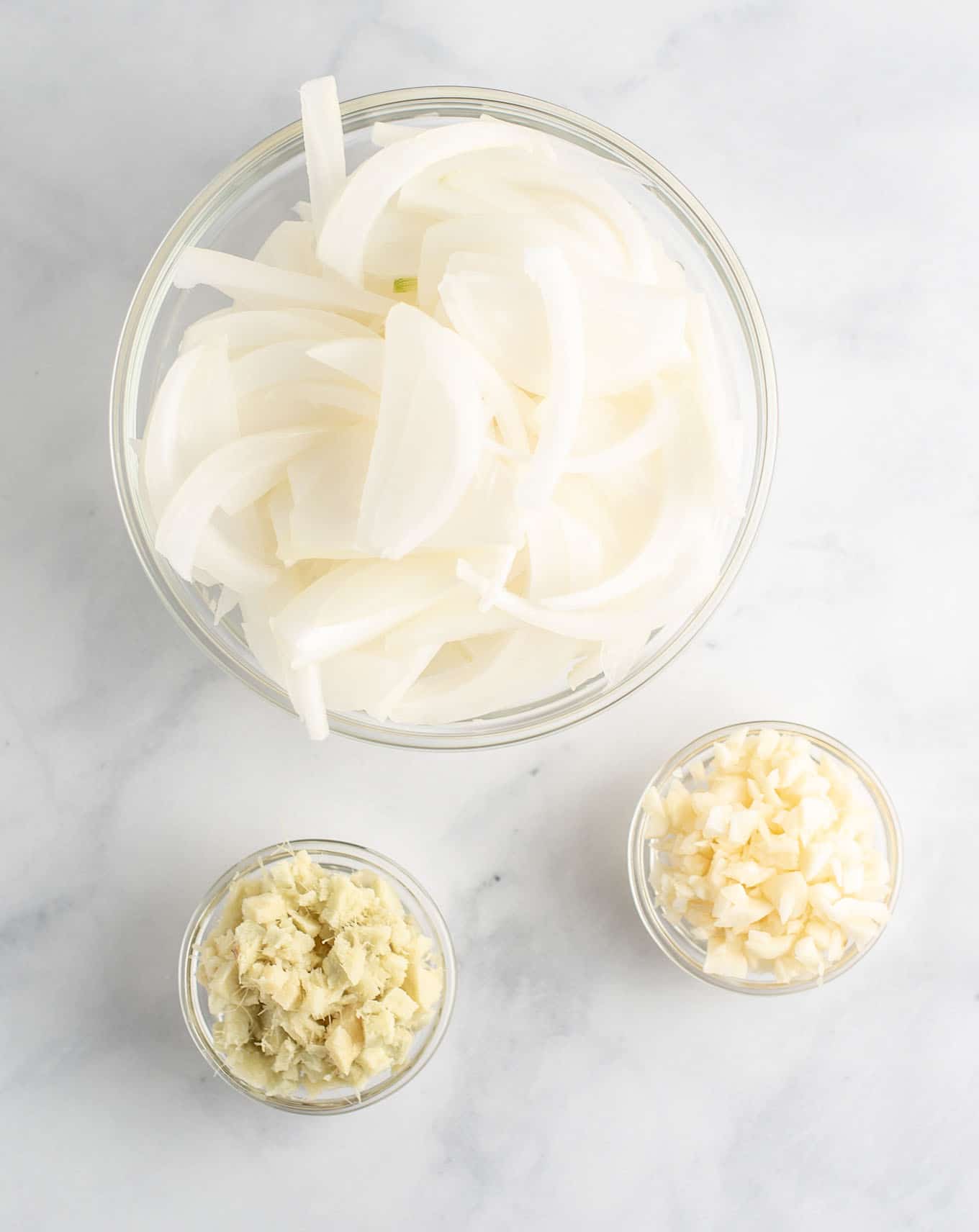 Since mushrooms are the star of the dish, we are using two kinds.
For this recipe, we are using 16 oz of sliced baby bella mushrooms.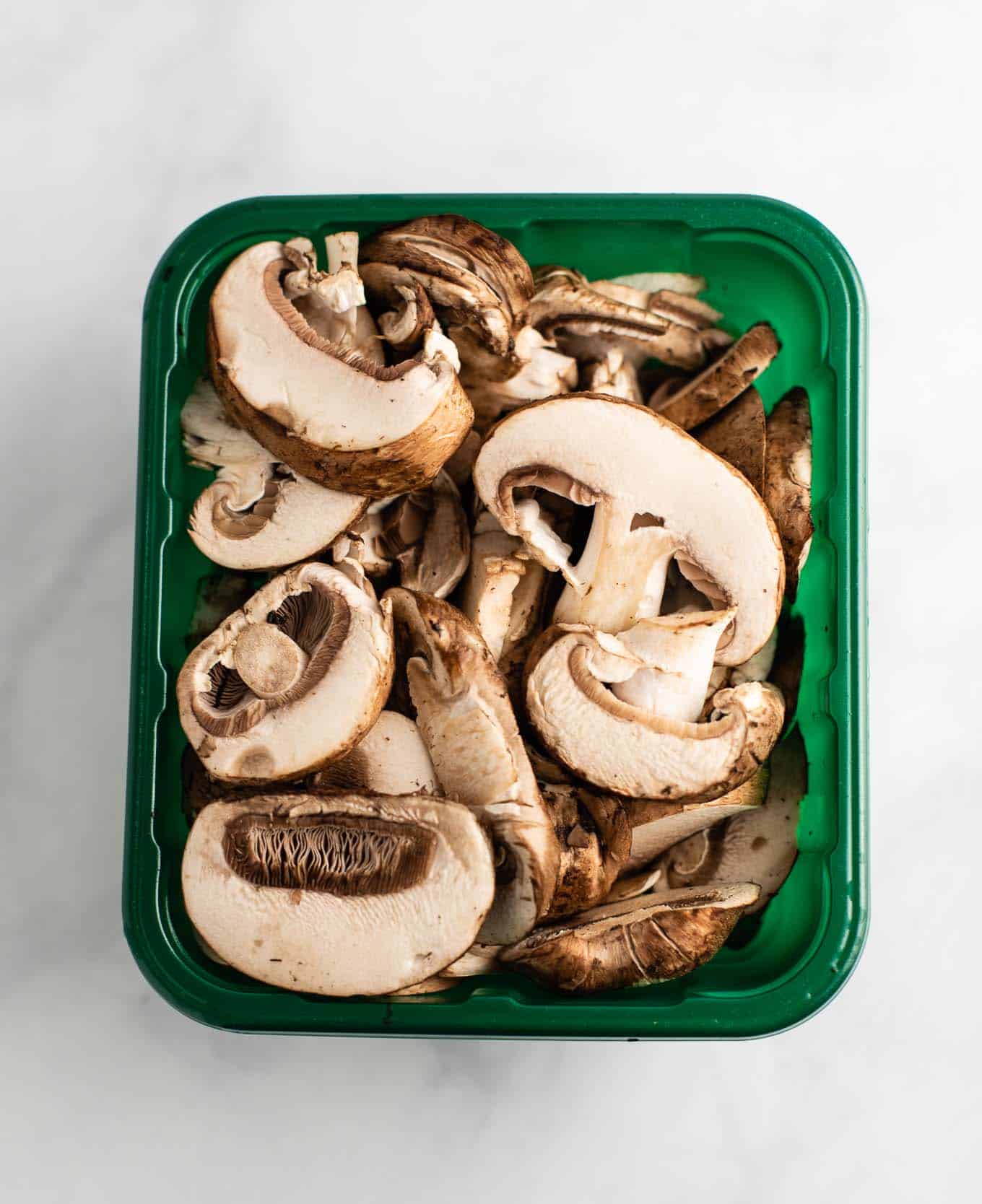 And 5 oz of golden oak shitake sliced mushrooms!
These are my favorite "fancy" mushrooms.
The great part of this recipe though is that it will work with any type of mushroom, so just use what you can find!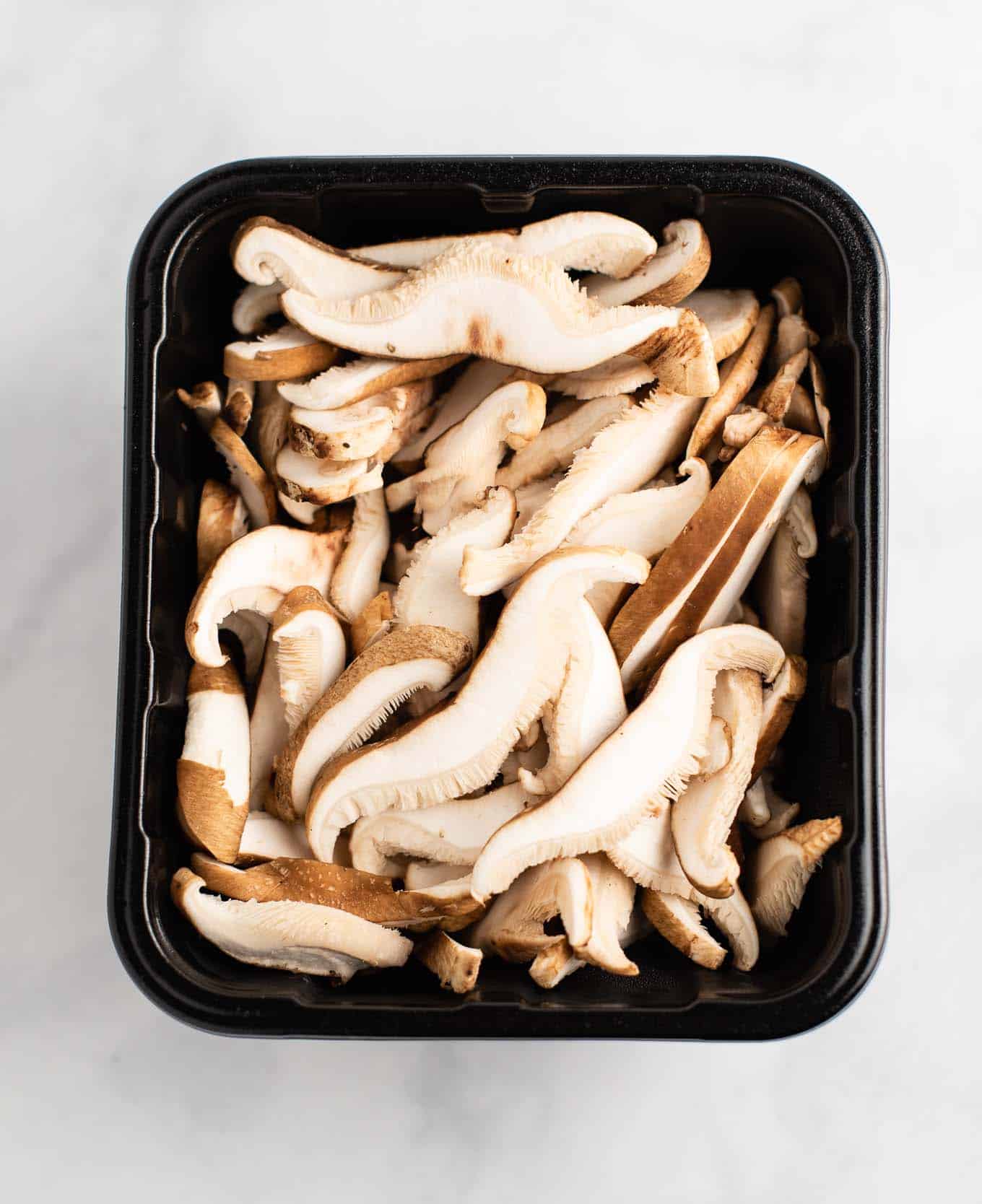 How to make mushroom ramen noodles
To make these mushroom noodles, you will need a large skillet or jumbo cooker.
Step 1: Add the ginger, garlic, yellow onion, baby bella mushrooms, golden oak shitake mushrooms, and sesame oil to the skillet.
Step 2: Cook over medium high heat for around 30 minutes or so, stirring frequently, until the mushrooms have released all of their liquid and cooked down.
After the water evaporates, the mushrooms will get the chance to stick a little to the cooking dish and get those yummy browned edges!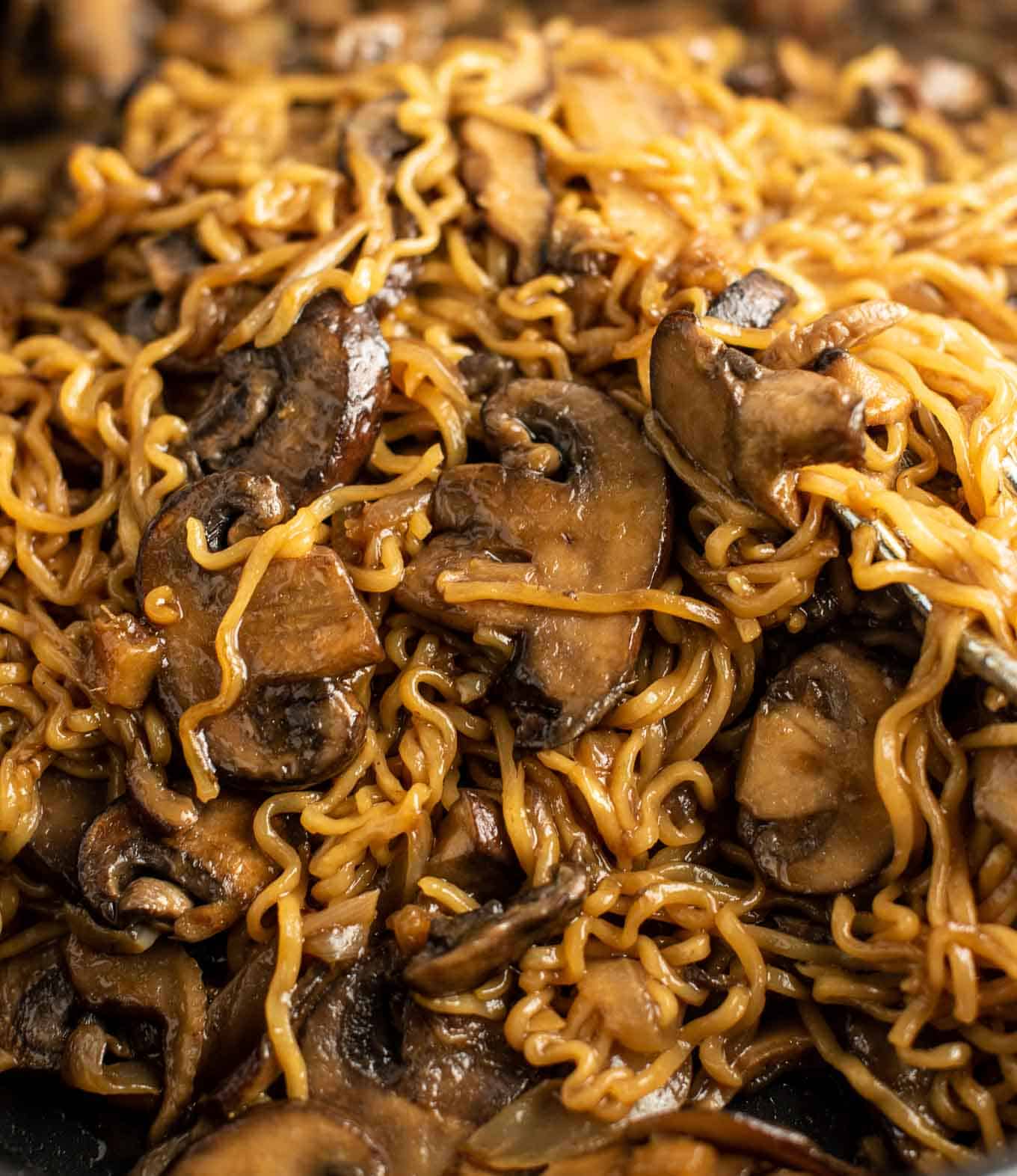 Step 3: Once the mushrooms are almost finished cooking, bring to a boil a pot of water and cook 3 blocks of instant ramen noodles. Discard the flavor packets, you will not use those.
Step 4: shake together a batch of the stir fry sauce and have it ready.
Step 5: Once the ramen noodles are finished cooking, add them to the cooked mushrooms and pour the stir fry sauce over the top.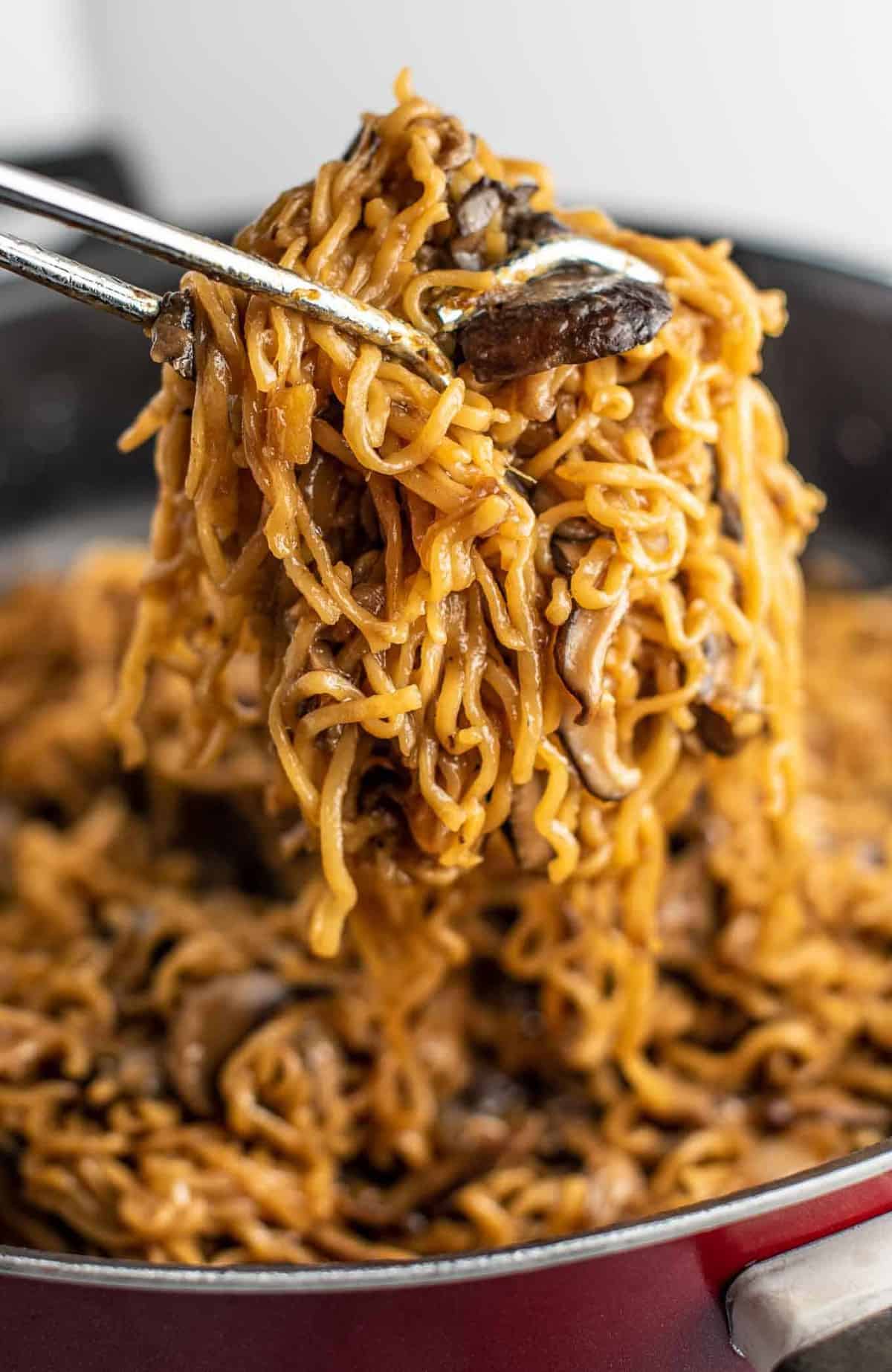 Step 6: Heat for 3 – 5 minutes, and use tongs to mix it all together to allow the stir fry sauce to coat everything evenly.
Your mushroom ramen noodles are now ready to serve!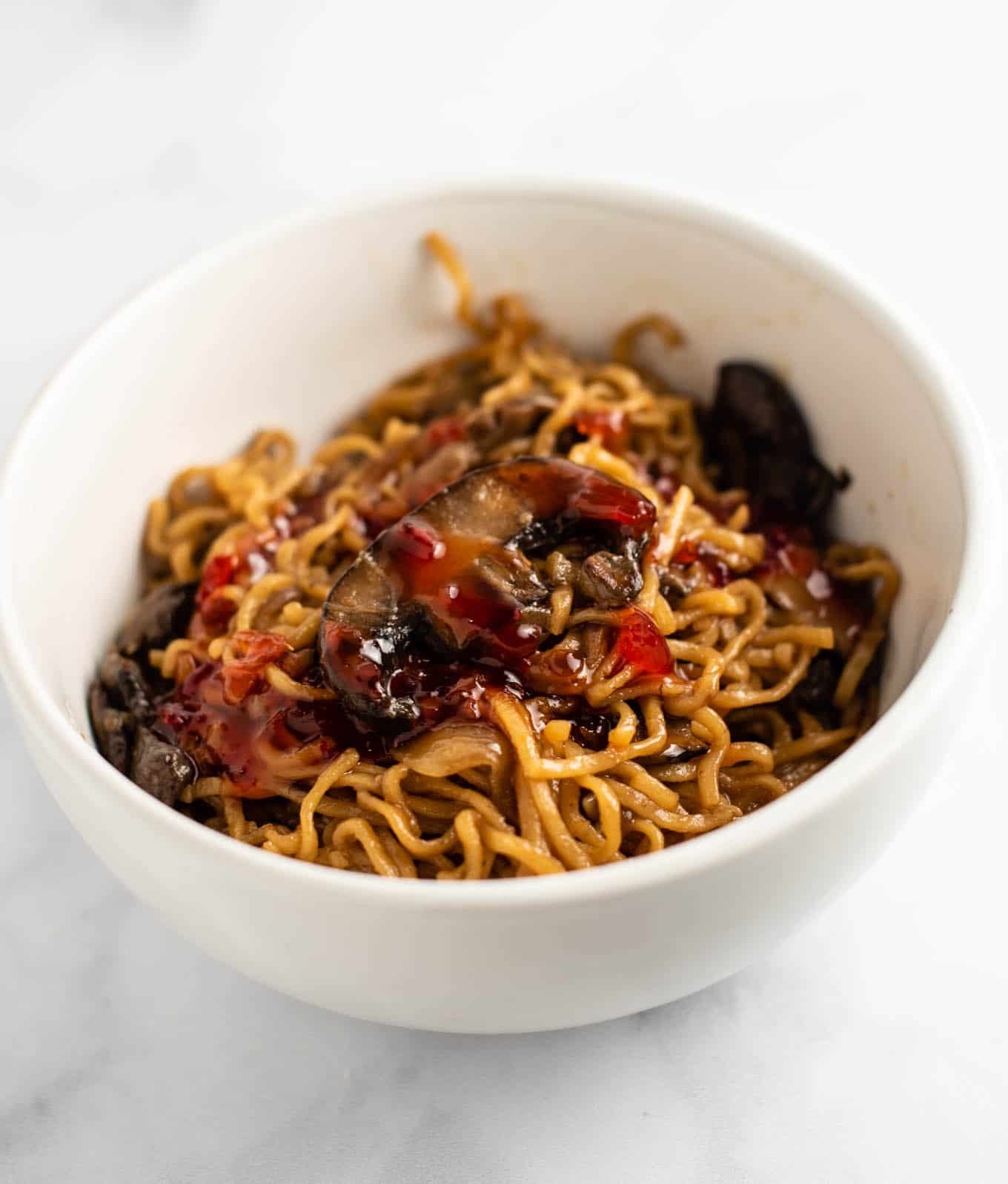 These are delicious as is, but we love to top ours with a hit of sweet chili sauce.
Sweet chili sauce makes just about any stir fry recipe taste even better!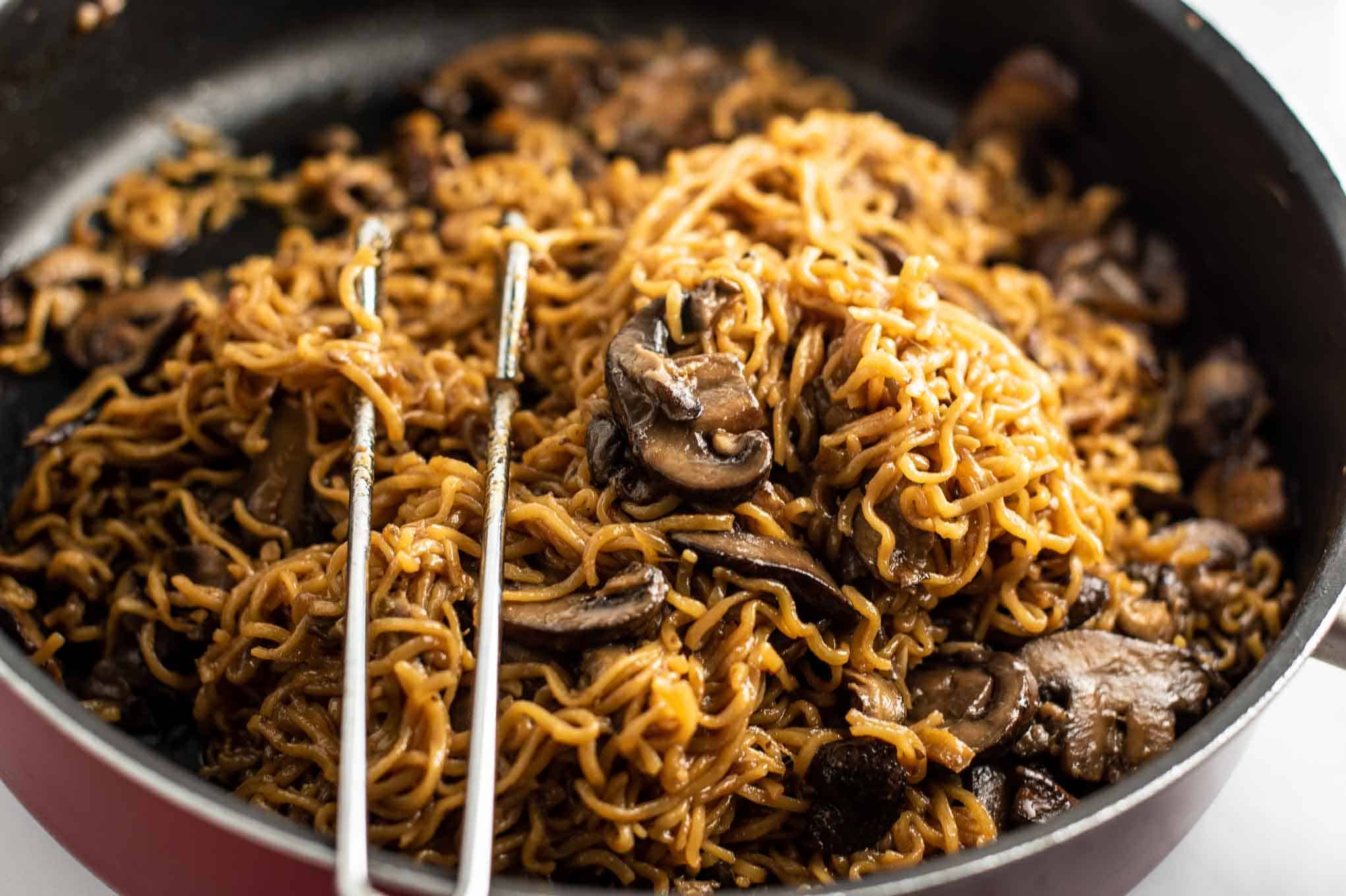 Serve as is or along with your favorite protein.
Tofu, chickpeas, chicken, or beef would all work.
Are you making this recipe? I want to see! Don't forget to tag me on instagram @buildyourbite and hashtag #buildyourbite with your recipe creations!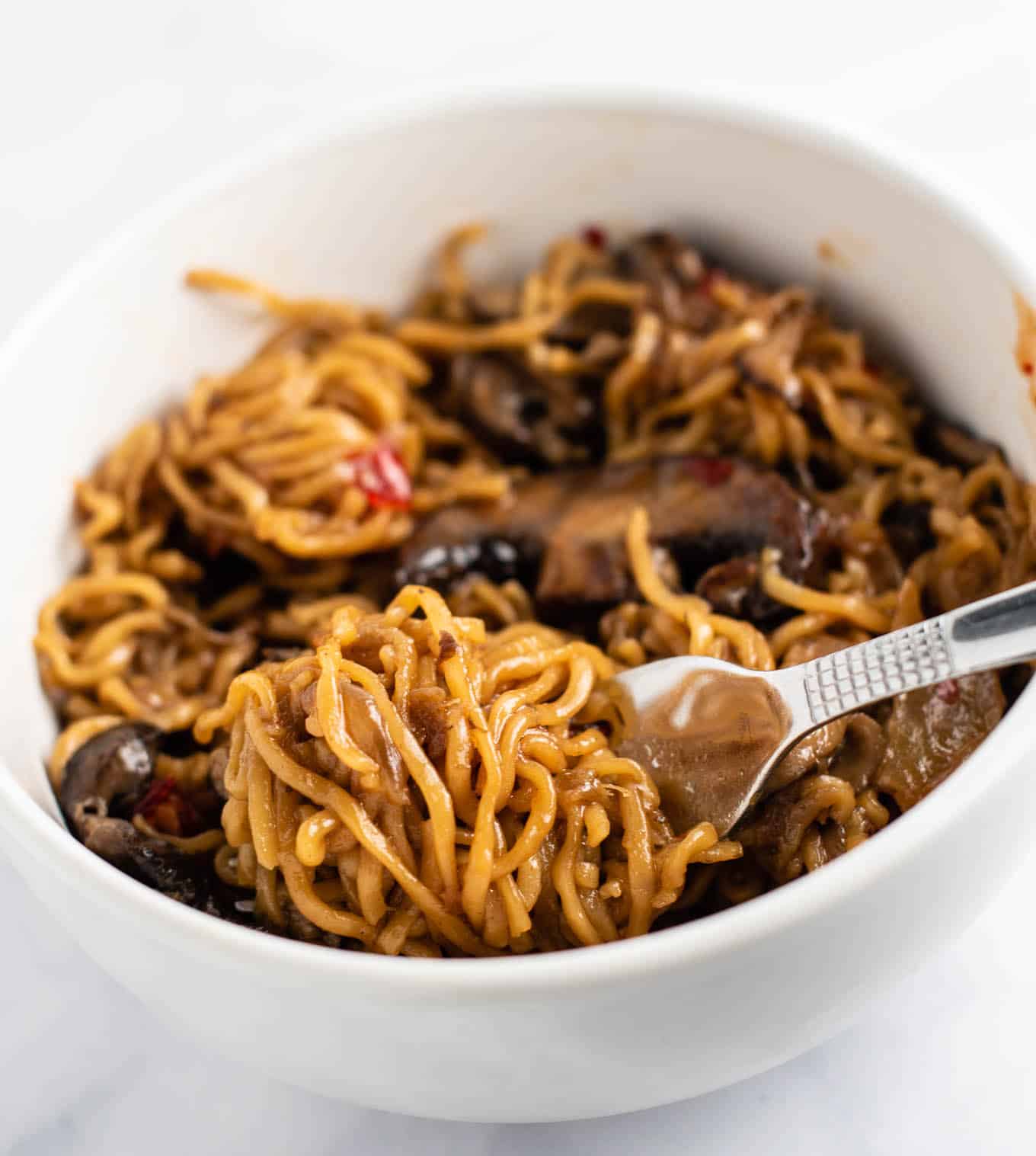 More tasty stir fry recipes
We can't get enough of this delicious asian mushroom ramen recipe!
This dish reheats perfectly and makes a large amount of food.
You just can't beat the taste of making your own takeout inspired food from scratch.
Be sure to pin this recipe for later and follow Build Your Bite on Pinterest for all the latest delicious recipes!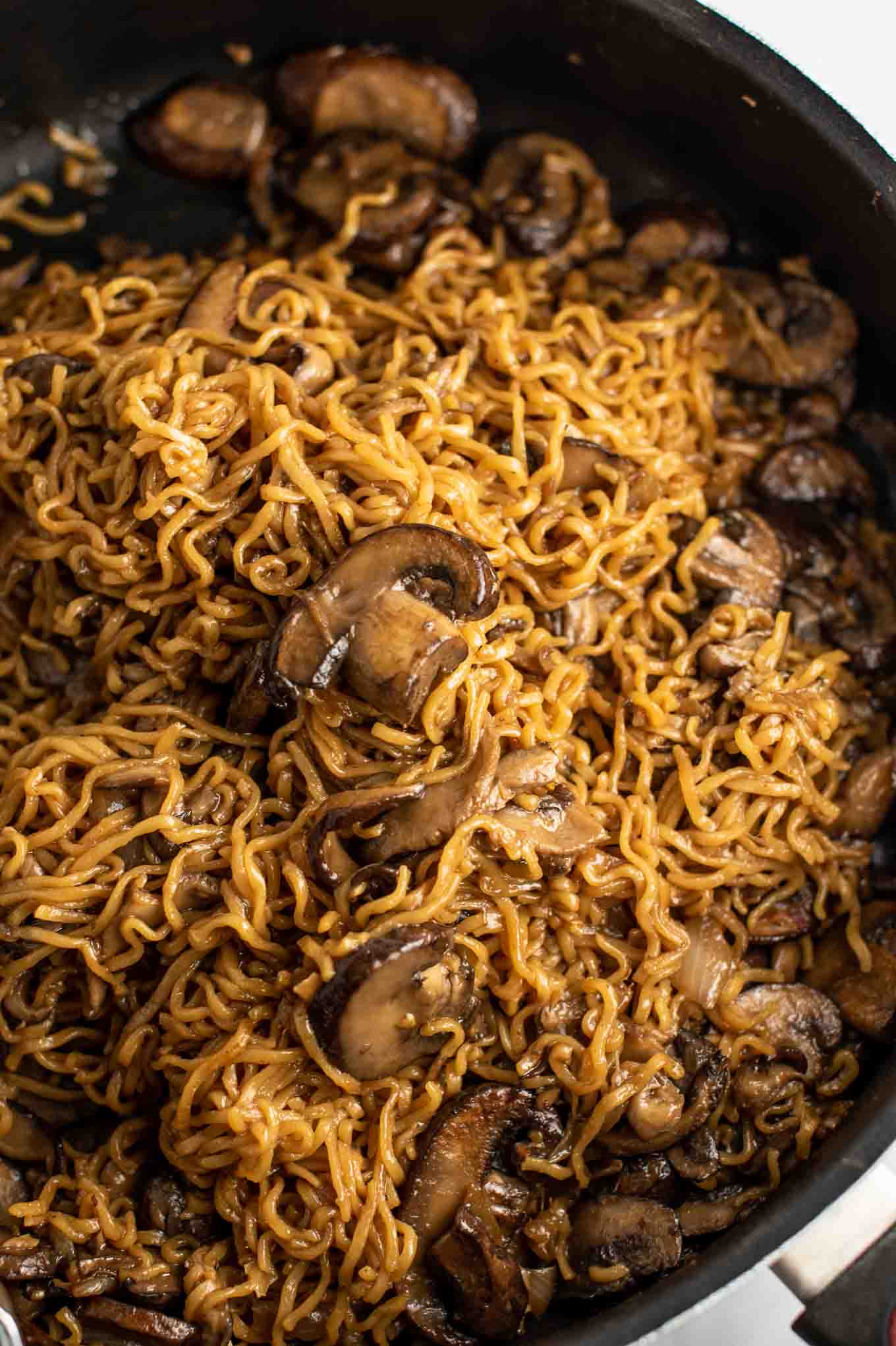 Did you make this recipe? Be sure to leave a star rating below!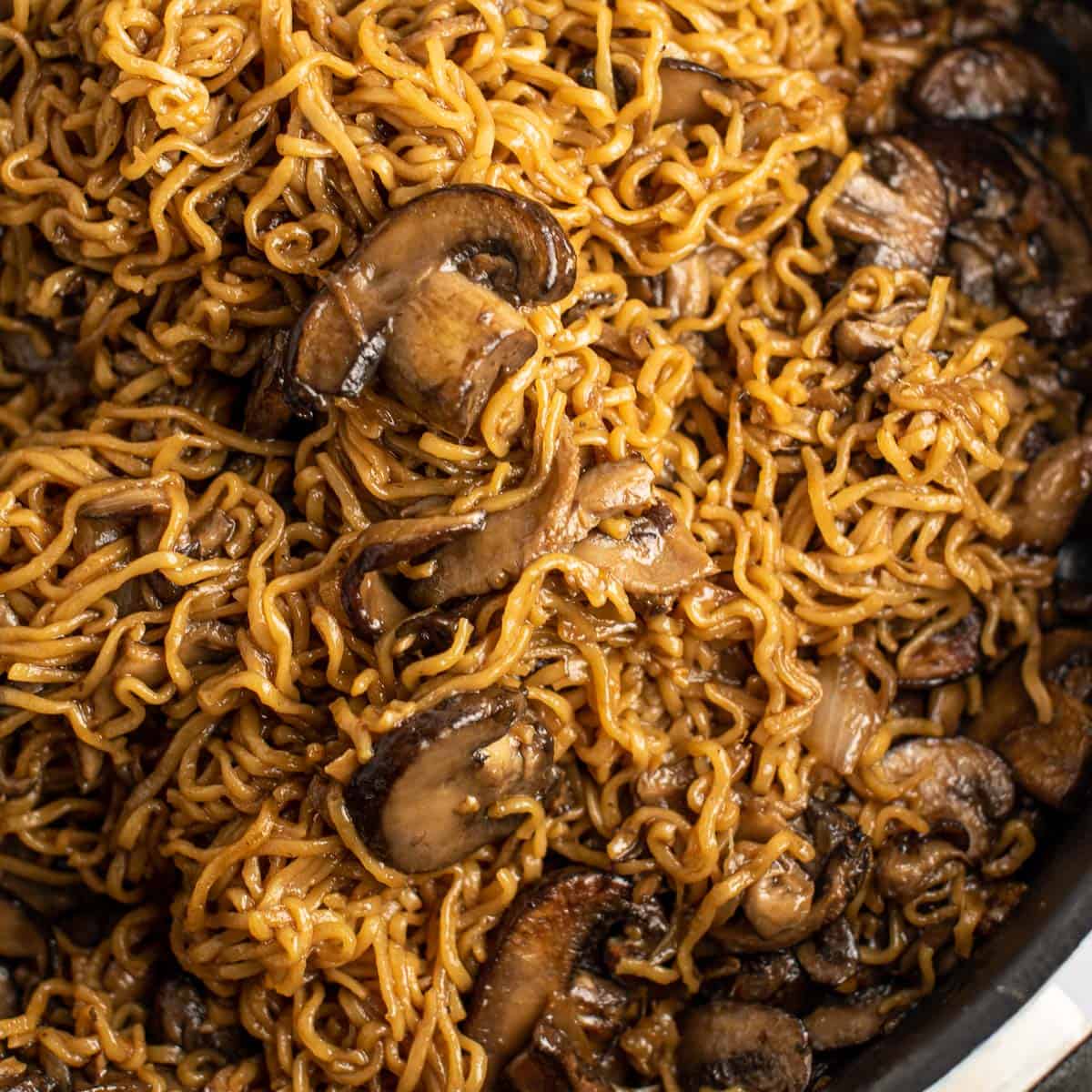 Asian Mushroom Ramen Noodles
These mushroom noodles with homemade stir fry sauce are so delicious!
Ingredients
3 blocks (9 oz) ramen noodles, flavor packets discarded
2 tablespoons minced fresh ginger
8 cloves of garlic, minced
1 yellow onion, thinly sliced
3 tablespoons sesame oil
16 oz sliced baby bella mushrooms
5 oz golden oak shitake sliced mushrooms
For the sauce
for topping
sweet chili sauce to taste
Instructions
Add the garlic, ginger, onion, mushrooms, and 3 tablespoons of sesame oil to a large skillet or jumbo cooker
Cook over medium high heat for 30 minutes or so, stirring often, until mushrooms release liquid and cook down. You will know they are done once all of the water has evaporated and the mushrooms start to stick to the skillet and get those tasty browned edges on them
Once the mushrooms are almost done, boil a pot of hot water and cook 3 blocks of instant ramen noodles. Discard the flavor packets, you will not use them.
Shake together a batch of the homemade stir fry sauce in a mason jar
Once the ramen noodles are cooked, add them to the mushrooms, and pour the stir fry sauce over the top
Use tongs to stir and cook an additional 3 - 5 minutes, until the sauce is coated and the mushrooms are mixed with the noodles
Serve topped with sweet chili sauce
Nutrition Information:
Yield:

4
Serving Size:

1
Amount Per Serving:
Calories:

404
Total Fat:

17g
Saturated Fat:

3g
Trans Fat:

0g
Unsaturated Fat:

13g
Cholesterol:

0mg
Sodium:

79mg
Carbohydrates:

57g
Fiber:

8g
Sugar:

7g
Protein:

10g