Ramen noodle stir fry recipe with sugar snap peas, mushrooms, bell pepper, and carrots cooked in a homemade stir fry sauce. This easy ramen noodle recipe is simple to make and tastes better than takeout!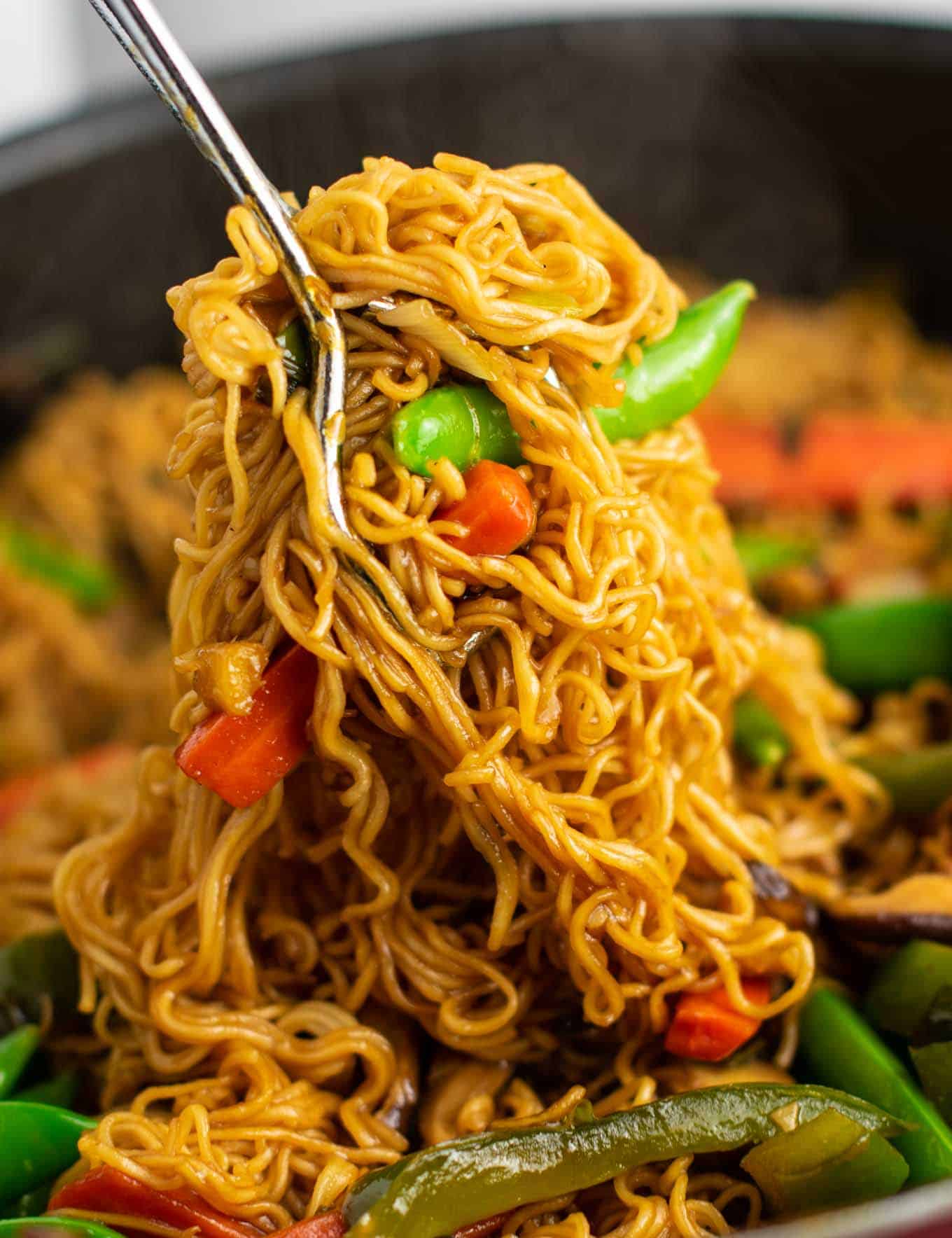 This ramen noodles recipe is so delicious!
While I love a good bowl of Sesame Garlic Ramen Noodles, this recipe is more of a complete dinner!
Packed full of all your favorite stir fry vegetables, super filling thanks to ramen noodles, and tossed in the best 3 ingredient stir fry sauce to take the flavor over the top.
Ingredients to make ramen stir fry
ramen noodles
mushrooms
sugar snap peas
bell pepper
carrots
green onions
fresh garlic and ginger
stir fry sauce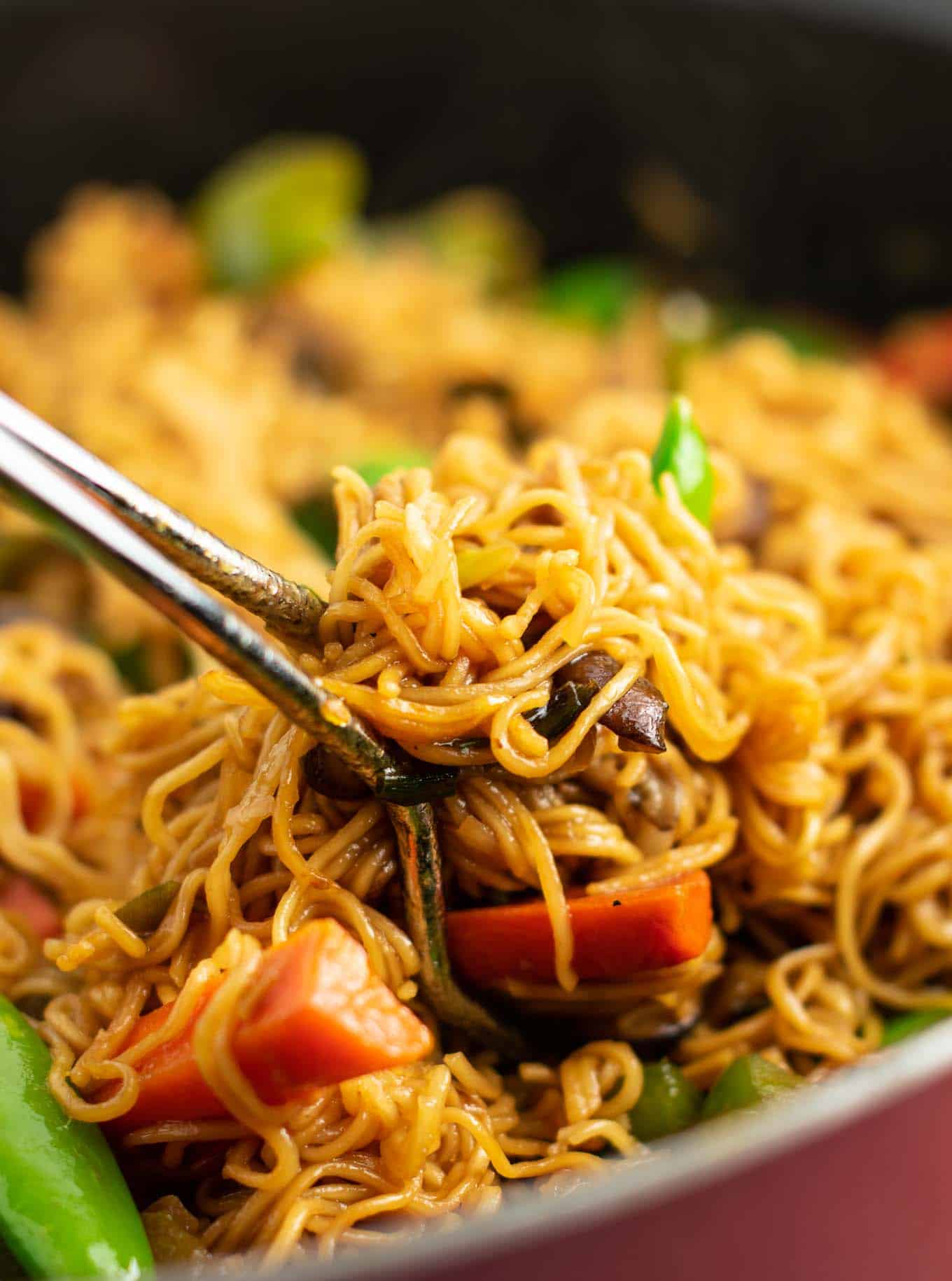 One of my favorite parts of stir fry is pairing it with either white rice or noodles.
Ramen noodles are particularly delicious in stir fry, and the perfect texture!
They are a great all purpose noodle to use in basically any stir fry recipe.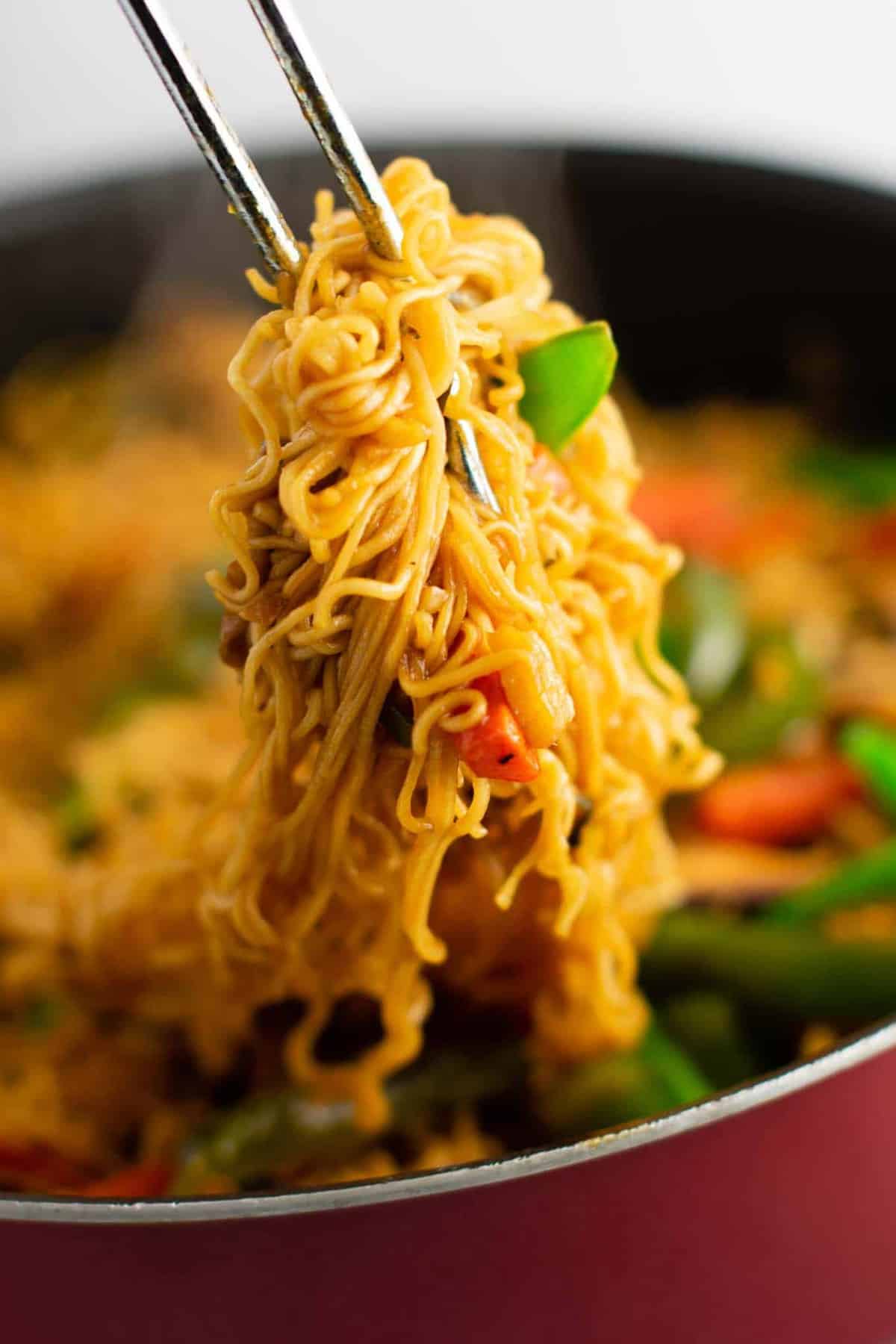 Bonus points that they are easy to cook and take less than 5 minutes.
I purchased organic ramen noodles and used 4 packs, but if you purchase regular ramen you will only need 3 packs since they were a slightly larger size than the ones I bought.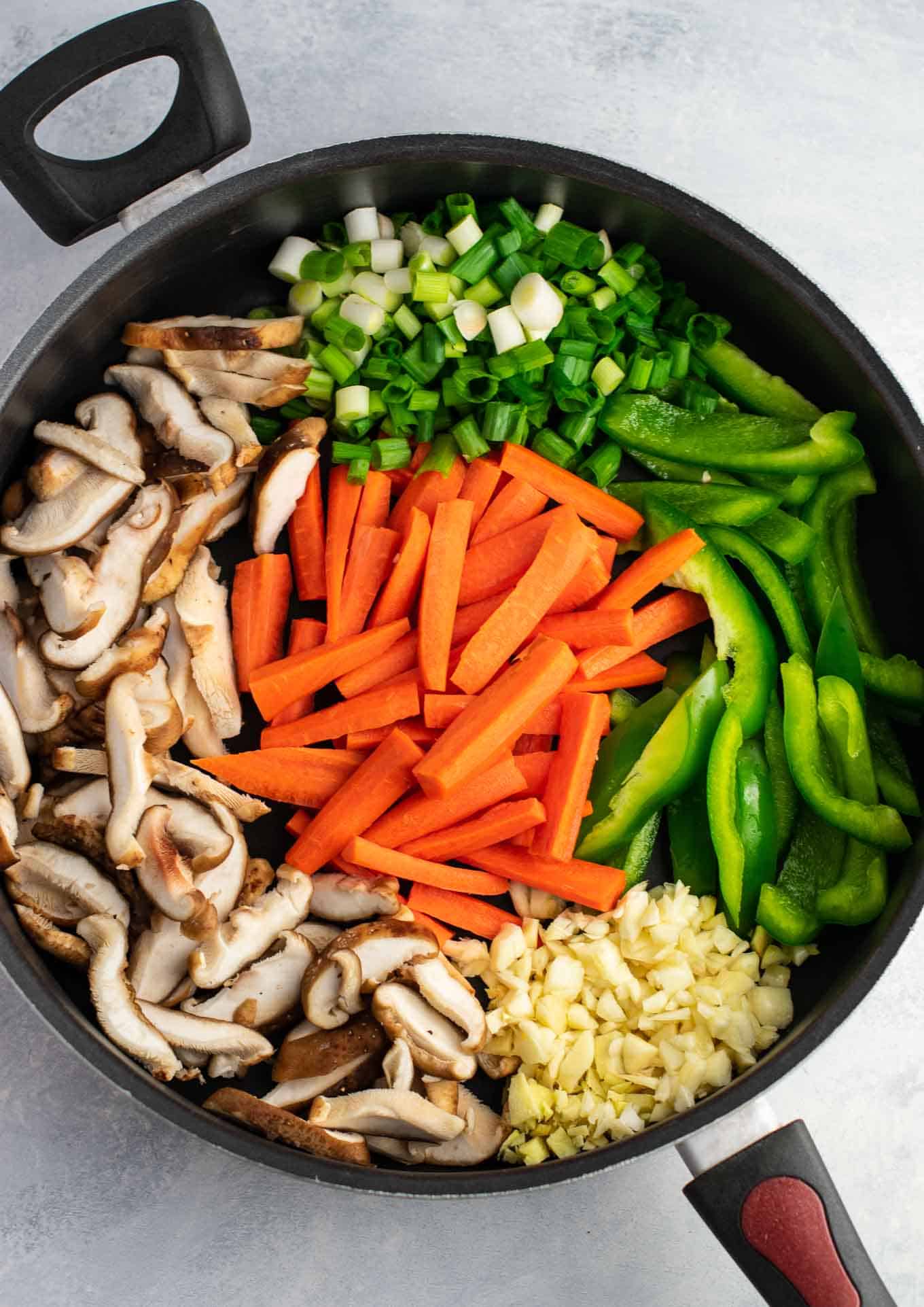 How to make vegetable stir fry noodles
In a large nonstick skillet or jumbo cooker (this is what I use), add in your mushrooms, green onion, bell pepper, carrots, ginger, and garlic.
Add 2 – 3 tablespoons of sesame oil, enough so that the veggies can cook without sticking.
I added two tablespoons to start, and one more part way through.
Cook the veggies over medium high heat for 20 – 25 minutes.
Stir every few minutes to ensure that the vegetables cook evenly.
Once the veggies are almost soft (the carrots should be cooked but not mushy), add in the sugar snap peas for the last 5 minutes.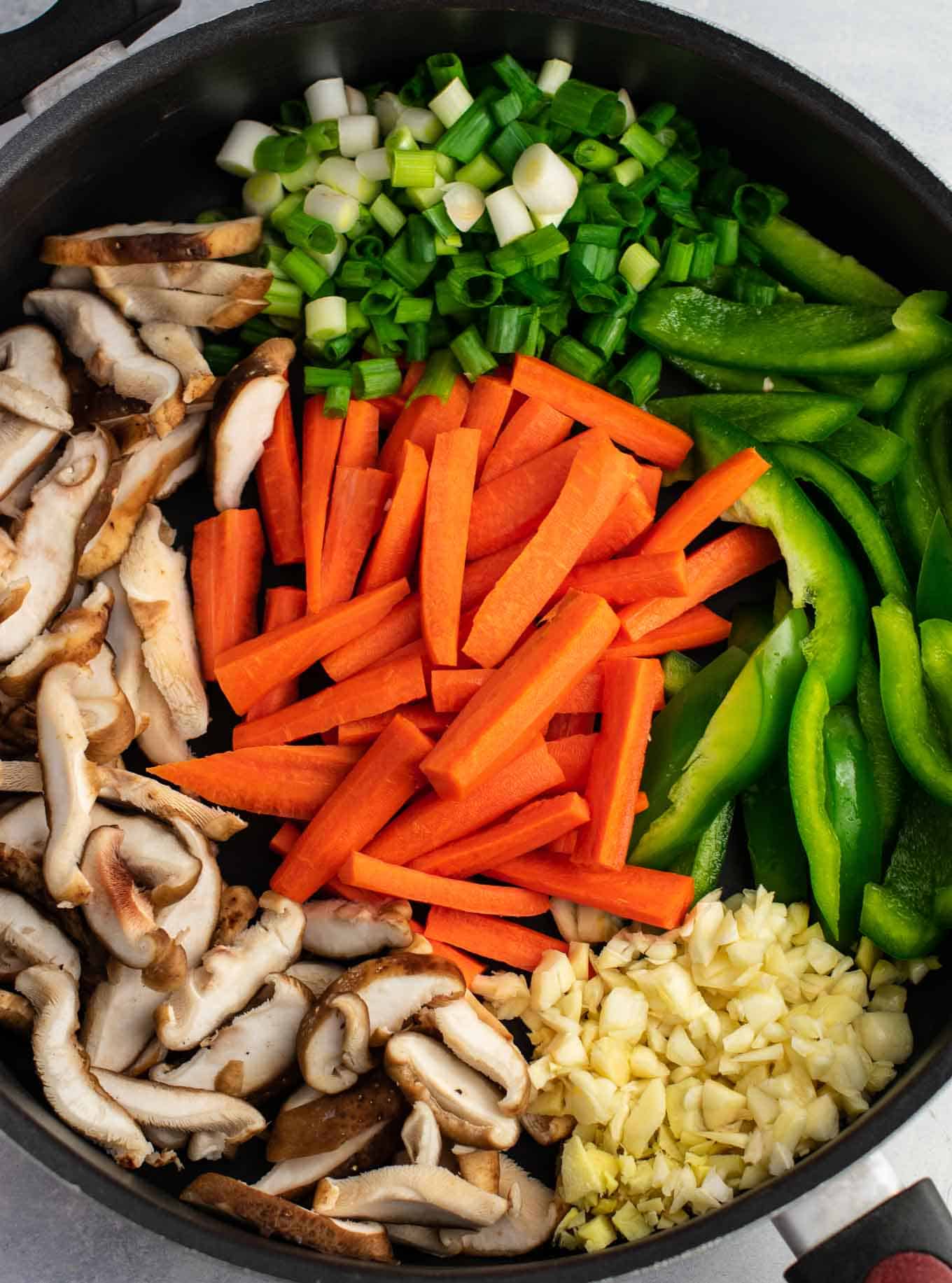 Cooking the peas at the end lets them keep that sweet crunch without getting too soft.
When you throw your snap peas in, now is the time the ramen noodles should be going in the boiling water also (since they only take 3 – 4 minutes to make).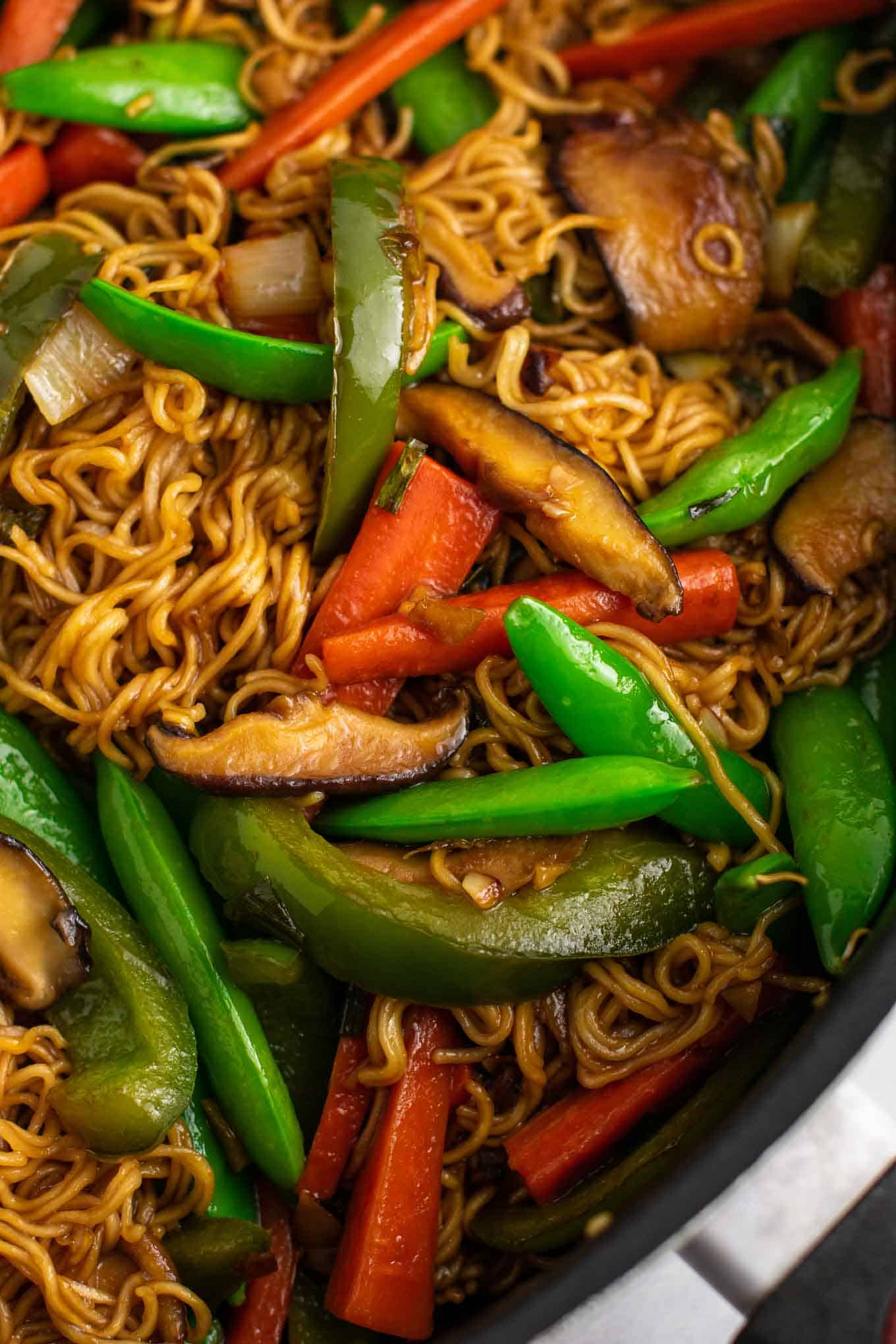 Once the ramen noodles have cooked, drain them and add them to the vegetables.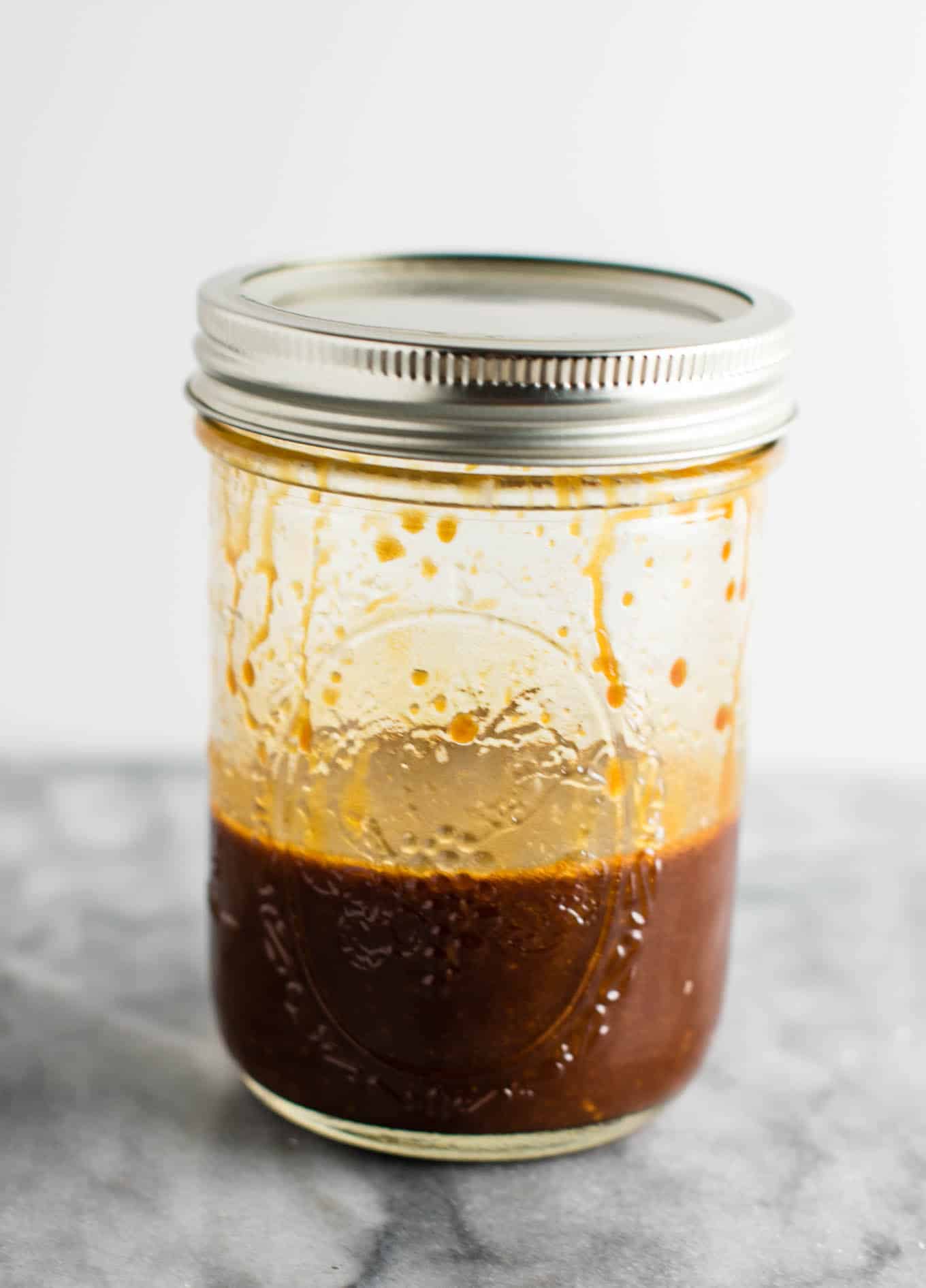 Pour your 3 ingredient stir fry sauce (recipe is linked below in the recipe card) over the top, then mix well until the ramen noodle stir fry is thoroughly coated in sauce.
This stir fry sauce is our favorite one and we use it all the time.
Just sesame oil, cornstarch, and soy sauce.
All you do is shake and combine!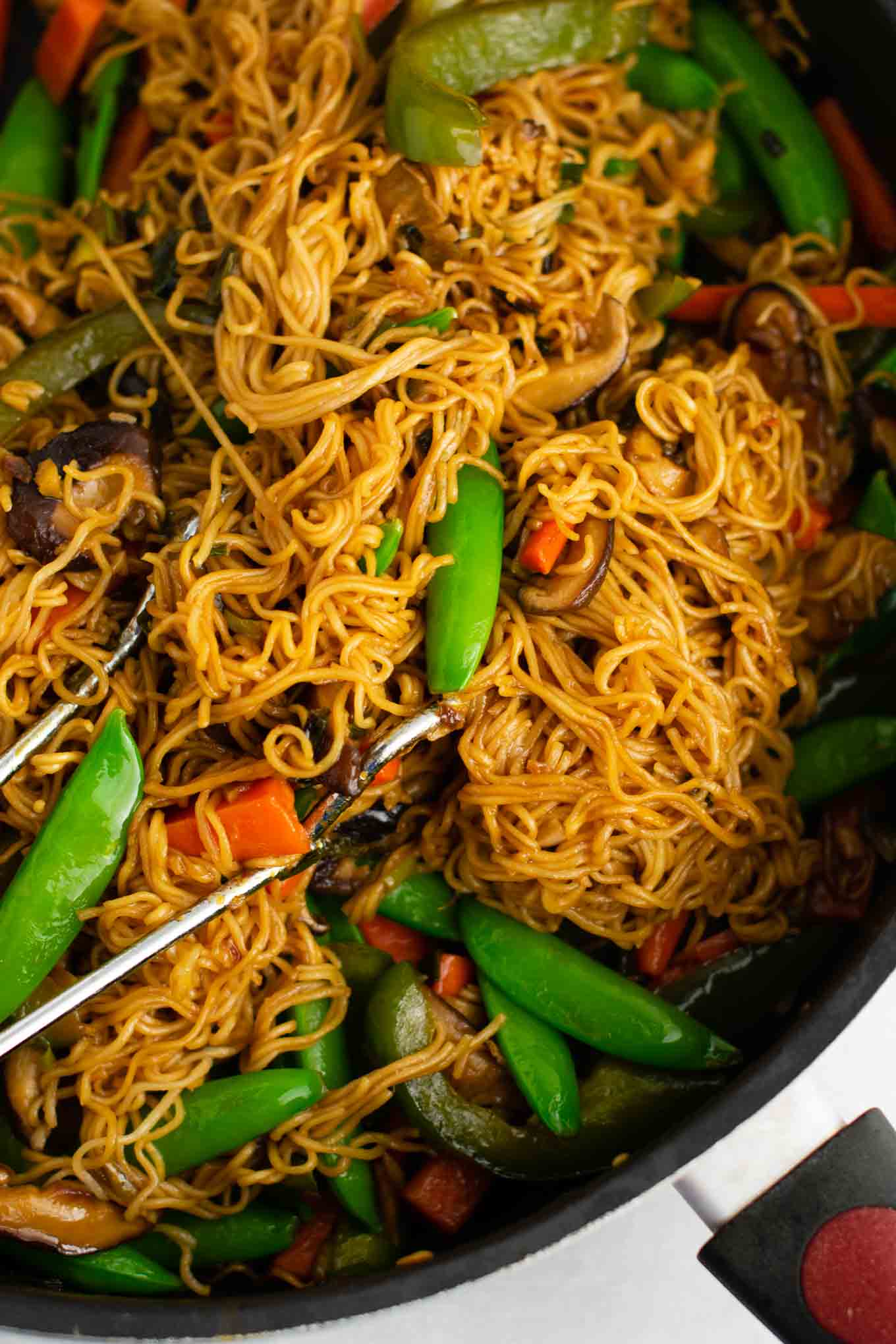 I ate a huge plate of this and it was amazing and very filling.
Even my toddler loved the noodles!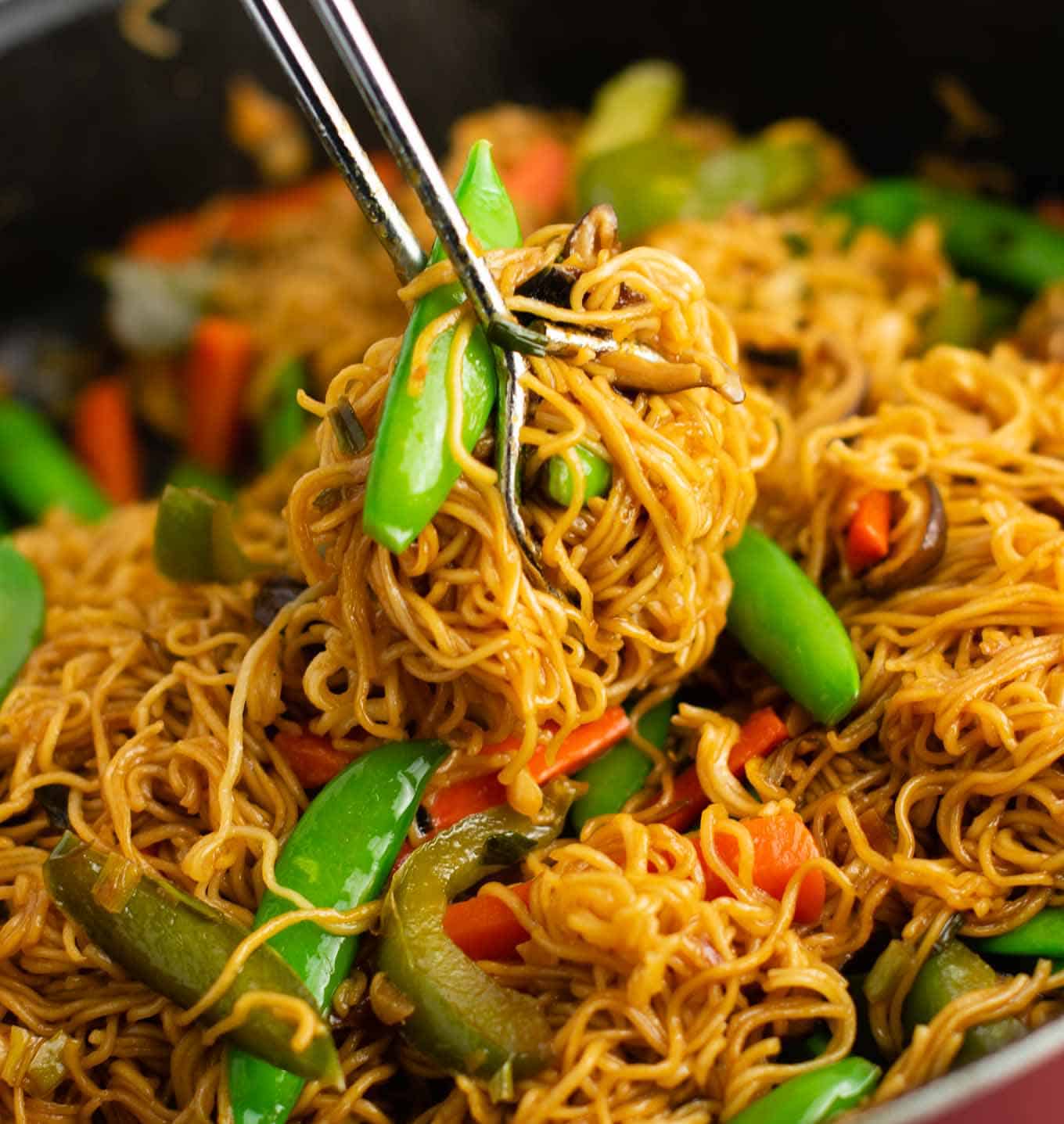 The key to that perfect knock your socks off takeout taste is this:
fresh garlic
fresh ginger
the homemade stir fry sauce
If you have these three things, and you can make any kind of stir fry ingredients taste incredible!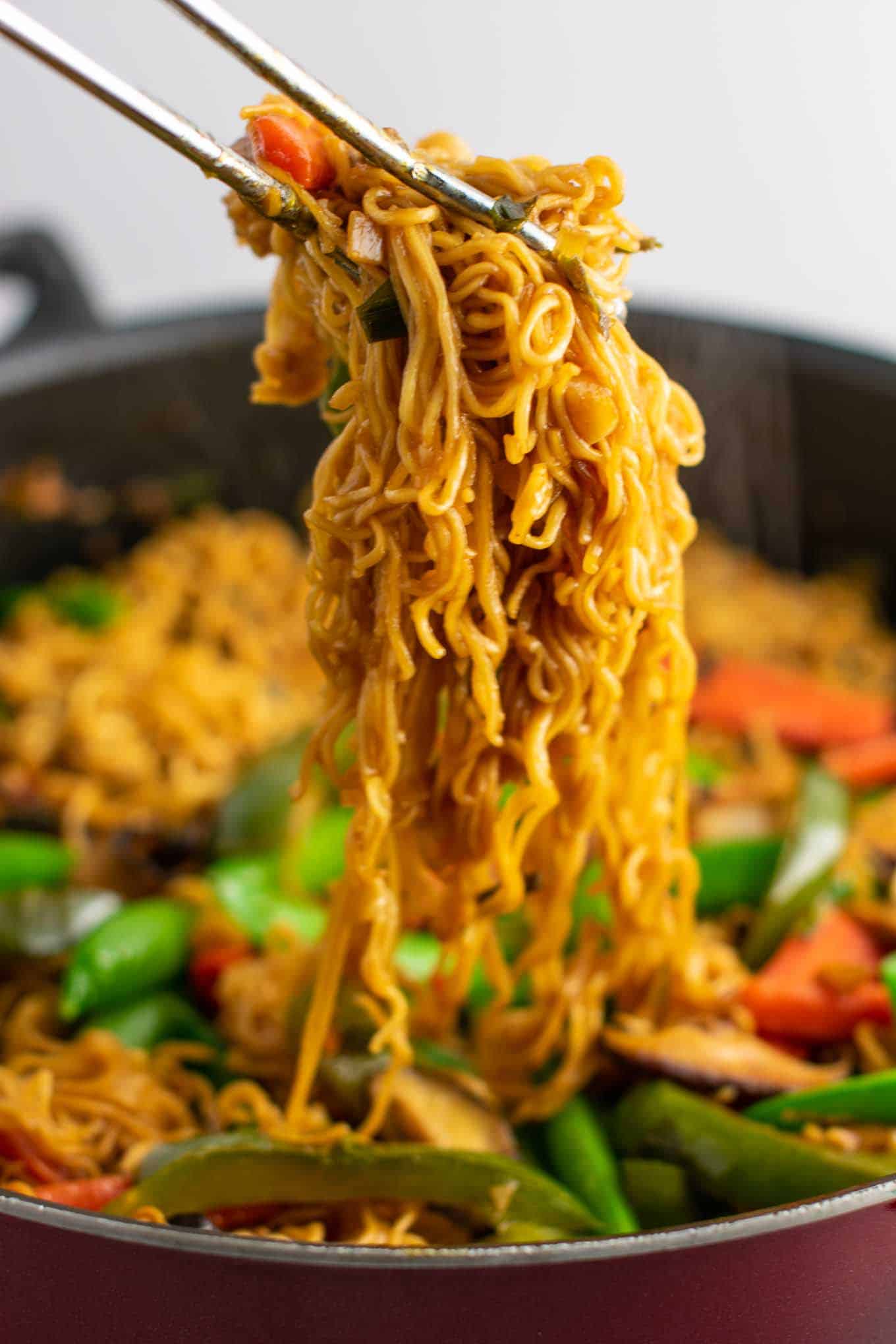 Easy ways to adapt this recipe:
Add your favorite protein of choice (tofu would be delicious!)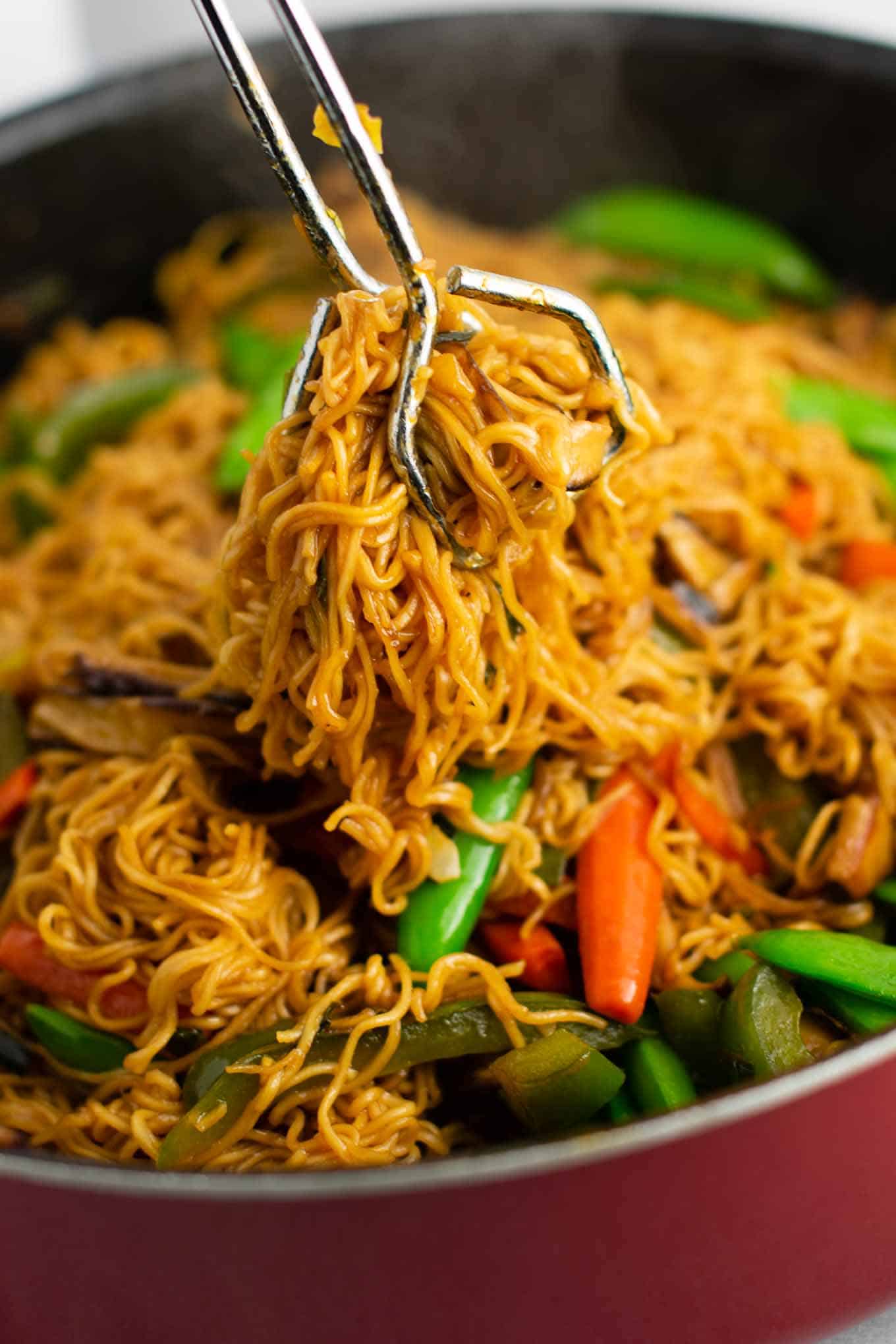 Use brown rice ramen noodles to make this gluten free.
Switch up the veggies with what you have on hand.
This would be great with any variety of stir fry veggies!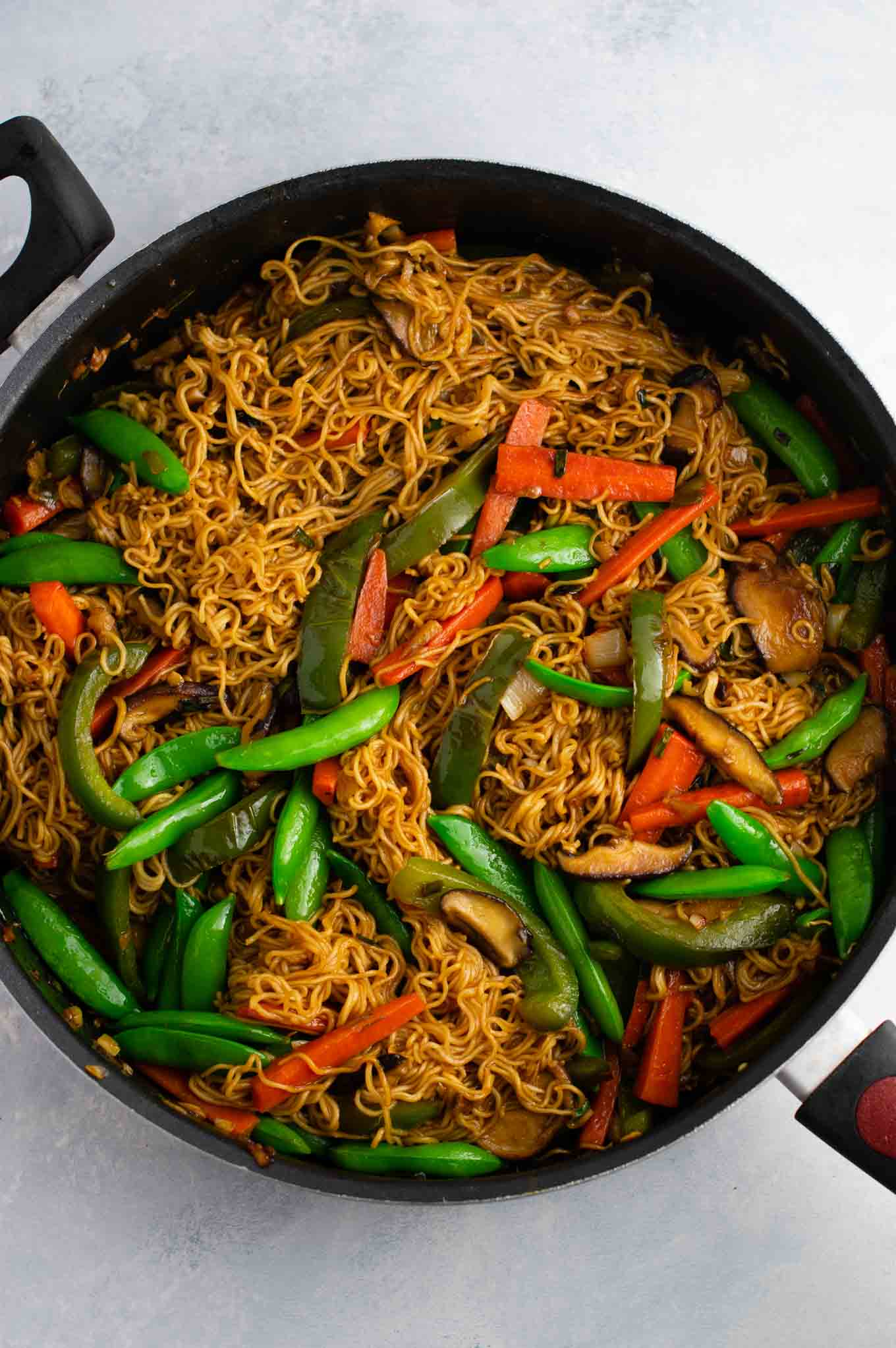 Although this recipe is made without meat, you could aways add it in.
We sometimes add tofu for added protein!
Just add your favorite protein to make it even more filling.
My husband and I made this last week. We've tried many ramen stir fry recipes and this is by far the BEST. So good thank you! – Jenny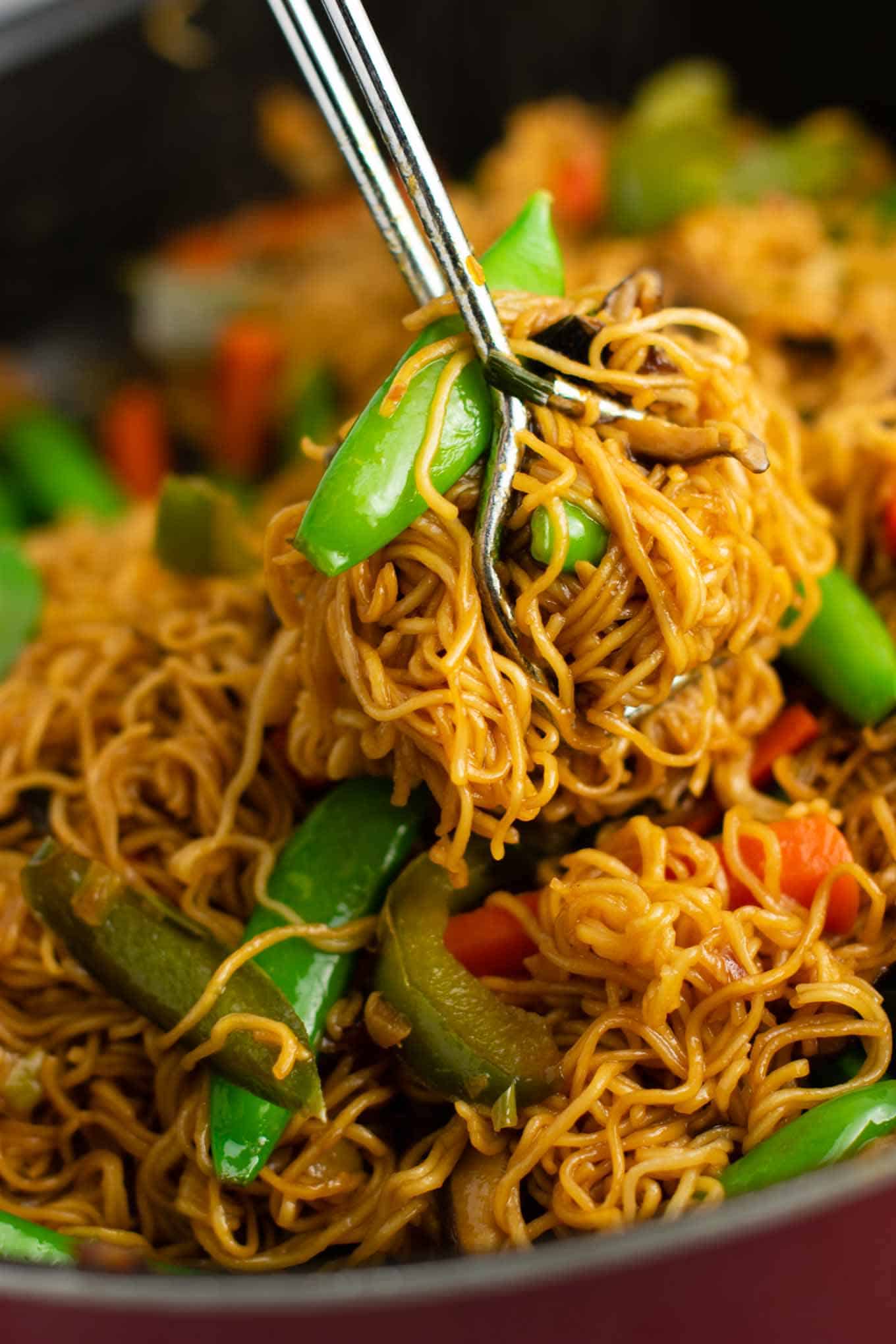 More Stir Fry Recipes
Are you making this recipe? I want to see! Don't forget to tag me on instagram @buildyourbite and hashtag #buildyourbite with your recipe creations!
Be sure to pin this recipe for later and follow Build Your Bite on Pinterest for all the latest delicious recipes!
More Recipes from Build Your Bite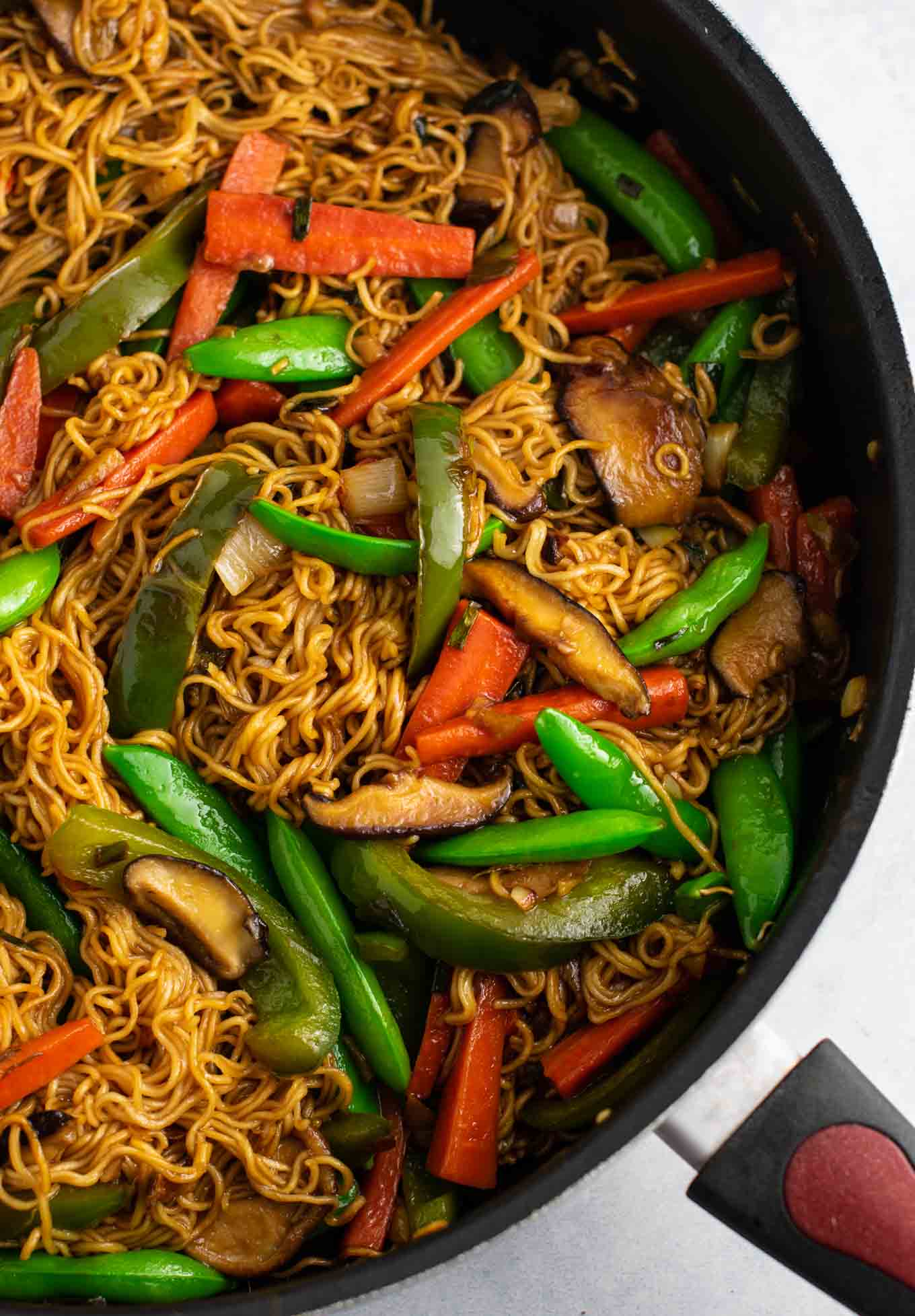 Did you make this recipe? Be sure to leave a star rating below!
Looking for more ramen recipes? Be sure to check out this instant pot stir fry.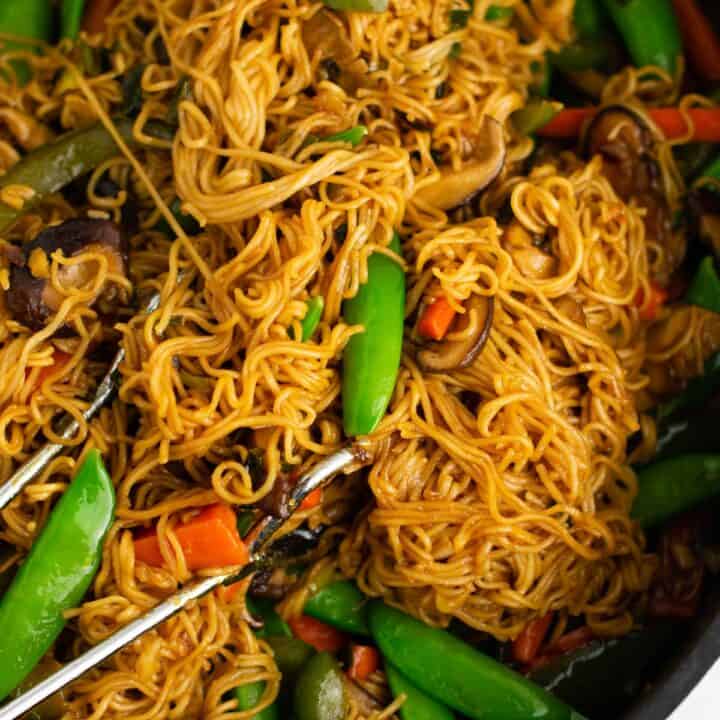 Ramen Noodle Stir Fry
Easy and delicious ramen noodle stir fry cooked in a simple homemade stir fry sauce.
Ingredients
For the Stir Fry
3-4 blocks of ramen noodles (flavor packets discarded) *see notes below
5 oz golden oak shitake mushrooms
8 oz sugar snap peas
1 green bell pepper, sliced
1 ½ cups carrots, sliced into strips (around 3 - 4 medium carrots)
1 small bunch of green onions, diced
⅛ cup fresh ginger, finely diced or minced
¼ cup fresh garlic, finely diced or minced
For the Stir Fry Sauce
Instructions
To a large nonstick skillet or jumbo cooker, add the mushrooms, bell pepper, carrots, green onion, ginger, and garlic
Add 2 tablespoons of sesame oil
Cook the vegetables over medium high heat for around 20 - 25 minutes, until vegetables are cooked but not mushy. Add more sesame oil if necessary to avoid sticking (I added an additional tablespoon half way through cooking)
Boil the water for your ramen noodles
In the last five minutes, add in the sugar snap peas
Once sugar snap peas go in, you should be adding your ramen noodles to the boiling water. Follow package instructions to cook, most only take 2 - 4 minutes
Make a batch of the stir fry sauce and have it ready to use
Once ramen noodles noodles are cooked, drain them and add to the vegetables in the skillet
Pour on the stir fry sauce and cook 1 - 3 minutes, until everything is coated in sauce
Serve and enjoy!
Notes
I used organic ramen noodles which were 2.1 oz per box, making the total oz for 4 to be 8.4 oz. Regular ramen noodles are typically 3 oz each block, so if you use these you would only need 3 blocks instead of 4.
Nutrition Information:
Yield:

5
Serving Size:

1
Amount Per Serving:
Calories:

588
Total Fat:

22g
Saturated Fat:

7g
Trans Fat:

0g
Unsaturated Fat:

14g
Cholesterol:

0mg
Sodium:

1486mg
Carbohydrates:

84g
Fiber:

9g
Sugar:

6g
Protein:

13g