These air fryer mushrooms are the most delicious and easy side dish recipe. Juicy mushrooms are cooked in the air fryer in minutes! This recipe is sure to impress.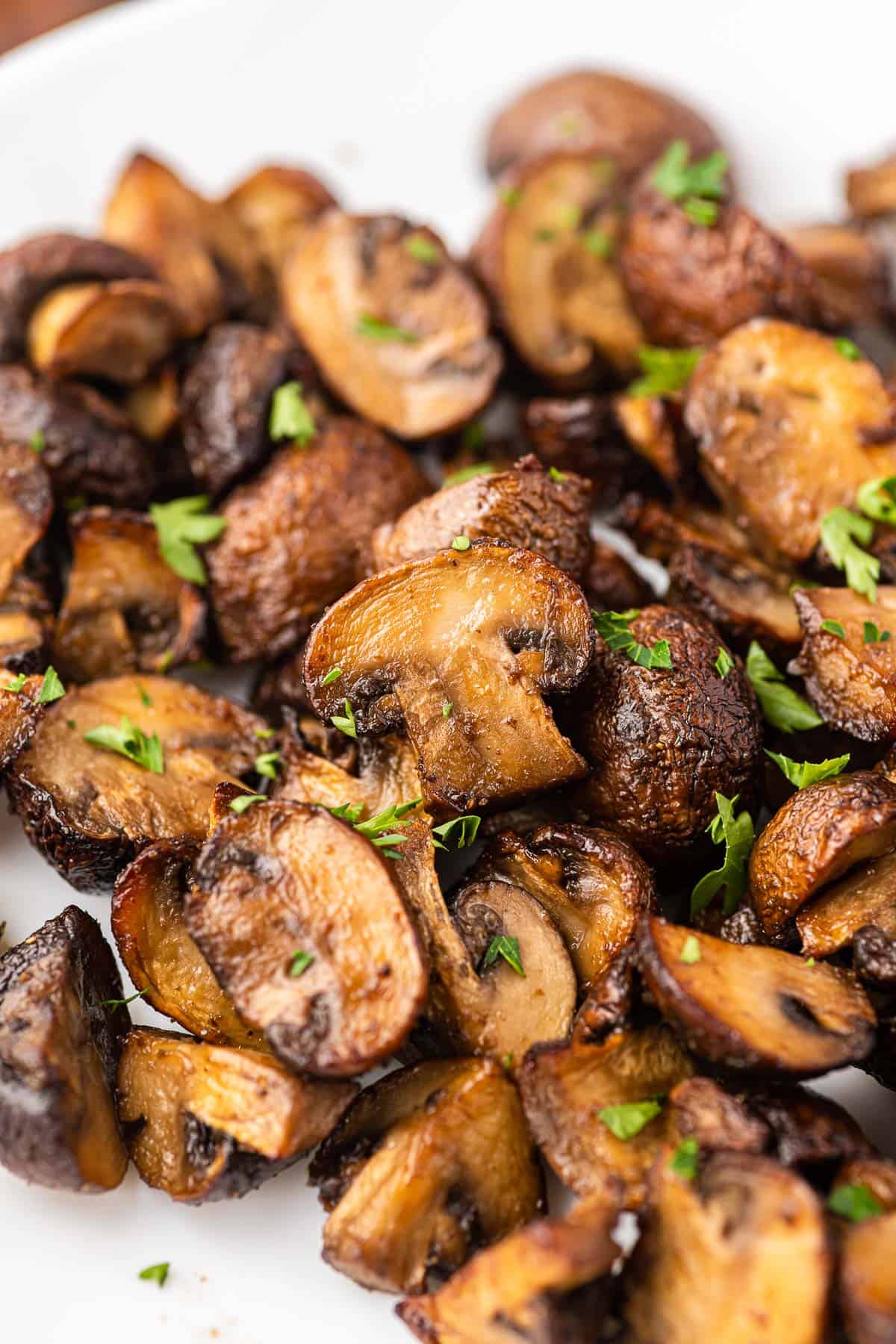 The air fryer is one of those appliances that has genuinely surprised and delighted me how much I use and love it.
Air Fryer Frozen Vegetables and Air Fryer Frozen Cauliflower are two of my top made recipes in our day to day life.
And Air Fryer Quesadillas are the best easy dinner when I am running short on time.
These air fryer brussels sprouts have successfully turned every skeptic into a brussel lover!
These air fryer mushrooms are quite possibly the best mushrooms I have ever eaten in my life!
They are juicy, with crispy edges, cook in just 15 minutes or less, and are not watery at all.
These air fried mushrooms are bursting with flavor and so addicting you will want to eat the whole batch yourself!
I thought I couldn't love another mushroom recipe as much as my Creamy Garlic Mushrooms, but I was wrong!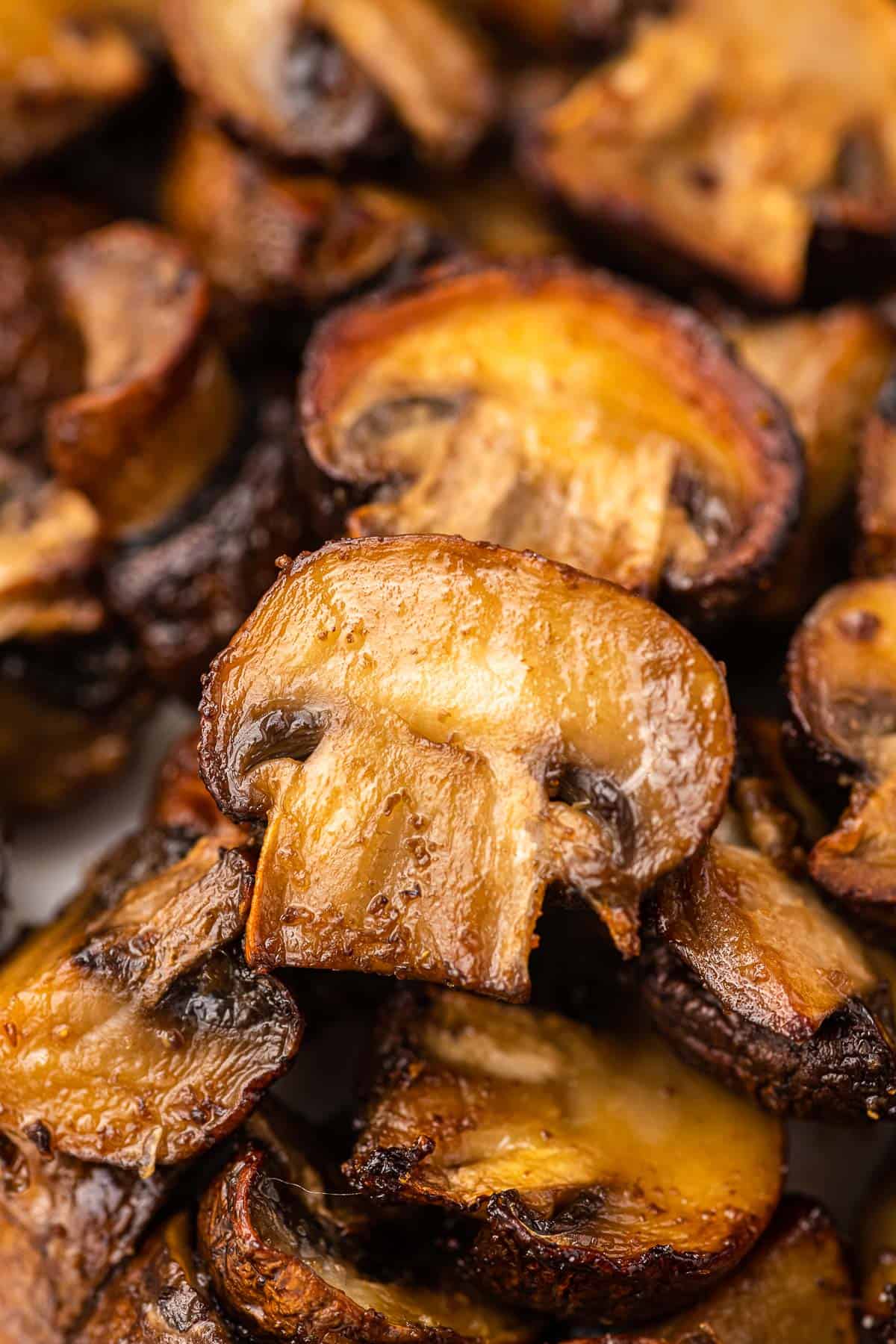 Air Fryer Mushrooms Ingredients
mushrooms: baby bella or white buttom
olive oil
garlic powder
onion powder
Worcestershire sauce
salt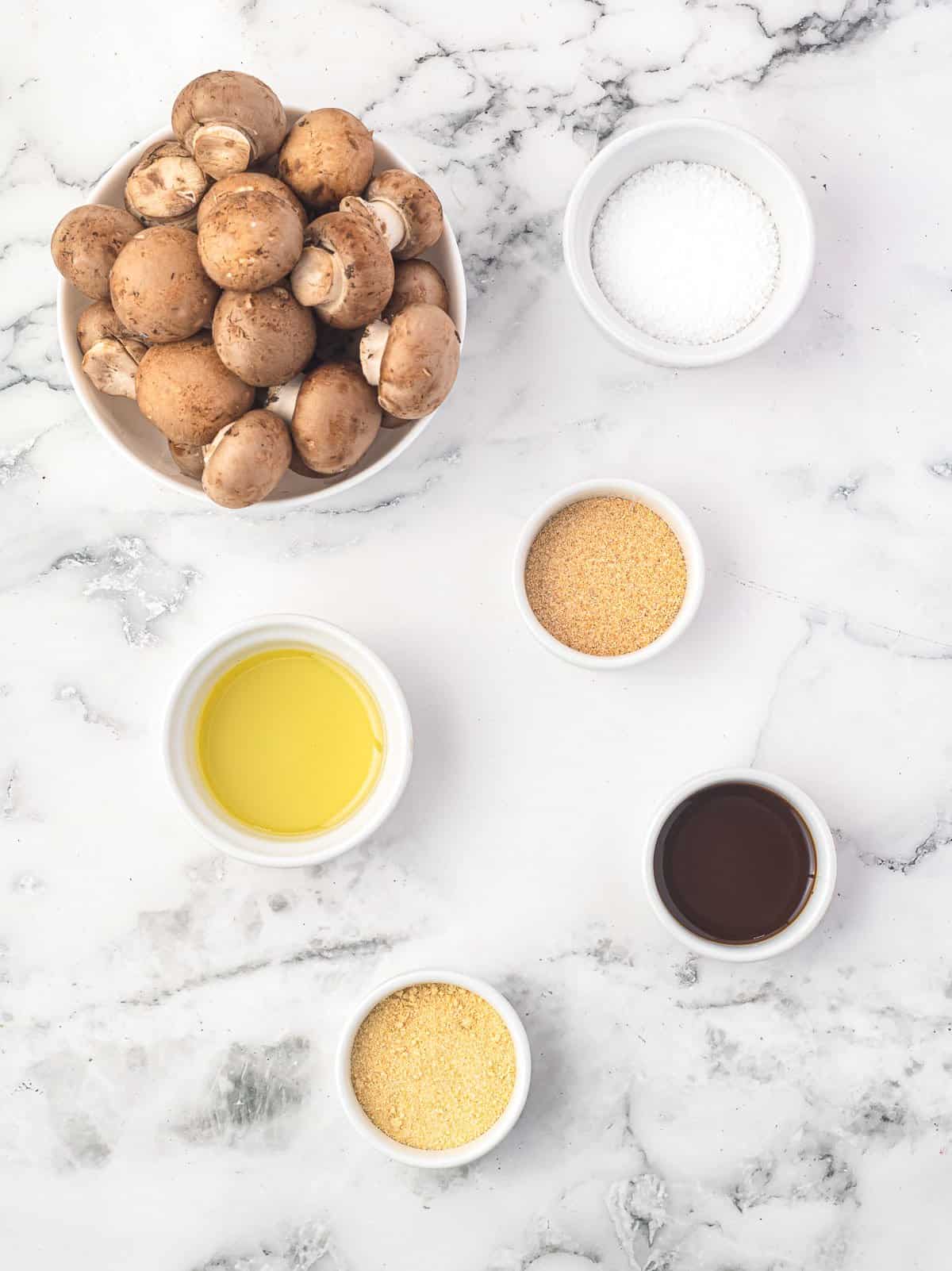 How to make air fryer mushrooms
Step 1: Start by washing and drying the baby bella mushrooms.
It's important to dry them well to get as much moisture off as possible.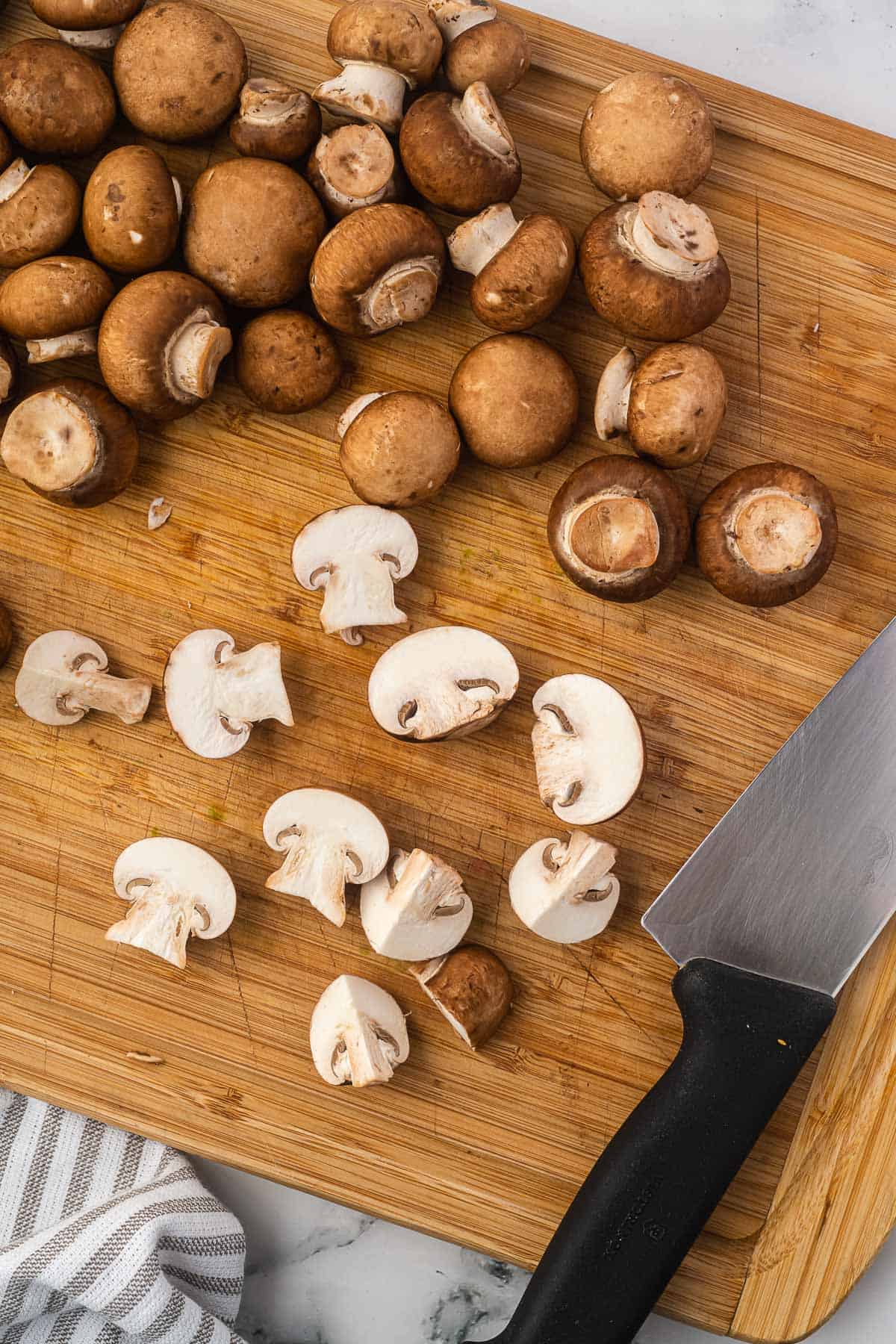 Step 2: cut each mushroom in half.
For larger mushrooms, you can cut them into fourths.
We just want them all to be around the same size.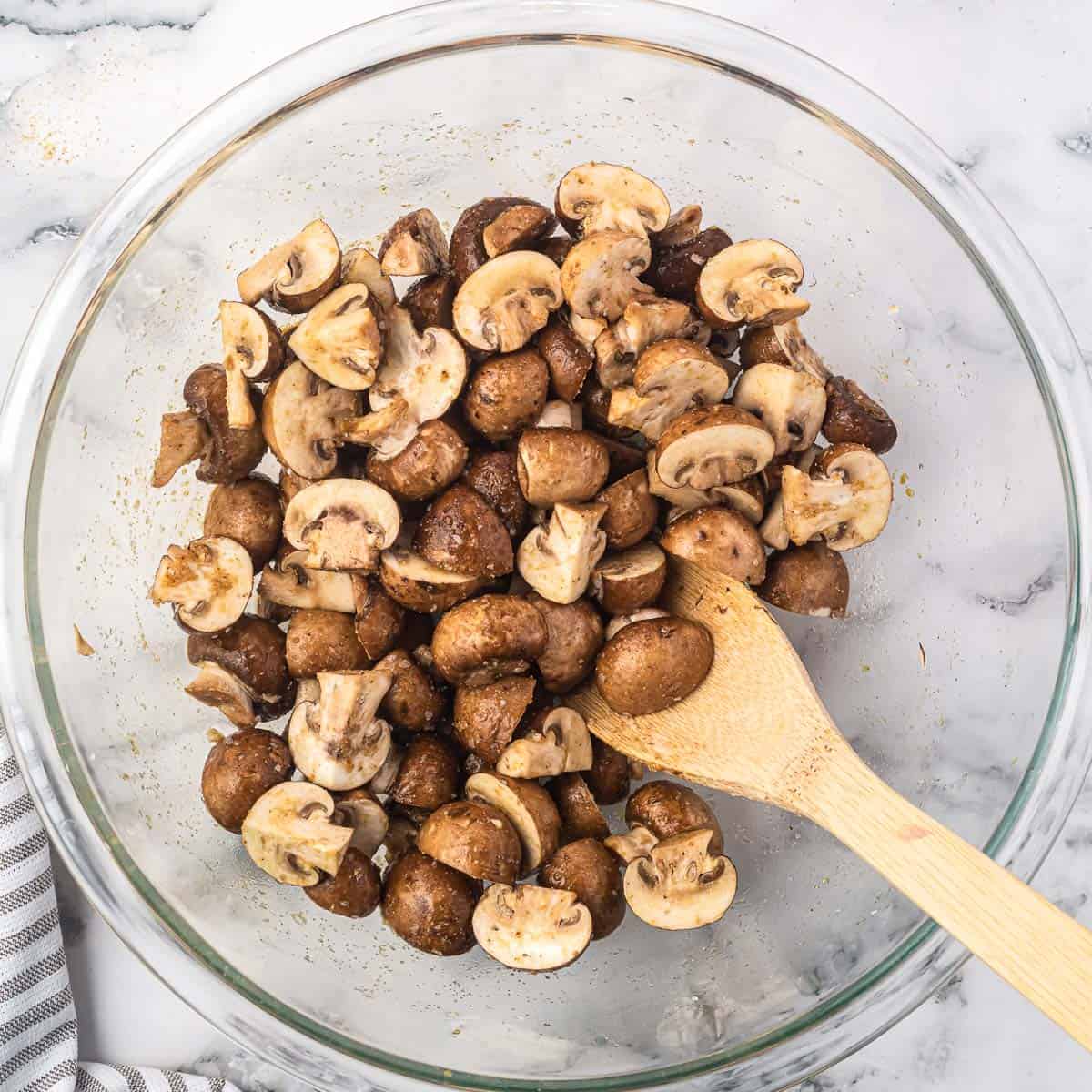 seasonings for mushrooms in the air fryer
Step 3: Next, it's time to toss with all of the seasonings that will make them taste delicious!
Give them a stir until they are all coated in yumminess.
garlic powder
onion powder
salt
olive oil
Worcestershire sauce (I used vegetarian)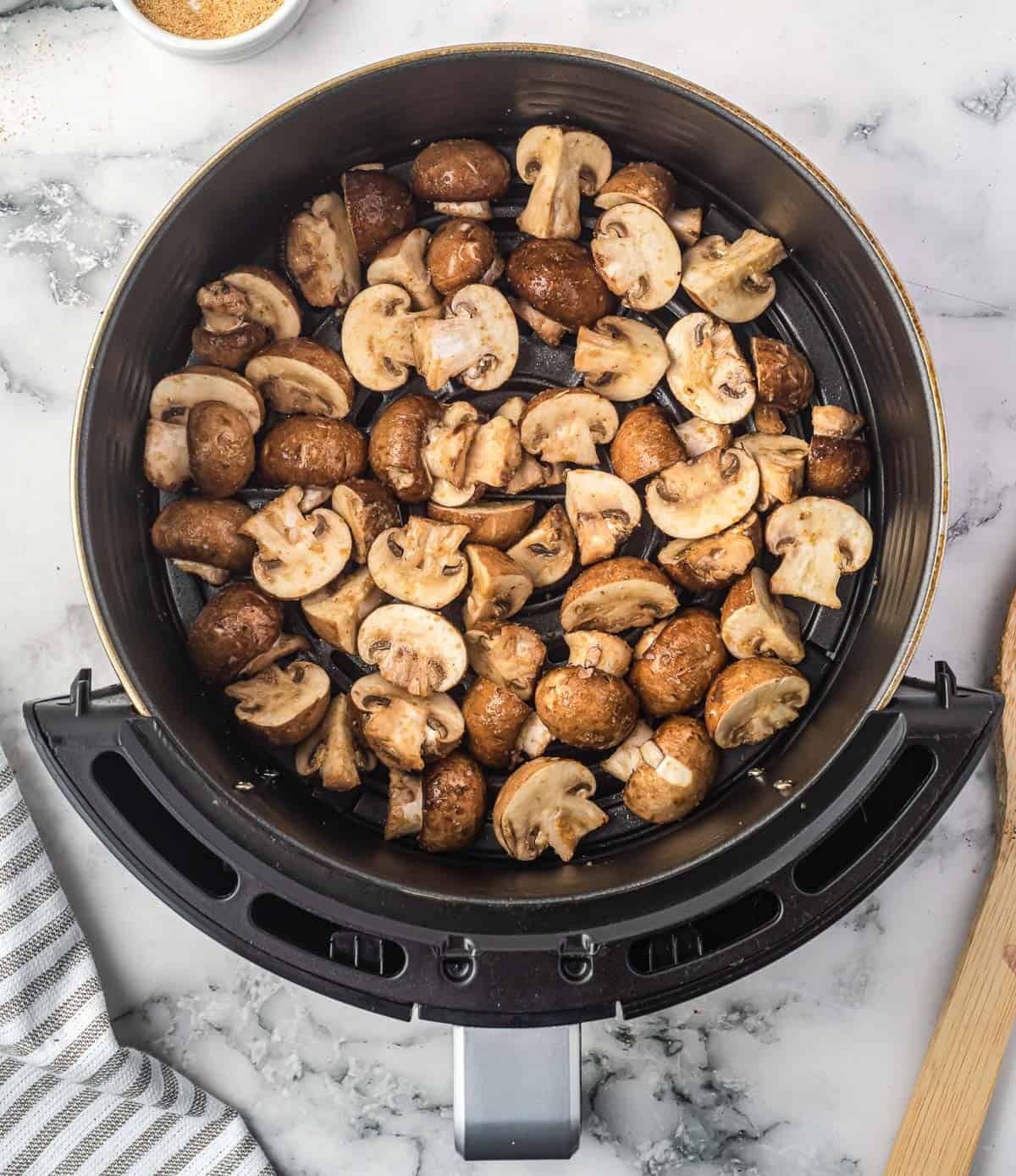 Step 4: place the mushrooms in a single layer in the air fryer basket.
For this recipe, I used a 6 quart air fryer, so if you are using a smaller one you will need to work in batches.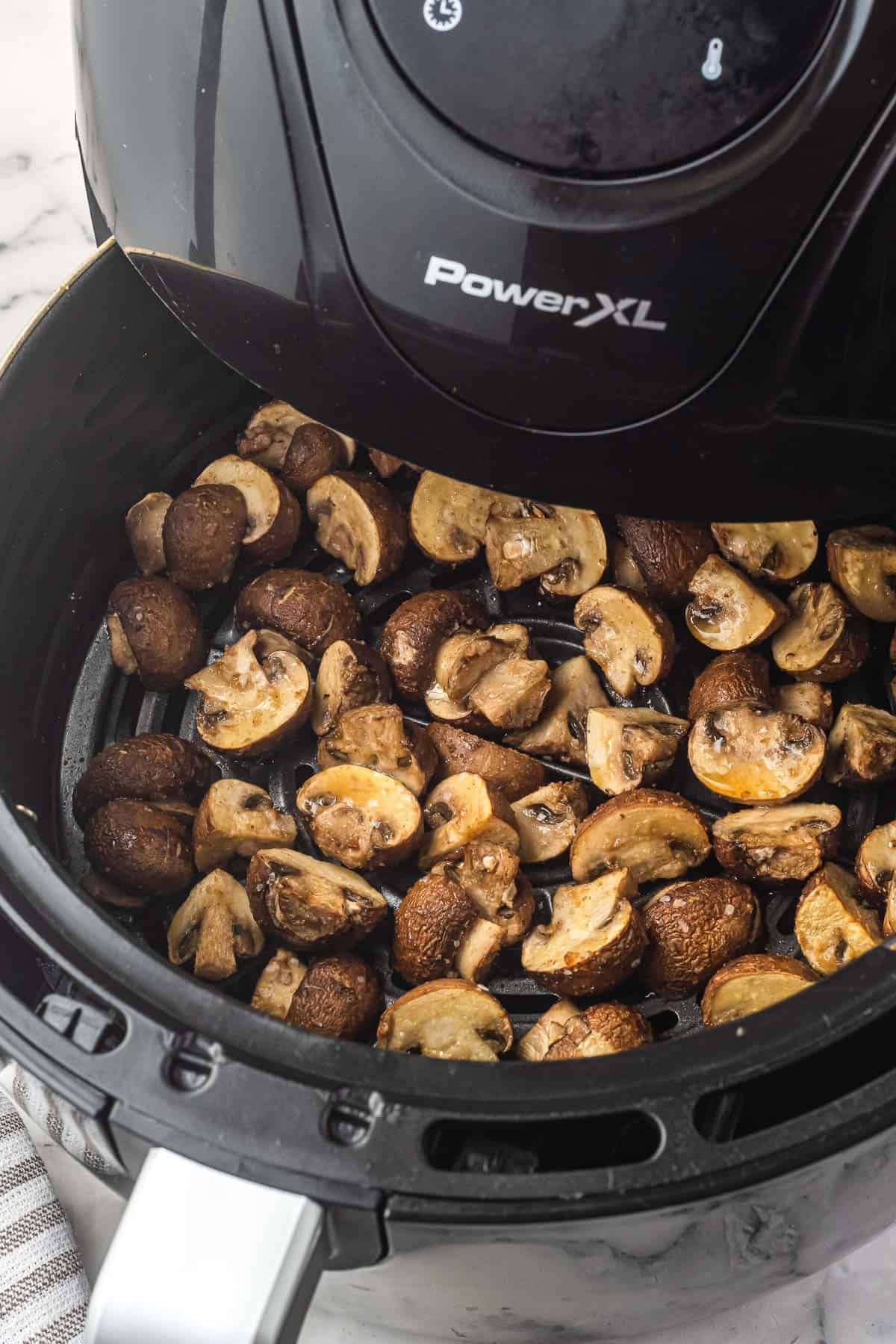 How long to cook mushrooms in the air fryer
Step 5: Turn the air fryer to 400 degrees and cook the mushrooms for 10 minutes.
Give them a good shake and stir around the mushrooms so that all sides can get nice and done.
Cook up to another 5 minutes, until browned on all sides.
Be sure to note that every air fryer cooks differently, so keep an eye on these towards the end to avoid burning!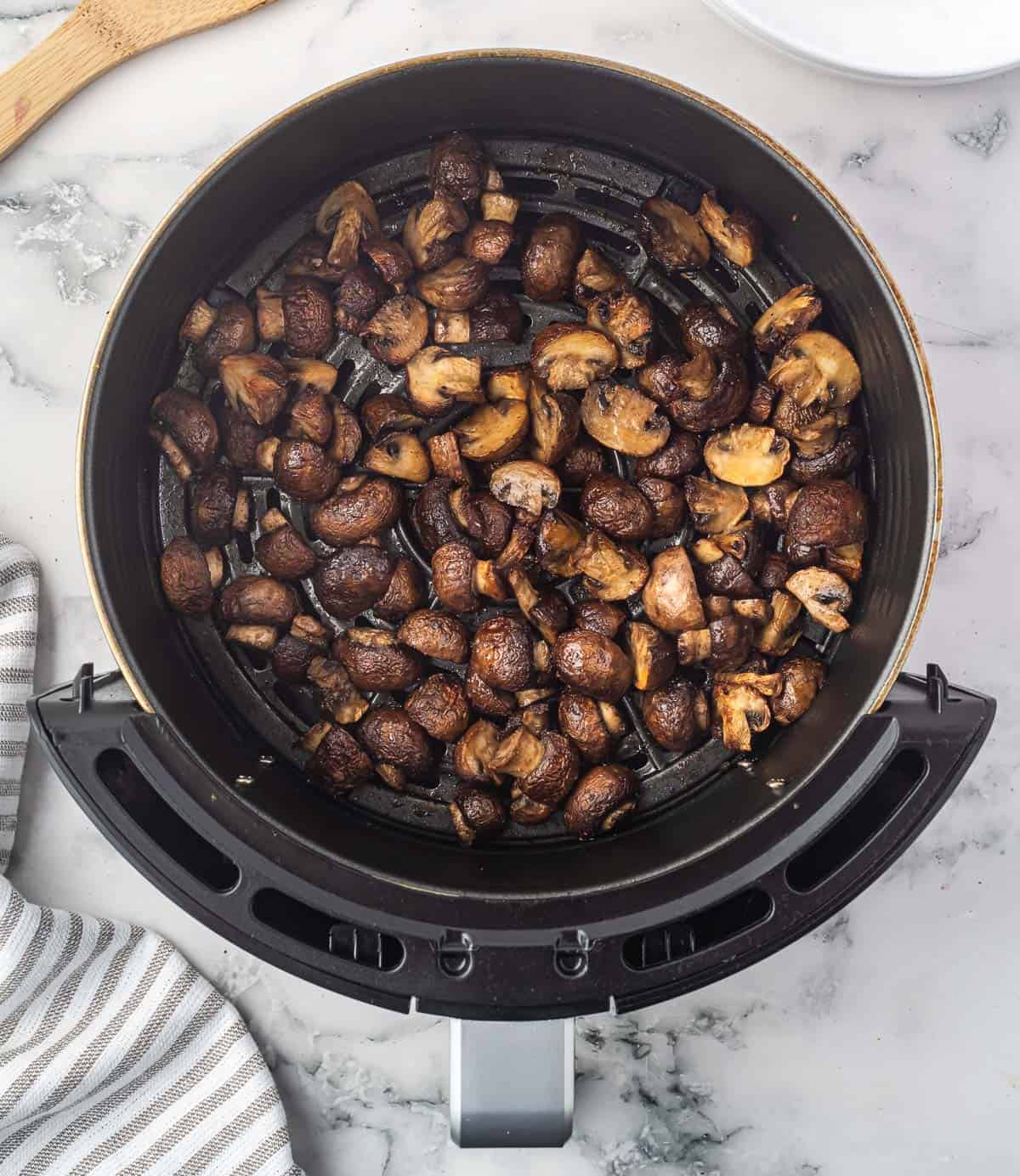 Serve with dinner as a side dish, or simply eat them right out of the air fryer.
My husband and I ate the entire batch ourselves and oh my goodness I have never tasted such delicious mushrooms.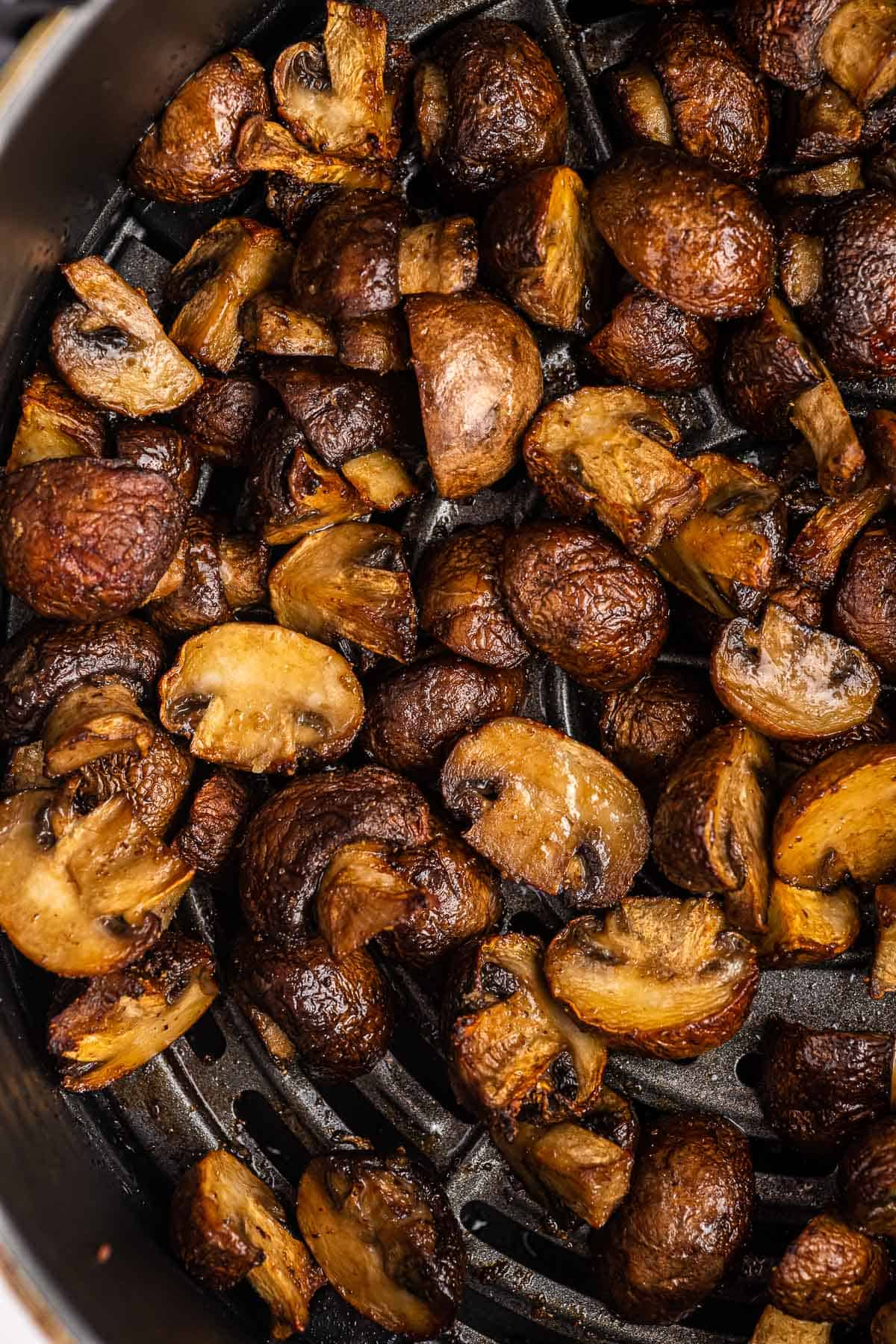 Hungry for more air fryer recipes? You've got to try this air fryer broccoli, air fryer cauliflower, air fryer breakfast hash, air fryer tofu nuggets, air fryer frozen brussel sprouts, air fryer pasta chips, and air fryer potatoes!
And if you love these air fried mushrooms you have to try out air fryer portobello mushrooms.
If you have a fast food craving, these air fryer frozen french fries will change your life.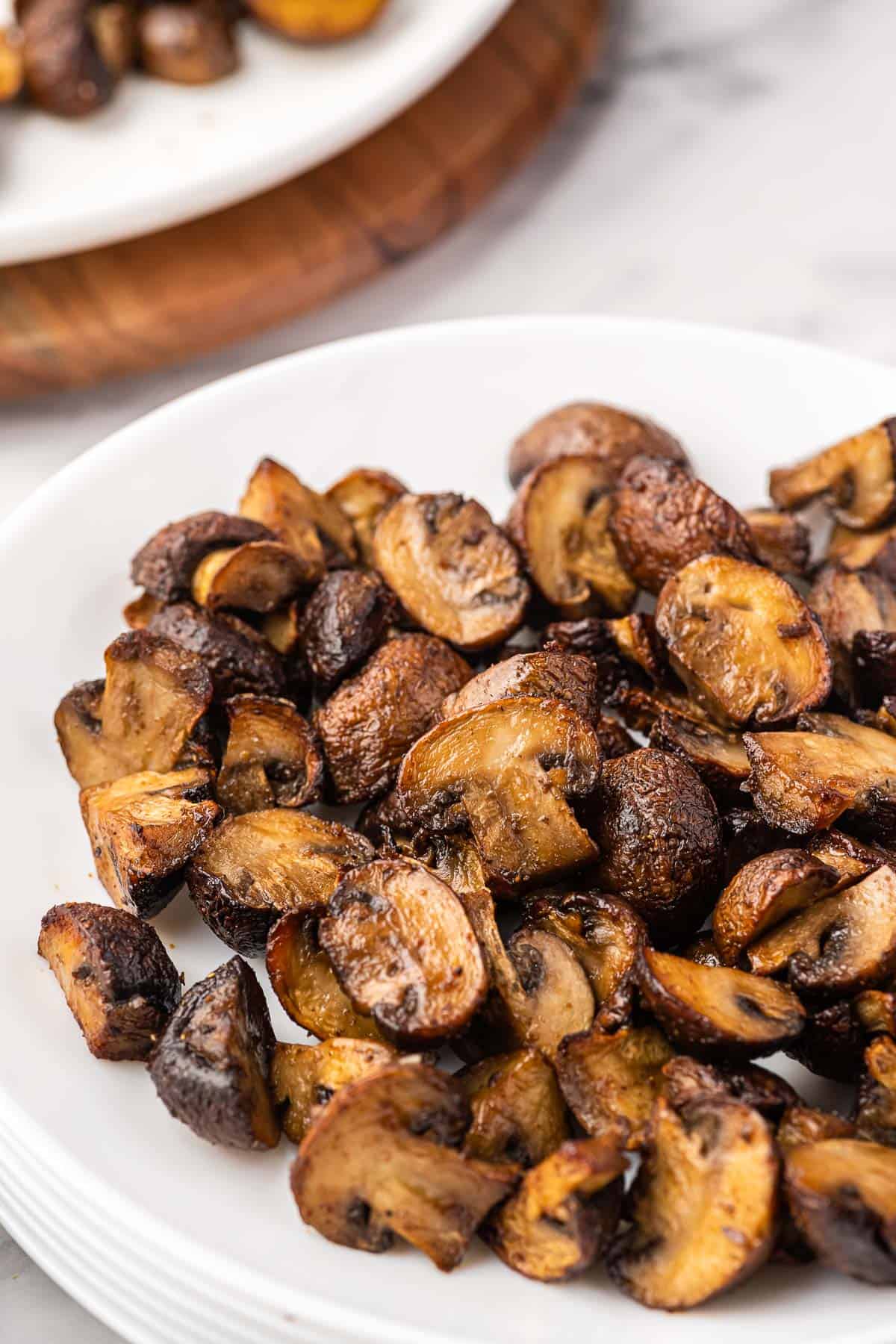 Are you making this recipe? I want to see! Don't forget to tag me on instagram @buildyourbite and hashtag #buildyourbite with your recipe creations!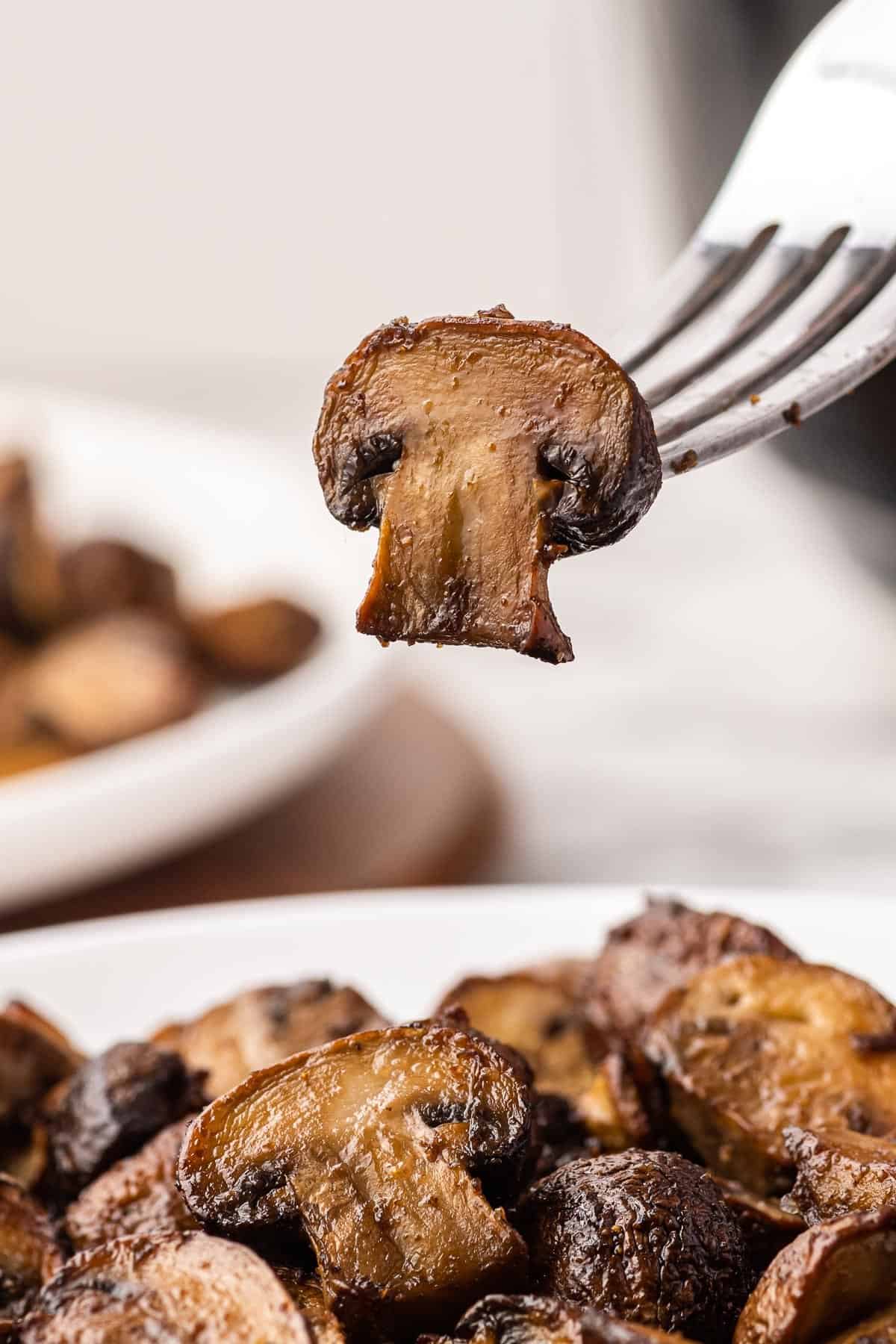 Be sure to pin this recipe for later and follow Build Your Bite on Pinterest for all the latest delicious recipes!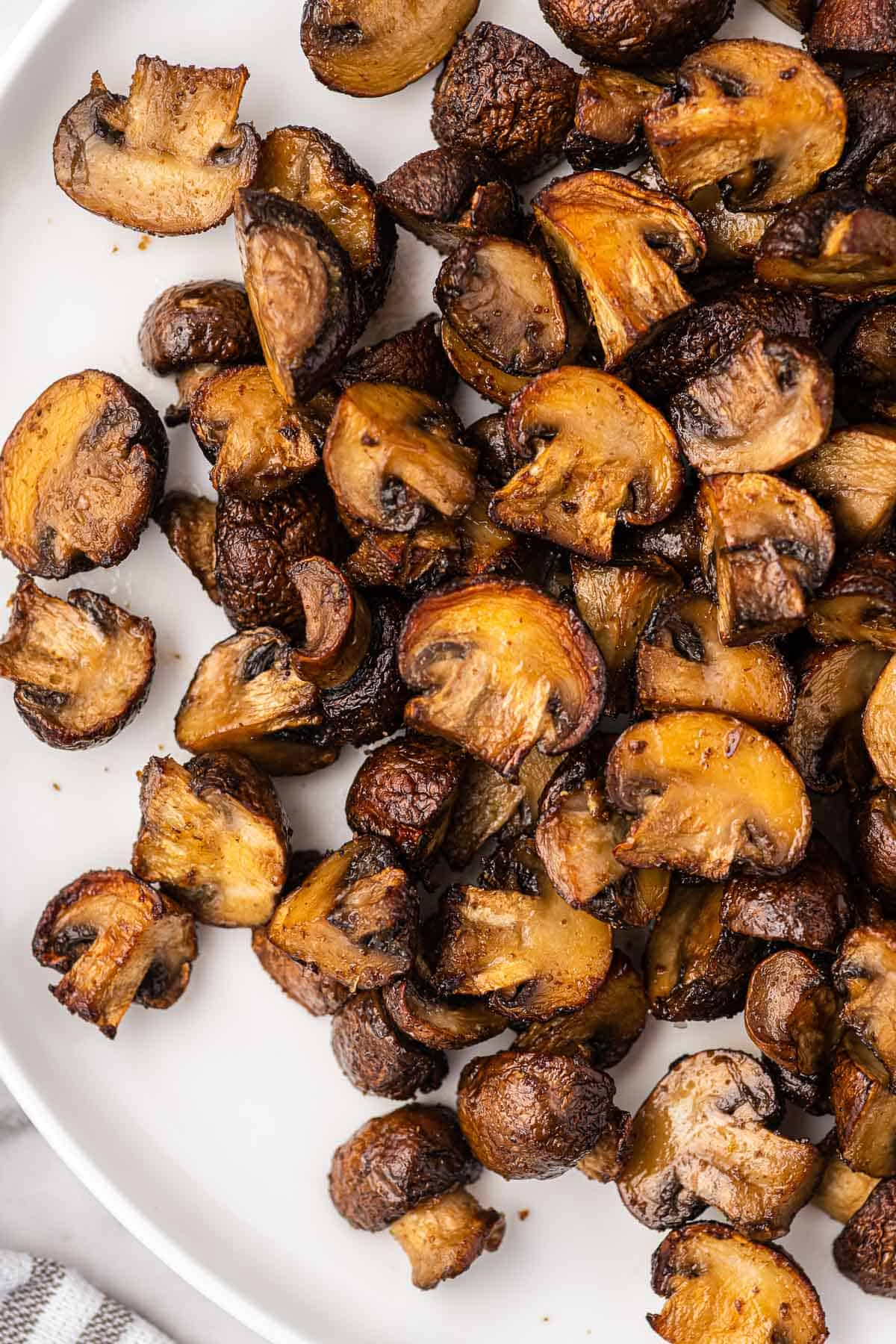 They were perfectly cooked, juicy, crisped edges, and not watery at all.
You simply must try these, I am sure they will be a new family favorite!
Did you make this recipe? Be sure to leave a star rating below!
More Recipes You'll love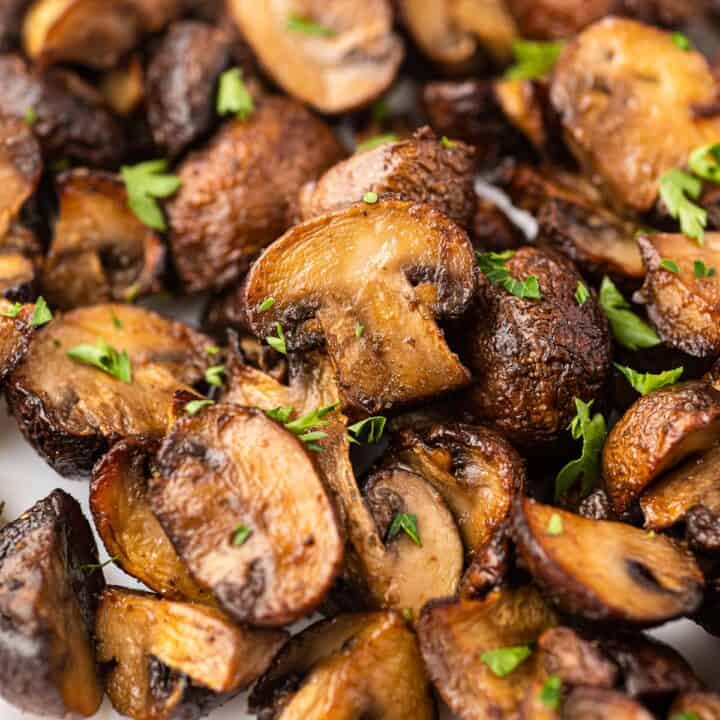 Easy Air Fryer Mushrooms
These easy air fryer mushrooms will be your new go to vegetable side dish. So flavorful and the most delicious juicy texture!
Ingredients
16 oz baby bella mushrooms, washed and dried
3 tablespoons olive oil
½ teaspoon garlic powder
¼ teaspoon onion powder
1 Tablespoon vegetarian Worcestershire sauce
¾ teaspoon salt
Instructions
Wash and thoroughly dry the baby bella mushrooms
Cut each mushroom in half, or into quarters for very large ones
Place cut mushrooms in a bowl and toss with olive oil, garlic powder, onion powder, Worcestershire sauce and salt
Place mushrooms in the air fryer basket in a single layer
Air fry at 400 degrees for 10 - 15 minutes, checking to shake at least twice. I cooked mine for 10 minutes, shaked and stirred, then cooked an additional 5 minutes until crisped on the edges
Serve immediately
Notes
This recipe was made using a 6 quart air fryer. If you are using a smaller air fryer, you will need to make the recipe in batches so that the mushrooms can cook in a single layer.
Every air fryer cooks differently, so keep a close eye on the mushrooms at the end of cook time to avoid burning.
Nutrition Information:
Yield:

4
Serving Size:

1
Amount Per Serving:
Calories:

126
Total Fat:

11g
Saturated Fat:

1g
Trans Fat:

0g
Unsaturated Fat:

9g
Cholesterol:

0mg
Sodium:

441mg
Carbohydrates:

7g
Fiber:

3g
Sugar:

3g
Protein:

3g