These Dark Chocolate Pecan Cookie Bars recipe are gluten free and dairy free. You won't believe how good these are! Serve warm with a scoop of vanilla ice cream!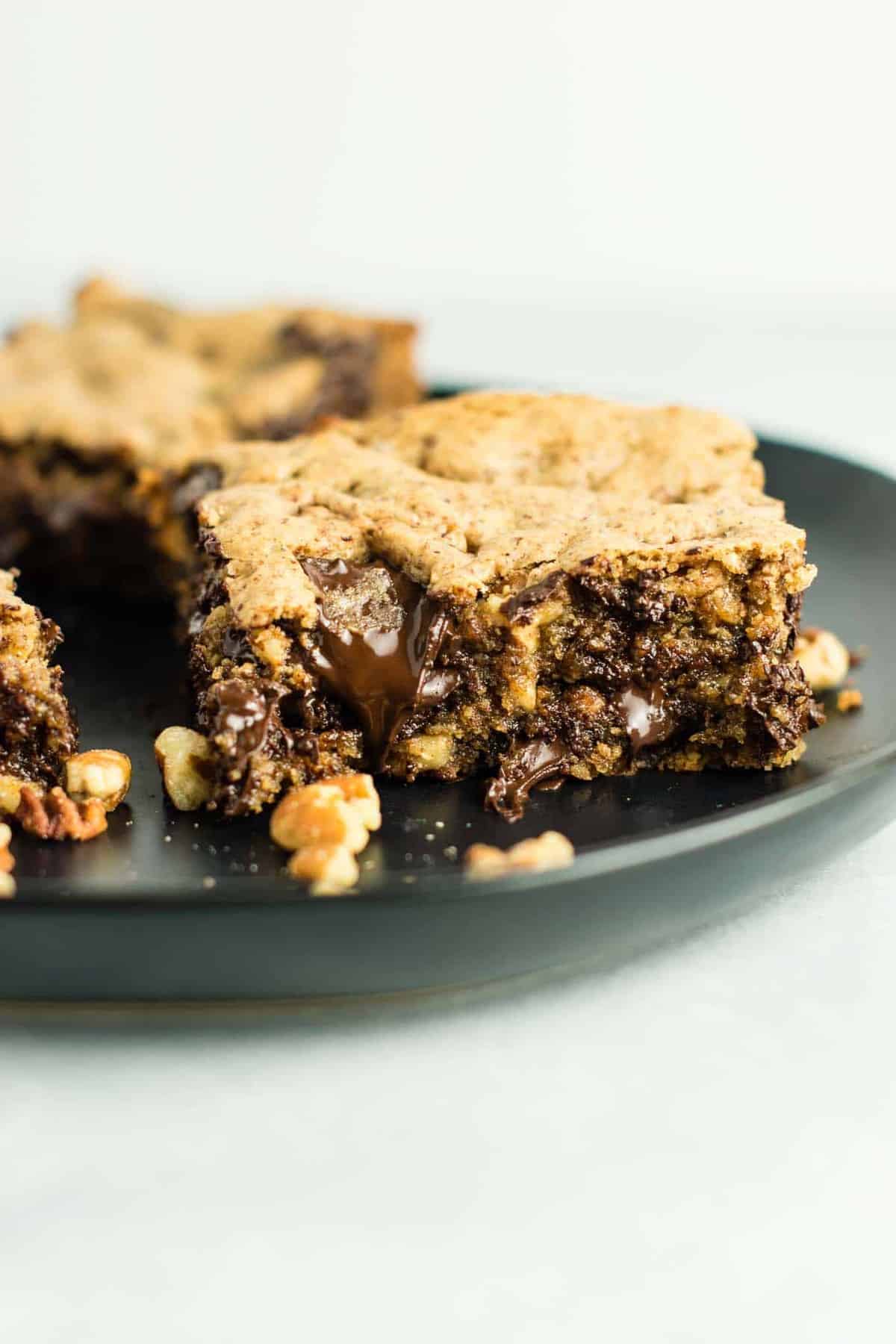 Death by chocolate pecan bars – also known as dark chocolate pecan bars.
Whatever you want to call them they are delicious!
These cookie bars are an indulgent treat to enjoy year round, but especially at Christmastime.
If you love the flavor of nutty pecans mixed with rich chocolate, you will love these!
These dark chocolate pecan bars are gluten free and dairy free.
I'm not even crazy about pecans but I LOVE these cookie bars.
They are made with ground up pecan pieces and mixed with even more pecans at the end.
The ultimate pecan lover's dessert.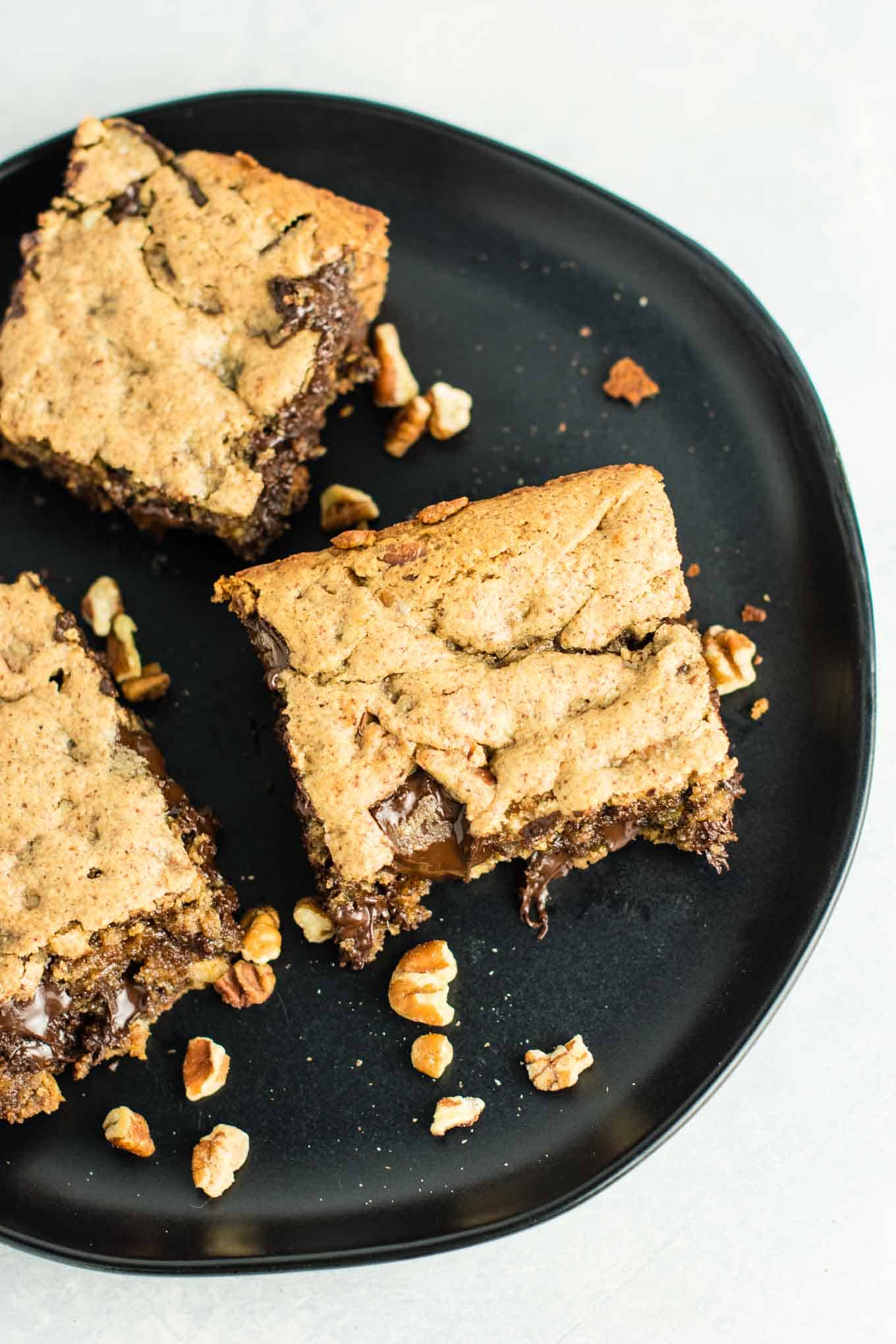 I promise you won't miss flour one single bit in this recipe.
I'd be willing to bet no one could guess that these are gluten free!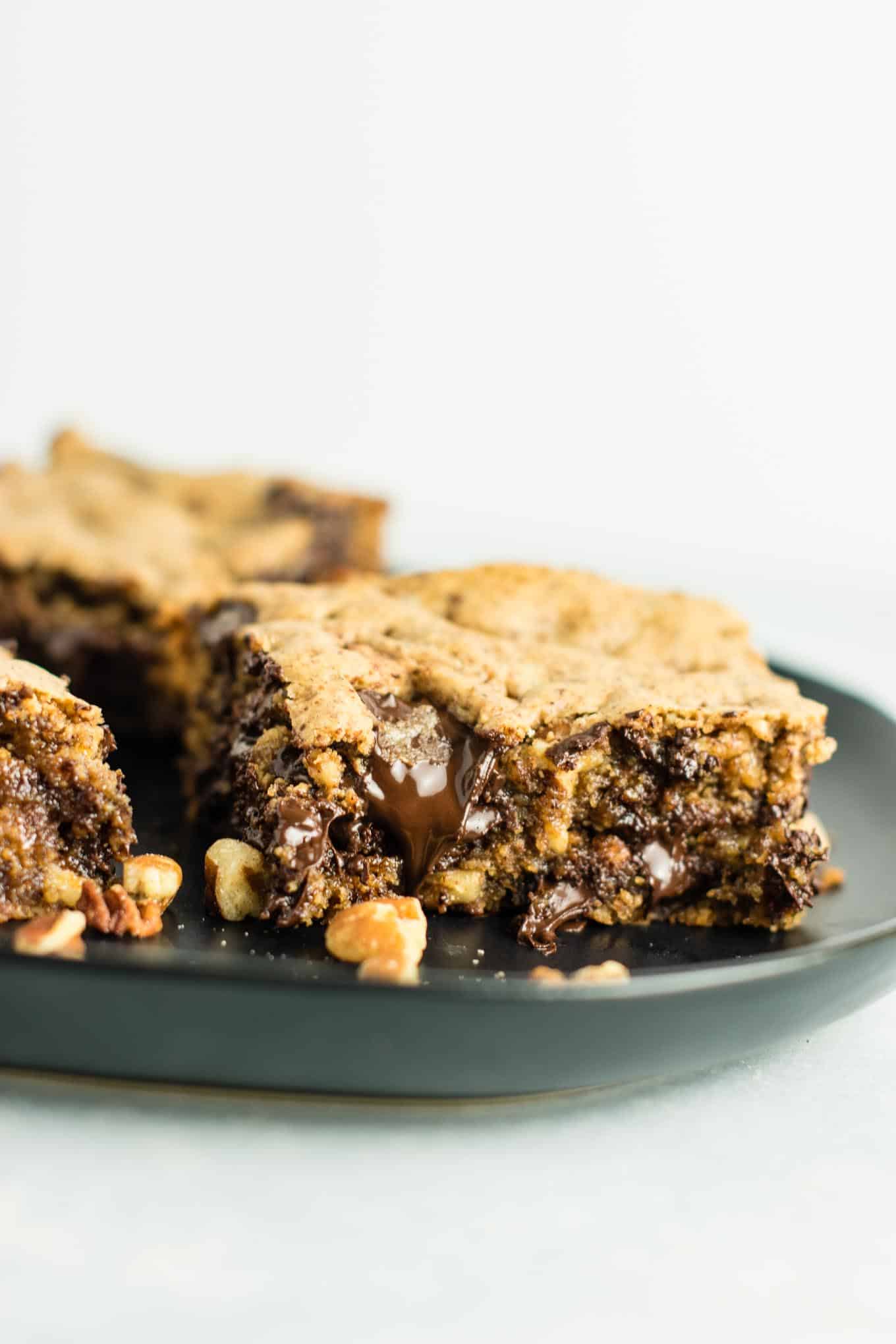 I strongly suggest serving these warm and gooey with a scoop of vanilla ice cream.
I even think it would make a delicious alternative (or addition) to pie at Thanksgiving.
I would totally eat this anytime anywhere.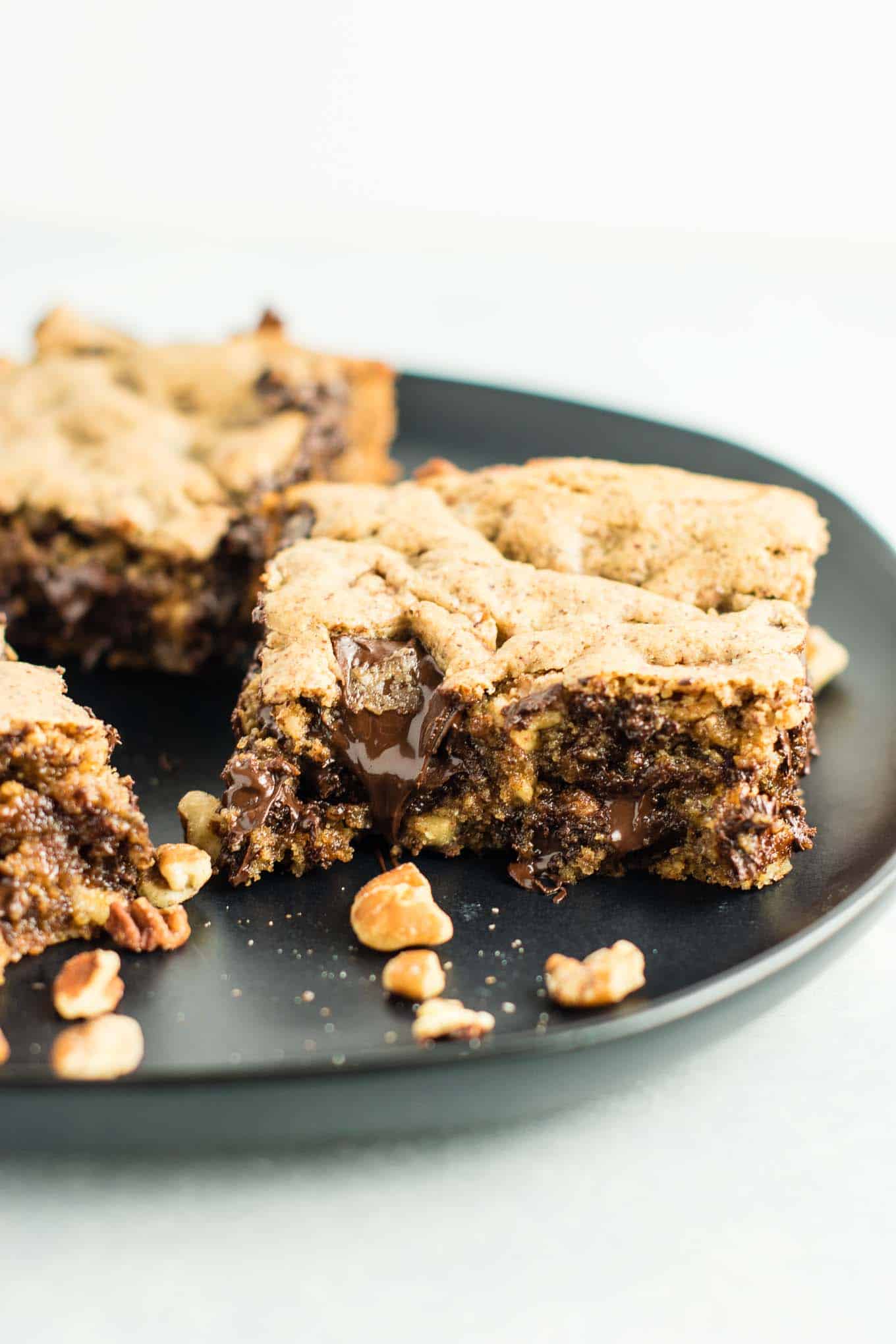 I used an entire bag of chocolate chips for extra chocolatey goodness.
You can never go wrong with chocolate, am I right?!
I used my gluten free chocolate chip cookie bars as the inspiration for this recipe.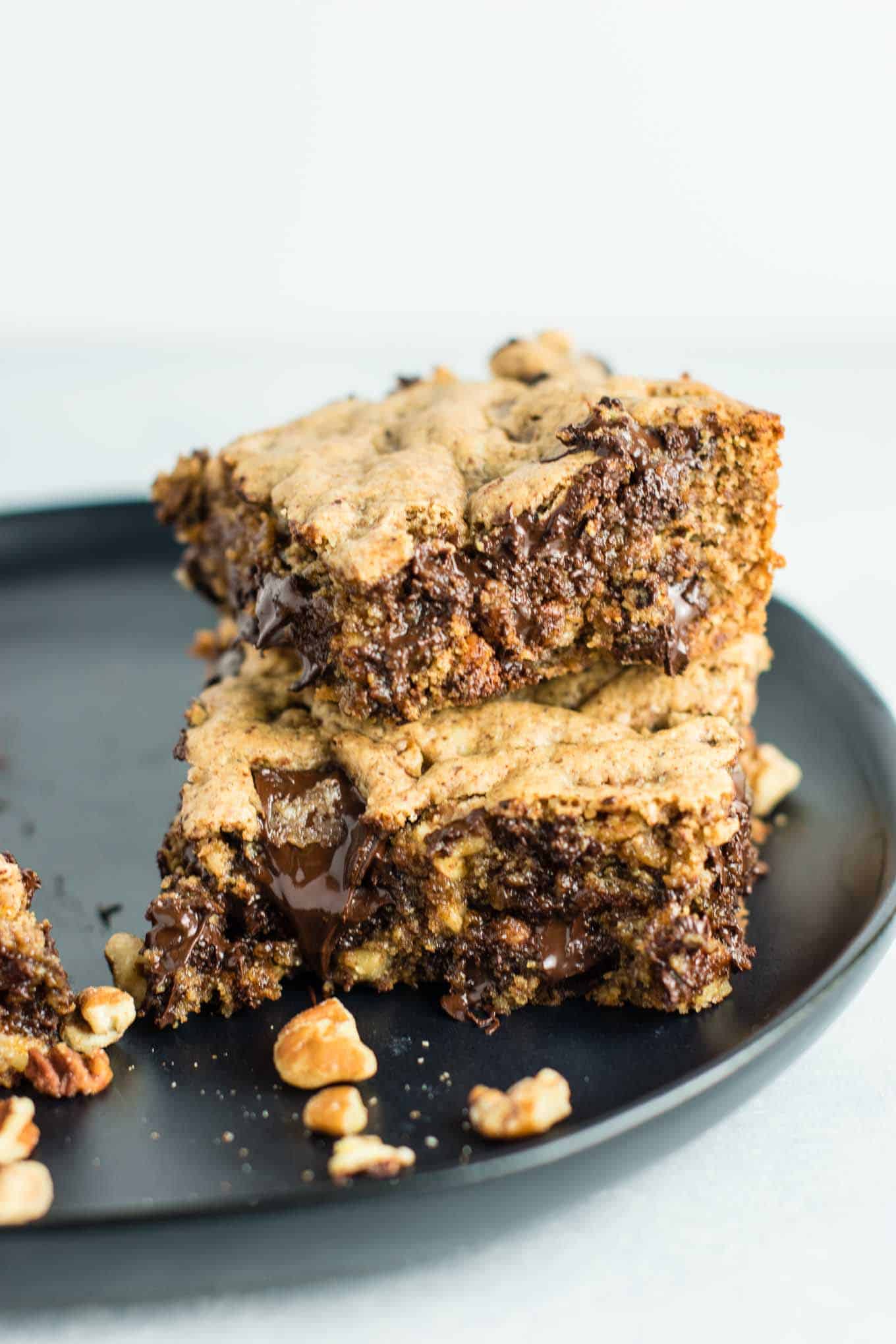 Once I made those, I knew that it was possible to make chewy decadent cookie bars without any wheat.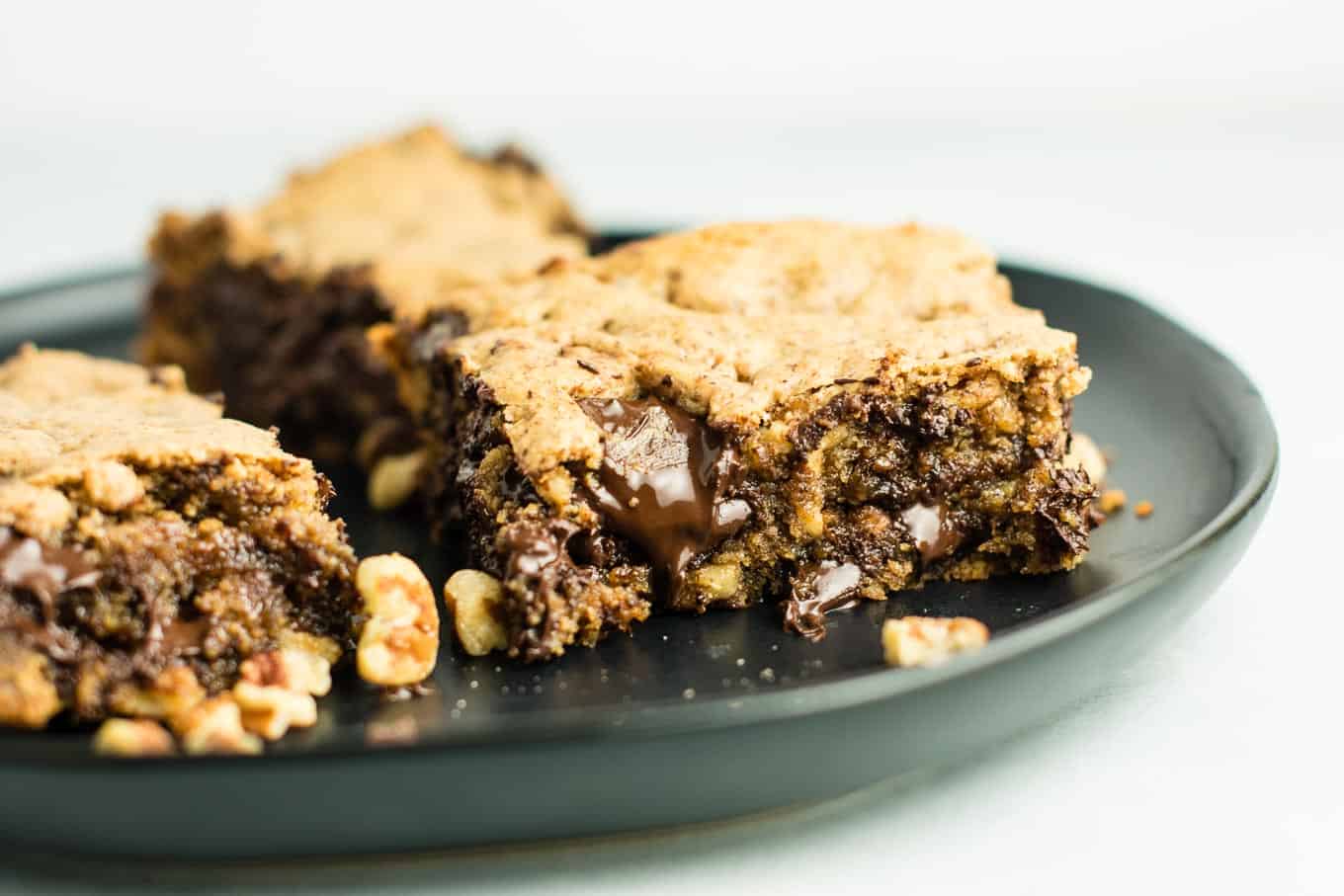 The secret?
A combination of nut butter and gluten free flour (or in this case – pecan flour.)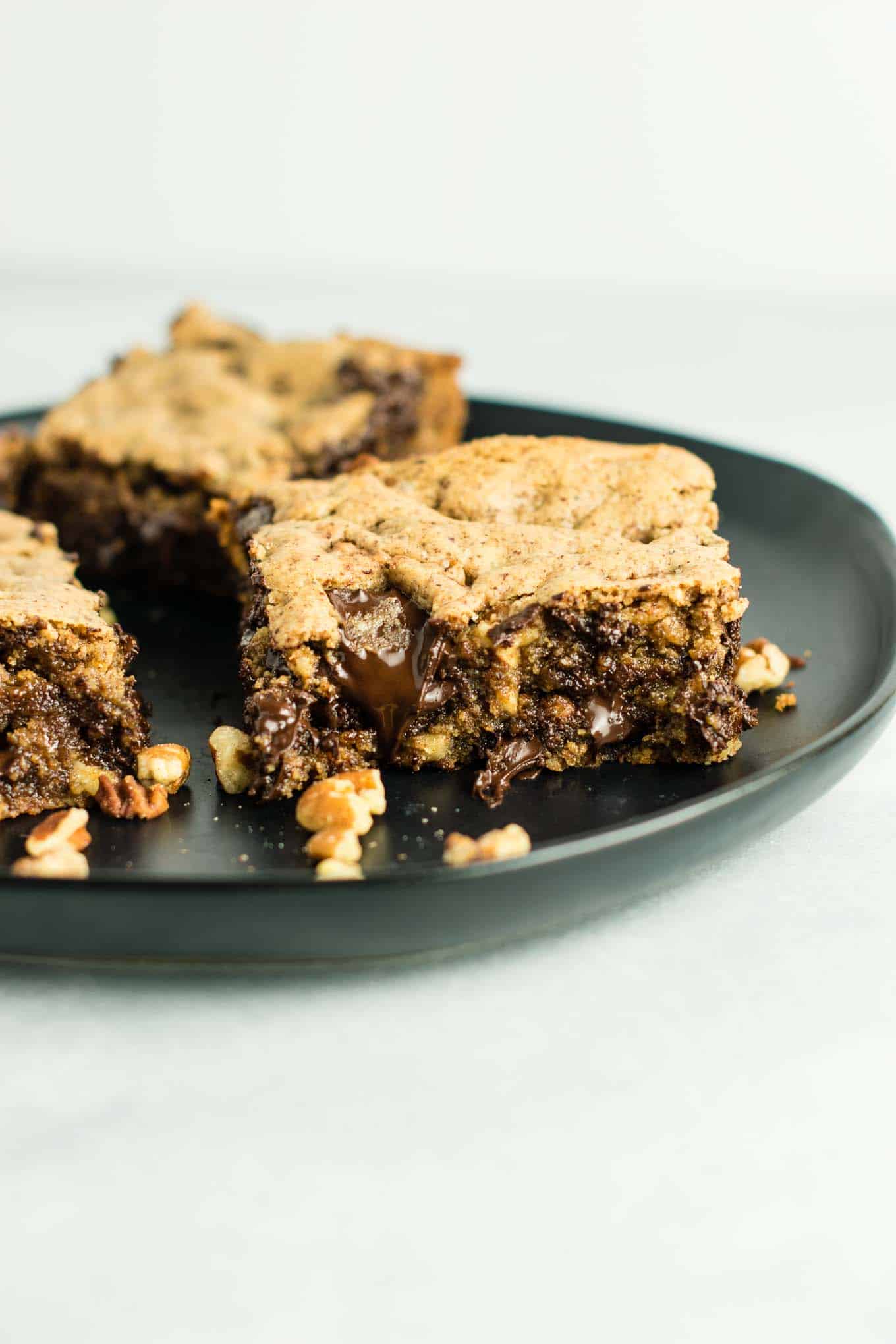 The nut butter helps make these extra soft and moist without the use of excessive oil.
In fact, there is barely any oil at all in this recipe!
Try making these for a dessert that everyone can enjoy (even your gluten free friends and family.)
looking for more gluten free desserts? You might also like these: Gluten free Oatmeal Chocolate Chip Cookie Bars, Gluten Free Pumpkin Pie Cookies, Gluten free Chocolate Mug Cake, Cranberry Blueberry Crisp, Gluten Free Oatmeal Chocolate Chip Cookies, Flourless Peanut Butter Chocolate Chip Cookies.
Pin these Dark Chocolate Pecan Cookie Bars for later:
Dark Chocolate Pecan Cookie Bars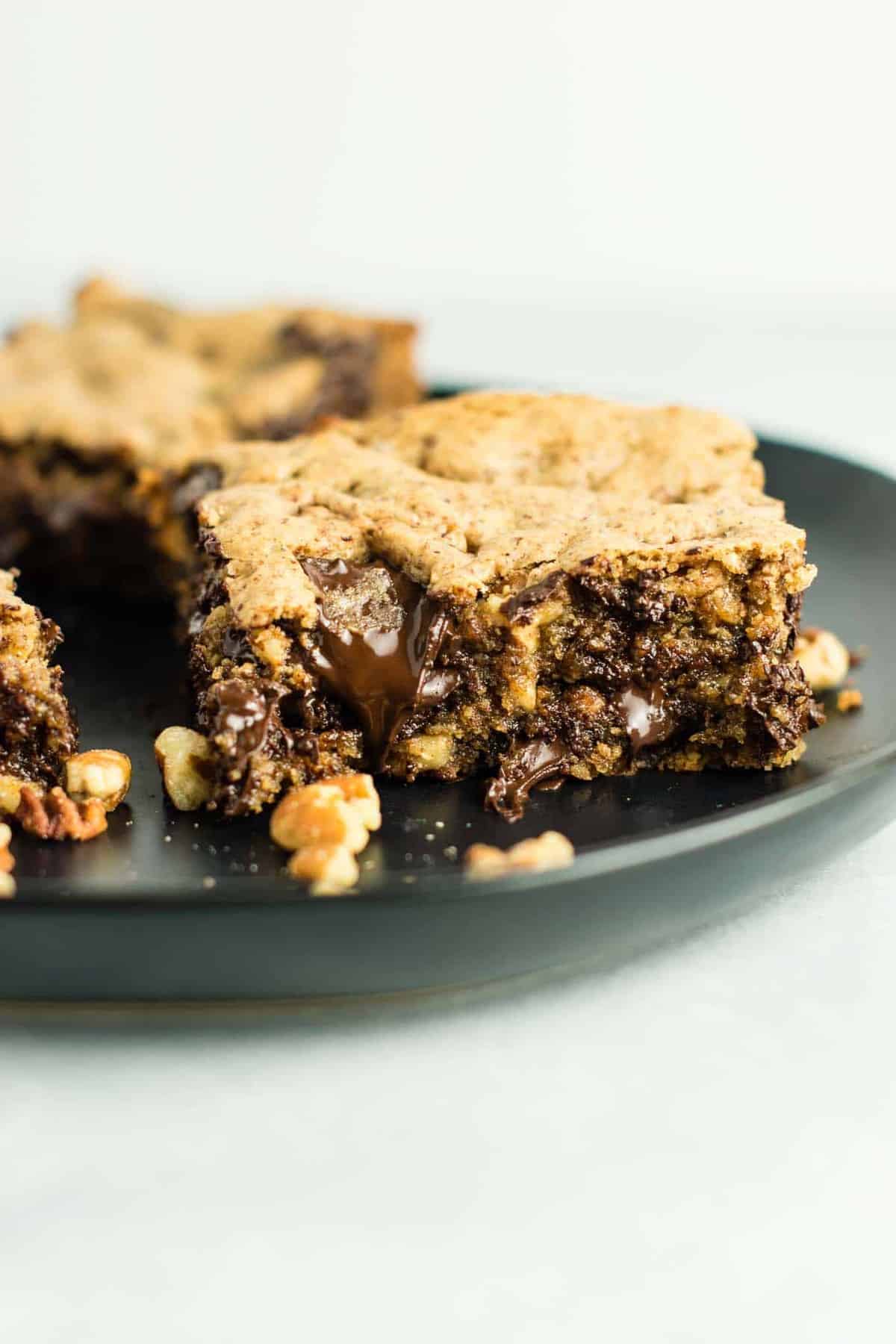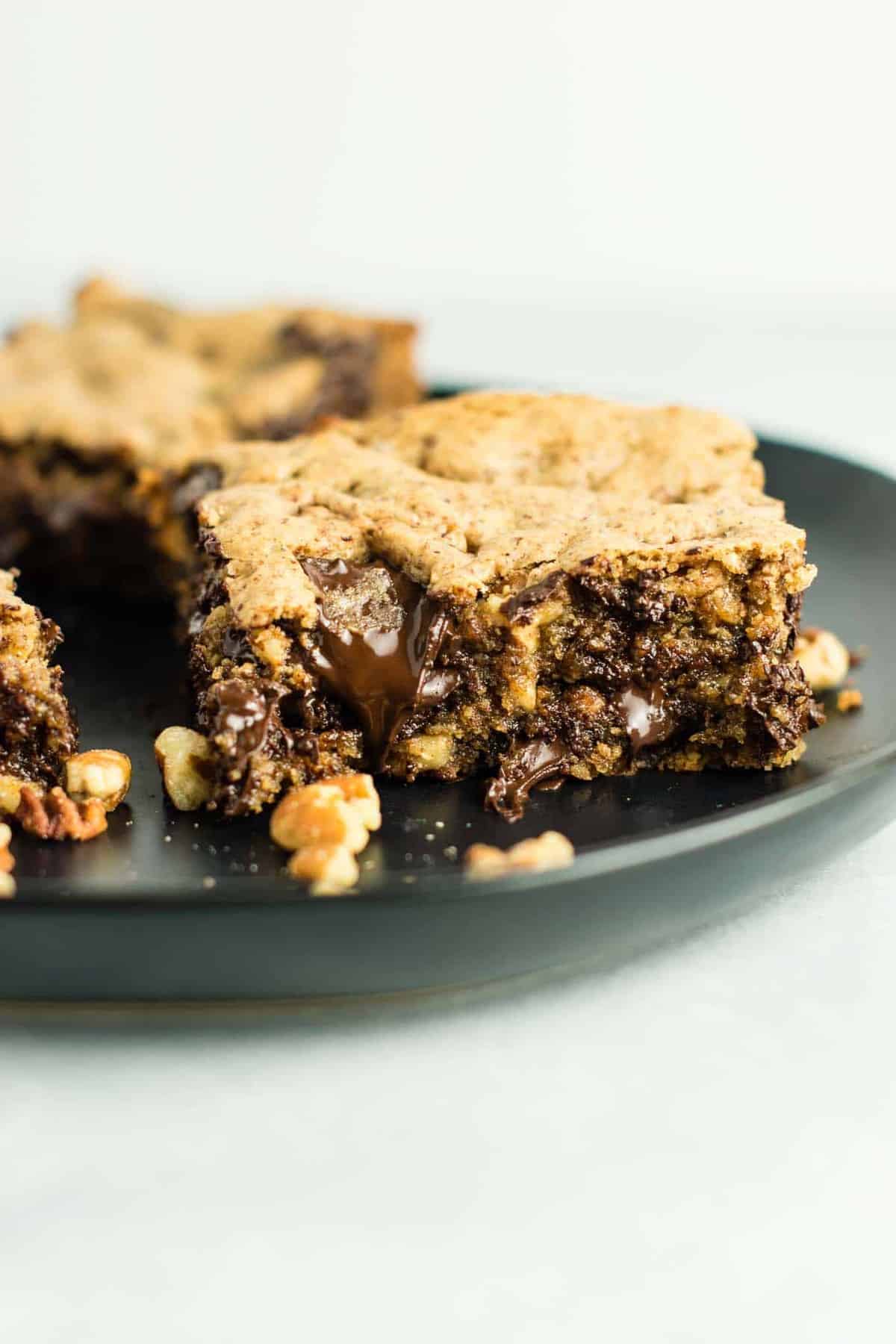 Ingredients
1 cup creamy almond butter
1/3 cup brown sugar
1/4 cup honey
2 eggs
1 tablespoon + 1 teaspoon coconut oil, melted
1 tablespoon vanilla extract
1 1/2 cups pecan pieces, ground into flour
1/3 cup coconut flour
1/2 teaspoon sea salt
1 teaspoon baking soda
10 oz dark chocolate chunks
1 cup pecan pieces
Directions
Beat almond butter, melted coconut oil, brown sugar, honey, and vanilla until well combined
Add eggs and beat well
Add 1 1/2 cups of pecan pieces to a blender or food processor and grind into flour
In a separate bowl, add pecan flour, baking soda, salt, and coconut flour and whisk to combine
Add dry mixture to the wet, beating until combined
Fold in 1 cup of pecan pieces and the chocolate chunks
Grease an 8 by 8 dish and press batter evenly into the pan using a rubber spatula (it will be thick)
Bake at 350 degrees for 15-17 minutes, or until toothpick inserted comes out clean.
serve warm, with a scoop of vanilla ice cream (optional, but highly recommended)
Loading nutrition data...