These pumpkin cheesecake balls are the best easy no bake dessert to make this fall. You won't be able to stop at just one!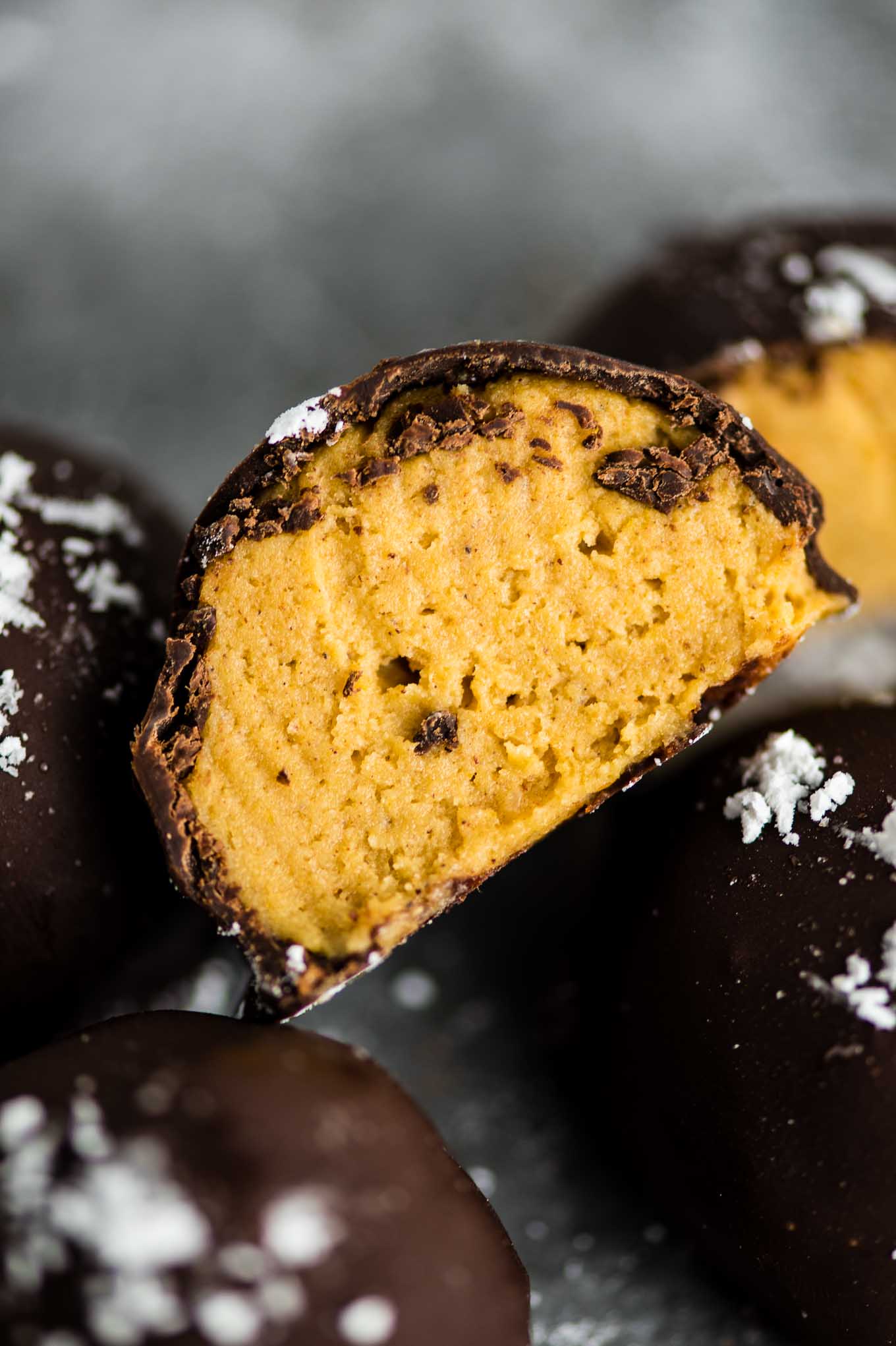 These no bake pumpkin cheesecake balls are delicious!
Pumpkin Truffles are so fun to make, and these pumpkin cheesecake balls are absolutely one of the best fall recipes.
Rich cream cheese and real pumpkin filling with crushed graham crackers is dipped into a dark chocolate shell and topped with powdered sugar for a beautiful and easy to make treat.
These no bake cheesecake balls are so delicious and are perfect for those fall pumpkin cravings!
Ingredients to make pumpkin cheesecake balls
cream cheese
canned pumpkin: not pumpkin pie filling
powdered sugar
powdered graham cracker crumbs: to get that yummy cheesecake crust flavor!
pumpkin pie spice
salt
coconut flour: I like the way coconut flour holds these together, but if you don't have it you could substitute additional crushed graham cracker crumbs
dark chocolate chips: for making the chocolate truffle shell
How to make pumpkin cheesecake balls
Step 1: Beat a softened block of cream cheese with the powdered sugar until fluffy.
Step 2: To make the graham cracker crumbs, you will need to use either a blender or a food processor. The texture that you need is almost flour like and very fine. Simply add the graham crackers and blend them into dust, then measure out 1 cup worth.
Step 3: To the cream cheese mixture, add the graham cracker crumbs, pumpkin, pumpkin pie spice, salt, and coconut flour until smooth.
A note about the coconut flour: I love using coconut flour in truffles to thicken up the texture without additional sugar. If you do not have it or don't want to use it, you can substitute more crushed graham crumbs as necessary to thicken up the batter.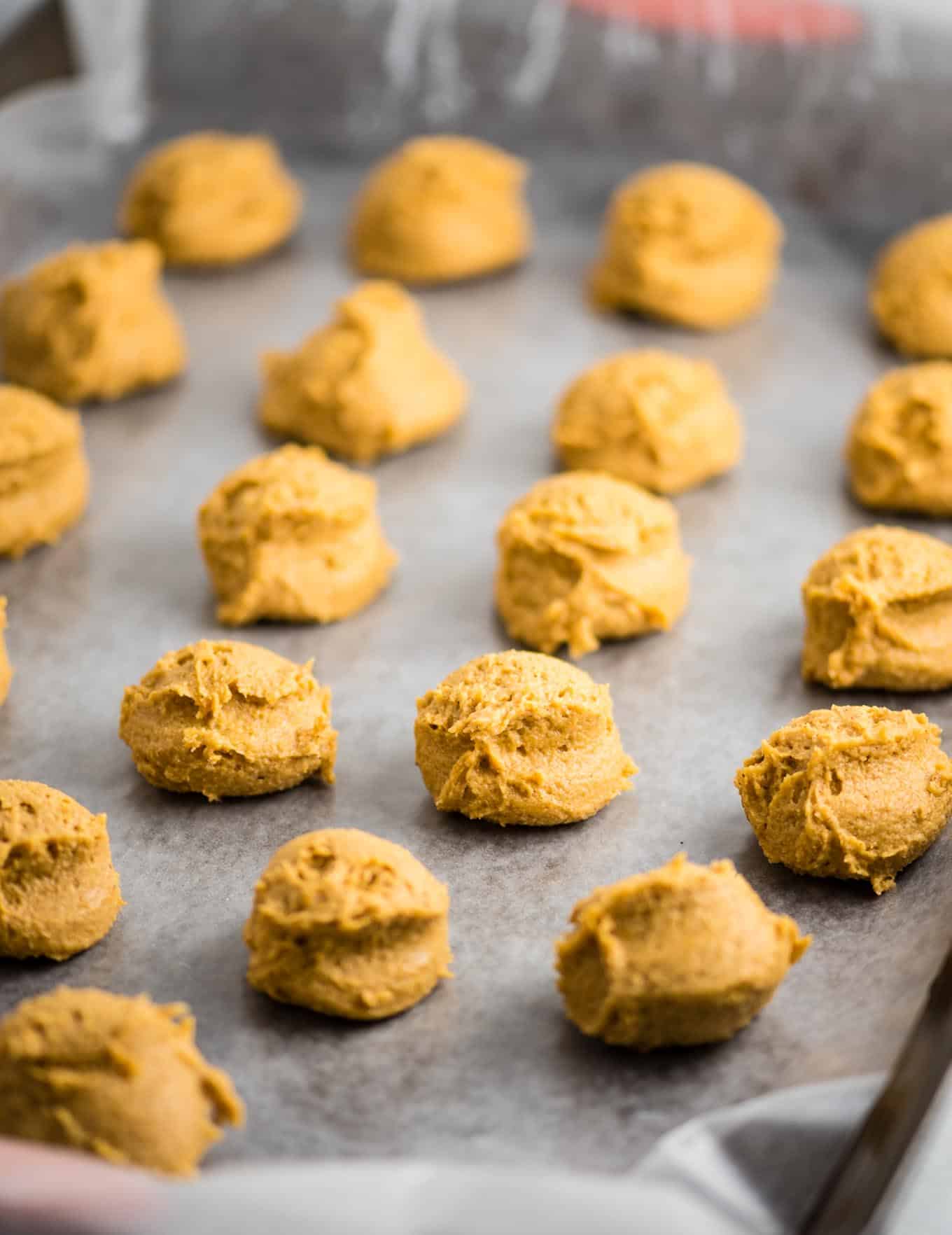 Step 4: Line a baking sheet with wax paper. Use a mini cookie scoop (seriously, it makes truffle shaping so easy!) to drop small balls onto the cookie sheet.
Pro tip: An important note here is not to worry about the shape of the truffles just yet. The dough will be very sticky at this point and I do not recommend using your hands to try to shape them.
Once the batter chills in the fridge for an hour, it is much easier to roll into pretty little balls before dipping in the chocolate!
Step 5: Once the batter has chilled: make each truffle by first picking up a ball, rolling it in your palms to fix any shape imperfections. Drop the truffle into the chocolate, and use a fork to get it out, then tap off any excess chocolate.
Use a toothpick to help you slide the truffle back onto the baking sheet, then top it immediately with powdered sugar on the top. Repeat with the remaining truffles.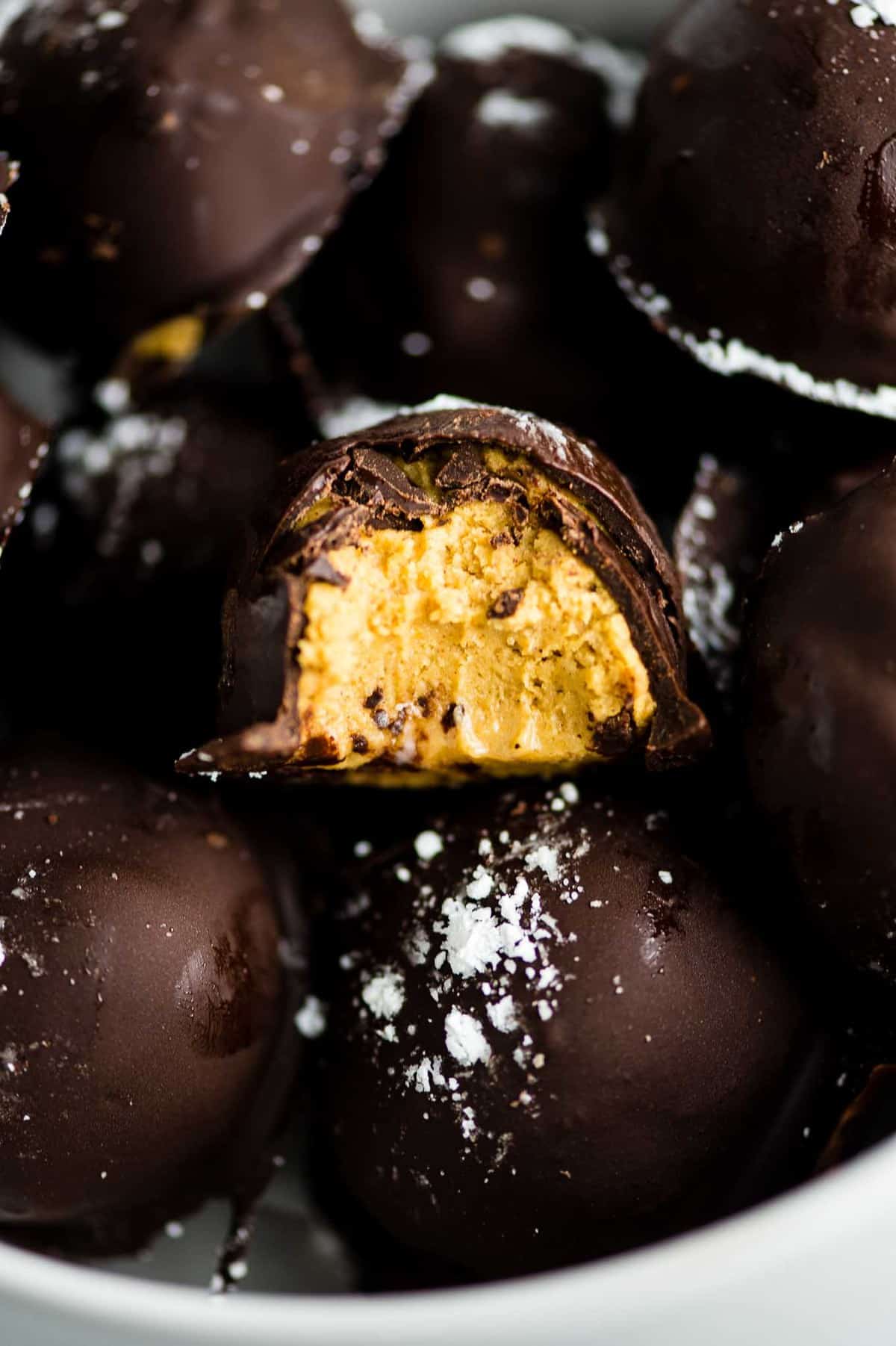 What chocolate to use for dipping truffles
dark chocolate chips: the filling is very sweet, so I like using a more bitter dark chocolate (70%) chips to contrast the flavor for this recipe.
milk chocolate chips
white chocolate chips
semi-sweet chocolate chips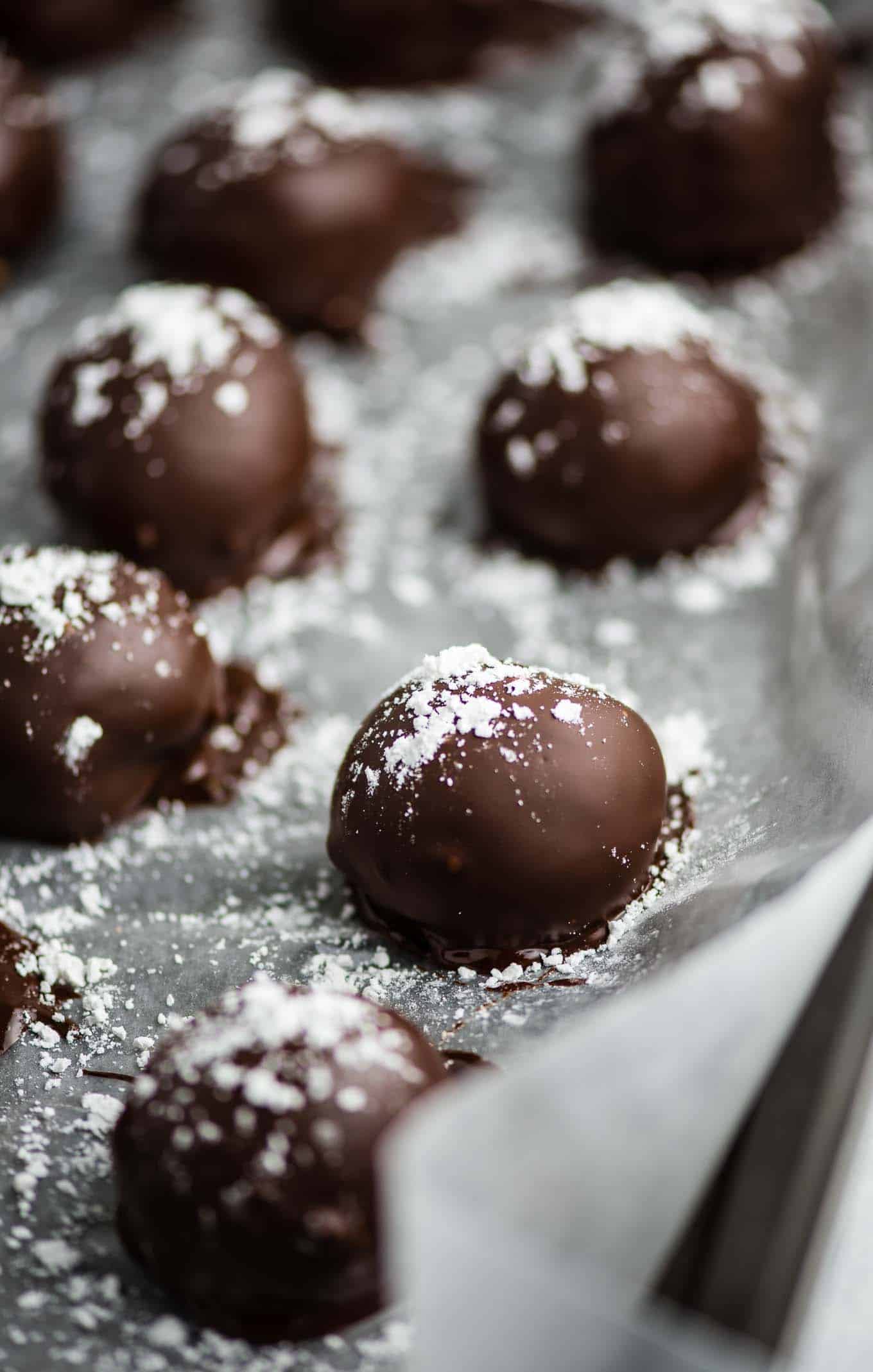 Step 6: Once you have finished dipping and topping your truffles, place the cookie sheet back into the fridge for 1 – 2 hours, until the truffles are totally firm. Take one out and enjoy the delicious pumpkin cheesecake flavor.
Store any leftover pumpkin cheesecake truffles in the fridge in an airtight container for several days.
More Pumpkin Recipes
Are you making this recipe? I want to see! Don't forget to tag me on instagram @buildyourbite and hashtag #buildyourbite with your recipe creations!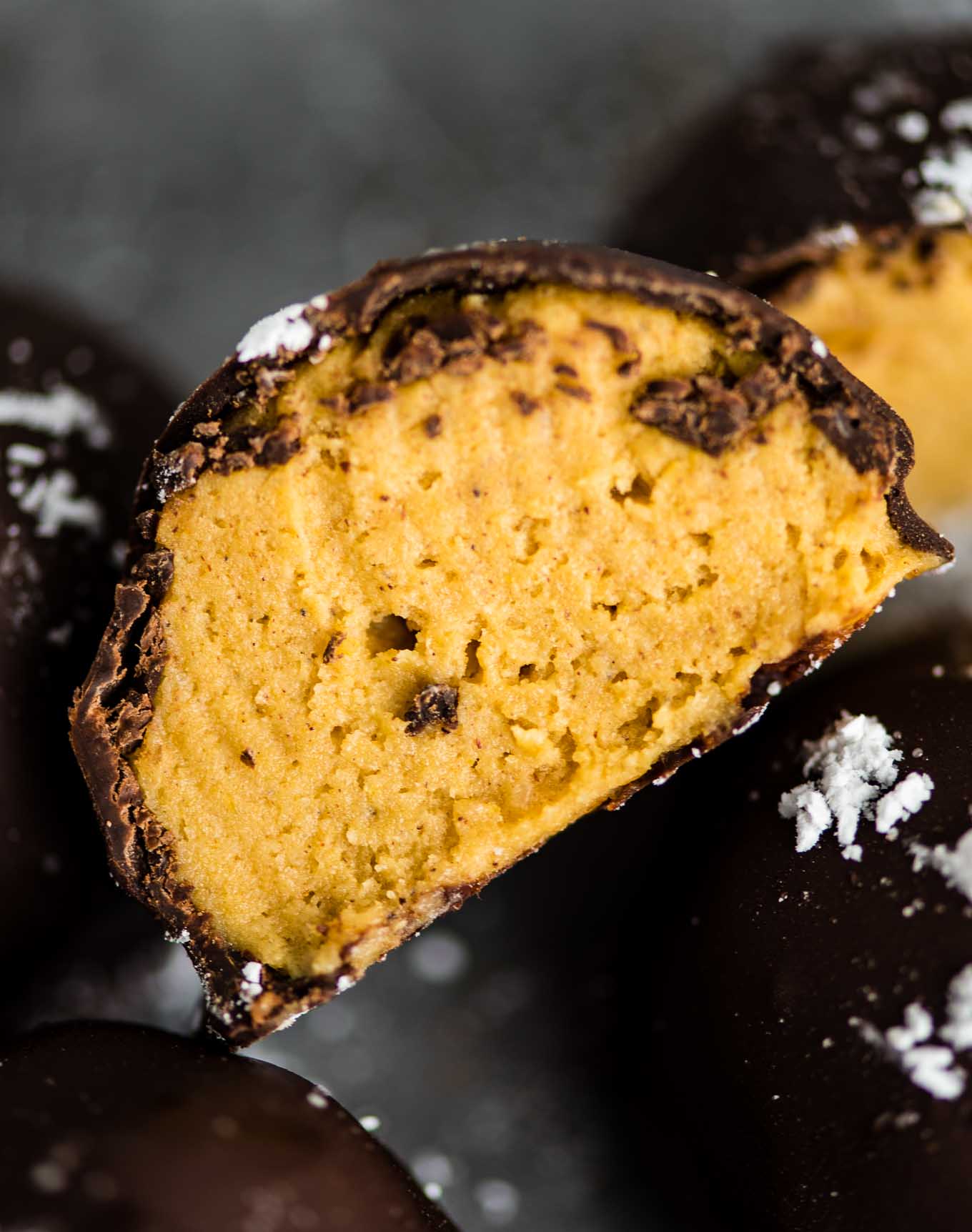 How to store pumpkin cheesecake balls
in the refrigerator: Store leftover pumpkin cheesecake balls in an airtight container or bag for up to 5 days.
in the freezer: The texture may change slightly, but you can also store these in the freezer. Store leftover pumpkin cheesecake balls in an airtight container or bag for up to 1 month.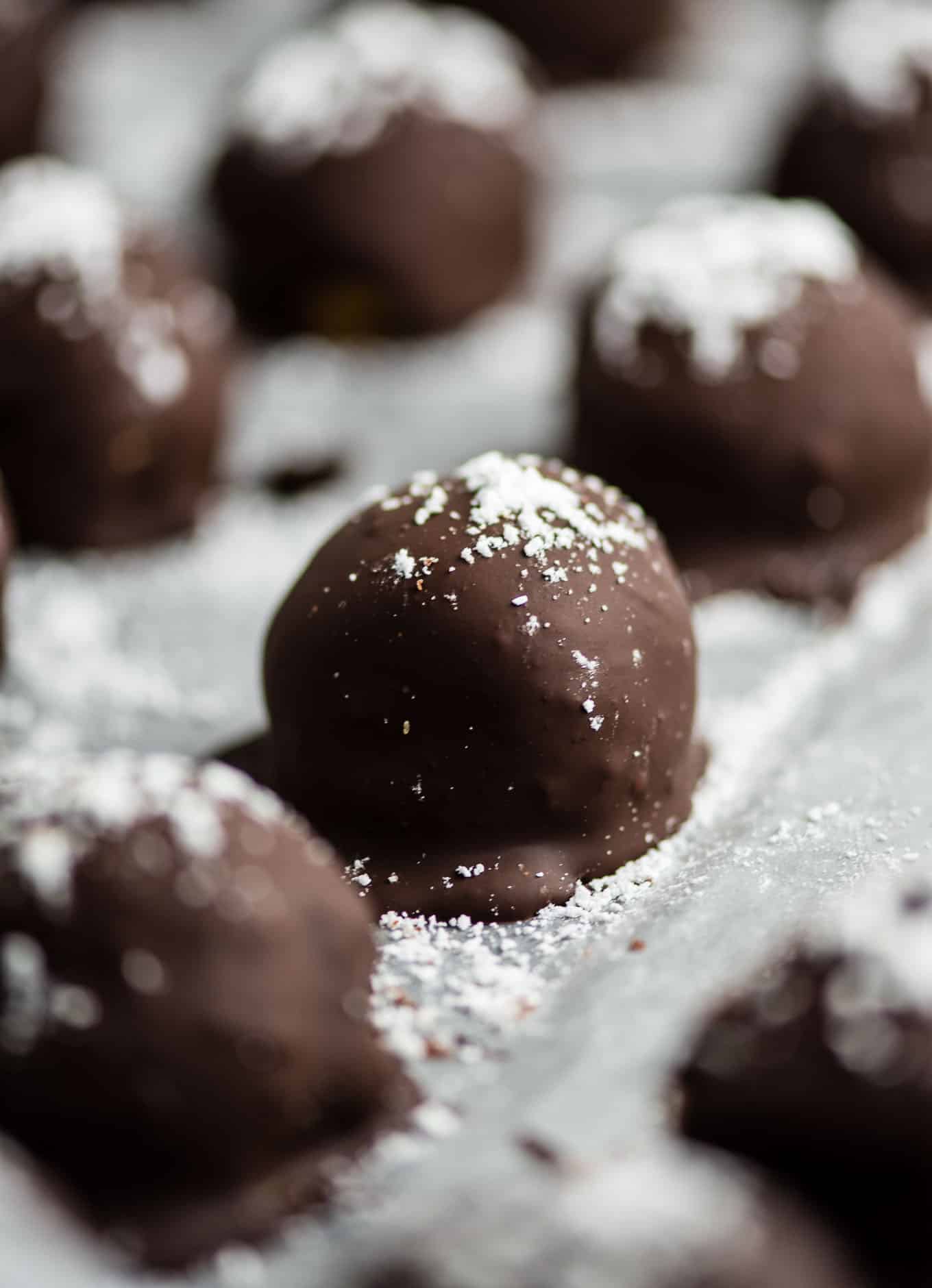 Did you make this recipe? Be sure to leave a star rating below!
No Bake Pumpkin Cheesecake Balls
Additional Time:
1 hour
30 minutes
Easy pumpkin cheesecake balls made with real pumpkin, cream cheese, and crushed graham cracker crumbs.
Ingredients
8 oz cream cheese, softened
½ cup canned pumpkin
1 cup powdered sugar
1 cup powdered graham cracker crumbs
2 teaspoons pumpkin pie spice
¼ teaspoon salt
¼ cup coconut flour**
2 cups 70% dark chocolate chips (see notes)
Instructions
Beat the softened cream cheese and powdered sugar until fluffy
In a blender or food processor, crush the graham crackers into fine, almost flour like texture, and measure out 1 cup of crumbs
To the cream cheese mixture, add the pumpkin, graham cracker crumbs, pumpkin pie spice, salt, and coconut flour** and beat to combine
Line a baking sheet with wax paper
Use a mini cookie scoop or two spoons to drop around 22 small balls onto the wax paper lined sheet. Note here - the batter is sticky and I do not recommend using your hands. Do not worry at all about the shape of the truffles right now, as they will be shaped further before dipping. I found the mini cookie scoop perfect for this
Chill the pumpkin cheesecake balls in the fridge for 1 hour, until firm
Melt the chocolate chips until smooth
Make each truffle by first picking up a ball, rolling it in your palms to fix any shape imperfections
Drop the truffle into the chocolate, and use a fork to get it out, then tap off any excess chocolate
Use a toothpick to help you slide the truffle back onto the baking sheet, then top it immediately with powdered sugar on the top
Repeat with the remaining pumpkin cheesecake balls
Once done, refrigerate the cheesecake balls for at least 1 - 2 hours, or until totally firm
Store leftover pumpkin cheesecake truffles in the fridge in an airtight container
Notes
The filling in these truffles is very sweet, so I used a richer not as sweet chocolate for the coating (I used 70% chips). For a sweeter shell, use semisweet chocolate chips or any chocolate chips that you have on hand
** If you do not want to use coconut flour, you can add more crushed graham crumbs instead
Nutrition Information:
Yield:

22
Serving Size:

1
Amount Per Serving:
Calories:

165
Total Fat:

9g
Saturated Fat:

5g
Trans Fat:

0g
Unsaturated Fat:

3g
Cholesterol:

12mg
Sodium:

79mg
Carbohydrates:

19g
Fiber:

2g
Sugar:

14g
Protein:

2g