This roasted frozen broccoli is a game changer for busy weeknight dinners. An easy side dish that is ready in minutes. Learn how to cook broccoli from frozen with this simple method!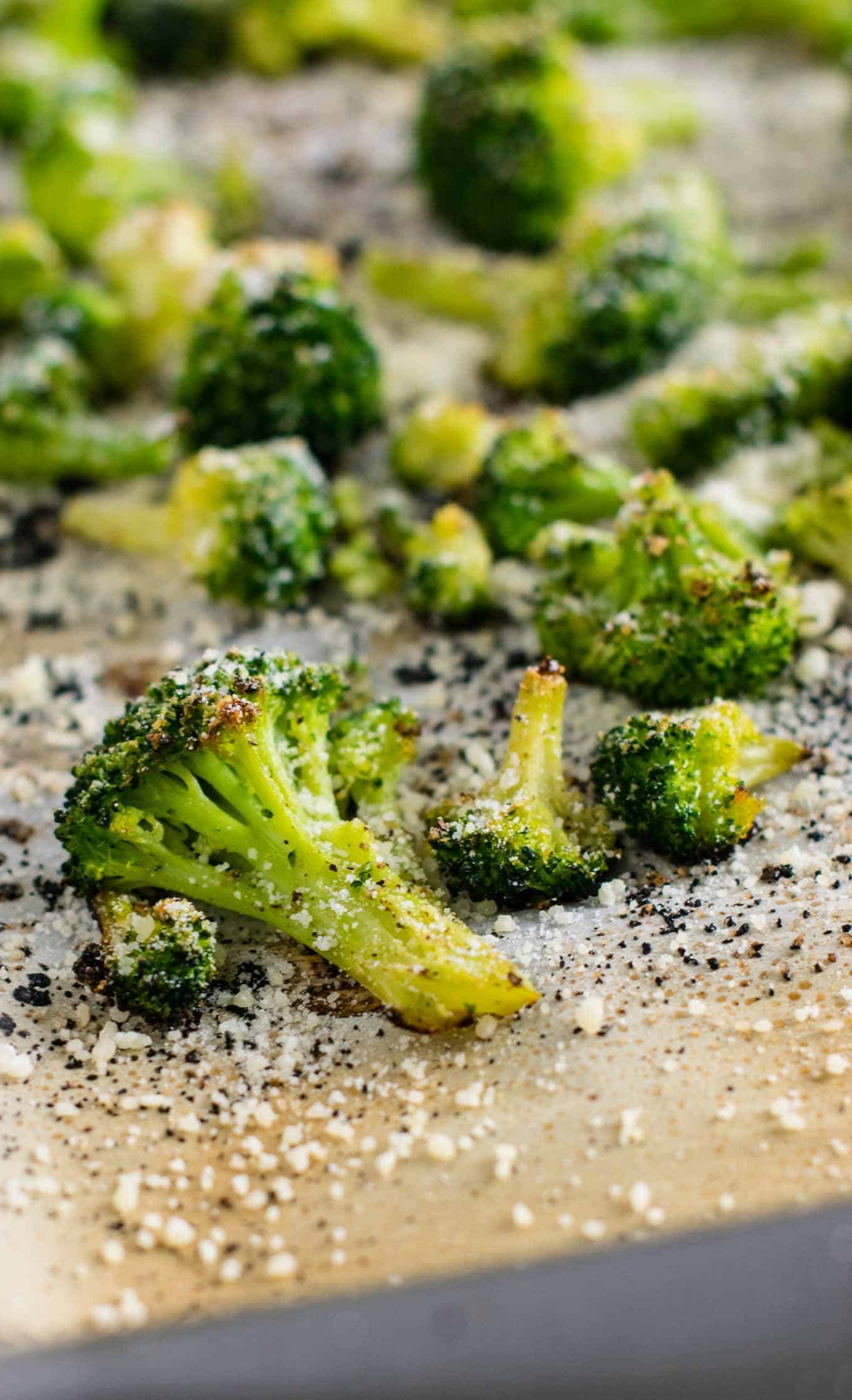 This roasted frozen broccoli changed my dinner time game forever!
Whenever I'm not making Air Fryer Frozen Broccoli, I am roasting it in the oven using this simple method.
I don't know about you, but if I don't plan a dinner with vegetables in the main dish, I sometimes forget for a minute that I need to feed my family some sort of food besides pasta and protein.
If you've ever wondered how to roast frozen broccoli, this is the best way that I have found!
I already have recipes for how to cook frozen green beans, frozen roasted mixed vegetables, roasted frozen carrots , roasted frozen brussel sprouts, frozen corn, and roasted frozen cauliflower, so of course frozen broccoli was a no brainer.
This roasted broccoli recipe is
convenient
cheap
ready for the oven in two minutes.
You can't beat how simple this is!
Saves me so much time and I feel good about getting some veggies on the table without a lot of effort.
Roasting Frozen Broccoli is so simple!
Convenient: When you find yourself needing a vegetable side dish for dinner but are short on time, frozen veggies are perfect.
Affordable: At just $1-2 per bag, frozen broccoli makes an affordable and accessible side dish.
Uses pantry ingredients: All you need is an oil spray, and spices that are in your cupboard already. This recipe couldn't be simpler!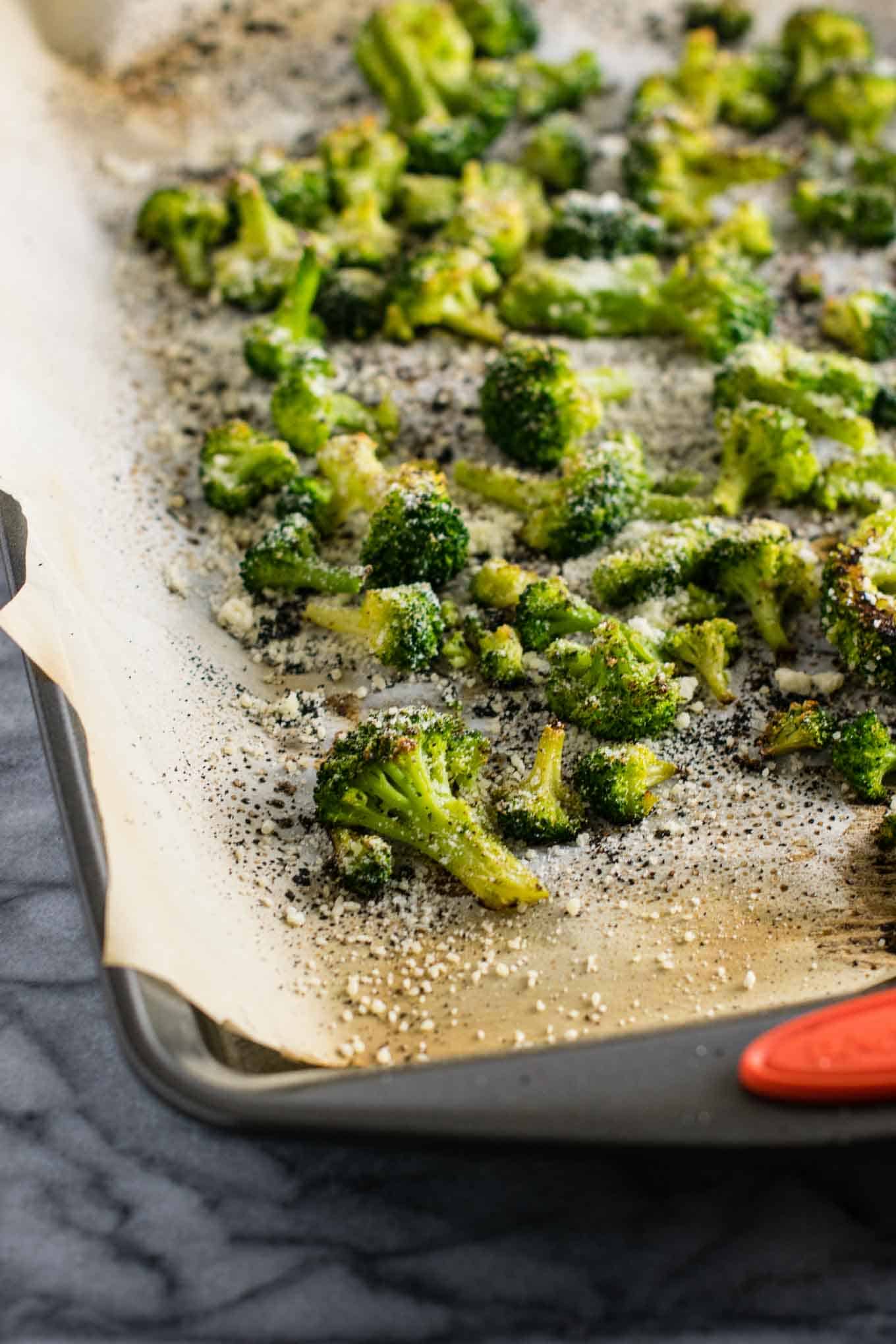 I love fresh broccoli, but it takes a good 5 – 10 minutes to cut up and get ready.
Making frozen broccoli in the oven requires almost no prep work and I can literally get it from freezer to oven in about two minutes.
That can't be beat!
And for $2 – 3 a bag, this broccoli is a cheap side dish.
Once you make this roasted frozen broccoli, you won't settle for mushy vegetables again.
Ingredients for Roasting Frozen Broccoli
Frozen broccoli florets (buy florets specifically, broccoli cuts may include mostly stems)
Olive oil spray: or other cooking spray
Salt and pepper
Garlic powder
Onion powder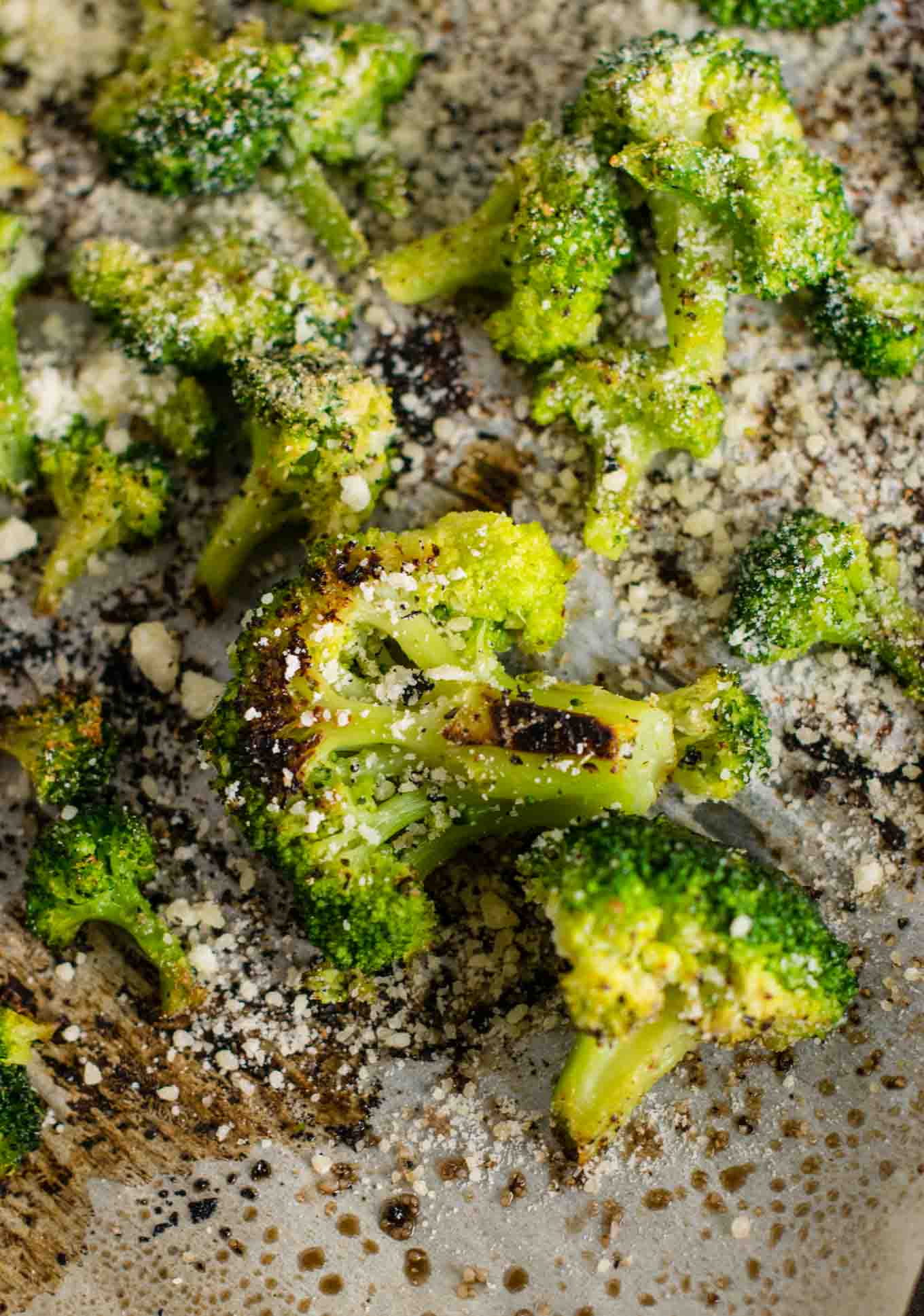 How to Roast Frozen Broccoli in Oven
The method is key for this recipe.
First up, you'll need to line your baking sheet with parchment paper.
This helps avoid any sticking and burning of the broccoli.
Do not cook your broccoli directly on a pan as it will stick and not cook properly.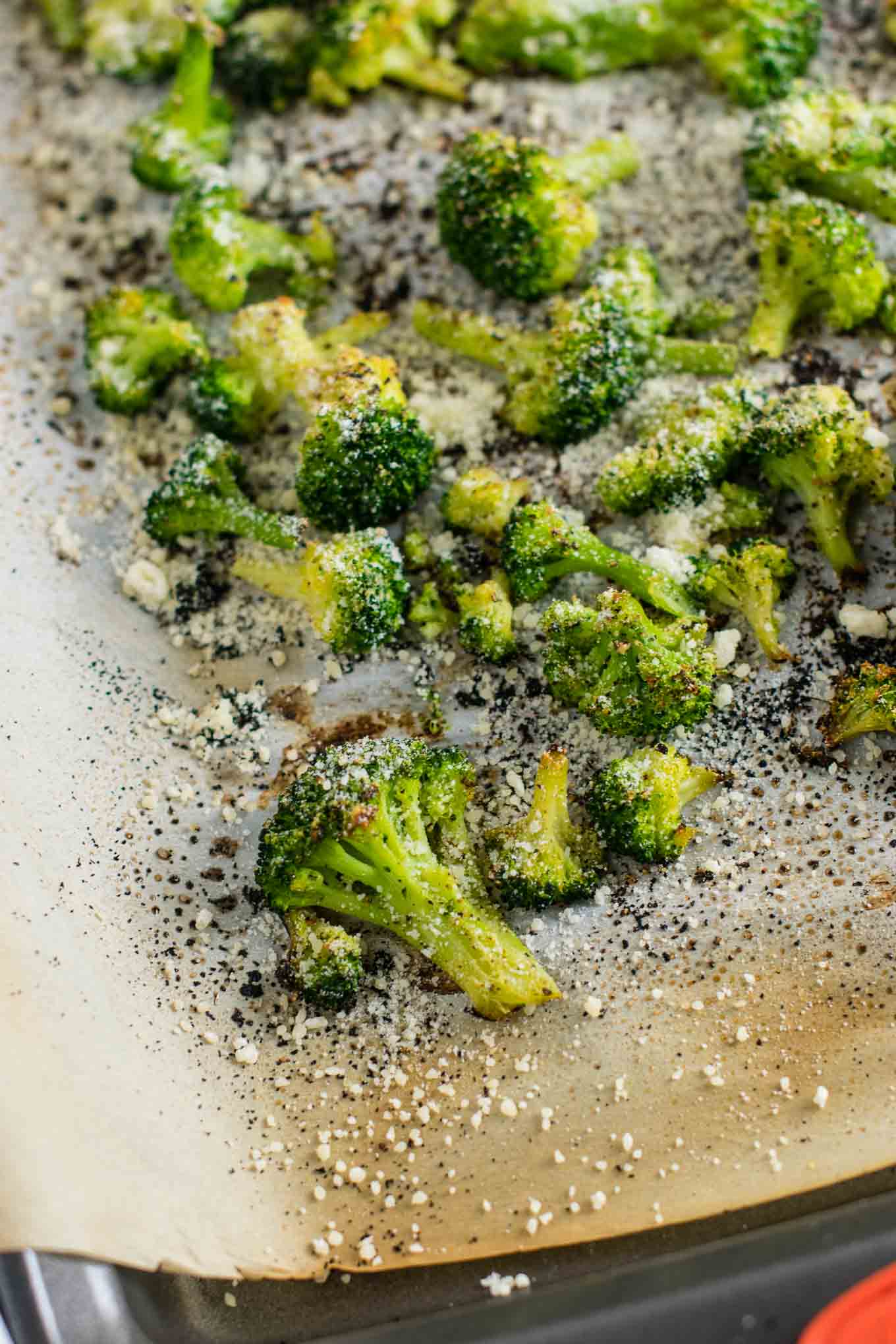 Can I put Frozen Broccoli in oven without defrosting?
The key here is to not let the frozen broccoli thaw at all before you place it in the oven.
This is the secret to making sure that the broccoli is not mushy when you eat it!
Next tip: use olive oil spray instead of olive oil from a pour bottle.
The reason for this is that the oil is harder to toss the broccoli in while frozen.
Olive oil spray is so convenient to use, and you can just spray the tops of the broccoli to coat and be done in 10 seconds.
Once I put the broccoli on the parchment paper, I give it a good spray to cover evenly with olive oil.
Do this before the spices to help them stick.
The spices won't stick as well to frozen broccoli without oil, so be sure not to skip this step.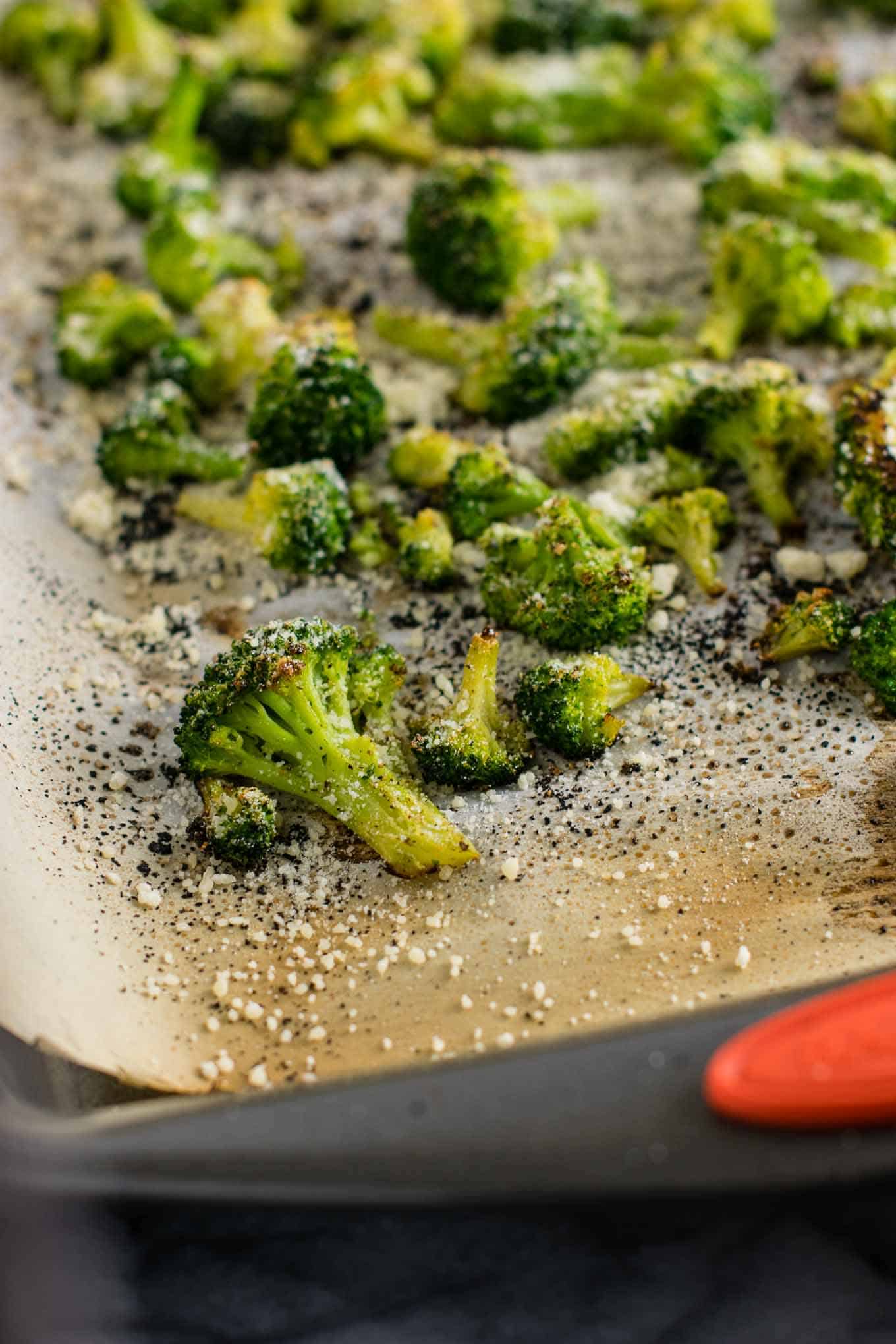 Next, just sprinkle on even amounts of salt, pepper, garlic powder, and onion powder over the tops of the broccoli florets and toss it in the oven!
No need to stir it around or anything.
Roast for 15 – 20 minutes, or until the broccoli is as crispy as you want it.
Remove from the oven and sprinkle on parmesan cheese, or nutritional yeast if you want to keep it dairy free.
So good and ridiculously easy!
Roasted Frozen Broccoli Tips
Do not let your broccoli thaw: the broccoli should go straight from freezer to a preheated oven. Do not let your broccoli thaw before cooking, as this can result in it becoming mushy.
Use parchment paper for easy cleanup: using parchment paper is one of my favorite time saving hacks that really cuts down on scrubbing pans.
Add parmesan cheese: try topping your finished broccoli with parmesan cheese for an extra boost of flavor
If you need a quick and easy veggie go to dish, this is the answer!
What to serve with Roasted Frozen Broccoli
My favorite way to eat this oven roasted frozen broccoli is alongside my Easy Crock Pot Baked Ziti (pictured below).
This combo was heavenly! We ate it two days in a row and I couldn't get enough.
This would also be yummy served up with some greek yogurt mac and cheese for a kid friendly dinner ready quick!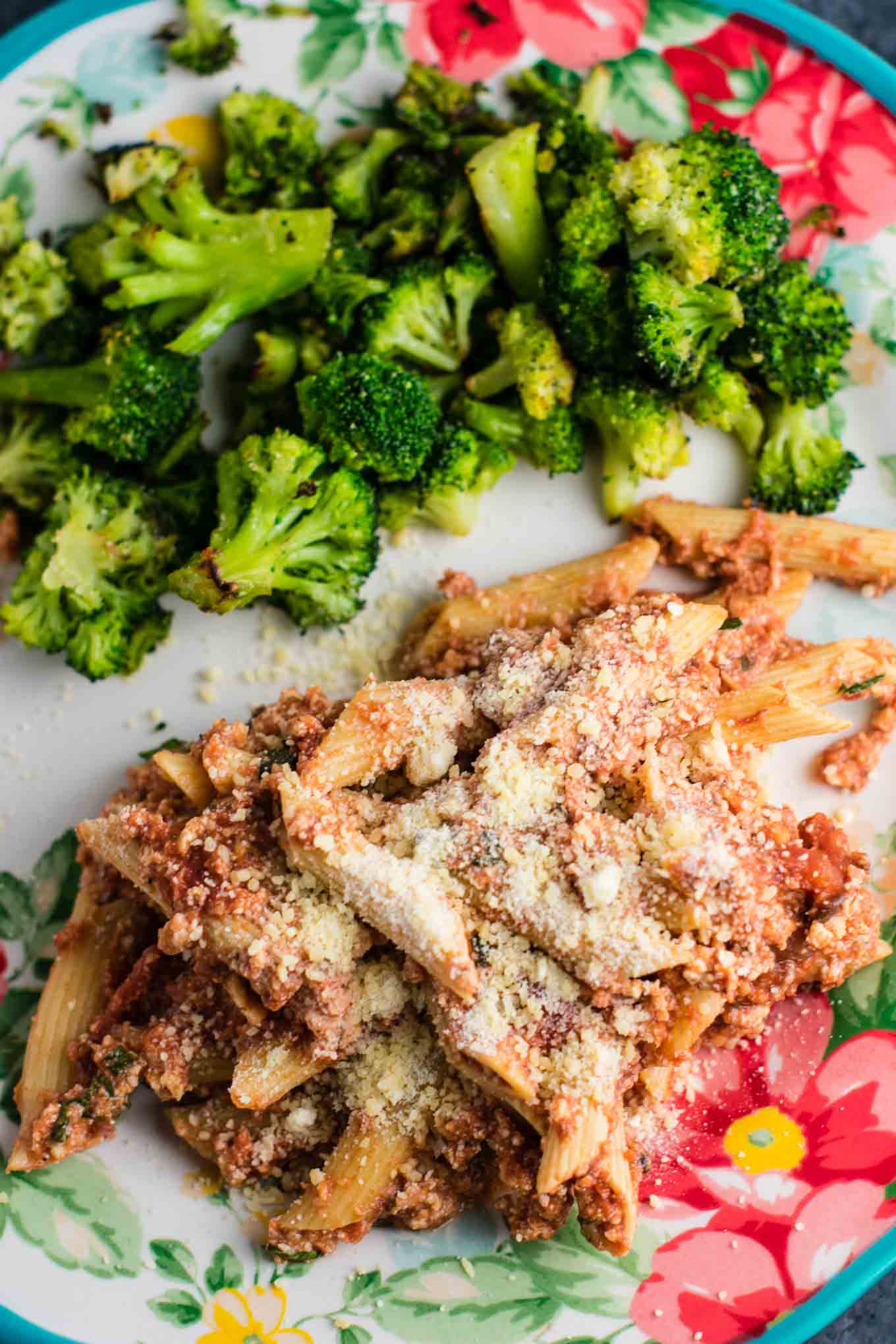 "Worked like a charm! Thank you for this recipe! I usually roast fresh veggies because frozen always came out soggy but this changed everything!"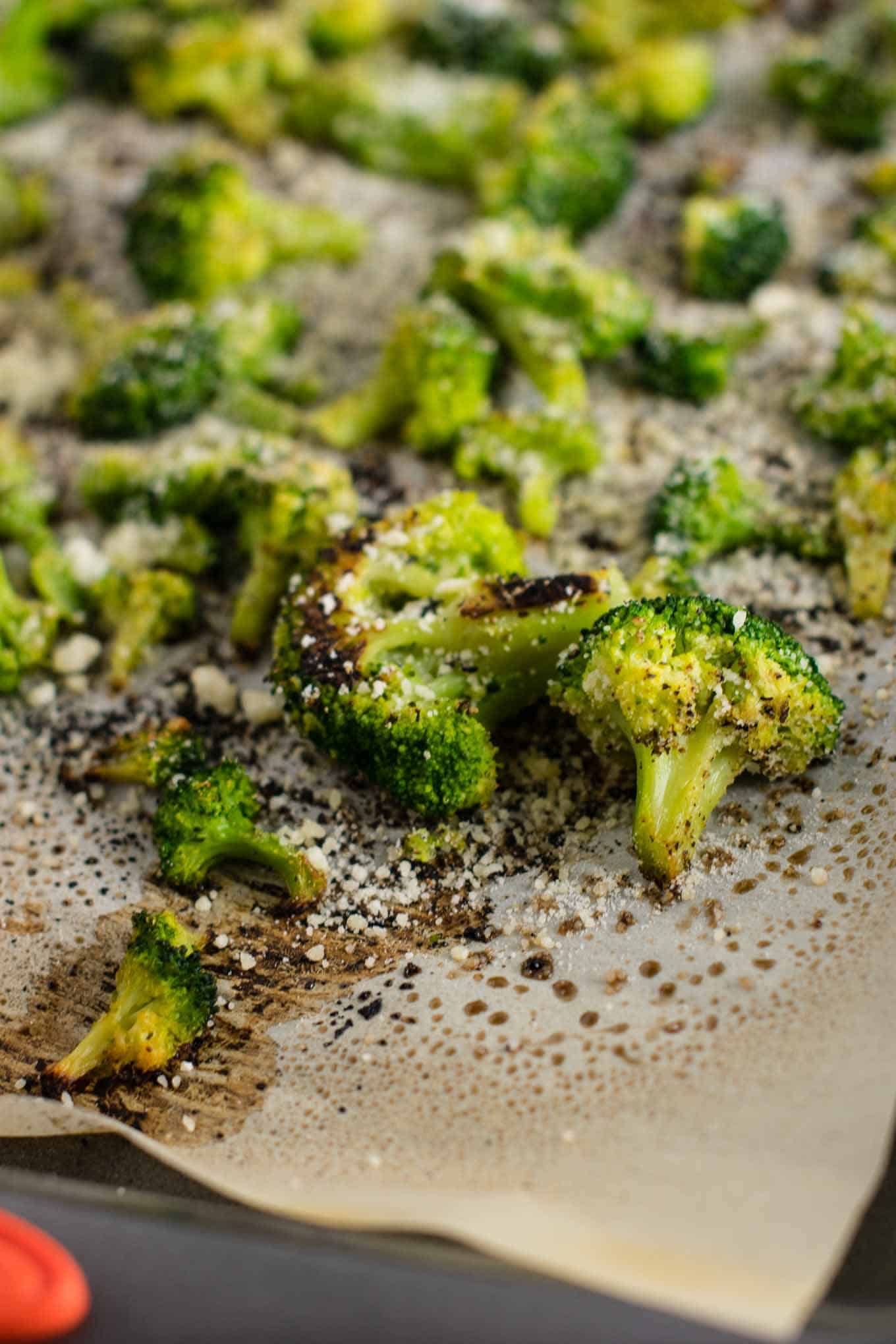 Are you making this recipe? I want to see! Don't forget to tag me on instagram @buildyourbite and hashtag #buildyourbite with your recipe creations!
More easy vegetable side dishes
Be sure to pin this recipe for later and follow Build Your Bite on Pinterest for all the latest delicious recipes!
More Recipes from Build Your Bite
Did you make this recipe? Be sure to leave a star rating below!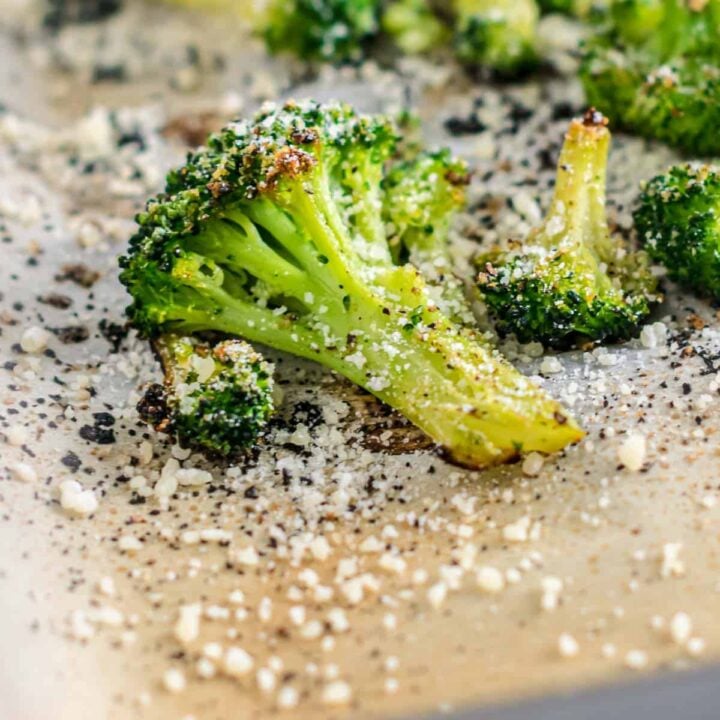 Oven Roasted Broccoli Recipe using Frozen Broccoli
Yield:
3 servings as a side
The best roasted frozen broccoli recipe. Learn how to cook broccoli from frozen that actually tastes good! A delicious crispy frozen vegetable side dish that is ready in minutes.
Ingredients
10 oz bag of frozen broccoli florets
olive oil spray
salt
pepper
garlic powder
onion powder
Instructions
Line a baking sheet with parchment paper
Arrange frozen broccoli florets in a single layer on the parchment paper
Spray the frozen broccoli with olive oil spray to coat
Sprinkle on even amounts of salt, pepper, garlic powder, and onion powder over the tops of the broccoli (no need to toss or stir)
Roast at 420 degrees for 15 - 20 minutes, checking to stir once or twice, until broccoli is crisped to your liking
Remove from oven and sprinkle on parmesan cheese, or nutritional yeast to keep it dairy free
Serve immediately
Nutrition Information:
Yield:

3
Serving Size:

1
Amount Per Serving:
Calories:

107
Total Fat:

6g
Saturated Fat:

1g
Trans Fat:

0g
Unsaturated Fat:

4g
Cholesterol:

2mg
Sodium:

268mg
Carbohydrates:

11g
Fiber:

5g
Sugar:

1g
Protein:

6g