Sweet and sticky homemade teriyaki sauce is our go-to sauce for marinades and stir fry recipes. Homemade teriyaki tastes so much better than store bought and you can make it yourself with easy ingredients!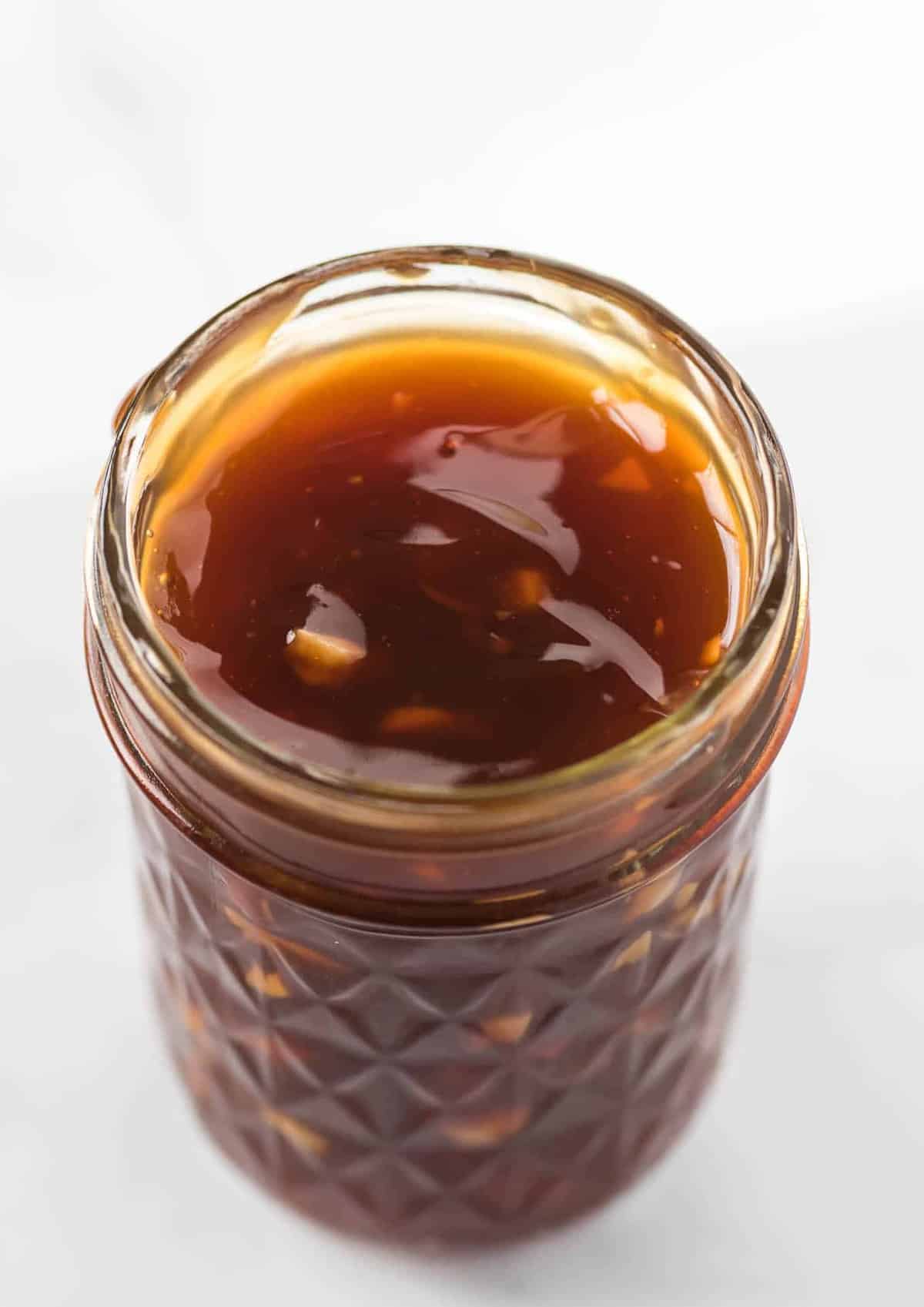 This Homemade Teriyaki Sauce Recipe is so delicious!
What is teriyaki sauce?
Teriyaki sauce is a popular Japanese sauce that is commonly used in cooking or as a condiment or marinade.
What does teriyaki taste like?
Teriyaki sauce has a distinct flavor that combines sweet, savory, and tangy. The sweetness helps to balance out the salty and savory flavor of the sauce.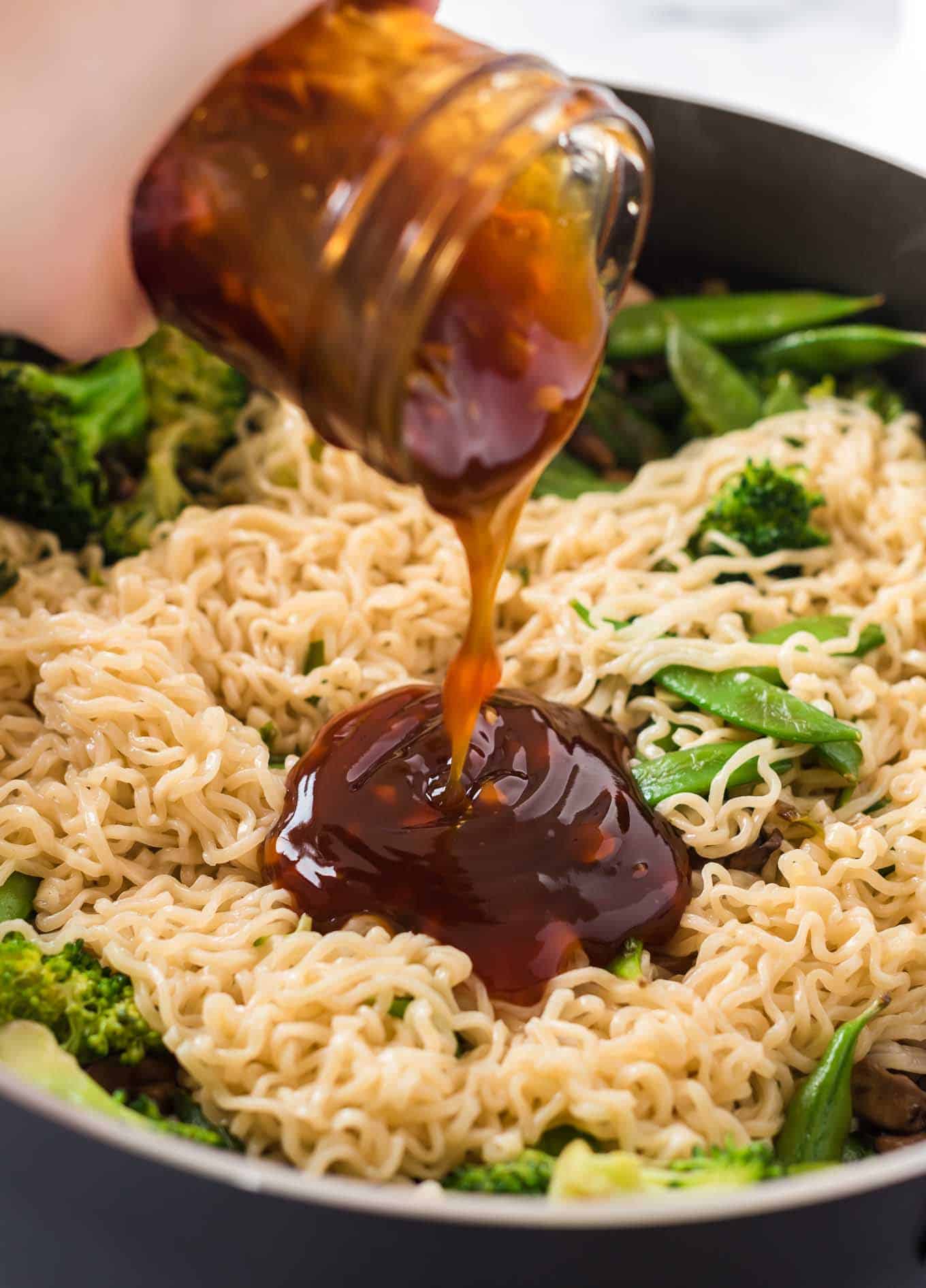 Homemade Teriyaki Sauce ingredients
Soy sauce
Orange juice
Brown sugar
Rice Vinegar
Garlic
Ginger
Corn starch
Cold water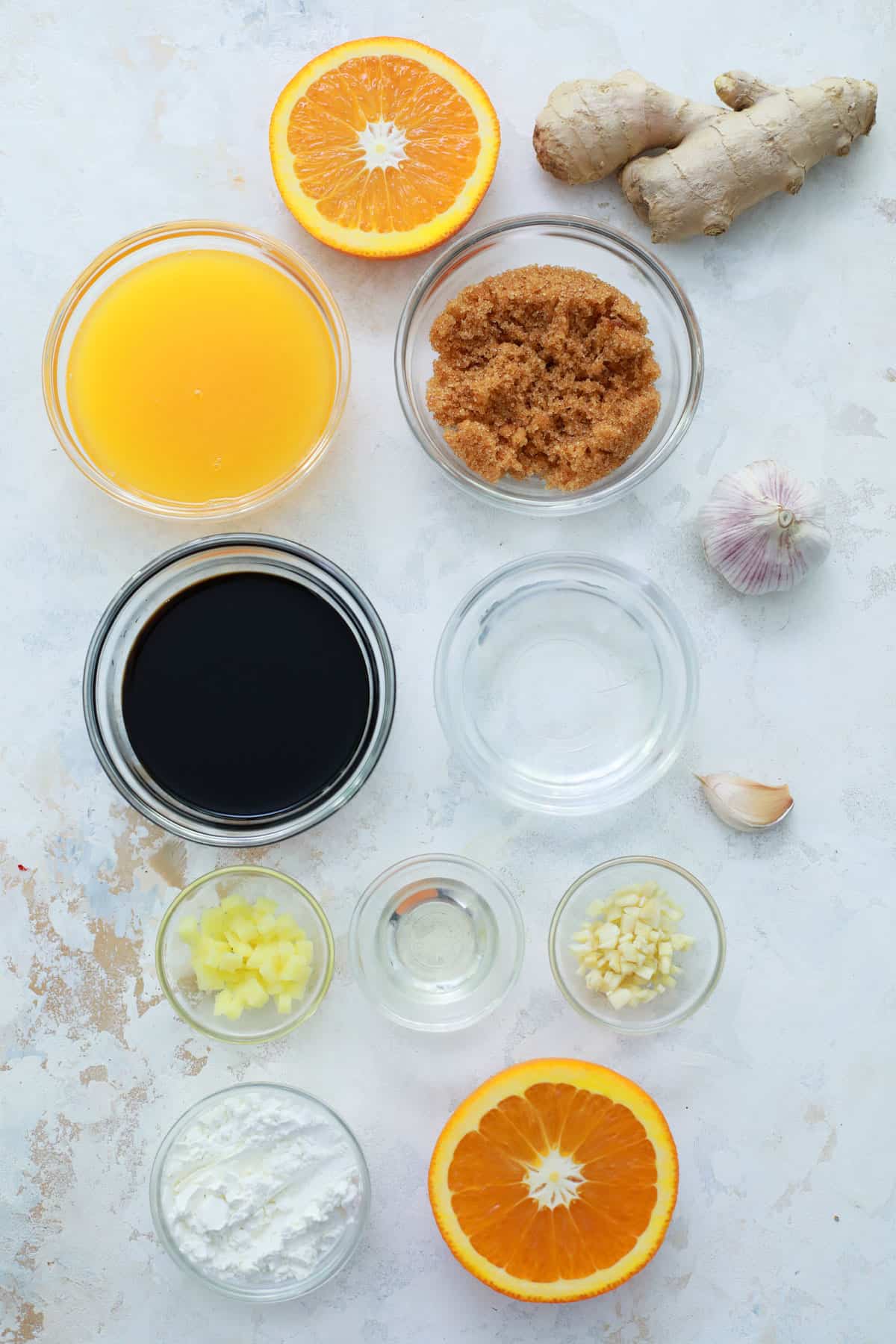 For this recipe, we use orange juice along with fresh garlic and minced ginger to really make the flavor pop.
Fresh squeezed orange juice would be even more delicious if you have it on hand.
You can also substitute pineapple juice in place of the orange juice.
I do not recommend using garlic powder or powdered ginger because the flavor is not the same.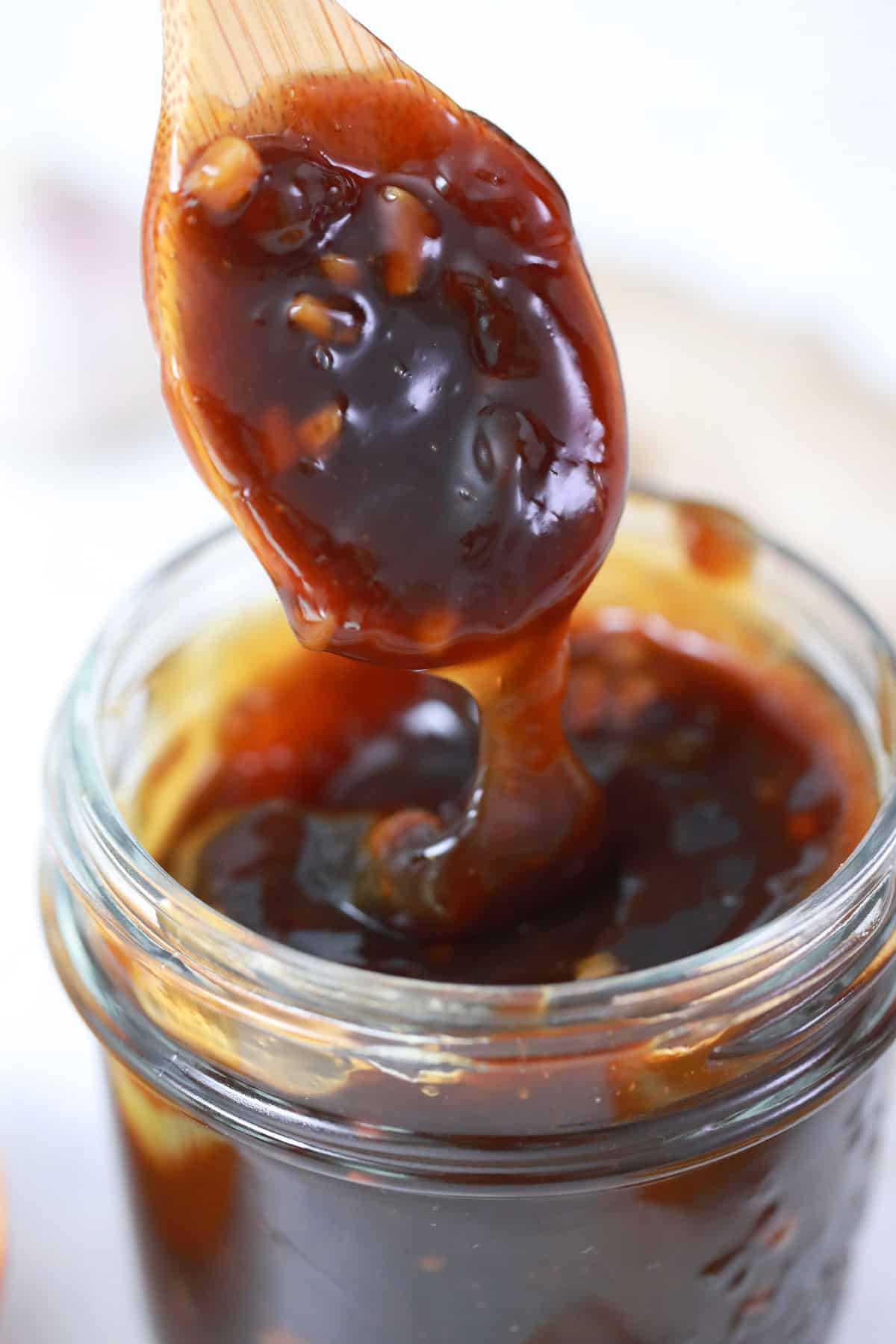 The fresh ingredients are what really give it the great flavor!
This sauce is far better than anything you can buy in the store.
Teriyaki Sauce Recipe substitutions
You can use pineapple juice in place of orange juice in this recipe for a fun twist!
To make this sauce gluten free, substitute gluten free soy sauce or tamari for the regular soy sauce.
The only thing I do not recommend is to use powdered garlic or ginger like I said previously.
That fresh minced ginger and garlic is what gives the sauce that authentic flavor!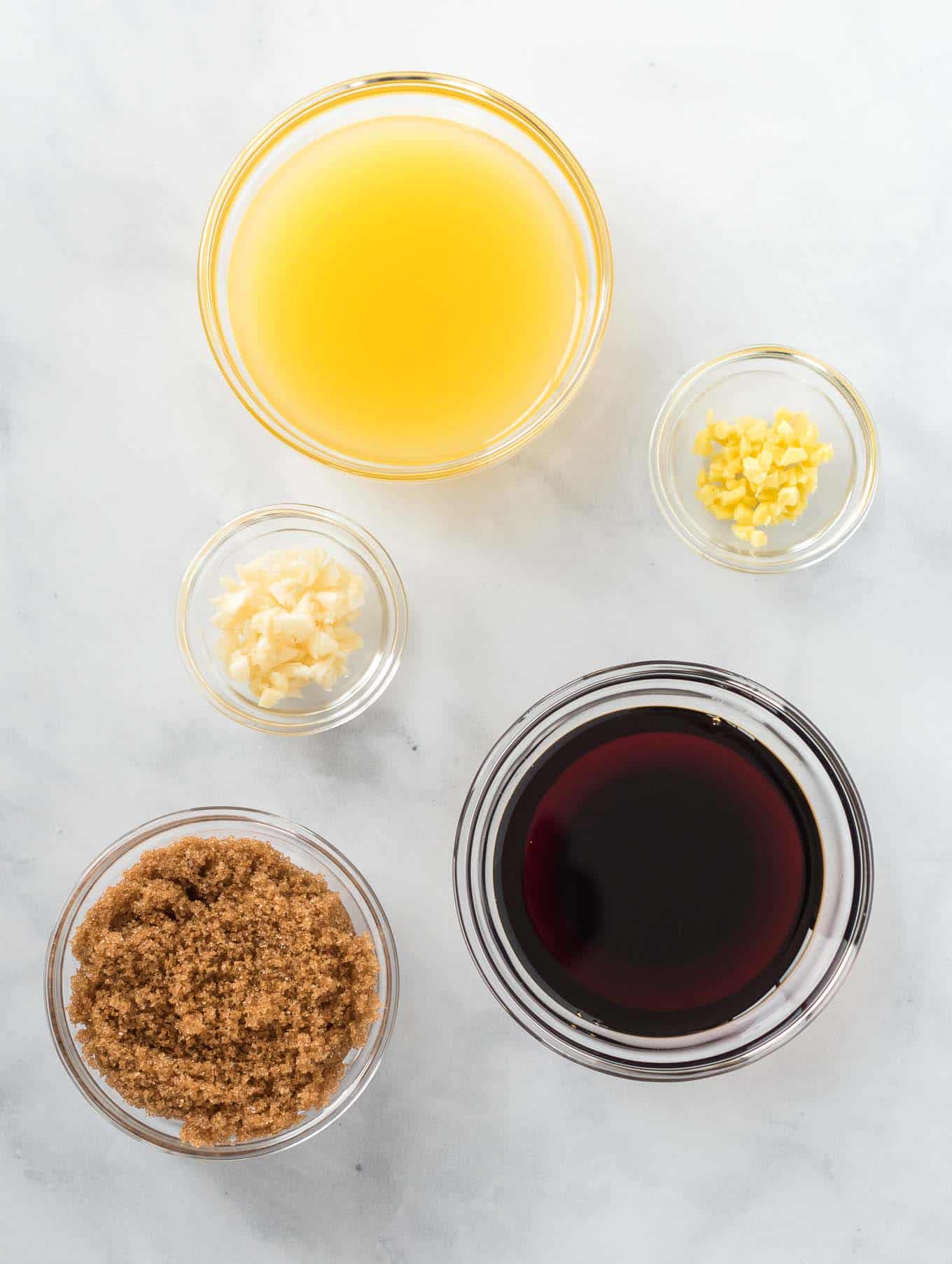 How to make Teriyaki Sauce
This sauce comes together in less than 15 minutes making it perfect for a quick dinner or marinade!
It is so simple to throw together and made with only 8 ingredients.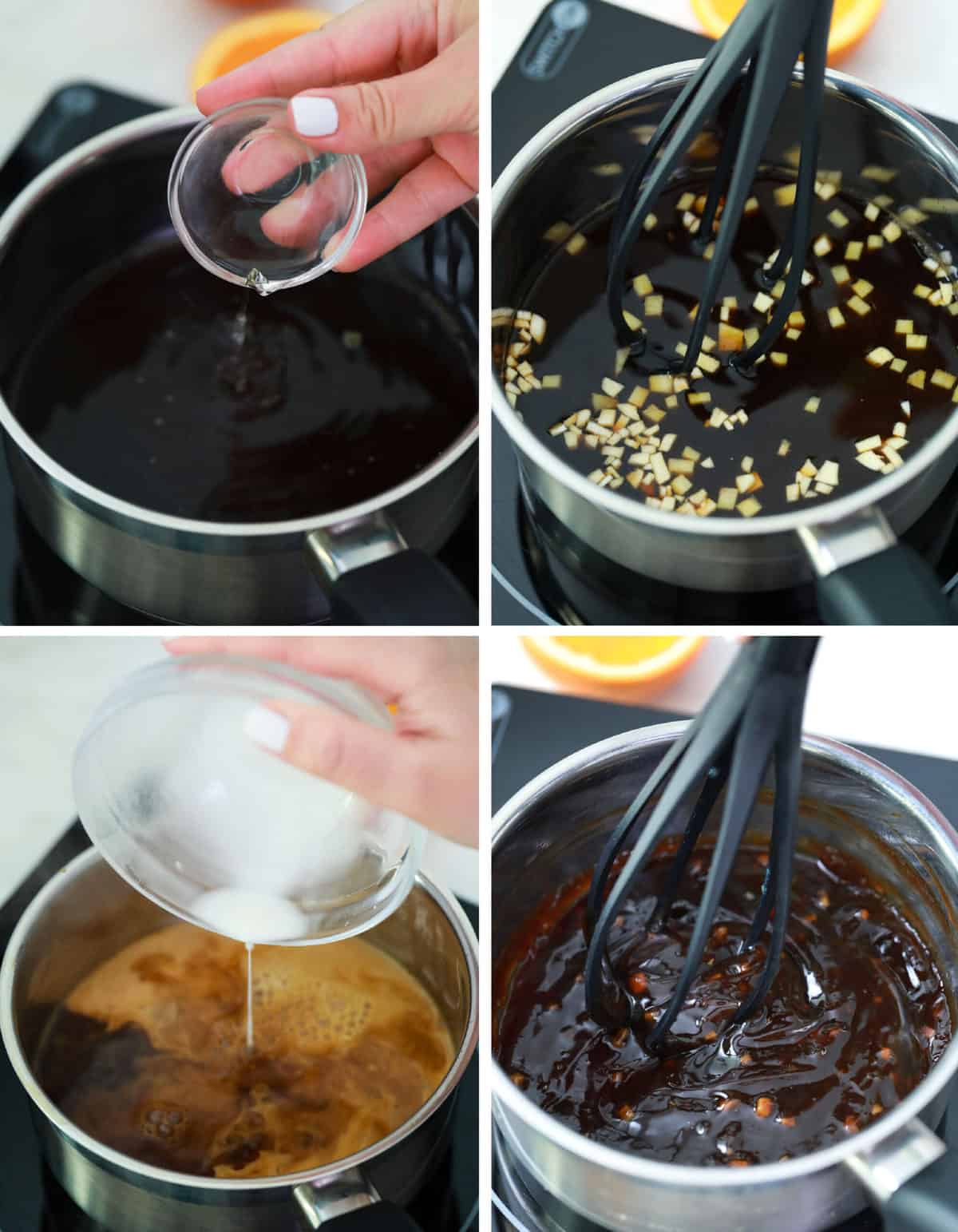 Step 1: In a sauce pan, combine the soy sauce, orange juice, water, brown sugar, fresh ginger, and minced garlic.
Step 2: Heat the sauce until the brown sugar dissolves, around 5 minutes.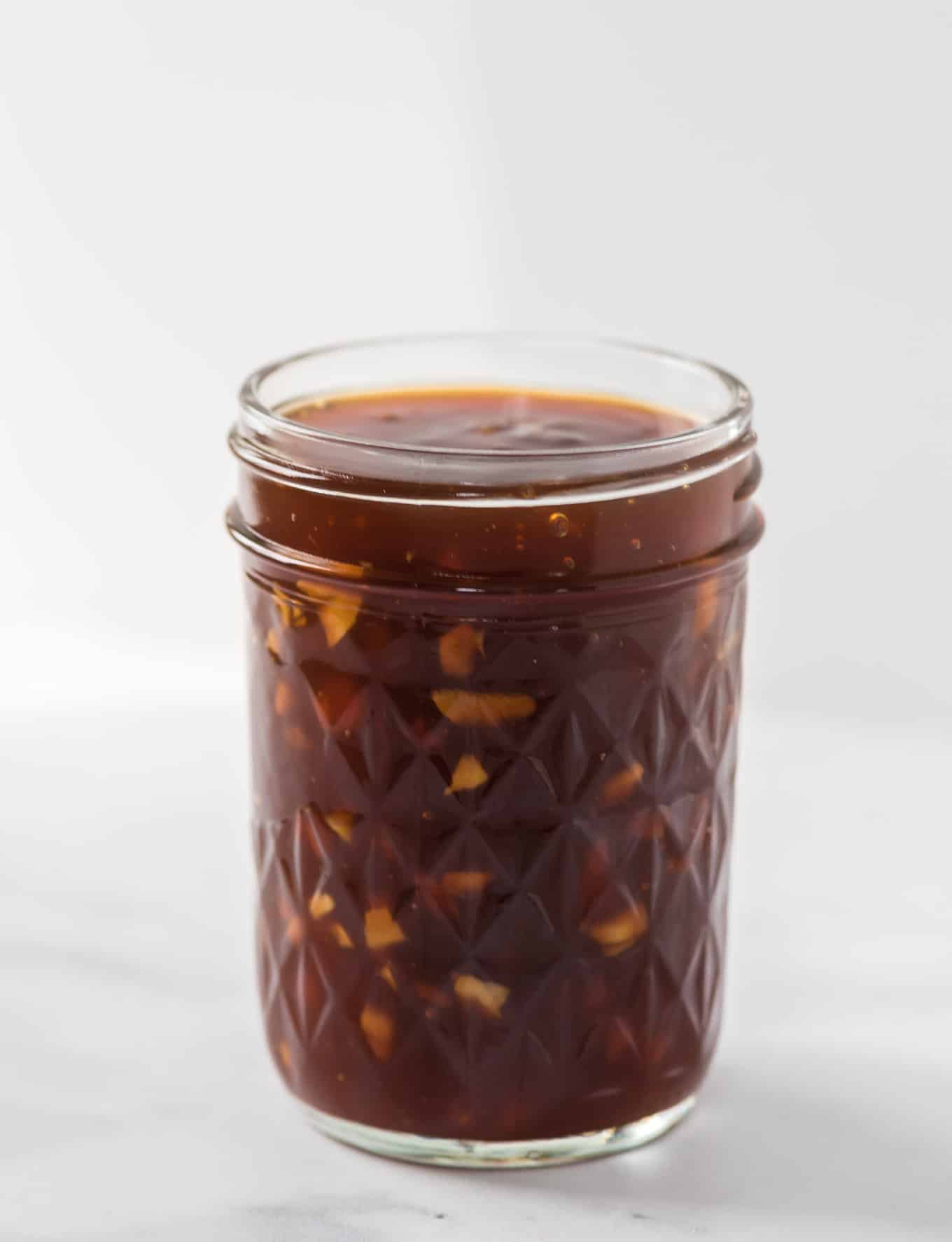 How to thicken teriyaki sauce
Step 3: In a bowl, mix together the corn starch and cold water to make the slurry.
This is what helps get the sauce to the desired thickness.
It make the sauce that perfect sticky thick texture just like a store bought sauce.
Your sauce will start out thin. The slurry will thicken it up quickly!
Step 4: Add the corn starch slurry to the teriyaki sauce and whisk or stir for 3 – 5 minutes, as the sauce thickens.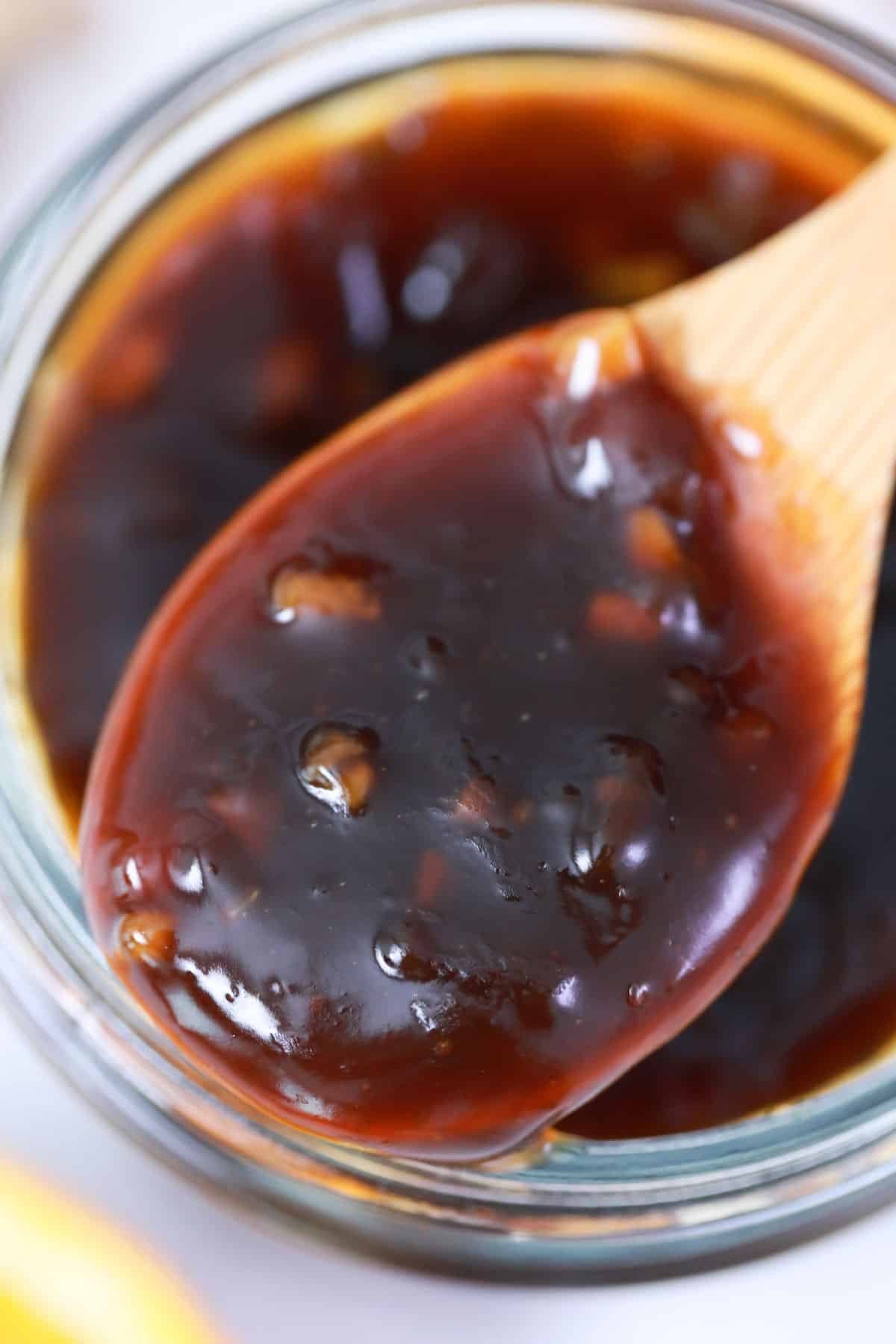 Once the teriyaki sauce is finished, use it as marinade or pour it on your favorite stir fry recipe.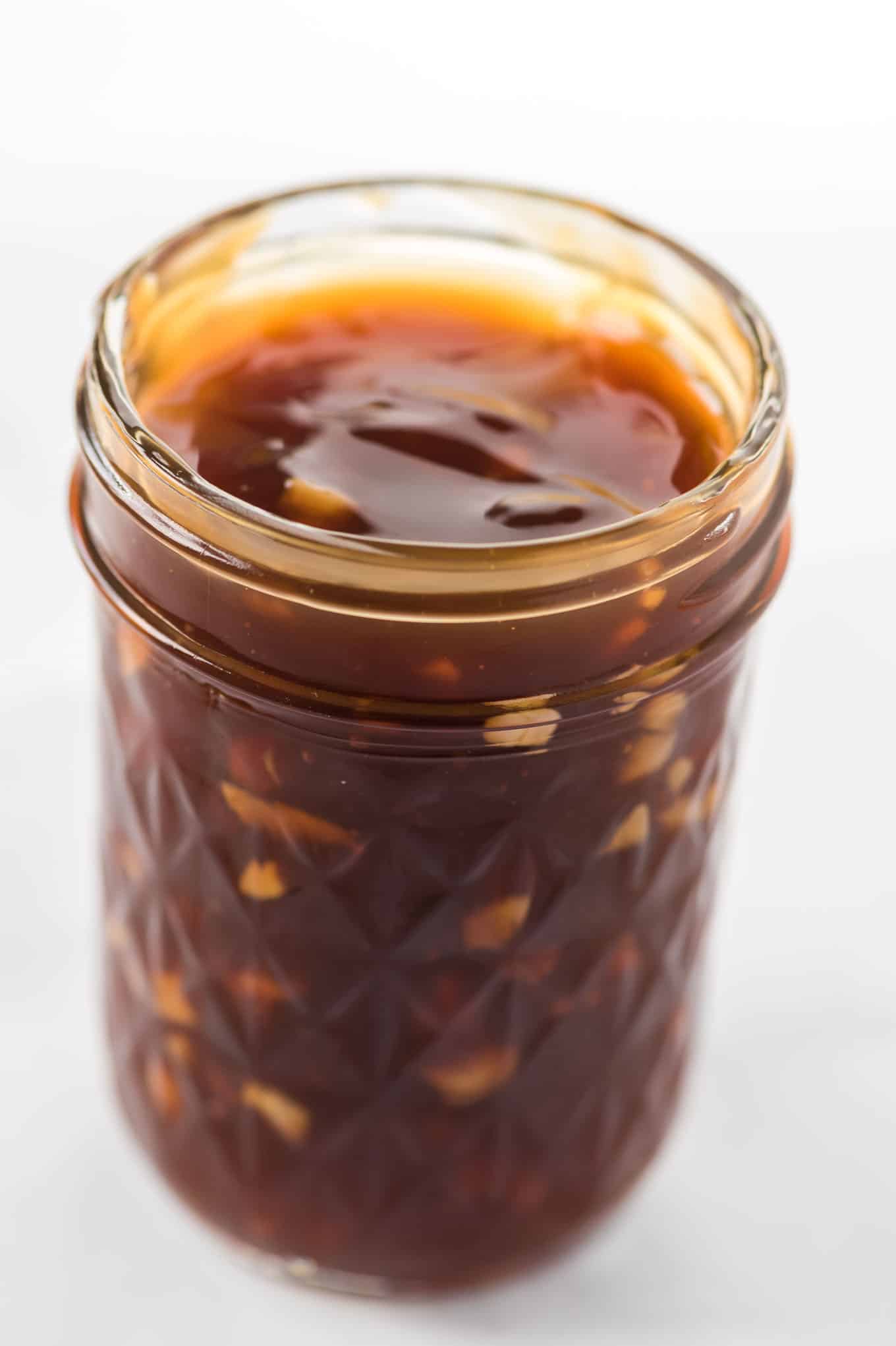 This sauce is so delicious and really so quick to throw together.
If you have never made teriyaki before, you will really be surprised at how simple it is!
Your family will love this sauce.
How to use Easy Teriyaki Sauce
I love mine poured over teriyaki noodles or for homemade teriyaki tofu.
It really is very versatile and would be lovely in just about any stir fry recipe.
If you do not use it all, you can store it in the fridge for a few days and use it again for another recipe!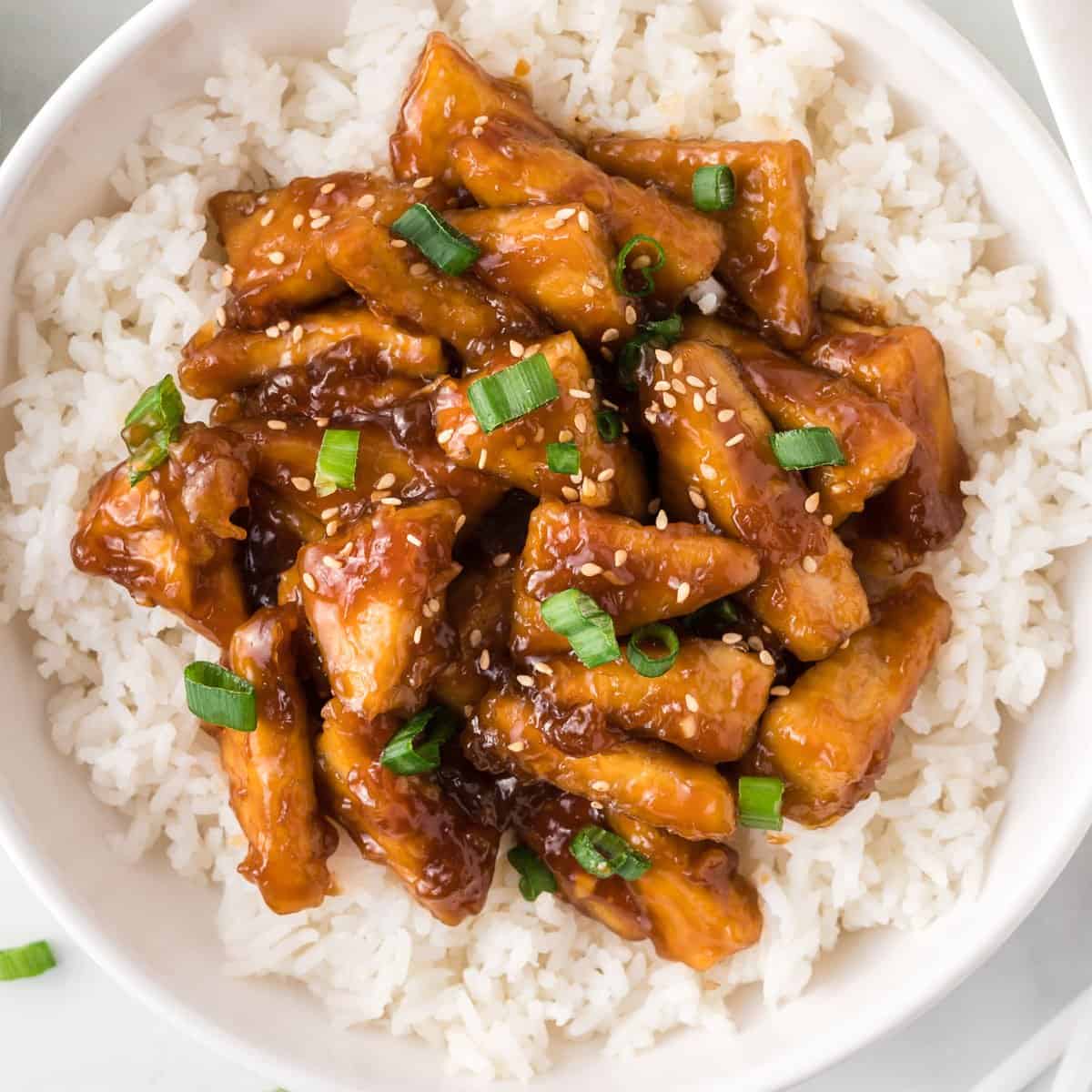 Teriyaki Sauce Recipe storage
This sauce can easily be made ahead and used for dinner later that day.
Just make the recipe, and place in a mason jar with a lid to seal it.
Pop it in the fridge and use it when you are ready!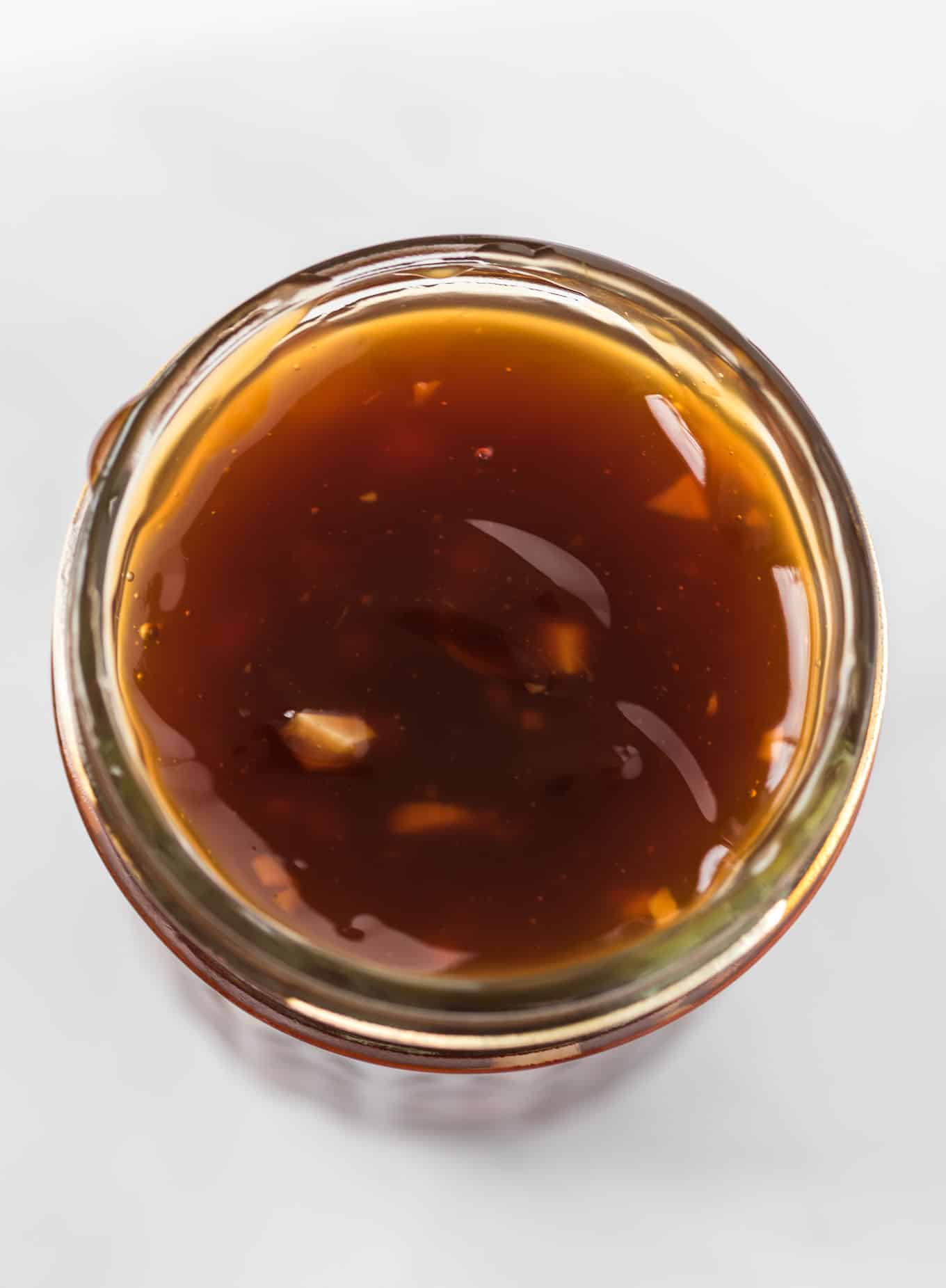 Teriyaki Sauce Recipe Easy FAQs
Is teriyaki sweet or salty?
Homemade teriyaki sauce has a unique flavor that is both sweet and salty.
What is the difference between teriyaki marinade and sauce?
The difference between teriyaki marinade in sauce is in the way that they are cooked.
· Teriyaki marinade is used to infuse a protein or vegetable with flavor prior to cooking.
· Teriyaki sauce is used as a condiment or finishing sauce to enhance the flavor of cooked dishes.
Are you making this recipe? I want to see! Don't forget to tag me on instagram @buildyourbite and hashtag #buildyourbite with your recipe creations!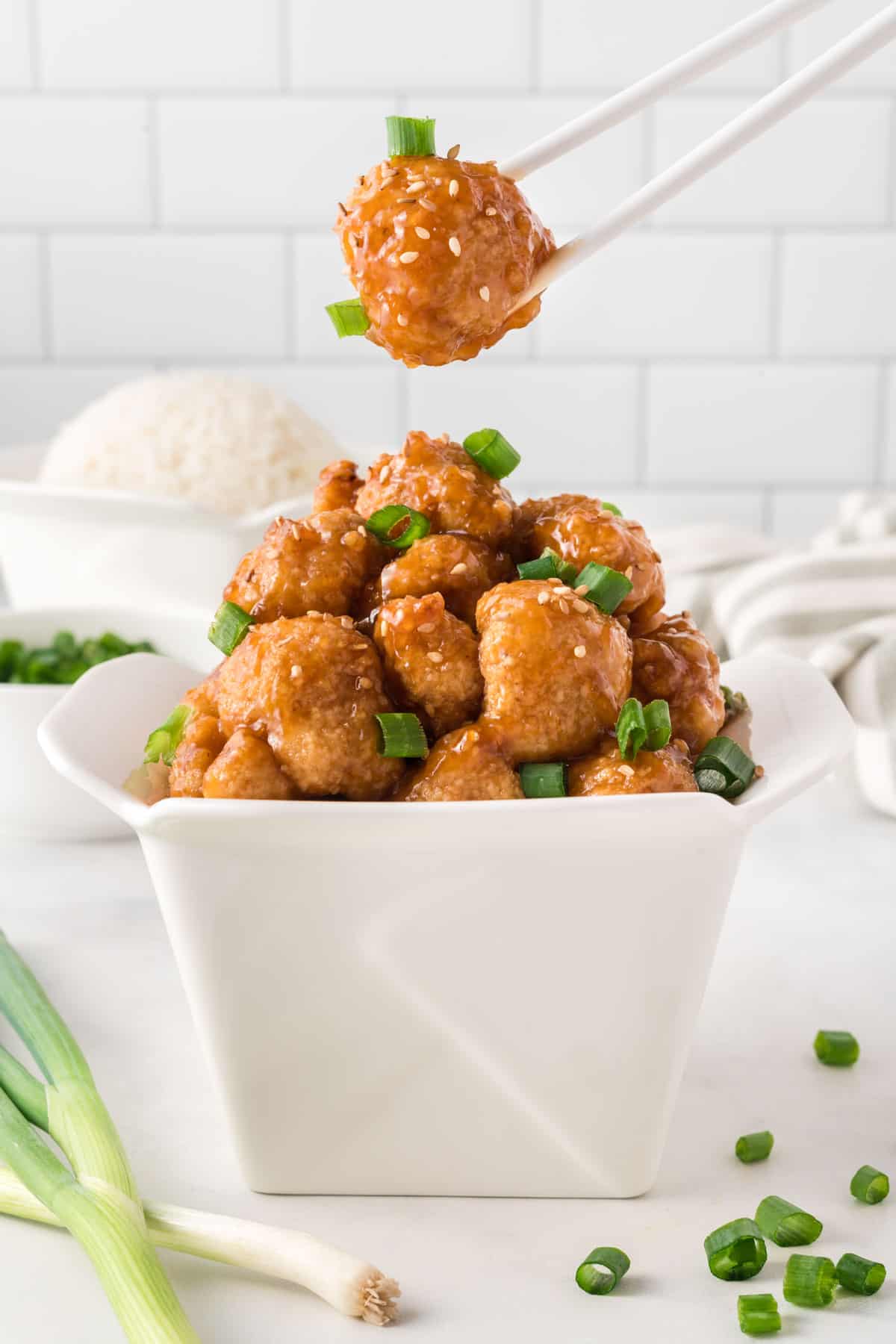 Be sure to pin this recipe for later and follow Build Your Bite on Pinterest for all the latest delicious recipes!
Did you make this recipe? Be sure to leave a star rating below!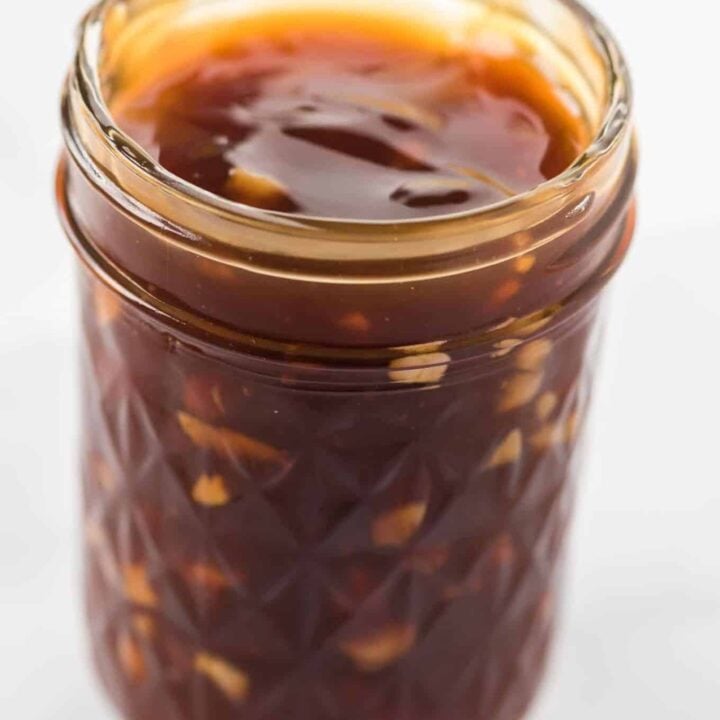 Homemade Teriyaki Sauce
This sticky and sweet homemade teriyaki sauce is easy to make. The perfect sauce for marinades and stir fry recipes!
Ingredients
⅓ cup soy sauce
¾ cup orange juice
⅓ cup brown sugar
1 teaspoon rice vinegar
3 cloves minced garlic
1 teaspoon minced ginger
For the corn starch slurry
2 tablespoons corn starch
¼ cup cold water
Instructions
Add soy sauce, orange juice, brown sugar, rice vinegar, minced garlic, and minced ginger to a sauce pan
Heat over medium for around 5 minutes, until brown sugar dissolves
In a bowl, whisk together the ingredients for the corn starch slurry
Add the slurry to the sauce, and continue to cook an additional 3 - 5 minutes, whisking or stirring often, until thick
Use this teriyaki sauce for marinades or any stir fry recipe!
Notes
To make this teriyaki sauce gluten free

To make this gluten free, use a gluten free soy sauce or tamari
Can I substitute pineapple juice?

Yes, you can substitute pineapple juice for the orange juice
Nutrition Information:
Yield:

6
Serving Size:

1
Amount Per Serving:
Calories:

68
Total Fat:

0g
Saturated Fat:

0g
Trans Fat:

0g
Unsaturated Fat:

0g
Cholesterol:

0mg
Sodium:

775mg
Carbohydrates:

16g
Fiber:

0g
Sugar:

12g
Protein:

1g