Broccoli tofu ramen noodles is an easy vegan stir fry that your family will love. Less than 10 ingredients, and made with the best homemade stir fry sauce, you can't go wrong with this recipe!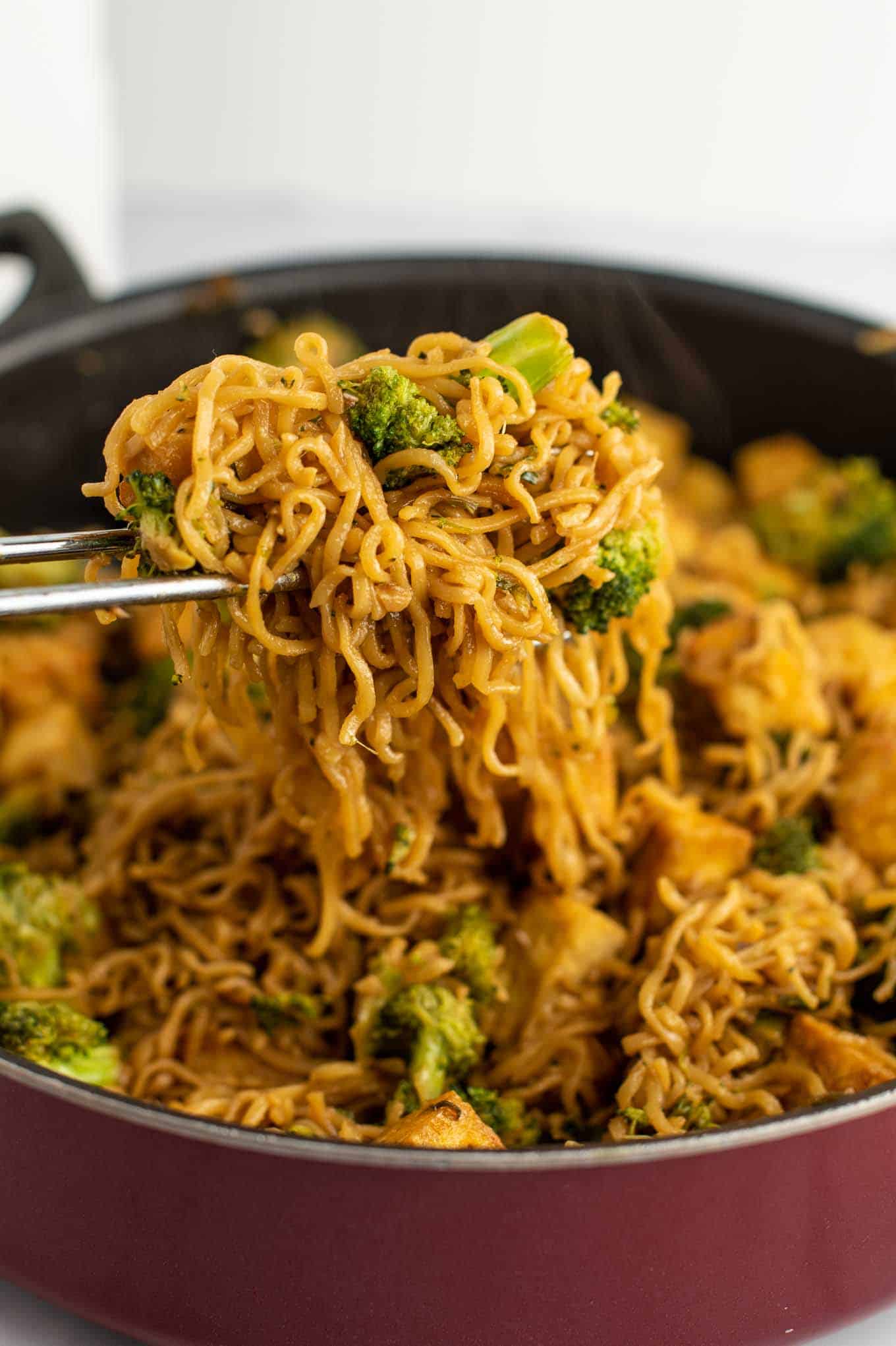 Broccoli and tofu stir fry is one of my favorite easy vegan dinners.
I'm using that recipe as inspiration for this delicious ramen stir fry that I am sharing today!
This ramen stir fry is:
less than 10 ingredients
super easy to make
vegan & vegetarian friendly
And best of all, it tastes amazing.
If you have never tried tofu in a recipe before, this is a fantastic recipe to start with.
I love crispy tofu in stir fry recipes, and it pairs so well with stir fry sauce!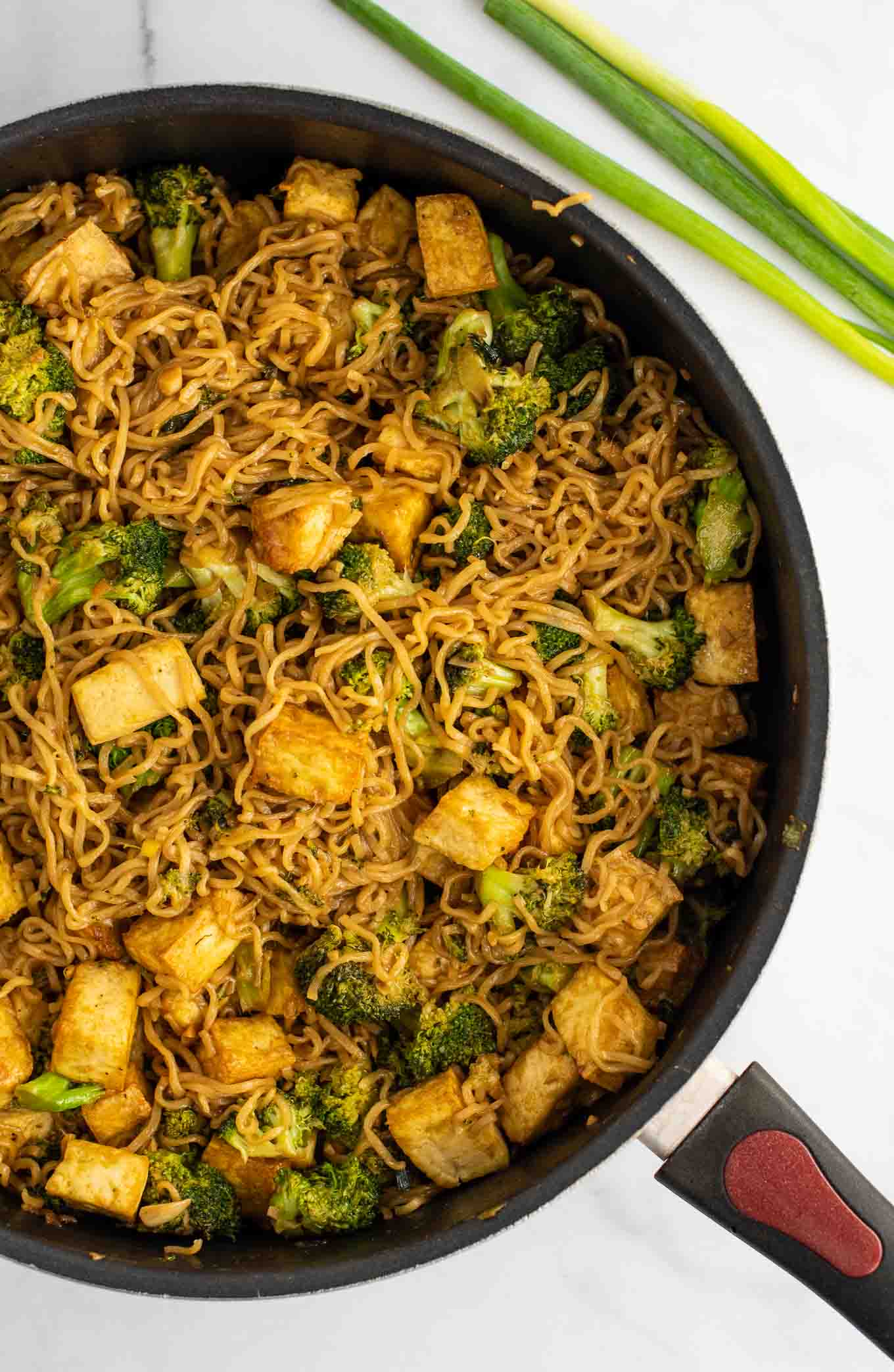 How to make broccoli tofu ramen noodles
First, start with the stir fry flavor staples – namely fresh ginger and fresh garlic.
I know I say this in every stir fry recipe, but the truth is that if you are looking for that "wow" flavor, you MUST have these ingredients in your stir fry!
For this recipe, I also used chopped green onions for extra flavor.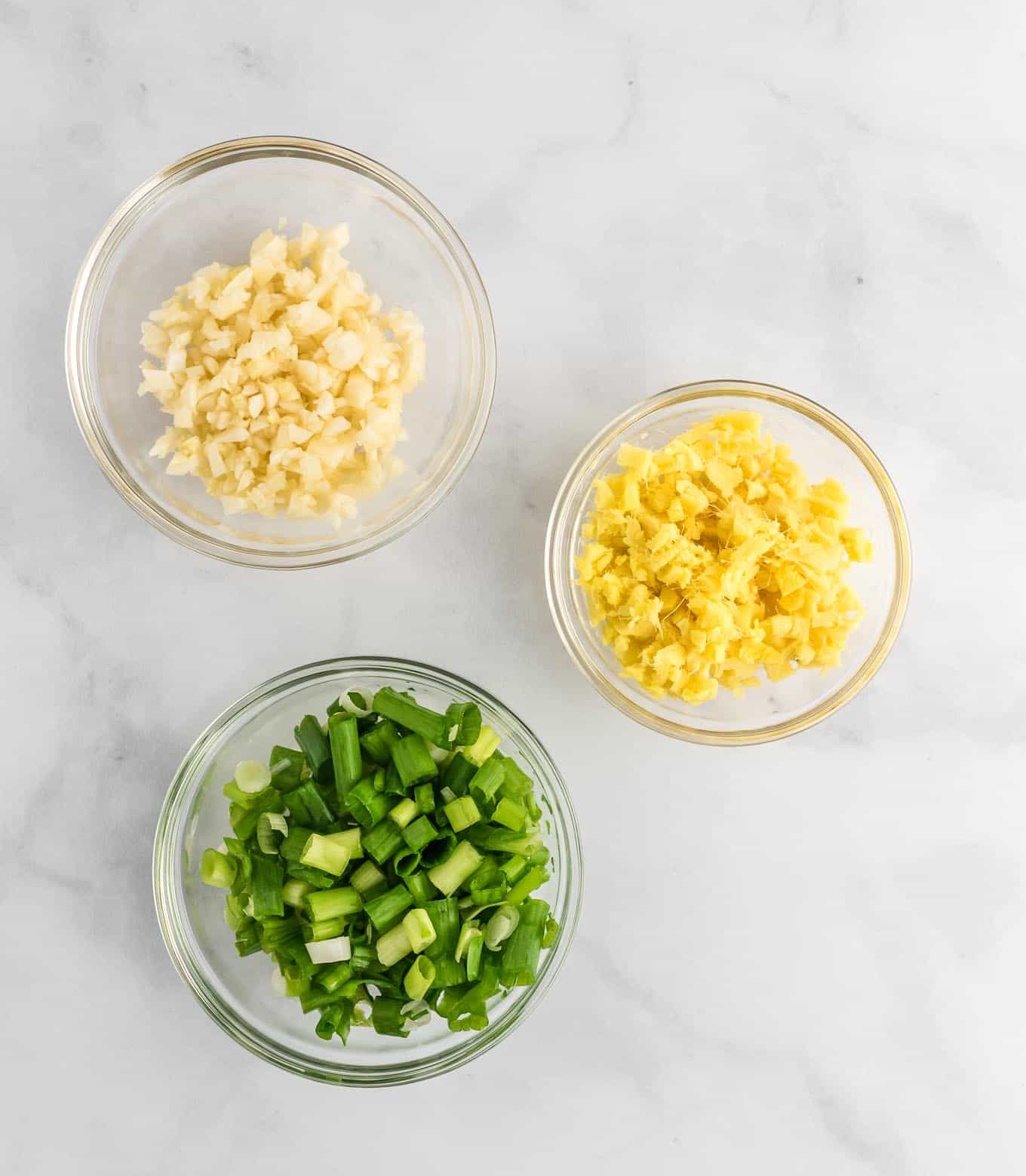 Mince up your garlic and ginger, and chop up the green onions and set aside.
Now prepare your fresh broccoli florets, and measure out 8 cups worth.
I do not recommend using frozen broccoli in stir fry, as it will definitely be mushy and watery.
Fresh broccoli is one of my favorite vegetables to put in stir fry.
How to cook tofu in stir fry
Once your vegetables are ready to go, prepare your tofu.
First, drain the blocks of tofu and place between kitchen towels with something heavy on top to get out the excess moisture.
Dice the tofu and follow the instructions for cooking.
I used an air fryer, but also included instructions for skillet and oven for anyone who doesn't have one.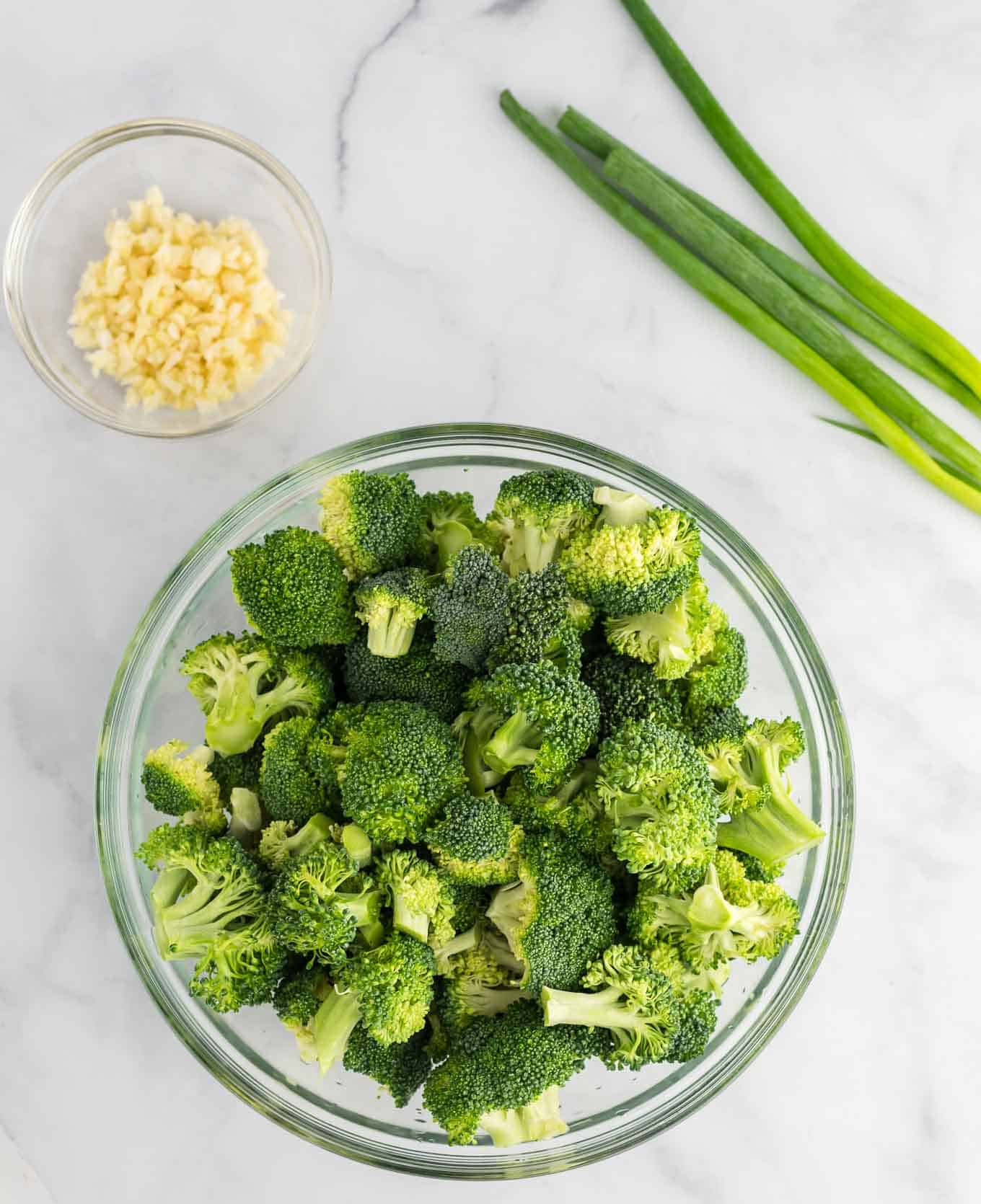 Cooking the broccoli, green onions, ginger, and garlic
Once the tofu is cooking, you can start cooking the vegetables.
Add the minced ginger, minced garlic, green onions, and broccoli florets to a large skillet with 2 tablespoons of sesame oil.
Cook for 10 minutes, stirring often.
Make a batch of the homemade stir fry sauce and add half of it to the broccoli.
Continue to cook around another 10 minutes, until broccoli is cooked but not mushy.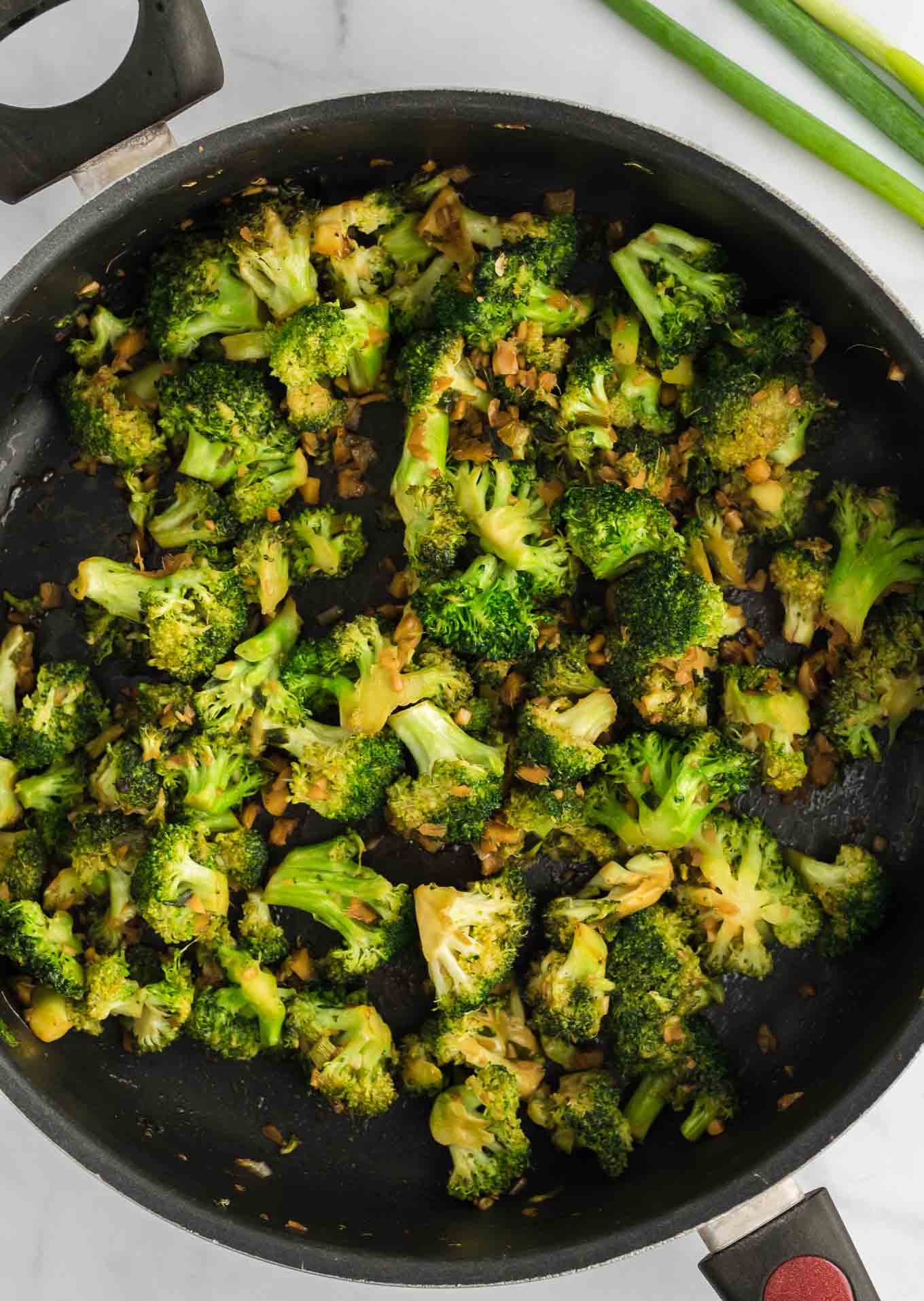 Cooking the ramen noodles
You will need 9 oz of ramen noodles for this recipe, flavor packets discarded.
Once you add the sauce to the broccoli, go ahead and boil the water for the ramen noodles.
Cook the ramen noodles according to package instructions.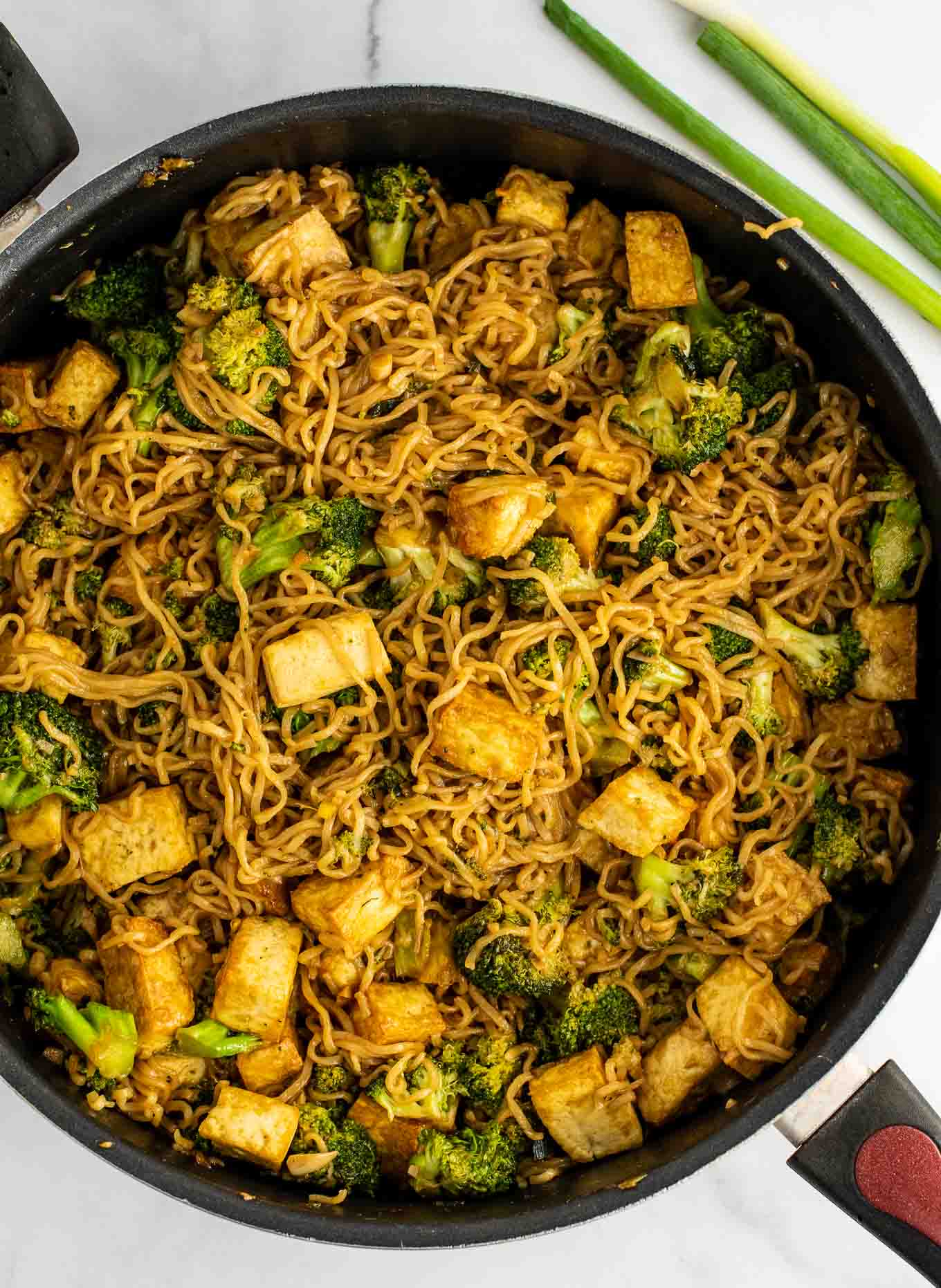 Adding the ramen noodles and tofu
By the time the broccoli has finished cooking, the tofu and ramen noodles should be done also.
Add the cooked ramen noodles, tofu, and the remaining half of the stir fry sauce to the skillet with the broccoli.
Cook an additional 5 minutes, stirring well, until the sauce coats the entire stir fry.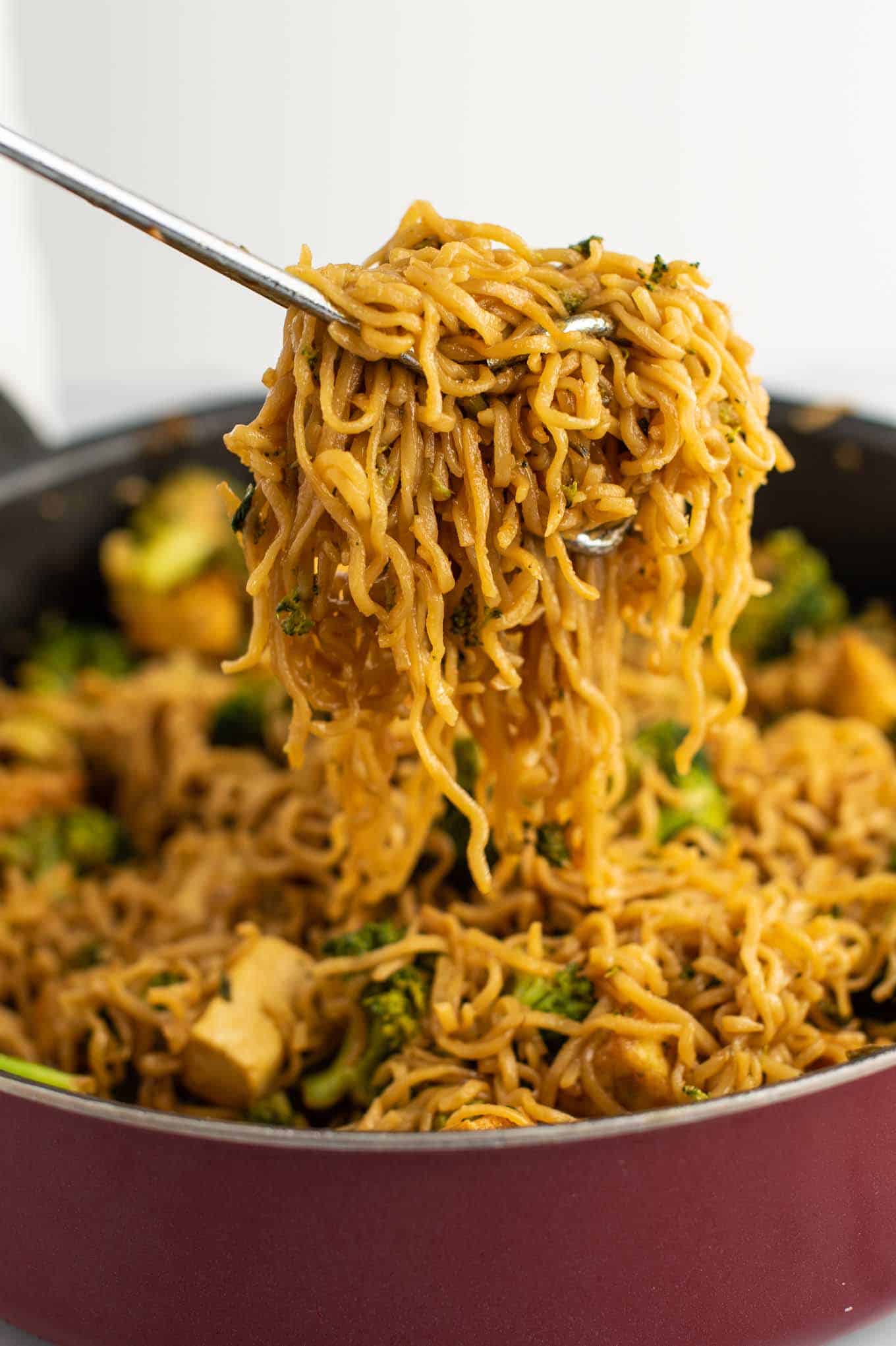 I love this dish as is, or topped with sweet chili sauce.
Either way is delicious!
The extra tofu adds more protein and makes the dish very satisfying.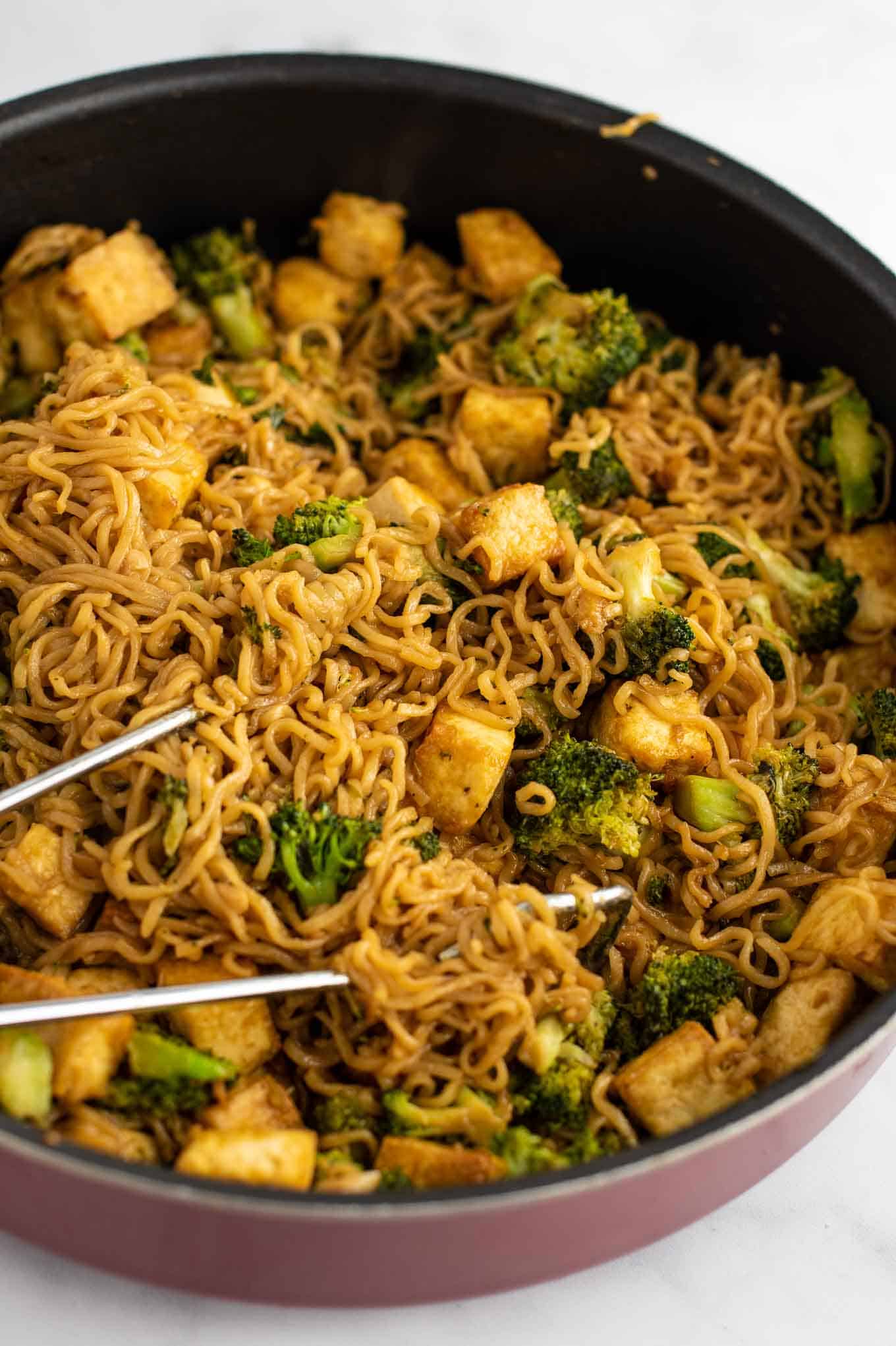 Adding this to my stir fry recipe rotation!
Looking for more recipes using Ramen Noodles? Check out these Sesame Garlic Ramen Noodles, Ramen Noodle Stir Fry, and Cabbage Stir Fry.
Here are some more of our favorites:
Broccoli with Garlic Sauce tastes just like the Chinese takeout favorite.
Or try out this homemade orange sauce for making orange tofu!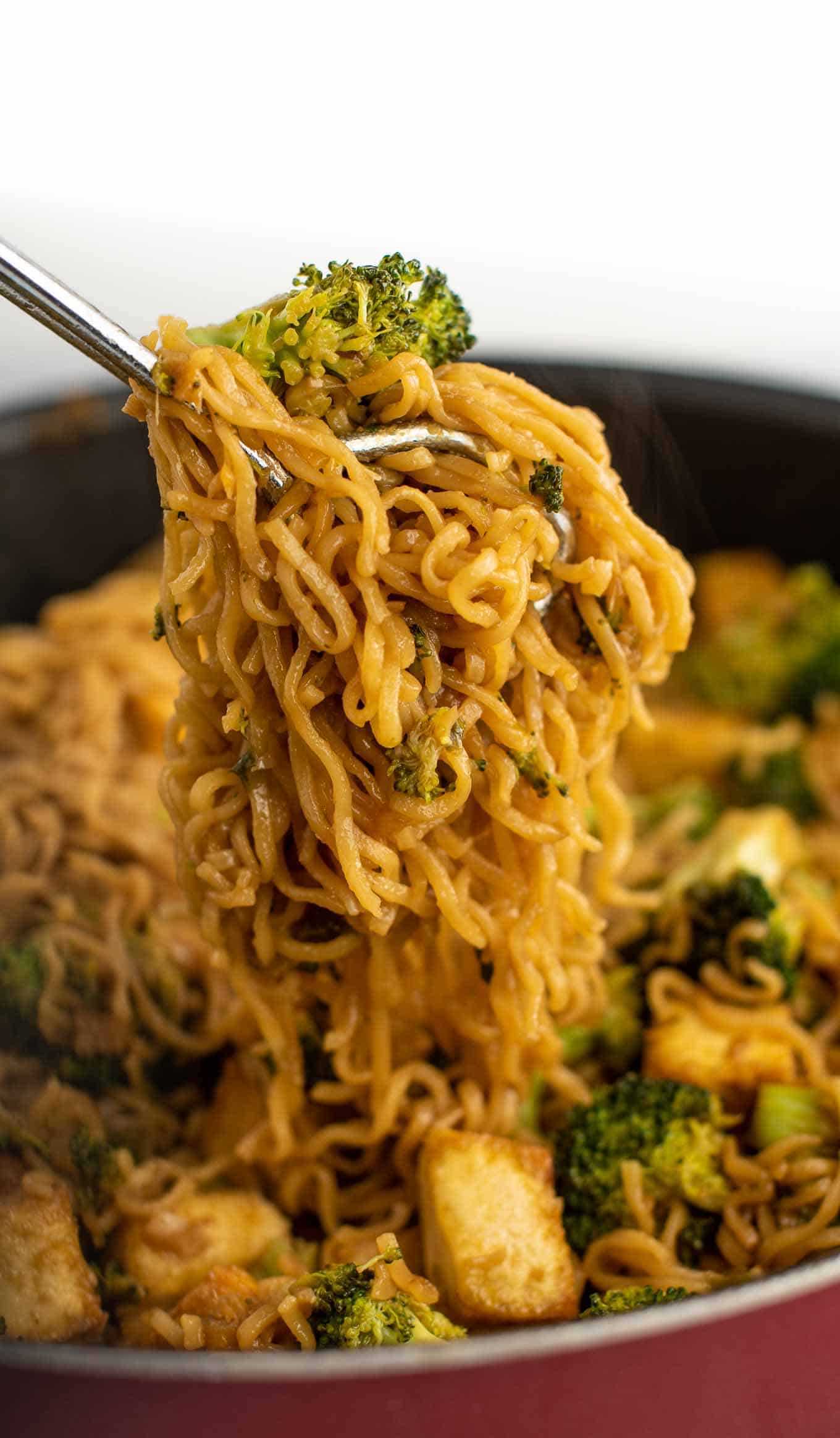 You really can't go wrong with this recipe!
There's something so satisfying about the hearty chunks of tofu with the ramen noodles.
And the broccoli has a nice bite to it without being too soft.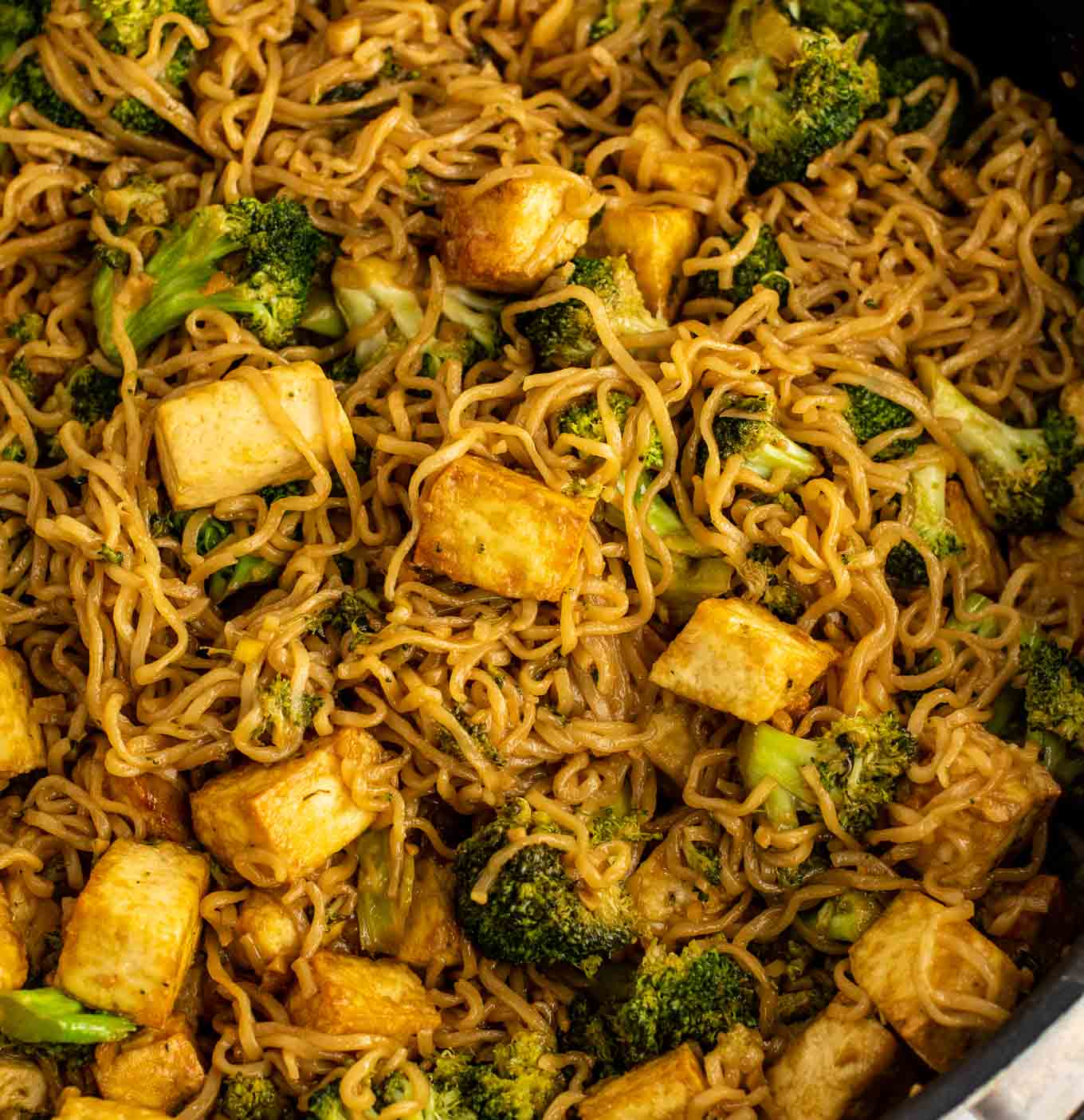 Try it out and let me know what you think!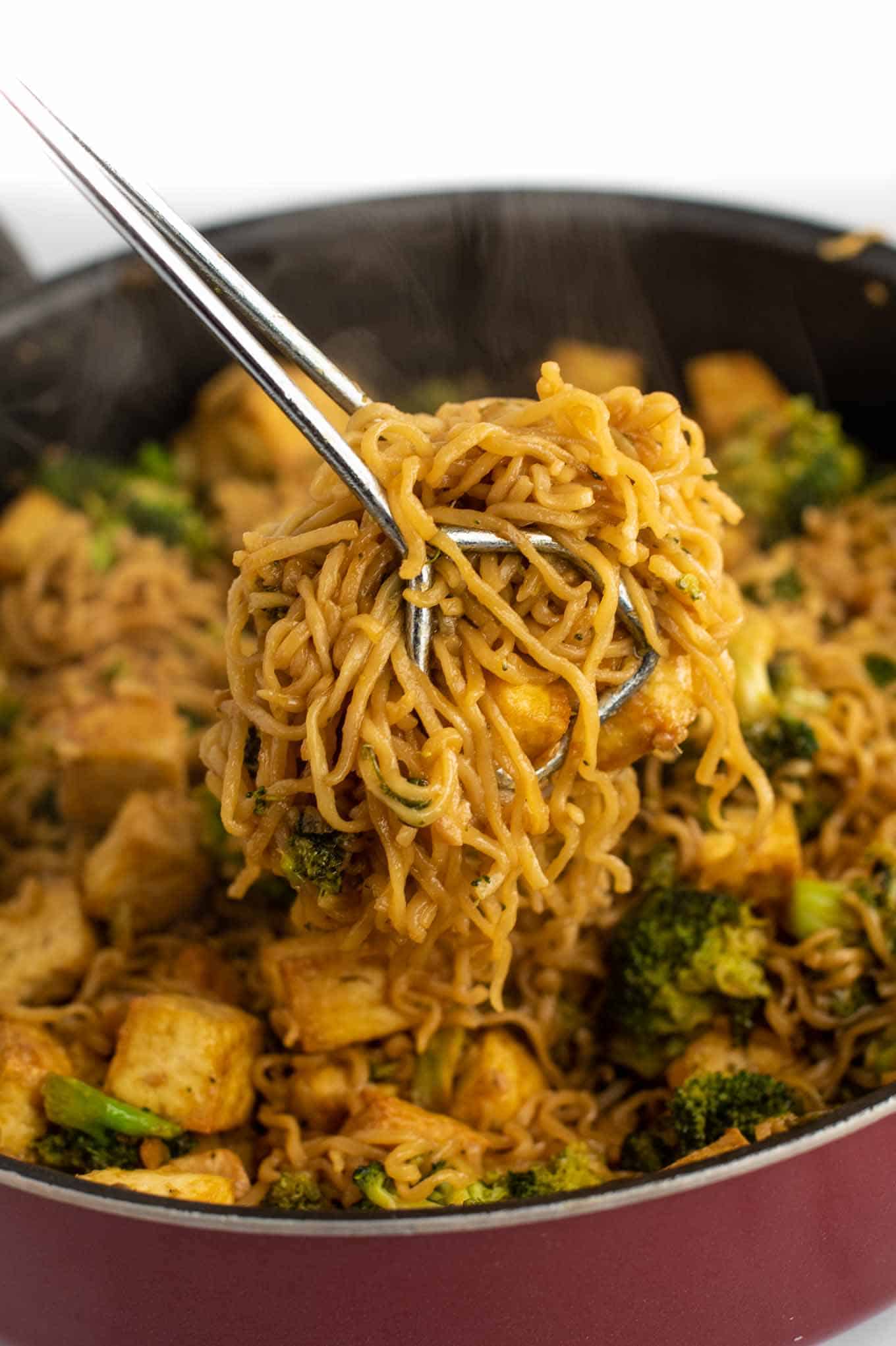 Are you making this recipe? I want to see! Don't forget to tag me on instagram @buildyourbite and hashtag #buildyourbite with your recipe creations!
Be sure to pin this recipe for later and follow Build Your Bite on Pinterest for all the latest delicious recipes!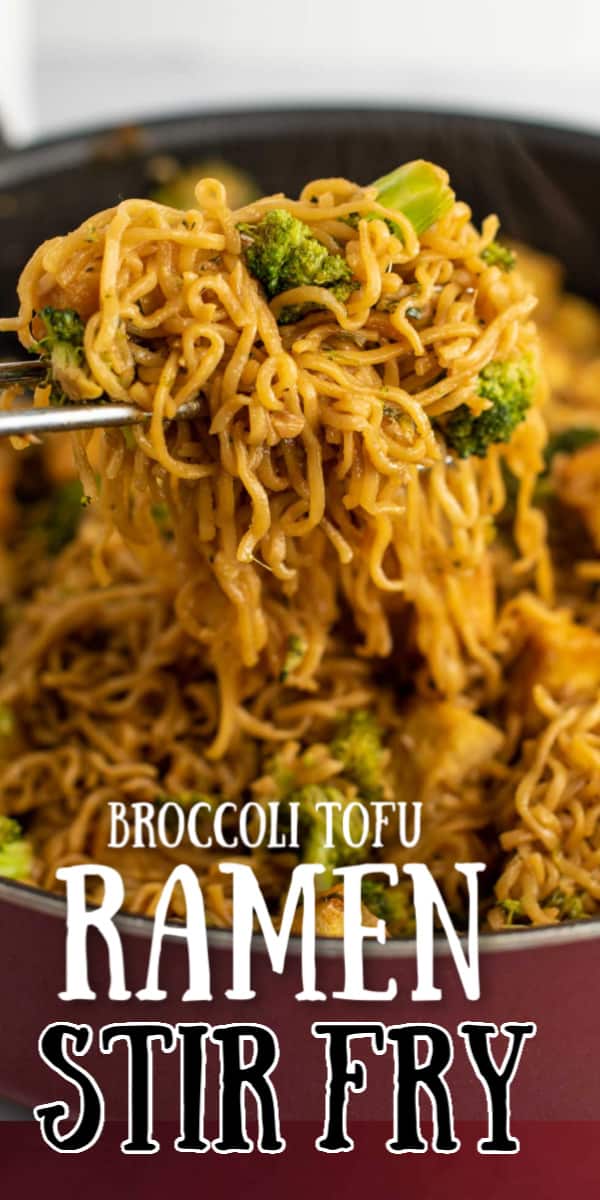 Did you make this recipe? Be sure to leave a star rating below!
Broccoli tofu ramen noodles recipe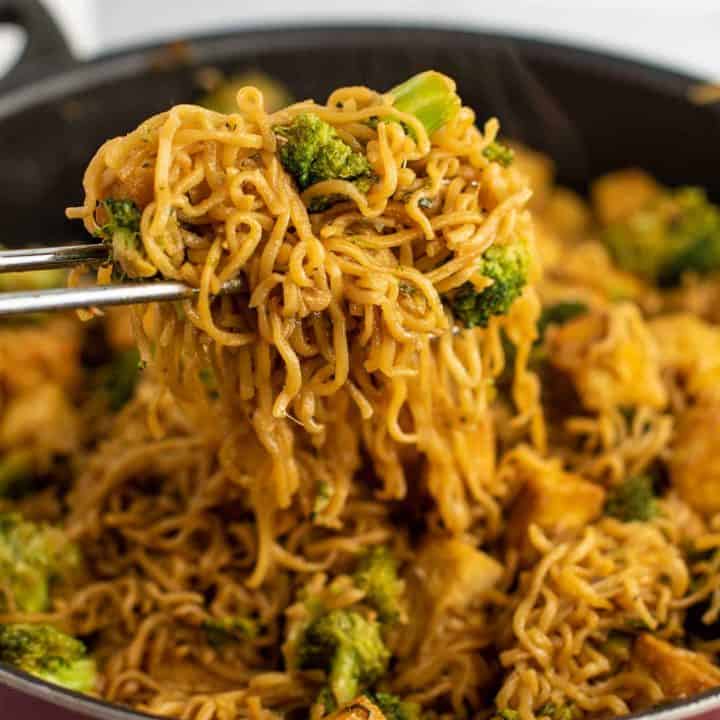 Broccoli Tofu Ramen Noodles
Tastes like takeout style broccoli and tofu ramen noodles stir fry! Made with simple ingredients and a homemade stir fry sauce!
Ingredients
2 (14 oz each) blocks extra firm tofu
8 cups fresh broccoli florets
¼ cup minced fresh ginger
¼ cup minced garlic
½ cup chopped green onions
2 tablespoons sesame oil
9 oz ramen noodles, flavor packets discarded
For the sauce
Instructions
Drain the tofu blocks and place between a dish towel. Place something heavy on it for a few minutes to drain out excess moisture.
Dice tofu into chunks
Next, start cooking the tofu. I used an air fryer, and misted the tofu chunks with olive oil spray. Also, mist the bottom of the air fryer basket before adding the tofu. This is my favorite way to make tofu as it is SUPER crispy, just check/shake every 5 - 10 minutes, and set to the highest heat, until crispy on all sides. It should take between 20 - 30 minutes. (see notes at the bottom for alternate ways to cook the tofu if you do not have an air fryer).
While the tofu is cooking, mince the garlic and ginger. Chop up the green onions and fresh broccoli florets
To a large skillet, add 2 tablespoons of sesame oil, ginger, garlic, broccoli, and green onions
Cook on medium heat for 10 minutes, stirring often
Shake together a batch of the 3 ingredient stir fry sauce recipe
Add half of the stir fry sauce to the skillet, and cook an additional 10 minutes
Boil the water to cook the ramen noodles, and discard the flavor packets
Cook the ramen noodles according to package instructions
Once the broccoli is done (should still have some texture and not mushy), add the cooked ramen noodles and finished tofu to the skillet, along with the last half of the stir fry sauce
Stir and heat an additional 5 minutes, until everything is coated in sauce
Serve and enjoy. We love it both with and without sweet chili sauce on top!
Notes
Alternate ways to cook the tofu
In a skillet: Once the tofu is pressed/diced, toss it with 1 - 2 tablespoons of cornstarch, or enough to coat the tofu. Then pan fry with sesame oil until golden on all sides, around 20 or so minutes
In the oven: Line a baking sheet with parchment paper and place the tofu cubes on it. Spray with olive oil spray and bake at 400 degrees for 20 - 25 minutes, flipping at least once.

Nutrition Information:
Yield:

6
Serving Size:

1
Amount Per Serving:
Calories:

256
Total Fat:

17g
Saturated Fat:

3g
Trans Fat:

0g
Unsaturated Fat:

13g
Cholesterol:

0mg
Sodium:

982mg
Carbohydrates:

23g
Fiber:

8g
Sugar:

3g
Protein:

9g