Healthy and easy oil free vegan banana muffins recipe made with applesauce.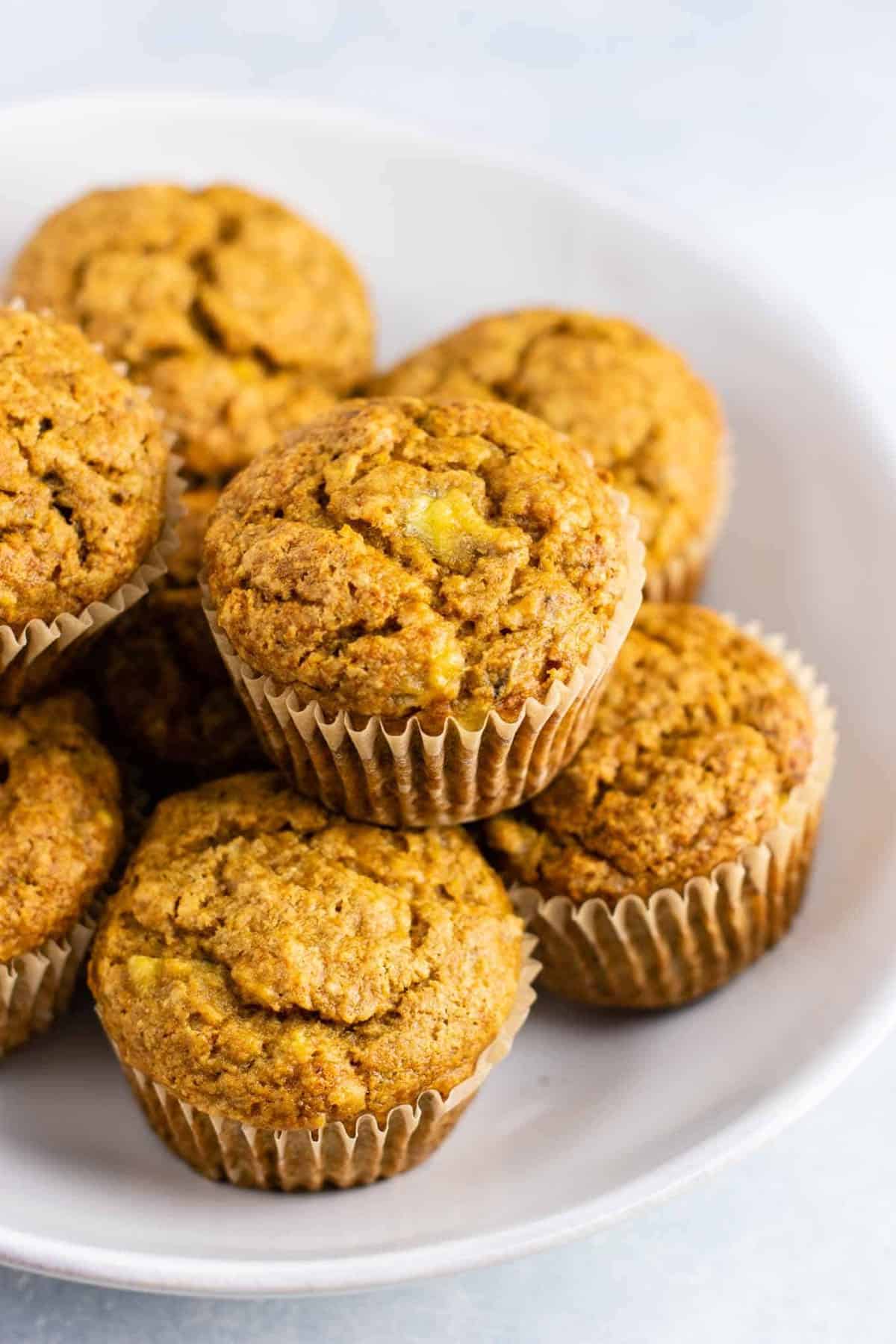 Today I decided to try my hand at making vegan banana muffins for the first time. While I am not vegan myself, I do post quite a lot of vegan recipes on my blog.
One area that I noticed I have not posted many vegan recipes is muffins and breads. I'm making it a mission to start experimenting more with baking for my vegan readers! You don't have to be vegan to enjoy these muffins though!
I wanted to create a healthy vegan muffin recipe that was oil free, didn't require any difficult ingredients, and was easy to make.
While I know a lot of people make flax eggs to replace eggs in a recipe (and I may myself do this in the future), I wanted to see if I could make vegan banana muffins without the use of any egg replacements.
ingredients to make vegan banana muffins
unsweetened applesauce
pure maple syrup
mashed bananas
baking soda
baking powder
salt
brown sugar
whole wheat pastry flour
vanilla extract
cinnamon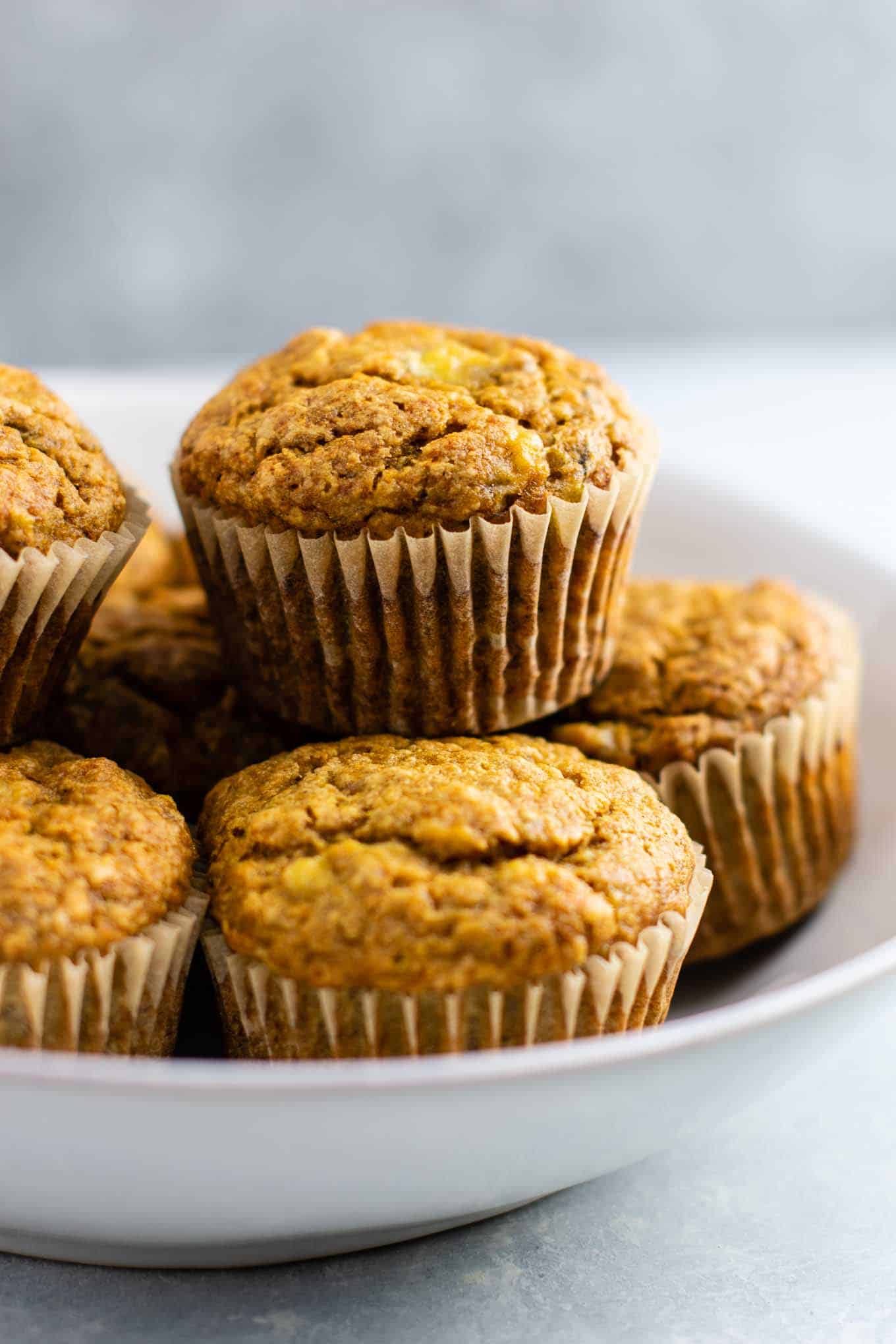 Instead of using an egg replacer, I instead used a combination of applesauce and extra mashed banana to help the muffins stick together.
It worked great!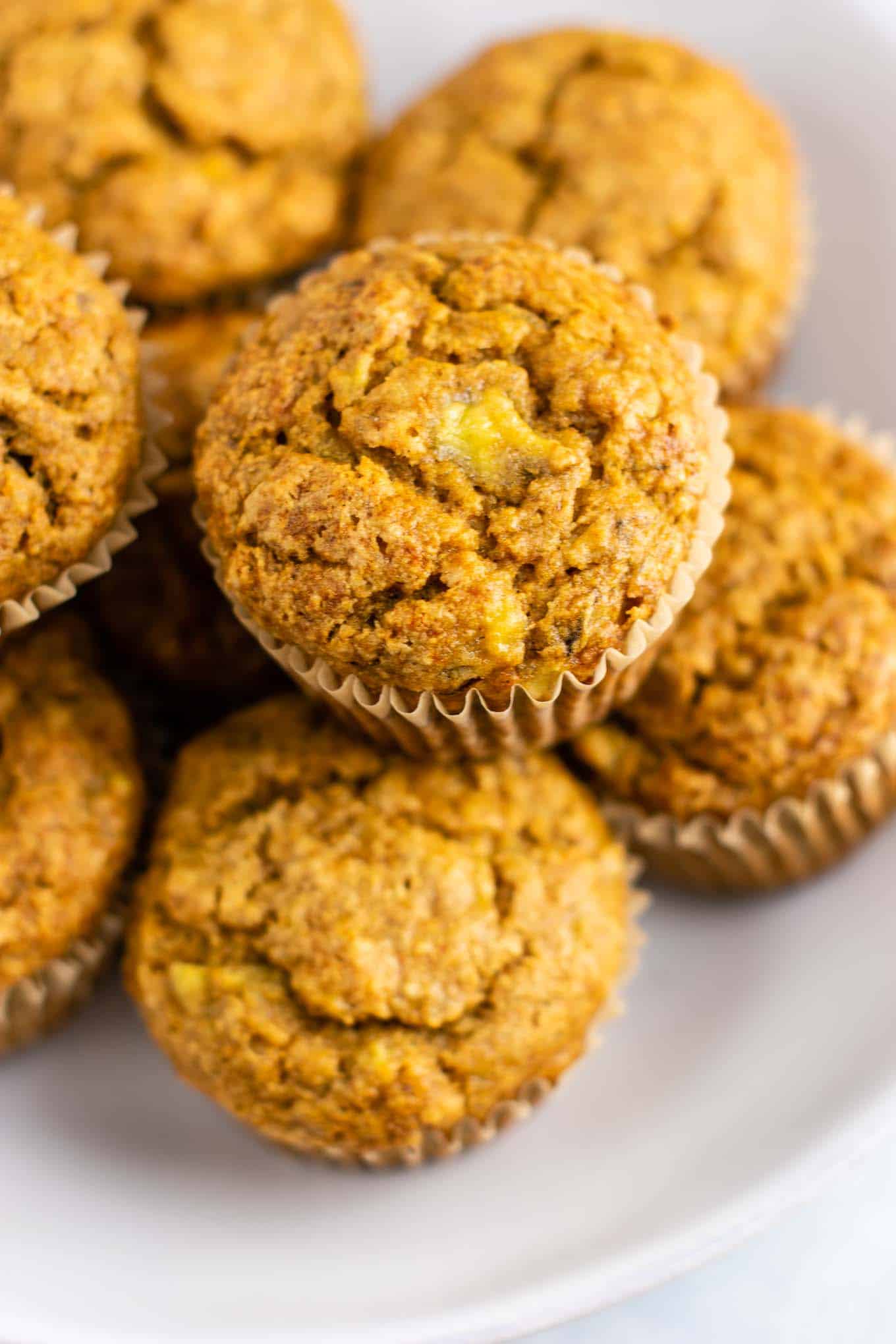 I crossed my fingers and was happy to find out that not only did it work, but these vegan muffins were beyond delicious!
They are sweet (but not overly so), soft (even though they are oil free!) and just all around delicious. I ate 3 and called it brunch!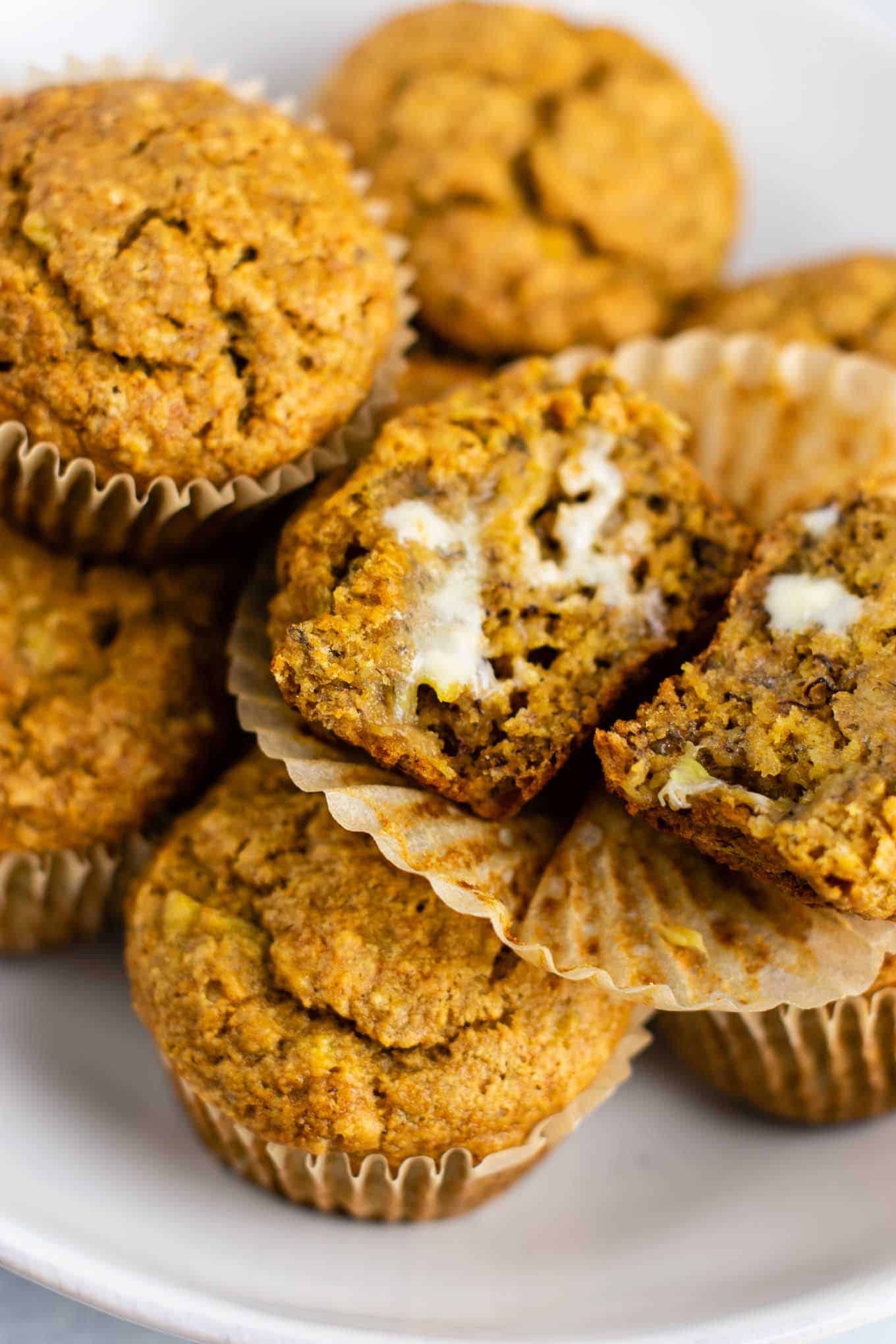 Personally, my favorite way to eat these was warm with a bit of vegan butter spread on top. Soooooo good.
You can also eat them cold! They would make a great lunchbox snack for kids.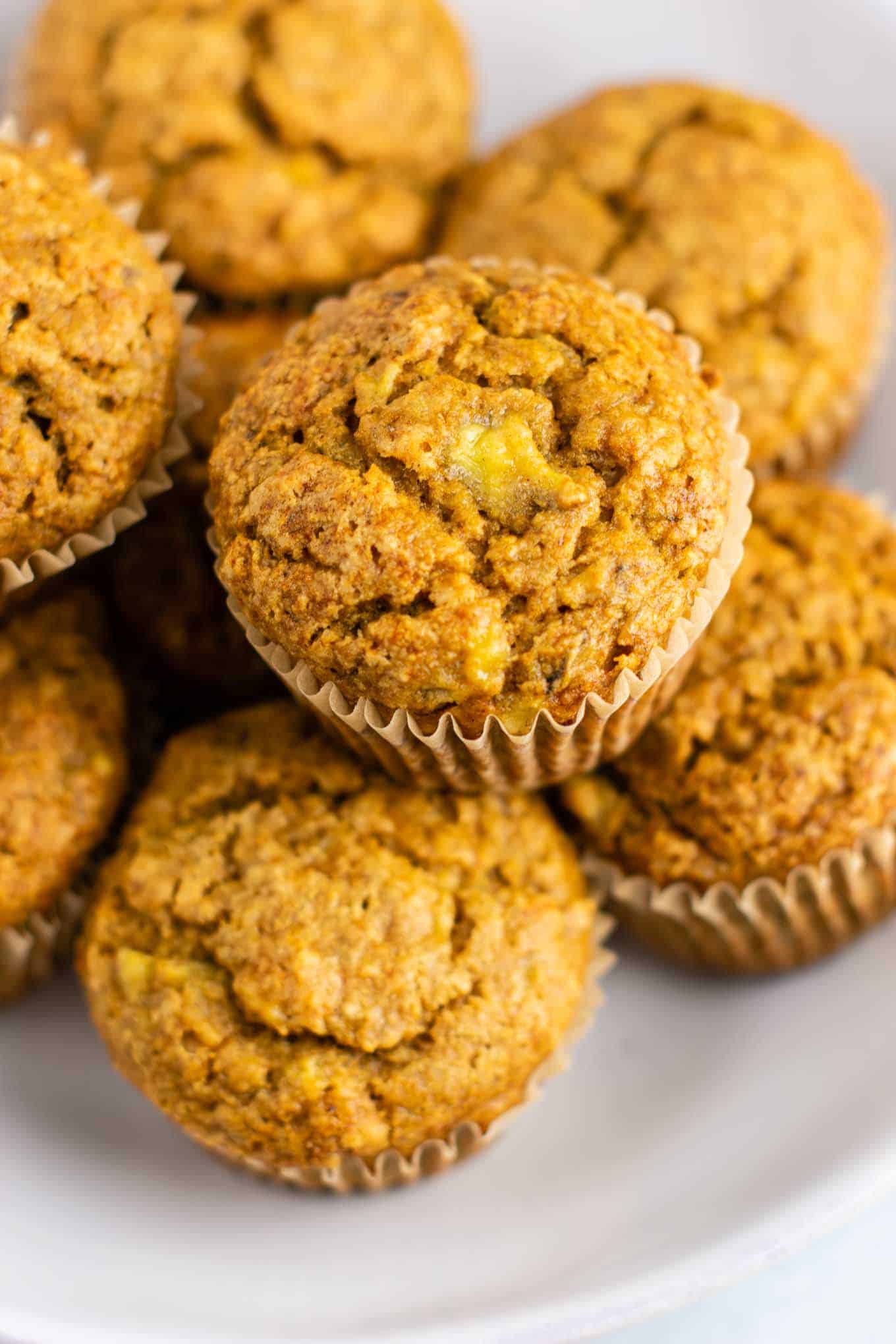 Now that I know my mashed banana trick worked, I am going to start seeing if I can make more muffin recipes vegan-ized!
Do you have a favorite way to replace eggs in a recipe? I want to know! Many of my recipes are already dairy free, so the egg is the one part to make vegan.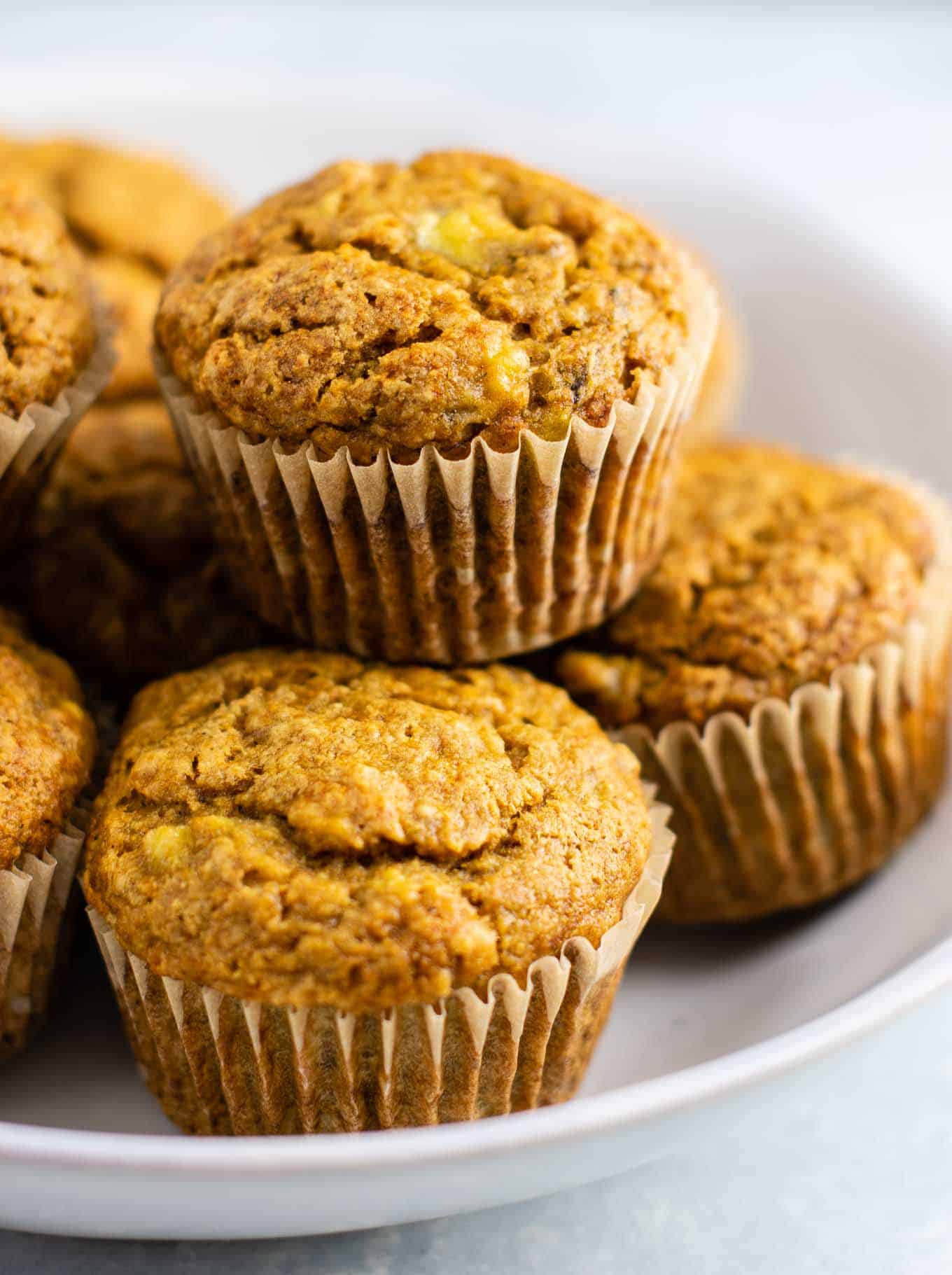 Overall I couldn't be happier with these banana muffins!
They are so healthy and only took minutes to whip up. I can definitely see these becoming a regular in our house!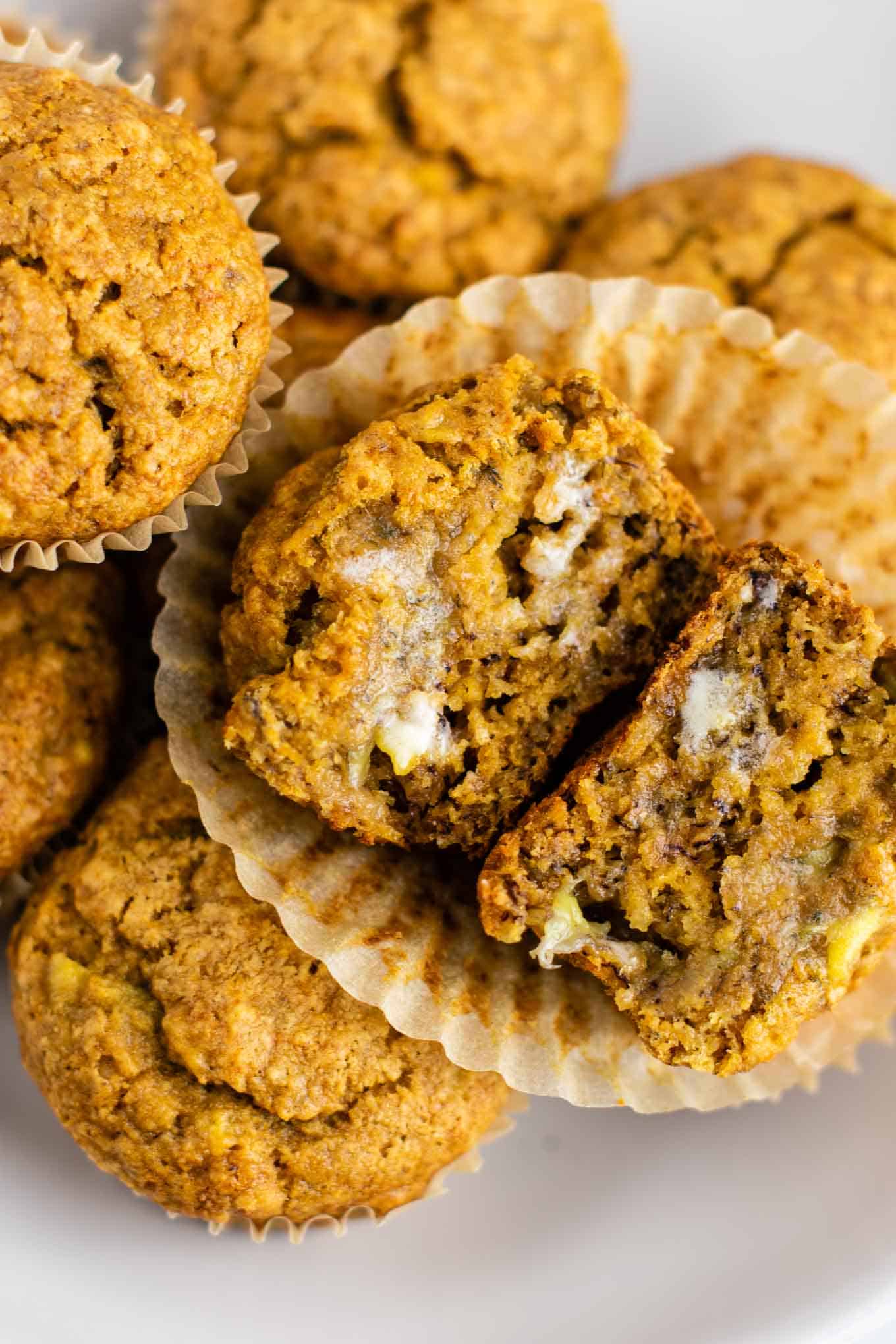 Hungry for more healthy muffin recipes?
Here are some more wholesome muffin recipes that my family loves!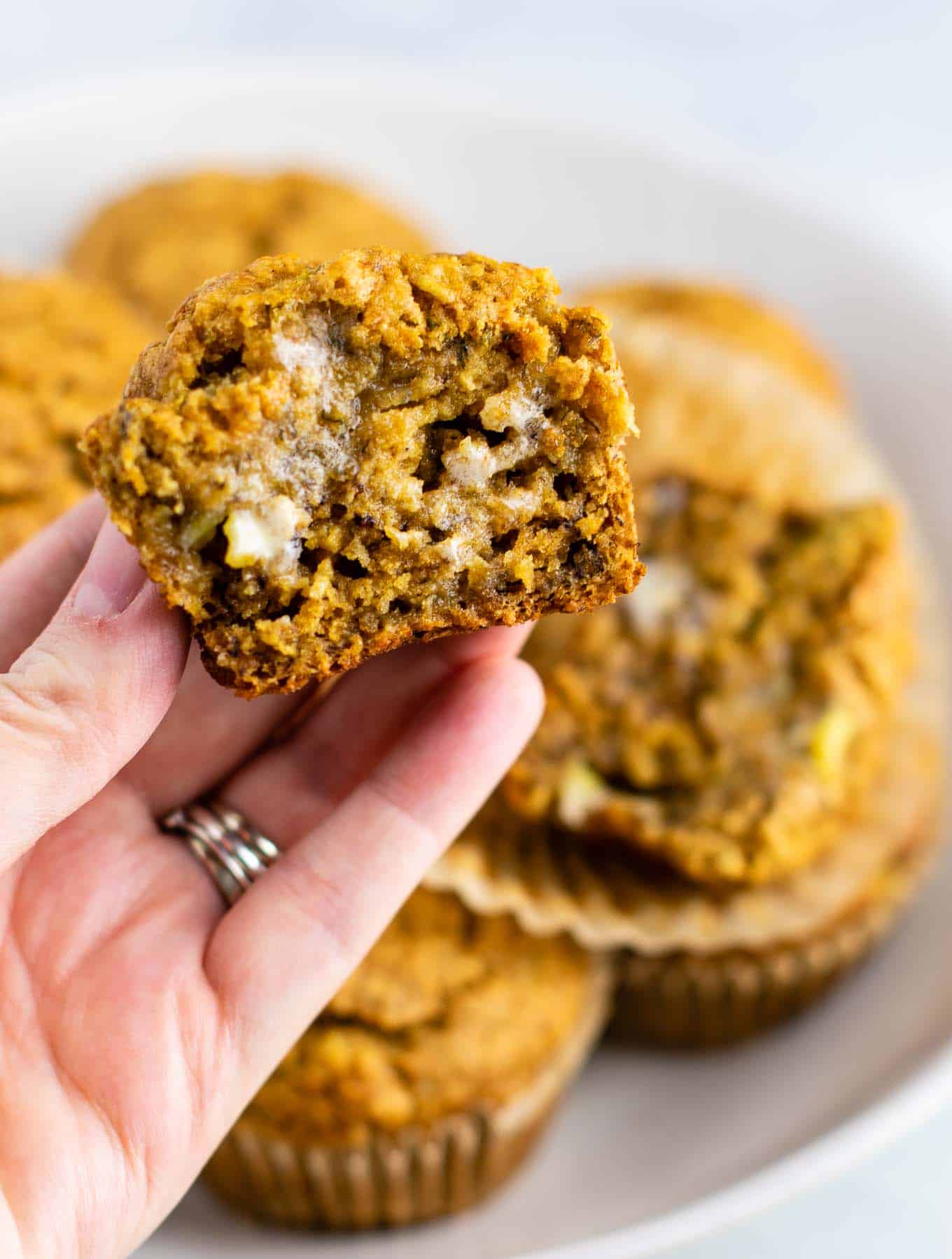 Are you making this recipe? I want to see! Be sure to tag me on instagram @buildyourbite and hashtag #buildyourbite
Be sure to follow me on FACEBOOK, PINTEREST & INSTAGRAM to never miss a recipe!
Saving this recipe for later?
Click HERE to pin this recipe!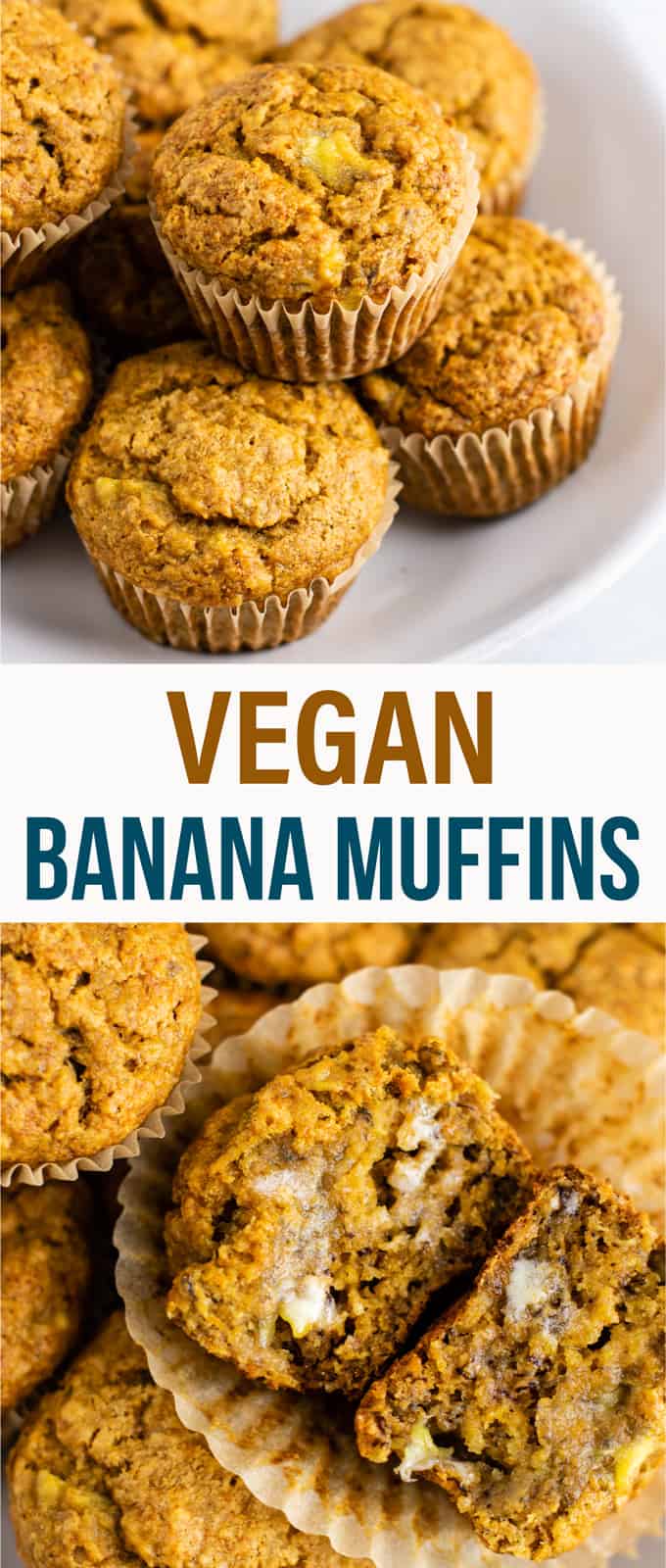 Did you make this recipe? Be sure to leave a star rating below!

Vegan Banana Muffins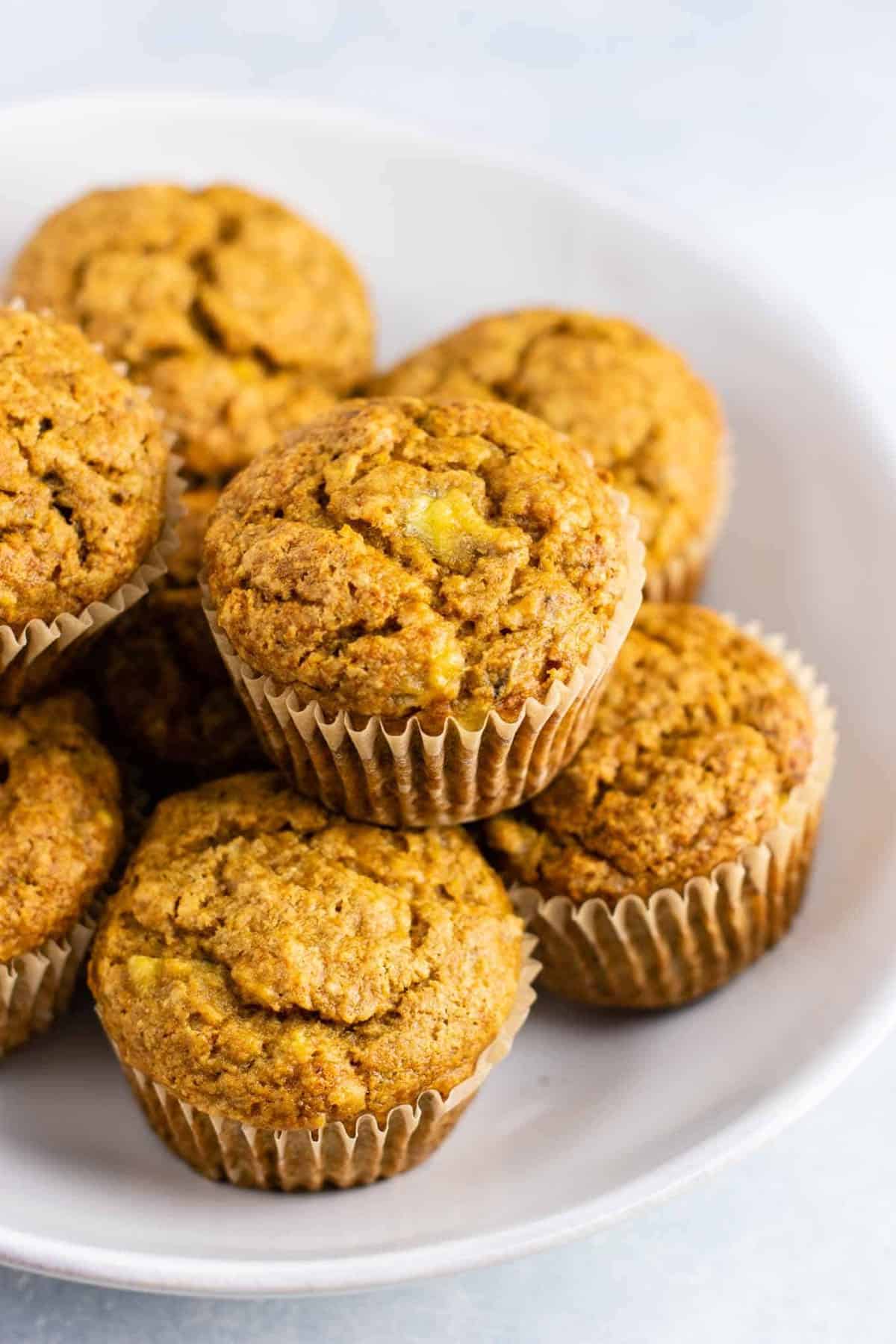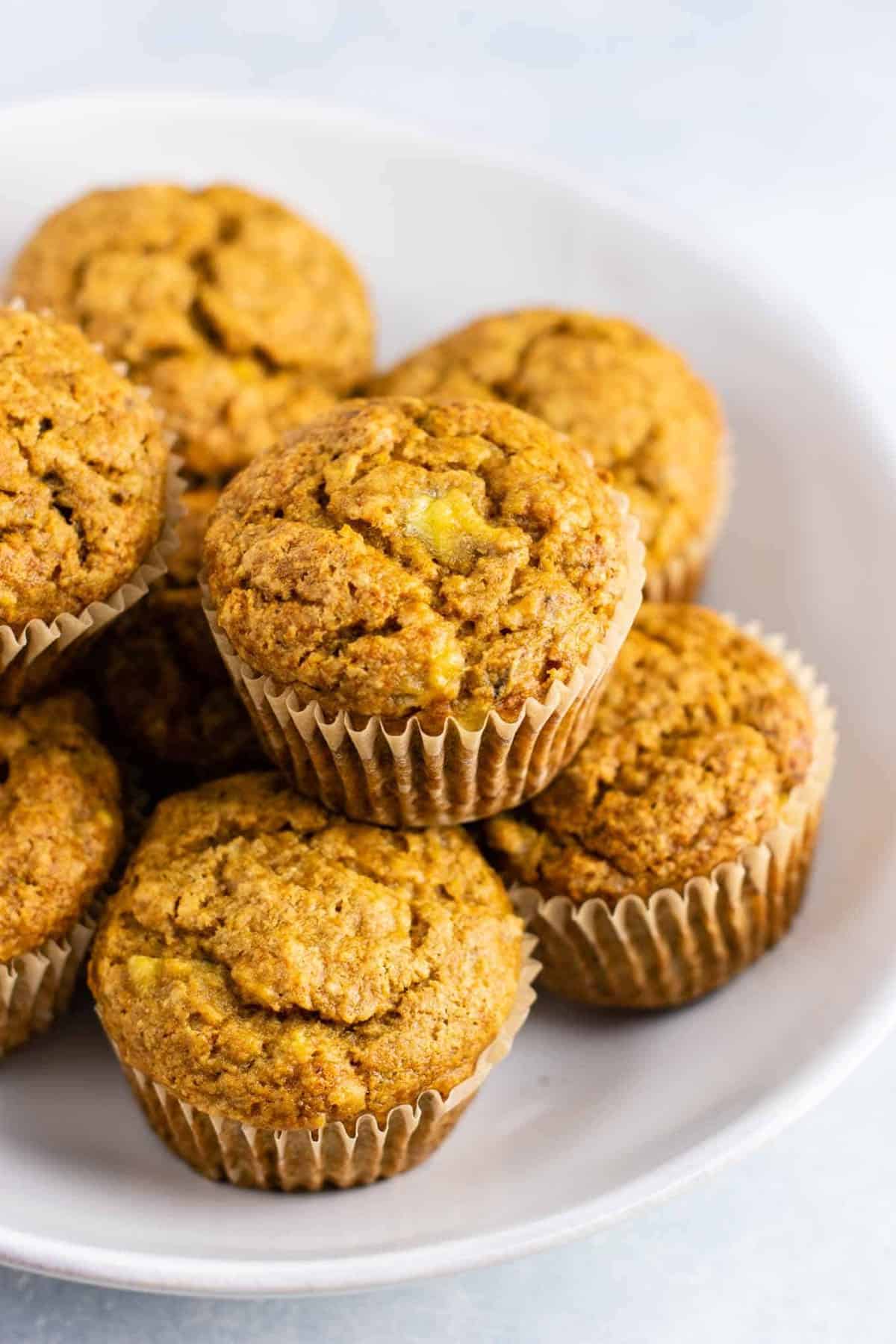 Healthy and easy vegan banana muffins recipe made with applesauce. (oil free)
Ingredients
1/3 cup unsweetened applesauce
1/4 cup pure maple syrup
1 1/2 cups mashed (very ripe) banana
1 teaspoon baking soda
1/4 teaspoon baking powder
1/2 teaspoon salt
1/2 cup brown sugar
1 1/2 cups whole wheat pastry flour
1 teaspoon vanilla extract
1/2 teaspoon cinnamon
Directions
Whisk together flour, salt, baking soda, baking powder, and cinnamon in a bowl.
In a separate bowl, use mixers to beat together mashed banana, applesauce, maple syrup, brown sugar, and vanilla extract
Add dry mixture to wet, and use a rubber spatula to gently stir until just combined (do not over mix)
Line a muffin tin with parchment paper liners (these do not stick.) If you have regular paper liners, you will need to spray them with cooking spray to help avoid sticking.
Distribute batter evenly into the 12 muffin liners
Bake at 350 degrees for 20 - 25 minutes, until tops are cracked and toothpick inserted comes out clean
Serve cold or warmed up with vegan butter
Loading nutrition data...