This gluten free vegan blueberry peach crisp recipe is a simple and delicious healthier dessert made with easy to find ingredients.
Use frozen fruit and a few simple ingredients to make this easy vegan dessert recipe!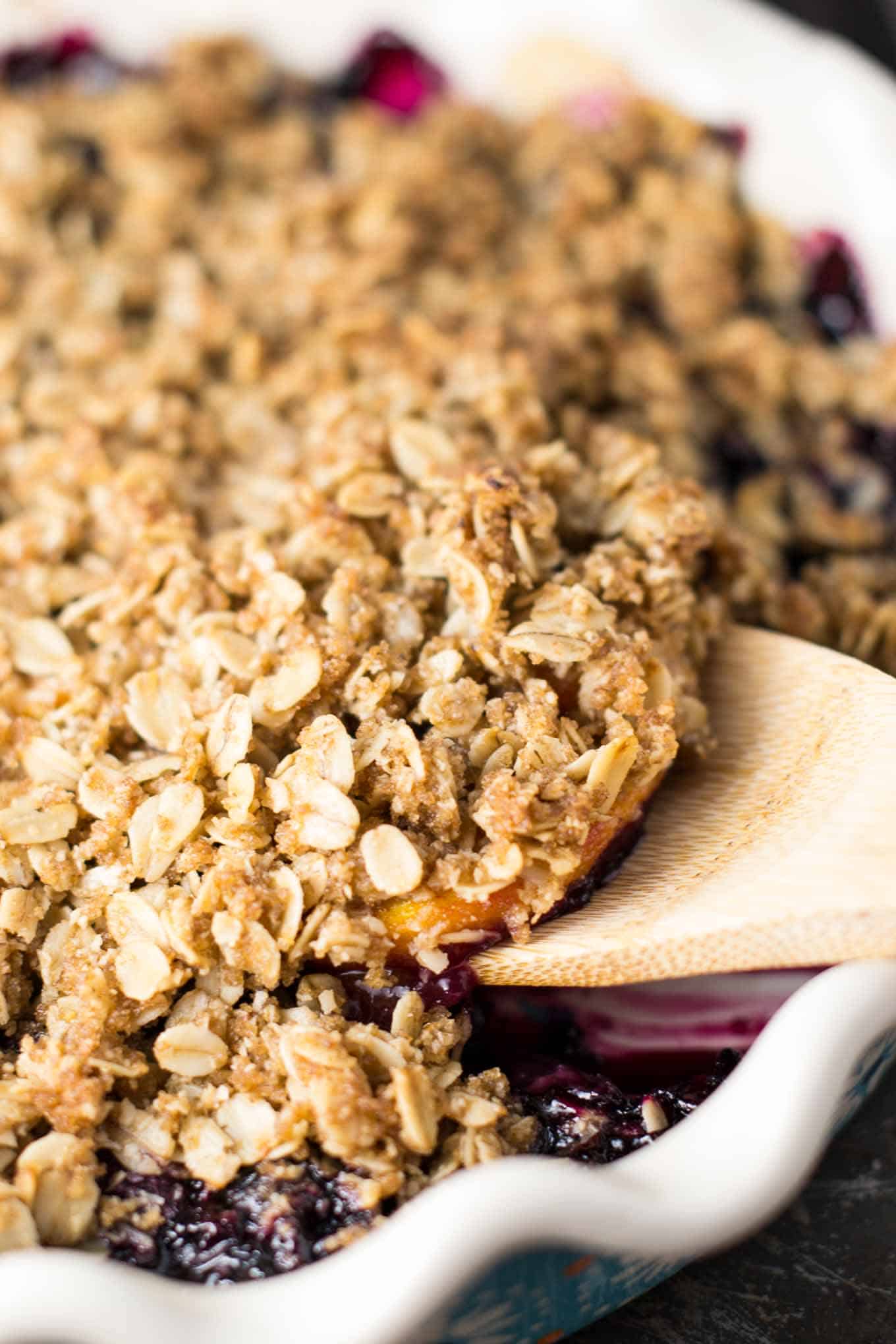 Say helloooo to my new favorite summertime dessert!
This vegan blueberry peach crisp is everything I love about a good dessert: it's healthy-ish, not difficult to make, and pairs perfectly with a scoop of vanilla ice cream.
I'm always down for a bowl of crisp with ice cream!
If you can't tell from my best vegan apple crisp, strawberry crisp, cranberry blueberry crisp, or easy peach crisp, I think it's safe to say I am in love with crisp recipes!
I love how simple they are to throw together, and the oven really does all of the work for you.
First up, here are the ingredients that you need to make this recipe.
Ingredients to make vegan blueberry peach crisp
frozen peaches
frozen blueberries
sugar
corn starch
salt
cinnamon
brown sugar
gluten free oat flour
gluten free rolled oats
coconut oil
vegan butter
The crisp topping is made with a mix of oat flour and rolled oats, making it gluten free.
It still has great texture, but like most crisp recipes, is best served fresh.
Fresh crisp from the oven = melt in your mouth fruit with a crunchy crispy topping. Soooo good.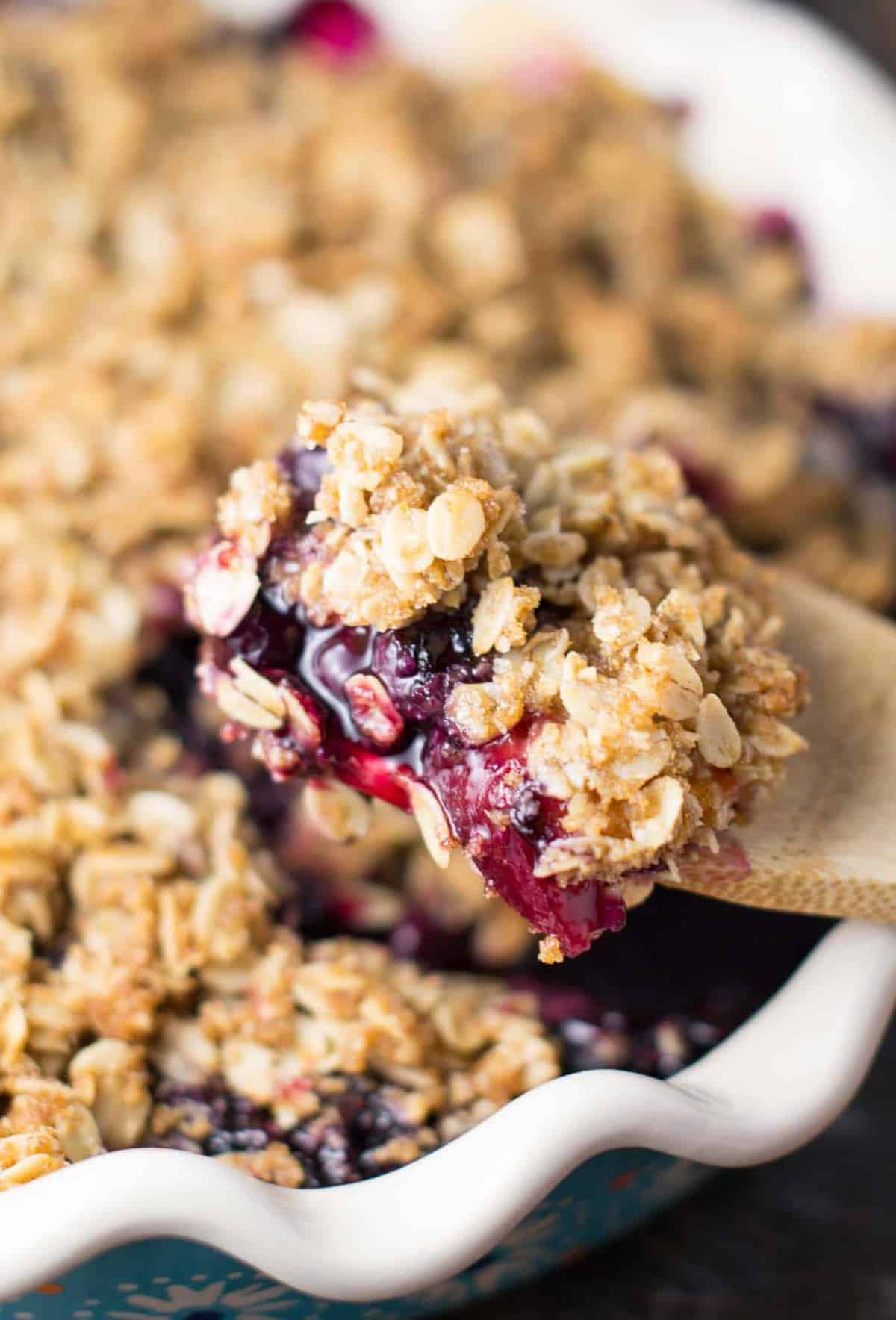 My husband's all time favorite dessert is my vegan apple crisp recipe.
It's a classic favorite of ours every fall and we love it.
While that recipe is fantastic, I wanted to create an easy berry crisp recipe that could be throw together in minutes without a lot of time spent chopping up fruit.
This is a great summer dessert for when you really don't feel like spending a bunch of time in the kitchen.
Frozen fruit is what we are using in this recipe, so the prep work is super minimal (open bag and you're done prepping the fruit!)
Even someone that doesn't like cooking can make this recipe fast!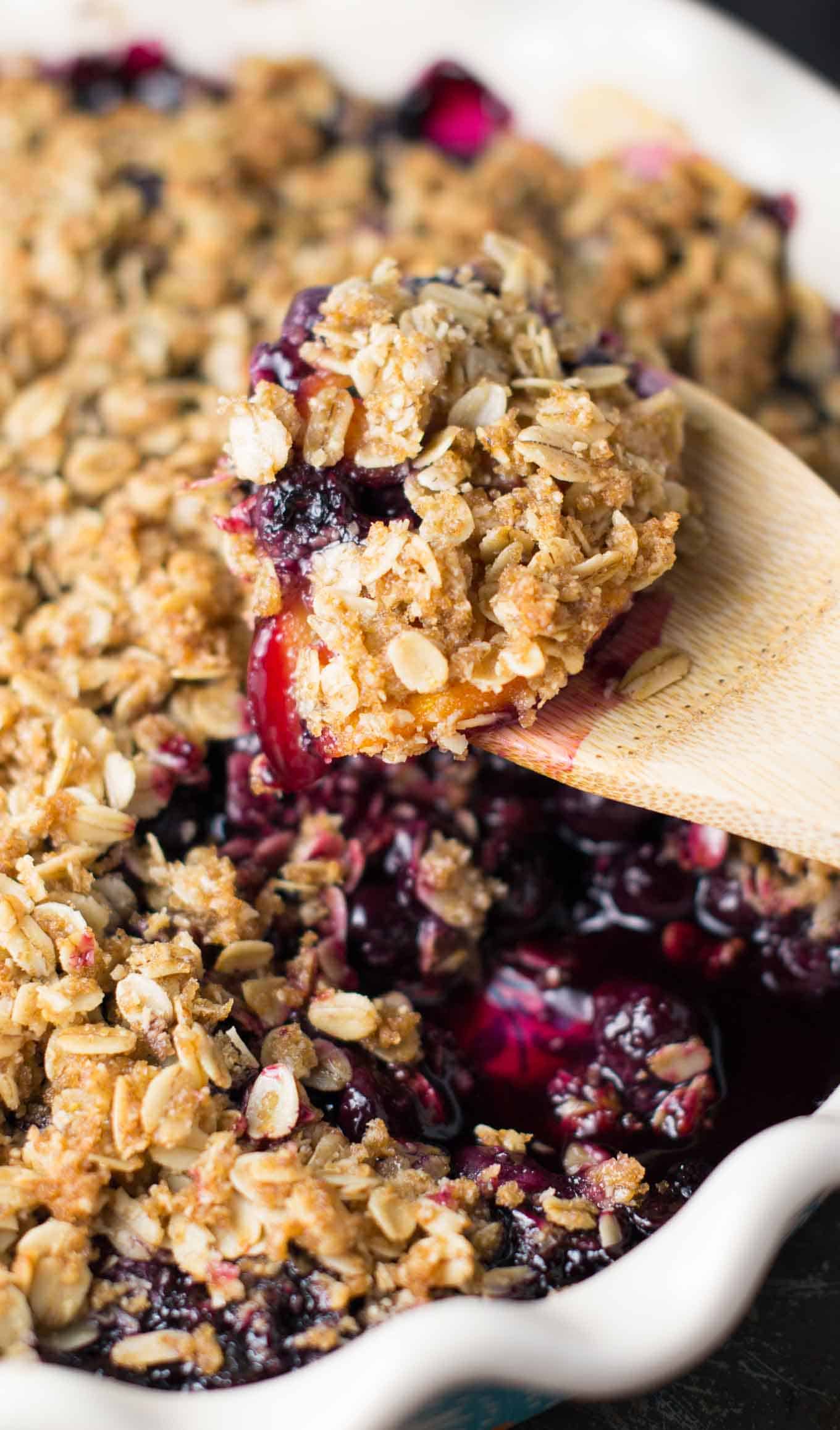 Sometimes you just need a quick and easy dessert, right?
This would also be a great recipe to use up extra summer produce year round.
If you have extra fresh peaches or blueberries to freeze, just store them until you are ready to use them.
Stock up during the summer if you want that super juicy fresh peach flavor.
I'm a frozen blueberry lover myself, so I'm glad that those are always available to me.
Am I the only one that likes frozen blueberries better than fresh? My husband seems to think so.
Random fact: frozen blueberries are one of the only things that immediately cures my stomach ache.
If I eat a bowl I almost always feel better within just a few minutes!
See my 15 Easy Vegan Desserts roundup for more favorite recipes!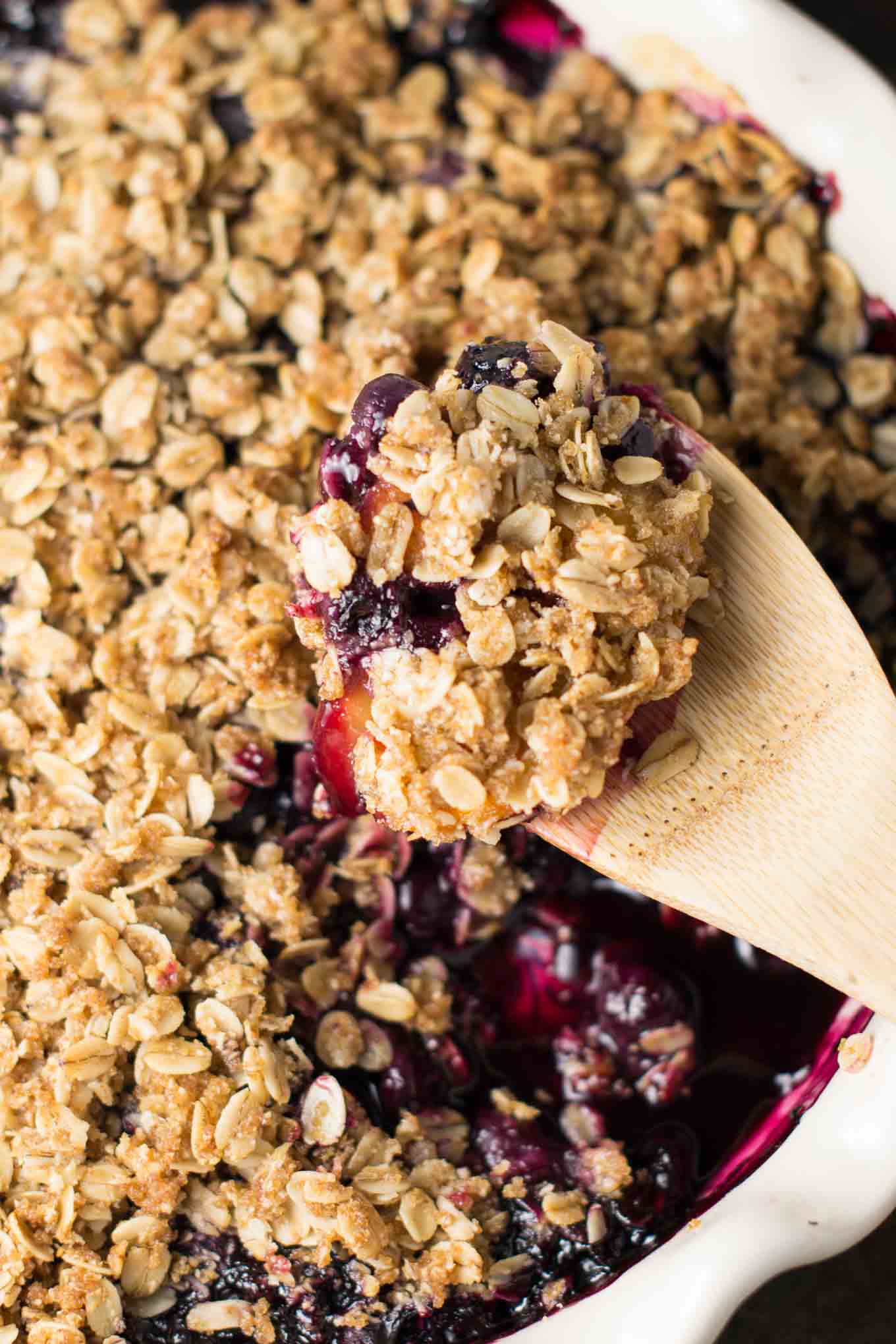 I use both frozen peaches and frozen blueberries for this easy vegan blueberry peach crisp.
This recipe is similar to my easy peach crisp recipe, but I made the crumble topping to be gluten free so that everyone can enjoy it!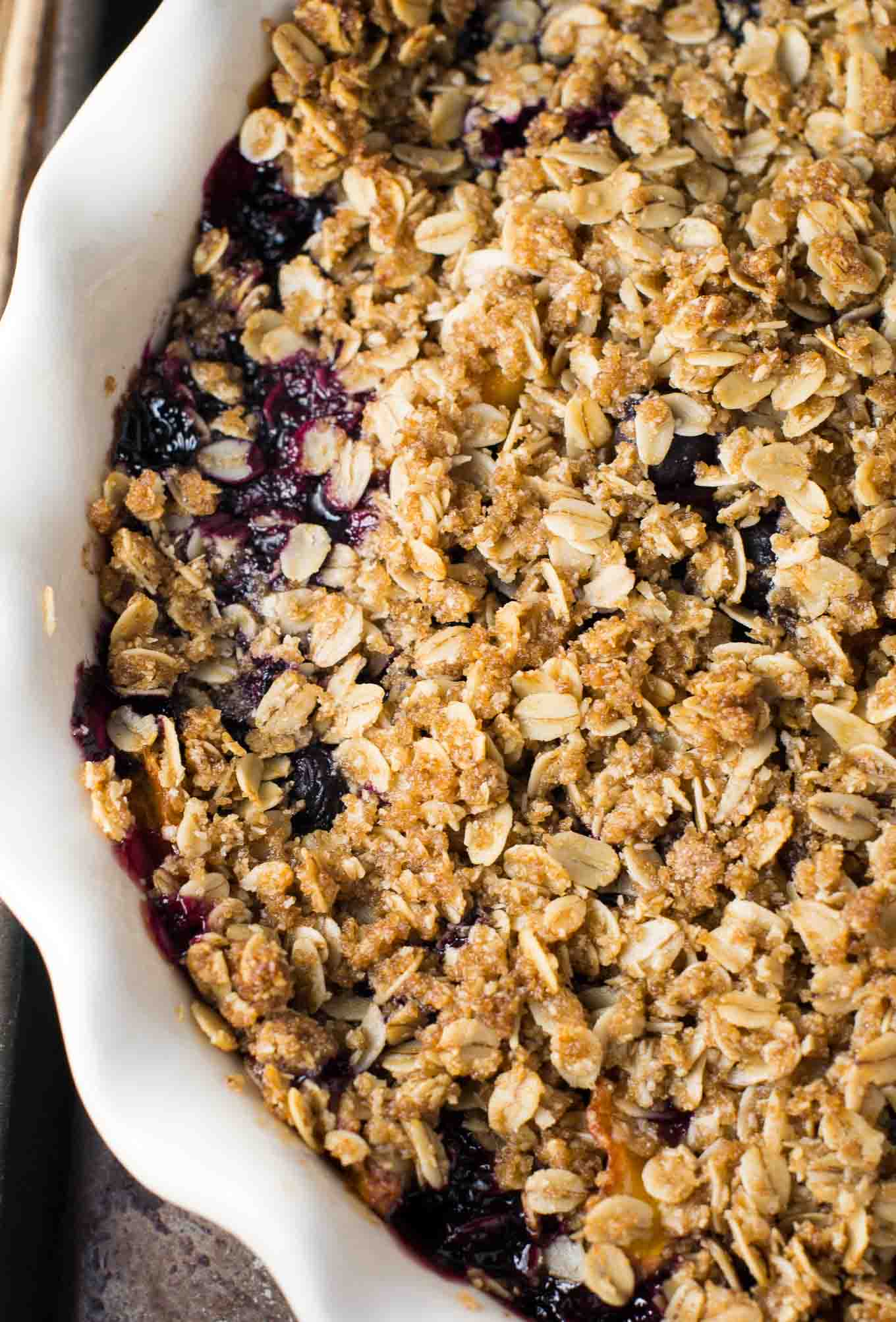 Blueberries are one of my favorite fruits and add such a nice sweetness to this dessert.
Even though I love frozen blueberries, I also love them all bubbly and warm in this crisp.
There's just something so comforting about a big bowl of berry crisp!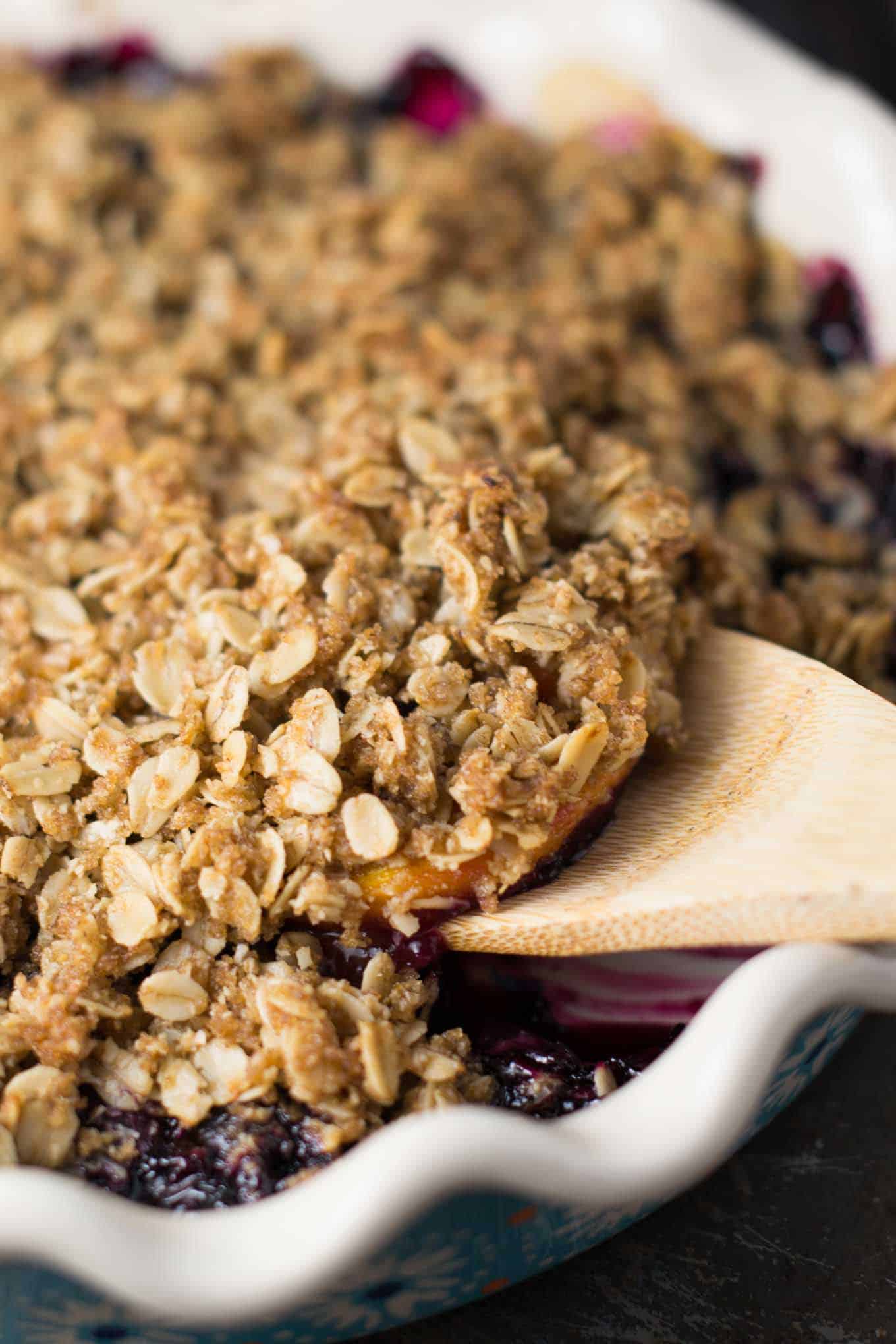 While I admit that fresh peaches usually have more flavor, I still loved the flavor of frozen peaches once they cooked!
If nothing else, it saves a ton of prep time.
And I'm all for an easy and satisfying dessert that doesn't take me a ton of time spent in the kitchen!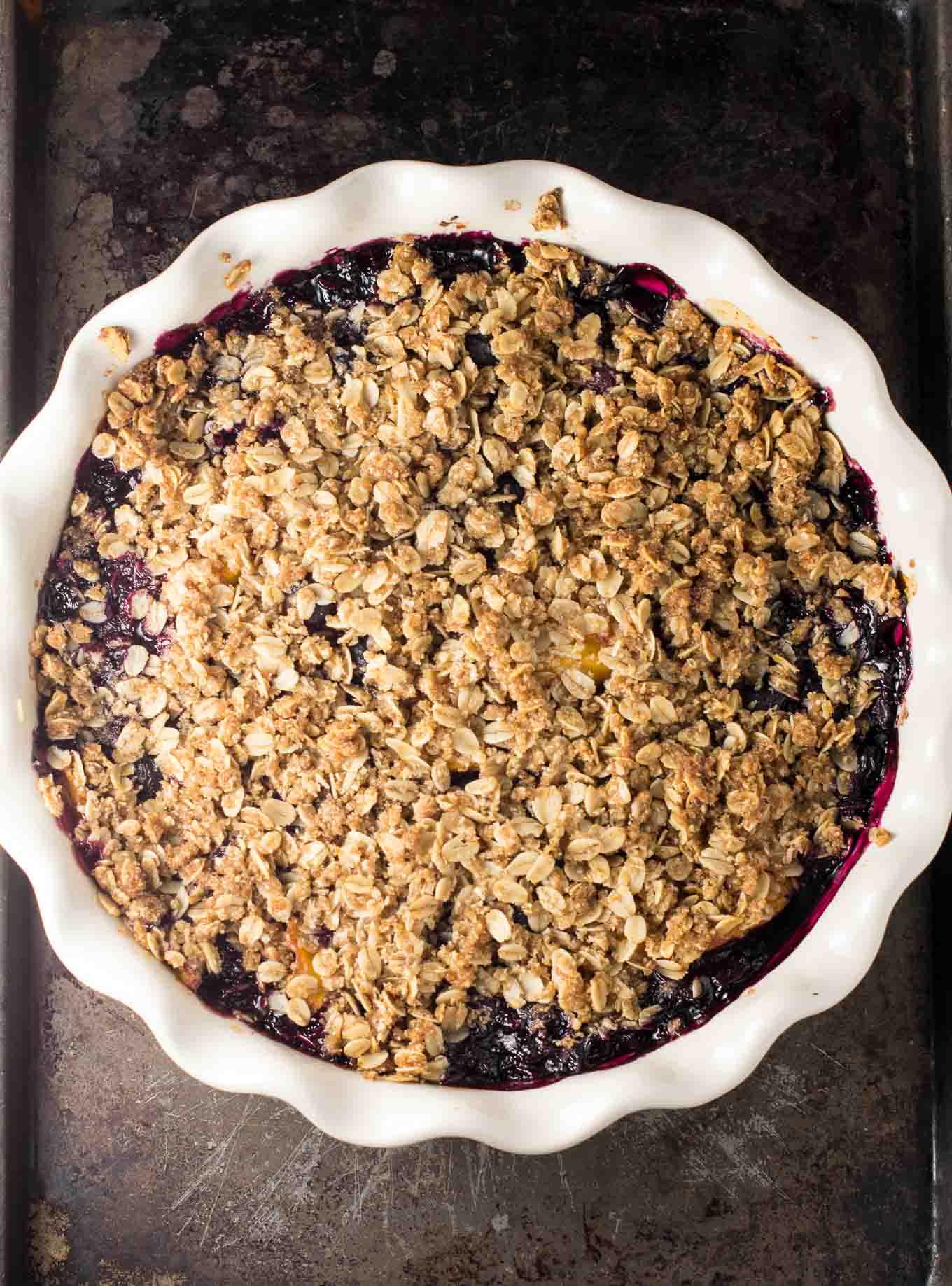 This recipe is gluten free which is a plus if you know someone that can't tolerate gluten!
I have made this with gluten free relatives in mind.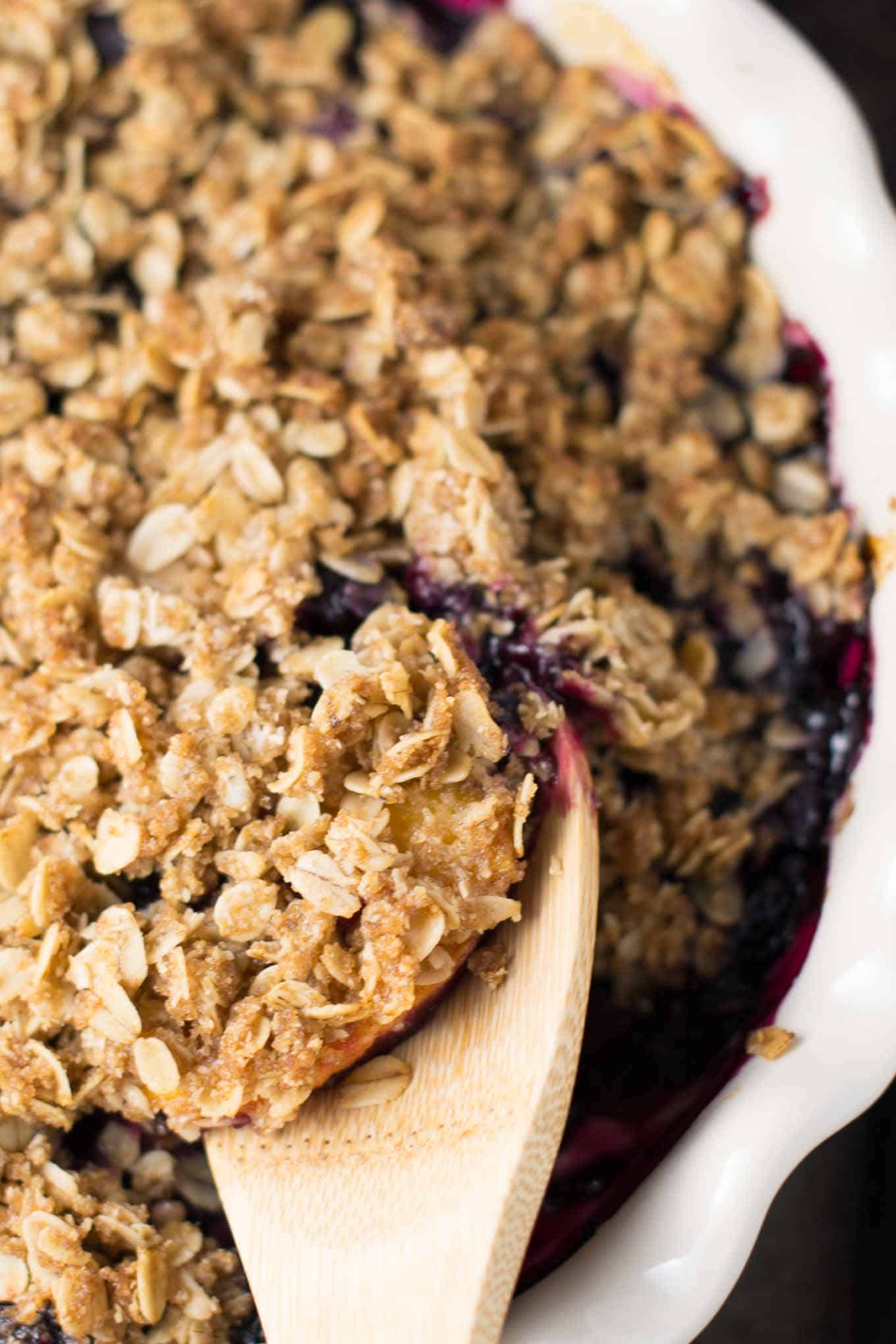 While nothing can quite top apple crisp in Robbie's eyes, this blueberry peach crisp was a VERY close contender.
Hungry for more? Here are some more crisp recipes to try!
vegan crisp recipes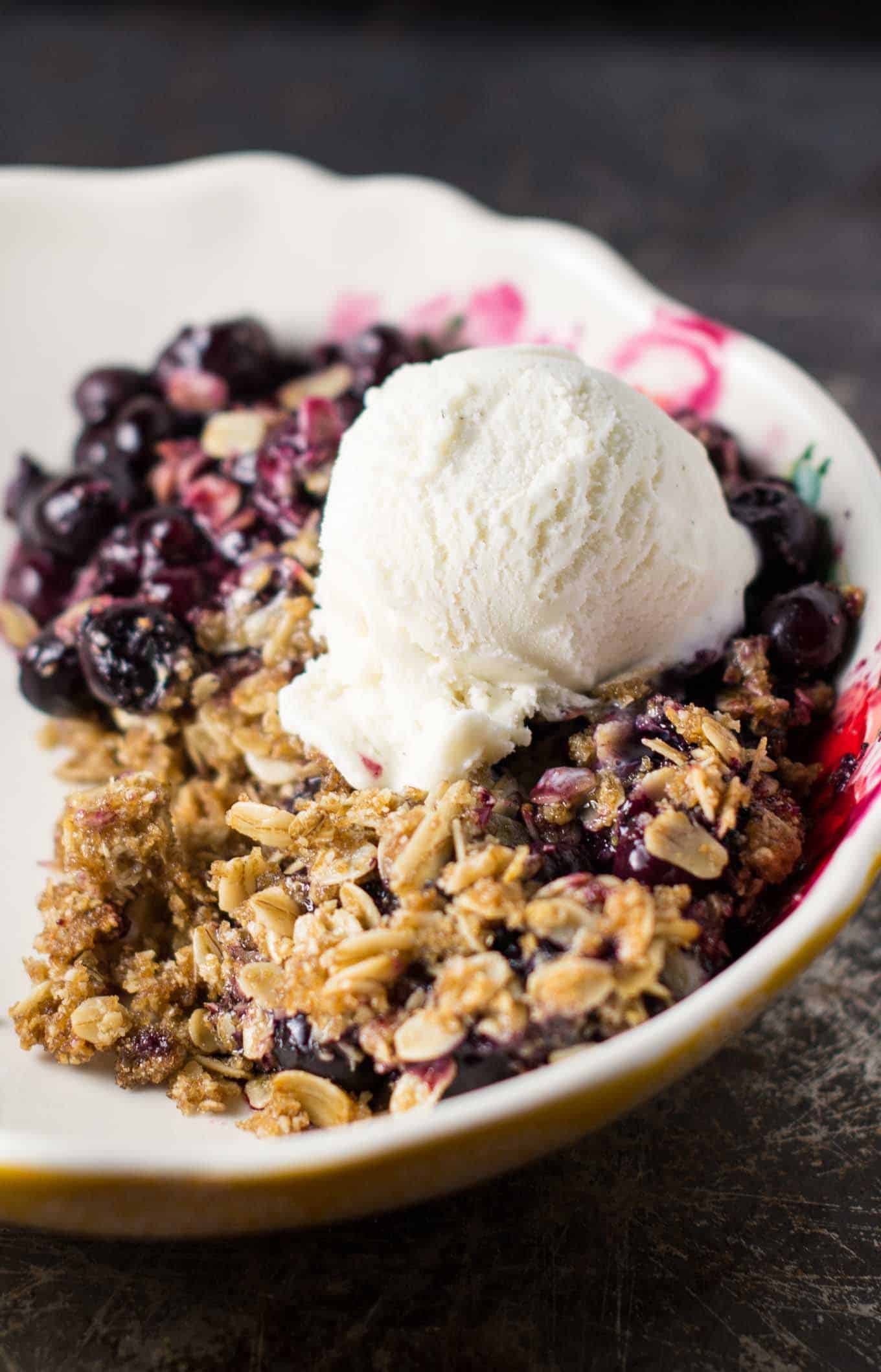 Juicy, sweet, healthy-ish, and perfect with a cool scoop of ice cream. Now that's what I'm talking about!
Check out these vegan dessert recipes!
Here you'll find tons of my favorite vegan desserts!
Click HERE to pin this recipe!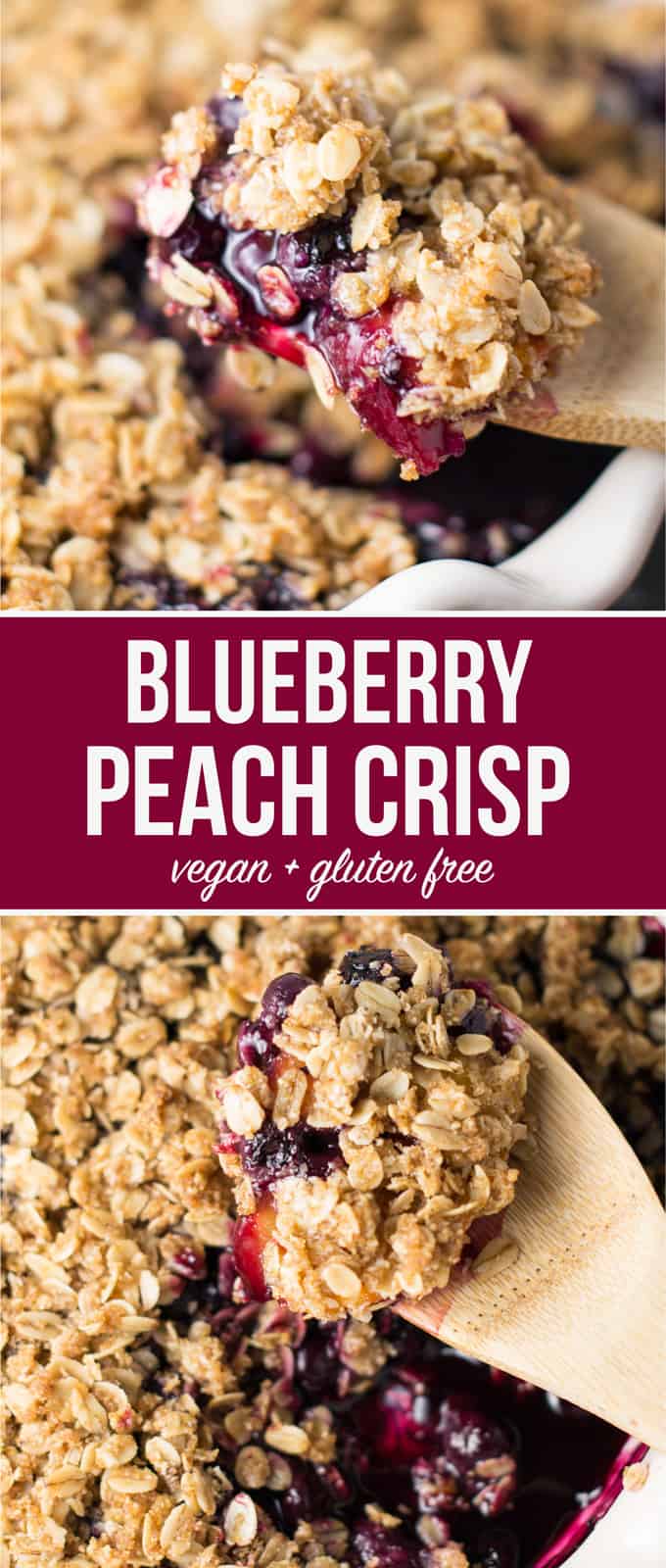 Are you making this recipe? I want to see! Be sure to tag me on instagram @buildyourbite and hashtag #buildyourbite.
Be sure to follow me on FACEBOOK, PINTEREST & INSTAGRAM to never miss a recipe!
Yield: 8 servings
Vegan Blueberry Peach Crisp
Easy gluten free blueberry peach crisp recipe

Prep Time 15 minutes

Cook Time 55 minutes

Total Time 1 hour 10 minutes
Ingredients
For the Crisp
2 cups frozen peaches
4 cups frozen blueberries
1/4 cup sugar
2 tablespoons corn starch
1/4 teaspoon salt
1/2 teaspoon cinnamon
For the Topping
3/4 cup brown sugar
1/2 cup gluten free oat flour
3/4 cup gluten free rolled oats
1/4 teaspoon salt
2 tablespoons coconut oil, melted
1/4 cup vegan butter, melted
Instructions
In a large bowl, mix together all ingredients for the crisp. You may need to let the berries thaw for 5-10 minutes and stir until the remaining ingredients stick to the fruit
In a separate bowl, make the crisp topping
Mix together all ingredients until it resembles wet sand
Pour crisp ingredients into a pie dish
Sprinkle topping evenly over the top
Bake at 350 degrees for 50-60 minutes, or until bubbling and the top starts to brown
Allow to rest for 10-15 minutes
Serve with ice cream
Notes
The crisp topping is best served right away. Leftovers will not be quite as "crispy", but still delicious.
Nutrition Information:
Yield:
8
Serving Size:
1
Amount Per Serving:Calories: 288 Total Fat: 11g Saturated Fat: 7g Trans Fat: 0g Unsaturated Fat: 3g Cholesterol: 15mg Sodium: 185mg Carbohydrates: 48g Fiber: 4g Sugar: 33g Protein: 3g


Did you make this recipe? Be sure to leave a star rating below!