This Cranberry Blueberry Crisp recipe is packed full of flavor and ready for the oven in less than 15 minutes!
Gluten free and vegan, and a delicious holiday treat that everyone will love!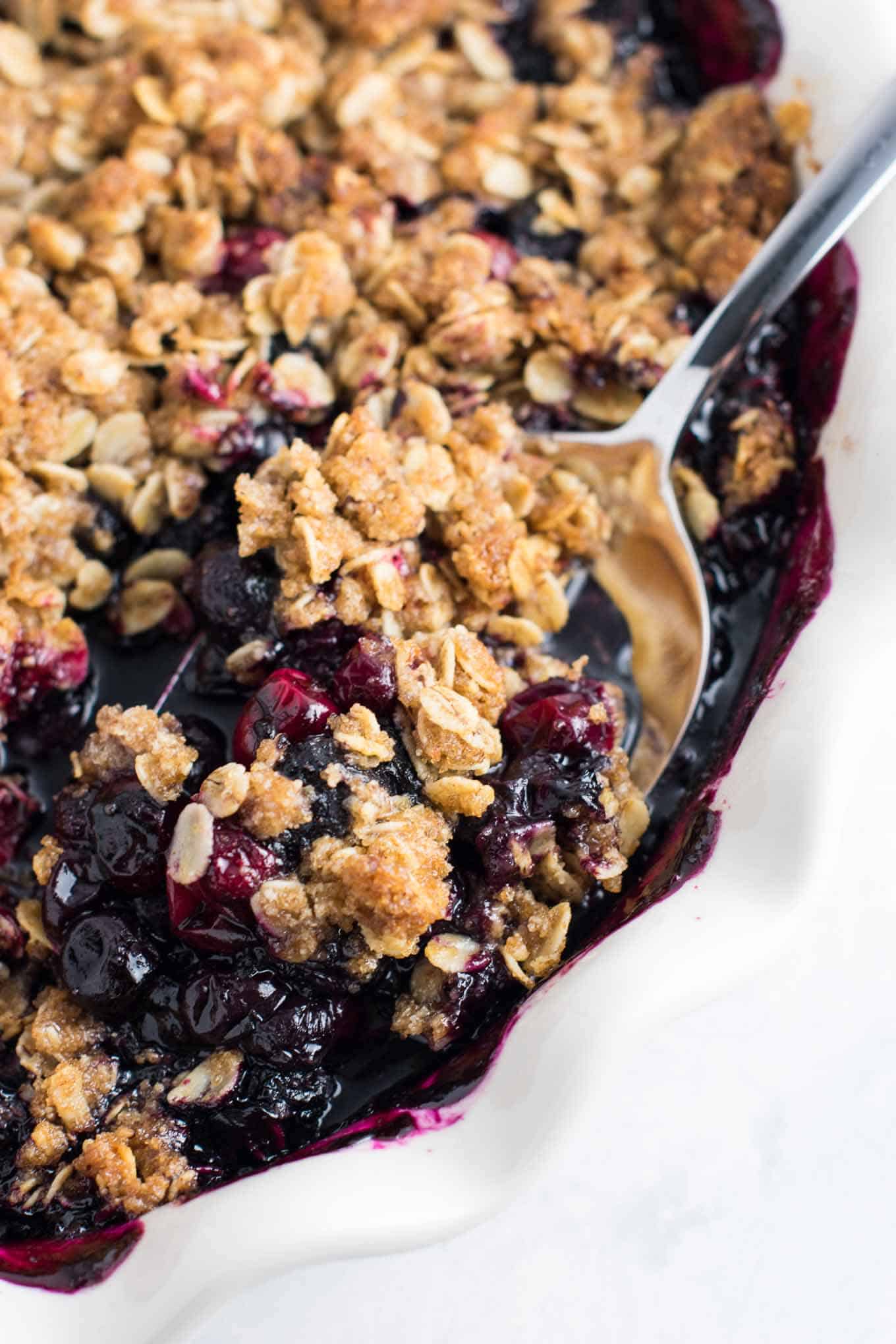 It's November which (of many things) means Cranberry season!
I discovered last year that I am a huge cranberry lover.
I almost never ate cranberries growing up, and now I am making up for it!
They are one of my absolute favorite parts of the holidays.
Favorite cranberry recipes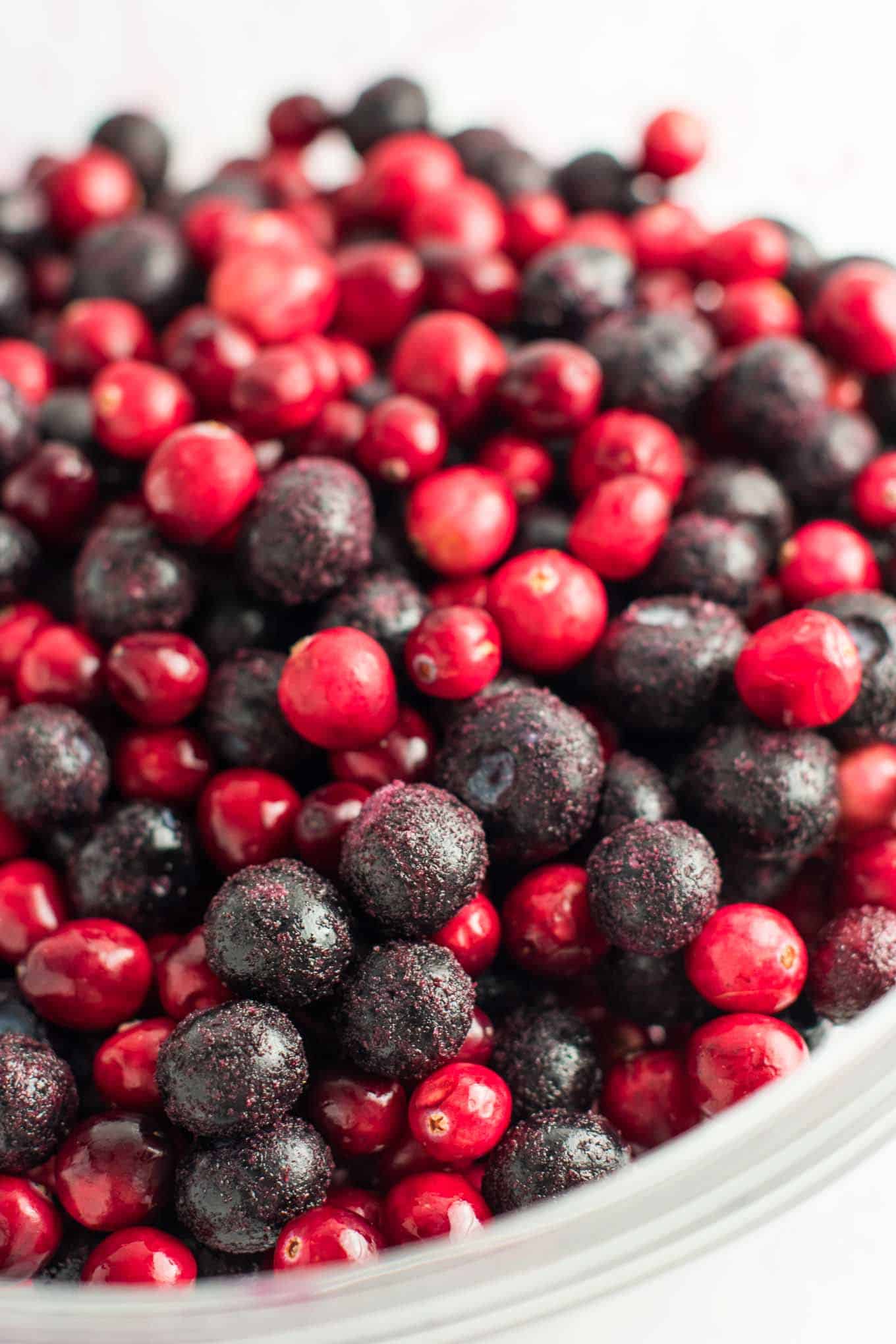 This cranberry blueberry crisp is my new fave November dessert.
It's full of juicy flavor and the prep work is a breeze (ready to bake in less than 15 minutes!)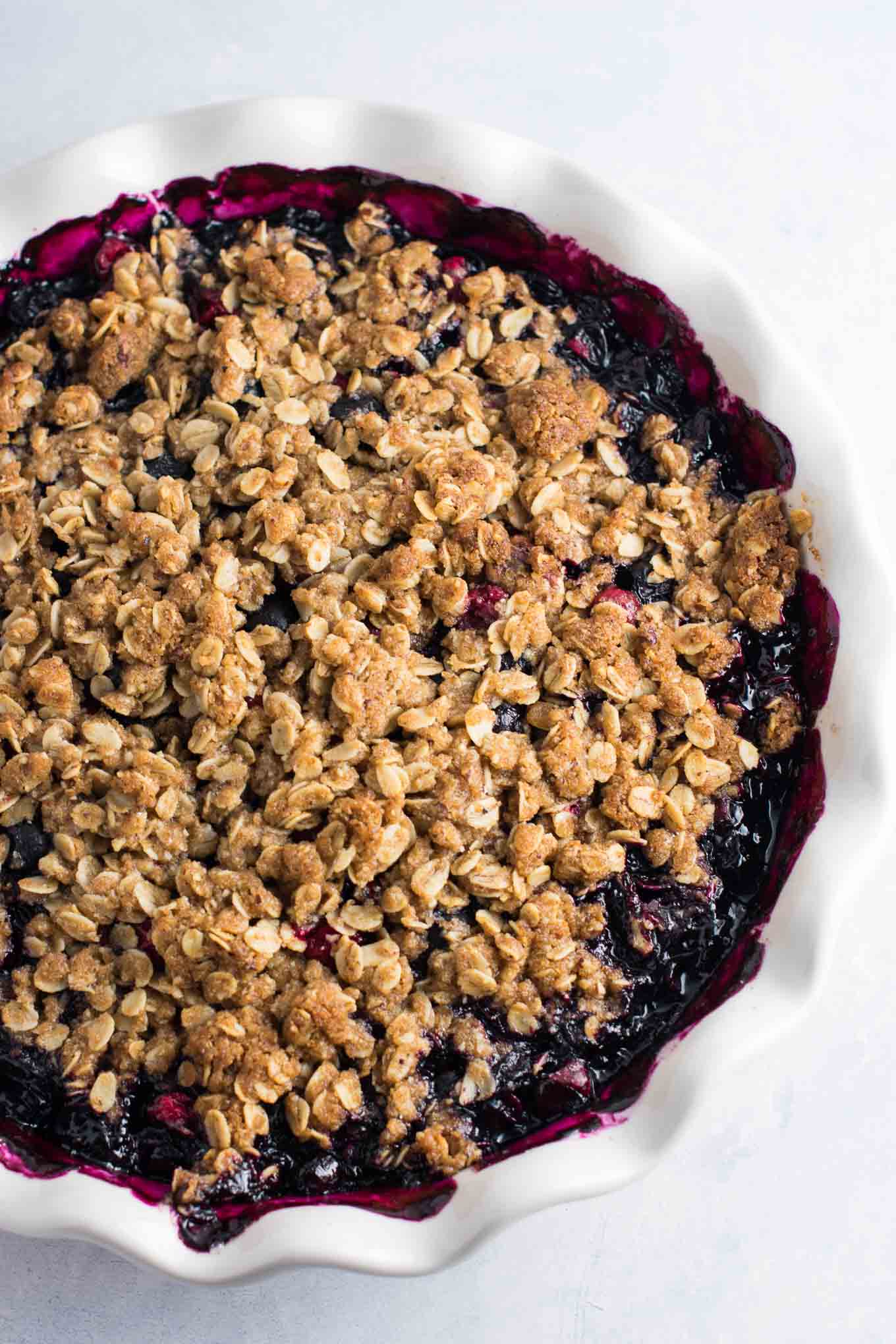 My husband is a huge fan of my apple crisp recipe but one bite of this and he couldn't stop saying how much he loved it.
I never knew a crisp could replace apple, but he said this one was his favorite ever.
You KNOW it's good.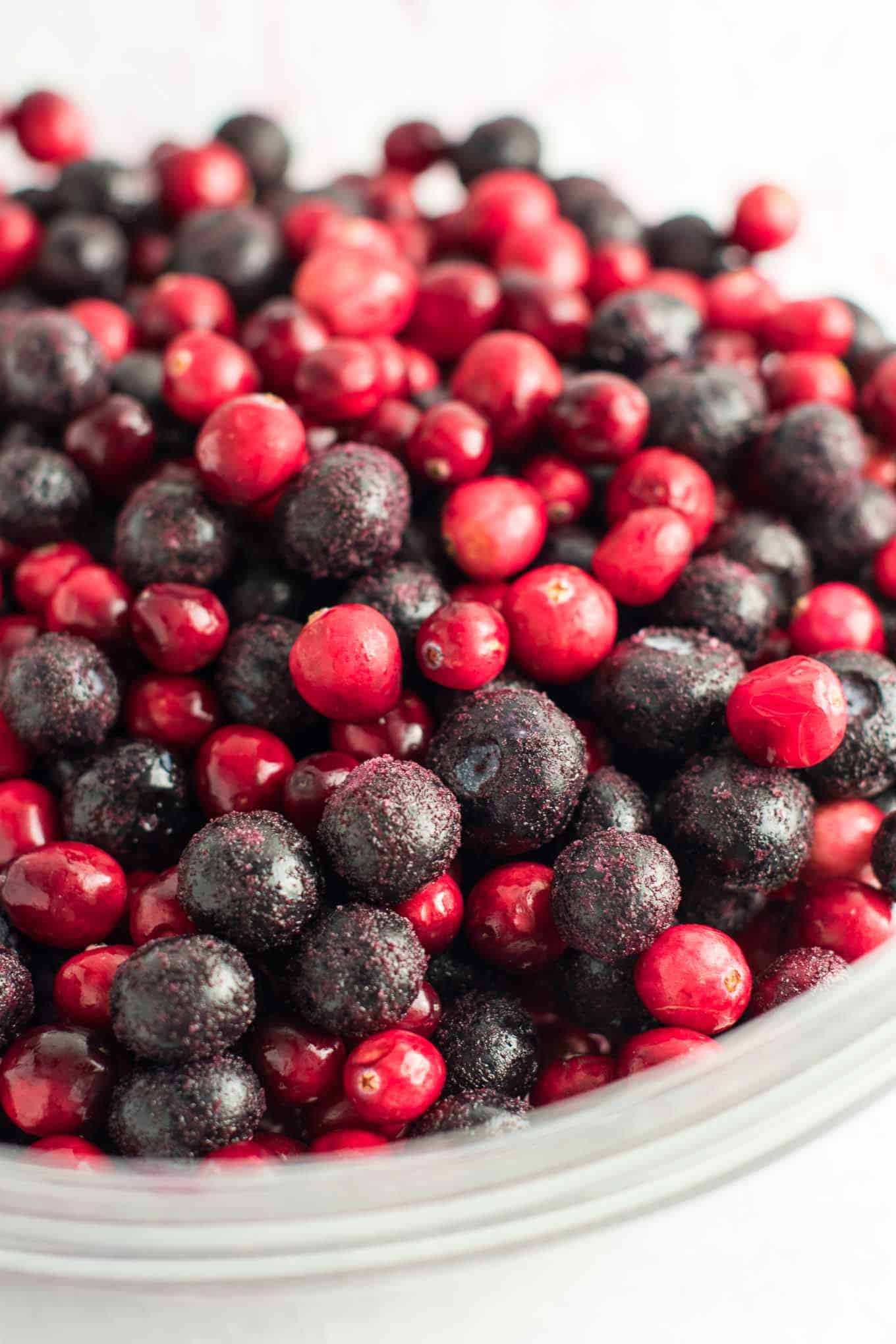 Fresh cranberries add so much flavor to this crisp and every bite is sweet with bursts of juicy cranberries.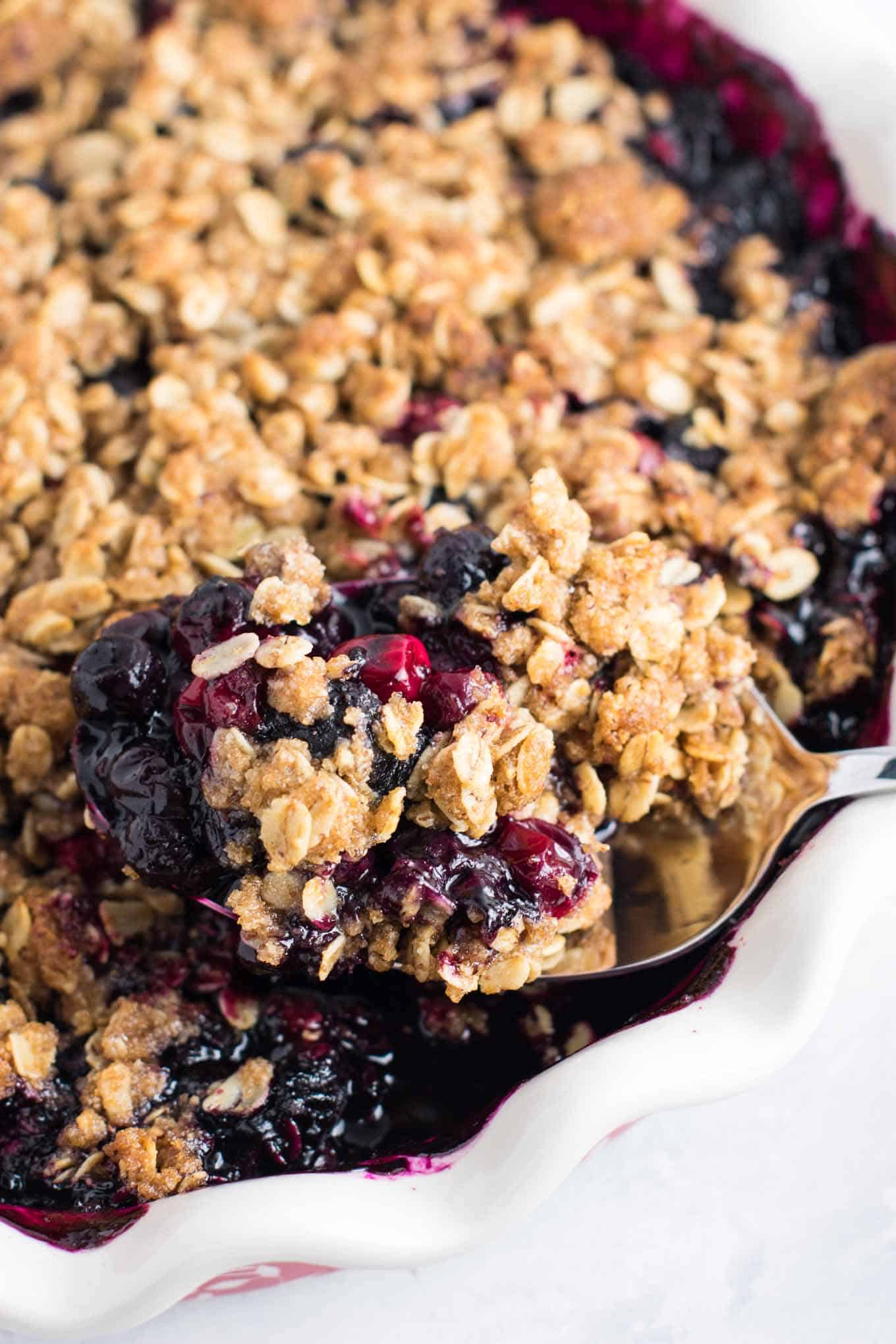 Does that not look dreamy?
I had two bowls yesterday and already craving more!
I also made this for a family Thanksgiving event and everyone was raving about it.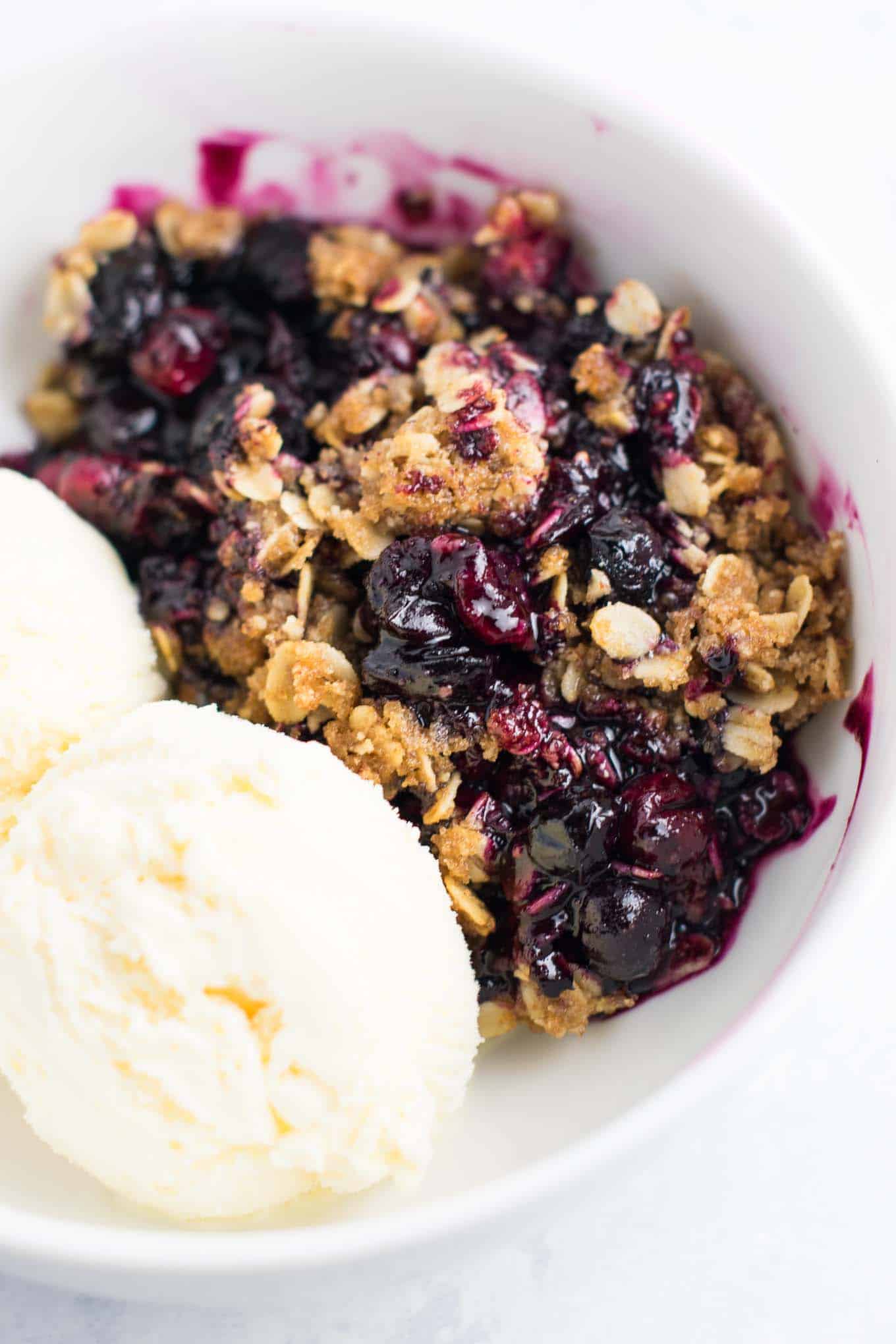 No crisp is complete without a scoop of creamy vanilla ice cream on the side.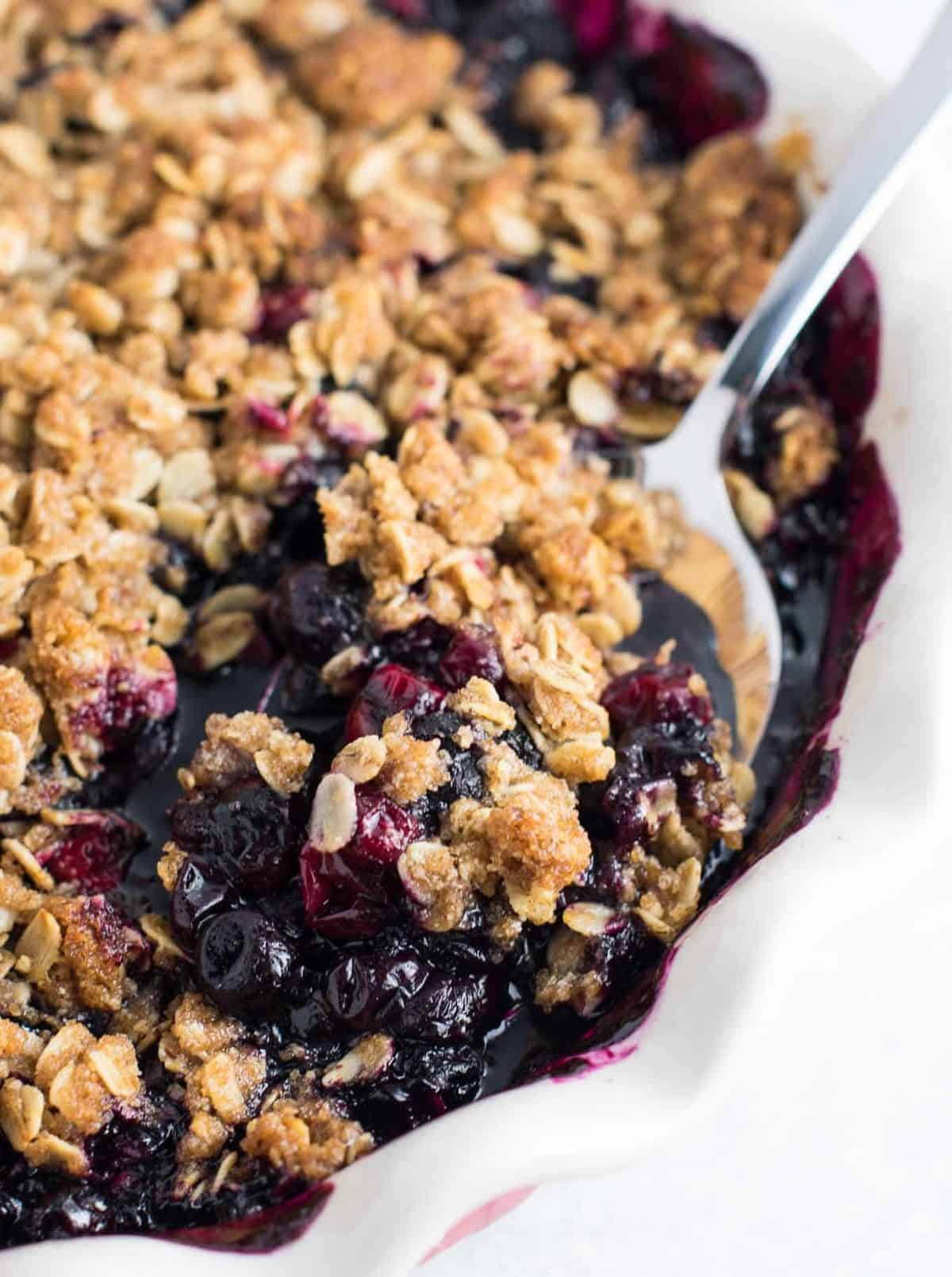 Bonus points for this recipe: it's naturally vegan + gluten free.
Say whhattt?
You would never guess it and your gluten free friends and family will love you for this recipe.
I used frozen blueberries for convenience so all you have to do is pour and stir.
I like baking my crisp recipes in a pie pan.
I've found that it fits the recipe perfectly up to the top without bubbling over.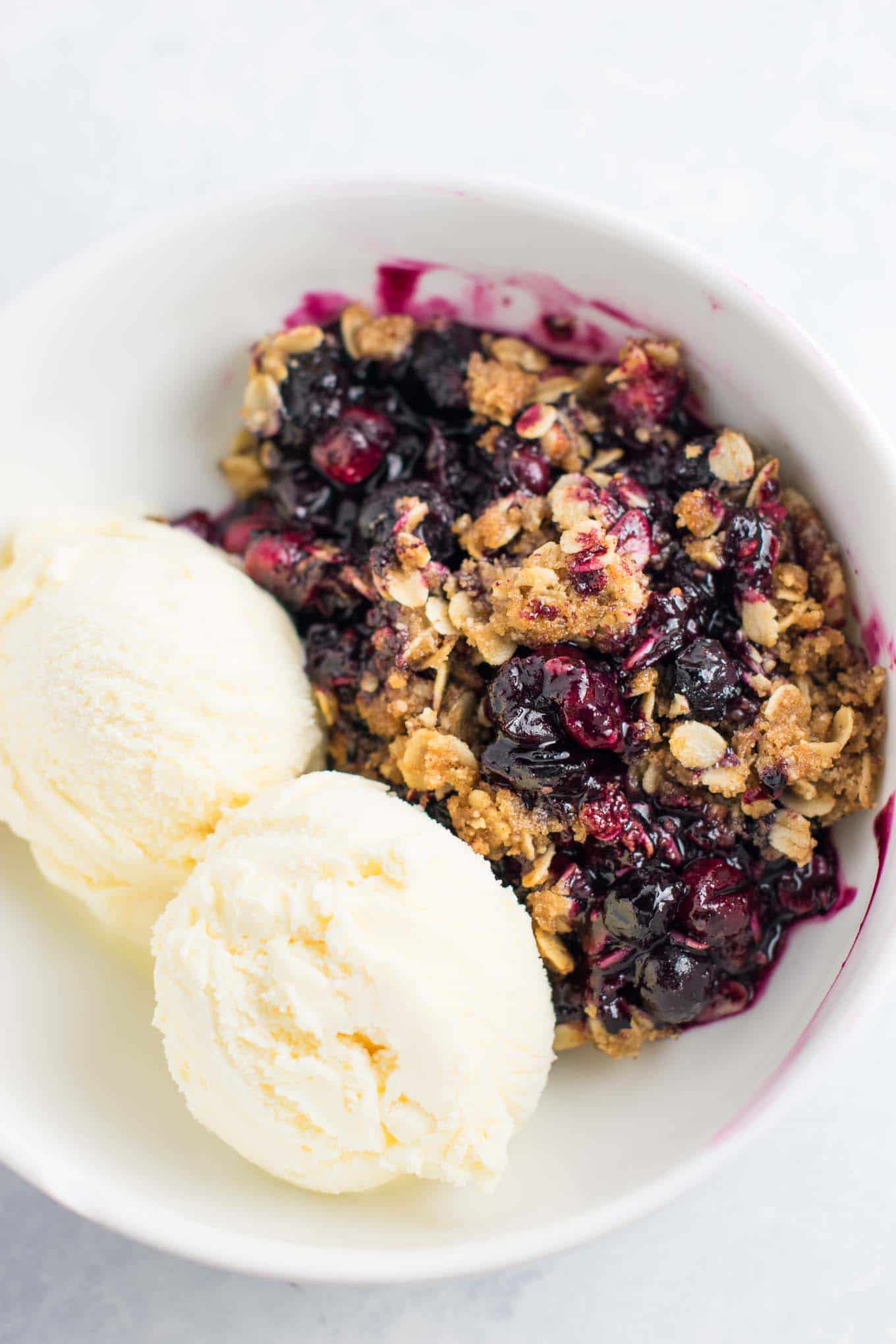 Plus it's super cute for serving!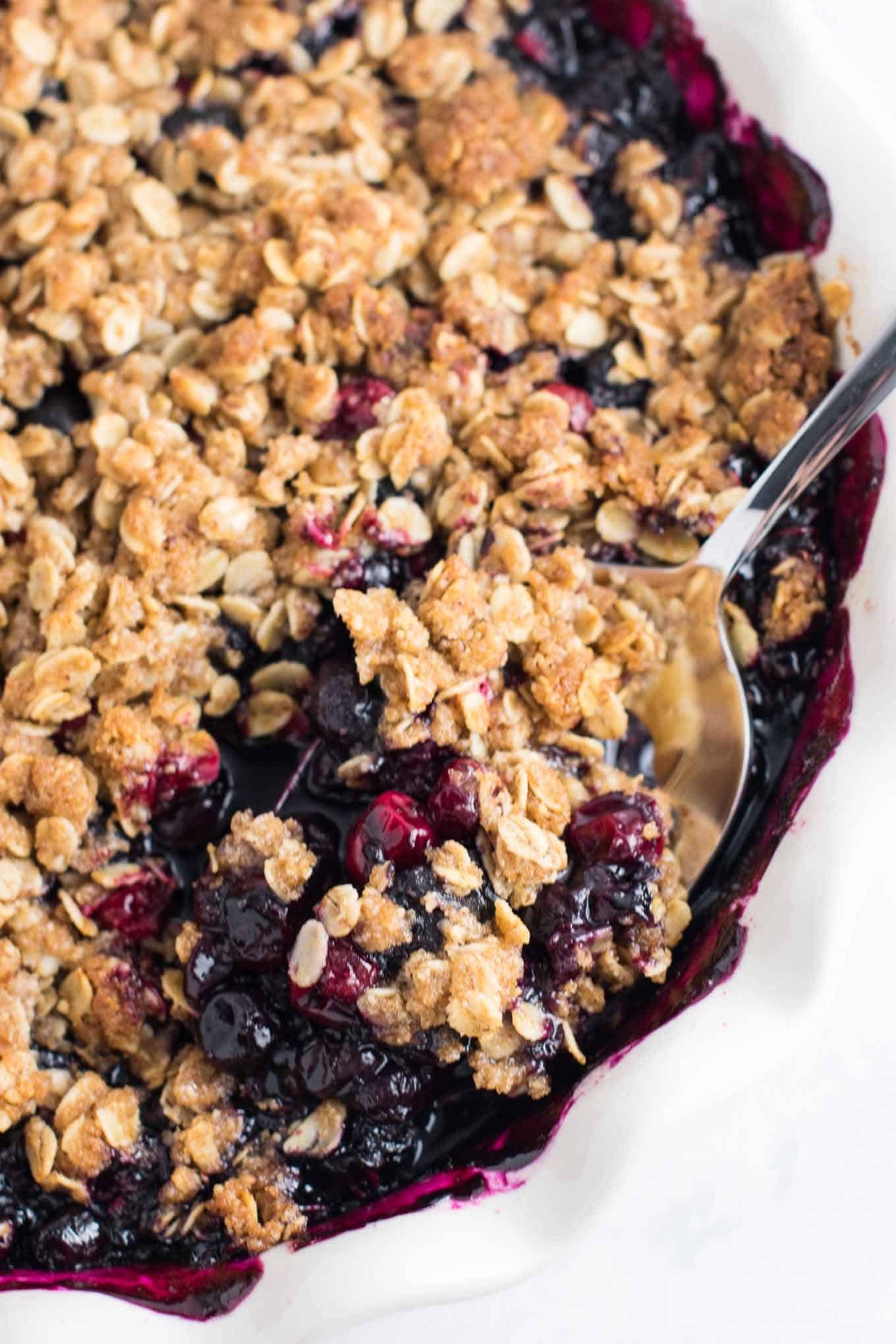 This is seriously such a beautiful dessert.
Impress your family with this at Thanksgiving!
It was one of our favorite vegetarian thanksgiving recipes last year.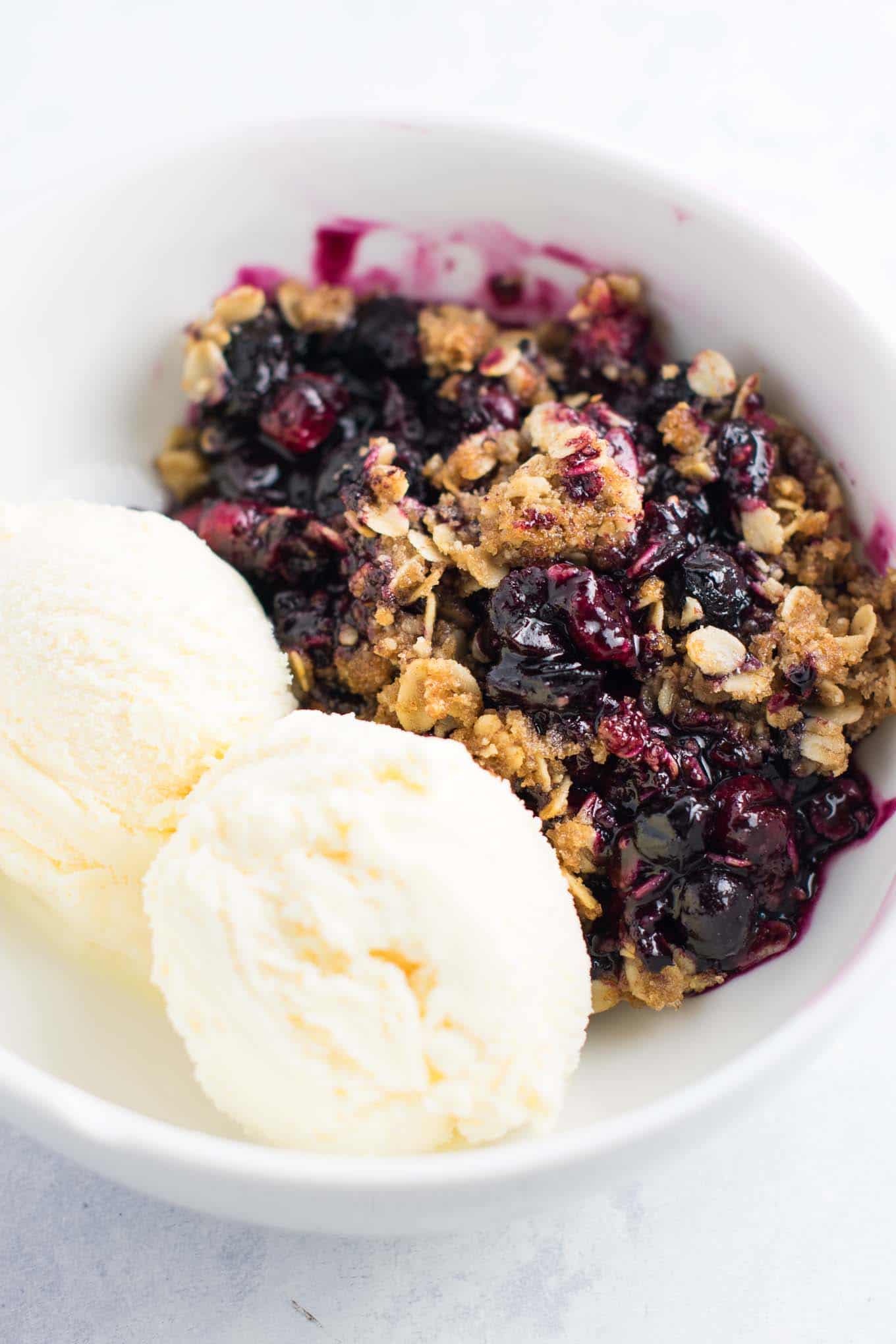 The whole recipe can be prepped in less than 15 minutes but looks like you spent way more time than that.
Bake for 50-60 minutes and serve once bubbly and crispy on top.
We LOVE this one and can't get enough.
Let me know what you think in the comments!
Looking for more cranberry recipes?
Try these: Cranberry Sauce, Cranberry Cream Cheese Muffins, White Chocolate Cranberry Eggnog Bread.
Did you make this recipe? I want to see! Don't forget to tag us on instagram @buildyourbite and hashtag #buildyourbite with your recipe photos!
Be sure to follow Build Your Bite for all the latest delicious vegan and vegetarian recipes!
Click HERE to pin this recipe for later!
Did you make this recipe? Be sure to leave a star rating below!
Cranberry Blueberry Crisp Recipe:
Cranberry Blueberry Crisp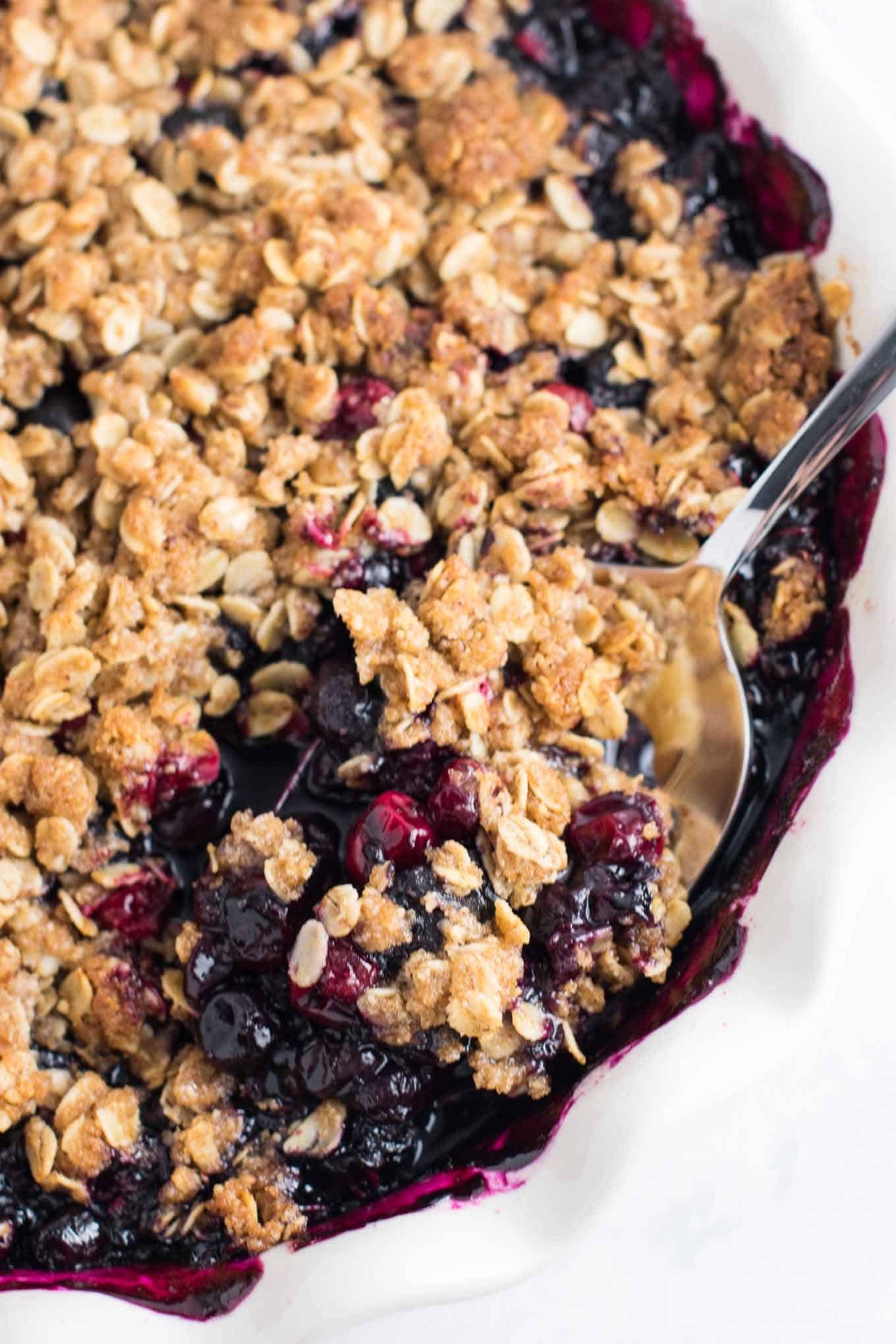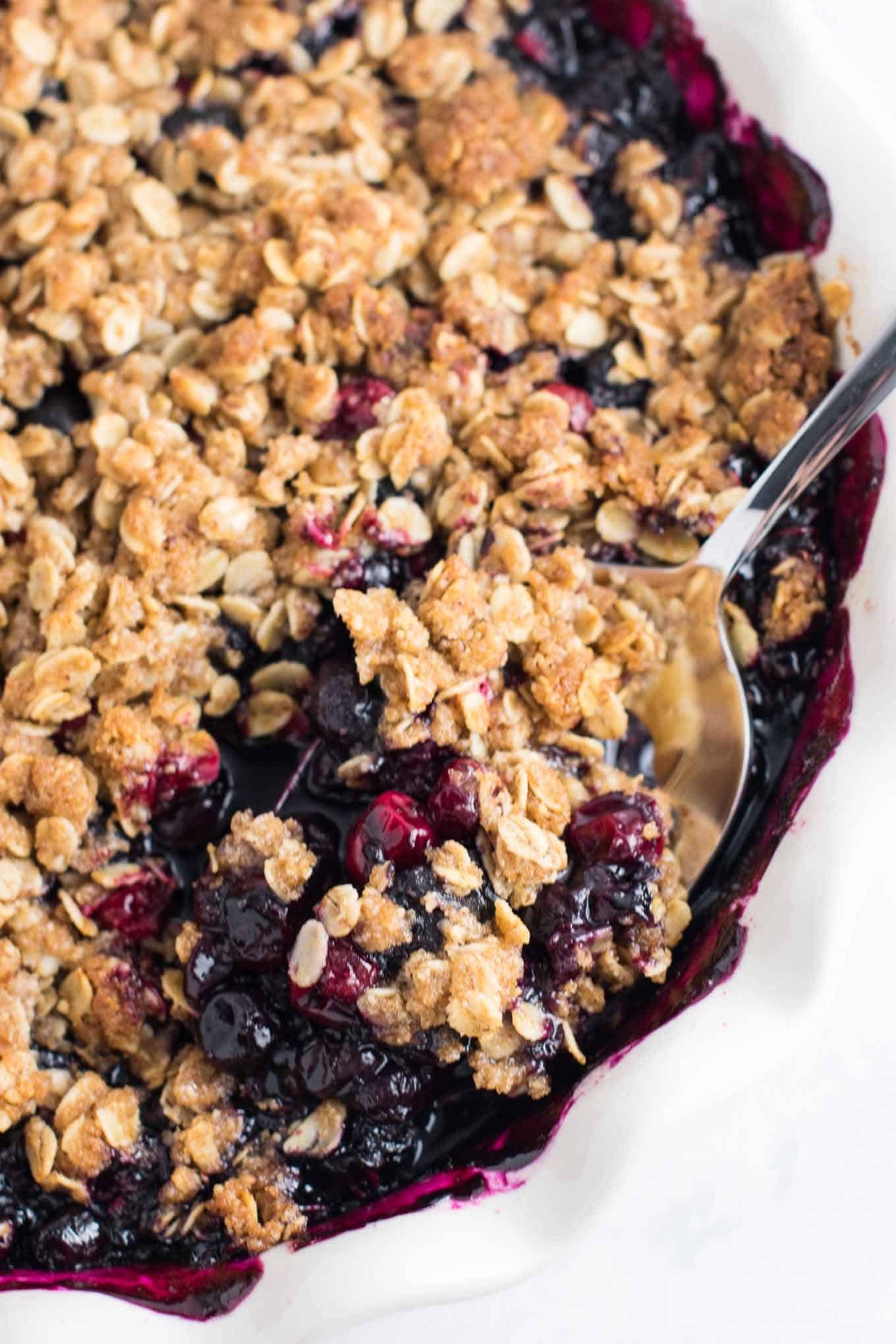 Ingredients
For the Filling
2 1/2 cups fresh cranberries
4 cups frozen blueberries
1/3 cup sugar
2 tablespoons cornstarch
1/4 teaspoon salt
1/4 teaspoon cinnamon
For the Crisp Topping
3/4 cup brown sugar
1/2 cup pecan crumbs
1/4 cup oat flour
3/4 cup rolled oats
1/4 teaspoon salt
3 tablespoons coconut oil, melted
1/4 cup vegan butter, melted
Directions
Add all ingredients for filling to a large bowl and stir to combine
Stir several times over the course of 5-10 minutes, or until sugar and cornstarch stick to the fruit
Add all ingredients for crisp topping to a bowl and use a spoon to combine. The mixture should resemble wet sand
Use a dish of choice and pour in the filling (I used a 9" pie pan)
Add crisp topping evenly over the fruit mixture
Bake at 350 degrees for 50-60 minutes, or until bubbly and crisp is browned
Serve hot with ice cream of choice
Recipe Notes
To make pecan crumbs, place whole pecans in a blender and blend until it resembles a flour texture. Around 1/2 cup whole pecans will make ~1/2 cup flour for the recipe
Loading nutrition data...