The best vegan apple crisp you'll ever eat! This easy apple crisp recipe comes together in just 15 minutes and is sure to impress.
Vegan apple crisp has become one of our most treasured fall favorite desserts.
We make it every year, and even our non vegan or vegetarian family members request this recipe!
This apple crisp is sure to please your family, and it comes together in just minutes.
No need to spend tons of times slicing those apples.
There are three things that you need to know about me before I start talking about the amazingness that is this best vegan apple crisp.
(1) I typically am not big on apples or apple flavored desserts
(2) apple crisp has never been high on my list of favorite desserts
(3) this vegan apple crisp absolutely blew me away and is now HIGH on my list of easy knock-your-socks-off desserts!
Vegan Apple Crisp Reviews
You don't just need to take my word for it though!
Scroll down to the bottom of this post if you want to read all of the stellar reviews coming in on this crisp from readers who have tried it.
My very picky 17 year old vegan daughter made this recipe for us and it's the best dessert we've ever tasted! Thanks for sharing! – Keri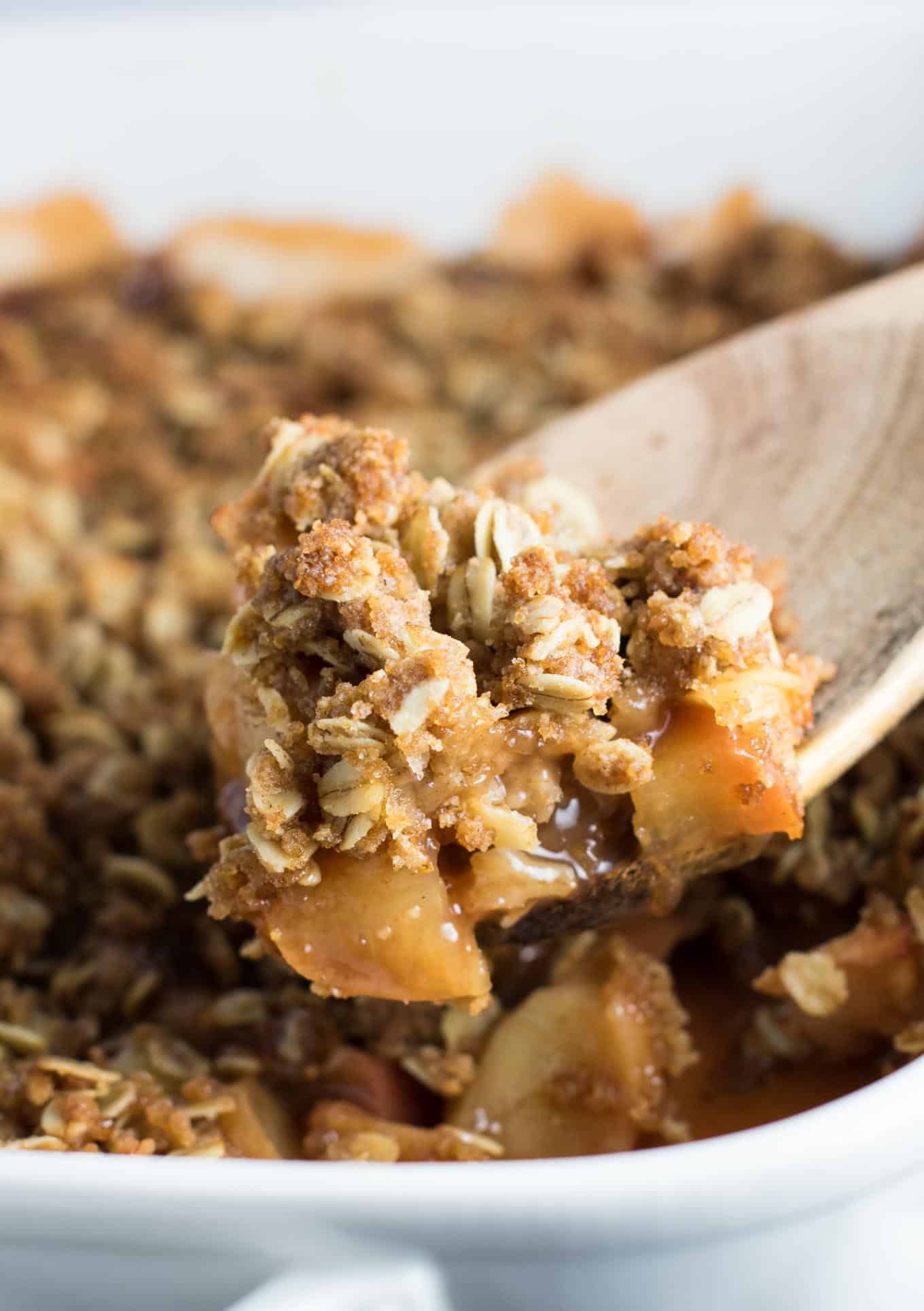 My husband always goes on and on about how he would love for me to make him apple pie, apple crisp, or something along those lines.
The poor man was married to me for a year and a half before I finally decided to make something apple related for dessert.
This apple crisp has officially changed my mind on apple flavored and fruit desserts in general!
I gave my husband the first bite and he declared it one of the best things he had ever eaten.
I took a bite and was surprised when I agreed with him!
I normally am not crazy for fruity desserts, but OH MAN did this vegan apple crumble change my mind.
This recipe inspired me to go on and create more fruit crisp recipes, and they are now favorites in our house.


How to make vegan apple crisp
Many apple crumble recipes suggest thinly slicing the apples before cooking.
I considered this for about 3.2 seconds before realizing that 1) I am too lazy for that and 2) it will taste just as good with diced apples.
I was right!
No need to peel or slice, just chop and you're good to go.
Easy desserts > difficult desserts any day.
No need to sacrifice time or flavor in this recipe!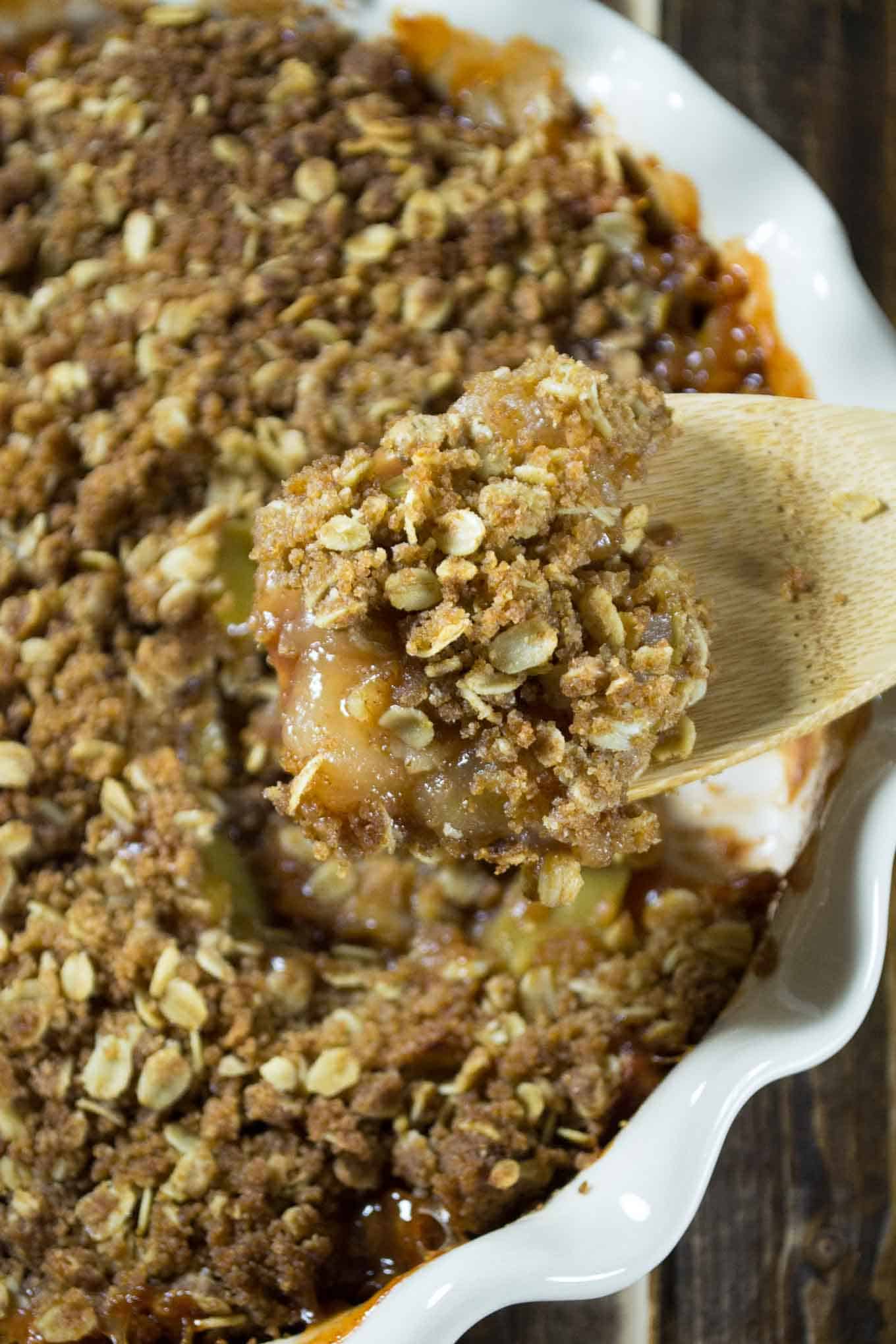 The apples become bubbly and delicious and the crumble on top gets a little crisp on it towards the end.
And that crisp topping.
So crunchy and the perfect complement to the melt in your mouth apples.
My friend made this recipe for me she is vegan I am not, and I think we ate the whole thing that same night!! BEST THING I HAVE EVER EATEN!! Mouth is watering thinking about it! I'm going to try making it soon because I NEED MORE!! – Jenessa

I ate a huge bowl of this with bites of vanilla ice cream.
Vanilla ice cream is optional, but highly recommended.
There's nothing like a big bowl of melt in your mouth fruit crisp with bites of cool and creamy vanilla ice cream!
I'm currently trying to convince myself that 2 p.m. is not an acceptable time for more apple crisp.
I can't wait to have leftovers tonight for dessert!
I was surprised at how quickly I was able to throw this together!
It only took me around 15-20 minutes to get this all ready for the oven.
Really such a simple dessert that looks like you spent a lot of time on it.
This will definitely be going on my list of favorite quick and easy desserts!
Best. Dessert. Ever. Used local Honey crisp apples which were perfect. I put some Trader Joe's a Vanilla soy ice cream on top. My only complaint is that it is completely addicting. Thanks for the recipe! – Laura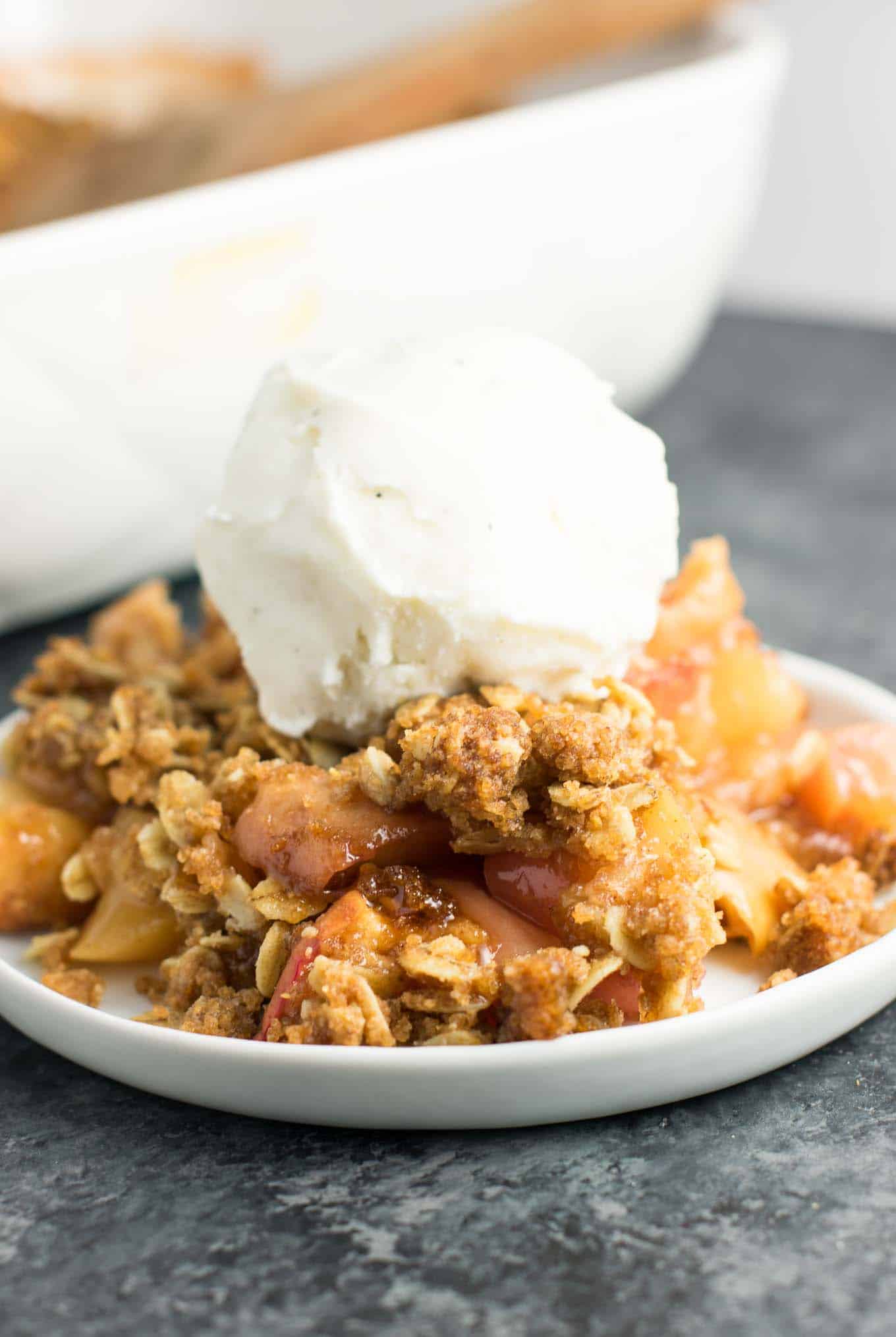 This truly is the BEST VEGAN APPLE CRISP ever! It is caramelized to a perfection which will have your tastebuds dancing! – Kameron

This recipe has restored my faith in the Internet. There is no better place to put your freshly-picked Honeycrisp apples than here. I was never into oats as a dessert ingredient, but this is a real game-changer, and *very* easy to assemble – Laura
I have baked this apple crisp in a 9″ pie pan and also in a small casserole dish.
Whatever small casserole dish you have will work!
If you are concerned about the size, just watch the crisp carefully towards the end of cook time to make sure it does not burn.
More vegan crisp recipes
Are you making this recipe? I want to see! Don't forget to tag me on instagram @buildyourbite and hashtag #buildyourbite with your recipe creations!
Be sure to pin this recipe for later and follow Build Your Bite on Pinterest for all the latest delicious recipes!
Best apple crisp I've ever had!! Friends and family all loved it! Simple ingredients and easy to follow instructions.. thank you! – Tatum
Did you make this recipe? Don't forget to leave a star rating below!
Vegan Apple Crisp Recipe
Yield: 8 servings
Best Vegan Apple Crisp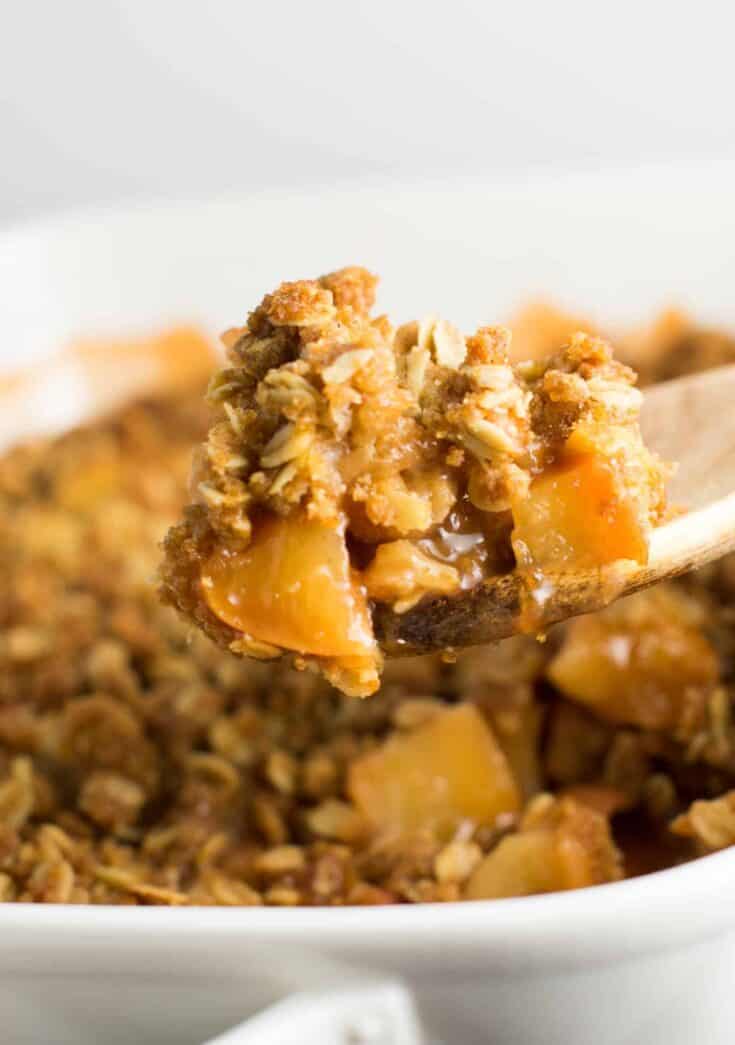 The best vegan apple crisp recipe you'll ever eat! So easy to assemble and everyone goes crazy for it!
Total Time
1 hour
15 minutes
Ingredients
For the filling:
6 medium apples, diced into chunks (about 6 1/2 cups worth)
5 teaspoons lemon juice
1/4 cup sugar
1/4 cup brown sugar
3/4 teaspoon cinnamon
1/4 teaspoon sea salt
2 tablespoons corn starch
For the Topping:
3/4 cup brown sugar
1/2 cup whole wheat flour
3/4 cup rolled oats
1/4 teaspoon sea salt
2 tablespoon coconut oil, melted
1/3 cup vegan butter, melted
Instructions
Cut apples into chunks and place in a large bowl
Add remaining filling ingredients to bowl (lemon juice, sugar, cinnamon, sea salt, and corn starch) and toss with the apples until well combined
In a separate bowl, combine all ingredients for the topping. Melt the coconut oil and vegan butter before adding to the mixture. The topping should resemble wet sand once mixed well
Pour apple mixture into a pan (I used a 9" pie dish)
Cover evenly with the topping
Bake at 350 for 55-60 minutes, or until the apples are bubbly and the top starts to brown
Allow to cool/rest for 15-20 minutes before serving
Serve alone or with (vegan) ice cream to keep it vegan!
Nutrition Information:
Yield:
8
Serving Size:
1
Amount Per Serving:
Calories:

321
Total Fat:

12g
Saturated Fat:

8g
Trans Fat:

0g
Unsaturated Fat:

3g
Cholesterol:

20mg
Sodium:

201mg
Carbohydrates:

55g
Fiber:

4g
Sugar:

38g
Protein:

2g