A collection of 15 easy vegan desserts.
But you don't have to be vegan to enjoy these delicious vegan dessert recipes!
Whether you're vegan, vegetarian, omnivore, we all eat desserts.
No matter your diet you will love these family favorite recipes!
All recipes in this post are dairy free and eggless.
The ultimate roundup of delicious vegan desserts!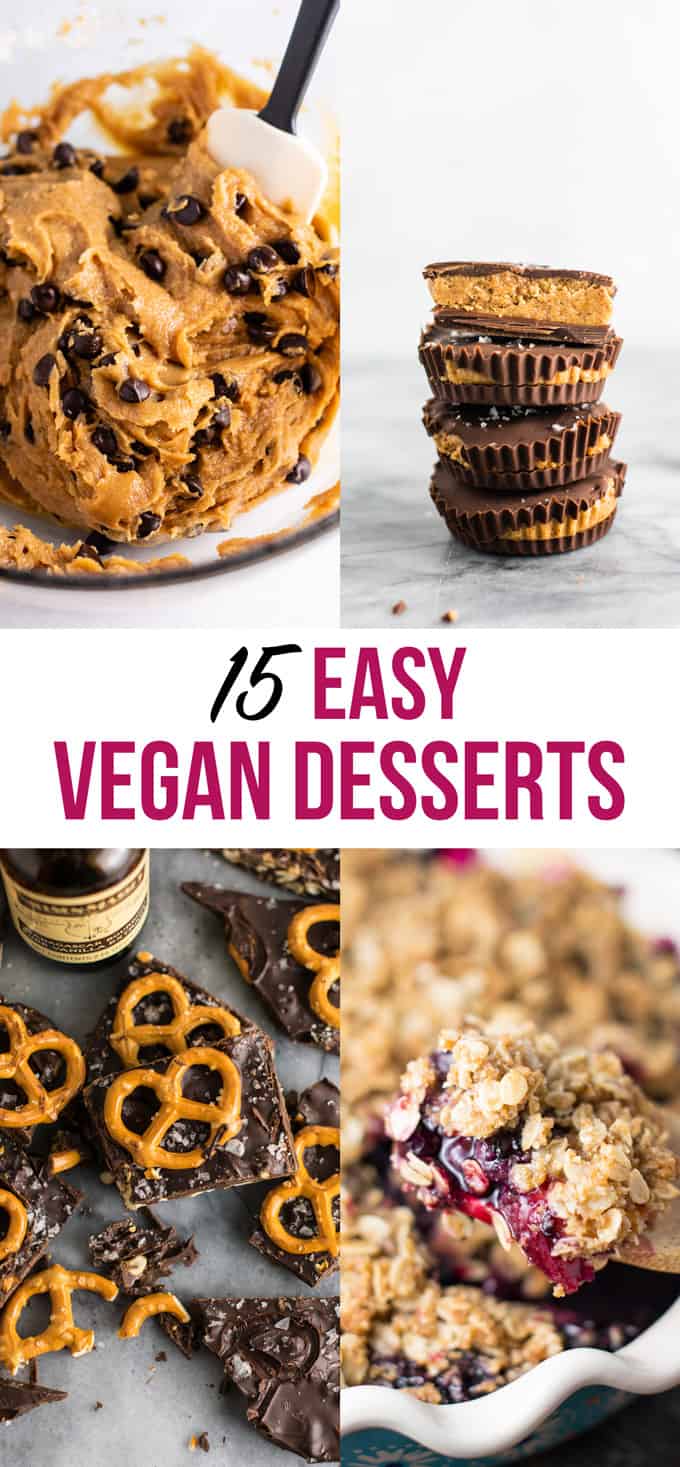 easy vegan desserts
One reader request that I have been asked is easy vegan desserts.
I created this post to roundup all of my favorite super simple vegan desserts in one place.
Here are 15 delicious and fool proof vegan dessert recipes for every occasion.
Everything from easy vegan crisp recipes to vegan peanut butter cups, truffles, christmas recipes, no bake cookies, and more!
It's easier than you think to enjoy delicious desserts that are vegan.
You can feel confident that these recipes are delicious and versatile enough to feed to any crowd, whether they are vegan or not.
my current favorite vegan desserts
My personal current favorites are chocolate sea salt pretzel bark, healthy peanut butter no bake truffles, vegan chocolate chip cookies, and vegan peanut butter cups.
It's so hard to pick a favorite when they are all so delicious!
My favorites change pretty often, and I find myself craving crisp in the summer and fall and alll the chocolate come Christmas time!
Have you tried one of my vegan dessert recipes?
Let me know which one is your favorite in the comments below!
To find the recipes, just click on the recipe title above each photo, and scroll down the post to the printable recipe card.
Save on prep time and make this easy crisp recipe with frozen blueberries and peaches!
This is one of my favorite easy recipes for dessert in a pinch.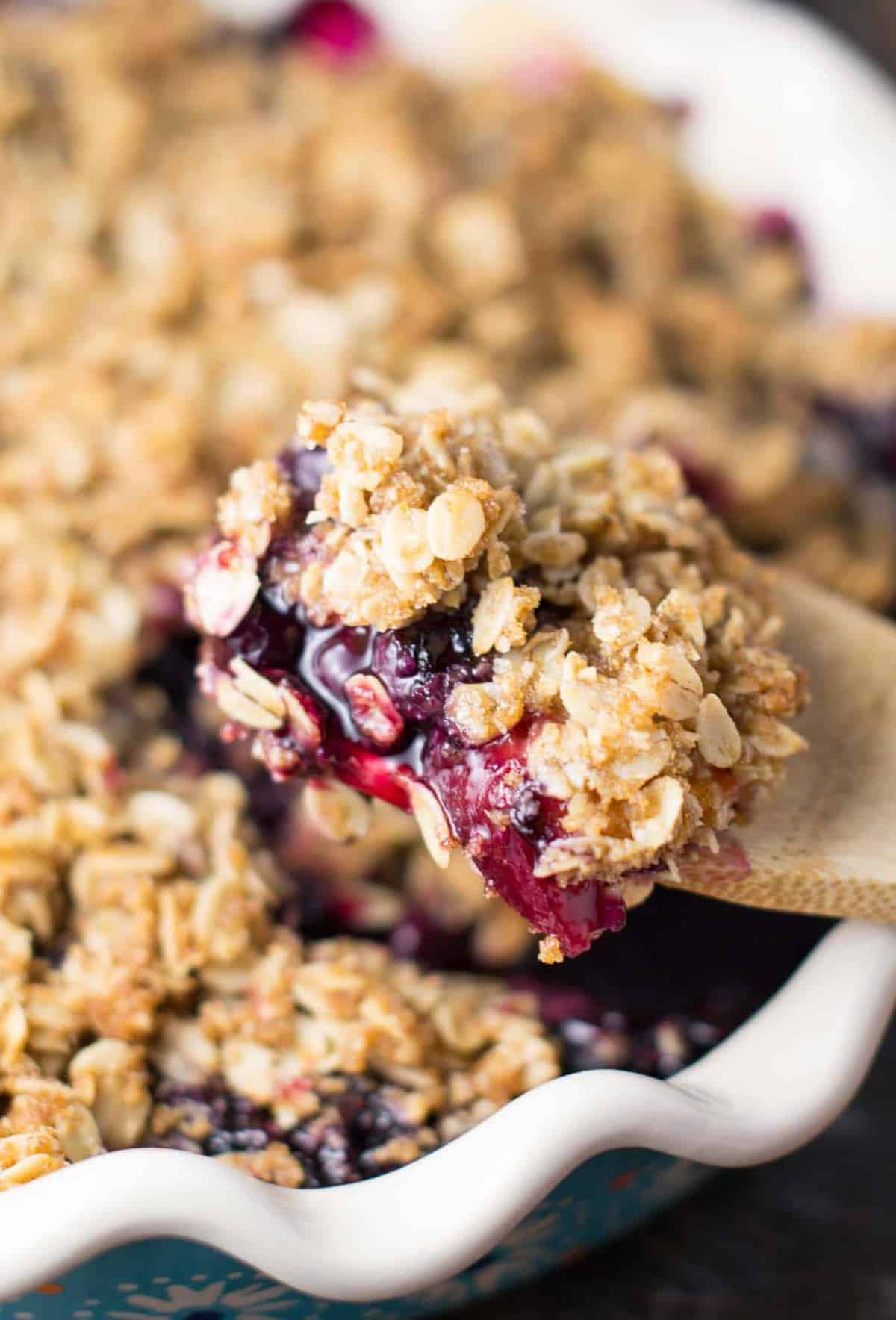 No Bake Peanut Butter Truffles
No bake super easy and delicious truffles!
They taste like a buckeye, but are naturally vegan and gluten free.
You better hide these if you want any leftovers, they will be gone in seconds!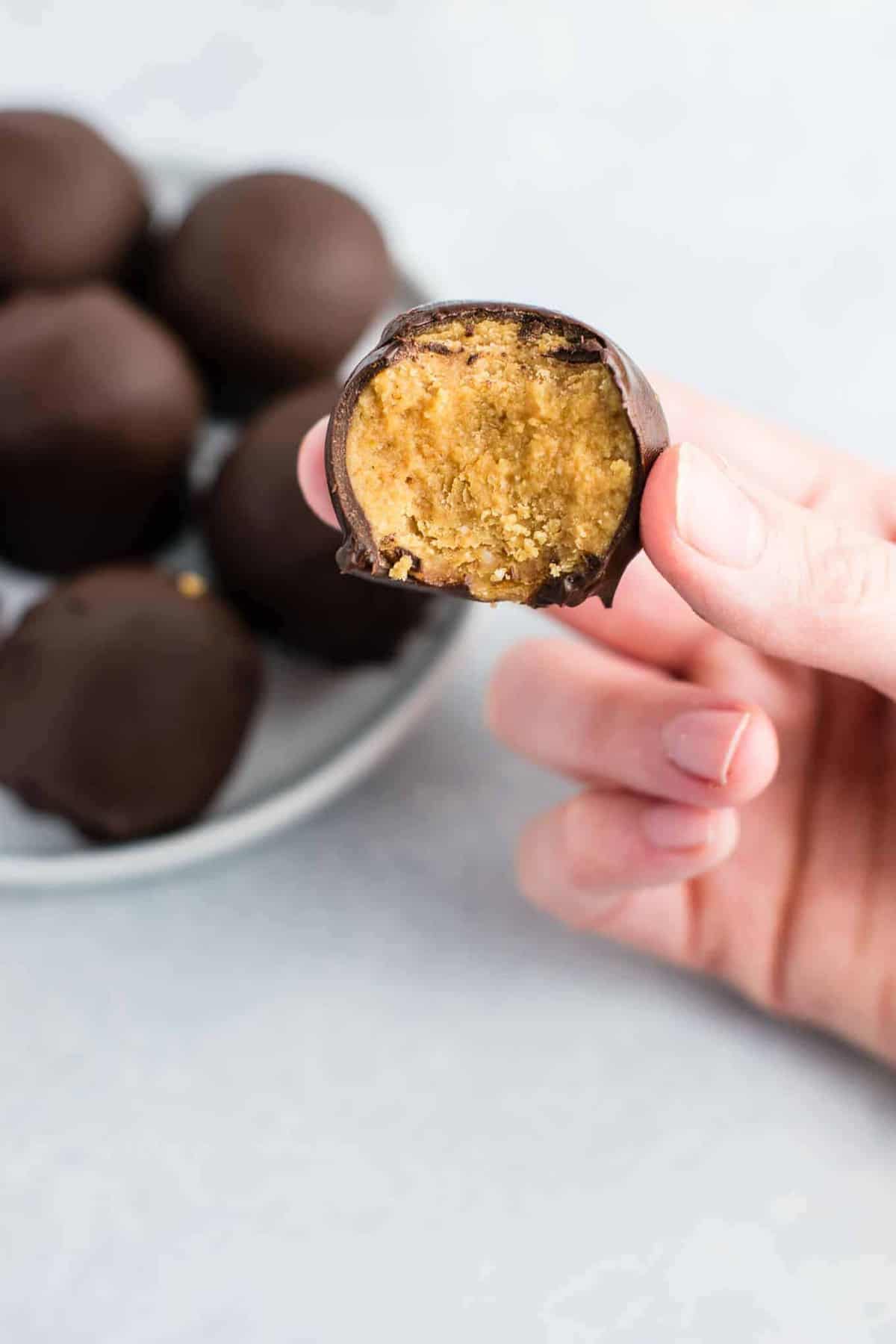 Grab a muffin tin to make these fun homemade Reese's cups!
Kids will love helping to make these and it would make a great family activity too.
Just a fair warning – y0u might want to hide yourself some because they will disappear in a hurry!
That's definitely the theme with these vegan dessert recipes.
Too good you won't want to share!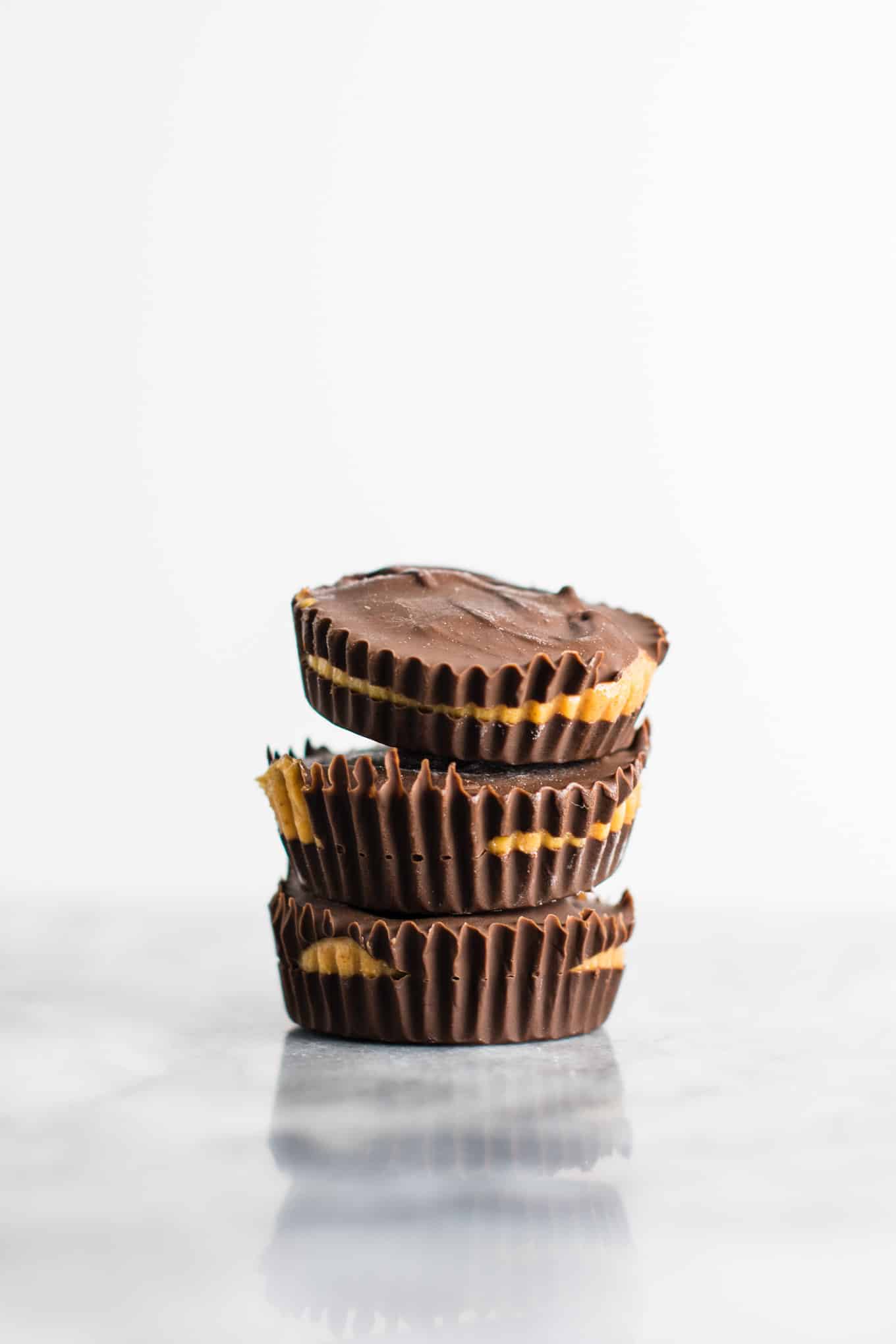 Vegan Chocolate Sea Salt Pretzel Bark
Omg I could eat this all day long every day.
It's so simple to make it's totally crazy.
Not just for Christmas, we make this year round.
Bonus: buy gluten free pretzels and this is an easily gluten free vegan dessert that everyone can enjoy!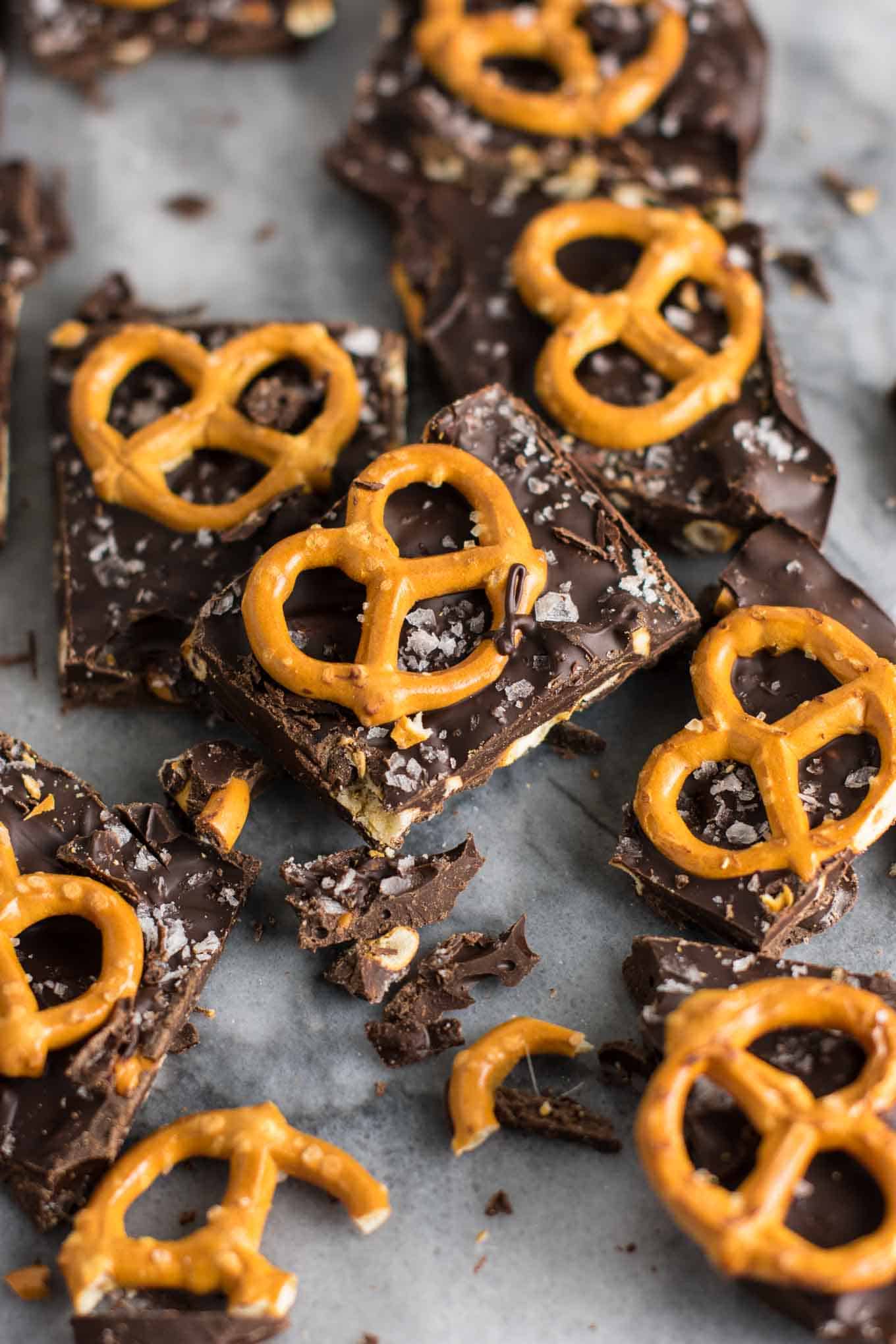 Eat the batter raw or bake it into cookies…your choice 😉
I'm always a goody two shoes, but I didn't have any guilt eating this raw eggless cookie dough.
You'd never guess these cookies are made with no dairy or eggs.
I've had non vegan readers try them and love them!
To drizzle over your favorite dairy free ice cream for a fun treat!
I don't know about you, but I loved magic shell as a kid!
So fun to watch it harden and feel like a kid again.
It only takes 3 ingredients and a couple minutes to make it at home!
Just 3 ingredients and tastes like ice cream!
Breakfast, snack, dessert, whatever you're in the mood for!
You'll love this healthy smoothie that doubles as dessert.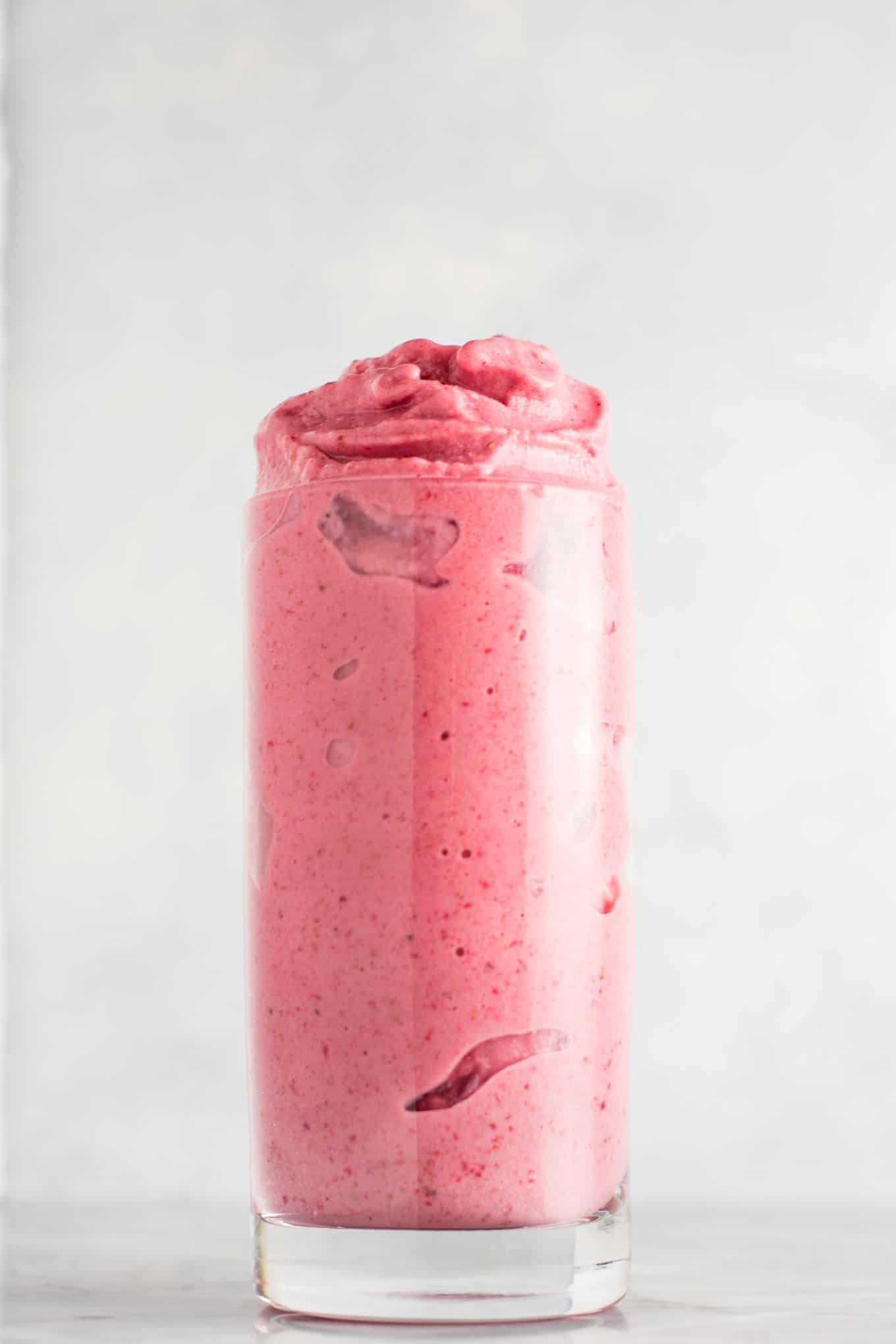 Salty sweet, no bake, and so easy to make!
They're bffs to my vegan peanut butter cups and if it's possible I love them just as much or more!
The salty sweet just lights my taste buds up!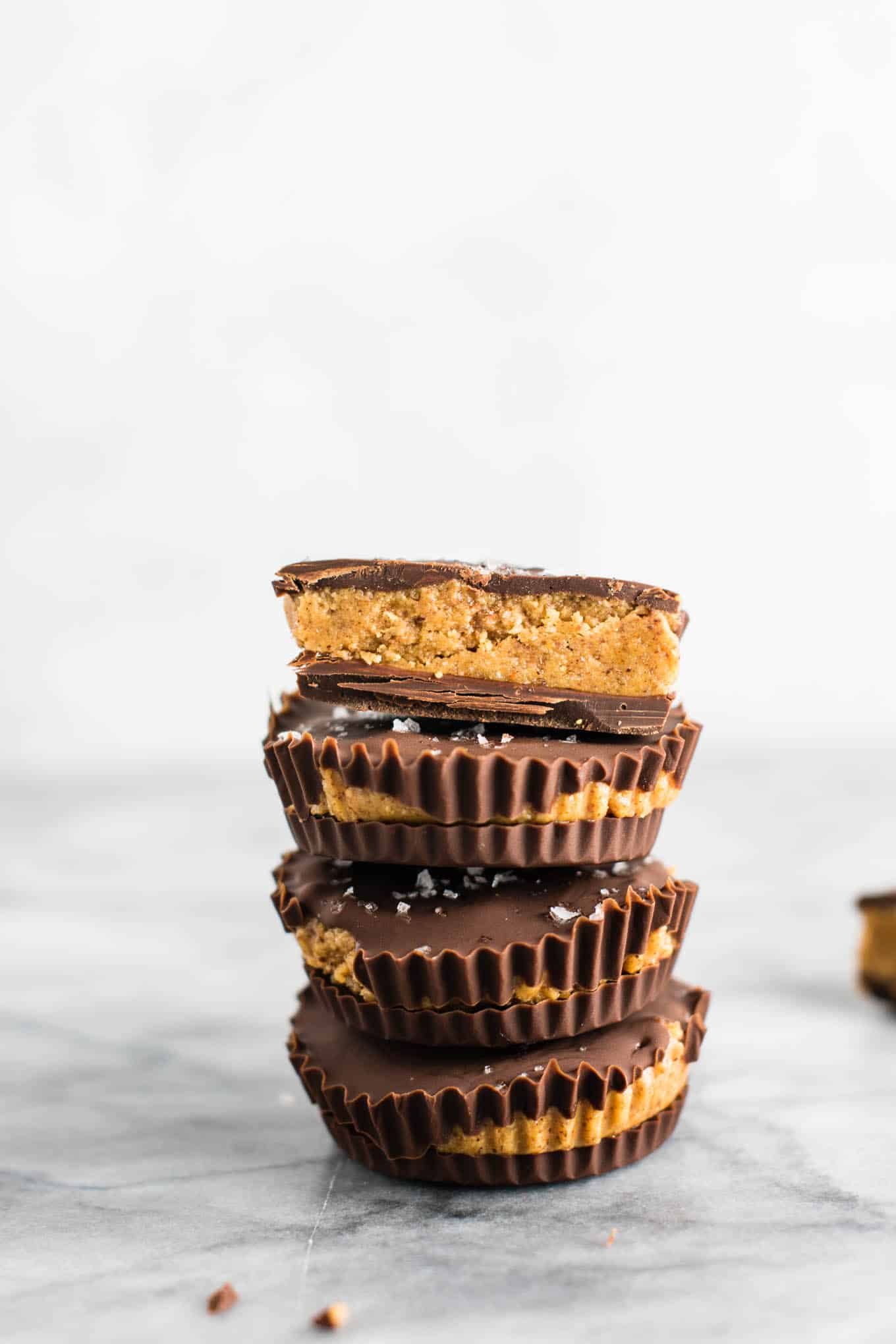 Healthy Double Chocolate Milkshake
You'll NEVER guess the secret (healthy) ingredient that makes it so creamy!
Stock up on a secret veggie to make these every night, trust me you will want to after tasting one sip!
My husband said he would drink this every single night. I totally agree with him!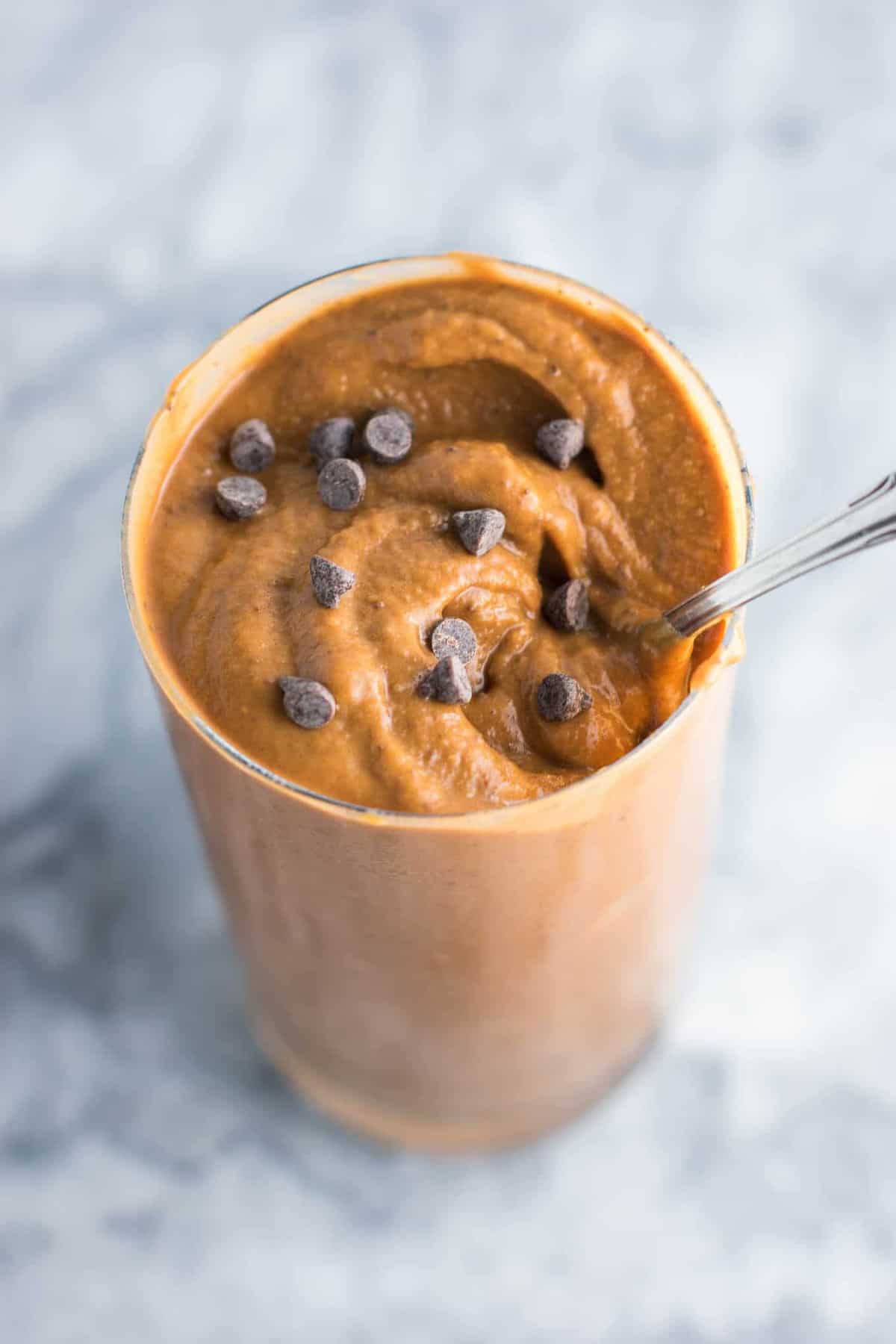 Ultimate Vegan Peanut Butter Fudge
A delicious treat to keep in your freezer! Freezer desserts are great to keep on hand when you're tempted to splurge on unhealthy sweets.
Not just for Christmas, this no bake fudge is a great healthy vegan dessert to keep in your freezer any time of year.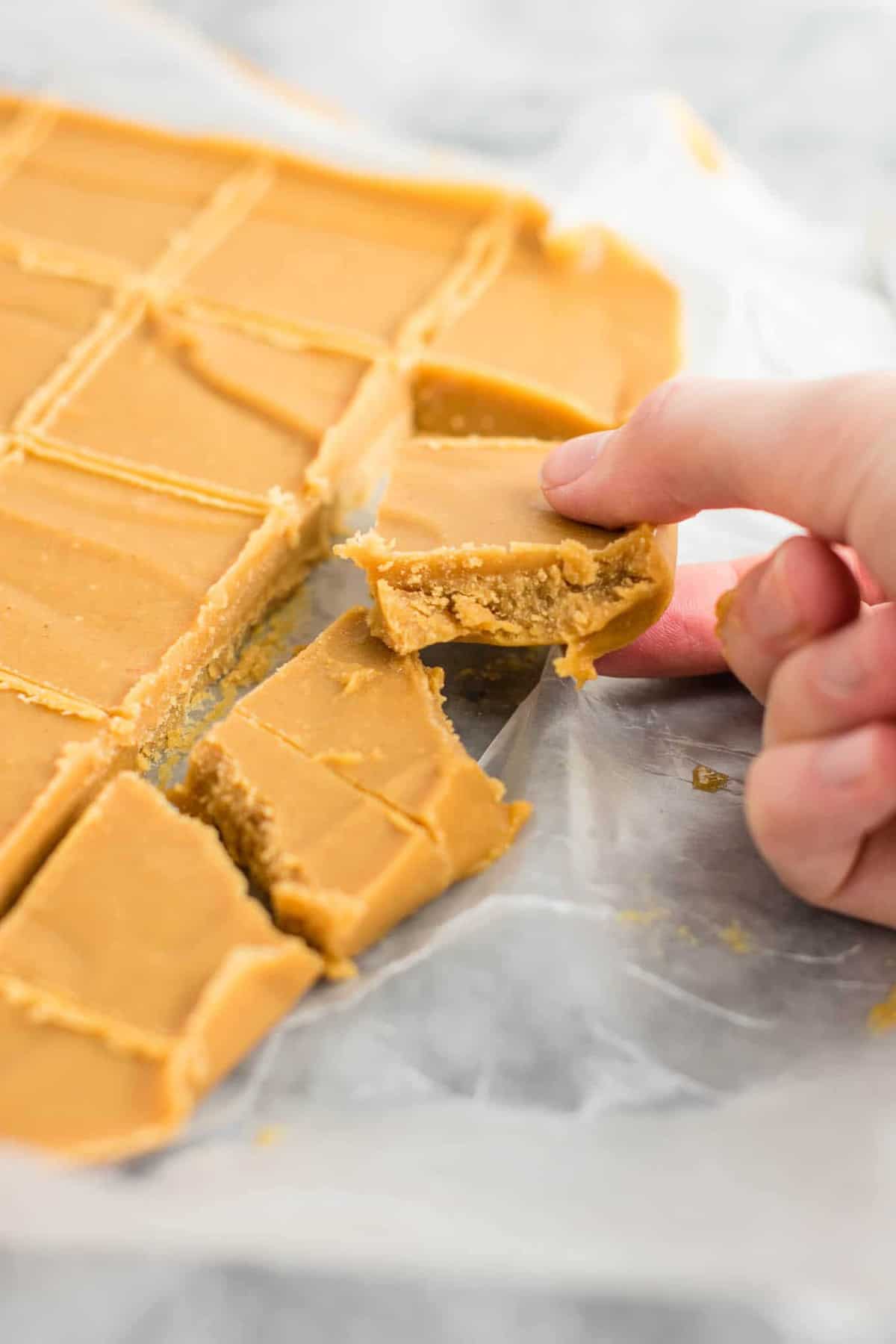 4 Ingredient Chocolate Banana Ice Cream
This one is so fun to make and takes less than 5 minutes! Another great dessert to make with kids.
Frozen bananas give it that great ice cream texture!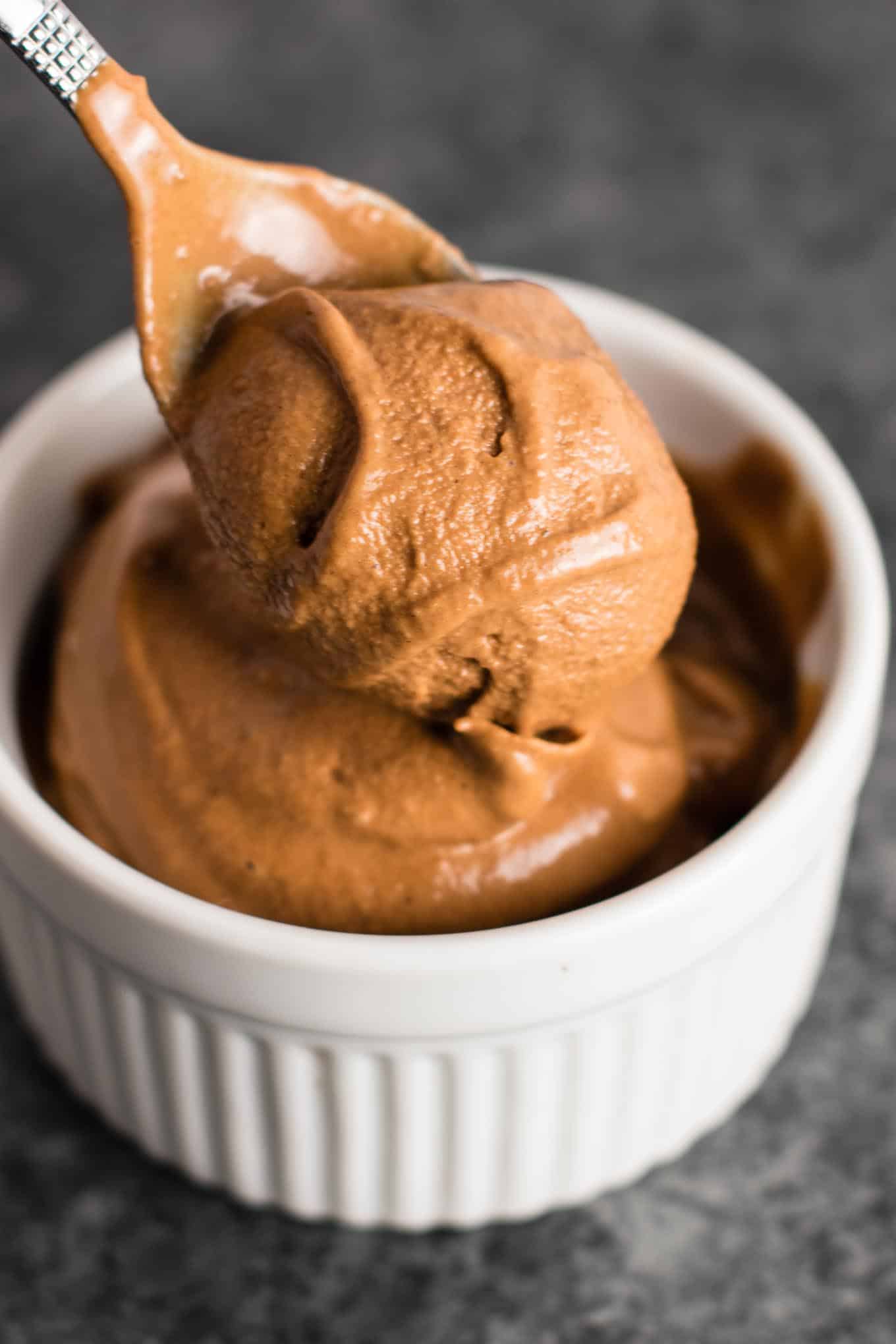 Strawberry Pineapple Freezer Pops
Once you make your own freezer pops, you'll never go back! Ridiculously easy, healthy, and so refreshing!
I've been making a variation of these popsicles all summer long and they never get old.
My husband takes them to work on long mowing days and they are so refreshing and hydrating.
Super fun and so easy to make! I can make a batch of popsicles in around 15 minutes.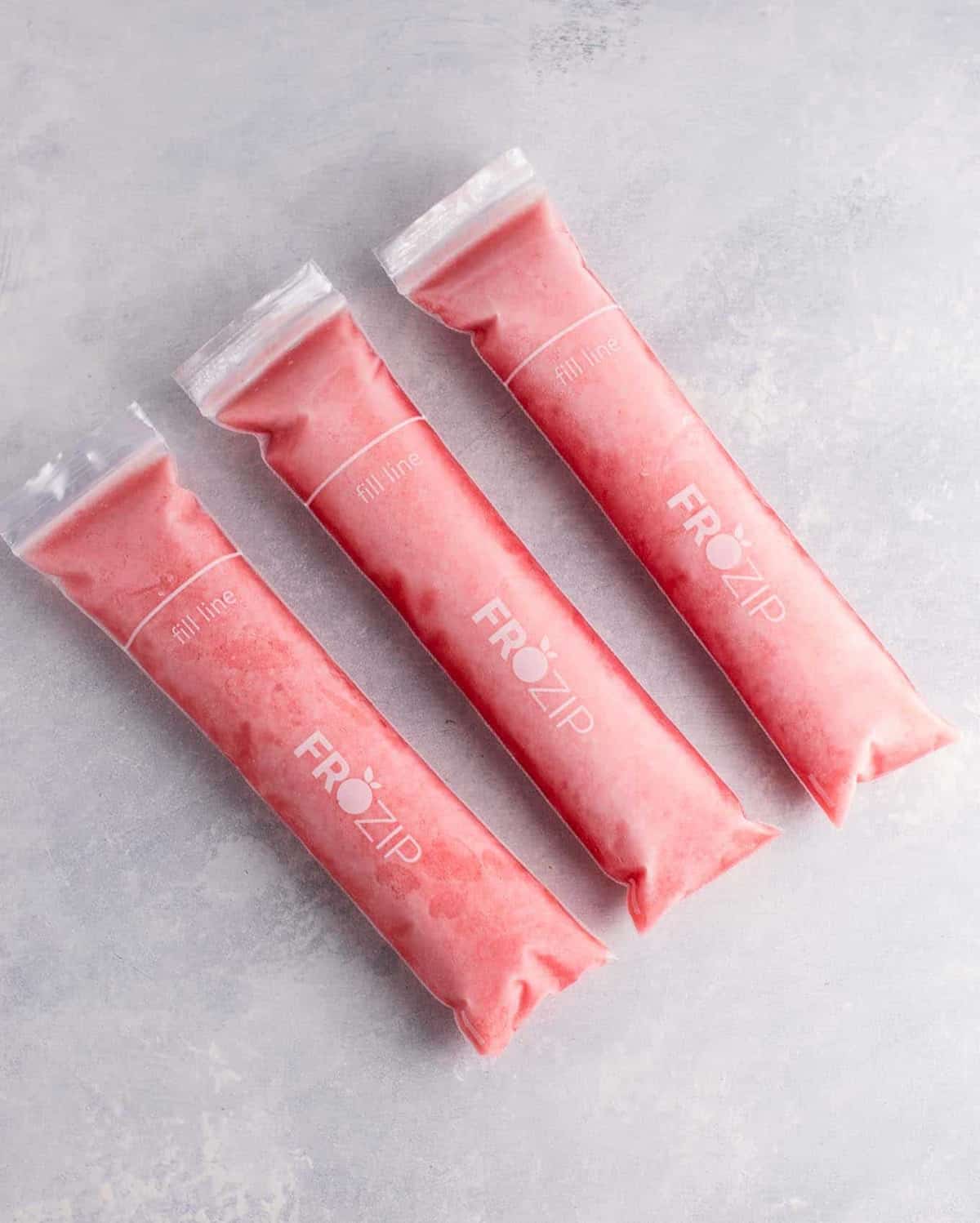 Use frozen peaches for this decadent dessert!
You can make it year round. Best served with your favorite vegan vanilla ice cream!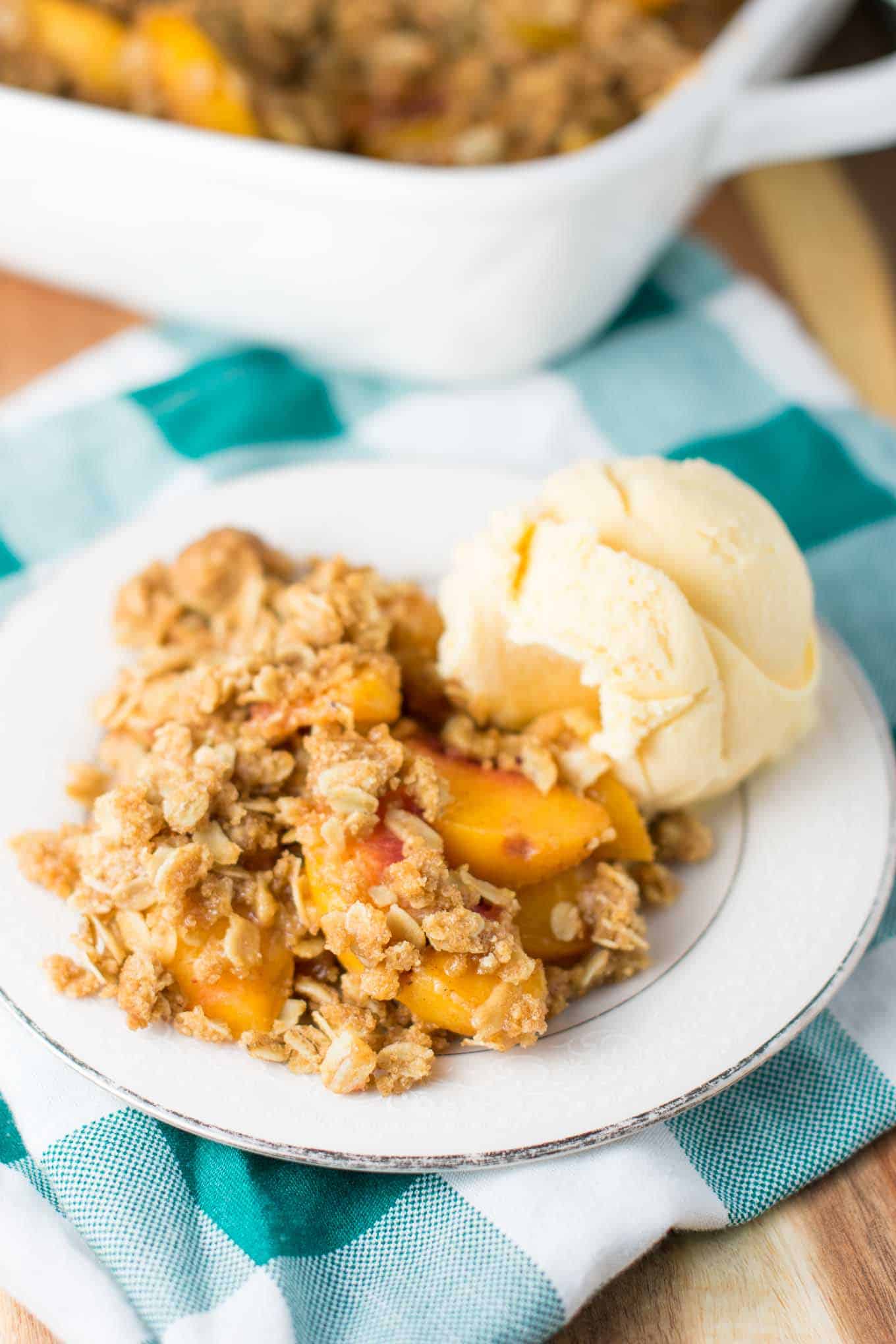 No need for fancy prep work, just dice up the apples and get to baking the best apple crisp you'll ever eat!
Everyone goes crazyyyy for this recipe and it melts in your mouth.
This one is great for fall, and it makes your kitchen smell amazing!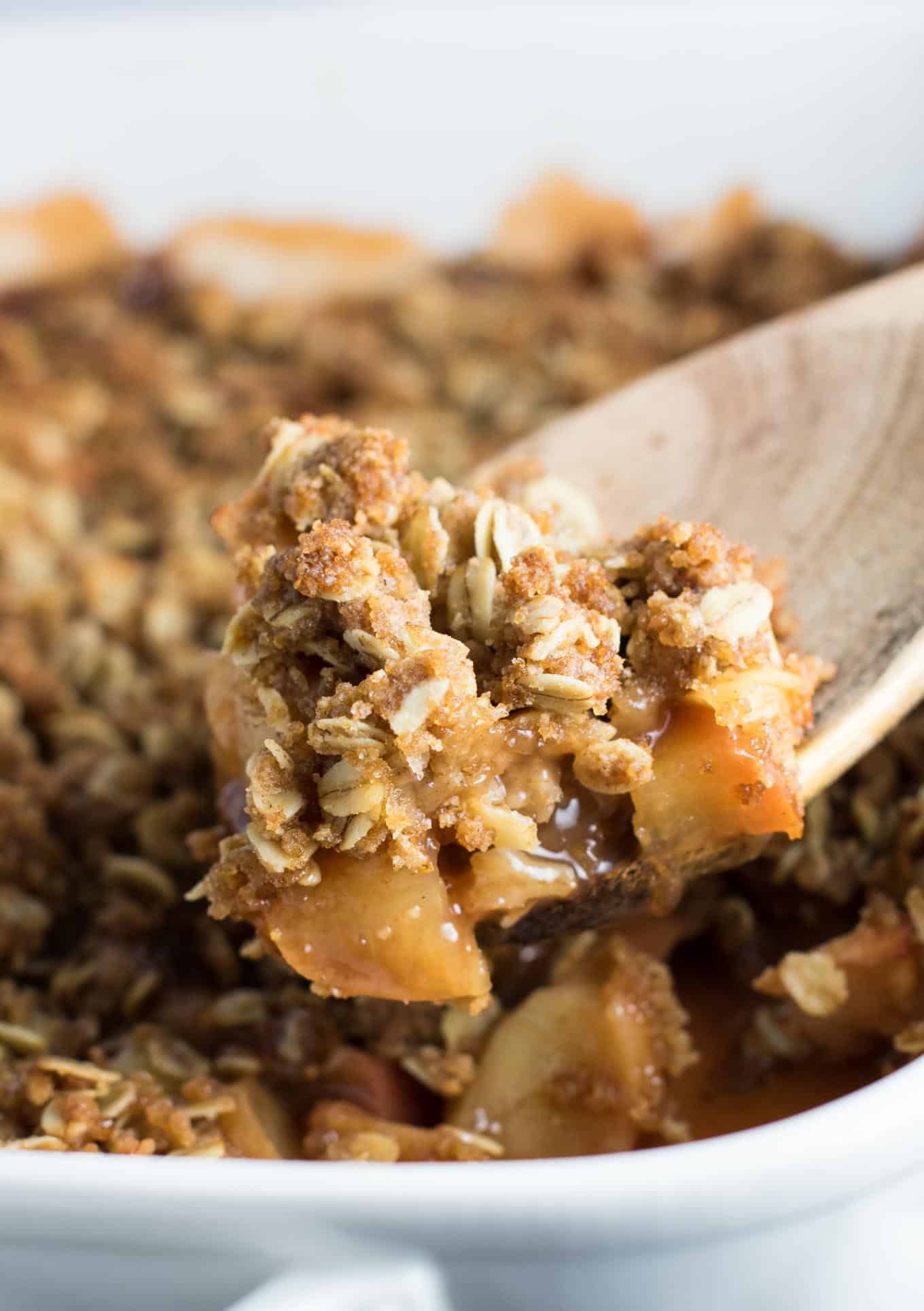 Salty sweet with nutty roasted almonds – and it comes together in minutes!
Another reason why chocolate bark is fast becoming one of my top favorite desserts!
If you love salty sweet desserts with your chocolate fix, this one's for you!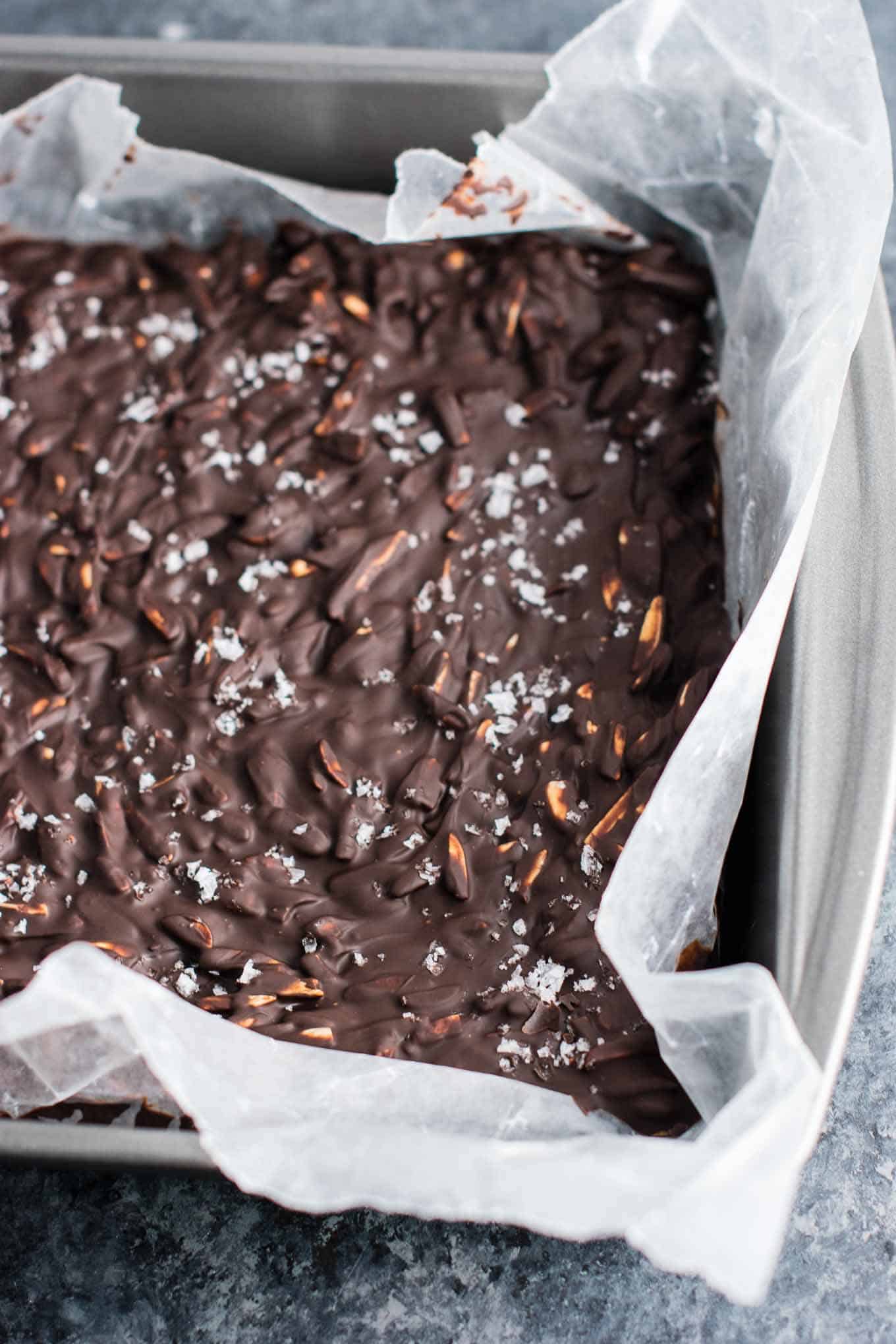 pin this post for later: