Vegan burrito bowl recipe with fresh corn salsa and homemade guacamole.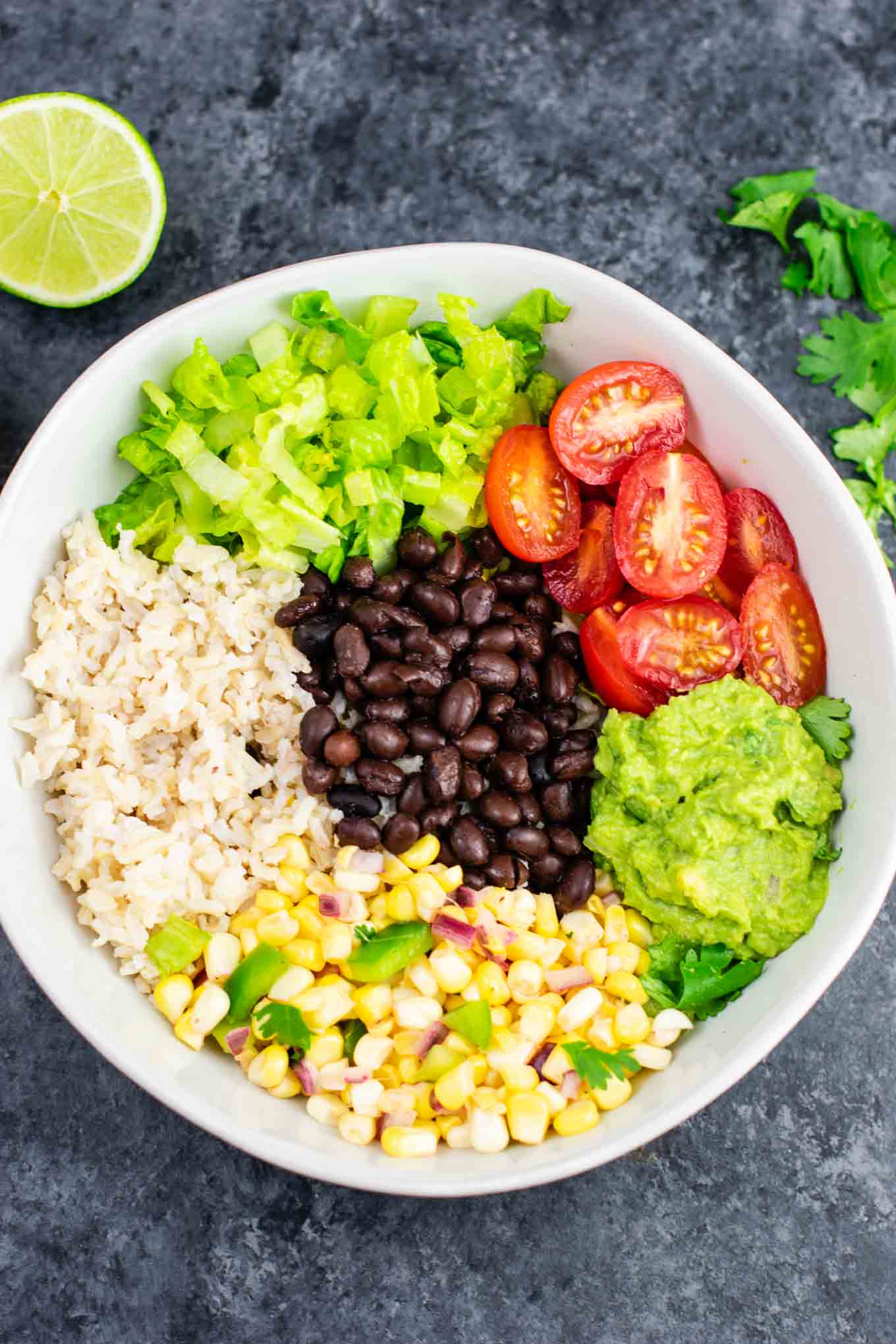 Chipotle has long been one of my favorite healthy takeout restaurants, but anyone who has been knows just how quickly the price can increase on a burrito bowl with all the fixings, plus guac and chips!
Even with the price tag, Chipotle has my heart with it's fresh corn salsa and tons of vegan and vegetarian options.
Today I'm recreating that Chipotle magic for you in the form of this vegan burrito bowl recipe!
How to make a vegan burrito bowl
It really is so simple to make your own drool worthy burrito bowl at home, all you need is a little time to chop up and assemble everything!
There is no actual baking required (save for the rice), so although these vegan burrito bowls look fancy, they are so easy to make!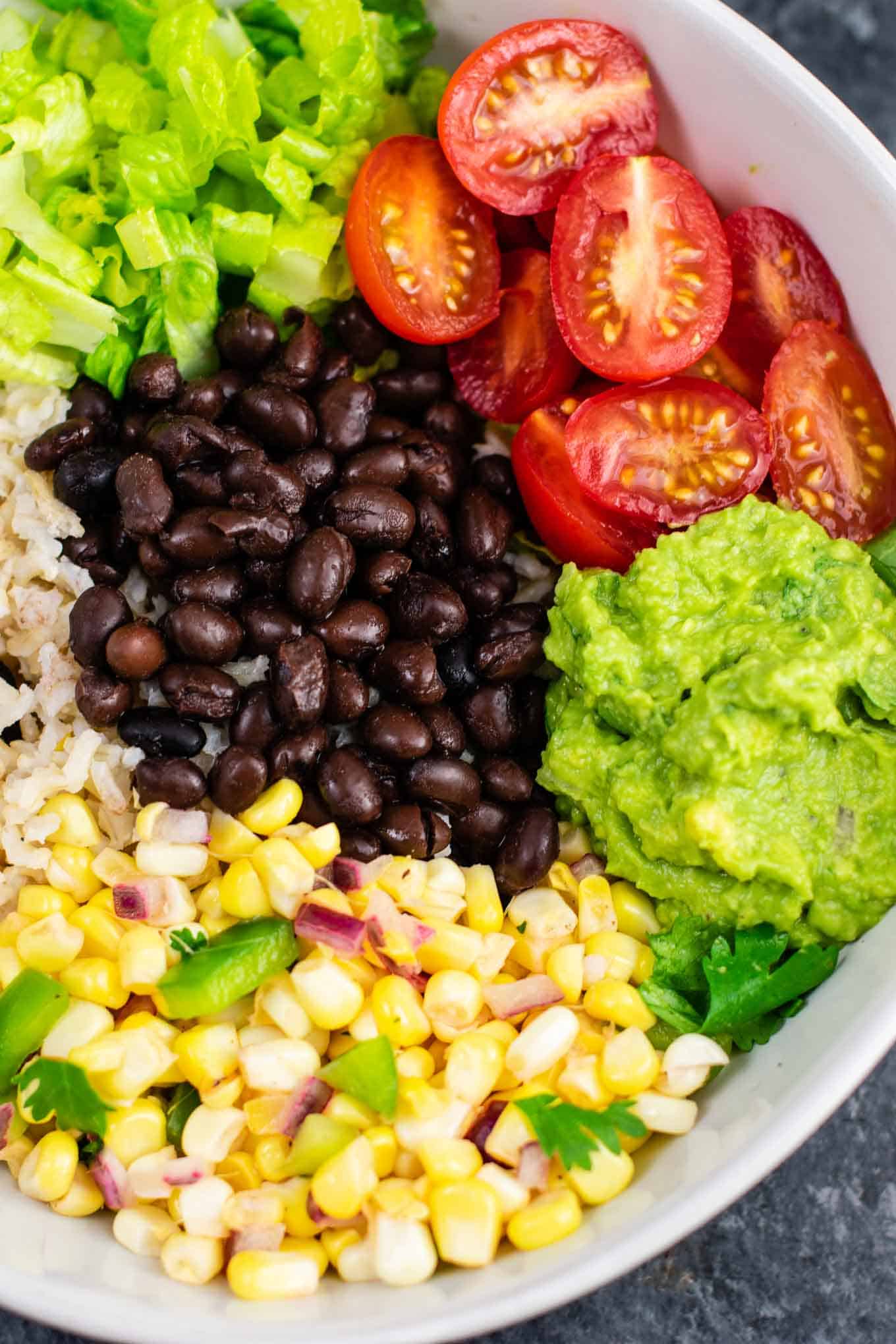 I put my brown rice in a rice cooker and got to work assembling the other ingredients while it cooked.
For a low carb option, you can use this cilantro lime cauliflower rice instead.
First, I made a batch of my perfect guacamole recipe. This time I left the tomatoes out and served them on the side for added visual effect, but you can mix them in as usual – either way!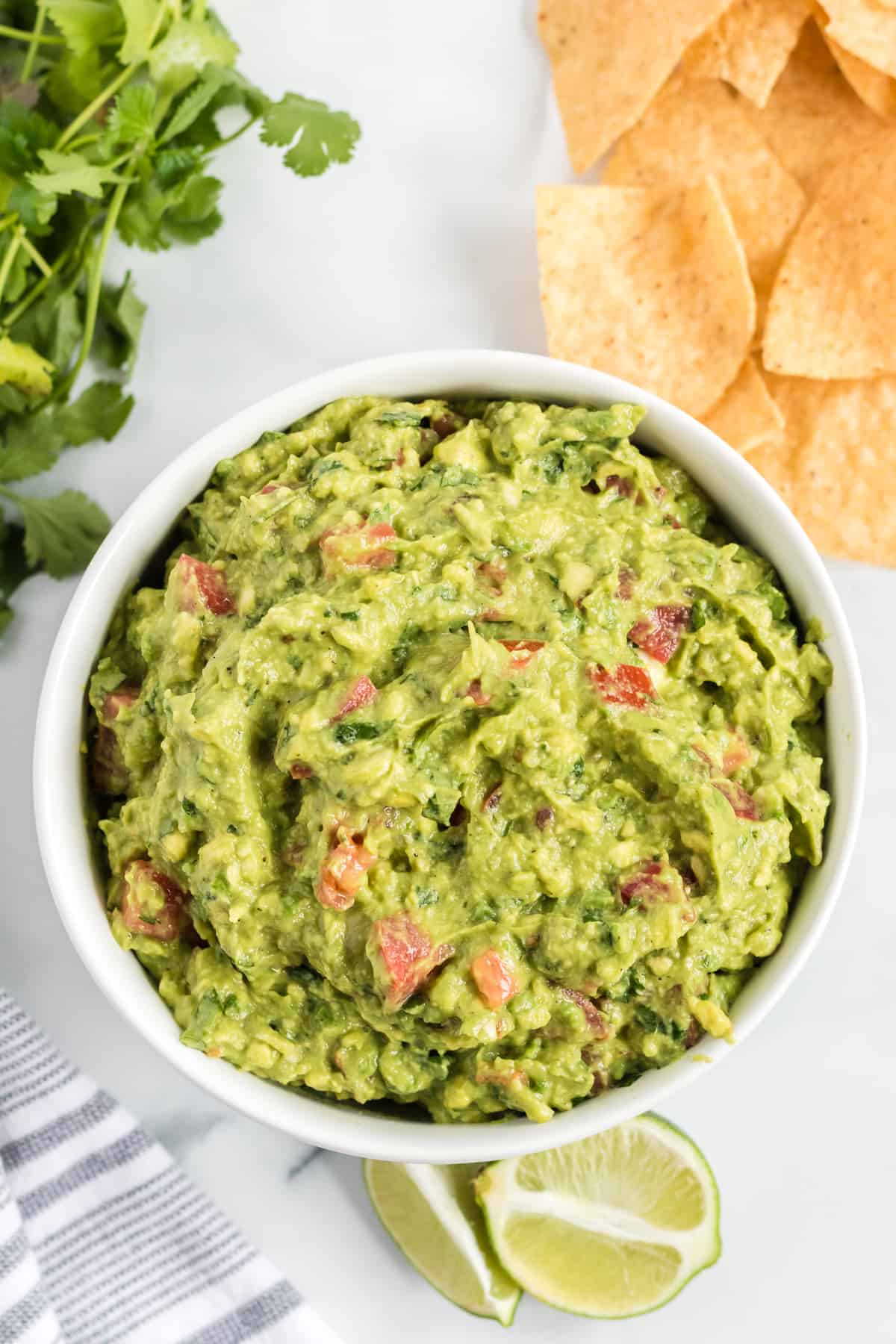 Next, I made a batch of fresh corn salsa. And omg let me say that this is my new addiction! Holy freaking moly it is delicious.
I had a hard time stopping myself from eating too much just dipped in tortilla chips!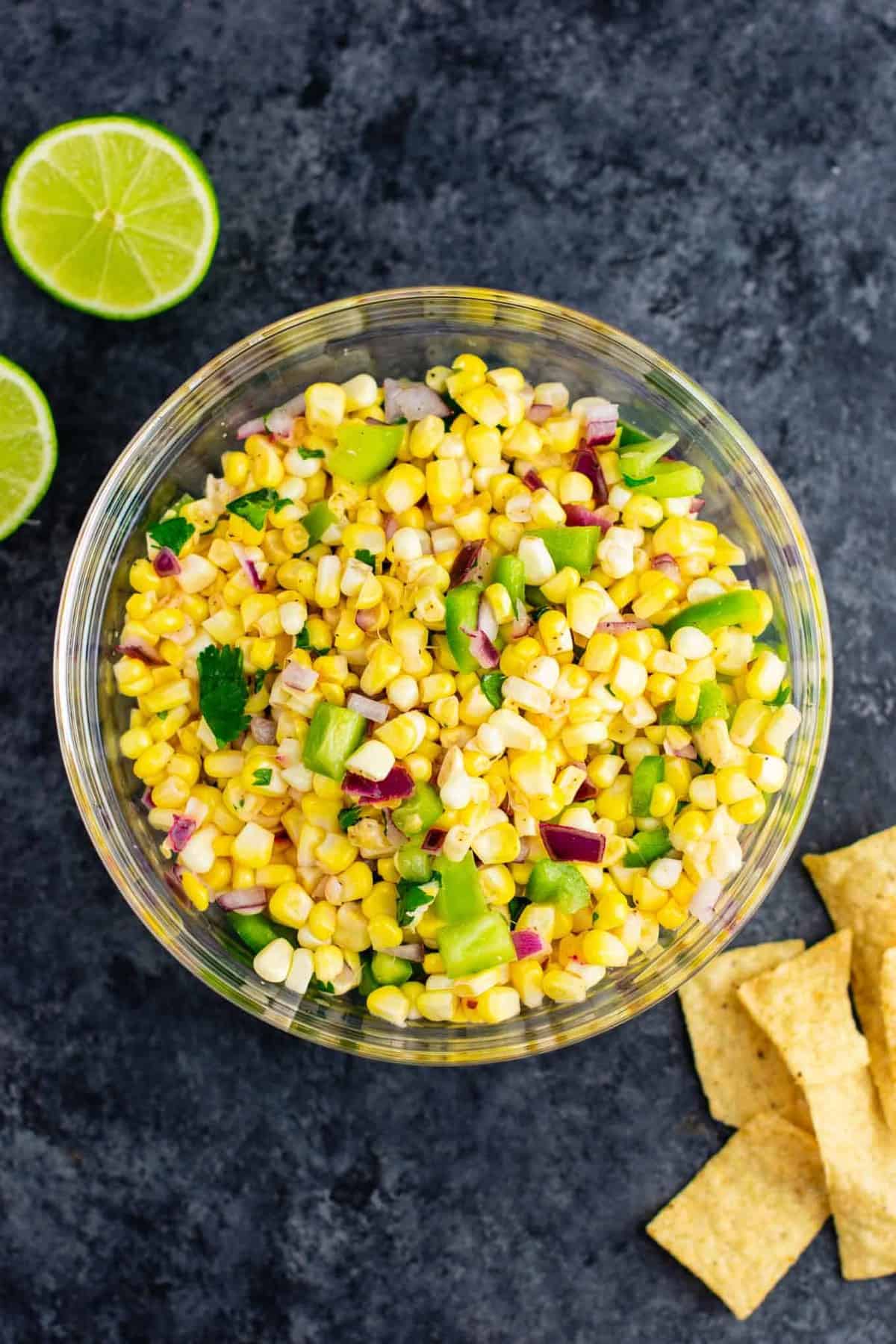 I chose to make my corn salsa non spicy (since I have a toddler), but if you dig that spicy kick you could throw in a little chopped jalapeno for some heat!
One thing to note is that the corn salsa is best served fresh. You can store it in the fridge, but once the water and juices start to release it will not be as good as served fresh.
That's why it's called fresh corn salsa I guess! Somehow I don't think you'll have a problem finishing off this recipe the same day though!
If you are cooking for less than 4 people, you can just adjust how much you make accordingly.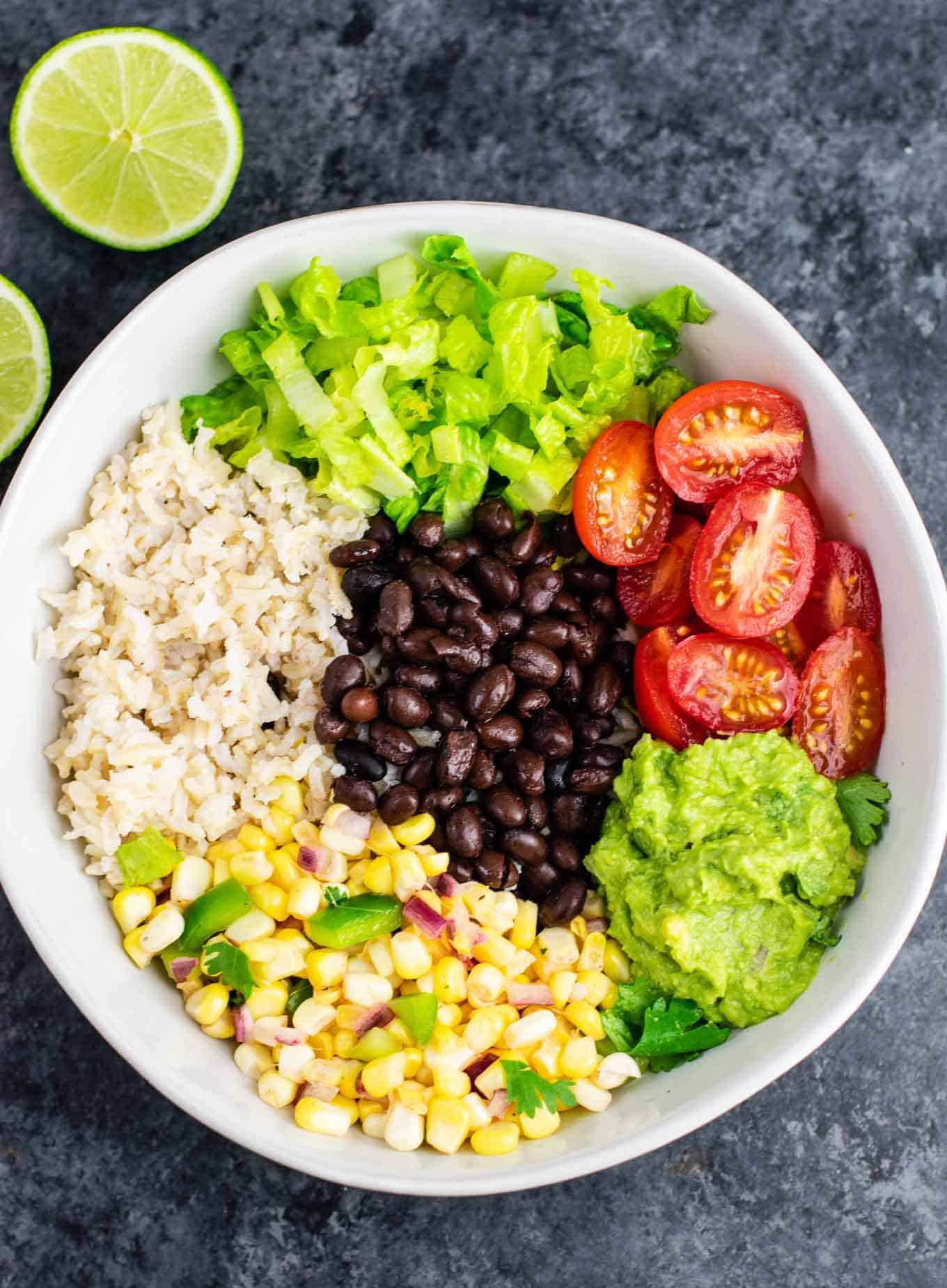 For the black beans, all I did was rinse and drain them.
The flavors from all of the ingredients take over the dish, so there's no need to season your beans. That means less work too!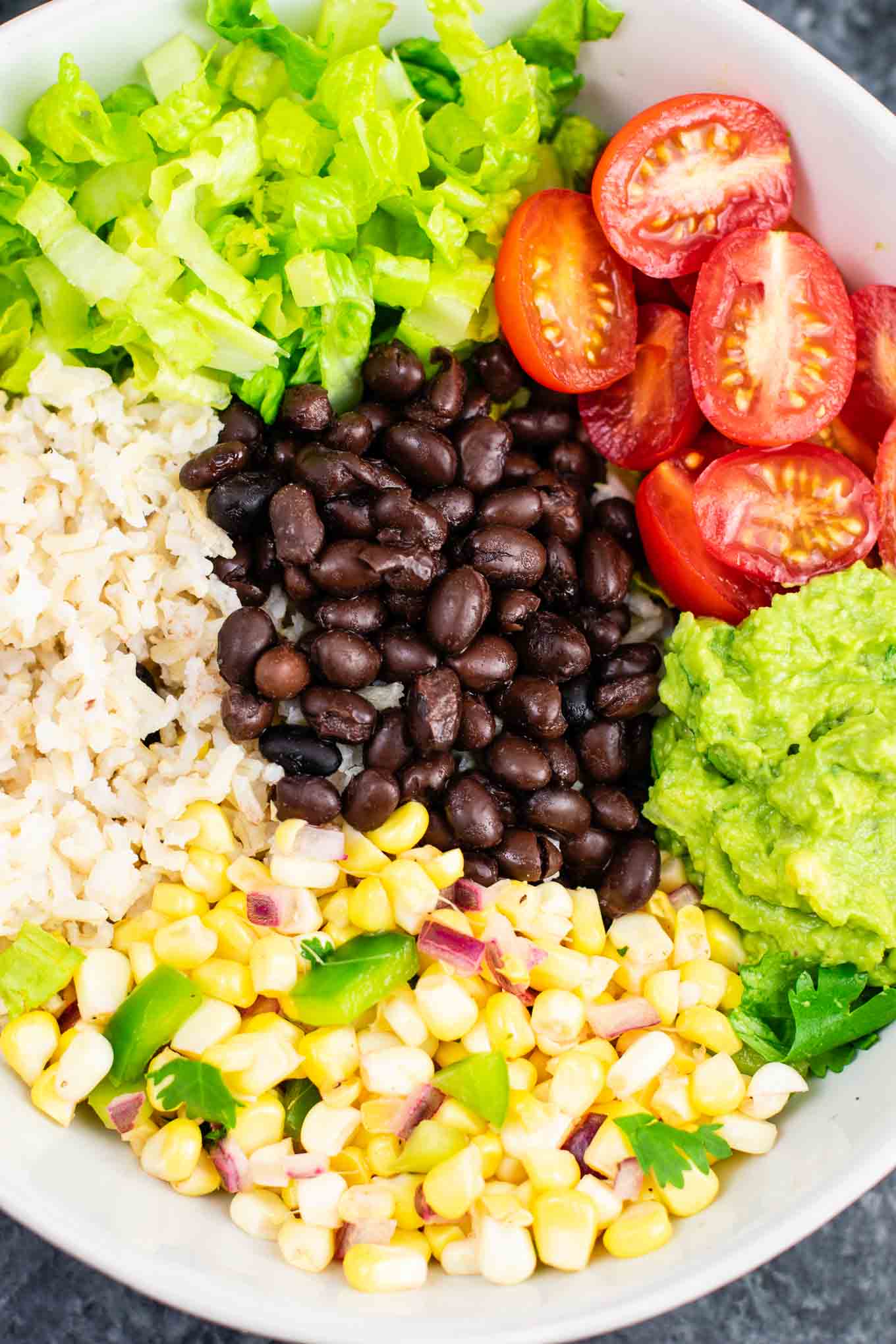 Chop up some fresh crunchy romaine lettuce and halve some cherry tomatoes and you are ready to assemble your vegan burrito bowl!
If you are looking for more veggies, this fajita veggies recipe would be a delicious addition.
We served ours with tortilla chips and devoured them. It was so delicious I had a second bowl for lunch at 4 pm because I just couldn't stop thinking about it!
If you love chipotle, you will go crazy for this recipe.
So insanely fresh and bursting with so much flavor. I can't get enough!
Homemade burrito bowls are definitely going to be a regular item on our menu from now on.
hungry for more? Here are some more delicious vegan mexican recipes.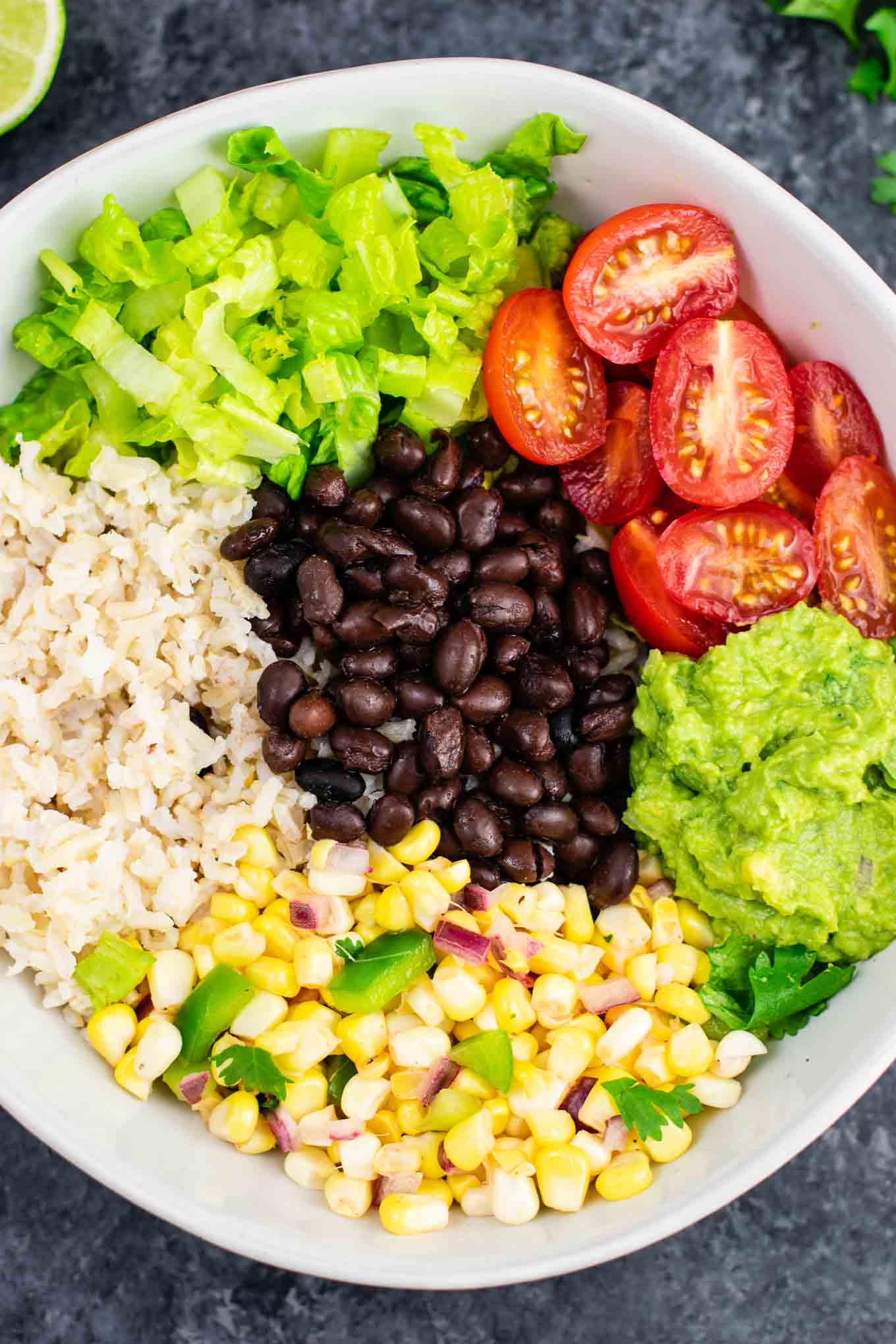 Are you making this recipe? I want to see! Be sure to tag me on instagram @buildyourbite and hashtag #buildyourbite
Be sure to follow me on FACEBOOK, PINTEREST & INSTAGRAM to never miss a recipe!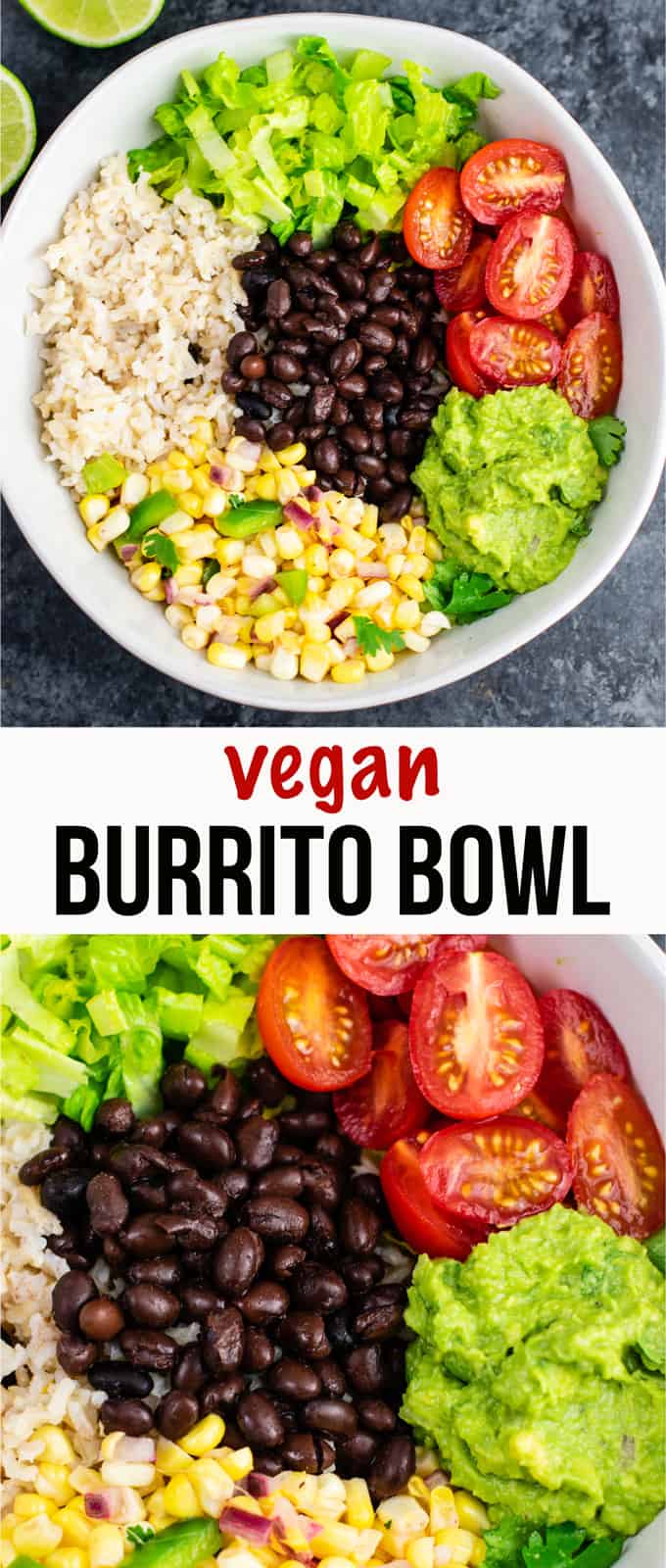 Vegan Burrito Bowl Recipe
Vegan Burrito Bowl
Homemade vegan burrito bowl recipe with fresh corn salsa and homemade guacamole
Ingredients
4 servings of brown rice (I made around 4.5 cups worth of cooked rice)
1 can of black beans, drained and rinsed
chopped romaine lettuce
1 batch of this fresh corn salsa
1 batch of this homemade guacamole
halved cherry tomatoes
Instructions
Cook brown rice according to package instructions. I used a rice cooker for convenience
While rice is cooking, make a batch of guacamole.
Make corn salsa and set aside (see notes)
Chop up romaine and slice cherry tomatoes
Once rice is finished, assemble burrito bowls with brown rice, black beans, romaine, corn salsa, guacamole, and cherry tomatoes
Top with optional Vegan Queso
Serve with tortilla chips

Notes
This recipe is best served fresh, (especially the corn salsa) Leftovers can be kept in the fridge but are best served the same day for optimal flavor and freshness
Nutrition Information:
Yield:

4
Serving Size:

1
Amount Per Serving:
Calories:

355
Total Fat:

3g
Saturated Fat:

1g
Trans Fat:

0g
Unsaturated Fat:

2g
Cholesterol:

0mg
Sodium:

16mg
Carbohydrates:

73g
Fiber:

12g
Sugar:

3g
Protein:

12g