Ultimate vegan quesadillas recipe without cheese or vegan cheese. Just plant based deliciousness! Flavor packed and protein filled quesadillas without meat in them.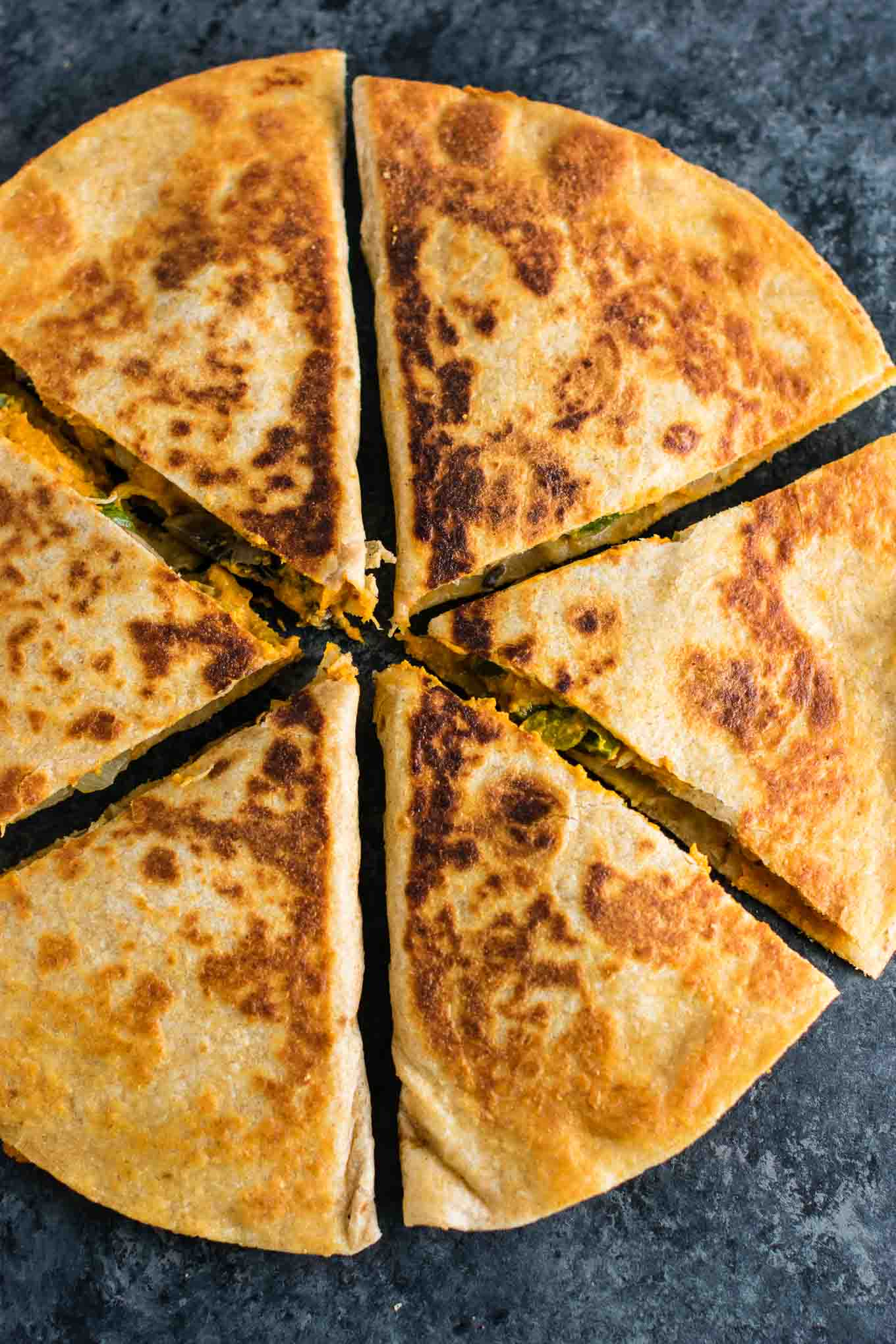 Meet the ultimate vegan quesadilla: made with simple plant based ingredients, packed full of "cheesy" flavor without the use of fake cheese, and guaranteed to make you want seconds!
Did anyone else grow up on Taco Bell Quesadillas?
I know I sure did and man did I love them. I don't eat them anymore, but that doesn't mean that I can't create my own recipe at home!
One common thing that people assume about vegans and vegetarians is that they are missing out on the foods they love.
This just isn't true for most. In my case, I find even more delicious (and healthy!) ways to enjoy foods that I love.
And today that means: these meat free vegan quesadillas.
These vegan quesadillas are all things yummy: "cheesy" creamy filling, fresh crunchy vegetables, and crispy edges browned to perfection.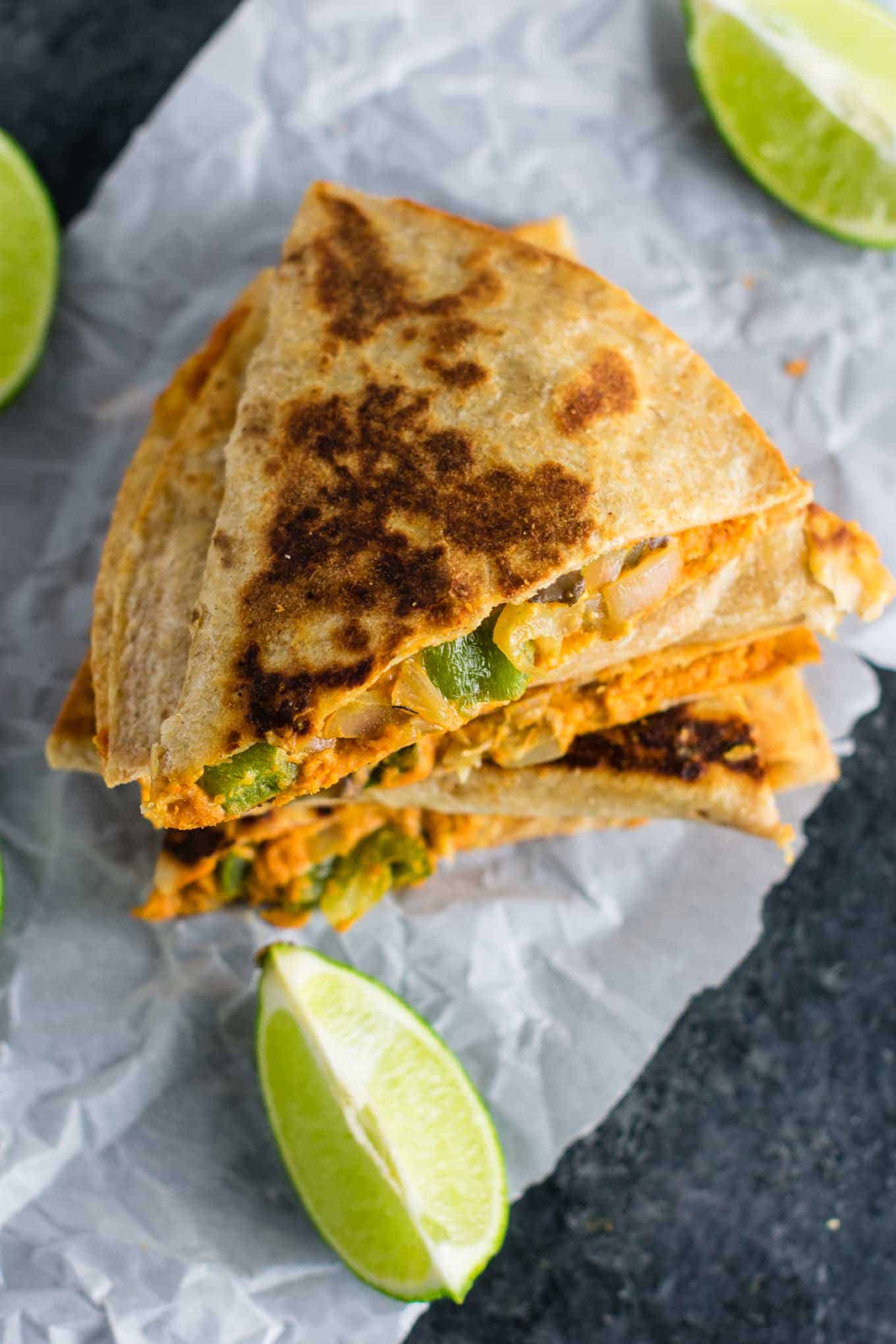 How to make Vegan Quesadillas
There are four steps to making these ultimate vegan quesadillas, are you ready?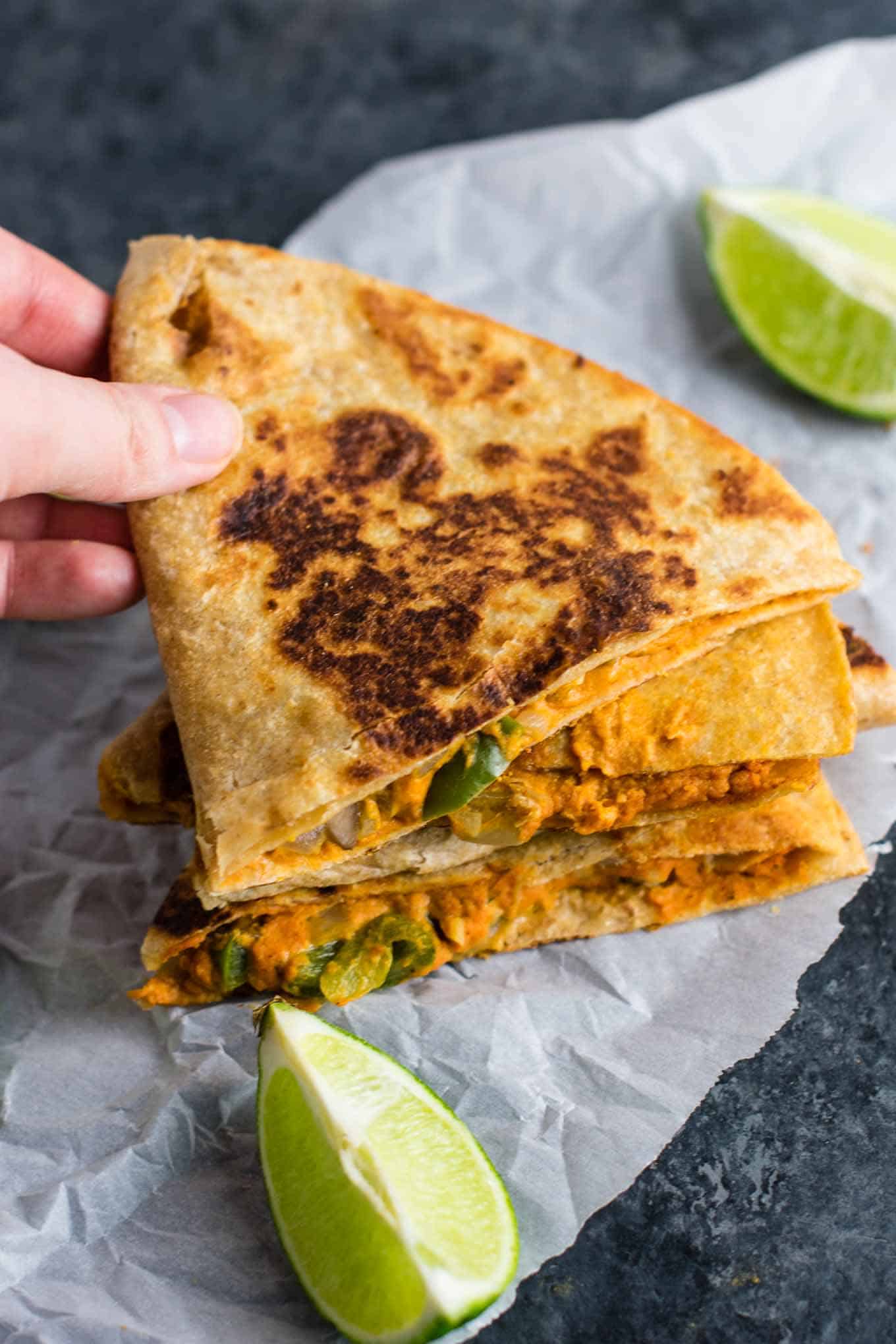 Step 1: Add your mushrooms, bell pepper, garlic, and onion and olive oil to a large skillet.
Cook over medium heat, stirring often, for 10 – 15 minutes, until the mushrooms cook down and release their liquid.
Be careful not to overcook the veggies, as leaving a little crunch to the peppers will add great texture. Nobody likes mushy veggies!
Fresh veggies add so much flavor to this recipe, and you know how I'm all about fresh garlic and onion!
They are the flavor base to so many of my recipes and always add that extra flavor that makes everything pop. Don't skip these!
Garlic and onion are staples in my kitchen and I always have them stocked up.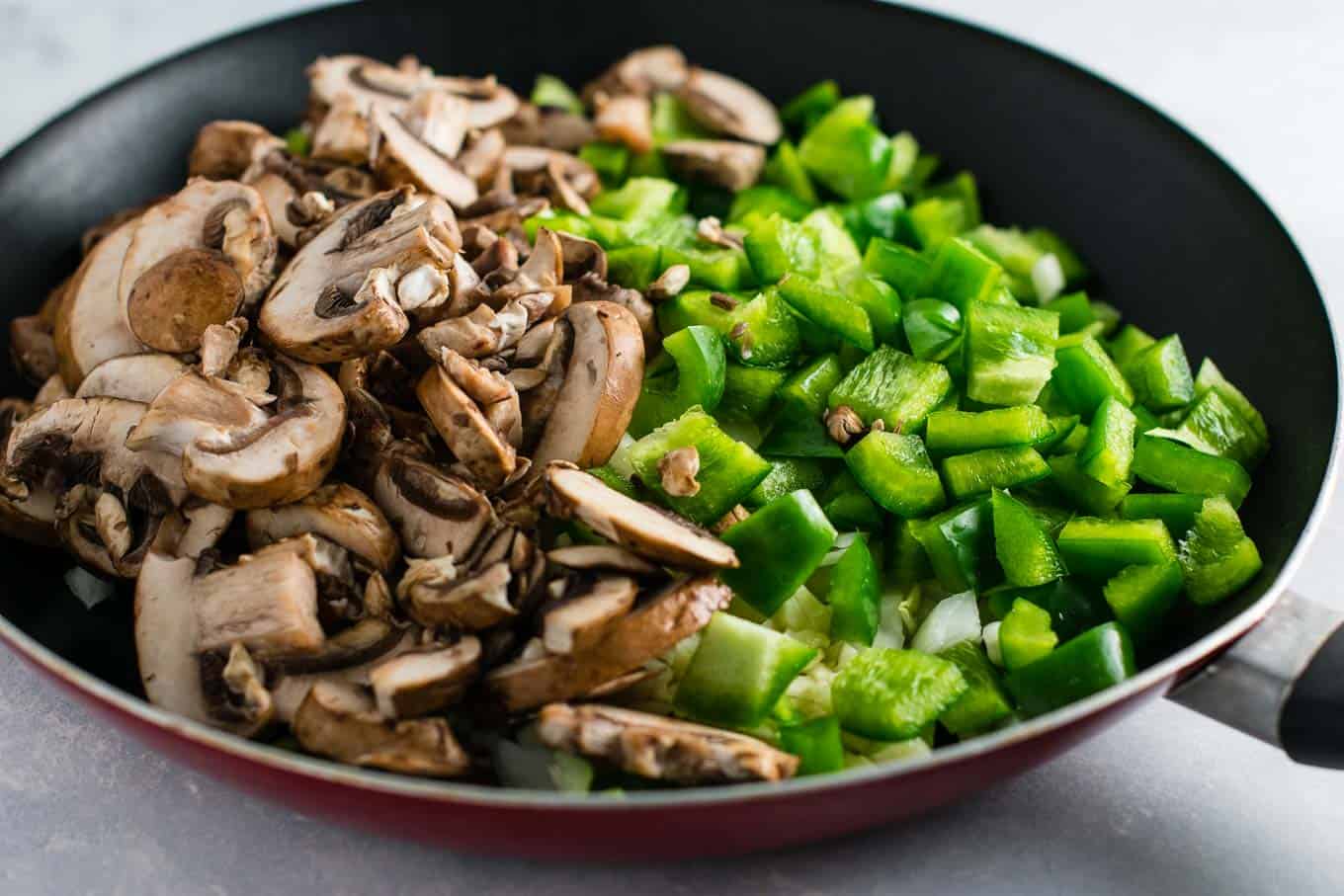 You will need a blendtec, vitamix, or food processor to make the filling for these quesadillas.
Step 2: I used my blendtec and it was so easy. Just place your enchilada sauce, cashews, nutritional yeast, salsa, chickpeas, lime juice, and spices into the blender.
The cheese sauce in this recipe is based off of my vegan queso.
Blend on high until smooth and creamy. We want super smooth here, no lumps.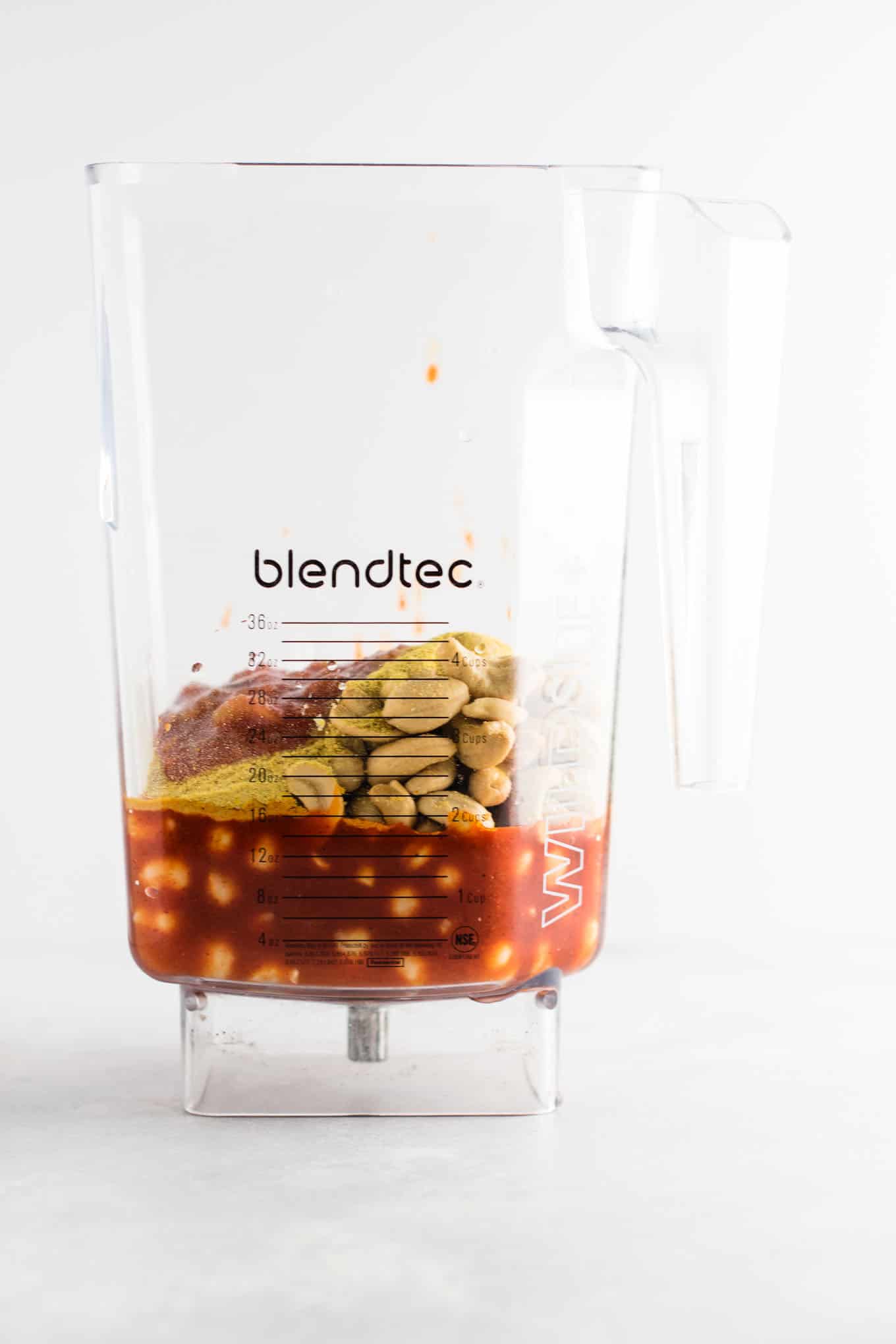 This filling is so flavorful. I wanted to eat it with chips!
Think vegan cheesy bean dip texture, but spread on a quesadilla it turns to creamy cheese like taste.
It is so addictive!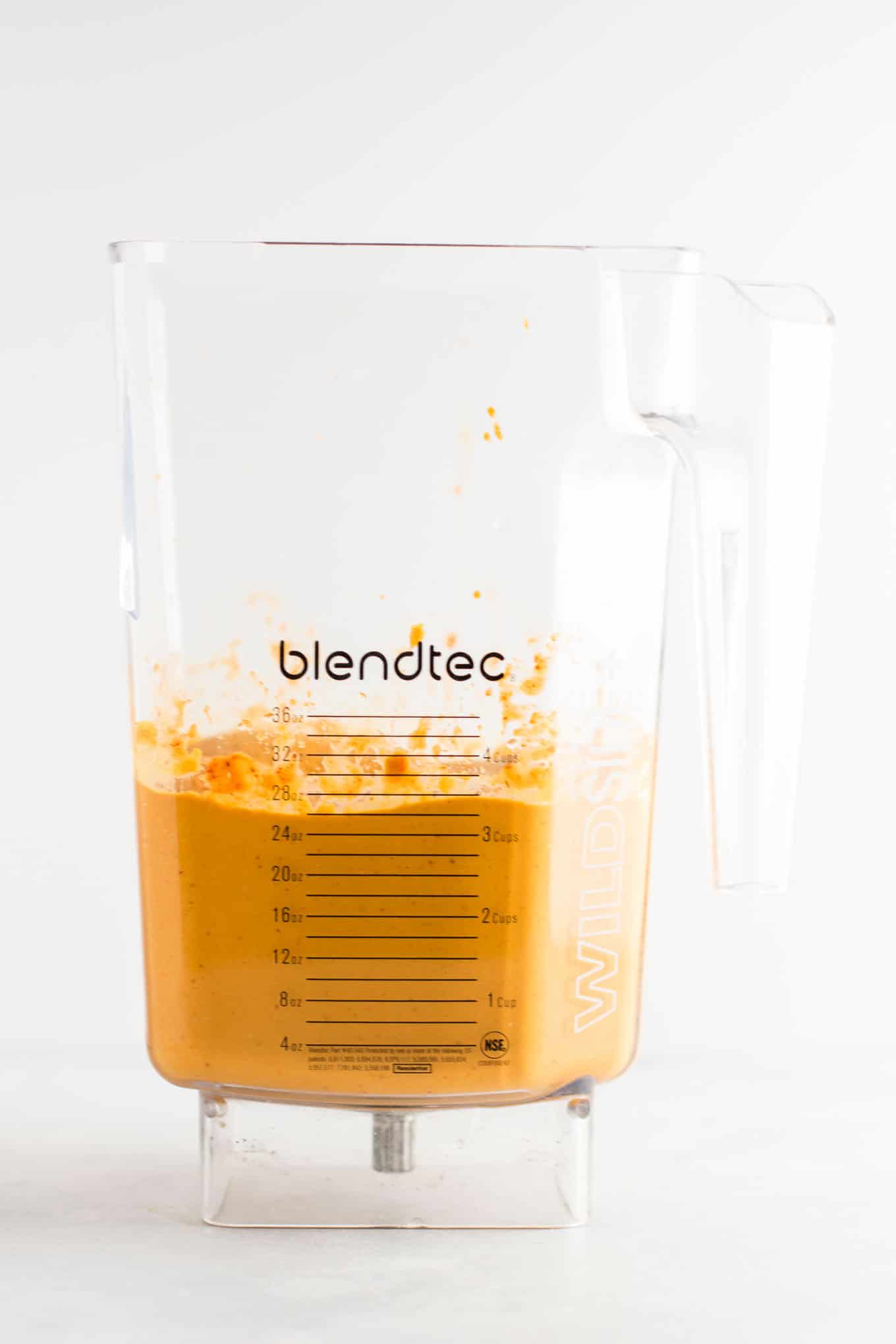 The filling is very similar to the one I made for the tofu in my vegan breakfast burrito recipe but with the addition of chickpeas for added protein.
Cashews make it super creamy and the nutritional yeast adds that savory cheesy flavor.
I have loved nutritional yeast since I was a kid. It's so "cheesy" tasting but hard to describe quite right if you haven't had it before.
I really recommend trying nutritional yeast or "nooch" as it is sometimes called if you are on a vegan or dairy free diet. It will change your life!
Also necessary for the filling: enchilada sauce, fresh lime (always!), salsa, chickpeas and a few favorite spices to make the flavor pop.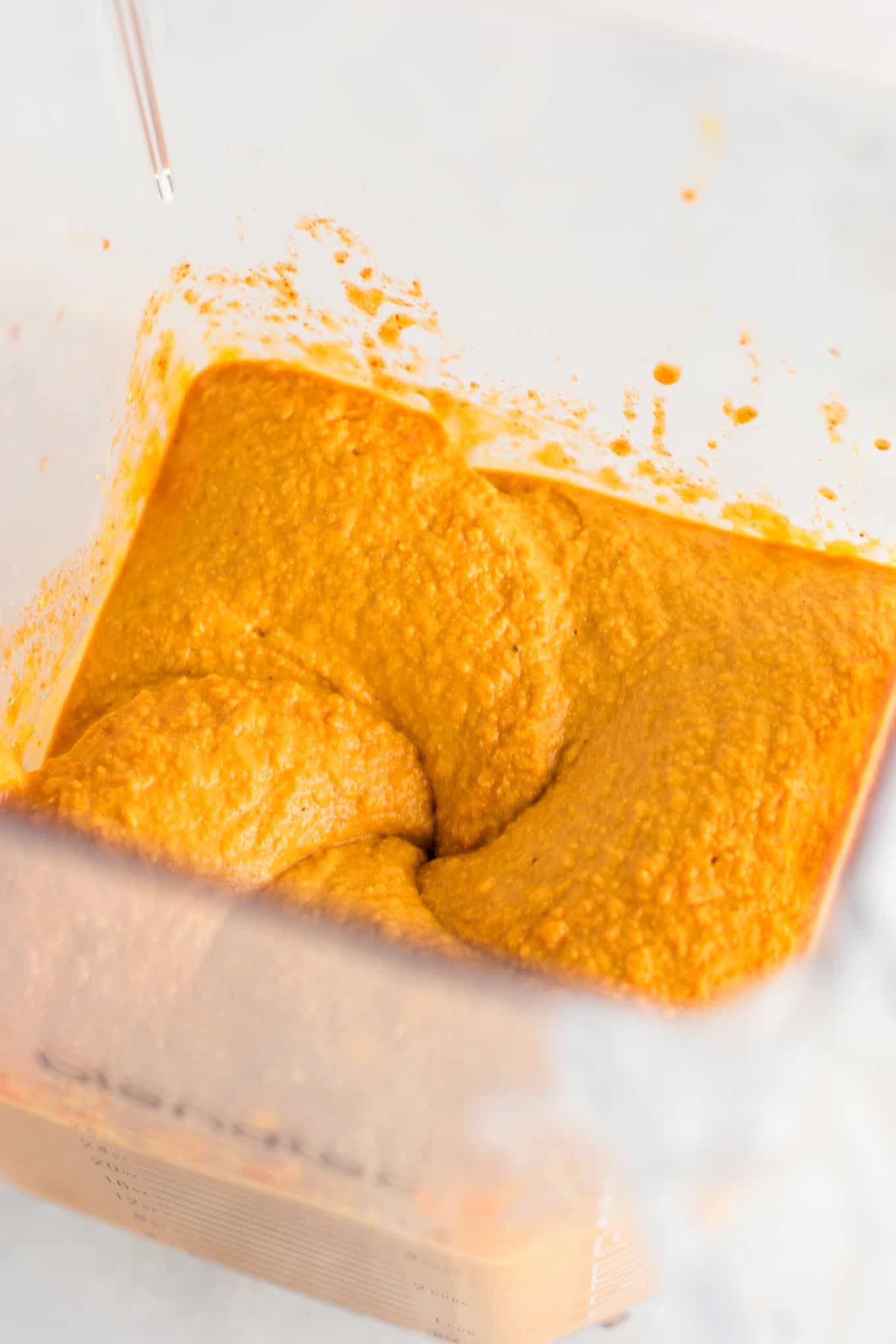 Blend it all up til it's nice and creamy like this and you're ready to go!
How to assemble the vegan quesadillas
First, spread the filling in an even layer onto one half of a tortilla. Not too thick but not too thin.
Place ⅛ of the vegetables on top and spread out.
Fold the tortilla in half.
Repeat steps for remaining 8 tortillas, until all filling and vegetables are used.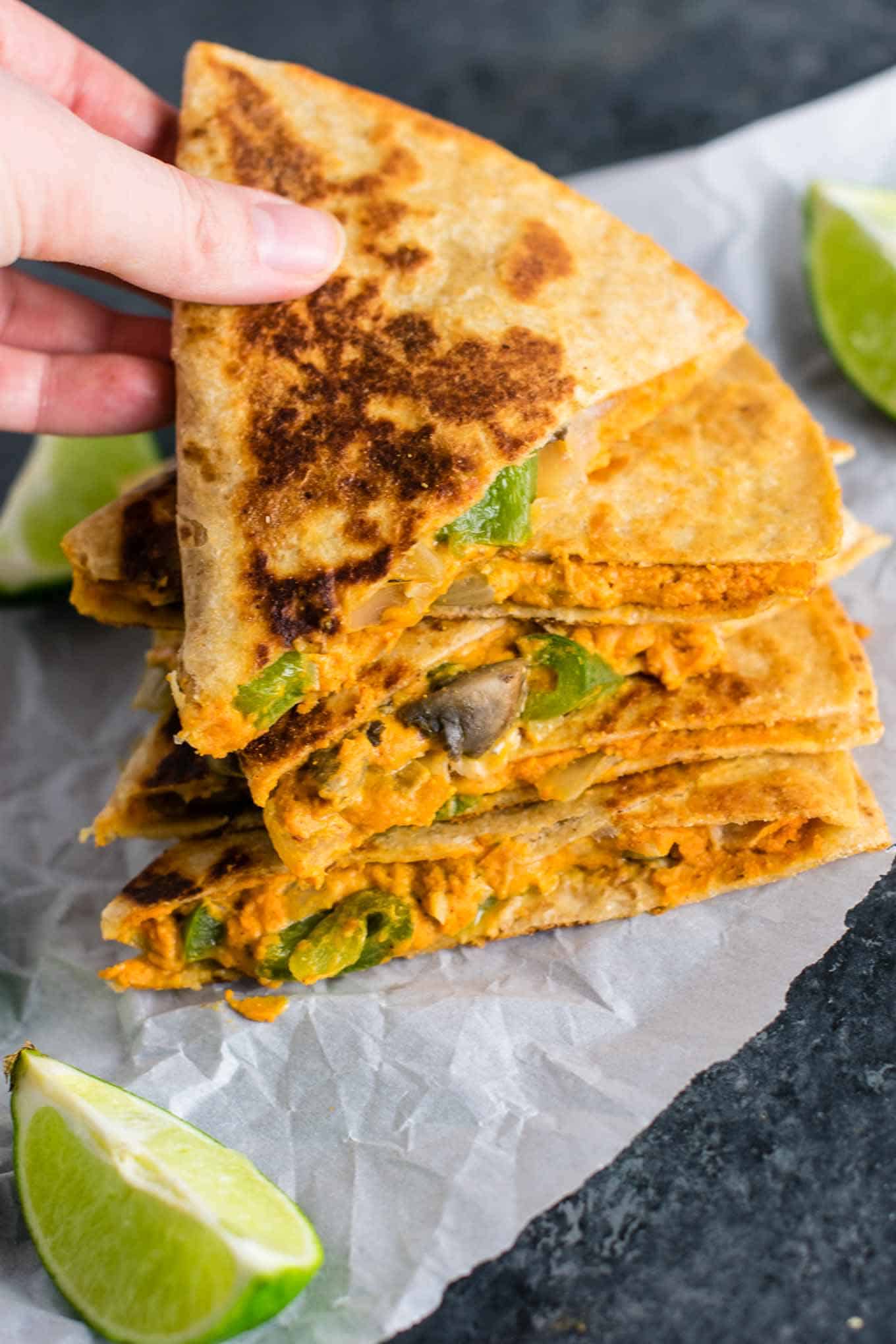 Making the quesadillas this way allows them a better chance to get crispy all around, as well as making them easier to flip.
Coat a skillet with olive oil and make your quesadillas in batches. Cook for 2 – 4 minutes per side, until crispy.
The time will vary per side depending on your skillet, so just keep an eye on them closely.
Once you make one batch, you will have a better idea of how long each side needs and the rest will be a cinch!
Once you cook them on both sides, cut each one into three pieces like this: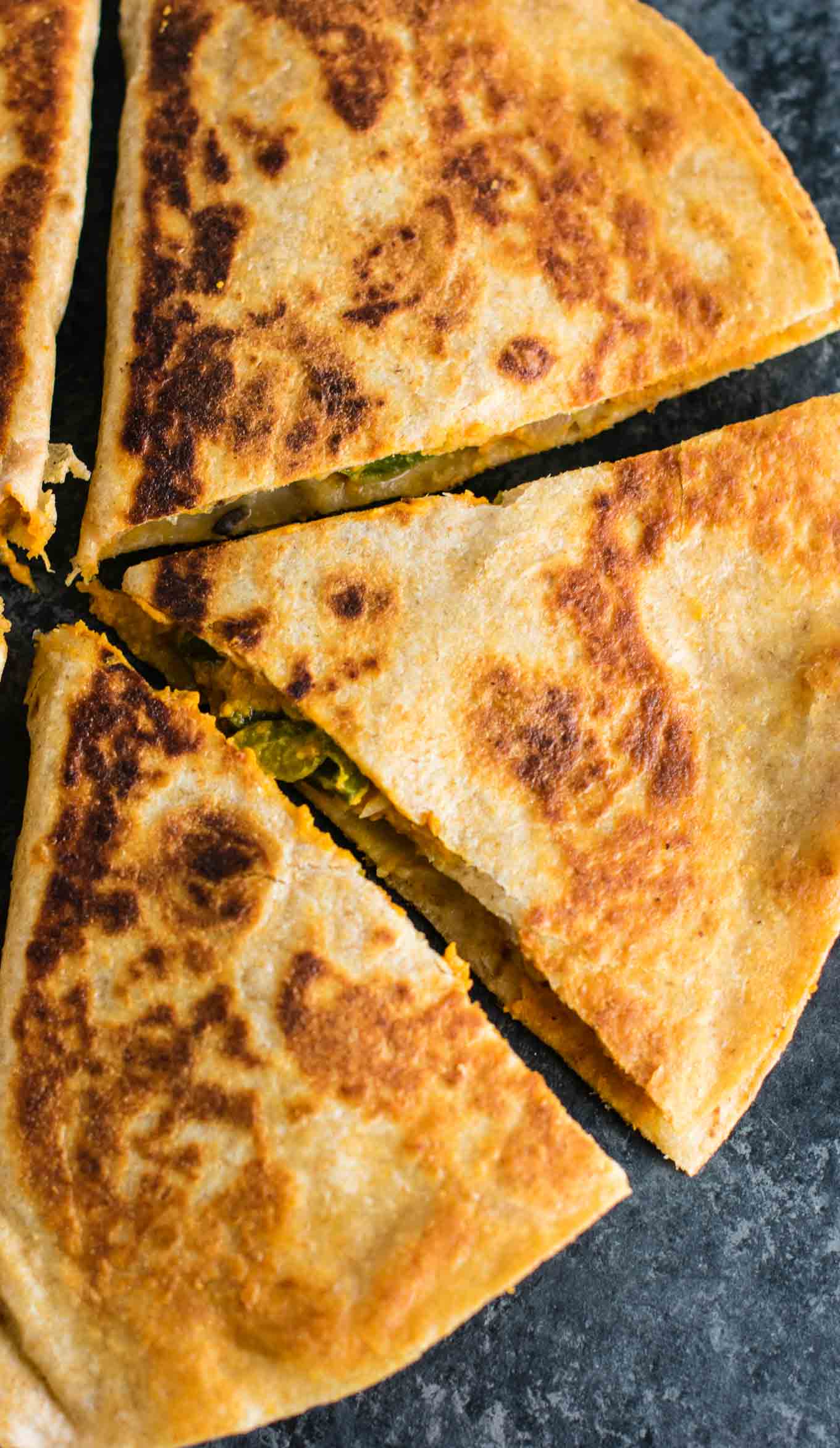 Serve alone, or with salsa, fresh lime, and sliced avocado.
Fresh lime is my favorite way to top any mexican dish. These were so protein packed that we ate them without avocado and were still stuffed!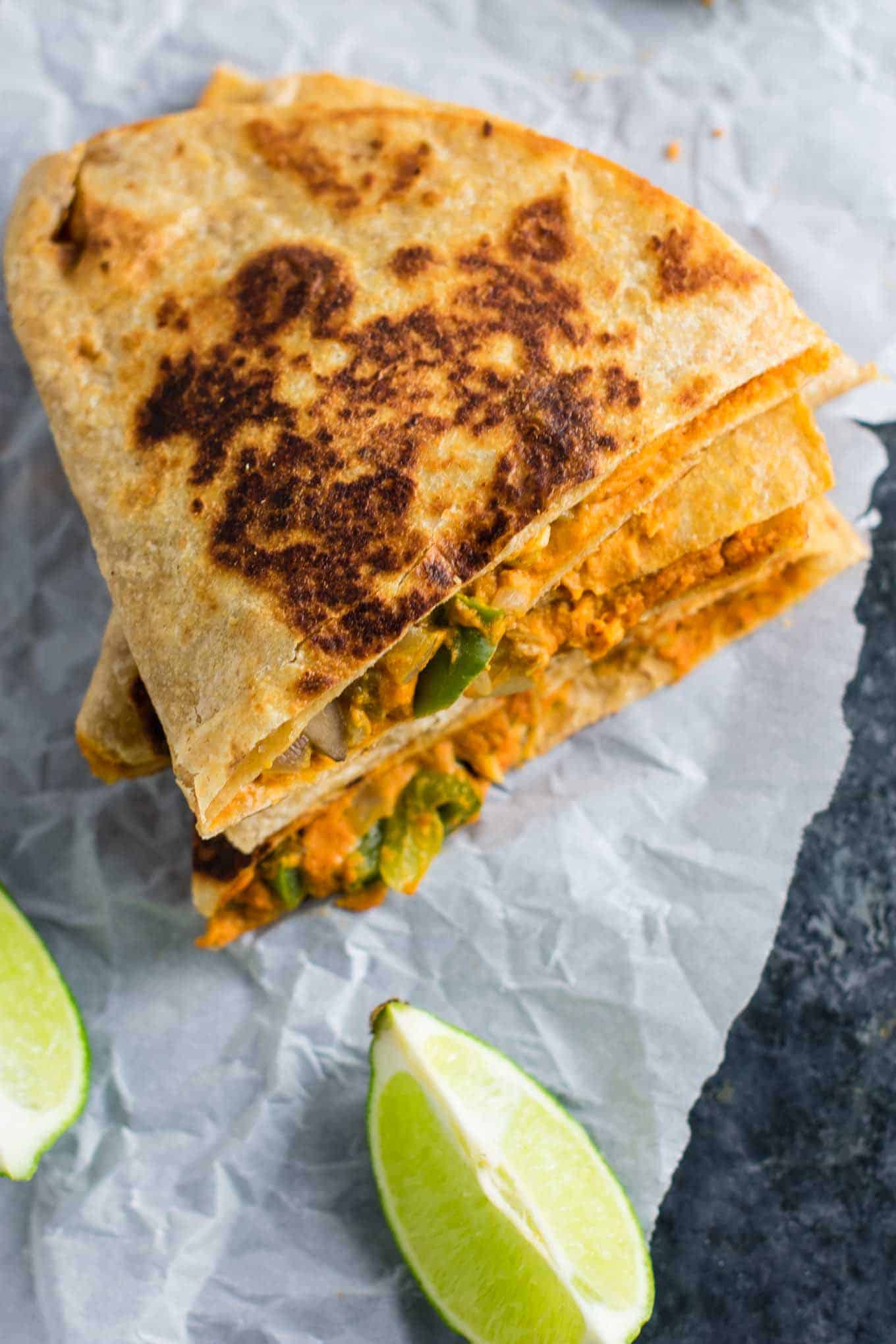 Easy no cheese quesadillas!
This recipe makes a ton and will easily serve 4 – 6 people as a main dish.
Each quesadilla is cut into thirds, so this recipe yields 24 small quesadilla pieces.
I ate mine with no salsa or any garnishment and it was incredible!
Are you making this recipe? I can't wait to see! Don't forget to tag me on instagram @buildyourbite and hashtag #buildyourbite with your recipe creations!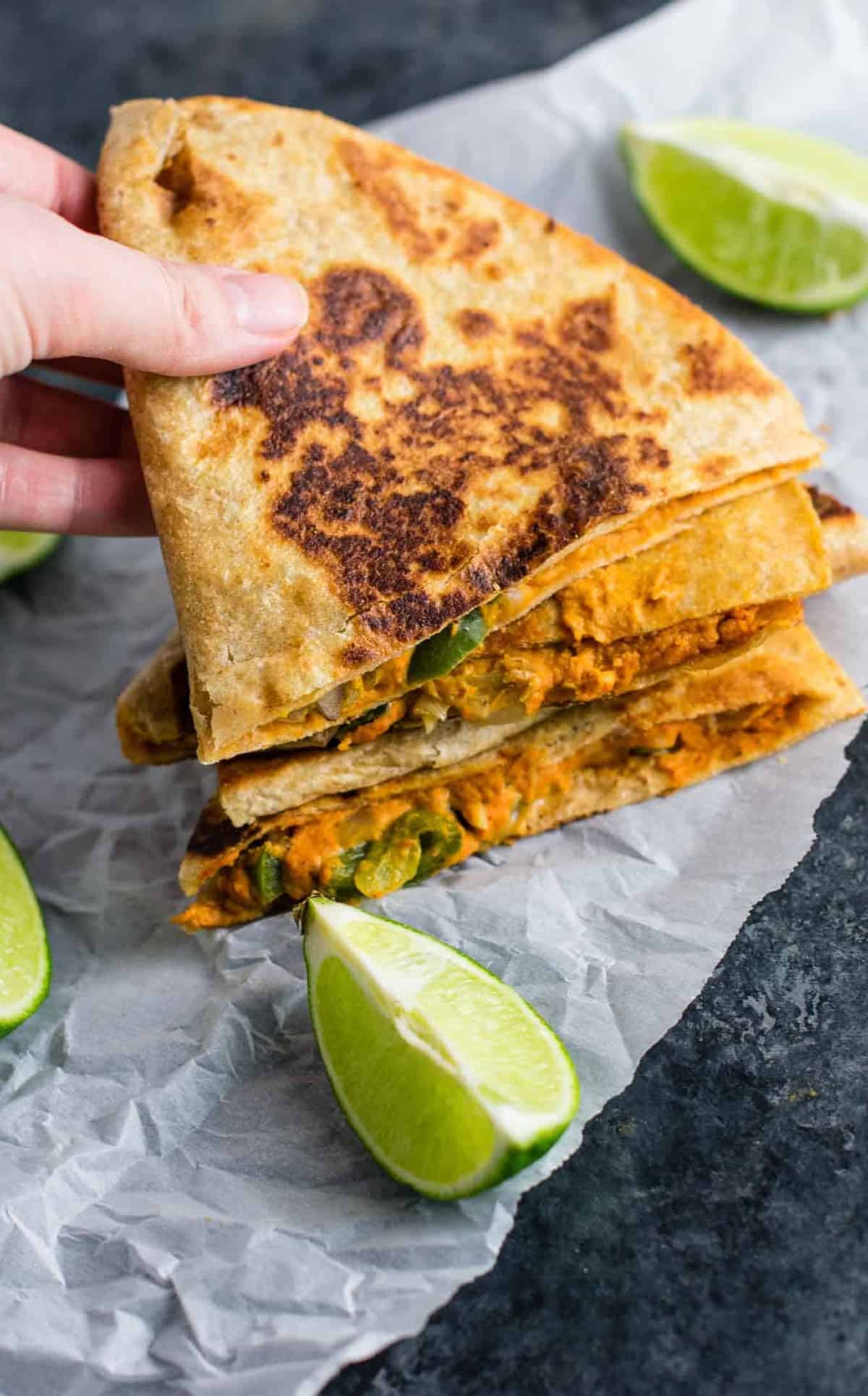 To see more meatless mexican recipes, visit my mexican archives. For more recipes, follow along on pinterest, twitter, facebook, or instagram!
More vegan recipes

Did you make this recipe? Be sure to leave a star rating below!
Vegan Quesadillas Recipe
The best vegan quesadilla recipe with cheesy filling and veggies.
Ingredients
8 whole wheat tortilla shells
avocado, for serving
Salsa, for serving
For the filling:
8 oz enchilada sauce
1 cup roasted salted cashews
⅓ cup nutritional yeast
⅓ cup chunky salsa
15 oz can of chickpeas, drained
juice of 1 large lime
1 teaspoon salt
1 teaspoon cumin
1 teaspoon chili powder
For the veggies:
1 green bell pepper, diced
1 medium onion, diced
8 cloves of garlic, minced
8 oz sliced mushrooms
1 tablespoon olive oil
Instructions
To a high speed blender or food processor, add enchilada sauce, cashews, nutritional yeast, salsa, drained chickpeas, lime juice, salt, cumin, and chili powder
Pulse/blend until smooth
Add bell pepper, onion, garlic, and olive oil to a skillet and saute over medium high heat for 10 - 15 minutes, until mushrooms cook down
Heat a large skillet over medium to medium high heat and oil to coat
Assemble quesadillas by spreading the filling mixture in an even layer onto one half of the tortilla
Add vegetables on top, and fold tortilla over in half
Repeat steps for remaining 7 tortillas
Cook 1 - 2 quesadillas at a time depending on the size of your skillet
Cook for 2 - 4 minutes per side, until crispy
Oil pan again before adding new quesadillas each time
Serve with optional salsa and avocado

Notes
This will serve 4 - 6 people as a main dish. We cut each quesadilla into 3 pieces, so this recipe will make 24 quesadilla pieces
Recommended Products
As an Amazon Associate and member of other affiliate programs, I earn from qualifying purchases.
Nutrition Information:
Yield:

6
Serving Size:

1
Amount Per Serving:
Calories:

445
Total Fat:

14g
Saturated Fat:

4g
Trans Fat:

0g
Unsaturated Fat:

8g
Cholesterol:

0mg
Sodium:

1192mg
Carbohydrates:

67g
Fiber:

17g
Sugar:

16g
Protein:

18g