Vegan taco casserole made with layers of tortilla chips, salsa, nutritional yeast, and seasoned black beans. A delicious and fast vegan mexican dinner!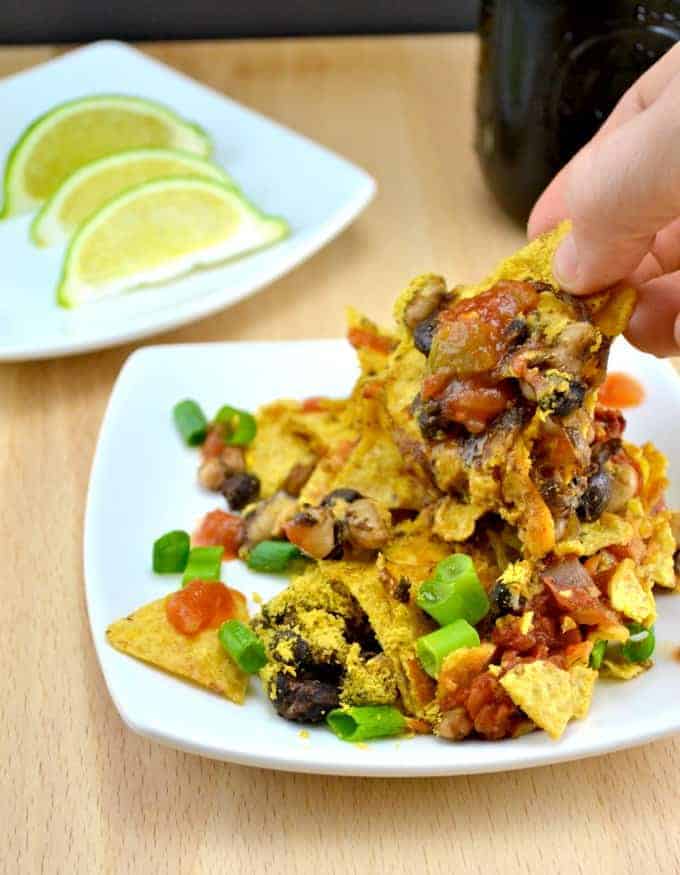 In case you can't tell, I love mexican food!
As a vegan/vegetarian eater, it is one of the easiest and most flavorful meals to make and get tons of protein!
I even wrote a roundup of 28 vegetarian mexican recipes that I love!
This vegan taco casserole is one of my favorites.
It's easy to make, budget friendly, and tastes amazing!
My husband and I couldn't stop talking about how good it was.
I was expecting it to be good, but it was even better than I anticipated.
My husband had never had a casserole like this before and wasn't sure what to expect but he loved it!
We love this when we are craving some good vegan taco food.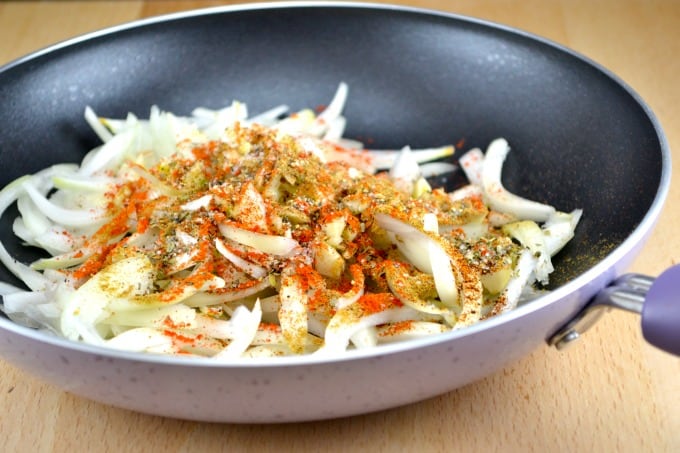 Like so many of my favorite recipes, this one starts with lots of garlic and onion.
I used a different blend of spices than I usually do, and added basil for a nice twist.
I was very happy with the finished product!
When you think of baked tortilla chips with salsa, you may think of soggy, but it's not the case.
I've found that the sturdier the tortilla chip the better in this recipe, so choose a chip that is thicker if you can.
Some of the best bites in this casserole is from where the chips are chewy yet crispy, and loaded with flavor from the beans and salsa baking into them!

I also have an undying love for nutritional yeast (I refer to it as yeast cheese.)
Not only is it one of my favorite foods, but it is loaded with protein!
The nutritional yeast gives this dish a cheese-like flavor.
I've tried to describe the taste of yeast cheese, but I can't.
You just have to try it. It is perfect in this dish!

We had this again for lunch today and it was so good!
When reheating, I recommend the oven instead of microwaving, as it will keep that nice crispy/chewy texture without drying it out too much.

We topped ours with fresh lime juice and green onions and served it with additional corn chips for a little added crunch.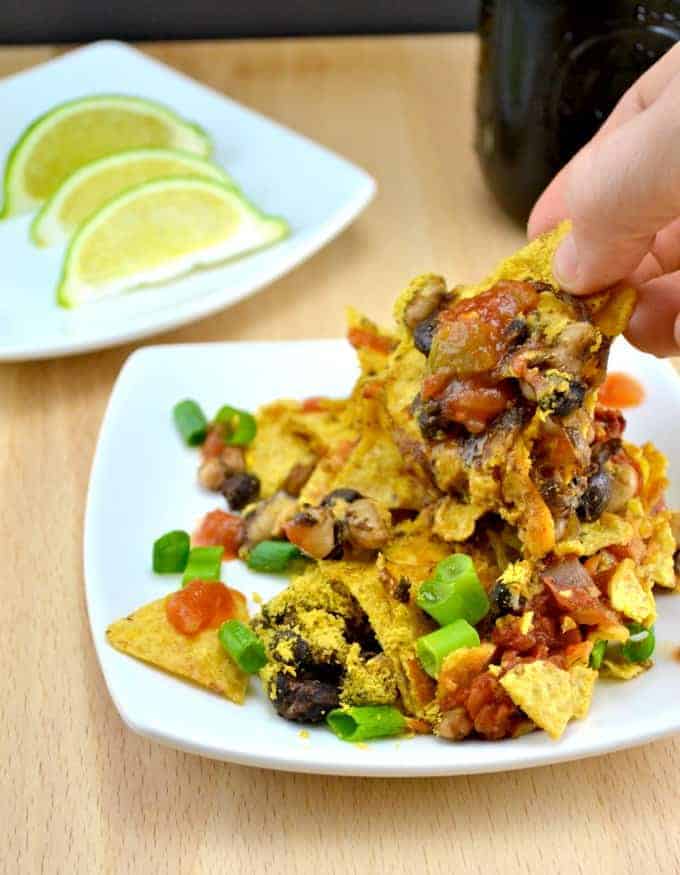 If you want another version of this vegan taco casserole, check out this one with just 10 minutes of prep!
More Vegan Mexican Recipes
Are you making this recipe? I want to see! Don't forget to tag me on instagram @buildyourbite and hashtag #buildyourbite with your recipe creations!
Be sure to pin this recipe for later and follow Build Your Bite on Pinterest for all the latest delicious recipes!
Did you make this recipe? Be sure to leave a star rating below!
Vegan Taco Casserole Recipe
Vegan Taco Casserole
The best vegan taco casserole recipe with nutritional yeast, seasoned black beans, fresh lime juice, and tortilla chips.
Ingredients
1 medium onion, chopped
7 cloves of garlic, finely chopped or minced
1 ½ teaspoon chili powder
2 teaspoons cumin
1 ½ teaspoon basil
½ teaspoon cayenne
¼ teaspoon smoked paprika
½ teaspoon sea salt
½ teaspoon cracked black pepper
2 tablespoons extra virgin olive oil
1 (15 oz) can of black beans, drained
1 (15 oz) can of great northern beans, drained
½ cup nutritional yeast
2 ½ cups chunky salsa (I used medium heat)
14 oz organic yellow tortilla corn chips, plus more for serving
Lime juice for topping
Green onions for topping
Instructions
Combine onion, garlic, olive oil, chili powder, cumin, basil, cayenne, smoked paprika, sea salt, and pepper in a skillet and cook on medium heat for 5-10 minutes, or until onion is translucent and starts to brown
Add black and great northern beans to onion mixture and stir well
Using a 13 by 9 glass baking dish, first put down a layer of tortilla chips to cover the bottom of the pan.
Layer half of the bean mixture onto the chips, followed by ¼ cup of nutritional yeast, and 1 ¼ cups of salsa
Add another layer of chips and cover with remaining beans, nutritional yeast and salsa.
Cover top of dish with a layer of crushed corn chips
Bake at 400 degrees for 25-30 minutes, or until chips on top start to brown
Top with fresh lime juice and green onions
Serve with additional tortilla chips to build the perfect bite
Enjoy!
Nutrition Information:
Yield:

6
Serving Size:

1
Amount Per Serving:
Calories:

516
Total Fat:

20g
Saturated Fat:

3g
Trans Fat:

1g
Unsaturated Fat:

16g
Cholesterol:

0mg
Sodium:

1199mg
Carbohydrates:

74g
Fiber:

14g
Sugar:

6g
Protein:

17g