Sweet potato tacos with black beans are an easy and yummy vegan dinner made with wholesome ingredients!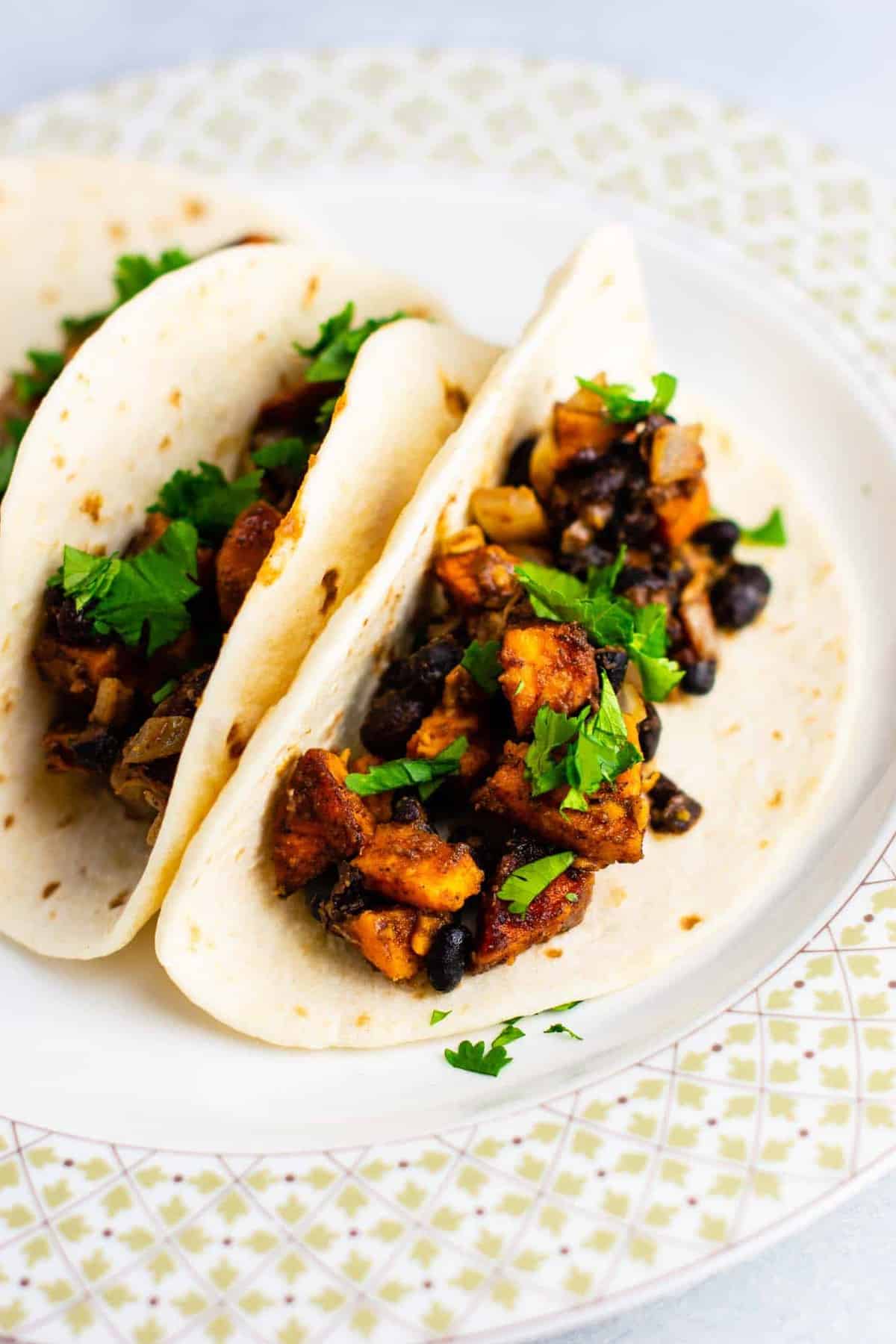 Sweet potatoes are one of my top picks for any mexican related recipes.
These sweet potato tacos are full of smoky flavor and are so filling and delicious!
Sweet potatoes are perfect for vegetarian mexican recipes, because they are not only nutrient dense (and filling), but their sweetness contrasts perfectly with those smoky flavors and fresh zing-y lime juice.
I prefer to roast mine at super high heat to get some crispy edges. Soooo much yum!
Ingredients to make sweet potato black bean tacos
sweet potatoes
spices
olive oil
garlic
onion
black beans
limes
cilantro
toppings of choice
Simple, and packed full of so much fresh flavor!
I buy sweet potatoes almost every week and love to roast them. Gone are the days of my childhood where I only ate sweet potatoes at Thanksgiving. I had no idea what I was missing!
how to make sweet potato tacos
First, you're going to peel and dice your sweet potatoes into small chunks. Toss them with spices and olive oil, and transfer to a large nonstick baking sheet (like what you would bake cookies on.) Edges are preferable, to keep the sweet potatoes from falling off when it's time to flip and stir them.
I roast my sweet potatoes at 450 degrees for two reasons:
They cook faster (only 3o minutes!)
They get crispy edges (and texture is so important!)
Next, cook up some fresh garlic and onion (always always), then add in your black beans, fresh lime juice, and your cooked sweet potatoes.
Scoop some of that yummy filling into soft taco shells and it's time to eat!
Garnish tacos with chopped cilantro and toppings of choice.
Around here, we love sour cream and salsa. Jarred jalapenos are also a great choice if you like that spicy sweet flavor combo (me!)
Plant based, simple, filling, and flavorful. Loving these!
Vegetarian Mexican Recipes
Hungry for more? Check out my post on 26 vegetarian mexican recipes, or see some of my favorites linked below!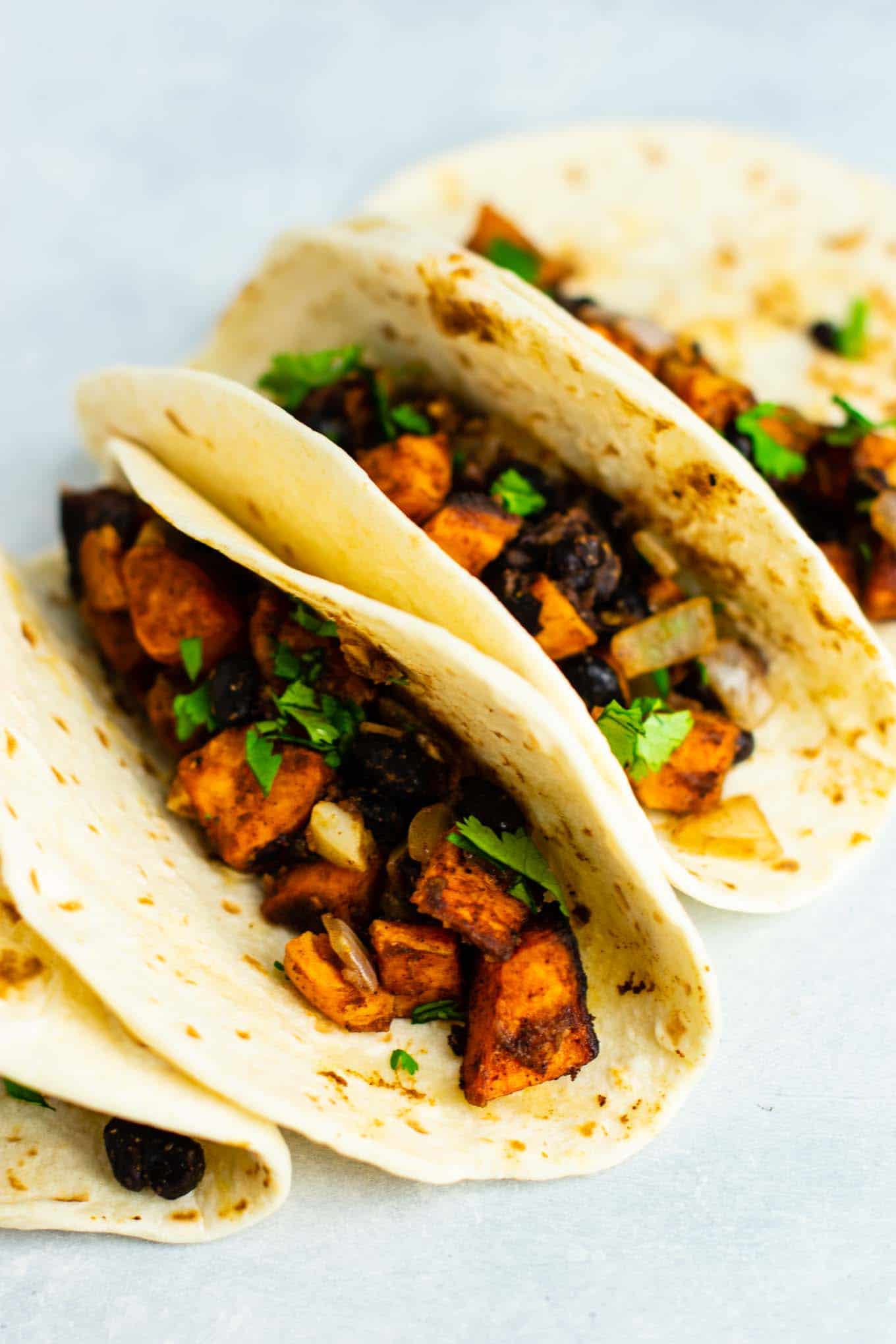 Are you making this recipe? I want to see! Be sure to tag me on instagram @buildyourbite and hashtag #buildyourbite.
Be sure to follow me on FACEBOOK, PINTEREST & INSTAGRAMto never miss a recipe!
Click HERE to pin this recipe!
Did you make this recipe? Be sure to leave a star rating below!

Sweet Potato Tacos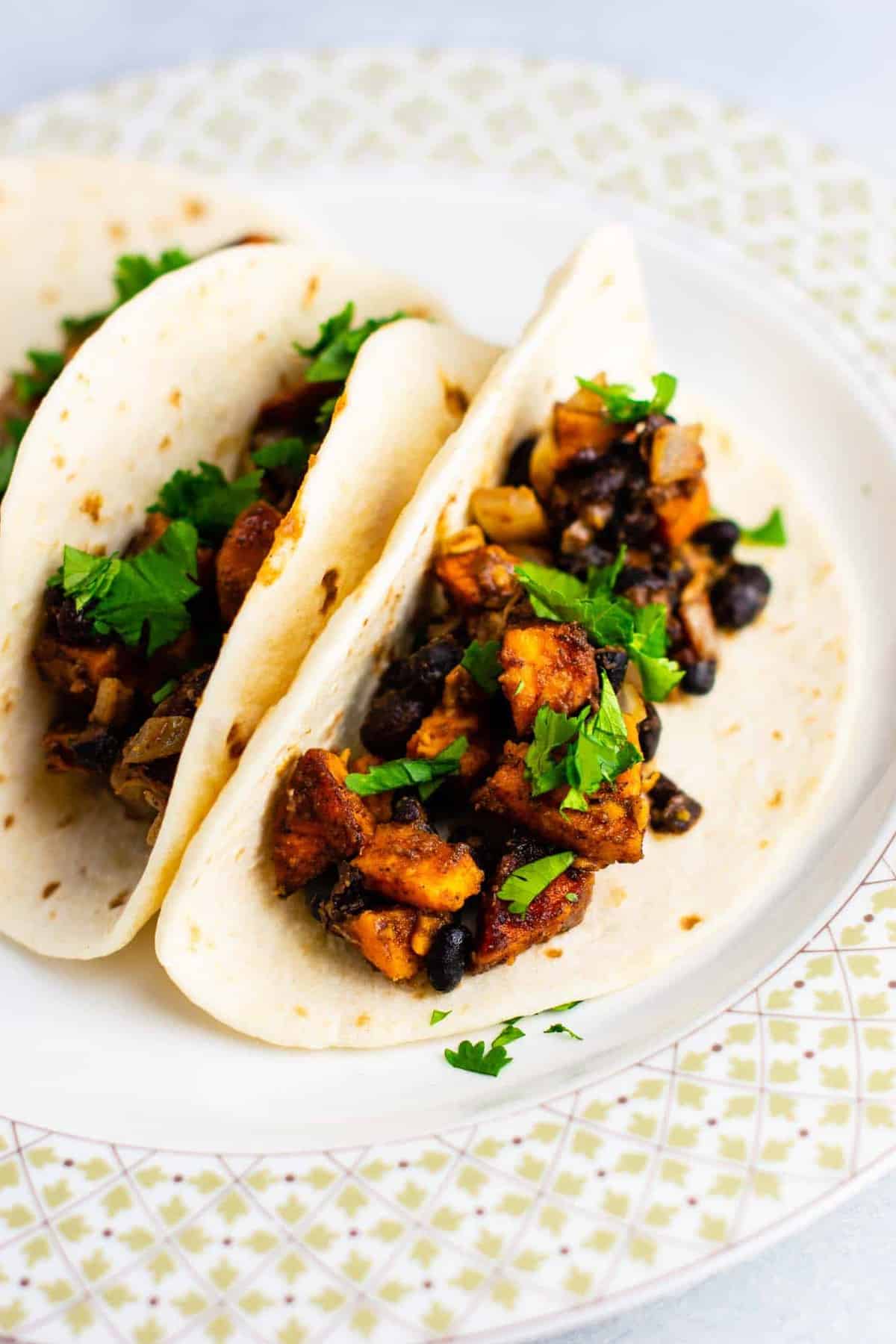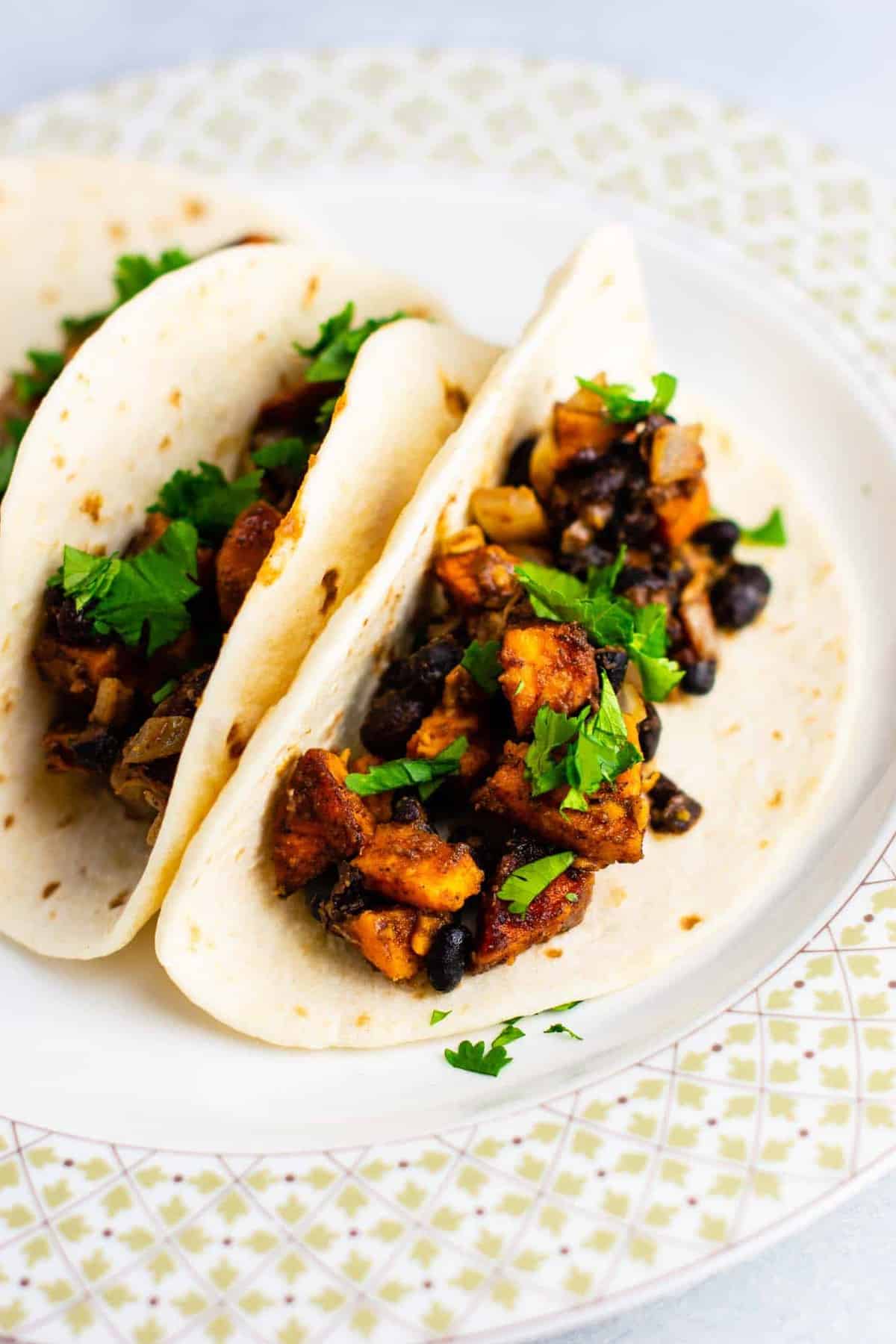 Easy and delicious sweet potato tacos with black beans and fresh cilantro
Ingredients
2 large sweet potatoes, peeled and diced into small chunks
1 1/2 teaspoons salt
1 teaspoon pepper
1 teaspoon garlic powder
1 teaspoon onion powder
1 teaspoon cumin
1 teaspoon chili powder
olive oil
1 onion, diced
10 cloves of garlic, minced
1 can of black beans, drained
juice of 1 - 2 limes
soft taco shells, for serving
cilantro, for serving
Directions
Preheat oven to 450 degrees
Peel and dice sweet potatoes and place in a bowl
Add salt, pepper, garlic powder, onion powder, chili powder, cumin, and enough olive oil to coat (I used 1/4 cup)
Toss well to combine
Transfer sweet potatoes to a nonstick baking sheet and roast at 450 degrees for 15 minutes
Stir and flip potatoes, and roast an additional 10 - 15 minutes, until edges are crispy
While potatoes are cooking, add diced onion, minced garlic, and 1 teaspoon of olive oil to a large skillet or jumbo cooker
Cook on medium high heat for 7 - 10 minutes, until onion is soft
Add black beans, lime juice, and cooked sweet potatoes and stir until heated through
Taste and adjust seasonings (I didn't add any more seasoning)
Serve filling on soft taco shells
Garnish with chopped fresh cilantro
Add toppings of choice (we like sour cream and salsa)
Recipe Notes
Use lime juice to your taste. I personally love lime juice, and used the juice of 2 whole limes for my filling
Use vegan sour cream if you are dairy free
Loading nutrition data...