I don't think I've ever met anyone who didn't like chocolate chip cookies.
While I have made many different versions of this classic cookie, this is my first recipe that I made to be flourless.
These flourless peanut butter oatmeal chocolate chip cookies are thick, chewy, gluten free, and dairy free!

While I personally don't have a gluten intolerance, there are many people that do, as well as those who just wish to avoid flour as much as possible.
I have nothing against baking with whole wheat flour, but I wanted to make a healthy version of this cookie for all of my gluten free readers to enjoy.

These cookies are made with NO flour, dairy, and are naturally sweetened.

I love how light these taste. They are chewy and sweet and the texture isn't exactly like normal cookies (obviously), but it is addictive!
I had a hard time stopping eating these!

I made these cookies for my mom (who avoids wheat because of a slight gluten intolerance), and she loved them!
She was so excited to be able to eat cookies again that didn't require fancy instructions or a special gluten free flour blend.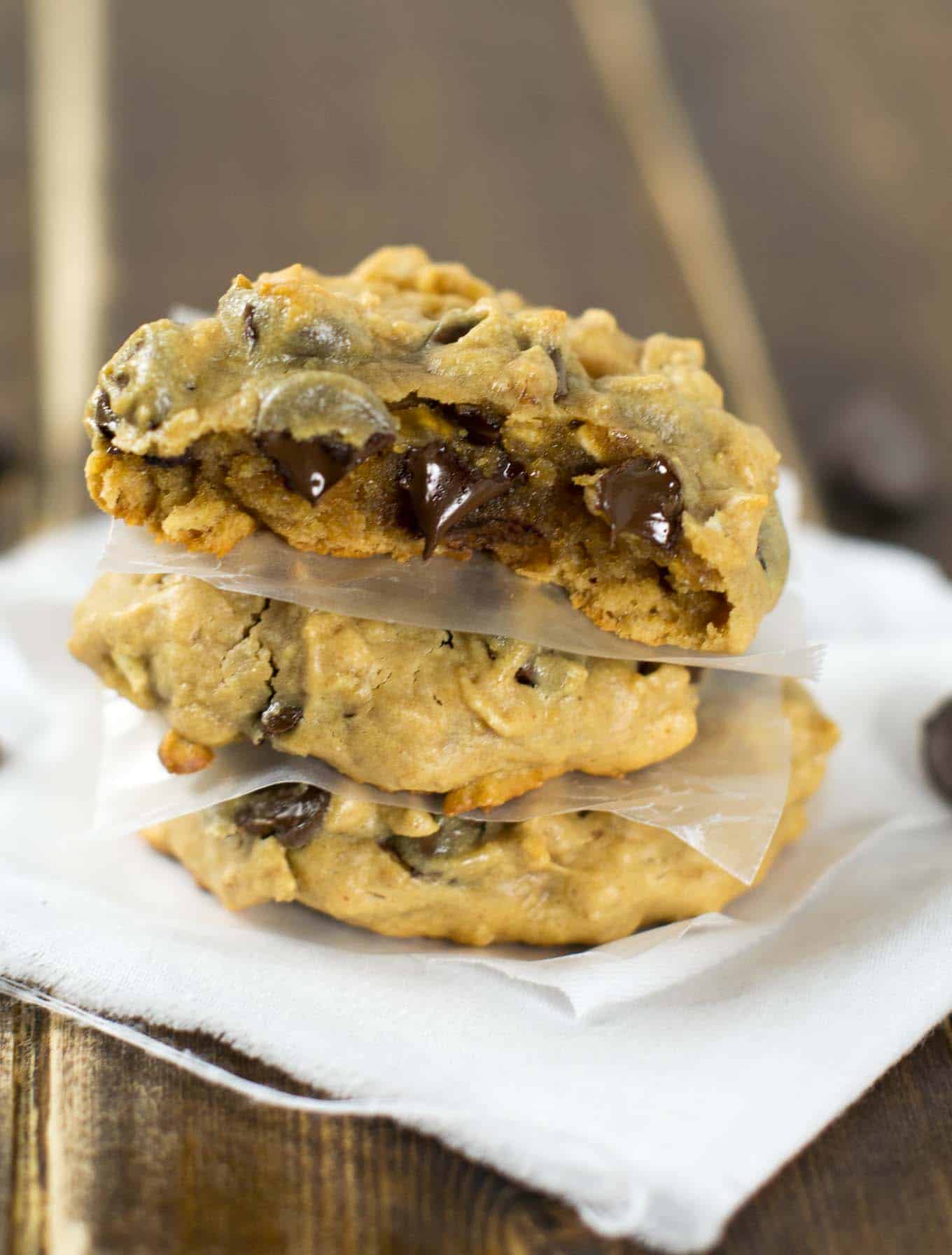 Try these flourless peanut butter oatmeal chocolate chip cookies for a way healthier cookie with all of the flavor that you will love!

Flourless Peanut Butter Oatmeal Chocolate Chip Cookies
Ingredients
1 cup creamy peanut butter
½ cup pure maple syrup
1 tablespoon vanilla extract
1 cup gluten free rolled oats
1 cup semi sweet chocolate chips
2 eggs
½ teaspoon baking powder
⅛ teaspoon sea salt
Instructions
Preheat oven to 350 degrees
In a bowl, beat peanut butter, maple syrup, eggs, and vanilla.
In a separate bowl, whisk together the oats, baking powder, and salt
Add dry mixture to wet and beat until combined
Beat or stir in the chocolate chips
Drop by spoonfuls onto a baking sheet
Bake at 350 degrees for 8-10 minutes, or until the center is cooked through