White Chocolate Cranberry Eggnog Bread aka "Crack Bread." Guaranteed to impress everyone who tastes it! Your only problem will be how fast it disappears. 

Can you guys believe how close Christmas is?!
It's really snuck up on me this year.
One of my favorite parts of Christmas is all of the holiday baking!
Food is my love language, and it makes me so happy to bake up new creations to share with my family!
Eggnog is one of those controversial Christmas drinks that you either love or hate – there usually isn't an in between.
My husband is definitely on the love side, while I am not so crazy about it (too sweet for me!).
But add eggnog to a delicious moist cranberry bread and drizzle it with white chocolate?
I'm SOLD!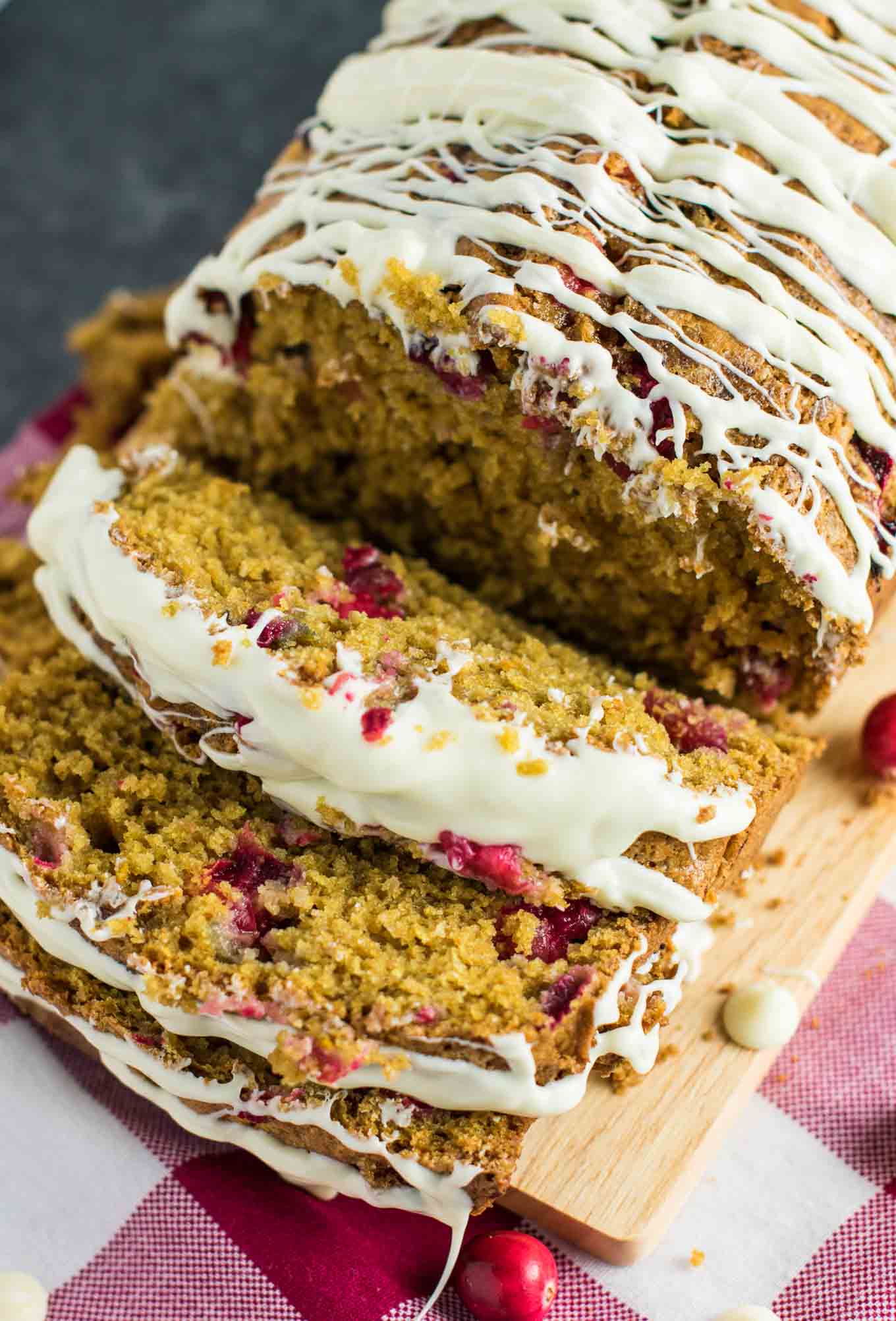 Rest assured all you eggnog haters, I promise you'll love this recipe!
Everyone who has tried this bread has RAVED about it – it doesn't taste like eggnog, so even those not crazy about it will love this recipe.
After I made my Whole Wheat Cranberry Cream Cheese Muffins, I became obsessed with baking with fresh cranberries.
That huge pop of flavor is just so festive and full of flavor!
As you can tell from my recent barrage of cranberry inspired recipes, I am feeling festive my friends.
They are so sweet and tart and perfect for Christmas baking.
I decided to create this white chocolate cranberry eggnog bread with some leftover cranberries that I had in my fridge.
This bread is insanely moist and delicious, and topped with crunchy baked brown sugar then drizzled with white chocolate after it finishes baking.
This is a showstopper recipe that is not only gorgeous to look at, but surprisingly easy to make.
It's ready for the oven super fast and doesn't require many ingredients.
Orange zest is a MUST in this recipe and adds so much flavor (so don't leave it out!)
I really can't get enough of this and could eat a whole loaf myself if I didn't stop myself.
I gave a loaf to my brother this weekend and he is as addicted as I am.
He sent me a picture eating it for breakfast after eating it for dessert the night before.
It's seriously so addicting.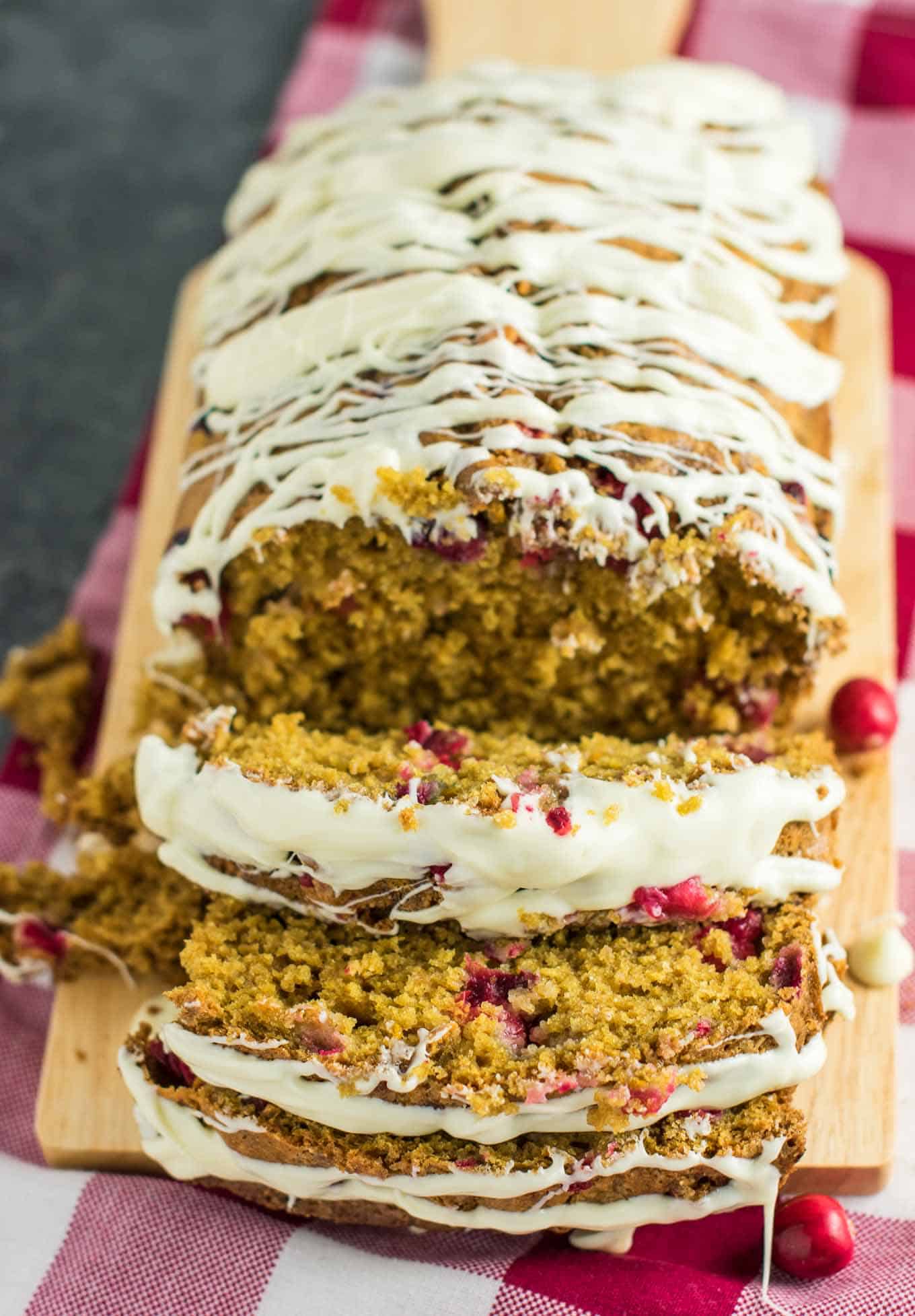 This white chocolate cranberry eggnog bread would make a great gift for loved ones, or the perfect dessert to bring to a Christmas party.
Are you making this recipe? I want to see! Be sure to tag me on instagram @buildyourbite and hashtag #buildyourbite!
Click below to pin this White Chocolate Cranberry Eggnog Bread:
White Chocolate Cranberry Eggnog Bread
Ingredients
1/3 cup olive oil
1 cup brown sugar + more for topping
2 eggs
1 cup eggnog (I used soy eggnog)
1 1/4 teaspoons baking soda
1/2 teaspoon sea salt
1 3/4 cups whole wheat pastry flour
1 cup fresh cranberries
1 teaspoon vanilla extract
2 tablespoons orange zest
1/2 cup white chocolate chips, melted
Directions
In a large bowl, cream together olive oil, brown sugar, eggs, vanilla extract, orange zest, and eggnog
In a separate bowl, whisk together salt, baking soda and flour
Add dry mixture to the wet, beating well until combined
Fold in cranberries
Grease a loaf pan with cooking spray and pour in batter
Sprinkle with brown sugar and garnish with additional cranberries, if desired
Bake at 350 degrees for 55-60 minutes, or until a toothpick inserted comes out clean
Remove from pan and place on a cooling rack and cool for 15-20 minutes
Melt chocolate chips in the microwave for 1-2 minutes or until smooth
Drizzle chocolate over bread
Store bread in the fridge and serve chilled (it's also delicious hot, but i prefer the flavor chilled)
Recipe Notes
Loading nutrition data...