This easy cranberry sauce has been on my Thanksgiving table every year for years. Once you taste this recipe you'll never buy the canned stuff again! All you need is fresh cranberries, maple syrup, and salt to make a healthy and tasty cranberry sauce.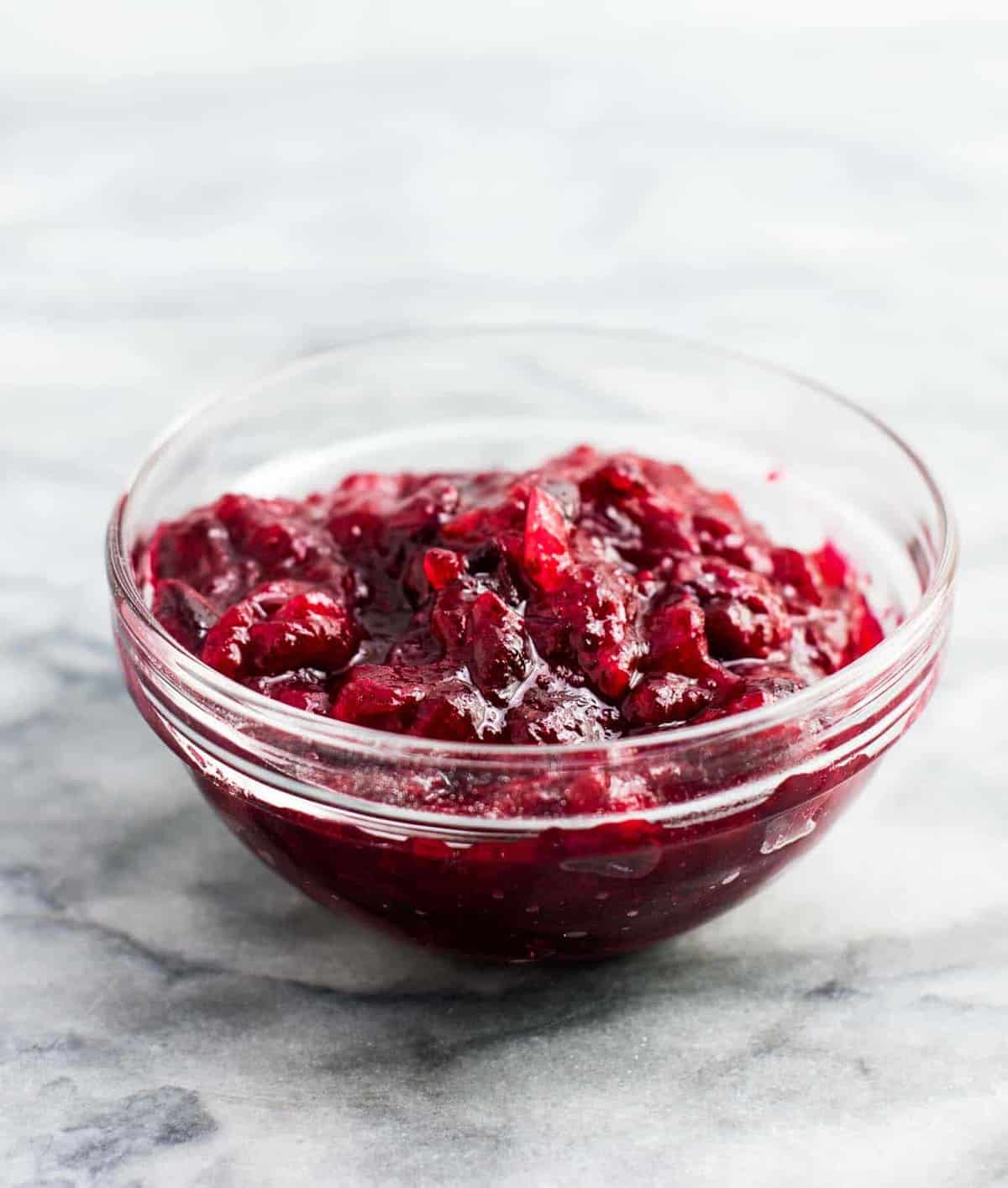 This healthy cranberry sauce is a traditional favorite every year at our Thanksgiving table.
Growing up, I absolutely hated cranberry sauce from a can, and I don't believe I ever tasted a homemade one made with fresh cranberries.
I had no idea what I was missing out on!
Our family never used fresh cranberries, but I live for them every winter now.
From cranberry eggnog bread, to cranberry cream cheese muffins, cranberry blueberry crisp, cranberry apple butter, cranberry orange muffins, cranberry apple crisp, to cranberry white chocolate chip cookies.
Fresh cranberries are tart, and add so much sweet tart delicious flavor to holiday treats!
Holidays just aren't the same without delicious fresh cranberry recipes.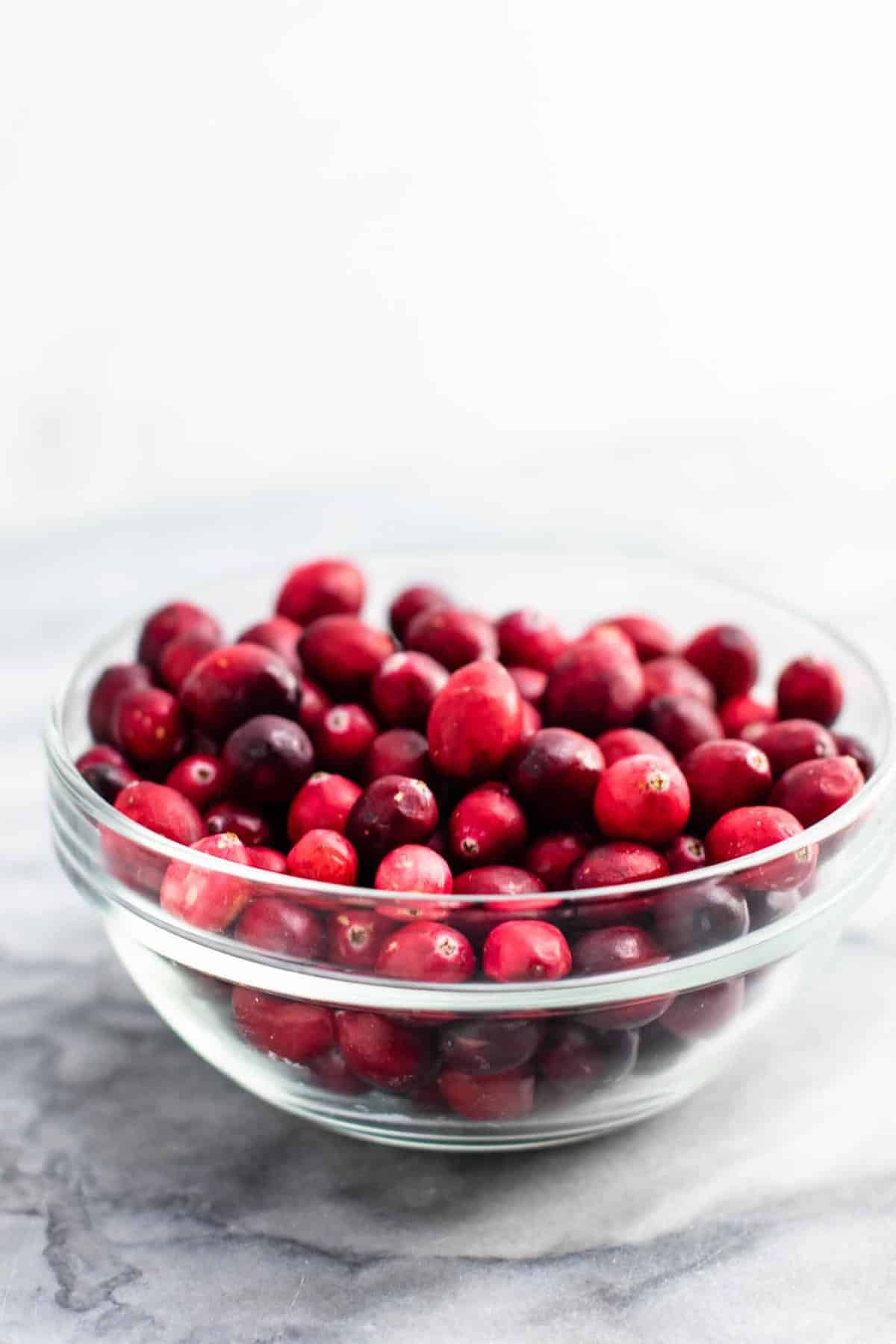 I grew up seeing either one of two things at Thanksgiving:
1) the canned creepy jello cranberry sauce that you buy from the store or
2) an overly sweet sauce that somewhat resembled cranberry but tasted just about as bad as the stuff from the can.
I didn't care for either one and cranberry sauce was a big no from me for many years.
I had no idea what I was missing out on!
Now that I've made my own cranberry sauce, I can't imagine Thanksgiving without it!
This sauce is tangy, sweet (but not overly so) and I could eat it by the spoonful.
As a former cranberry-hater, that's saying something!
Perfect taken with bites of (vegetarian for us) turkey, stuffing, mashed potatoes, and every savory Thanksgiving dish!
Read my post on 17 best vegetarian thanksgiving recipes for all of our family favorites!
I can't eat my Thanksgiving favorites without a bite of healthy cranberry sauce along with it!
If you have never liked cranberry sauce, or want to try making it yourself, this recipe is perfect!
It is so simple and only takes 15 minutes to make.
No fuss, easy, and tastes delicious every time.
How to make cranberry sauce
Add the cranberries, maple syrup, and salt to a medium sized sauce pan.
Tip for buying fresh cranberries
The cranberries should be bright red and firm to the touch.
Try to avoid mushy darker colored cranberries, as this means they are starting to turn bad.
Heat the pan until the cranberry mixture starts to boil.
At that point, turn the heat to low, and stir the cranberry sauce often for 10 – 15 minutes.
As the cranberries cook, they will start to get soft and burst.
Use the bottom of a spoon to mash the cranberries as you go.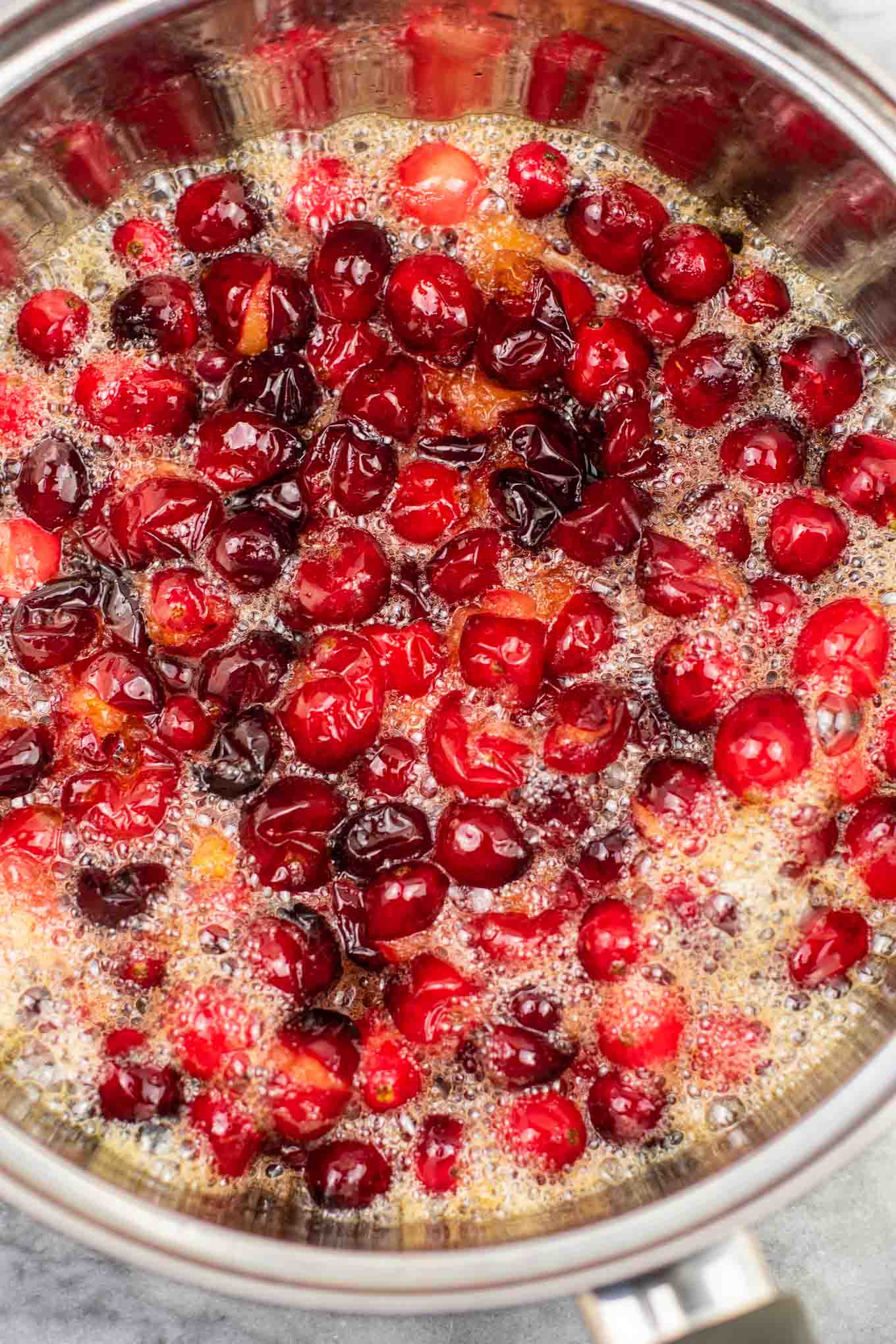 Perfectly thick, sweet and tangy.
Transfer to a dish and store in the fridge until ready to serve!
That is it! So simple and so delicious.
It really could not be any easier to make.
You can even make it the day before and store in the fridge until it's time for Thanksgiving dinner.
I do this every year to save on time.
I love making what I can ahead when preparing for Thanksgiving since I'm usually in a time crunch the day of.
Cranberry sauce always gets made ahead of time.
If you have never made homemade cranberry sauce before, I hope you will try it!
Be sure to leave a comment and let me know how it turns out.
More Thanksgiving Recipes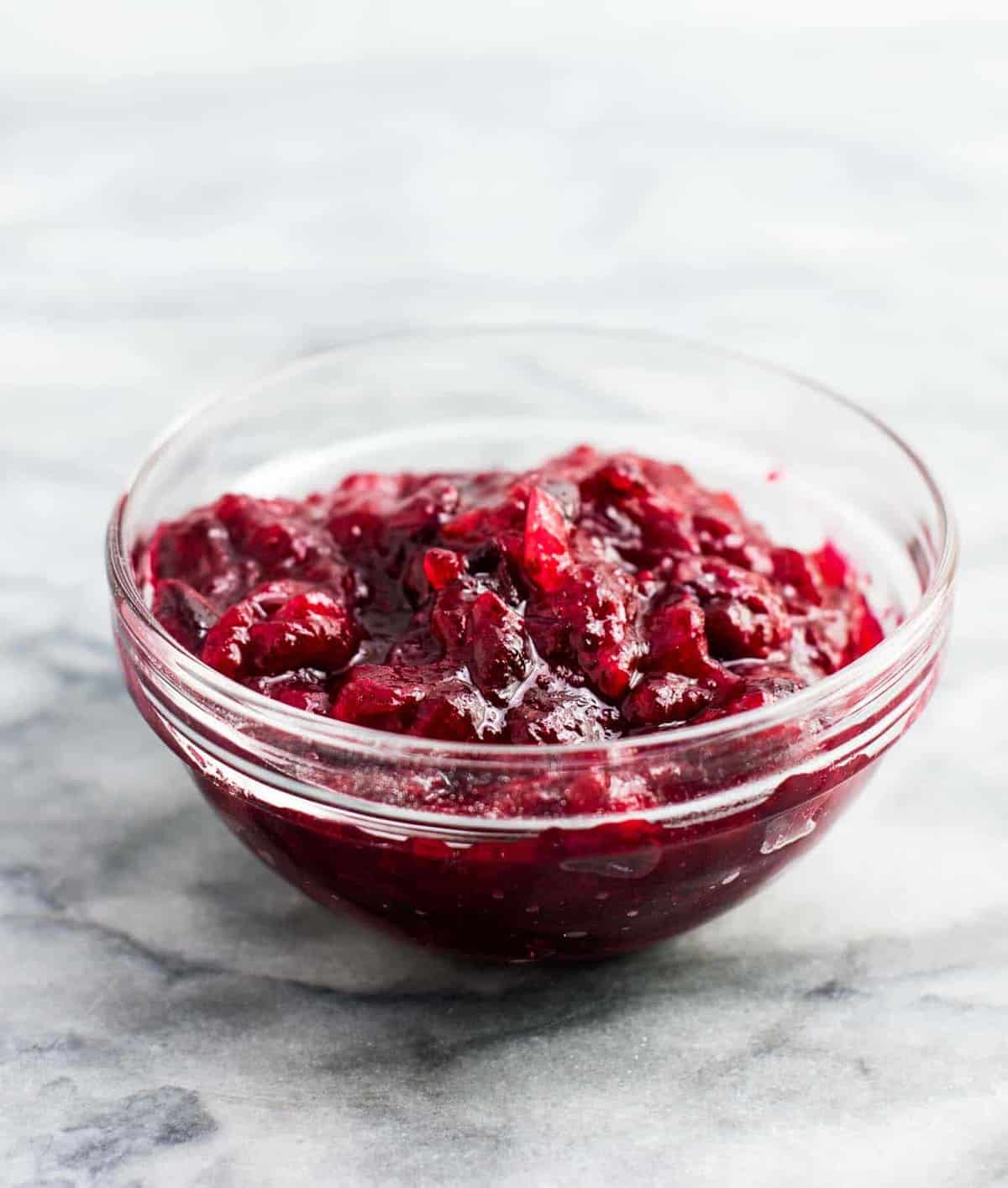 Did you make this recipe? I want to see! Don't forget to tag us on instagram @buildyourbite and hashtag #buildyourbite with your recipe photos
Be sure to follow Build Your Bite for all the latest recipes!
Did you make this recipe? Be sure to leave a star rating below!
Healthy Cranberry Sauce Recipe
Yield: about 3 cups
Healthy Cranberry Sauce
This healthy cranberry sauce is the perfect mix of tangy and sweet! Just 3 ingredients and so delicious!
Ingredients
3 1/2 cups fresh cranberries
3/4 cup maple syrup
Scant 1/2 teaspoon sea salt
Instructions
Add fresh cranberries, pure maple syrup, and salt to a medium sauce pan and bring to a boil
After it boils, turn down to low and cook 10-15 minutes, until thick, stirring frequently and smashing with a spoon. The cranberries will begin to burst the longer they boil.
Refrigerate the cranberry sauce until cold and serve chilled
Nutrition Information:
Yield:
10
Serving Size:
1
Amount Per Serving:
Calories:

80
Total Fat:

0g
Saturated Fat:

0g
Trans Fat:

0g
Unsaturated Fat:

0g
Cholesterol:

0mg
Sodium:

109mg
Carbohydrates:

21g
Fiber:

1g
Sugar:

16g
Protein:

0g