Whole wheat cranberry cream cheese muffins with a sweet glaze. The perfect winter treat with fresh seasonal cranberries. 
Whole wheat cranberry cream cheese muffins are a delicious and healthier treat for fall and winter!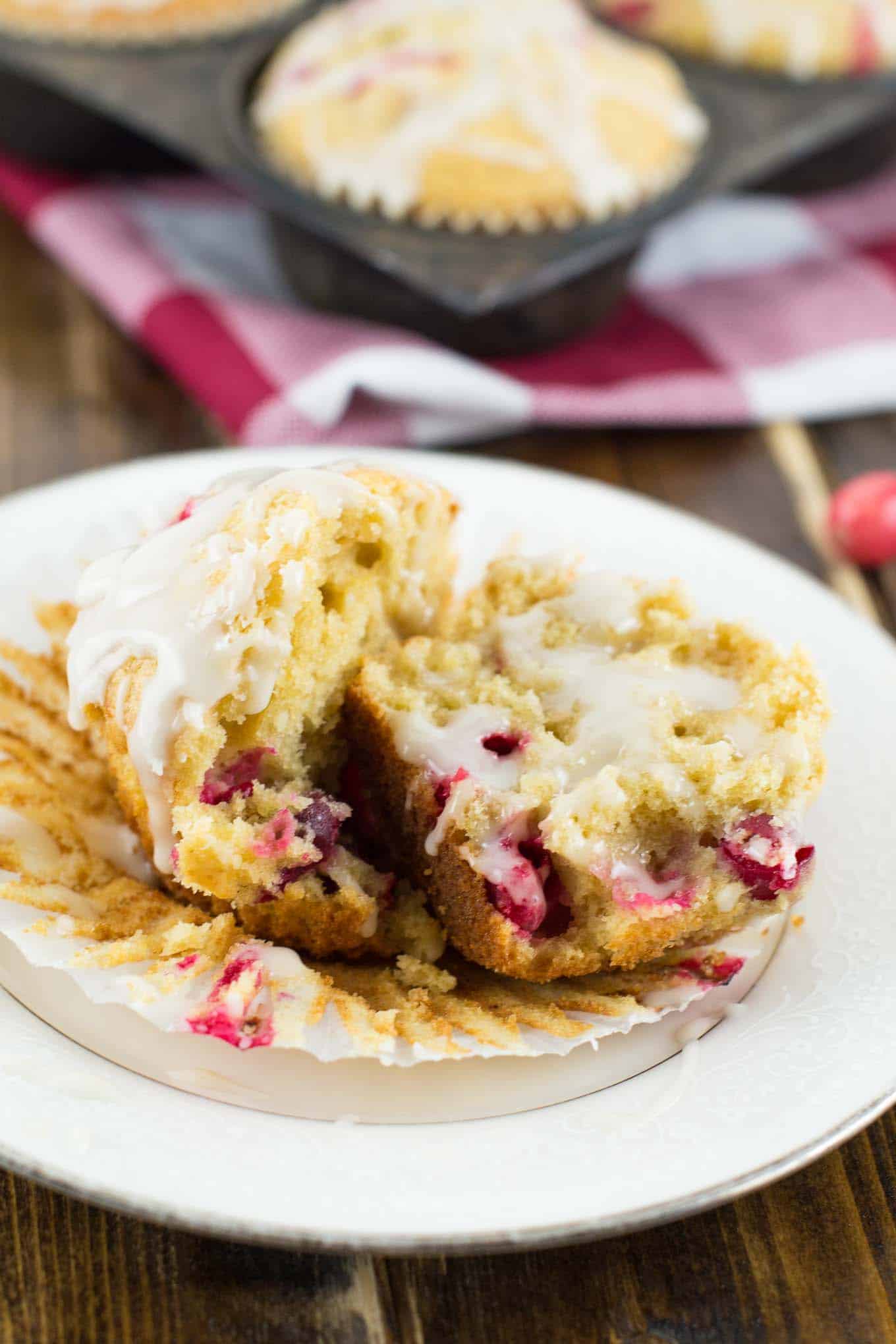 Christmastime and December have always been special to me, but more so in the last 3 years.
My husband and I were married just 5 days before Christmas in 2014. After having our first child this year, we are creating our own little traditions as a family!
Cranberries are one of those classic fall/winter foods that are so popular but seem difficult to cook with.
I used to be intimidated by using fresh cranberries until I made my homemade cranberry sauce.
Then I just couldn't get enough of how fresh and deliciously tangy it was. Cranberries are one of my favorite winter flavors now!
I wanted to create a healthier muffin using cream cheese and fresh cranberries for a delicious breakfast (or dessert) that wasn't full of bad ingredients that would leave me feeling bad afterwards.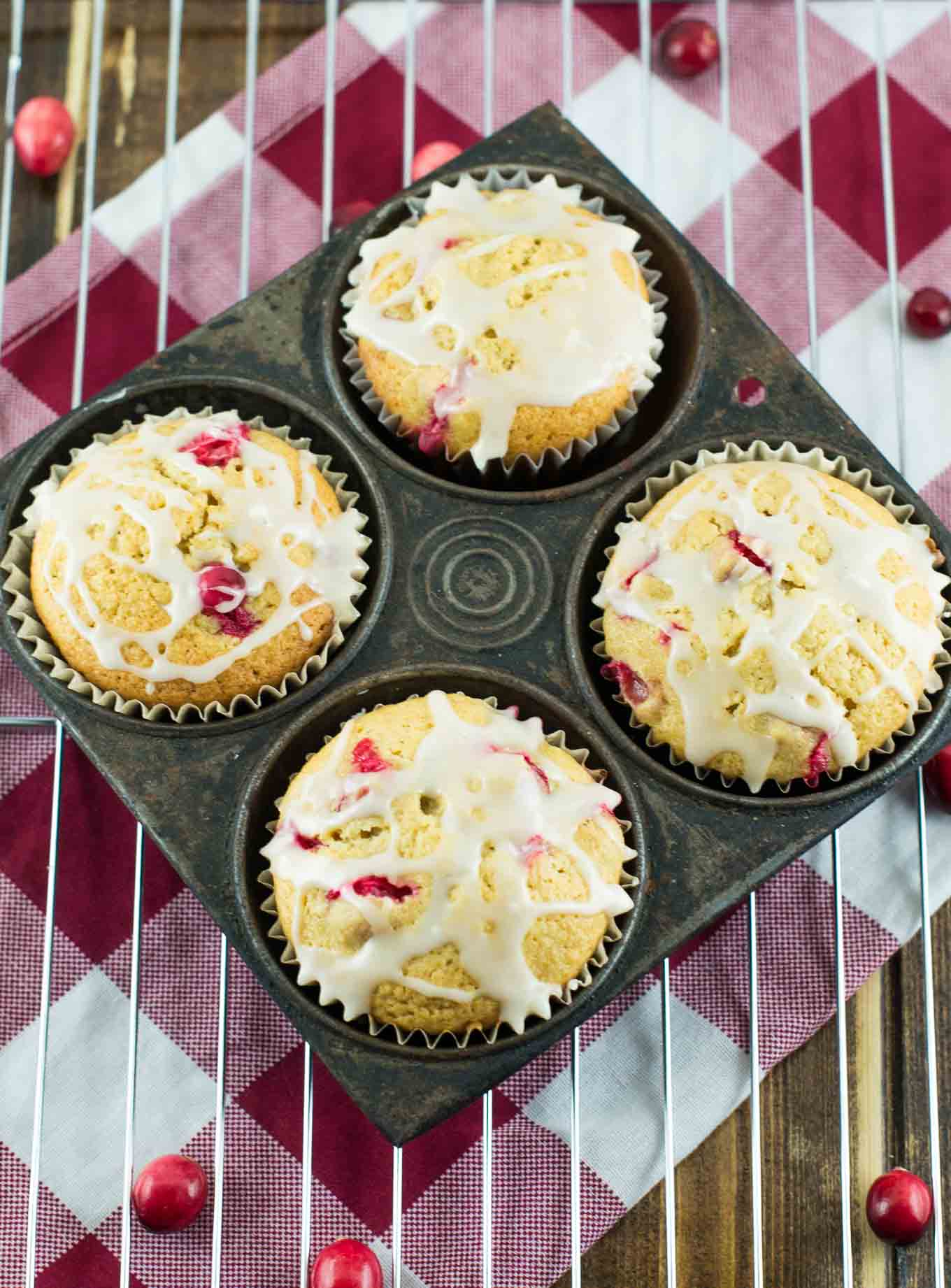 These muffins are made using whole wheat pastry flour which gives them a deliciously light and fluffy texture.
They are insanely soft and practically melt in your mouth.
They are not overly sweet, and are filled with bites of fresh tangy cranberries.
The sugar glaze on the top adds just the right amount of sweet to counterbalance the cranberries.
These seriously taste like something straight out of a bakery. Your family will be begging you to make more of these!
These are officially my "Christmas morning muffins."
Try these this year for a delightful (and healthy-ish) snack or sweet treat for your loved ones to enjoy (if you don't eat the whole batch yourself, that is!)
Do you love cranberries? Be sure to check out my other recipes: White Chocolate Cranberry Eggnog Bread, 3 ingredient Homemade Cranberry Sauce.
Pin these Whole Wheat Cranberry Cream Cheese Muffins:
Whole Wheat Cranberry Cream Cheese Muffins
Ingredients
8 oz cream cheese, softened
1/4 cup unsweetened applesauce
1/4 cup coconut oil, melted
1/2 cup olive oil
1 cup sugar
1/4 cup brown sugar
1 tablespoon vanilla extract
4 eggs
2 cups whole wheat pastry flour
1 1/2 teaspoons baking powder
1/2 teaspoon sea salt
2 1/2 cups fresh cranberries
For the glaze
1 cup powdered sugar
2 tablespoons 2% milk
Directions
In a large bowl, beat cream cheese, vanilla extract, sugar, brown sugar, applesauce, coconut oil, and olive oil until well combined
Add eggs and beat well
In a separate bowl, whisk together flour, baking powder and salt
Add the dry mixture to the wet, until just combined
Fold in cranberries
Pour into a greased muffin tin (or into muffin liners) and fill to ¾ of the way full
Bake at 350 degrees for 24-26 minutes, or until a toothpick inserted into the muffins comes out clean
In a small bowl combine powdered sugar and milk and whisk to form a glaze
Drizzle over muffins while hot
Store in an airtight container for 3-5 days, or in the fridge for a week
Loading nutrition data...