You'll love these healthier cranberry white chocolate chip cookies with fresh cranberries. The perfect seasonal Christmas cookie bursting with flavor!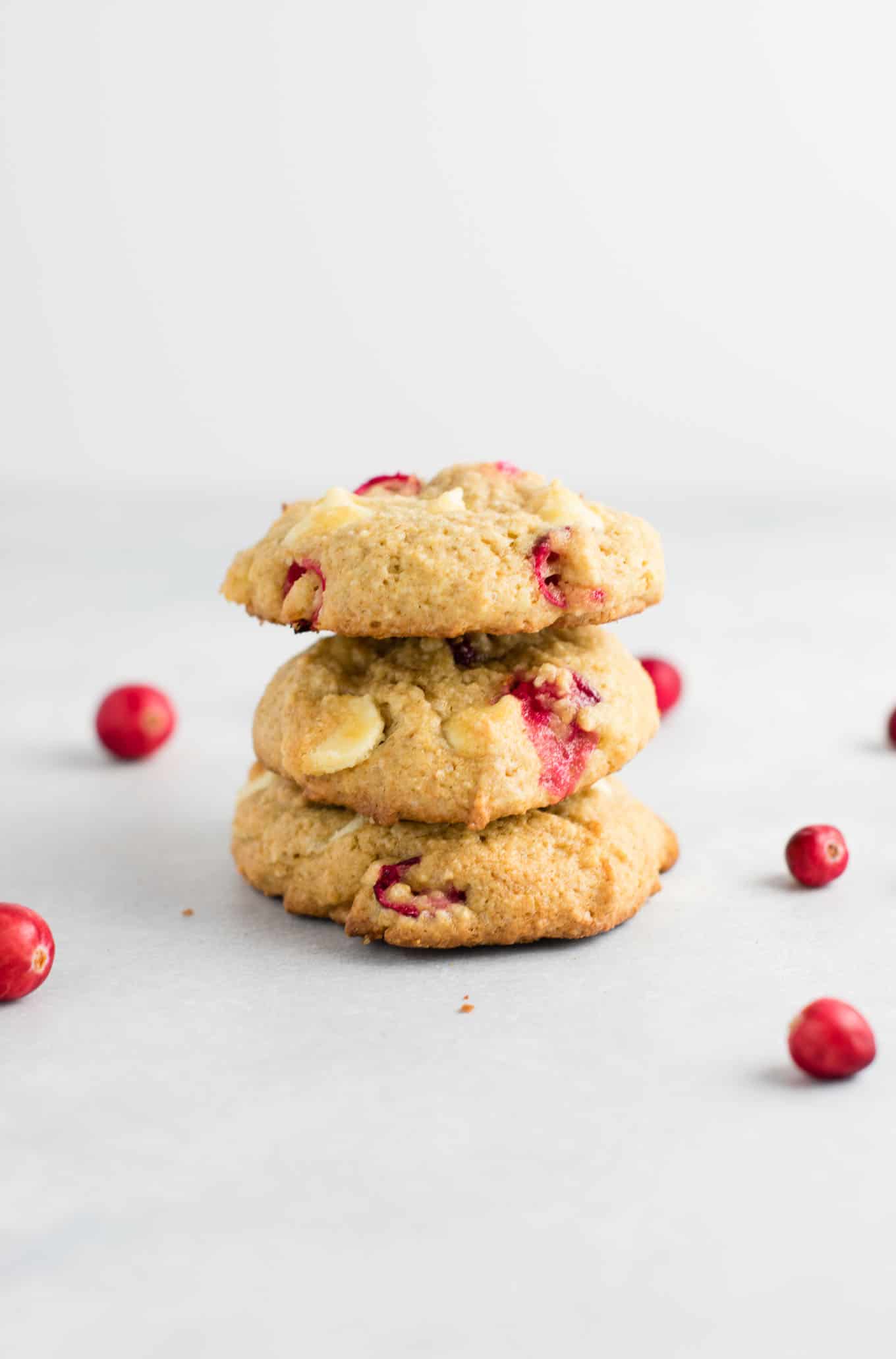 Guys, I am beyond excited to share another cranberry recipe with you today!
I've shared quite a few of my favorites (links at the bottom of this post) and today I'm adding another.
Growing up I don't remember having fresh cranberries, and man was I missing out!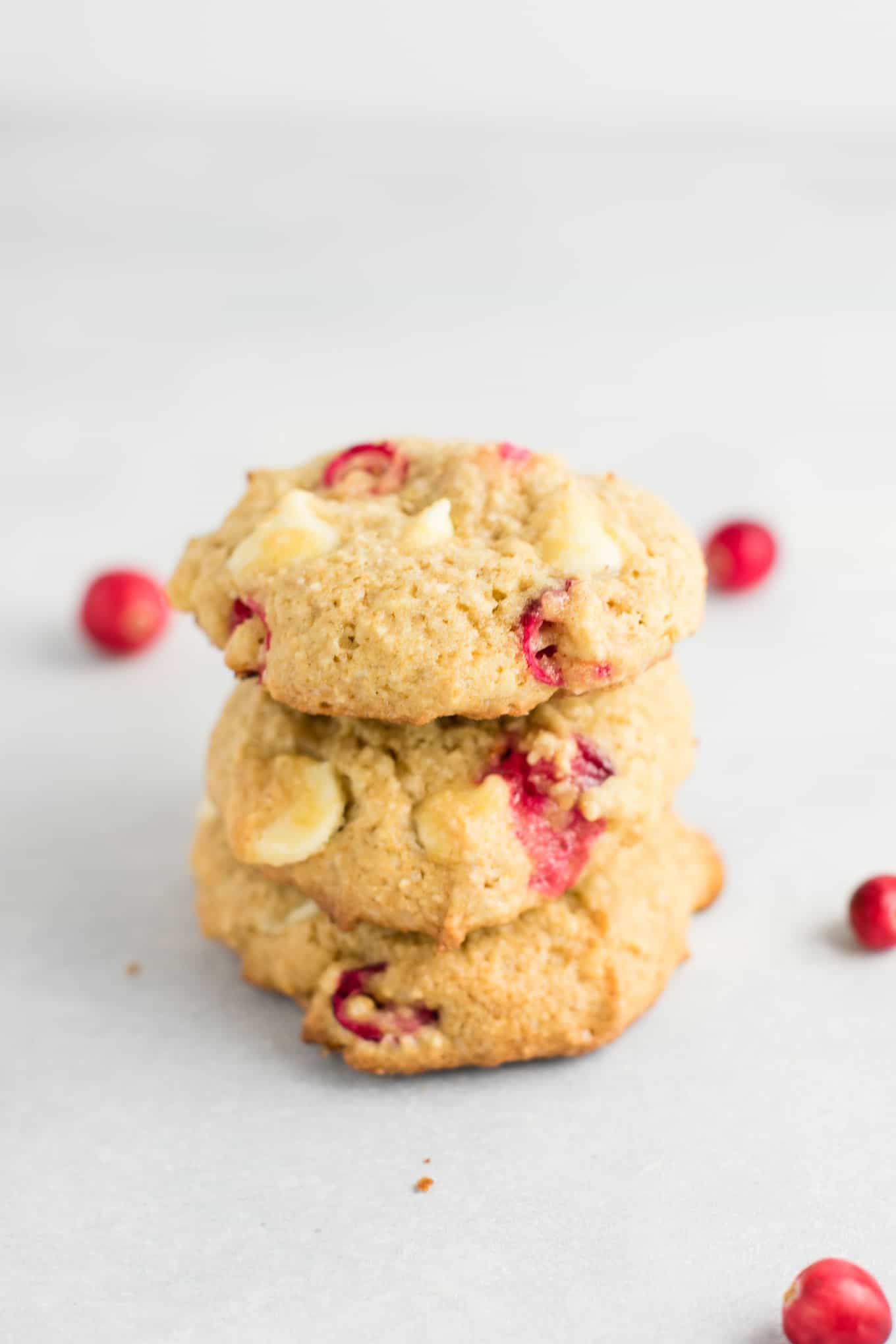 Fresh cranberries are tart and juicy and add such a delicious pop of flavor to seasonal recipes.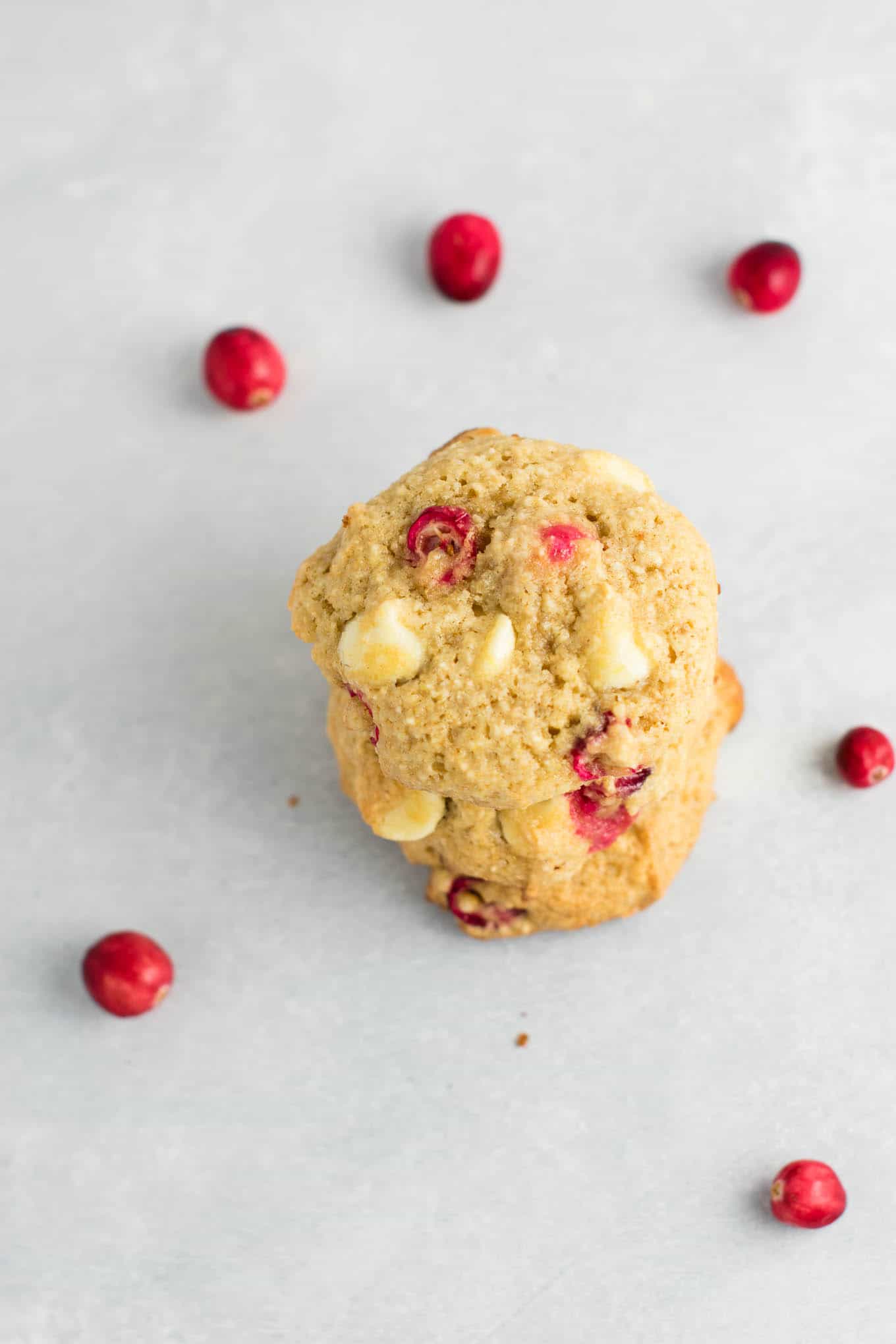 If you haven't yet tried fresh cranberries, these cranberry white chocolate chip cookies are a great place to start!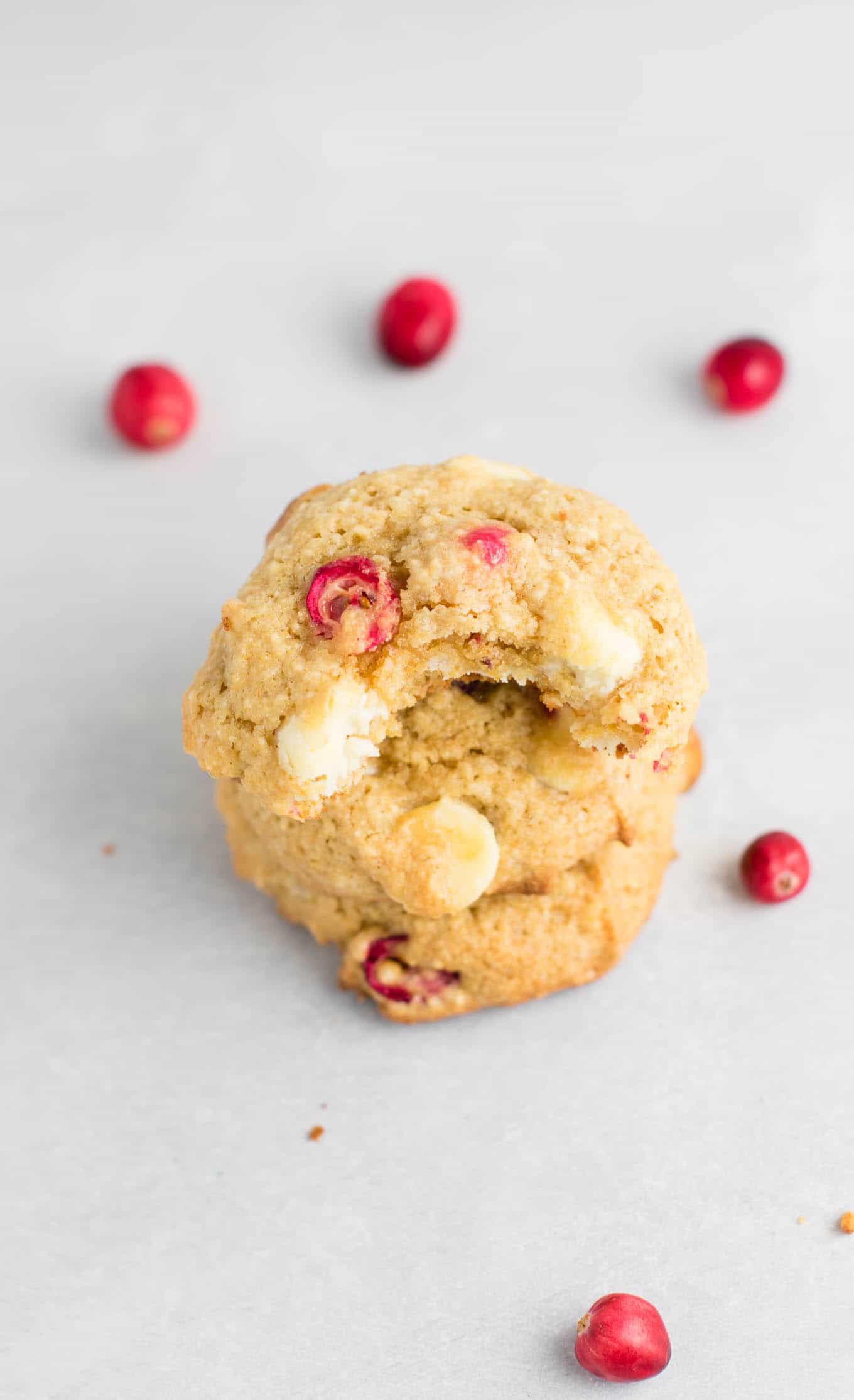 These cookies are soft and chewy and filled with better for you ingredients.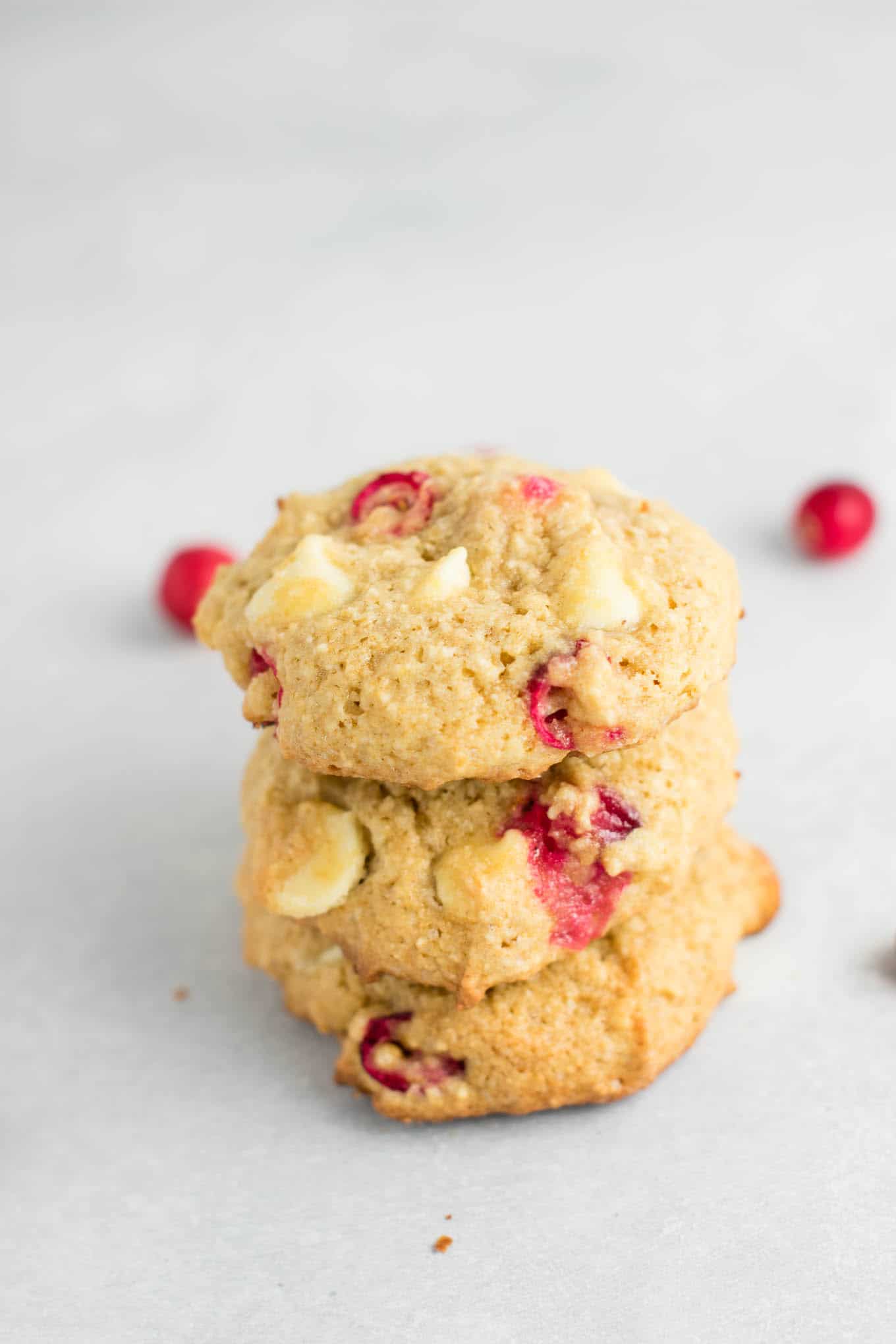 I am not calling these healthy, but they are definitely healthier for you than other Christmas treats you could make.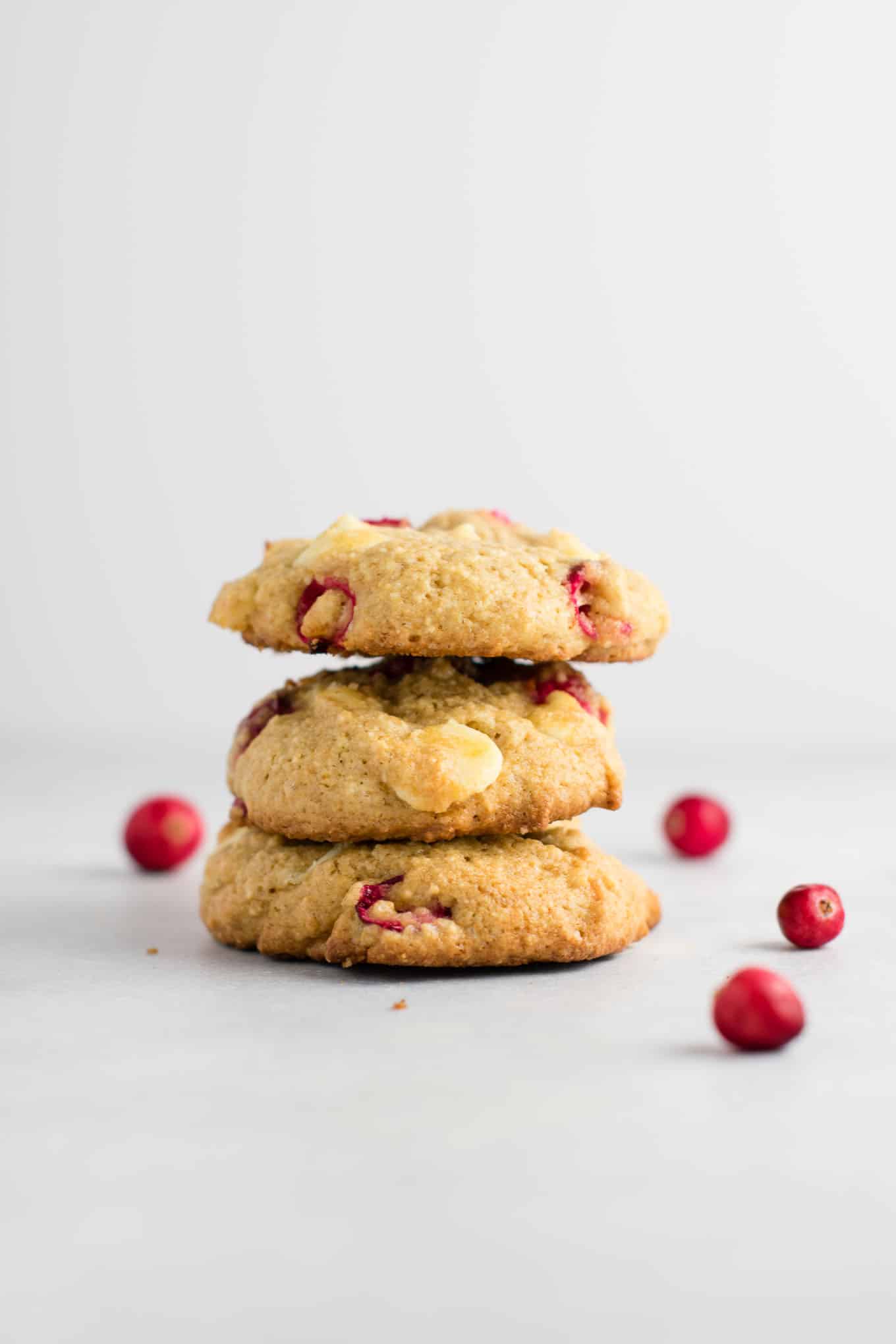 A mixture of oat flour, coconut flour, and whole wheat pastry flour makes these cookies chewy and soft and decadent.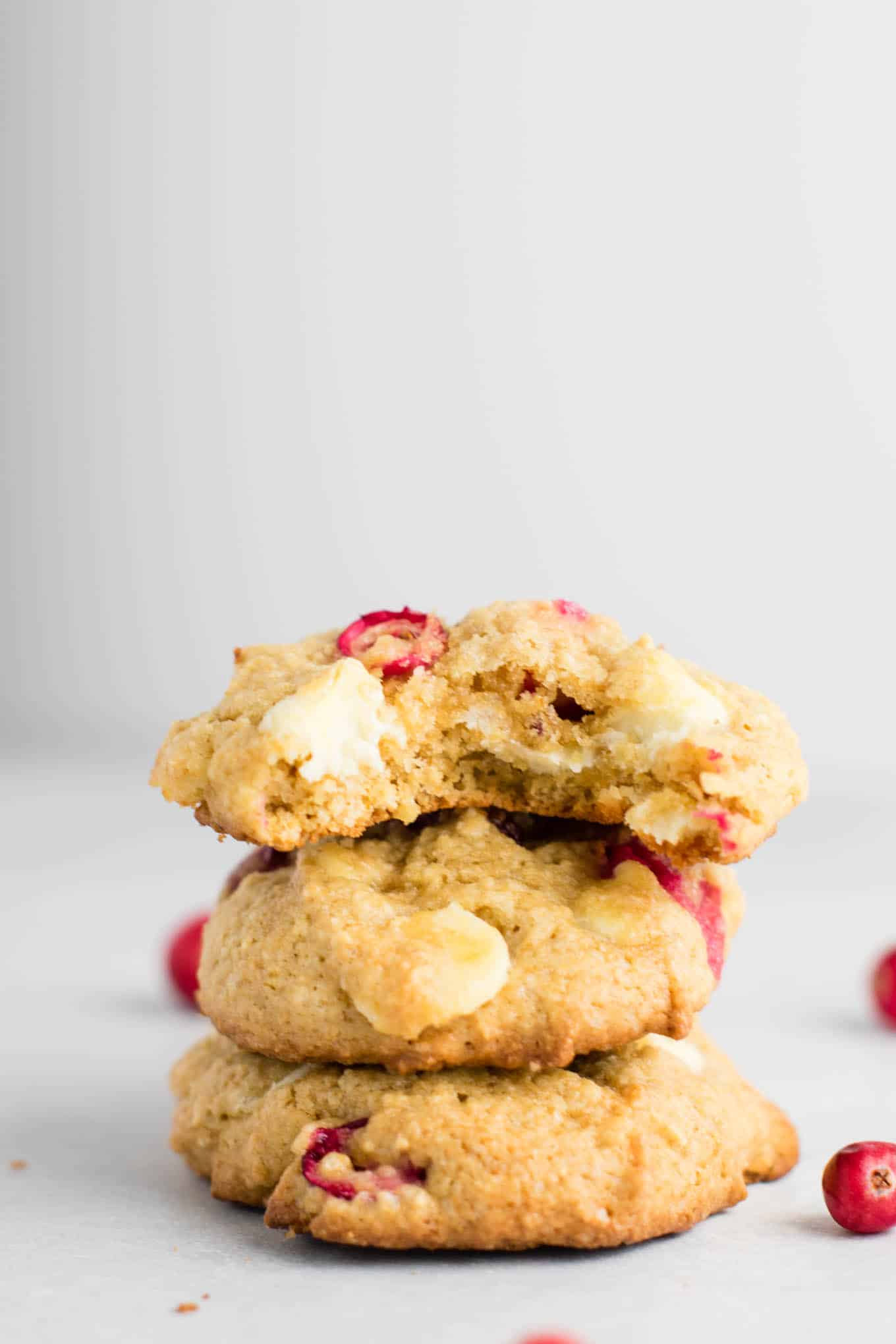 Cranberry and white chocolate were meant for each other, and make for a tart and sweet holiday taste in these cookies.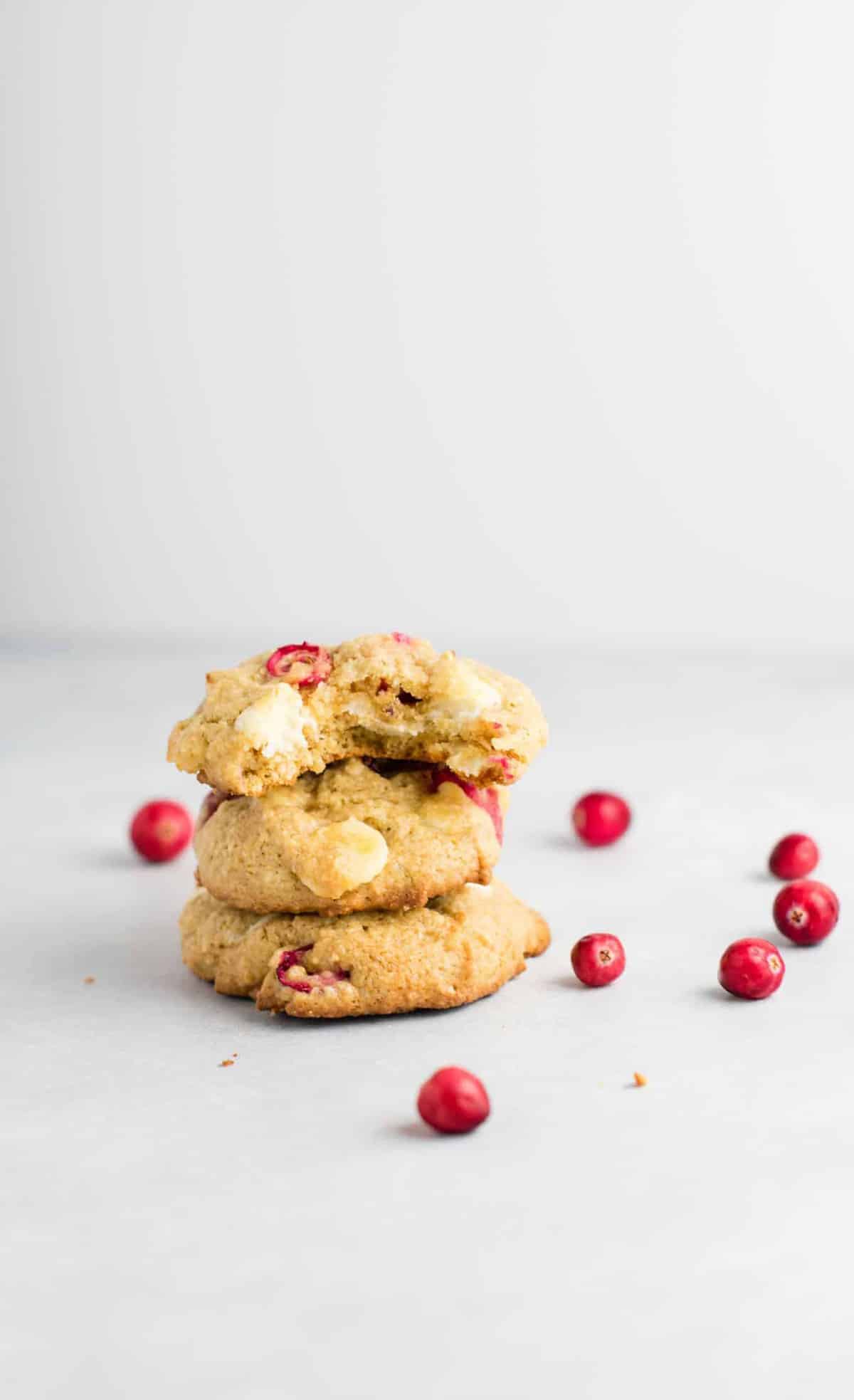 This would be a great recipe to bring for a hostess gift or to give as a gift for Christmas.
I bought a cookie tin and gave half of the batch to my dad for his birthday present.
I'm normally not a big fan of white chocolate, but I make the exception for when it is paired with cranberries.
I love the texture and the sweetness level is sweet without being I-just-got-a-cavity sweet.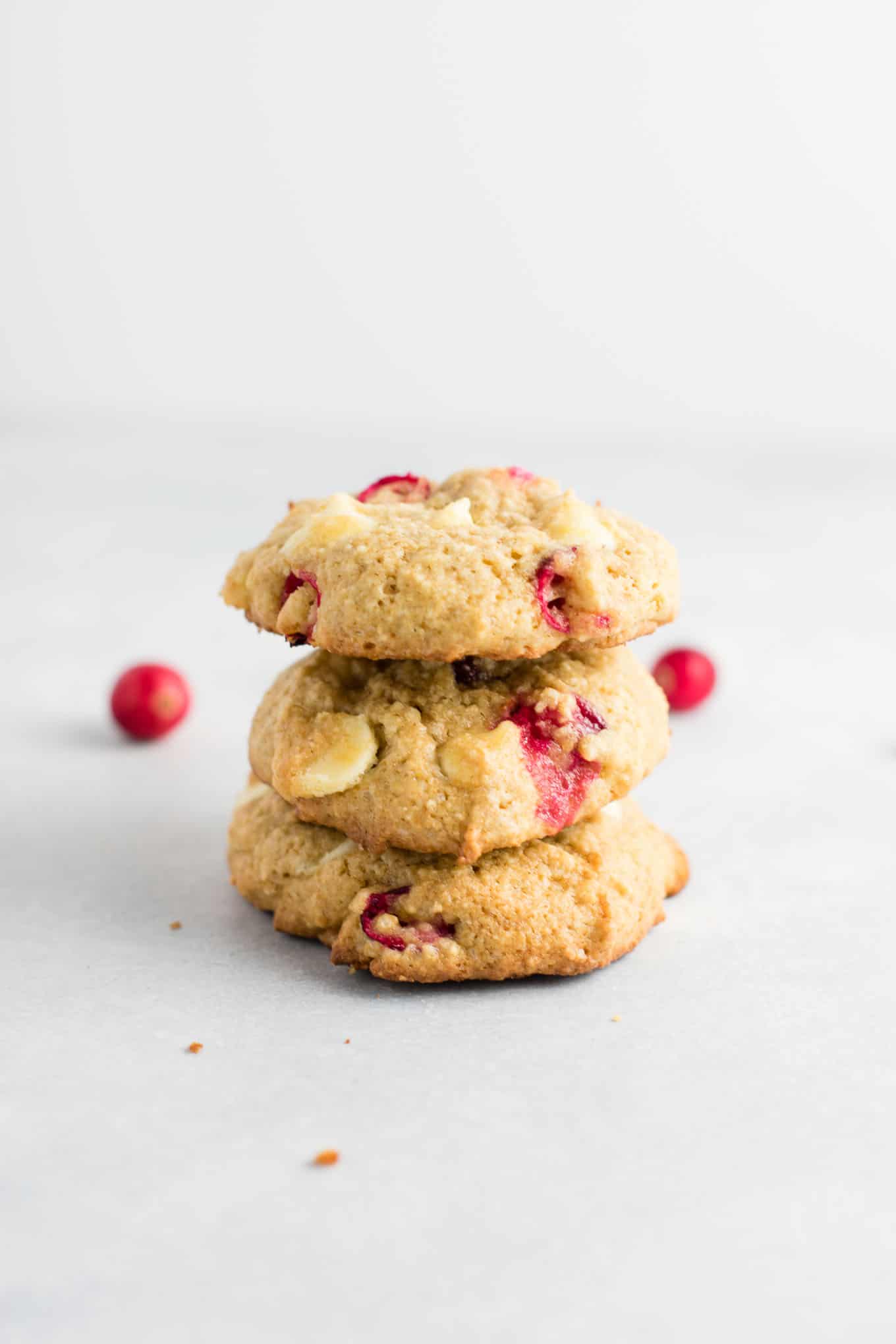 If you make this recipe, don't forget to tag me on instagram @buildyourbite and hashtag #buildyourbite so I can see!
See more of my favorite cranberry recipes: Cranberry Orange Muffins, Cranberry Eggnog Bread, Cranberry Apple Butter, Cranberry Blueberry Crisp, Cranberry Cream Cheese Muffins, Cranberry Sauce.
Click below to pin these Cranberry White Chocolate Chip Cookies:
Cranberry White Chocolate Chip Cookies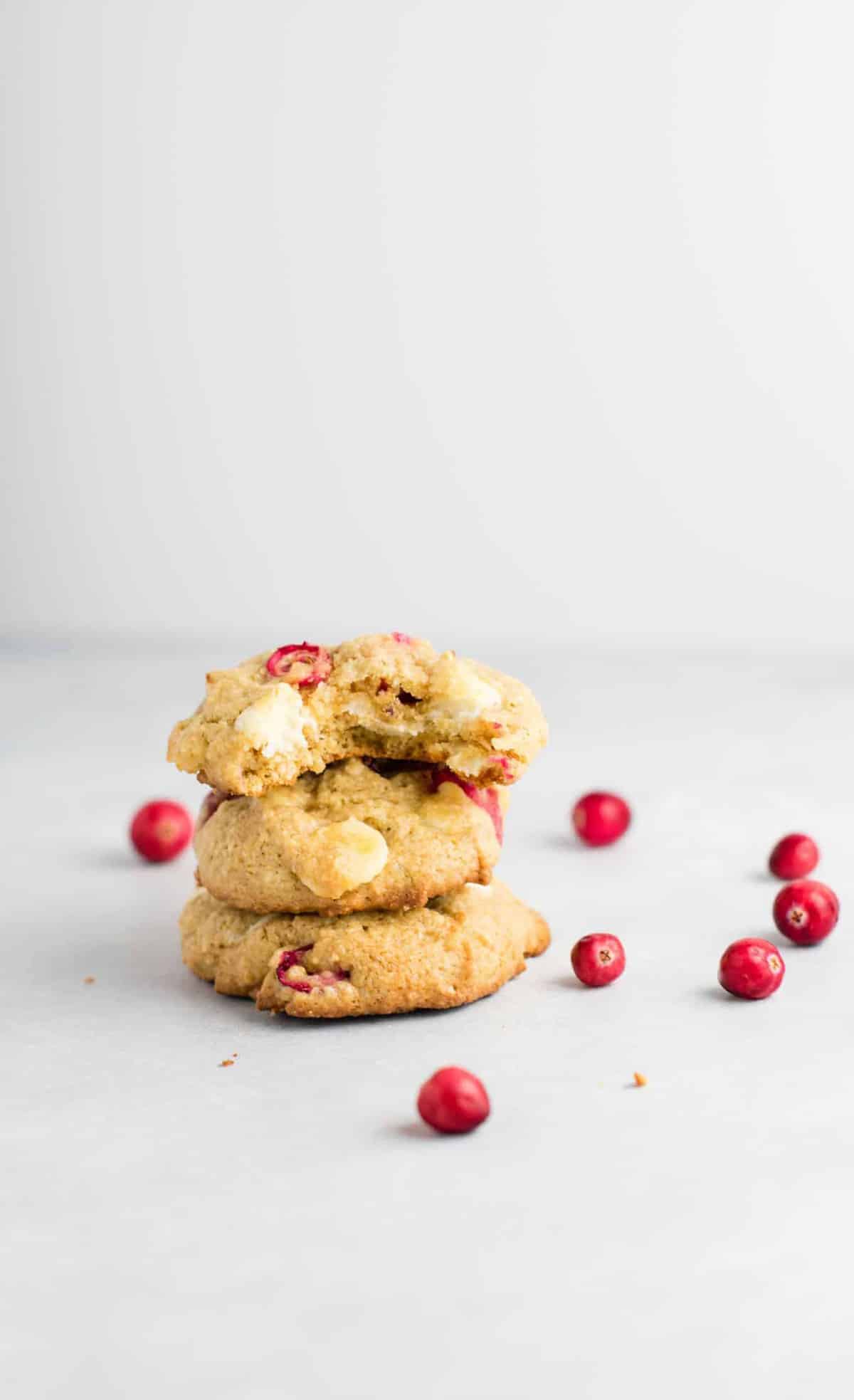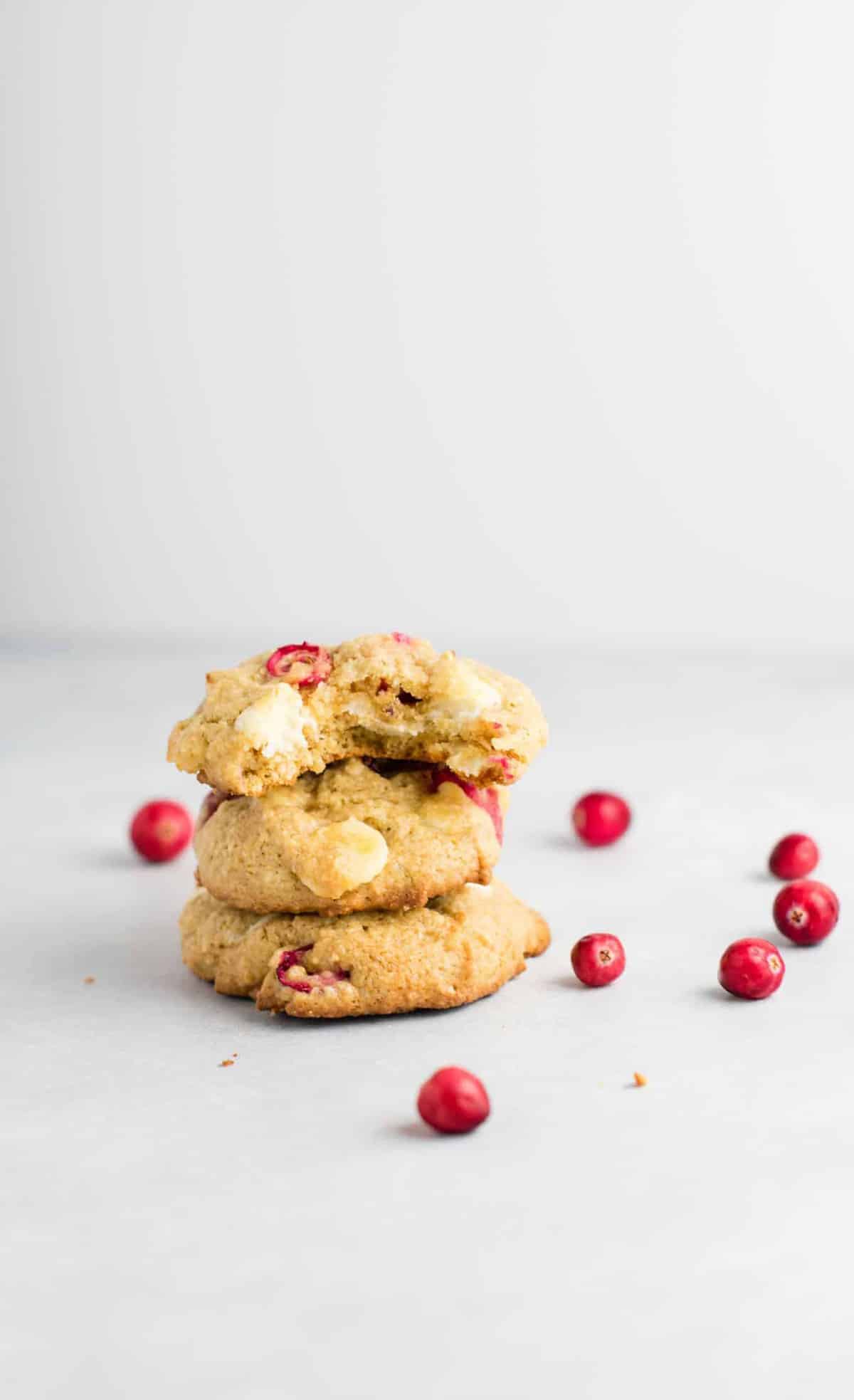 Ingredients
1 cup fresh cranberries, halved or chopped
2 cups white chocolate chips
1/4 cup oat flour
1/4 cup coconut flour
1 1/2 cups whole wheat pastry flour
1 teaspoon sea salt
1 1/4 cups pure cane sugar
1 teaspoon baking soda
1/4 cup olive oil
1/4 cup coconut oil, melted
1/3 cup applesauce (no sugar added)
2 eggs
1 teaspoon vanilla extract
Directions
In a medium sized bowl, whisk together oat flour, coconut flour, whole wheat pastry flour, salt, and baking soda until combined
In a separate bowl, beat sugar, olive oil, melted coconut oil, applesauce, vanilla extract, and eggs
Add dry ingredients and beat to combine
Fold in chopped cranberries and white chocolate chips
Drop by spoonfuls onto a baking sheet
Bake at 350 degrees for 11-13 minutes
Store in the fridge
Recipe Notes
Loading nutrition data...