This amazing vegan stuffing recipe is packed full of flavor and the perfect texture! Guaranteed to impress everyone this Thanksgiving.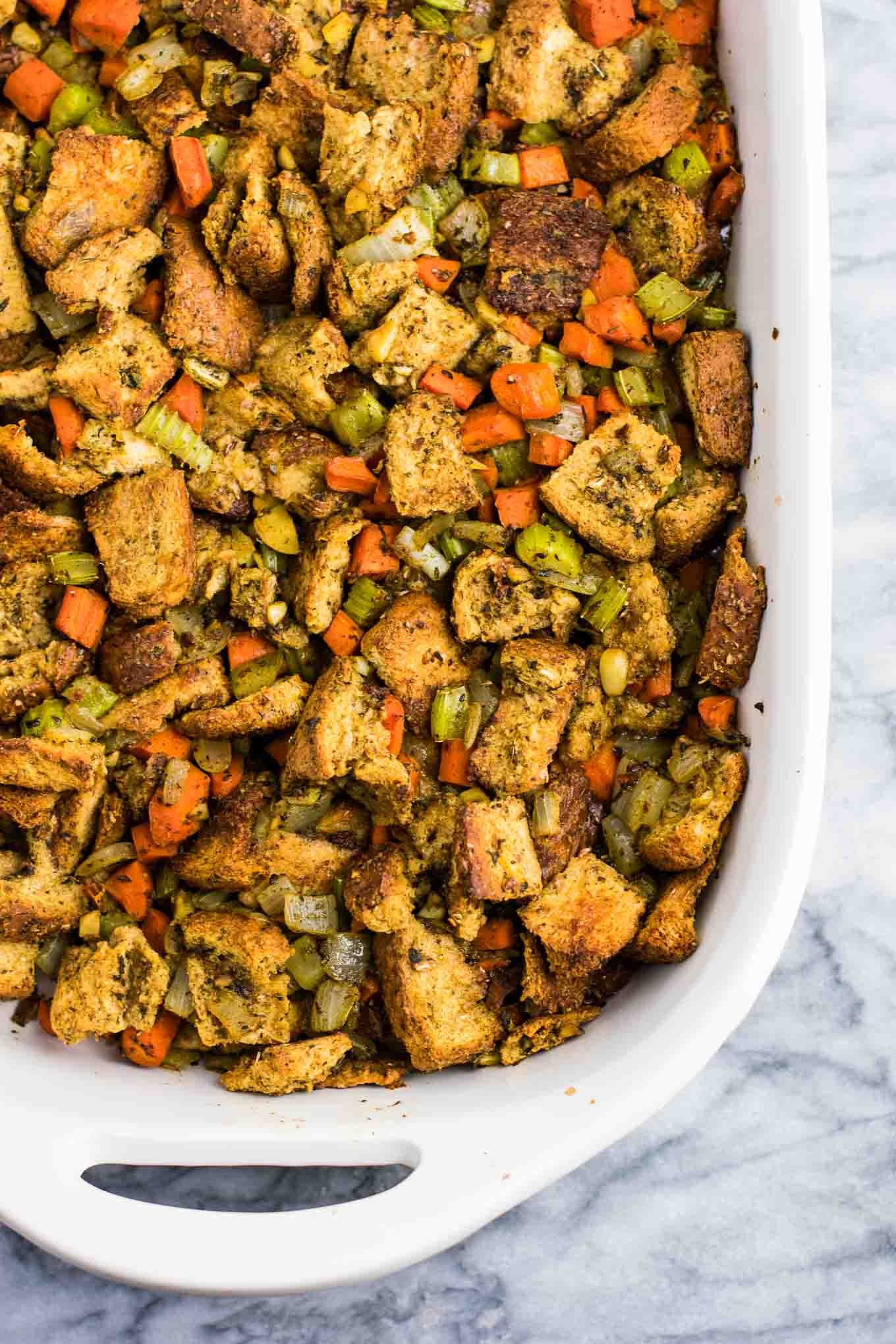 Today I am sharing my ultimate favorite vegan stuffing recipe – perfect for Thanksgiving and Christmas!
I have never liked stuffing for as long as I can remember.
Every year at Thanksgiving, I remember thinking it was just too mushy and I didn't care for the flavor at all.
It tasted like baby food to me.
Then I grew up and started to learn how to cook things the way that I liked them.
So this Thanksgiving I decided to create a stuffing worthy of eating…a stuffing that didn't taste like mush!
I have served this stuffing to meat eaters and to vegetarians and everyone cannot believe how much flavor it has!
I have had so many people ask me for the recipe, so here it is.
It is one of the most delicious vegetarian thanksgiving recipes I have ever made.

I had never made stuffing before, so I decided to just go with flavors that I know I loved, and really focus on the texture.
That is key for this recipe.
I fell in love with this recipe, it is the perfect amount of texture while still moist.
It is not labor intensive at all, and the flavor is absolutely incredible!
How to make vegan stuffing for Thanksgiving
This stuffing starts off with a base of fresh garlic and onion, carrots, and celery.
Fresh vegetables add great texture and flavor to the stuffing.
Garlic and onion add a great base of flavor and I use so much of them every Thanksgiving.
Every year I try to prep ahead as much as I can for Thanksgiving as there is just so much to do!
The day before, I will chop up the carrots, celery, garlic, and onion and put it in a ziploc bag in the fridge.
This will make your stuffing go so much faster the next day!
I'm all about making my life easier on Thanksgiving day.
Once you are ready to make your vegan stuffing, add the veggies to the pan.
You will need a very large skillet or pan.
I use a jumbo cooker pan.
I bought it from Walmart years ago and it has fast become one of my most used kitchen tools!
Add in vegan butter, salt, sage, thyme, oregano, and pepper to the vegetables.
Cook around 10 minutes, or until the veggies start to soften, but are not mushy.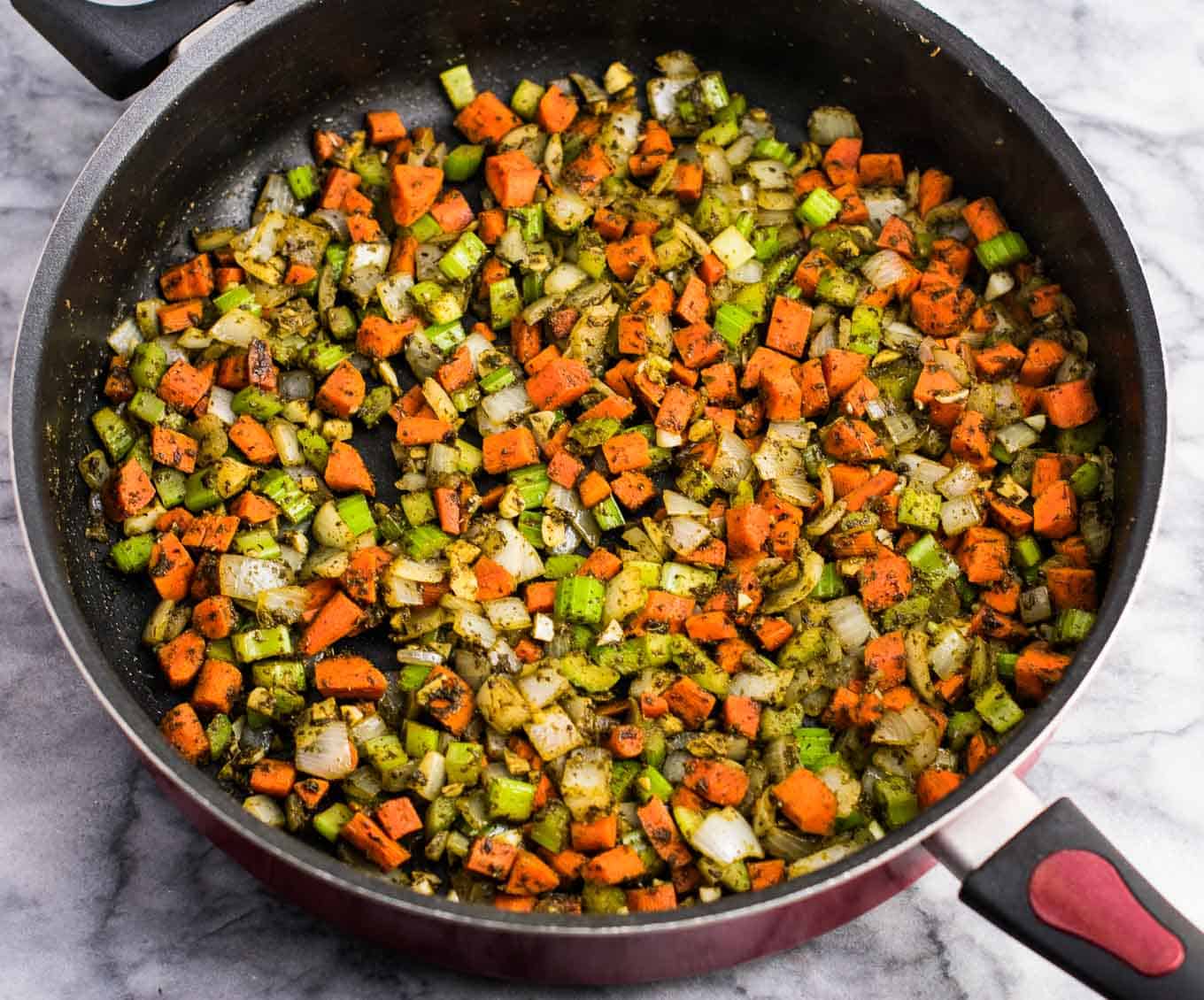 Cut your bread into cubes, and place on a baking sheet.
Dry roast in the oven for 10 – 15 minutes, until it starts to brown.
Check often towards the end to avoid burning.
We want crispy bread, not burnt!
Toasting the bread before adding it to the stuffing keeps it from turning to total mush – that is key here!
how to make vegan gluten free stuffing
To make your stuffing gluten free, all you have to do is use a gluten free bread.
All of the other ingredients are naturally gluten free.
I almost always use millet bread which is gluten free, and it is delicious!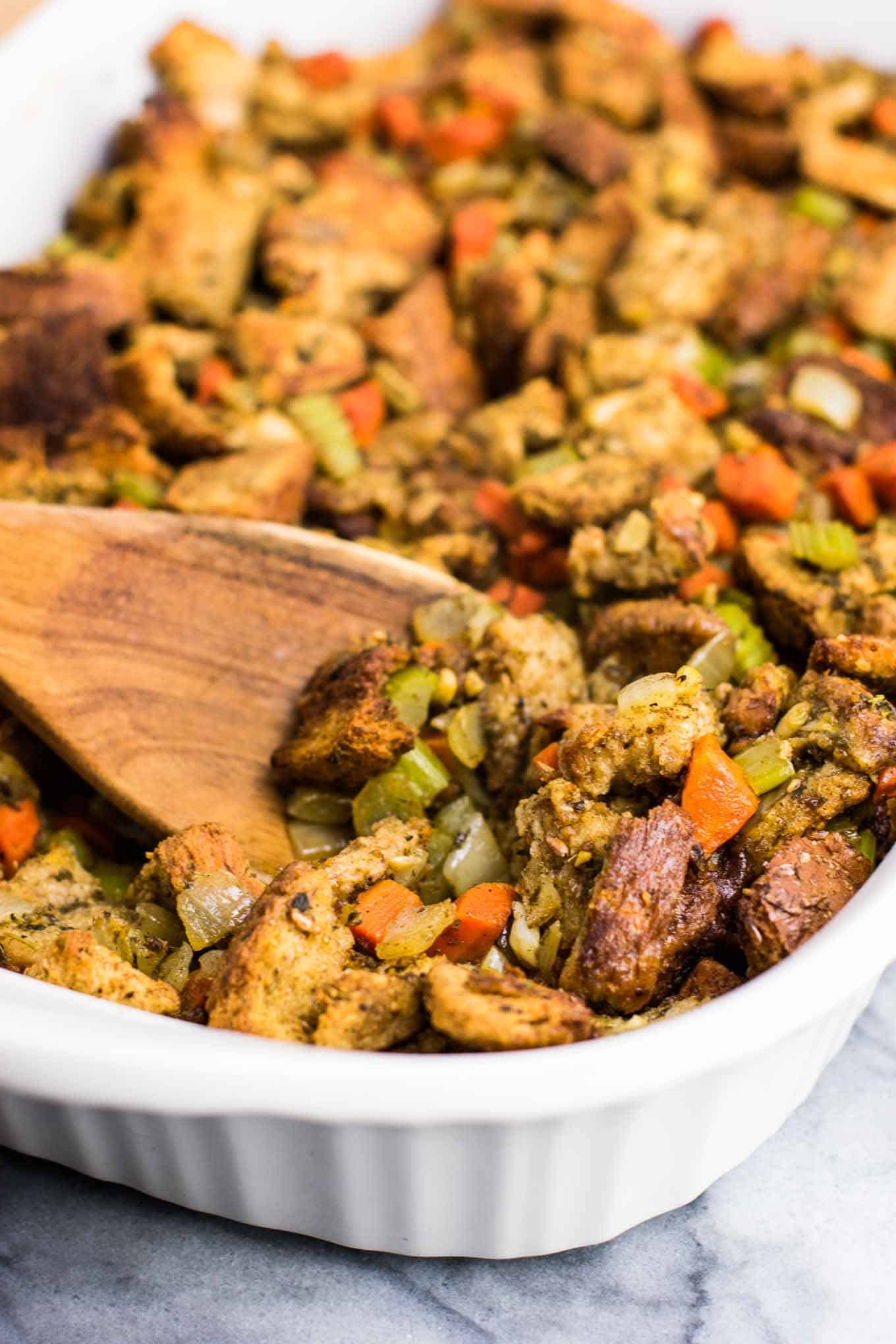 Once your bread is done roasting, add it to the skillet along with the veggie stock.
Transfer the stuffing to a large baking dish, then dot the top with vegan butter.
Bake for 30 – 40 minutes, or until the top starts to brown.
Serve and enjoy!
This stuffing is also delicious reheated which is usually not the case for stuffing that I have had before.
Even just reheating it in the microwave it tastes great.
Ever since I first created this stuffing, I have made it every single year.
I've made it for years now and have no desire to even tweak the recipe.
I follow it exactly every year to guarantee it comes out perfect!
The spices in this recipe are key and sage really is the star of the dish.
I'm very happy with how this flavor combination turned out!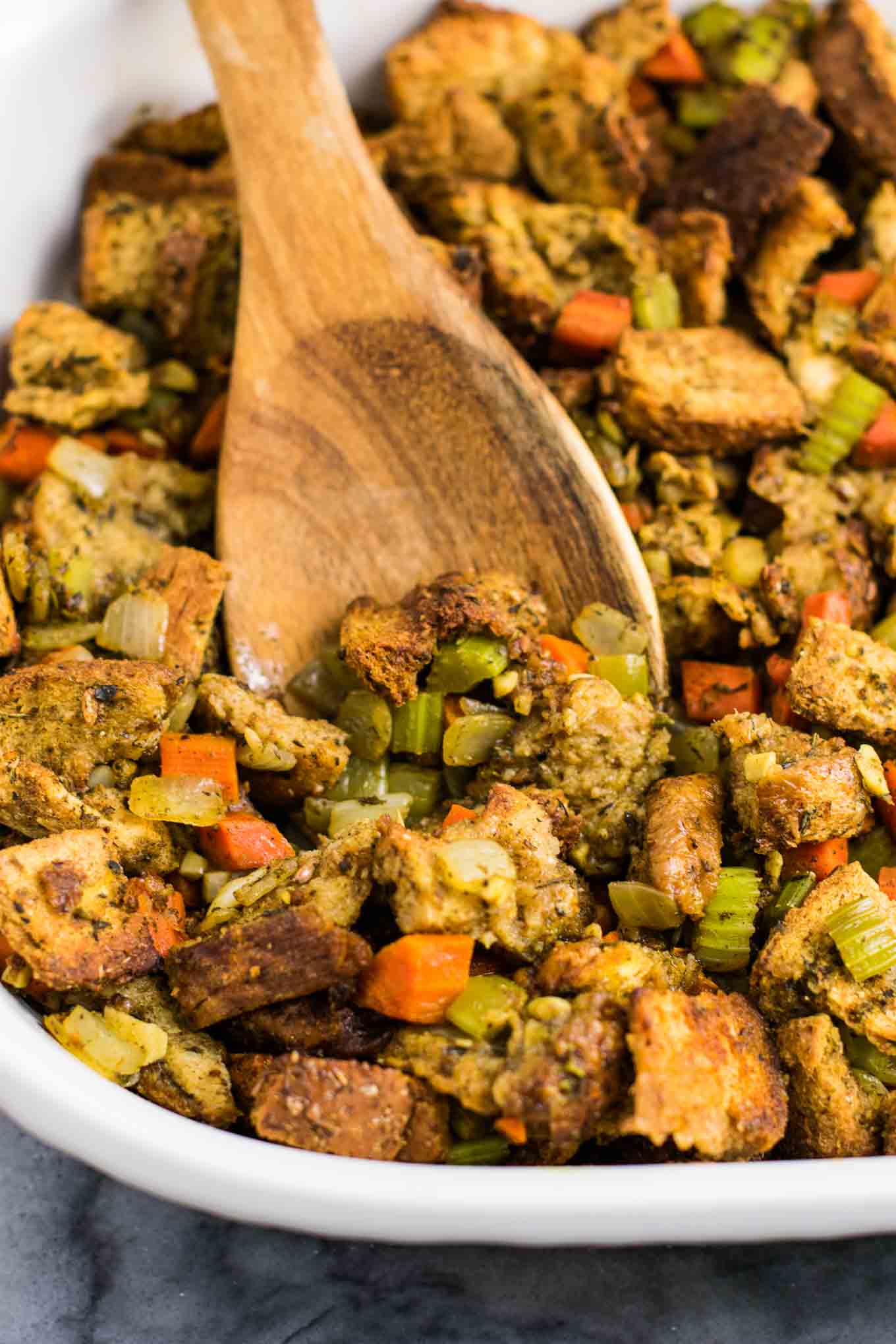 Last year I served Thanksgiving dinner to my family who are not vegetarians, and everyone raved about the dishes!
Here are some more of my tried and true Thanksgiving day favorites.
More vegan Thanksgiving Recipes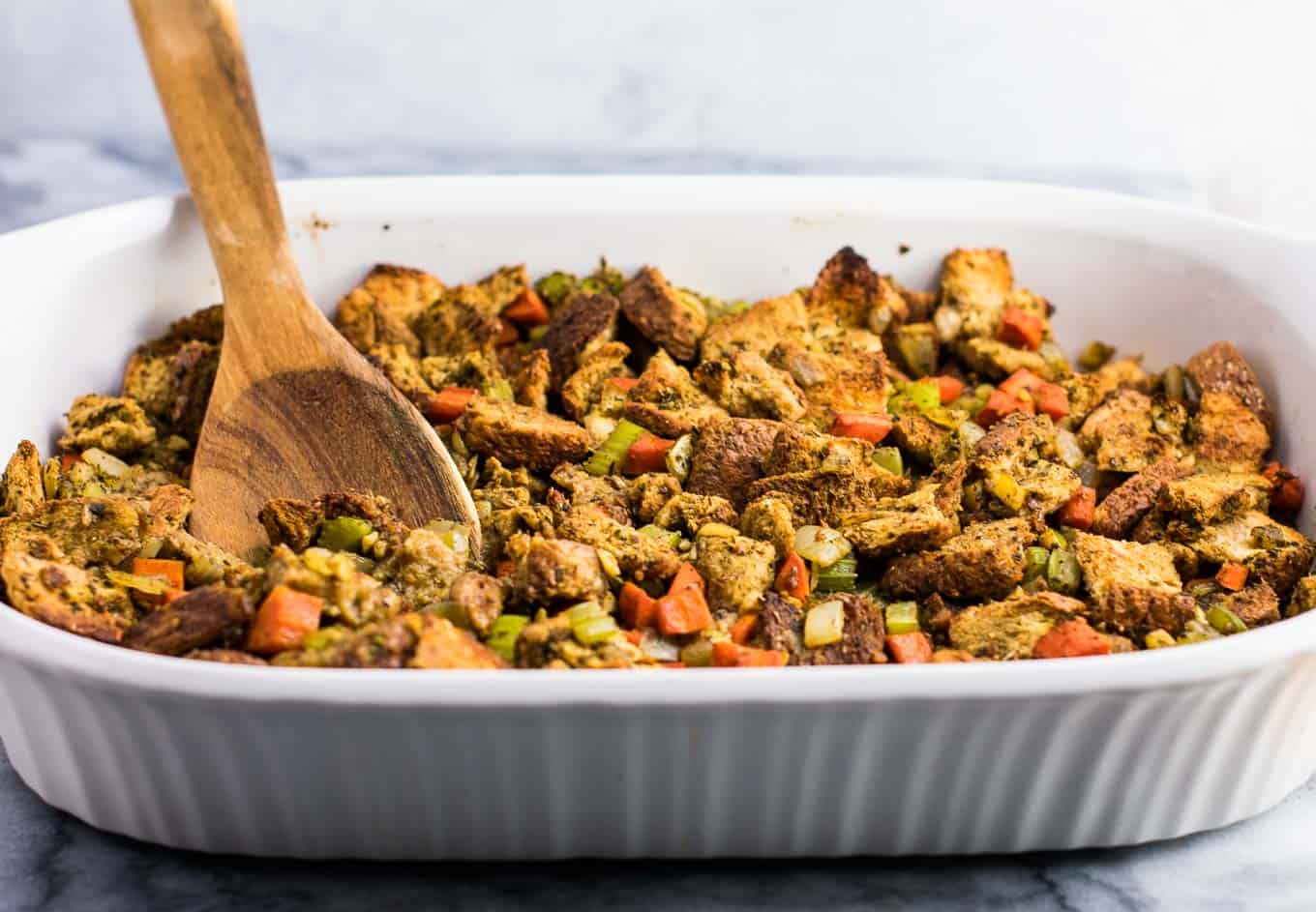 This will be on my Thanksgiving table for many years to come!
Did you make this recipe? I want to see! Don't forget to tag us on instagram @buildyourbite and hashtag #buildyourbite with your recipe photos!
Be sure to follow Build Your Bite for all the latest delicious vegan and vegetarian recipes!
Did you make this recipe? Be sure to leave a star rating below!
Vegan Stuffing Recipe:
Yield: 10 servings
Easy Vegan Stuffing Recipe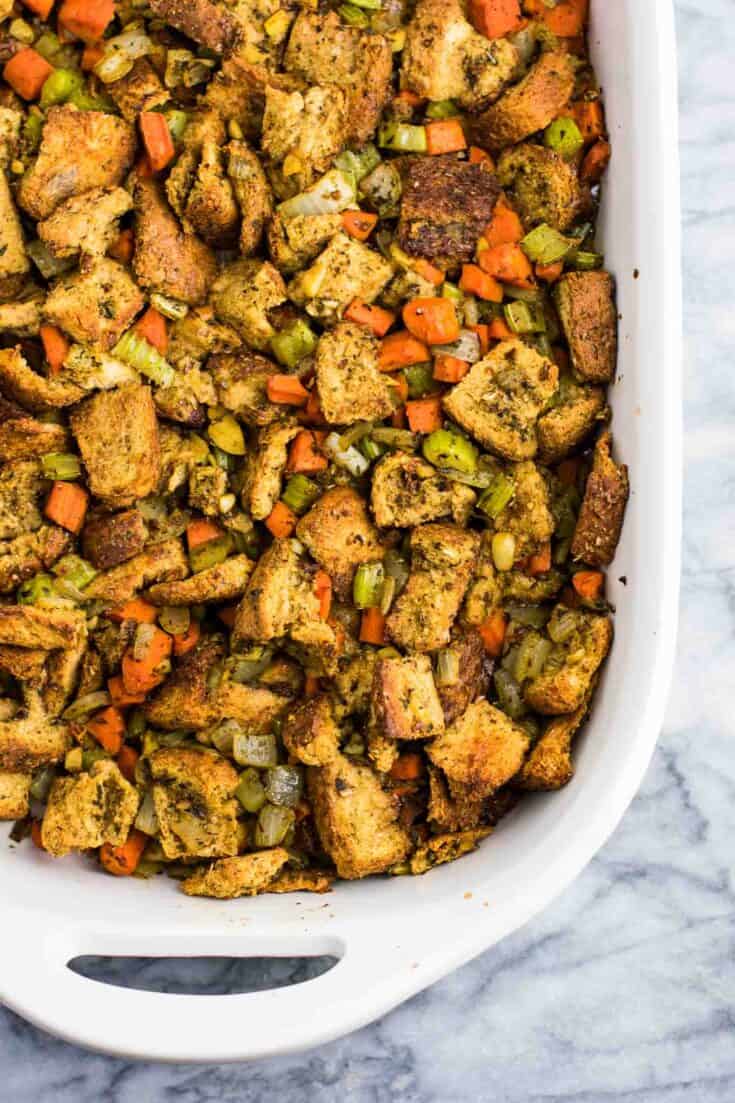 The best vegan stuffing recipe for Thanksgiving. Easily made gluten free, and everyone loves it!
Total Time
1 hour
10 minutes
Ingredients
1 loaf of bread (14-16 slices)
1 heart of celery, diced (about 5 stalks)
1 medium onion, diced
3 carrots, peeled and diced
10 cloves of garlic, finely diced or minced
1.5 teaspoons sea salt
3 tablespoons ground sage
1.5 teaspoons thyme
1.5 teaspoons oregano
2 tablespoons vegan butter
1/2 teaspoon pepper
2 cups veggie stock
2 tablespoons vegan butter for topping
Instructions
Cut bread into cubes and crisp in the oven until slightly crunchy, about 10-15 minutes on 400 degrees (roast dry on a baking sheet)
Combine diced celery, onion, carrots, garlic, 2 tablespoons of vegan butter, salt, sage, thyme, oregano, and pepper in a skillet.
sautee until cooked through (about 10 minutes on medium heat)
Add bread to skillet and stir well, add in veggie stock
Taste to adjust seasonings if necessary
Pour stuffing into a large glass baking dish (grease with vegan butter first)
Dot the top of the stuffing with 2 tablespoons of vegan butter, cut into small cubes
Bake at 400 degrees for 30-40 minutes, or until desired texture (we prefer it more dry, but you could cook less for a more soft stuffing)
Notes
To make this recipe gluten free, simply substitute your favorite gluten free bread!
Nutrition Information:
Yield:
10
Serving Size:
1
Amount Per Serving:
Calories:

308
Total Fat:

8g
Saturated Fat:

4g
Trans Fat:

0g
Unsaturated Fat:

4g
Cholesterol:

13mg
Sodium:

802mg
Carbohydrates:

50g
Fiber:

5g
Sugar:

7g
Protein:

9g