This easy vegan stuffing recipe is packed full of flavor and not mushy at all! Easily made gluten free and full of flavor, it's a guaranteed crowd pleaser!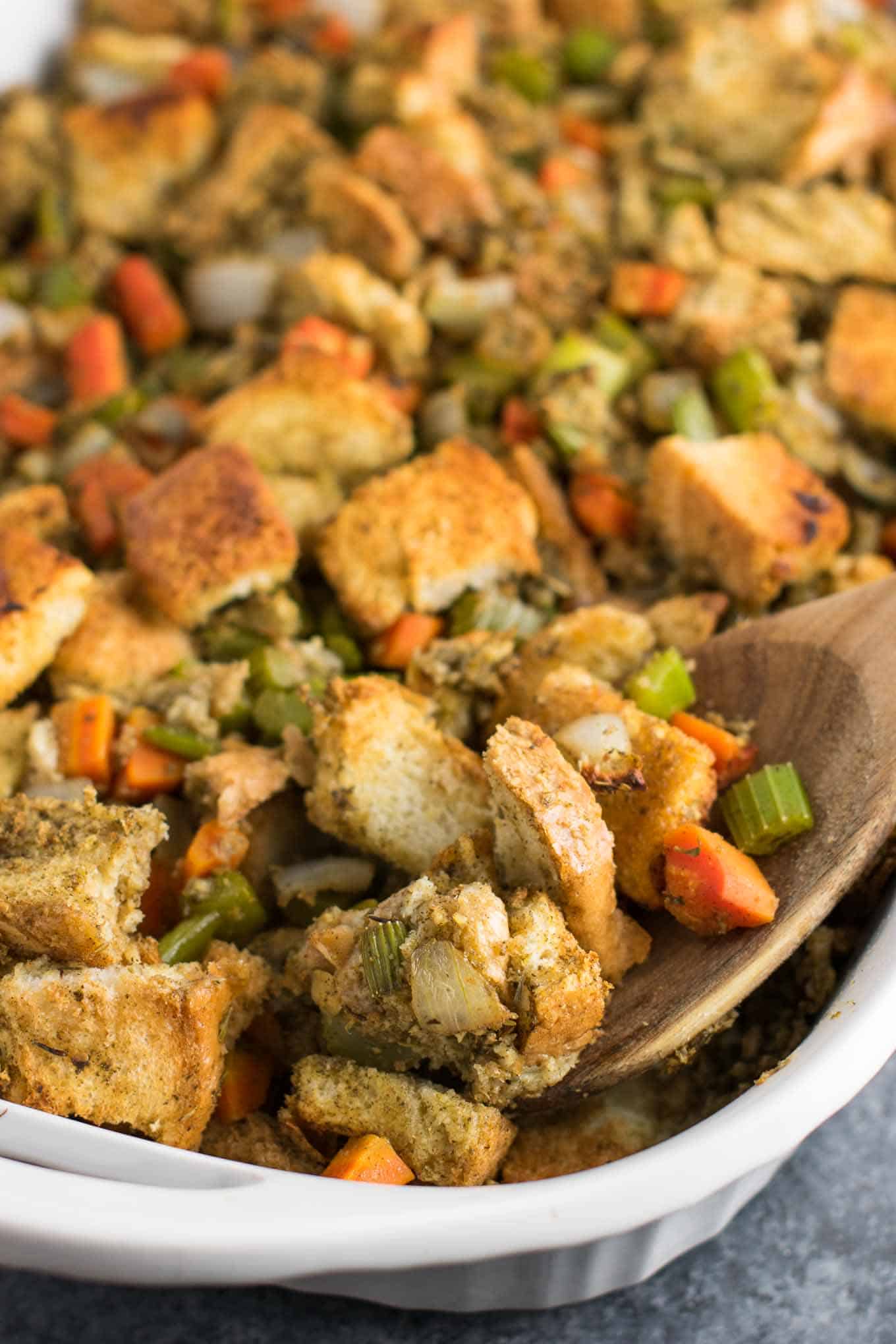 Today I am sharing my ultimate favorite vegan stuffing recipe – perfect for Thanksgiving and Christmas!
I've never liked stuffing. Every year at Thanksgiving, I remember thinking it was just too mushy and I didn't care for the flavor at all.
It tasted like baby food to me.
Well this year has been a year of new traditions for me in many areas of my life.
So this Thanksgiving I decided to create a stuffing worthy of eating…a stuffing that didn't taste like mush!
If you're team mushy stuffing we can still be friends, but this recipe is for those of you that like a little texture!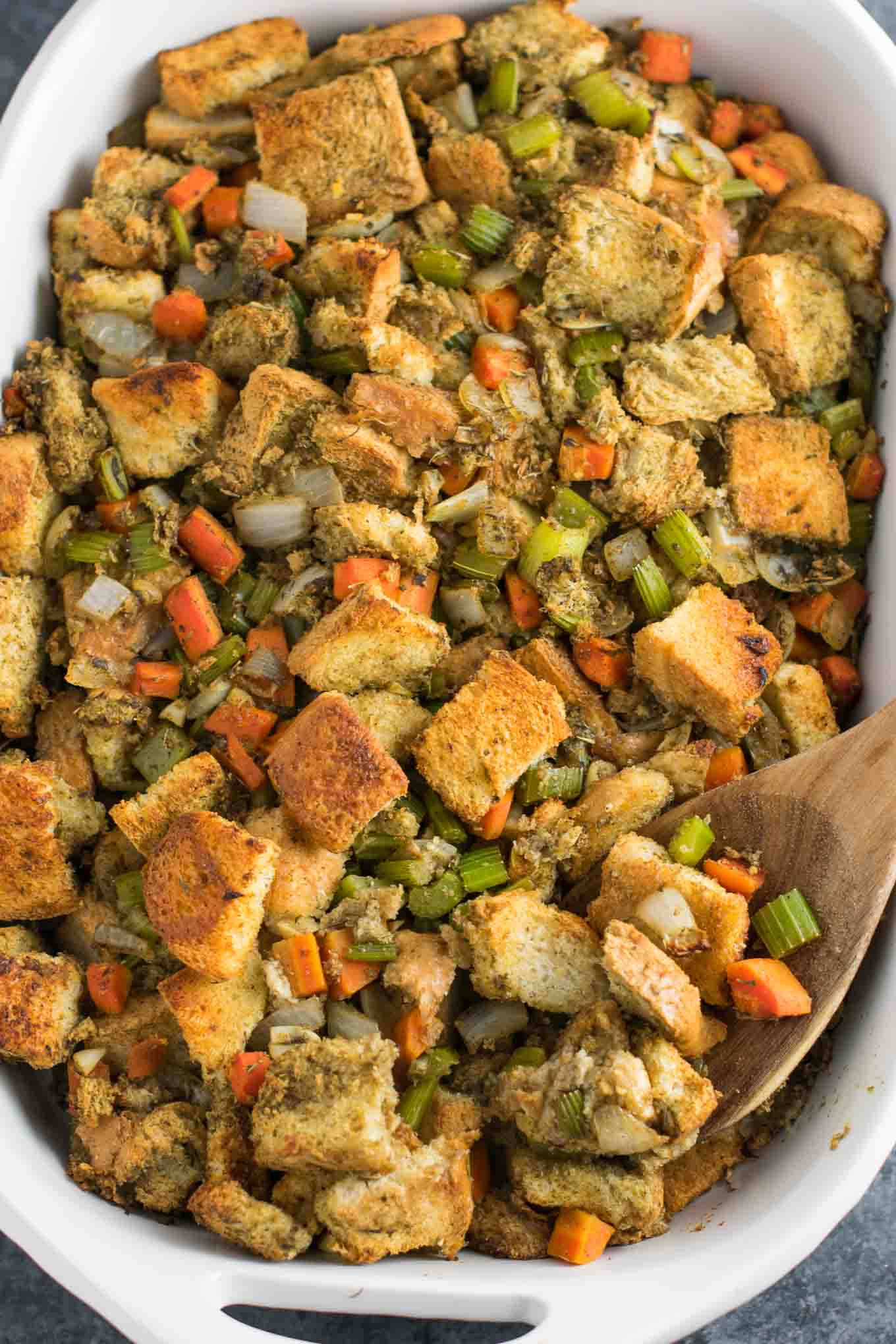 I had never made stuffing before, so I decided to just go with flavors that I know I loved, and really focus on the texture.
I fell in love with this recipe, it is the perfect amount of crispy while still moist, it's not labor intensive at all, and the flavor is absolutely incredible!
It's also delicious reheated which is usually not the case for stuffing that I have had before.
Not to mention it's vegan!
This is definitely going to be a tradition recipe for me that I make every year!
I've made it for several years now and have no desire to even tweak the recipe. I follow it exactly every year to guarantee it comes out the way I want it.
It is completely perfect!
The spices in this recipe are key. I just ended up using what I had and it turned out great!
Sage is really the winning spice in this.
I'm very happy with how this flavor combination turned out!
I also was able to make mine gluten free by using millet bread and it was delicious!
We top ours with the best ever vegetarian gravy with a bite of mashed potatoes, and cranberry sauce.
This will be on my Thanksgiving table for many years to come!
Click below to pin this Easy Vegan Stuffing:
Easy Vegan Stuffing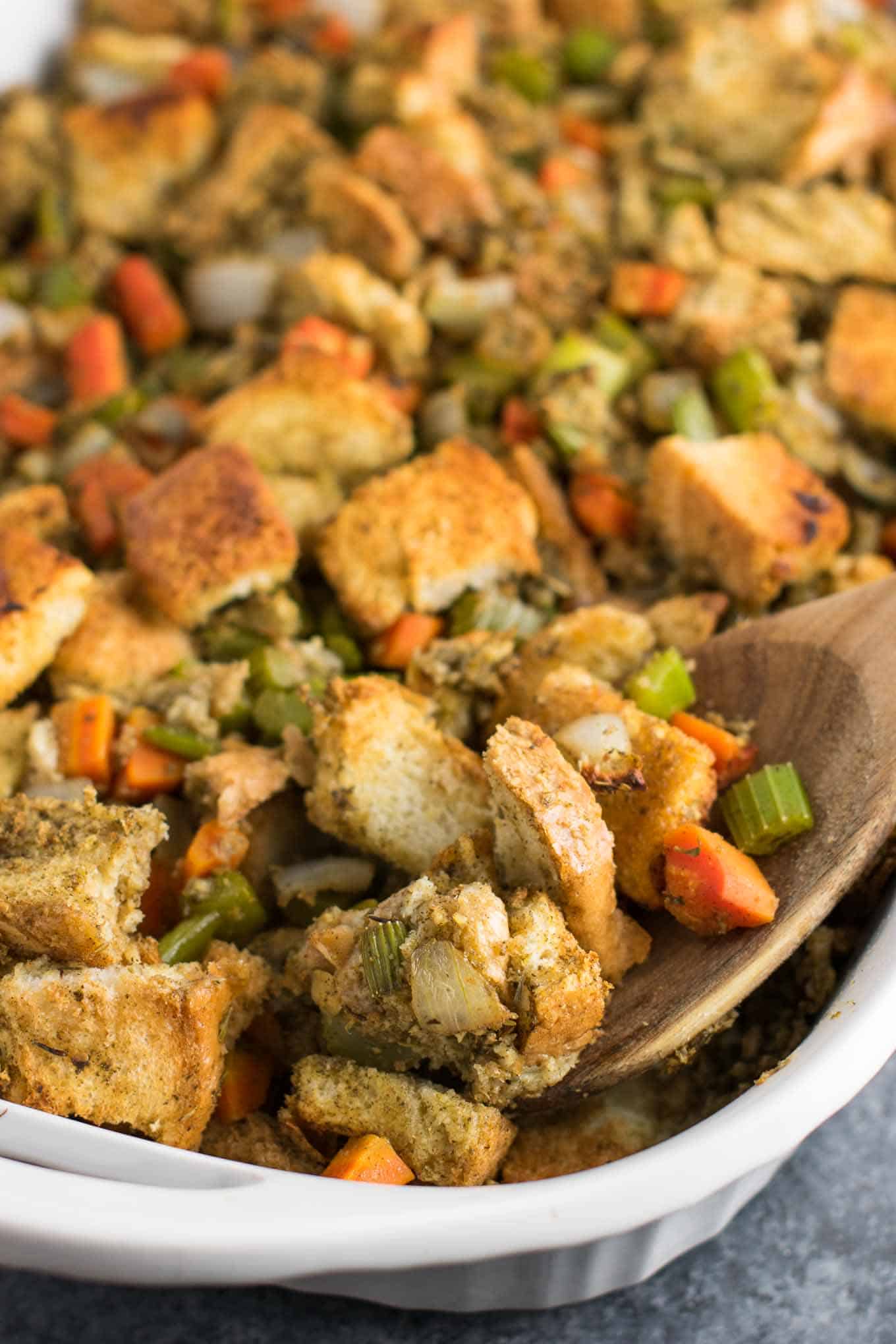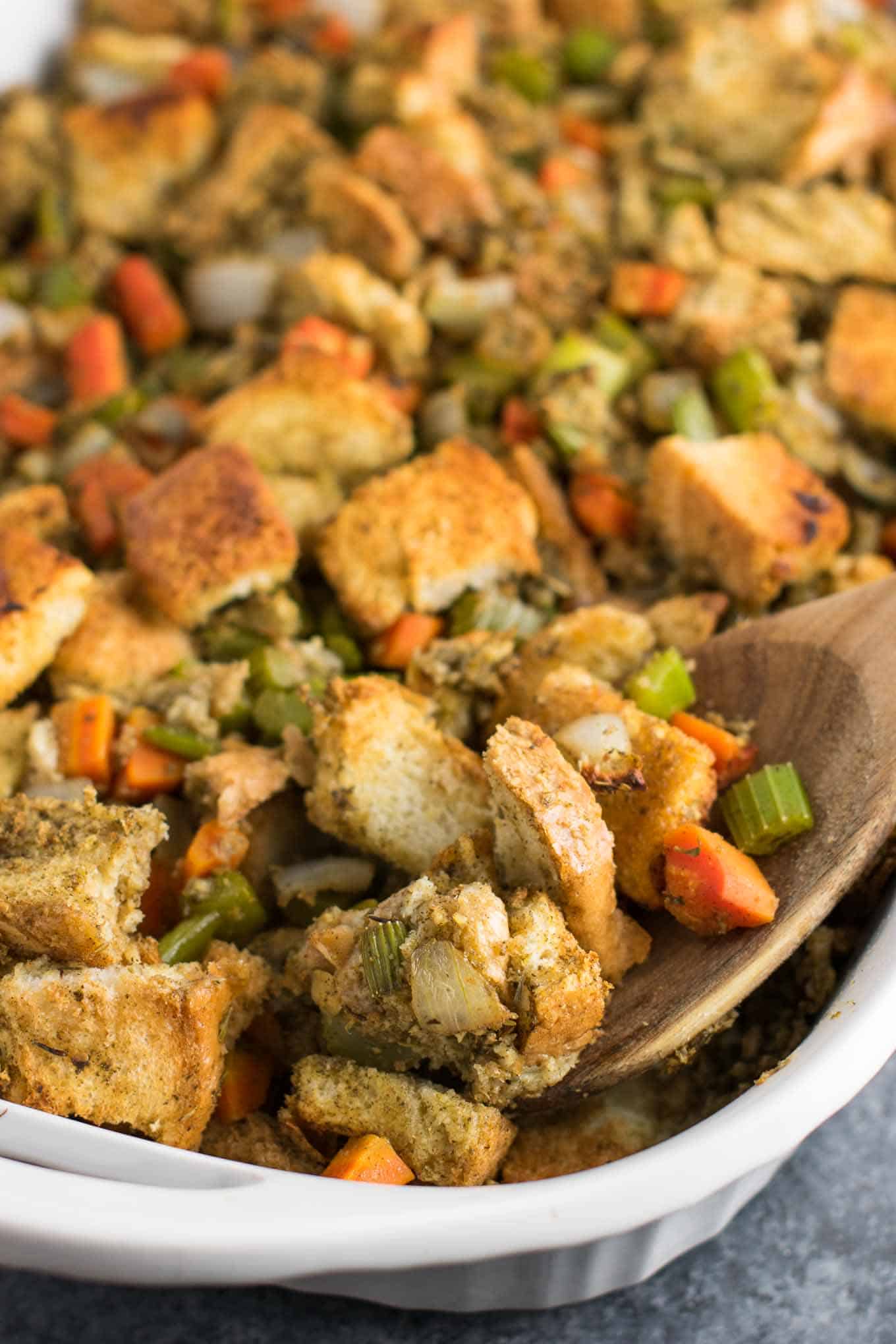 Ingredients
1 loaf of bread (14-16 slices) - I use either millet bread or Ezekiel brand
1 heart of celery, diced (about 5 stalks)
1 medium onion, diced
3 carrots, peeled and diced
10 cloves of garlic
1.5 teaspoons sea salt
3 tablespoons ground sage
1.5 teaspoons thyme
1.5 teaspoons oregano
2 tablespoons vegan butter
1/2 teaspoon pepper
2 cups veggie stock
2 tablespoons vegan butter for topping
Directions
Cut bread into cubes and crisp in the oven until slightly crunchy, about 10-15 minutes on 400 degrees (roast dry on a baking sheet)
Combine diced celery, onion, carrots, garlic, 2 tablespoons of vegan butter, salt, sage, thyme, oregano, and pepper in a skillet.
sautee until cooked through (about 10 minutes on medium heat)
Add bread to skillet and stir well, add in veggie stock
Taste to adjust seasonings if necessary
Pour stuffing into a large glass baking dish (grease with vegan butter first)
Dot the top of the stuffing with 2 tablespoons of vegan butter, cut into small cubes
Bake at 400 degrees for 30-40 minutes, or until desired texture (we prefer it more dry, but you could cook less for a more soft stuffing)
Recipe Notes
Loading nutrition data...