Being a vegetarian doesn't mean that I don't enjoy Thanksgiving (contrary to what some people may assume.) In fact, I've never loved Thanksgiving more than I do now!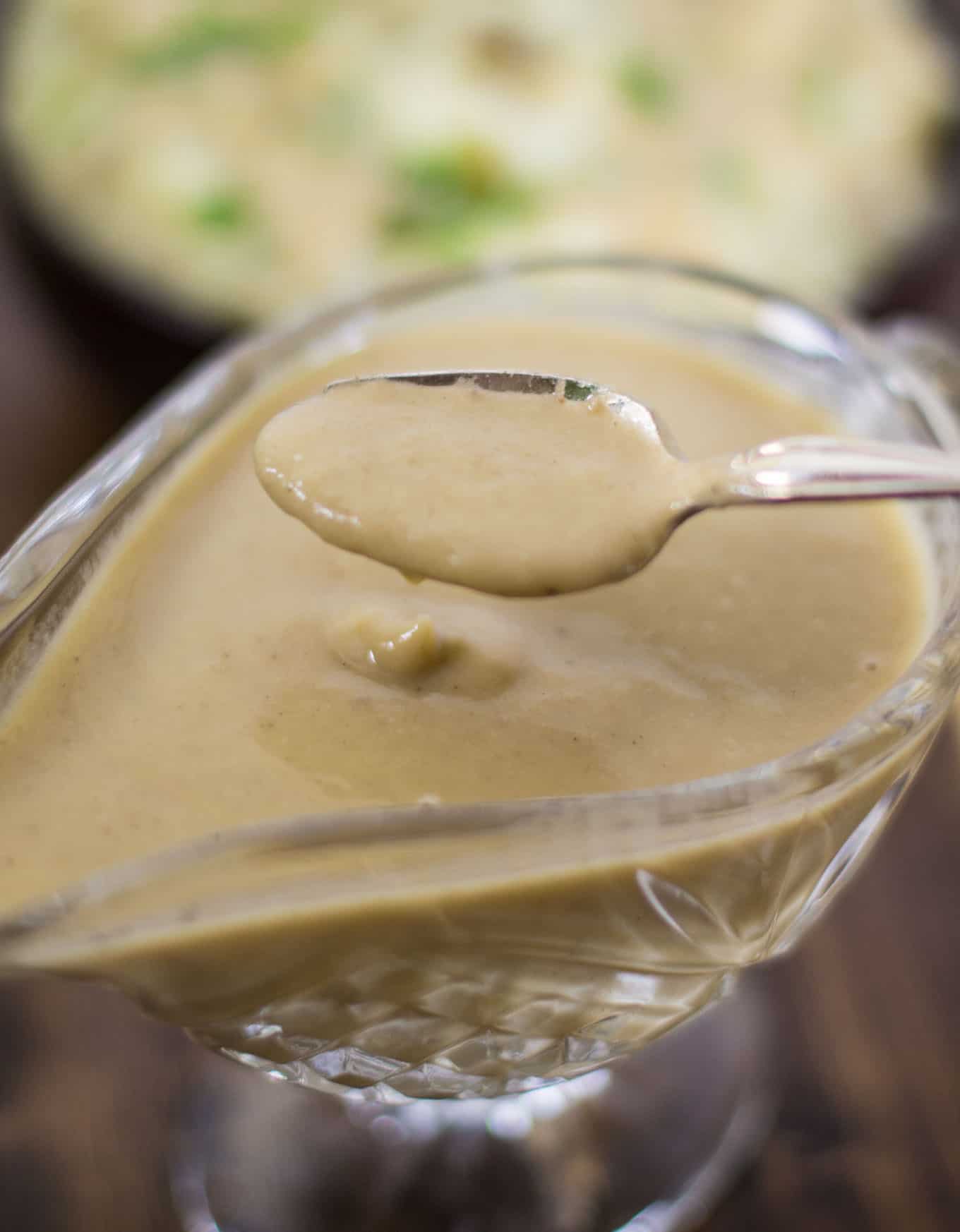 This is my first year hosting my own (little) Thanksgiving and I am going all out!
I have spent the last few weekends recipe testing (last weekend we made cranberry sauce, vegan mashed potatoes, stuffing, this gravy, and pumpkin pies.)
This weekend I'm making a green bean casserole, sweet potato casserole, buttery corn, and pecan pie!
No Thanksgiving table is complete without gravy and this vegetarian gravy is the BEST gravy that I have ever made or tasted.
It is full of rich, creamy flavor and is delicious drizzled or by the spoonful (if you're one of those people: spoiler alert I totally am! #noshame).
I never was one much for gravy before I started making it myself.
A good gravy is an absolute necessity at Thanksgiving, so I don't settle for anything less than amazing.
This gravy definitely delivered!
Make this for your Thanksgiving table this year and watch as everyone fights over it (meat eaters included.)
Be sure to also check out my vegan stuffing recipe!
Added bonus: it's super easy to make if you want to test it out before the big day. This will be my go to gravy recipe from now on!

The Best Vegetarian Gravy
Ingredients
8 Tablespoons unsalted butter, divided
¾ cup diced onion
3 cloves of garlic, minced
1 cup sliced baby bella mushrooms
3 teaspoons tamari
3 cups vegetable broth
⅓ cup all purpose flour
½ teaspoon sea salt
¼ teaspoon pepper
¼ teaspoon ground sage
Instructions
In a sauce pan, melt 2 tablespoons of butter
Add onion, garlic, and mushrooms and sautee for 8-10 minutes, or until it cooks down
Remove mixture from pan and place in blender
Blend mushroom mixture with 1 cup of vegetable broth in a blender until smooth, set aside
Melt remaining 6 tablespoons of butter in the sauce pan
Add flour and whisk for 1 minute constantly
Add 2 cups of vegetable broth and tamari, and continue stirring
Add the blended mushroom mixture and continue to stir
Continue whisking for 5-10 minutes, or until the mixture thickens
Add sage and salt and pepper to taste (see amounts that I used above)