This is the most delicious vegetarian gravy recipe for Thanksgiving and the holidays! The whole family will love this flavorful mushroom gravy.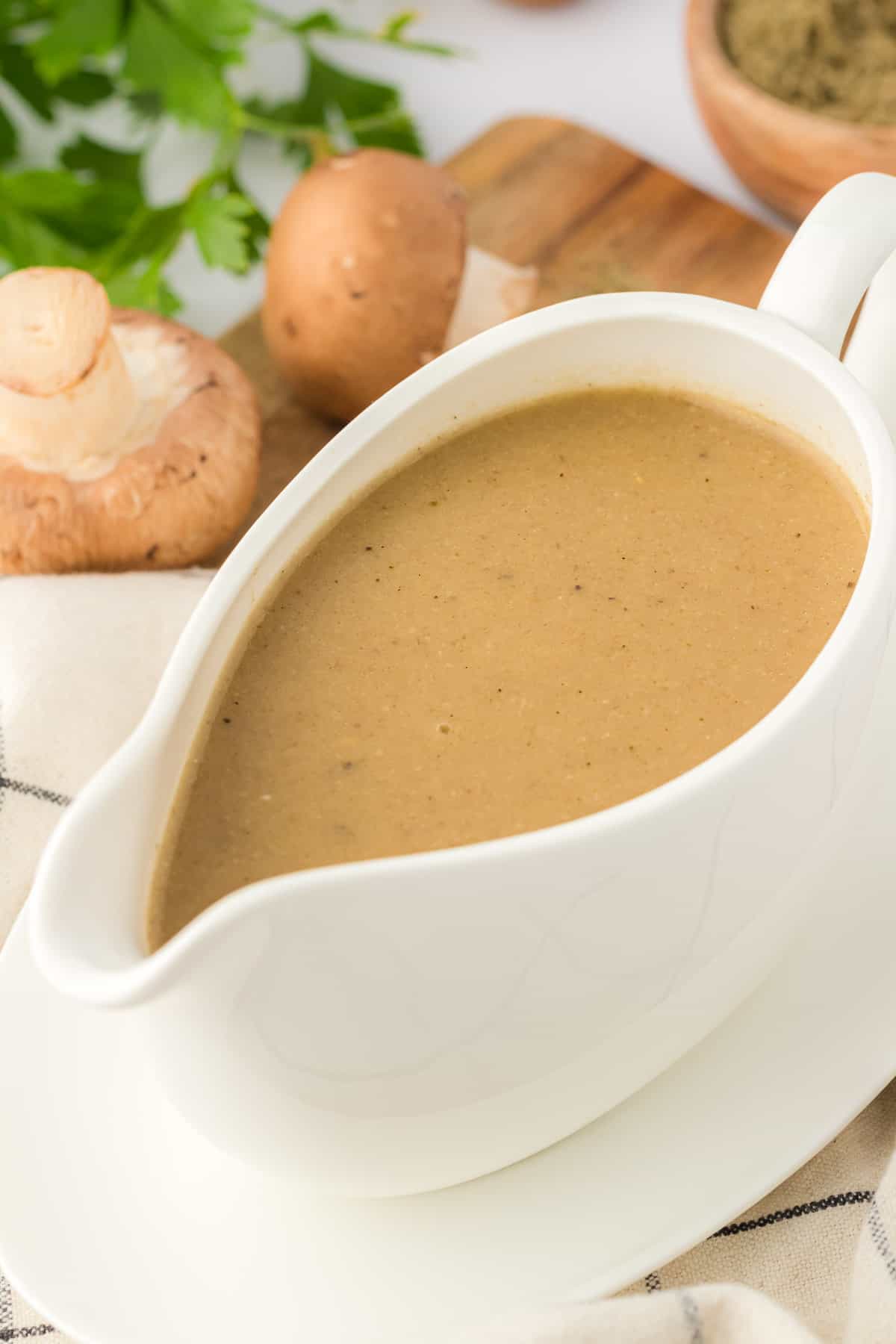 This is the best vegetarian gravy!
Several years ago, I created the most delicious vegetable gravy recipe that I have ever tasted. This veggie gravy is full of flavor and guaranteed to please an omnivore or vegetarian alike.
I've had people who rarely eat vegetarian say this is is the best gravy they have ever tasted. Trust me when I say this vegetarian gravy will be a hit with everyone!
It has become a must have Thanksgiving tradition in our home poured over vegan stuffing and mashed potatoes alongside a scoop of sweet potato casserole with marshmallows.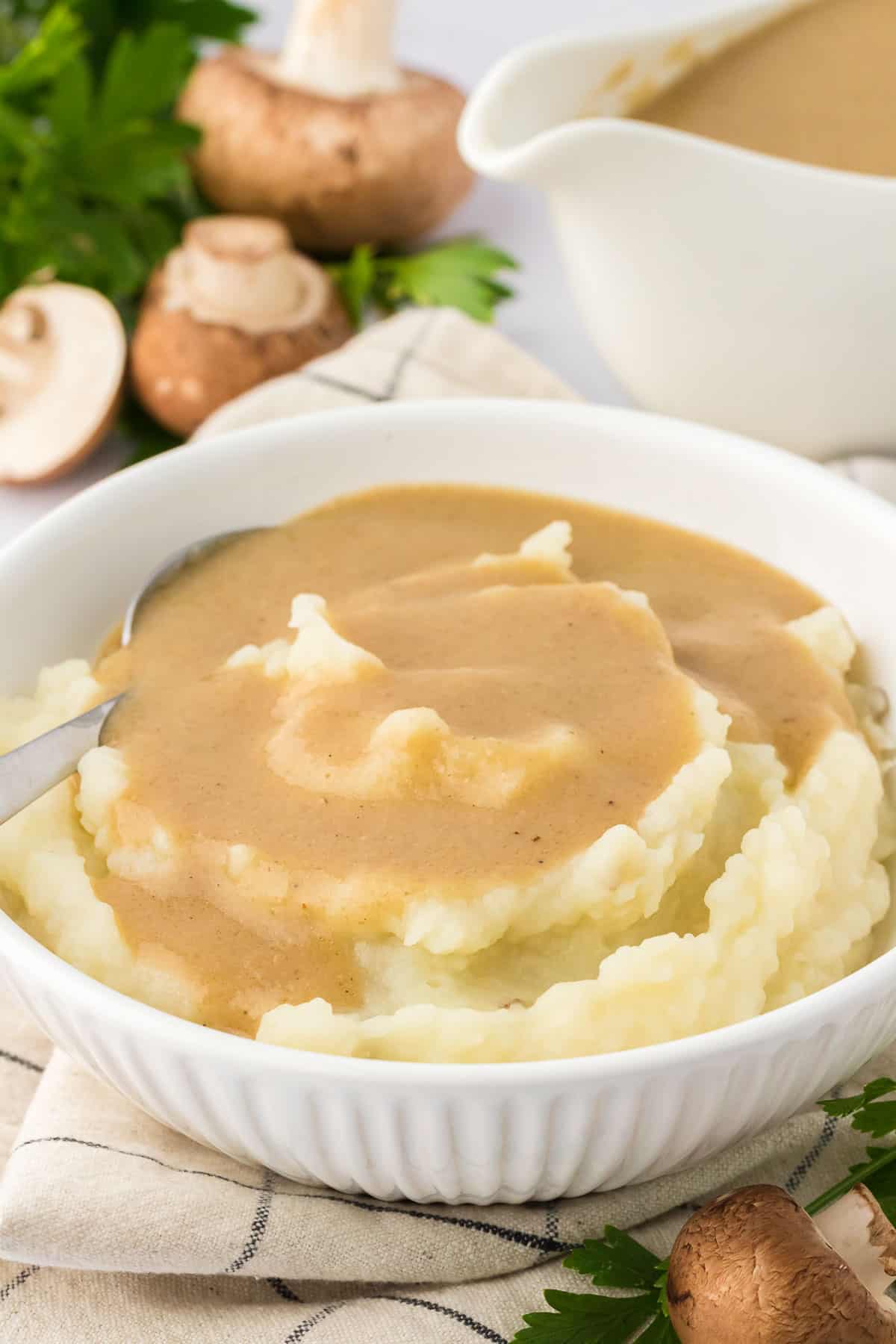 What is vegetarian gravy made of?
butter
onion
garlic
baby bella mushrooms
tamari: or soy sauce
vegetable broth
all purpose flour
salt and pepper
ground sage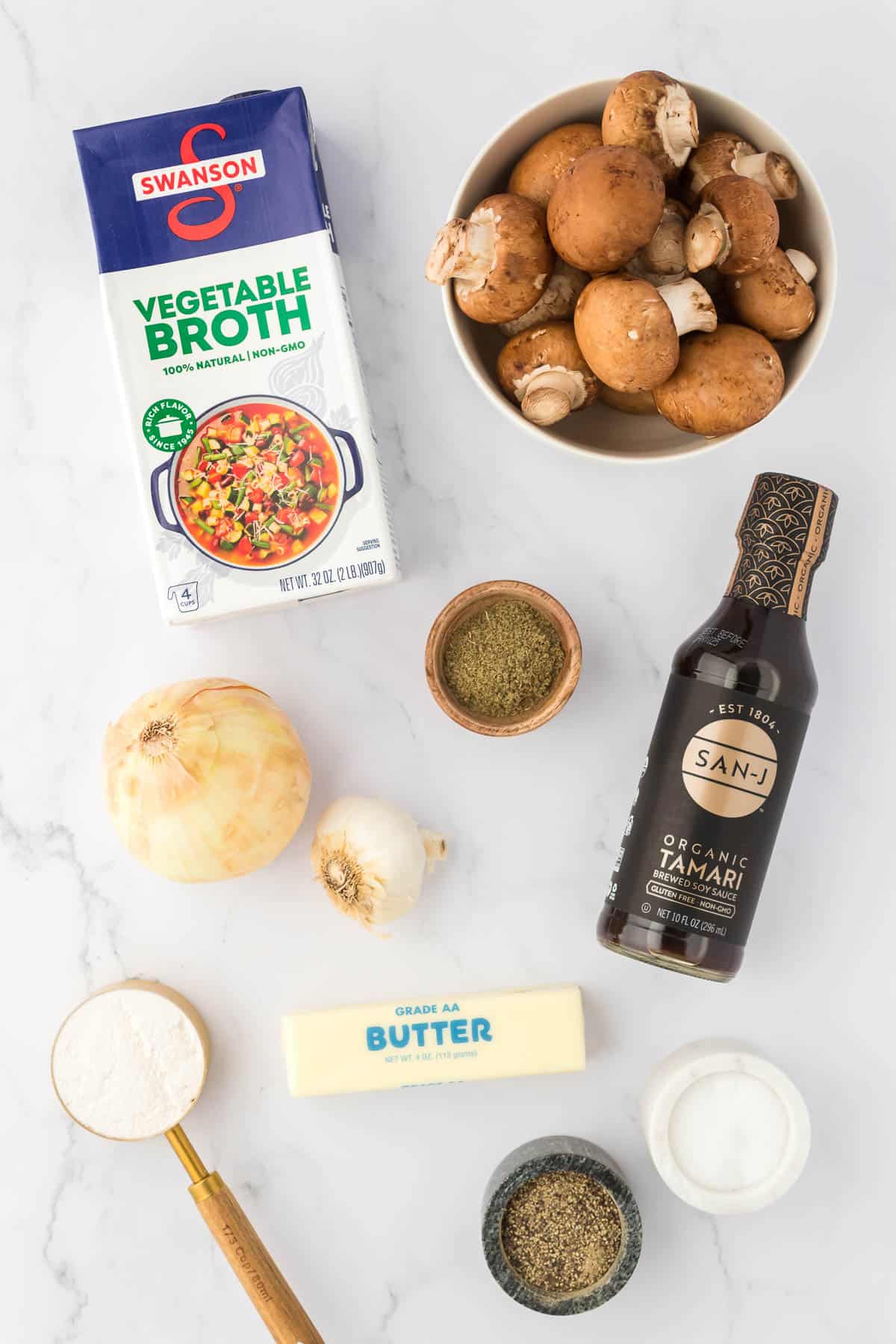 How to make vegetarian gravy
Step 1: Add the butter to a sauce pan and melt over medium heat.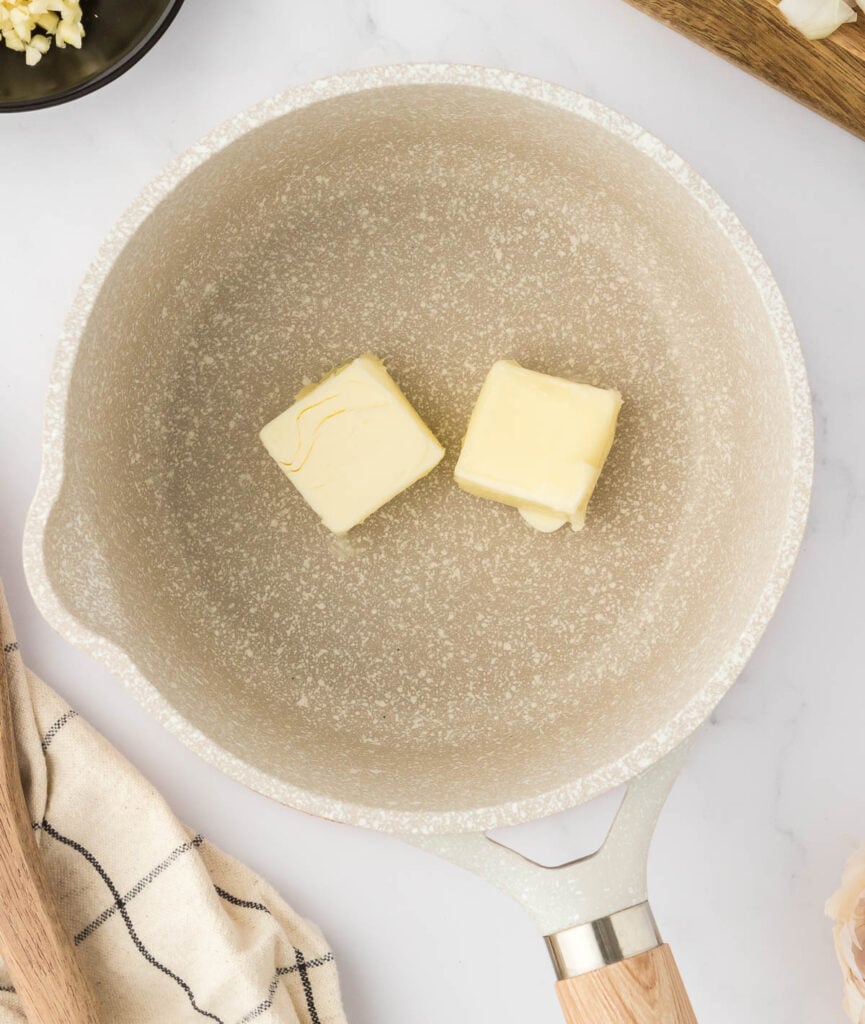 Add the baby bella mushrooms, minced garlic and diced onion to the pot. Cook the mushroom mixture over medium heat until mushrooms cook down and onions are soft.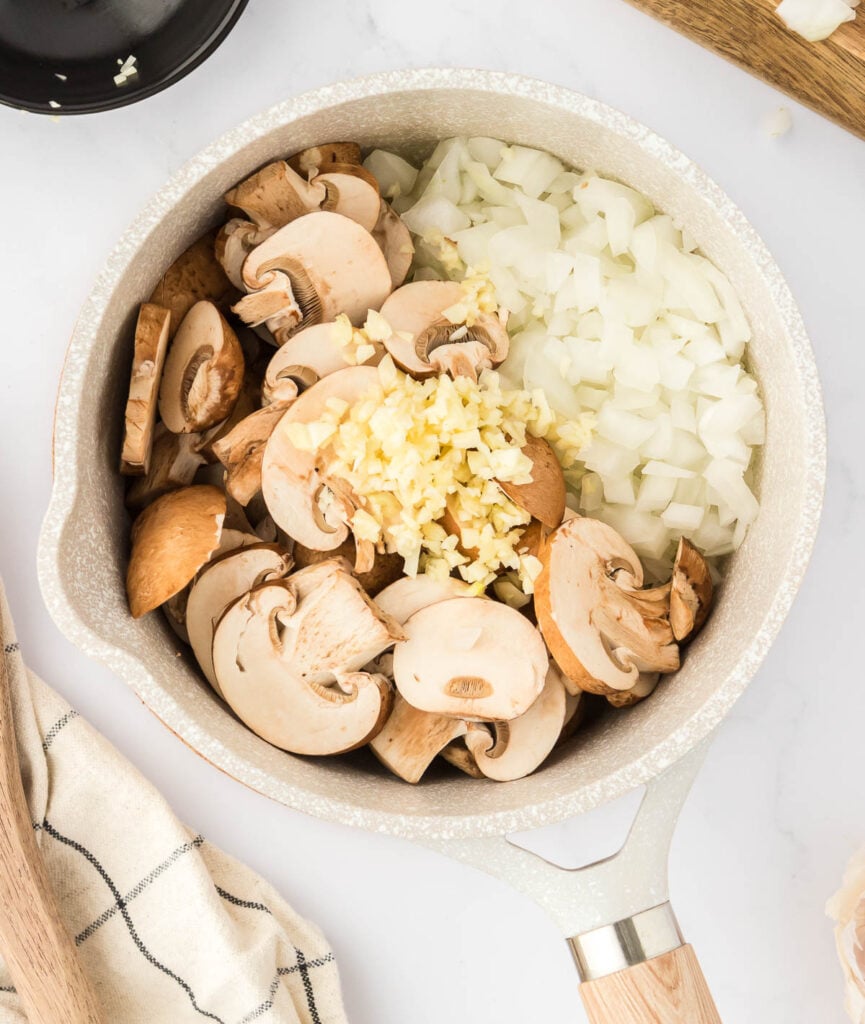 Step 2: Remove the cooked mushroom mixture from pan and place in blender with 1 cup of vegetable broth.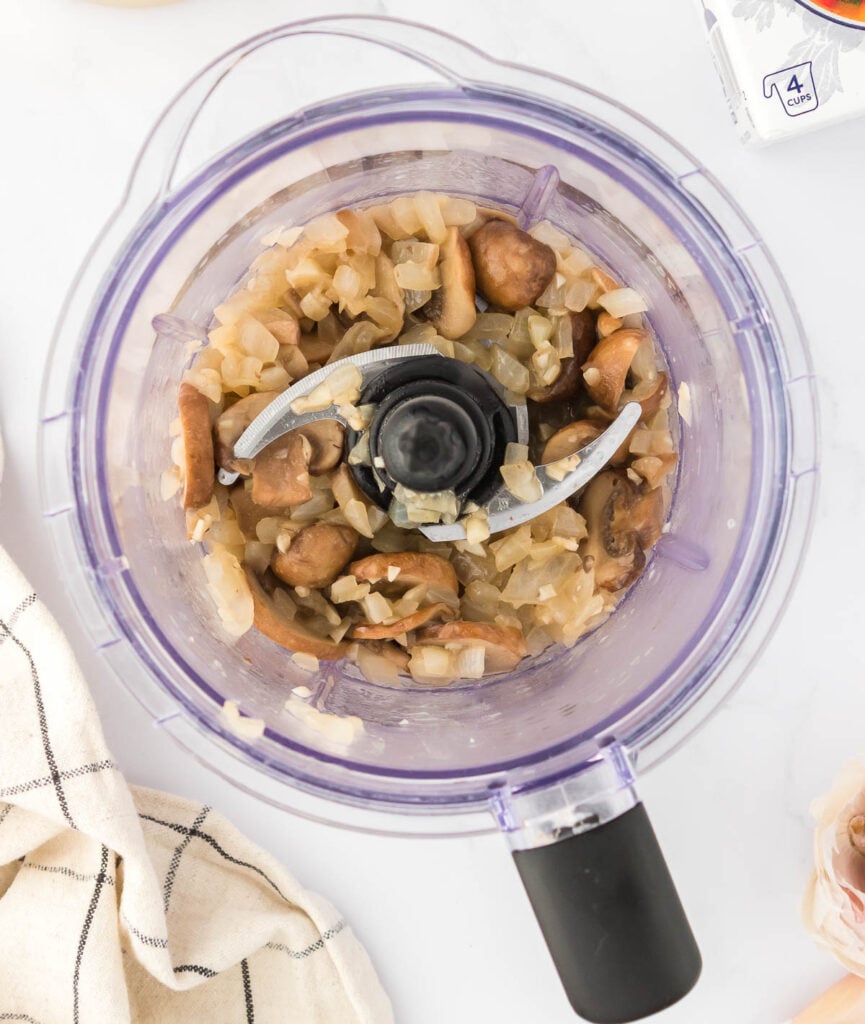 Blending up the mushrooms
Blend it all up until a thick sauce forms. This is going to make the gravy super smooth, while adding tons of flavor. Set aside and keep cooking.
Step 3: Melt the remaining butter in the sauce pan and make the roux.
Making a Roux
Melt the remaining butter in the sauce pan over medium heat. Add the flour and whisk for 1 minute constantly.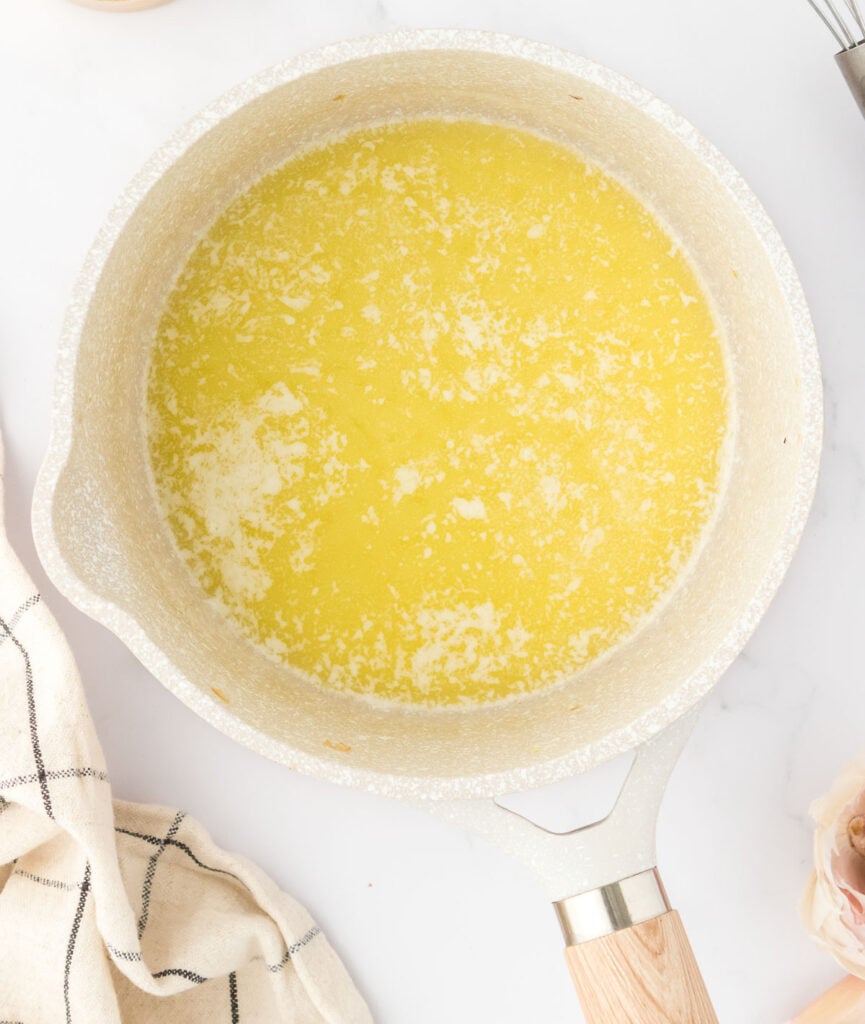 Step 4: Pour in the remaining vegetable broth and the tamari and keep stirring.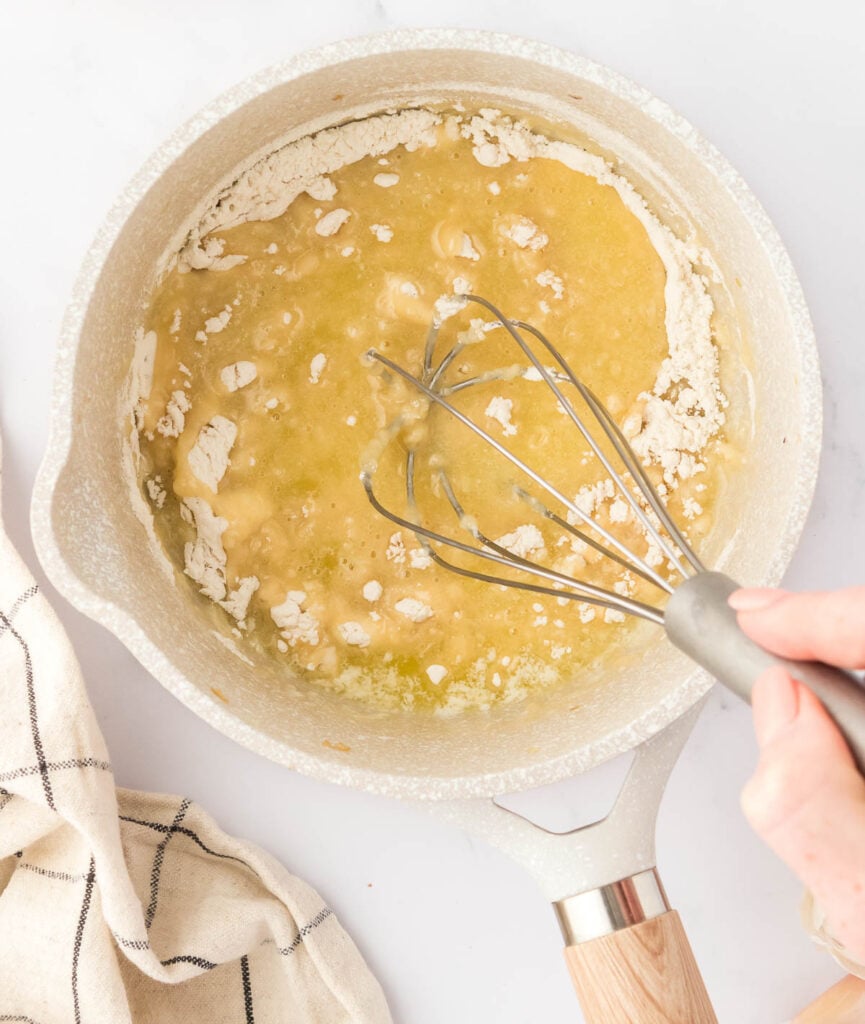 Add the blended mushroom mixture and continue to stir the pan on medium heat. Continue whisking for 5-10 minutes, or until the mixture thickens.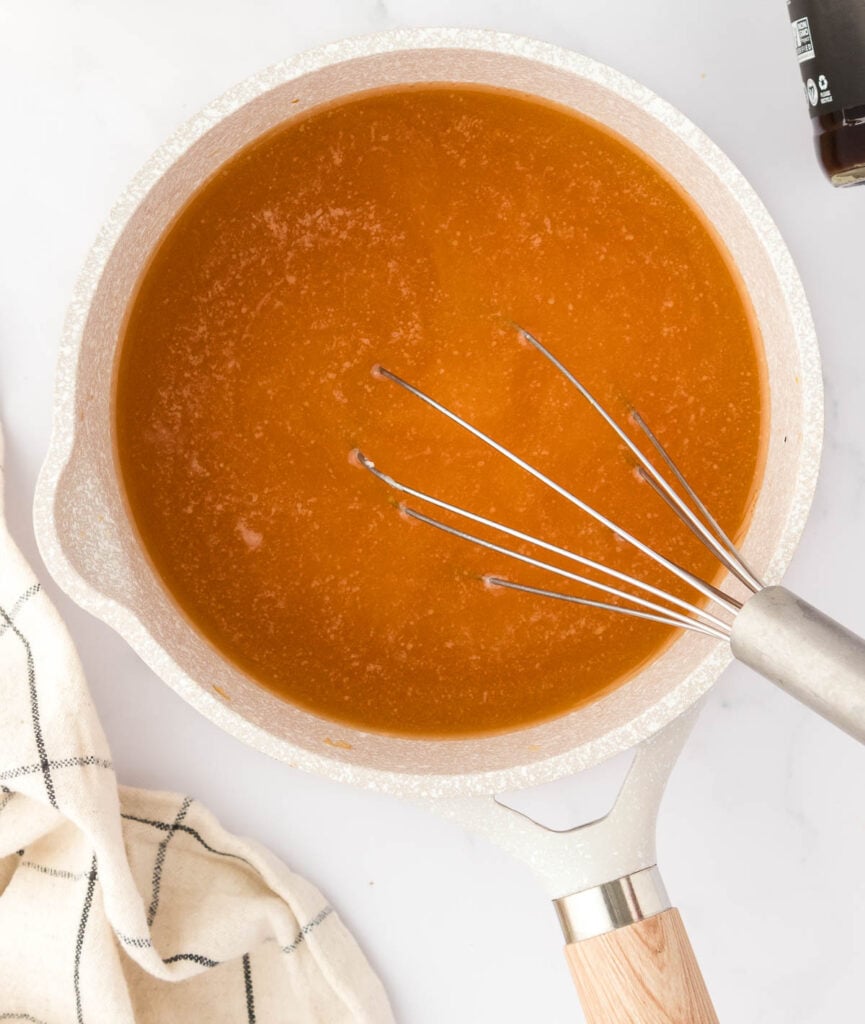 It will thicken up a lot in those ten minutes. Soon it will be able to coat the back of a spoon. That is a good way to tell if it has gotten thick enough yet! Add sage and salt and pepper to taste. Serve and enjoy!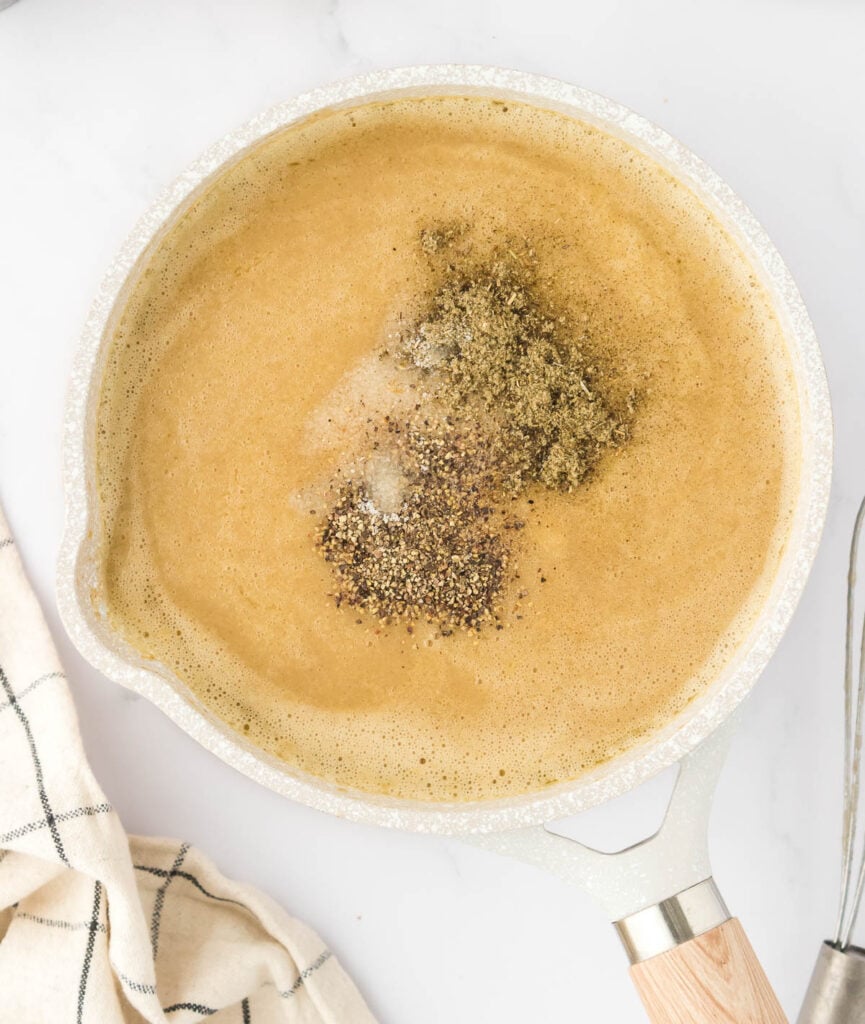 Can I make this veggie gravy gluten free?
For a gluten free gravy, simply substitute the flour for cornstarch. The gravy will be thicker overall, but the taste will be practically the same!
Last year I made one batch of regular gravy and one batch gluten free for my gluten free guest.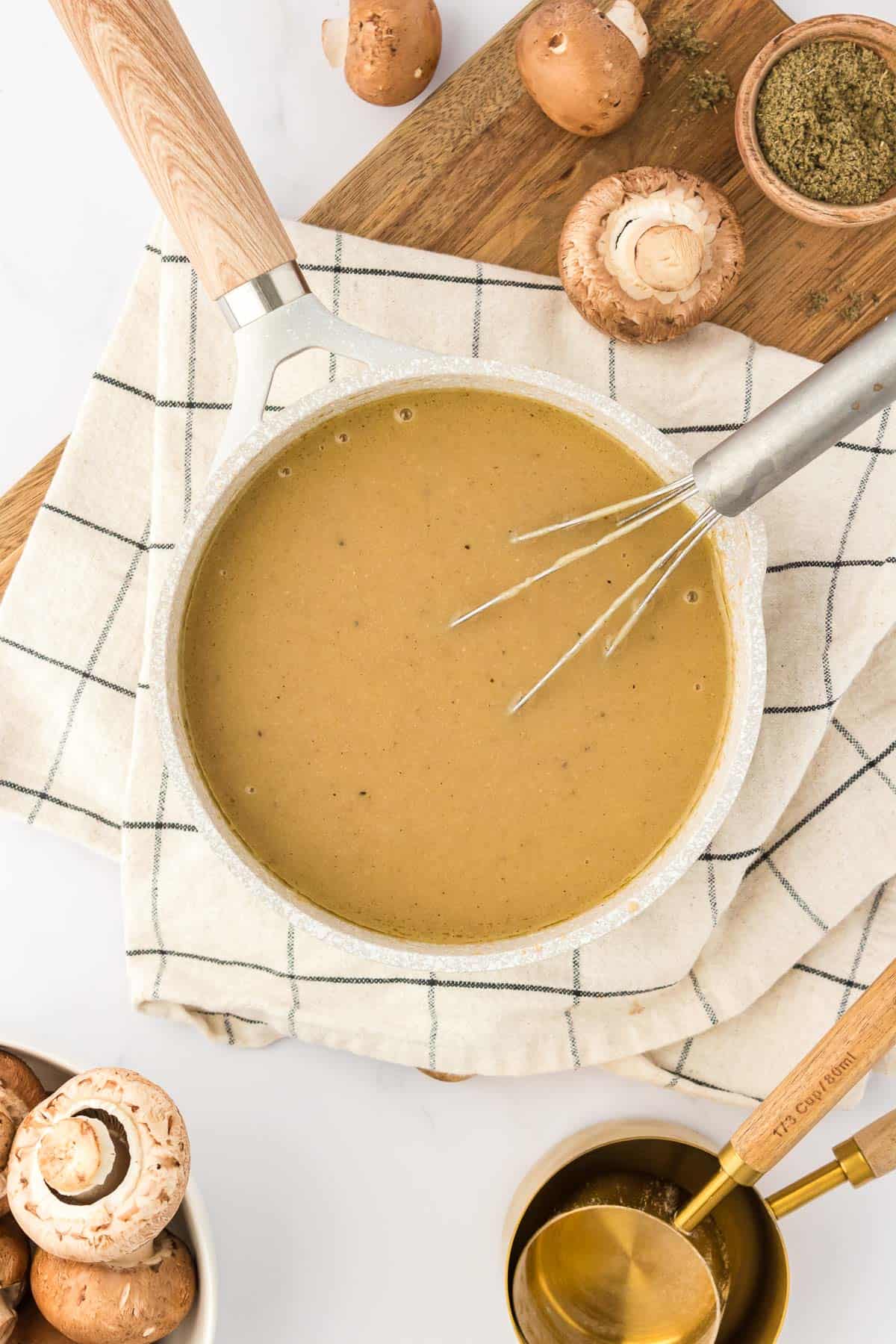 Can I make this gravy vegan?
Yes! You can easily make this into a vegan gravy. Just substitute a non dairy butter (like earth balance) and the recipe will be vegan.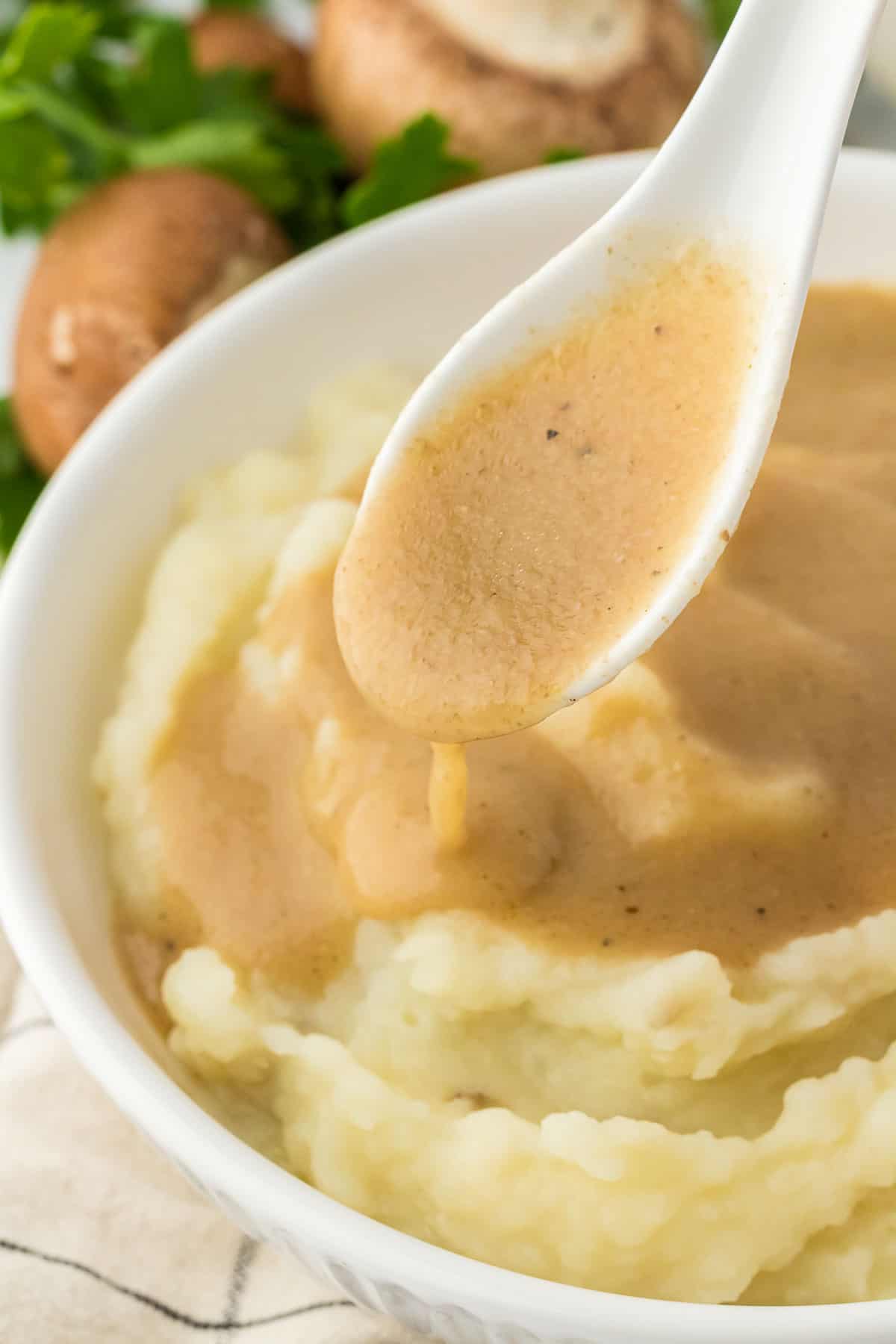 I did not like gravy growing up, and always found it bland and tasteless. This veggie gravy was life changing for me. Gravy is now one of my top favorite Thanksgiving foods to enjoy every year!
Last year was my first year hosting my own Thanksgiving and I look forward to many more years!
Storing & Reheating
Store: This gravy will keep well in an airtight container in the refrigerator for 3-4 days. This is a great recipe to make the day before Thanksgiving and reheat when it's time to serve.
Reheating: Reheat the gravy in a sauce pan over low to medium heat until heated through. If you are reheating a leftover Thanksgiving plate, you can simply add the gravy over your mashed potatoes or stuffing and microwave it until heated through.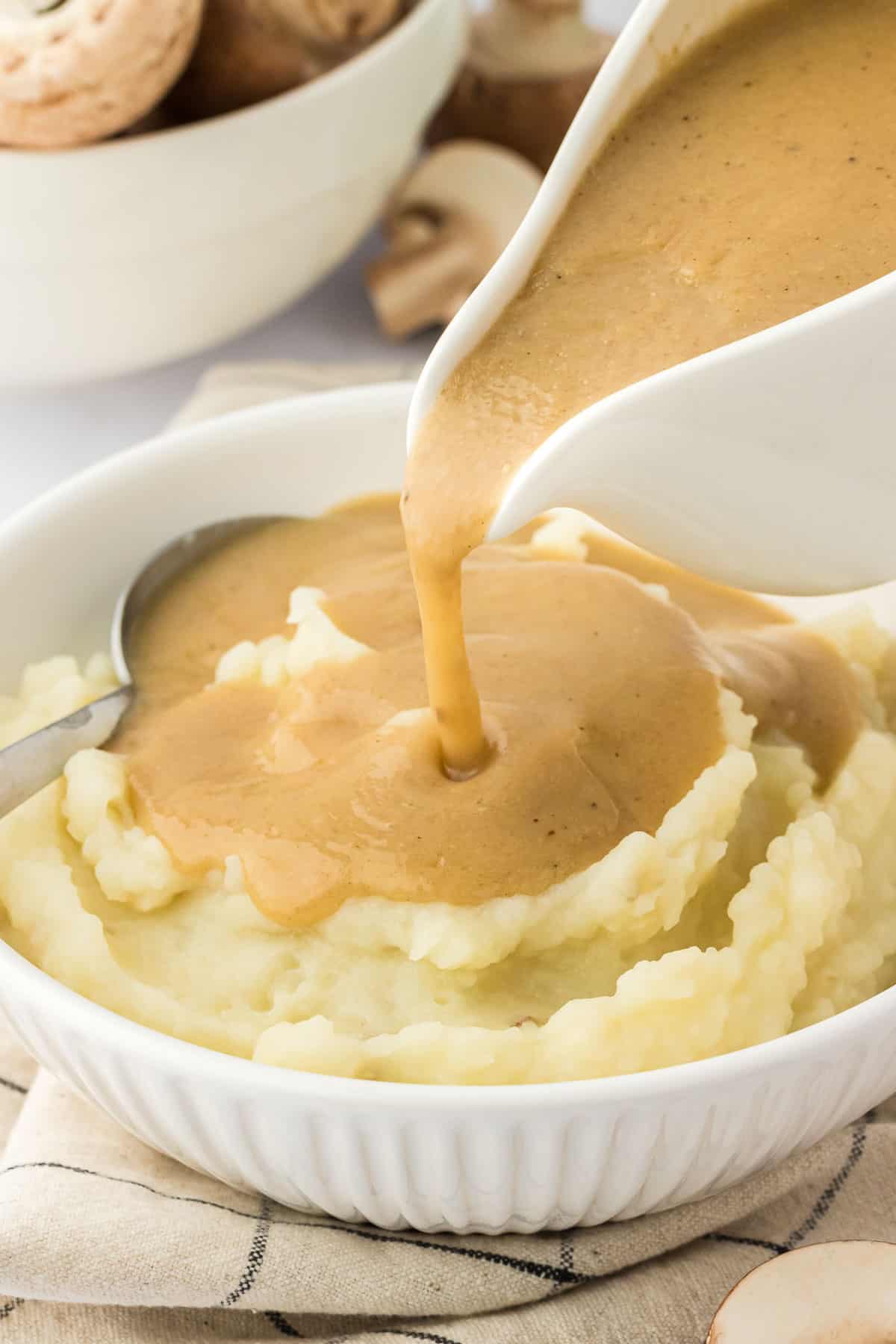 Vegetarian Gravy FAQs
Can I make this gravy ahead of time?
Yes! This gravy reheats beautifully, so I always make it the day before Thanksgiving then simply reheat it once dinner is almost ready to serve. This is a big time saver!
Can you eat gravy if you're a vegetarian?
There's no reason why you can't eat gravy as a vegetarian. Unlike traditional gravy made with meat drippings, this vegetarian version is packed full of flavor without containing any meat.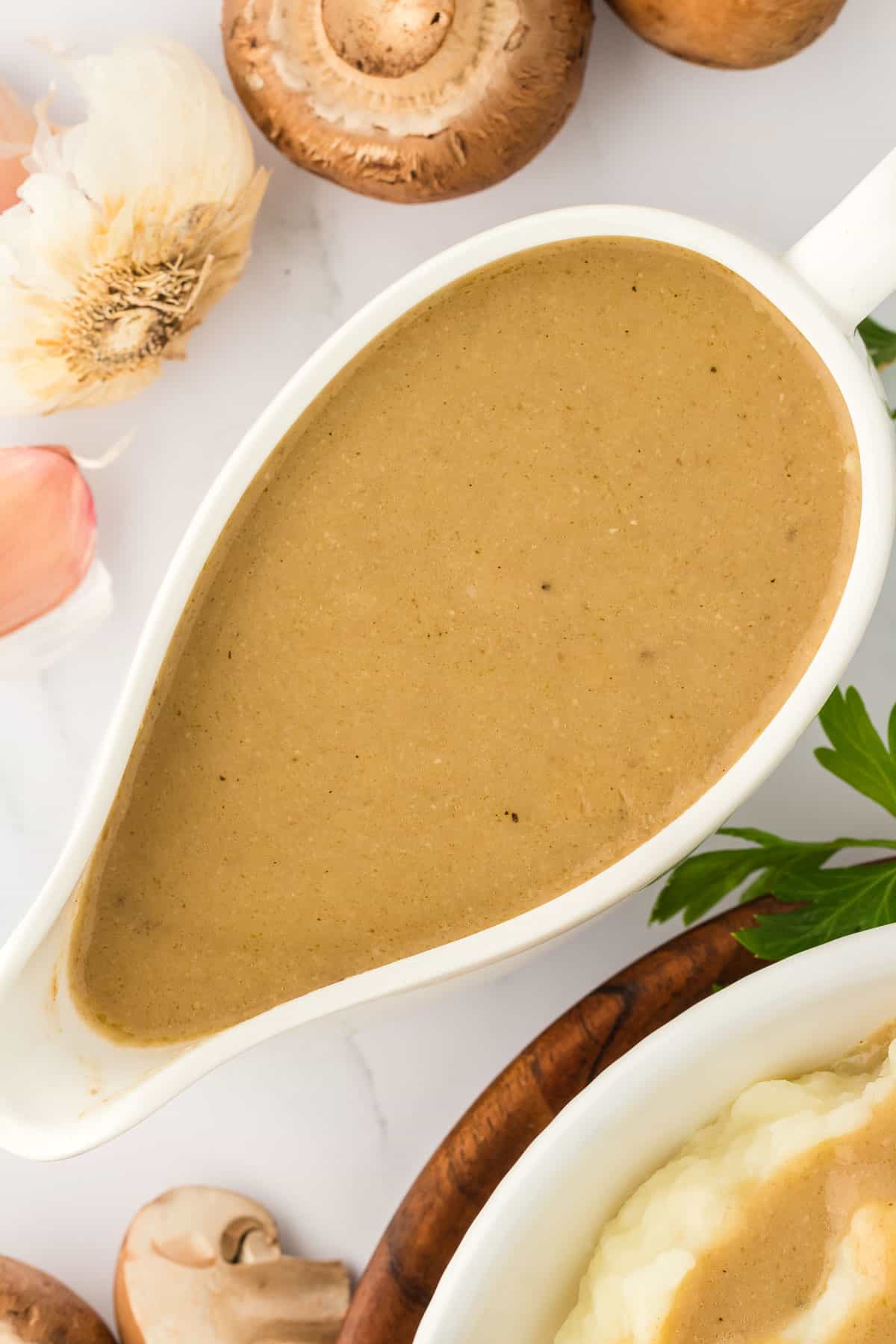 Be sure to read our post on 17 best vegetarian thanksgiving recipes which includes all of our tips and tricks for making this the best vegetarian Thanksgiving yet!
More Vegetarian Thanksgiving Recipes
Are you making this recipe? I want to see! Don't forget to tag me on instagram @buildyourbite and hashtag #buildyourbite with your recipe creations!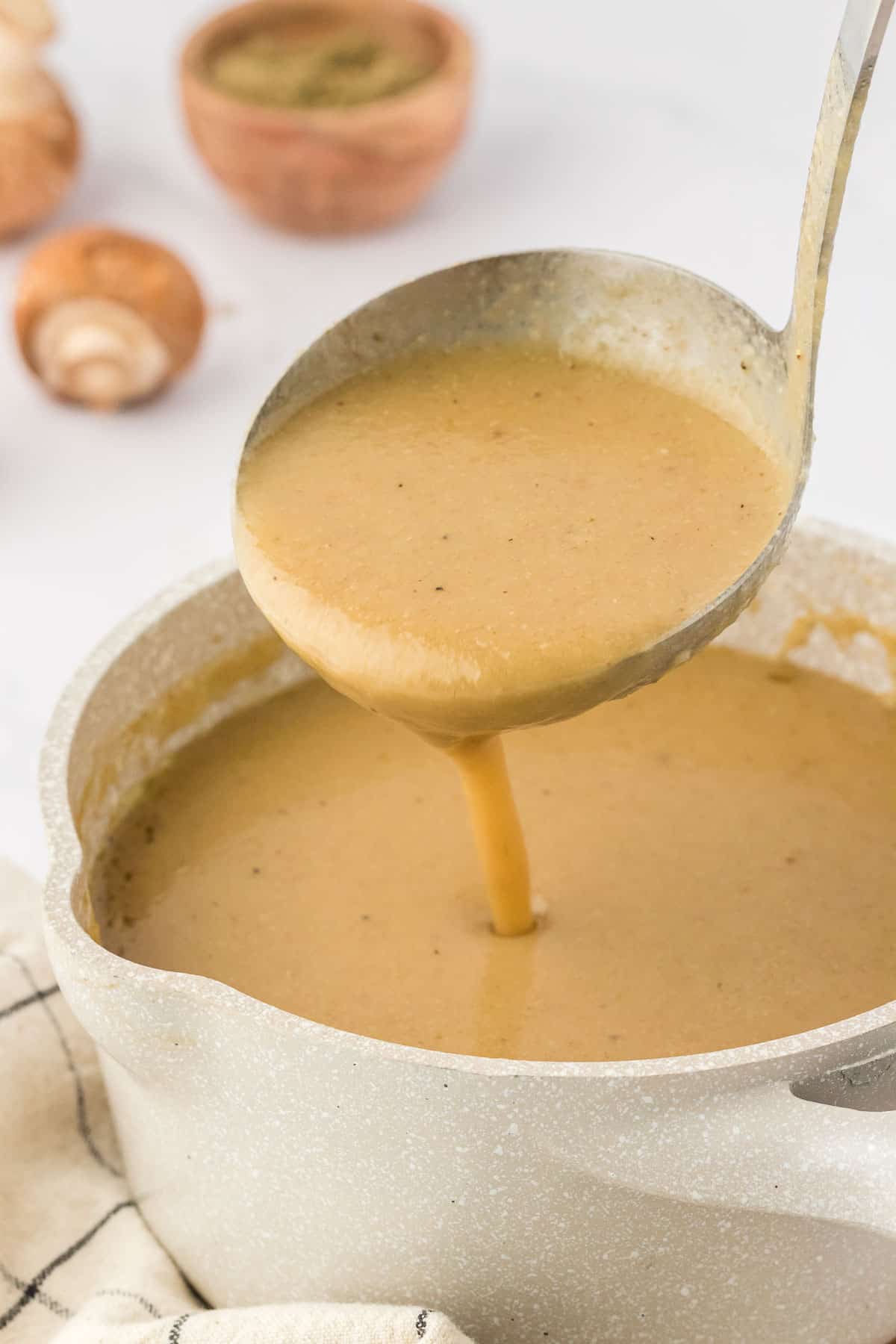 Be sure to pin this recipe for later and follow Build Your Bite on Pinterest for all the latest delicious recipes!
A good gravy is an absolute necessity at Thanksgiving, so don't settle for anything less than amazing!
"This is absolutely delicious. The flavor is so rich. It is seriously my new favorite recipe. All my guests this year are vegetarian and I was searching for a suitable gravy option. Everyone loved it."
Vegetarian Gravy
This delicious vegetarian gravy is perfect for Thanksgiving and holiday dinners!
Ingredients
8 Tablespoons unsalted butter, divided
¾ cup diced onion
3 cloves of garlic, minced
1 cup sliced baby bella mushrooms
3 teaspoons tamari
3 cups vegetable broth
⅓ cup all purpose flour
½ teaspoon sea salt
¼ teaspoon pepper
¼ teaspoon ground sage
Instructions
In a sauce pan, melt 2 tablespoons of butter
Add the onion, garlic, and mushrooms and sautee for 8-10 minutes, or until it cooks down and the mushrooms release their liquid
Remove the mushroom mixture from the pan and place into blender or food processor
Blend the mushroom mixture with 1 cup of vegetable broth until smooth, then set aside
Melt the remaining 6 tablespoons of butter in the sauce pan
Add the flour and whisk constantly for 1 minute
Add 2 cups of the vegetable broth and the tamari, and continue stirring
Add the blended mushroom mixture and continue to stir
Continue whisking the vegetarian gravy for 5-10 minutes, or until the mixture thickens and coats the back of a spoon
Add the sage and salt and pepper to taste
Serve hot
Notes
To make gluten free gravy
To make gluten free, substitute the flour for cornstarch. This will make the gravy thicker but otherwise the taste stays the same. Also be sure that your tamari is gluten free.
To make vegan gravy
Substitute the salted butter for vegan butter (I like earth balance brand)
Nutrition Information:
Yield:

8
Serving Size:

1
Amount Per Serving:
Calories:

145
Total Fat:

12g
Saturated Fat:

7g
Trans Fat:

0g
Unsaturated Fat:

4g
Cholesterol:

31mg
Sodium:

513mg
Carbohydrates:

9g
Fiber:

1g
Sugar:

2g
Protein:

2g
Did you make this recipe? Be sure to leave a star rating below!